Jack and Coke is a favorite cocktail and now it will be your favorite boozy popsicle too! A few pro tricks make these turn out perfect every time.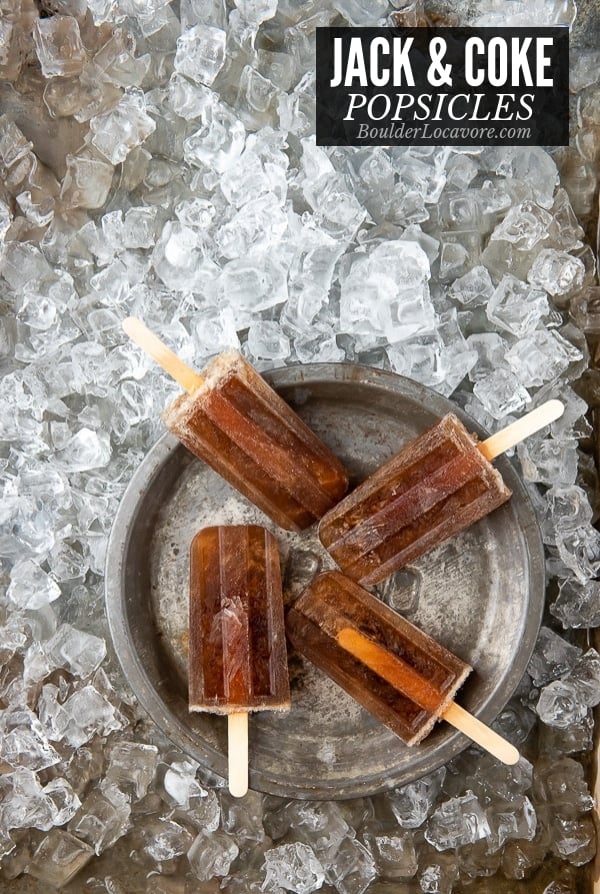 As much as I love a refreshing, well-flavored cocktail during summer's dog days, I love it more in frozen form.
There is nothing quite like ending a day of outings or driving to and fro by pulling out an icy popsicle of my favorite cocktail.
Jack and Coke makes a perfect thirst-quenching boozy popsicle. With a few inside tips, you'll be loving them all summer long!
Jump to:
Jack and Coke Popsicles
Jack and Coke Popsicles are an easy-peasy popsicle that is a boozy familiar.
Just two ingredients and you have your favorite cocktail frozen and waiting.
There is something direct and straightforward about Jack and Coke.
It's doesn't mince words, it just delivers.
These popsicles do the same. With one twist; they use Mexican Coke.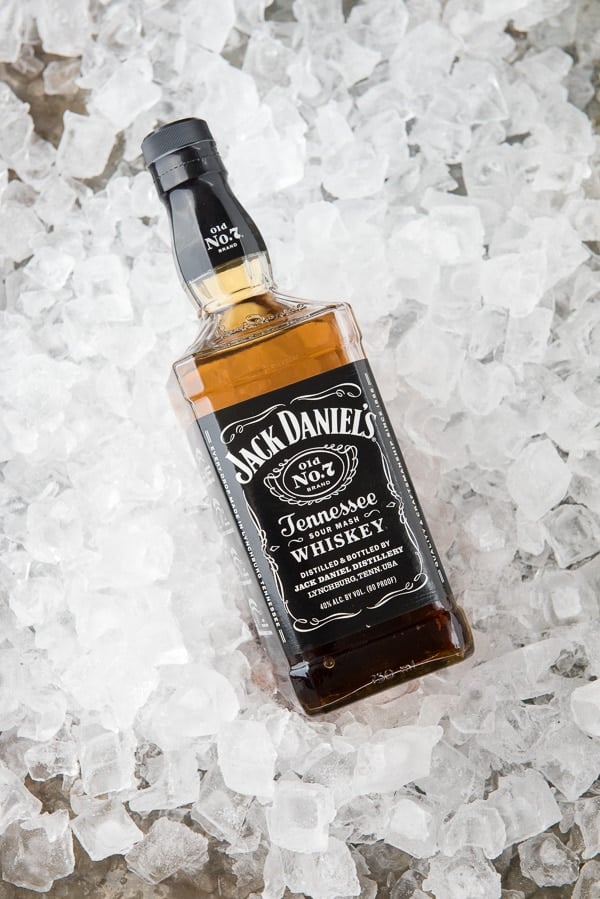 Ingredients in Jack and Coke Popsicles
You guessed it:
Jack Daniels Whiskey
Mexican Coke
Why Mexican Coke?
I'm a personal fan of Mexican Coke due to the natural cane sugar used.
When drinks are frozen their flavor isn't as strong.
My finding is Mexican Coke delivers that true, sweet coke flavor making this an irresistible cocktail popsicle.
The nostalgia of drinking from the glass bottle also can't be beat.
Mexican Coke has a cult following and has been growing in popularity over the past few years making it more widely available for purchase.
Where to Buy Mexican Coke
Most grocery and chain stores carry it (a friend buys cases at Home Depot of all places) as well as on Amazon.com.
You can identify Mexican Coke by the word 'Hecho en Mexico' (translated to 'made in Mexico') on the bottle.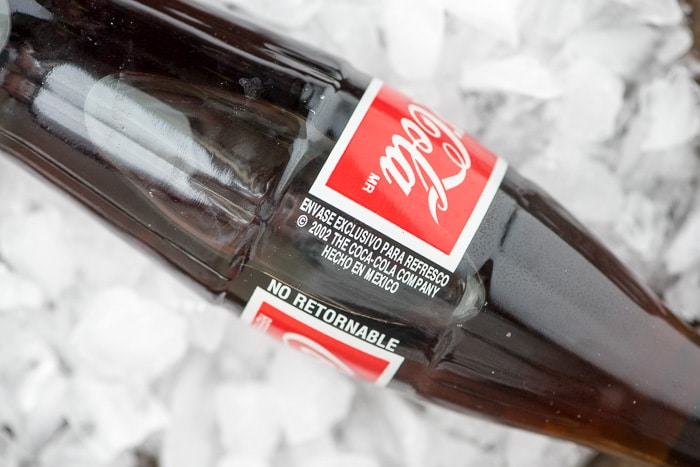 Pro Tip: Let the Coke Go Flat
When making popsicles (boozy or not) with carbonated drinks, let the drink go flat before adding it to the popsicle mixture.
The air in the carbonated drink makes the popsicles less dense so they do not freeze as well.
If all the carbonation is released before using, the flavor is the same and the popsicles freeze more compactly.
This is especially beneficial when liquor is added since it makes popsicles freeze less firmly (see below).
THE TRICK TO MAKING COCKTAIL POPSICLES
With boozy popsicles, more isn't better when it comes to the liquor.
Alcohol does not freeze in the same way other water-based liquids do!
To ensure solid freezing of boozy popsicles, the percentage of liquor is smaller.
In this Jack and Coke popsicle recipe the correct amount of Jack Daniels liquor is added to each popsicle cavity then the Mexican Coke is added to ensure the correct ratio for optimum freezing.
If you decide you want to bump up the percentage of liquor to be higher, you'll find a slushy result when releasing the popsicles from their mold!
Trust me, the popsicles still get the cocktail job done. And if needed, eat two!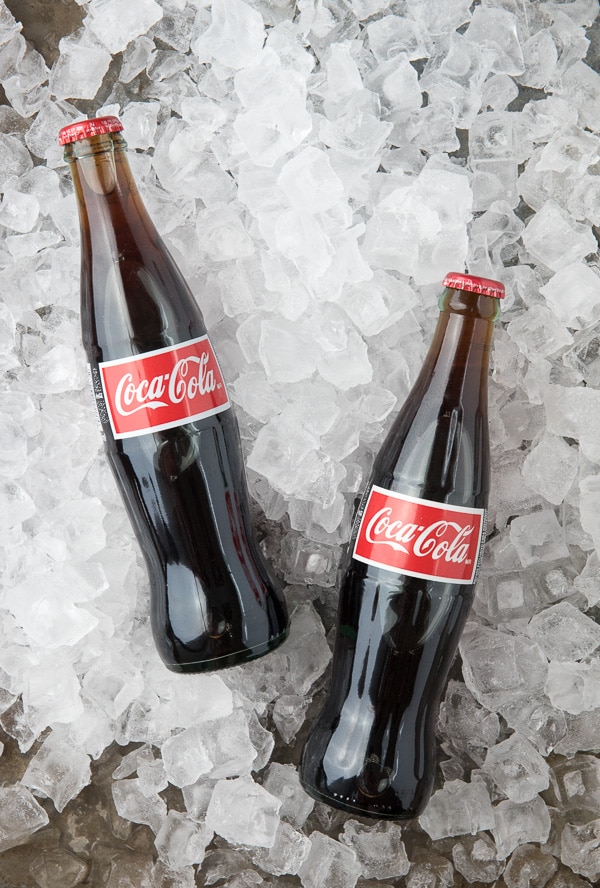 How to Make Jack and Mexican Coke Popsicles – Step by Step
Using a 2.5 ounce/cavity popsicle mold, pour 1/2 ounce of Jack Daniels into each mold.
Pour 2 ounces of the flattened Mexican Coke into each mold. Stir to combine.
Place the lid on the popsicle mold.
Insert the popsicle sticks (see my pro tip below to keep the sticks in place).
Freeze for several hours or overnight until firm.
PRO TIP: How to Keep Popsicle Sticks in Place when Freezing Popsicles
Though there are designated slots for the popsicle sticks on a popsicle mold they do not always secure the sticks while freezing.
Popsicle sticks can vary slightly in thickness which can cause some to drop into the mold all the way.
This simple trick will help keep the sticks upright and in place while freezing.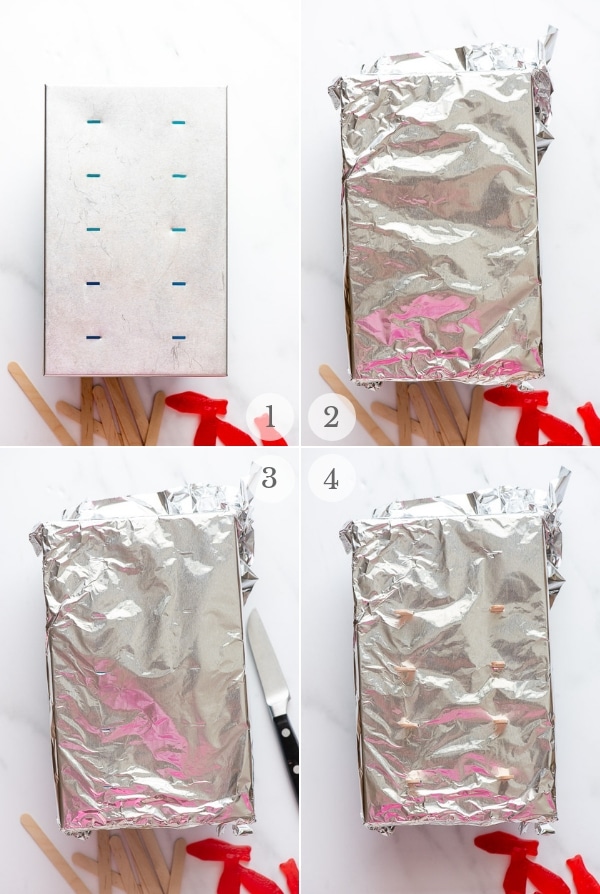 Fill the popsicle mold and place the mold lid on.
Place a sheet of heavy foil over the top of the mold.
Run a finger over the area of the mold lid where the popsicle stick slots are to identify their location. Use a knife to pierce through the foil to the slot.
Insert the popsicle sticks.
Place in the freezer until solid.
How to Release Popsicles from the Mold
Run exterior of the molds (not the top; the plastic cavities) under hot water for a few seconds to release the popsicles.
Especially with liquor popsicles, too much hot water and they melt faster.
Not enough and they can be hard to pull from the molds.
Suggested Supplies
The popsicle mold used for this Jack and Coke Popsicles recipe is probably my favorite. It's the perfect size and has a great vintage vibe.
It's the perfect size for many popsicle recipes!
These are all the items I use when making these popsicles: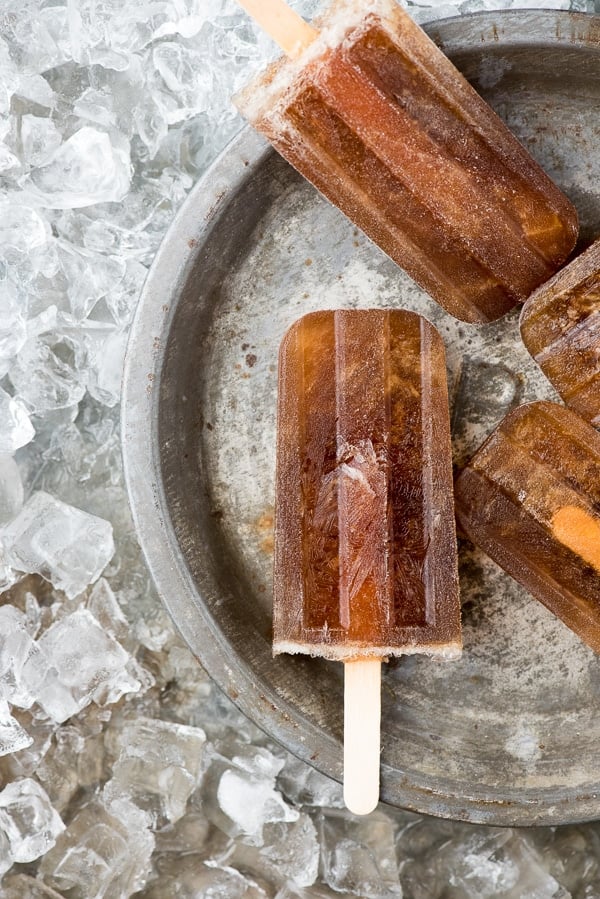 More Boozy Popsicles You'll Love:
Recipe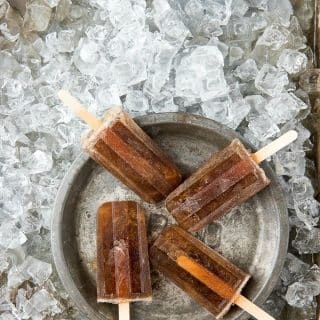 Jack and Mexican Coke Popsicles
Your favorite cocktail has been transformed into refreshing popsicle. They are very easy to make and take the heat out of the most brutal summer day.
Print
Save Recipe
Recipe Saved!
Pin
Rate
Servings:
10
– 2 1/2 ounce popsicles
Ingredients
5

fluid ounces

Jack Daniels Whiskey

20

fluid ounces

Mexican Coke

, flattened (pour into a bowl and allow to sit until no more carbonation is present; about 1 hour)
Instructions
Pour 1/2 ounce of Jack Daniels into each popsicle mold. Pour 2 ounces of the flattened Coke into the mold; stir with an extra popsicle stick.

Cover and insert wooden sticks. Tip: applying a layer of foil over the top of the mold or lid of the mold allows placement of wooden sticks and they will not float out of the mold.

Freeze for several hours or overnight. Run hot water for a few seconds on the outside of the mold to release pops!
Nutrition
Calories:
58
kcal
|
Carbohydrates:
5
g
|
Protein:
0
g
|
Fat:
0
g
|
Saturated Fat:
0
g
|
Cholesterol:
0
mg
|
Sodium:
2
mg
|
Sugar:
5
g
|
Calcium:
1
mg
|
Iron:
0.1
mg