Refreshing tropical flavors make boozy Drunken Monkey Popsicles a perfect adult poptail for sweltering summer days and nights! With only three ingredients this popsicle recipe is a cinch to make!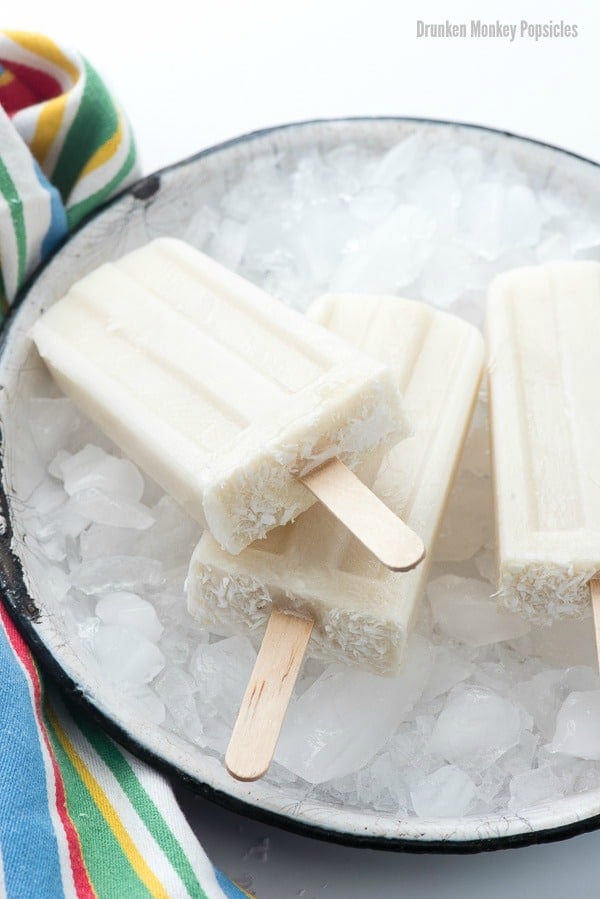 This post is shared as part of Boulder Locavore's ongoing partnership with Silk, exploring healthy lifestyles choices and exciting plant-based dietary options.
I don't know about you but I feel like everywhere I turn I'm being told to drink more water.  I do live at high altitude so we need more water for hydration but never the less it seems I can't ever drink enough.  And when I really want some to drink it's usually past the point of really needing it.
It certainly helps when the weather heats up because I'm hot on the trail of interesting things to quench my thirst that aren't just water.  Last month I shared a fun cocktail (Chocolate del Fuego) for Cinco de Mayo that features a delicious new selection of nut-based drinks from Silk:  Nutchello.  I absolutely love these drinks.  They taste great and are completely refreshing.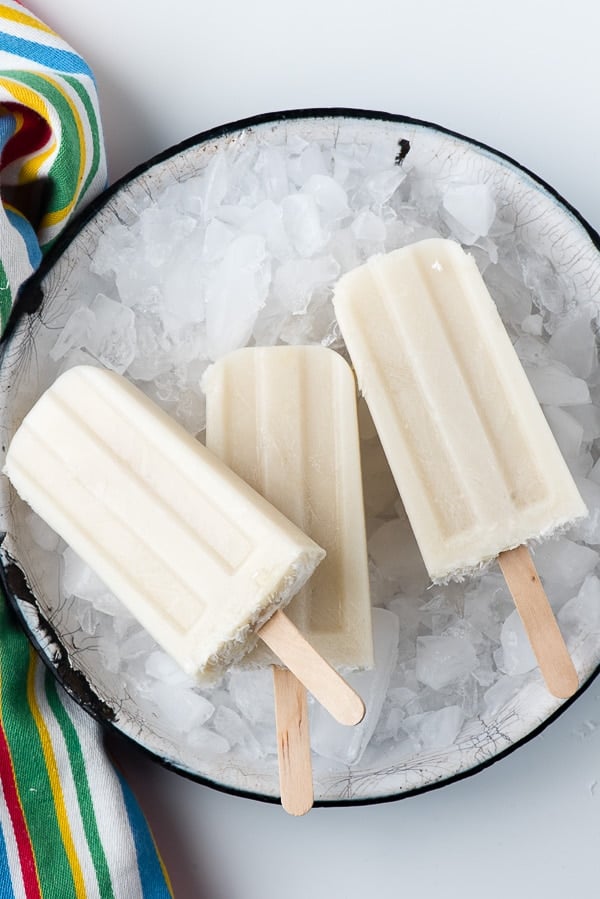 I could not even at gunpoint pick one flavor over another as a favorite.  Rich Dark Chocolate + Walnut (used in the Chocolate del Fuego cocktail), Caramel Almonds + Cashews, and Toasted Coconut + Cashews.  They are all light and flavorful.  And completely refreshing.
We are still toggling between early summer and the chilly, wet sputtering end of winter.  However, on the days when our temps creep into the 60's, 70's and 80's I've found myself instinctively going for the fridge and filling an icy glass with one of the new Nutchello flavors.  Taking a moment to relax and enjoy them has become a mini afternoon vacation from the busy end of the school year.  I definitely feel they will be stocked in our fridge all summer long as my family is now hooked too.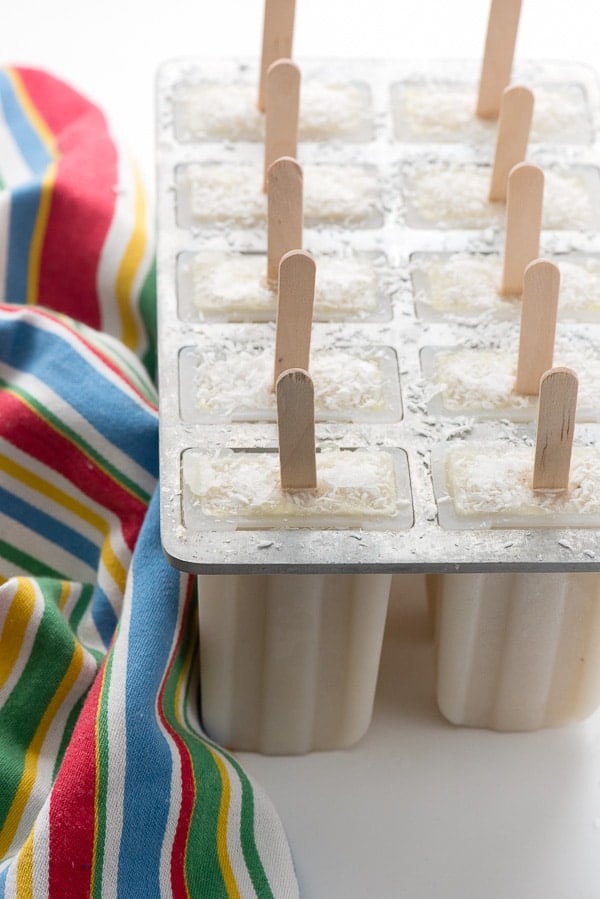 As much as I enjoy drinking Nutchello by itself over ice, I had a great idea while sipping the Toasted Coconut + Cashew flavor outside on my deck basking in the late afternoon sun.  Nutchello would make fantastic popsicles.  I make my own popsicles all summer long, especially loving adult versions with a bit of spirits in them.
Believe me there is nothing more thirst quenching than an ice cold pop-tail sitting on the porch under an indigo summer's eve, crickets chirping, the sweltering day relaxing into the cool of the night; chatting with neighbors, family and friends with the feeling there isn't a care in the world.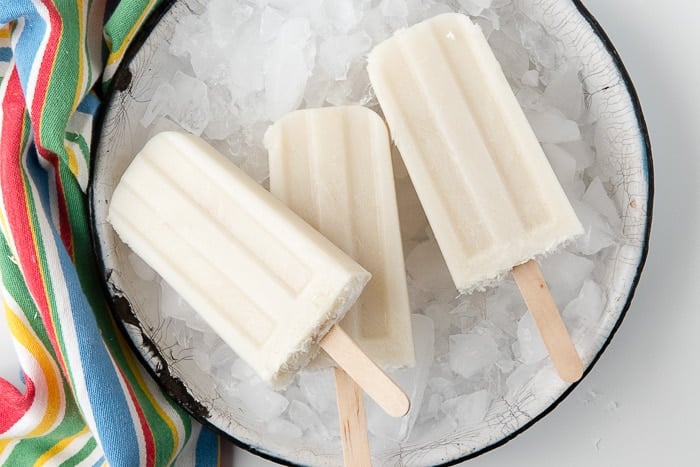 So I did it!  My first summer poptail of this year:  Drunken Monkey Popsicles featuring Toasted Coconut + Cashew Nutchello, Crème de Banana liqueur and a sprinkling of unsweetened coconut 'fringe' on the bottom of the popsicle.   They are light, refreshing (I know I've over used that word but it's so true!) with summery tropical flavors.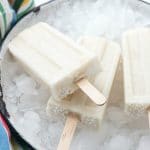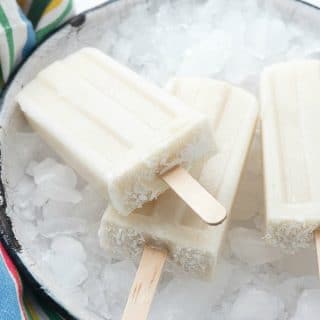 Drunken Monkey Popsicles
Servings
10
- 2 1/2 ounce popsicles
Ingredients
5

fluid ounces

Crème de Banana liqueur

20

fluid ounces

Silk Toasted Coconut + Cashew Nutchello

1 ¼

cups

finely shredded unsweetened Coconut
Instructions
Pour 1/2 ounce of Crème de Banana liqueur into each popsicle mold. Pour 2 ounces of the Toasted Coconut + Cashew Nutchello into the mold; stir with an extra popsicle stick.

Sprinkle 1-2 tablespoons of the coconut on the top of each filled mold. Note: the coconut is very light and will sit on top of the liquid but will freeze in the liquid at the surface.

Cover the top of the molds and insert wooden sticks. Tip: applying a layer of foil over the top of the mold or lid of the mold allows placement of wooden sticks and they will not float out of the mold.

Freeze for several hours or overnight. Run hot water for a few seconds on the outside of the mold to release pops!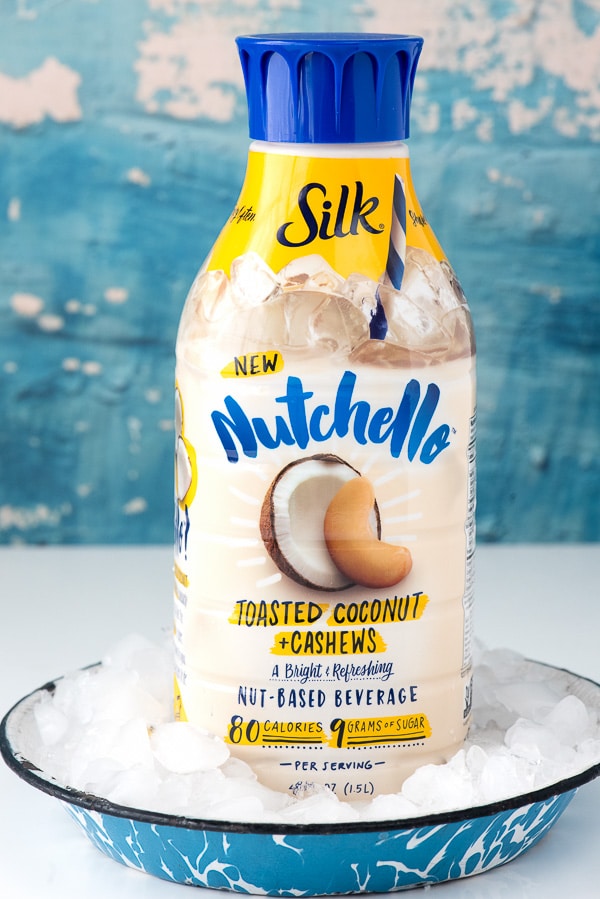 I feel sure you too will find your 'happy place' in a tall frosty glass of these Nutchello flavors too!  To learn more you can visit Nutchello.com to learn more and pick up a $0.75 coupon to try any flavor of Nutchello.
This is a sponsored conversation written by me on behalf of Silk. The opinions and text are all mine.