Nothing quenches summer's heat better than Blue Lagoon Cocktail Popsicles! The color alone takes the edge off, doesn't it? Mocktail version included.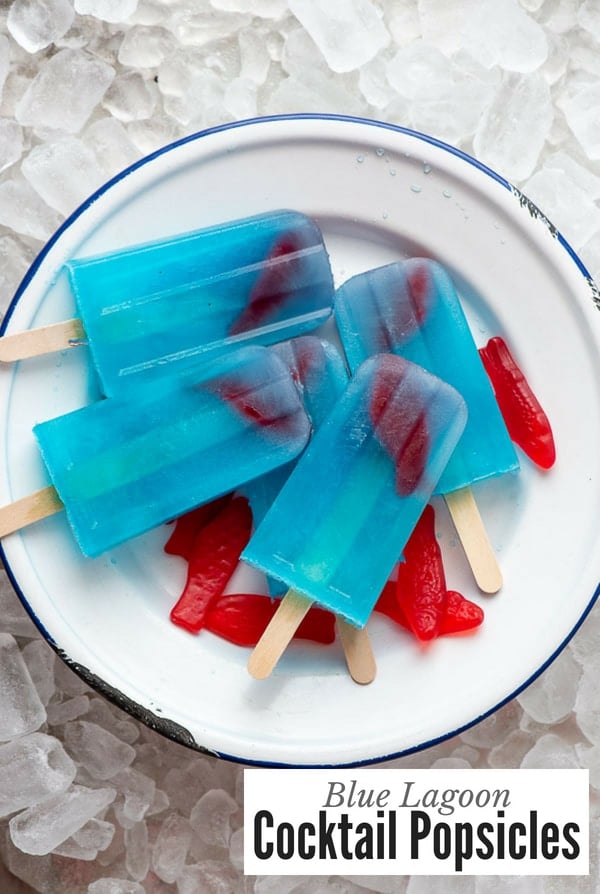 Perhaps it was writing about best family beach vacations on the east coast or emerging from three days straight of driving rain but I'm ready to start up this summer's boozy popsicle recipes. What a better way than with Blue Lagoon Cocktail popsicles (with a mocktail version too!).
I started making cocktail popsicles a few summers ago and find them to be a refreshing way to eat your cocktail all summer long. They are great for parties and holiday celebrations. I keep them stocked in my freezer all summer long.
Jump to:
What Ingredients are in a Blue Lagoon Cocktail?
A Blue Lagoon cocktail is a combination of blue curacao, vodka and lemonade. It's light and refreshing in the most fabulous shade of bright blue!
What IS Blue Curacao?
Blue Curacao (pronounced 'cure-a-sow') is a liqueur made from the dried peels of lahara, a native orange to the island of Curacao off the eastern coast of South America.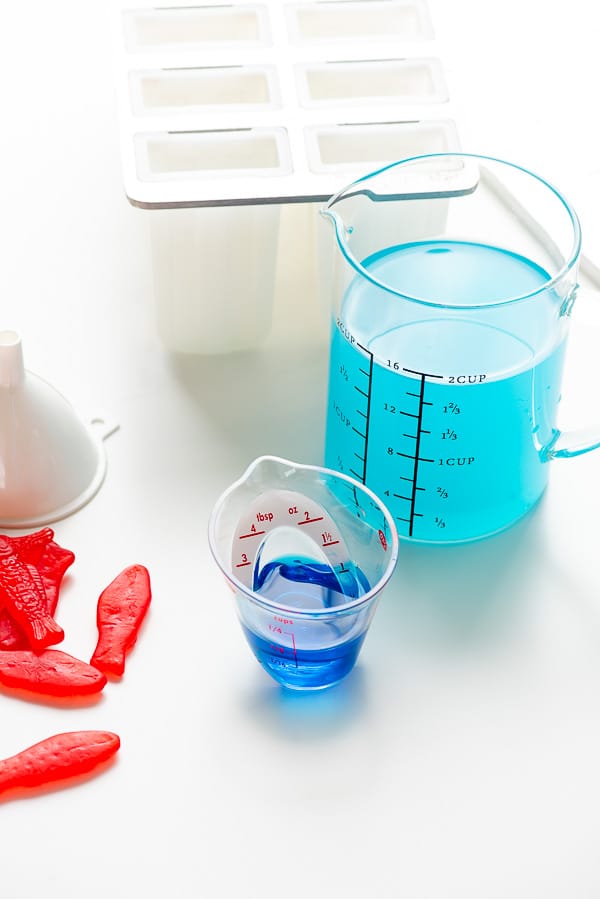 What Does Blue Curacao Taste Like?
Would you be surprised to learn the flavor of blue curacao is orange? It famously colors iconic cocktails like the Blue Hawaiian but would be used where Triple Sec or Grand Marnier would be in a cocktail. It has a light orange flavor.
Blue Lagoon Cocktail Popsicles
The color of these Blue Lagoon Cocktail popsicles is simply irresistible, refreshing and perfect for summer! Like the cocktail, it combines blue curacao and lemonade. However instead of vodka I've added more 'blue' in Hawaiian Punch.
A red Swedish Fish has been added to the cocktail popsicles for a fun surprise too.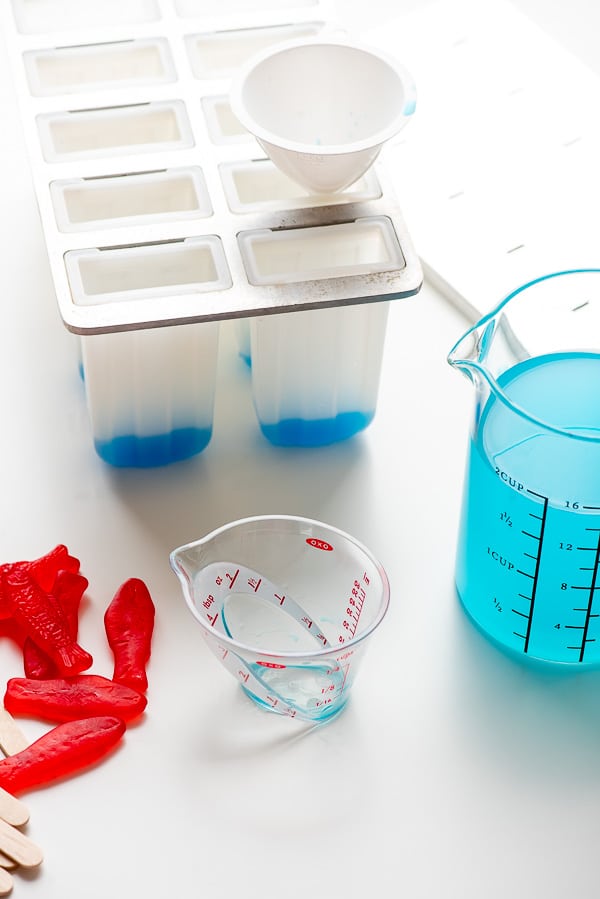 The Trick to Making Cocktail Popsicles
With boozy popsicles, more isn't better when it comes to the liquor. Because alcohol does not freeze in the same way other water-based liquids do, to ensure solid freezing of boozy popsicles the percentage of liquor is smaller.
If you decide you want to bump up the percentage of liquor to be higher, you'll find a slushy result when releasing the popsicles from their mold.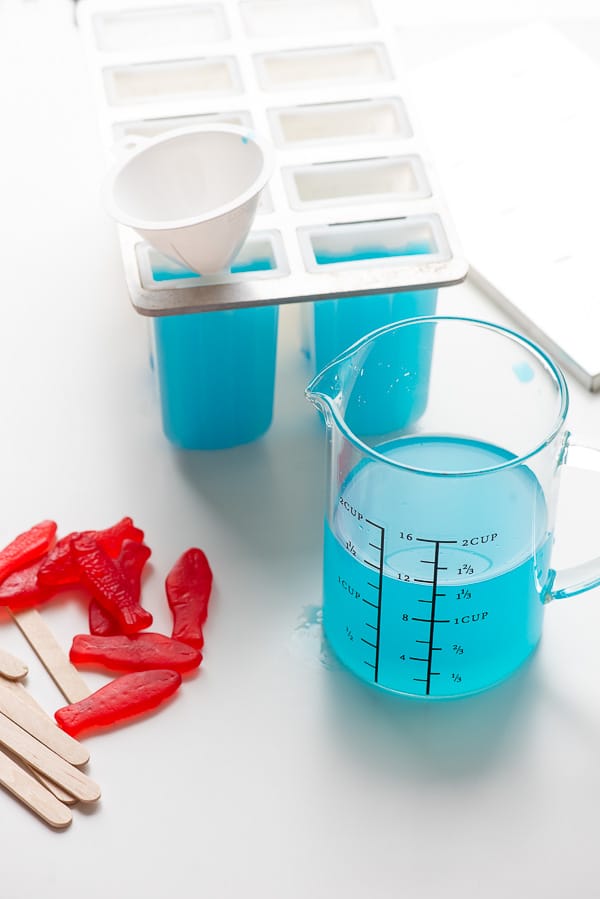 Blue Lagoon MOCKTAIL Popsicle
This recipe is an easy one to make into a fun mocktail (Shark Week, anyone?!). Remove the blue curacao from the recipe and ½ ounce more lemonade or Hawaiian Punch instead.
How to Make Blue Lagoon Cocktail Popsicle – Step by Step:
Using a 2.5 ounce/cavity popsicle mold, 0.5 ounce of blue curacao is poured into each mold. NOTE: to maintain equal volume of liquor for best freezing, pouring the blue curacao into the molds versus mixing it with the other liquids is recommended.
Combine the lemonade and blue Hawaiian punch, and pour 2 ounces into each popsicle mold. Add a Swedish fish if desired.
Place the lid on the popsicle mold.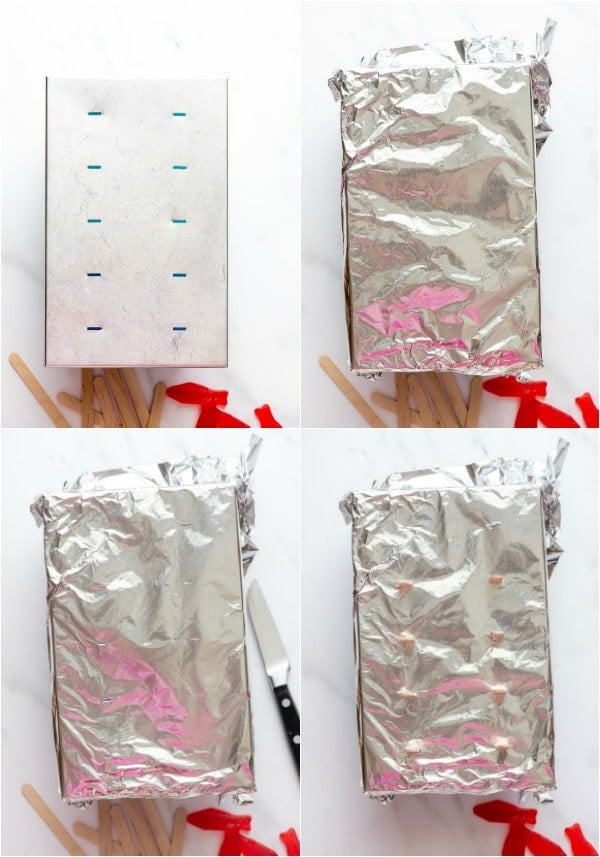 PRO TIP: Place a sheet of heavy foil over the top of the mold. Run a finger over the area of the mold where the popsicle stick slots are to identify their location. Use a knife to pierce through the hole and then insert the popsicle sticks. This helps keep the sticks upright and in place while freezing.
Place in the freezer until solid.
To Release Popsciles from mold: run exterior of the molds (not the top but the plastic cavities) under hot water for a few seconds to relase the popsicles.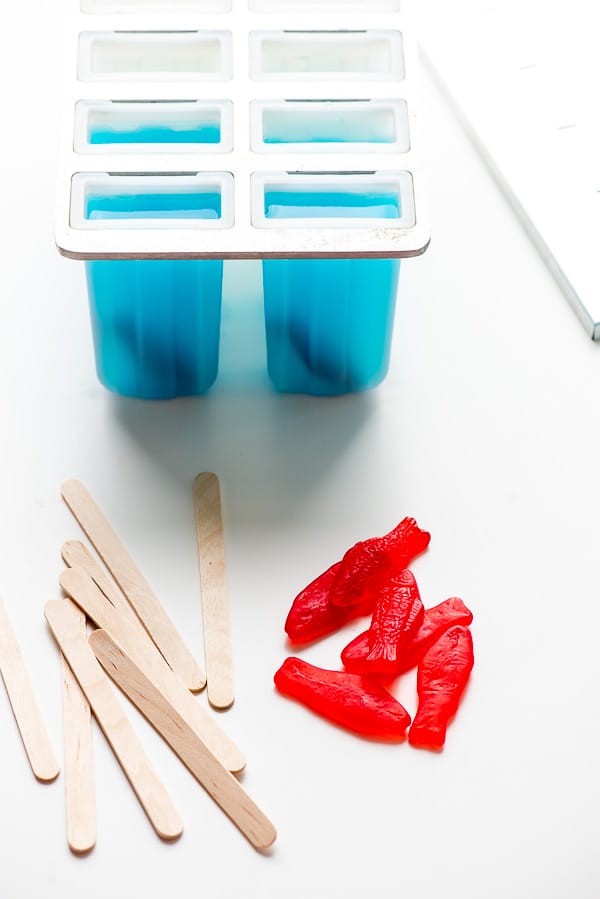 Suggested Supplies for making Blue Lagoon Cocktail Popsicles
I love the popsicle mold used for these popsicles and you'll see it in many of the popsicle recipes on BoulderLocavore.com. It has a vintage vibe and holds a good size popsicle too. These are all the items I use when making these popsicles: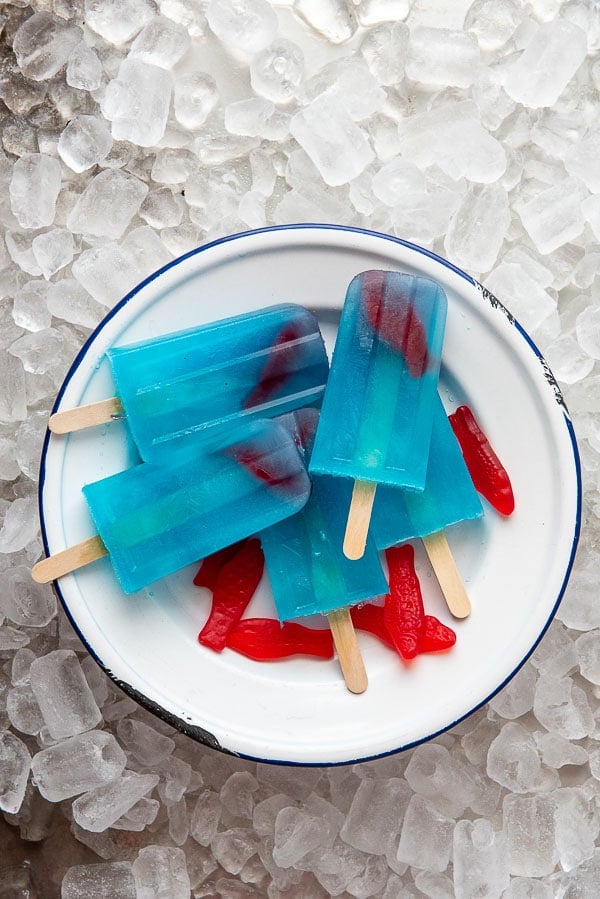 More Boozy Popsicle Recipes You'll Love:
Recipe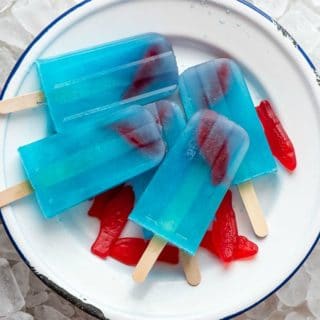 Blue Lagoon Cocktail Popsicles
The refreshing citrus punch boozy popsicles will be a summer favorite for the color AND the flavor. They are light and easy to make! Mocktail option included in the instructions.
Total Time reflects an estimated 4 hours for freezing. May vary based on different freezers.
Print
Save Recipe
Recipe Saved!
Pin
Rate
Ingredients
10

fluid ounces

prepared Lemonade

10

fluid ounces

Hawaiian Punch 'Polar Blast' flavor (blue)

alternatively Gatorade 'Frost Glacier Freeze' flavor may be substituted

5

fluid ounces

Blue Curacao liqueur

10

Swedish Fish

optional
Instructions
Combine the lemonade and Hawaiian Punch together; stir to combine. TIP: adding them in a 4-cup liquid measuring cup helps easily pour into mold (alternatively smaller quantities can be poured from a smaller volume liquid measuring cup).

Pour 1/2 ounce of Blue Curacao into each popsicle mold. Pour 2 ounces of the lemonade/Hawaiian Punch mixture into the mold; stir with an extra popsicle stick. Add 1 Swedish Fish to each mold if desired.

Cover and insert wooden sticks. Tip: applying a layer of foil over the top of the mold or lid of the mold allows placement of wooden sticks and they will not float out of the mold (refer to photos above)

Freeze for several hours or overnight. Run hot water for a few seconds on the outside of the mold to release pops!
To make a Blue Lagoon MOCKtail popsicle:
Omit the Blue Curacao and use 2.5 ounces of lemonade/Hawaiian Punch. Follow the rest of the instructions above.

Nutrition
Calories:
91
kcal
|
Carbohydrates:
11
g
|
Protein:
0
g
|
Fat:
0
g
|
Saturated Fat:
0
g
|
Cholesterol:
0
mg
|
Sodium:
6
mg
|
Sugar:
7
g