After lots of experimenting, this Perfect Instant Pot Hard Boiled Eggs recipe delivers every time. A simple three-part process nails it. No more shell cracking while boiling and special tips for high altitude.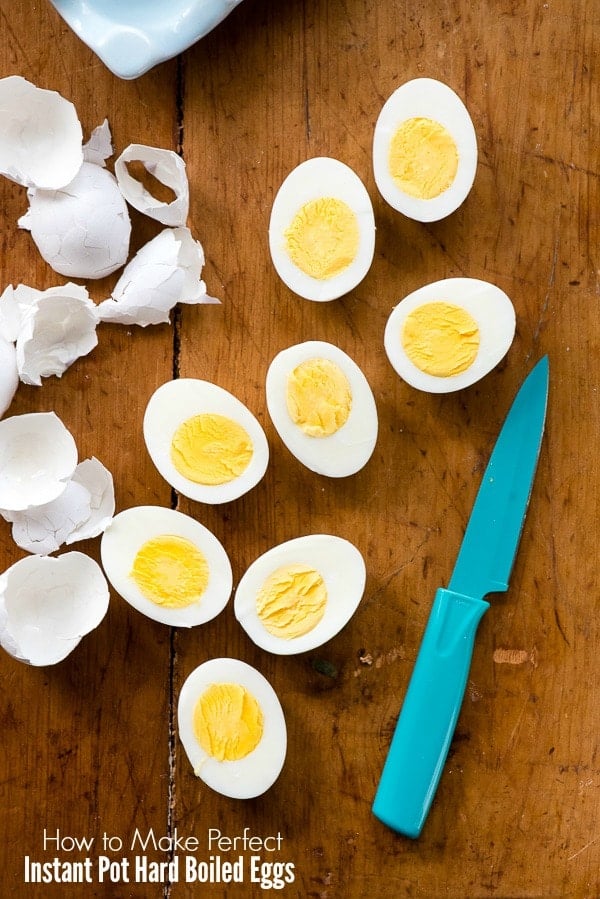 Maybe it will seem weird but one of the first things that sprang to mind to master when getting my Instant Pot was a hard boiled eggs recipe. It's not that I eat that many hard boiled eggs but they are tricky to make.
With Easter coming I knew we'd soon be making lots of them and wondered if making them in the Instant Pot would be easier or with more predictable end results.
For those of you about to click away because you TOO don't eat hard boiled eggs consider this recipe for Huevos Diablo (spicy Devil Eggs) or this Bacon-and-Egg Salad Sandwich. They will cause the most ardent of non-hard boiled egg eaters to reconsider!
Love using an air fryer? Try these Air Fryer Hard Boiled Eggs too!
Jump to: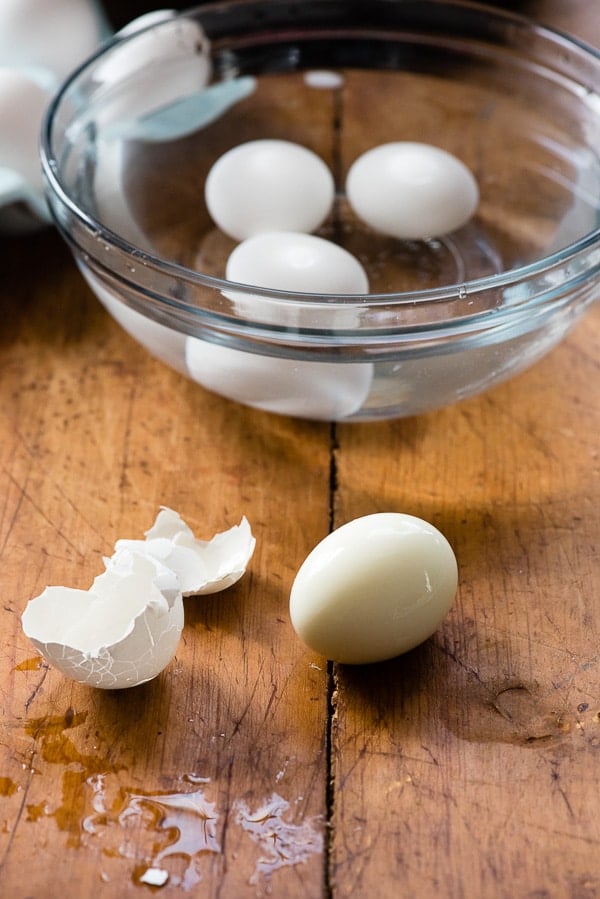 After 15 test batches, and dozens of eggs, I have mastered How to Make Perfect Instant Pot Hard Boiled Eggs! I'm very excited to share what I learned.
First I set my personal criteria for the experiment…..
What Defines Perfect Instant Pot Hard Boiled Eggs
The eggs are cooked all the way through, white and yolk, without overcooking
No eggshells crack in the process
The eggs peel easily without removing any of the cooked egg white
The three goals above are accomplished in the least amount of time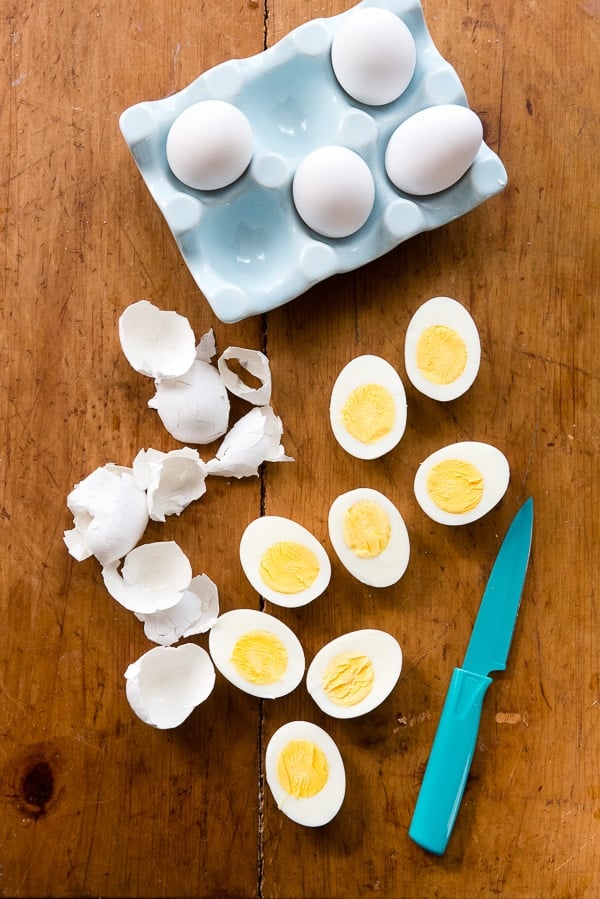 Finding the Best Instant Pot Hard Boiled Eggs method
Before launching my experiment, I had tried a few methods I found online.
My first observation was that there are MANY methods to cook Instant Pot hard boiled eggs online, and they are all different.
Some maintain you cannot cook the eggs on high pressure or they will crack.
There were multiple methods named with three numbers sounding like swim team drills my kids do: 5-5-5, 6-4-2, etc.
Some swear by quick release, others by slow release.
It was really hard to know where to begin!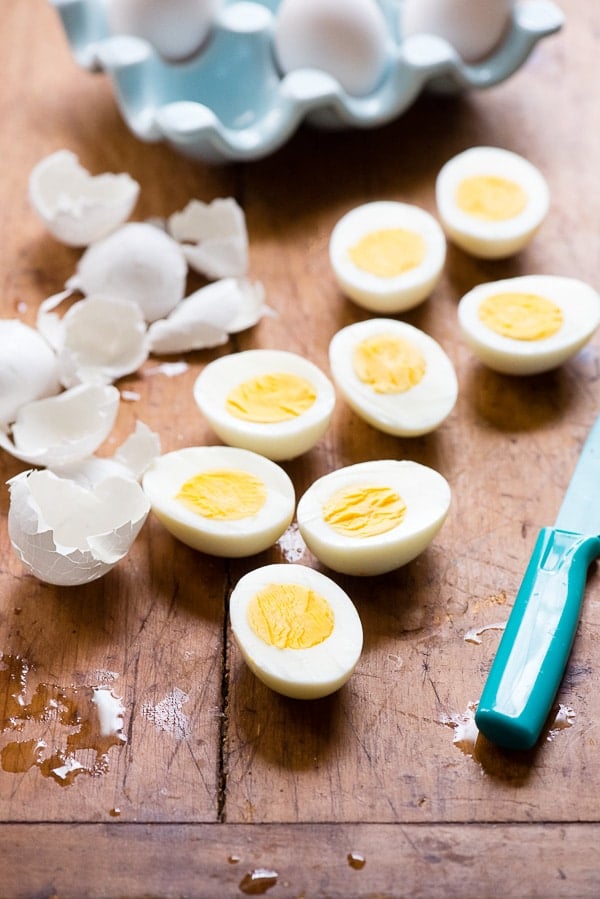 The two methods I tried didn't work to meet my criteria.
Both left the egg yolks uncooked fully as well as the peeling wasn't predictable leaving the eggs looking gnawed on (not something I would want for a hard boiled egg recipe I was serving at a party).
After this, I stopped the experimenting and dove into some research. This tidbit changed everything for me:
"For every 1,000 feet above 2,000-foot elevation, you must increase cooking time by 5 percent." – Mother Earth News
I live at approximately 5,500 feet and though I have not run into issues with altitude affecting prior Instant Pot recipes, the precision of how to make perfect Instant Pot hard boiled eggs seemed possibly affected.
This was a game changer in my experiment.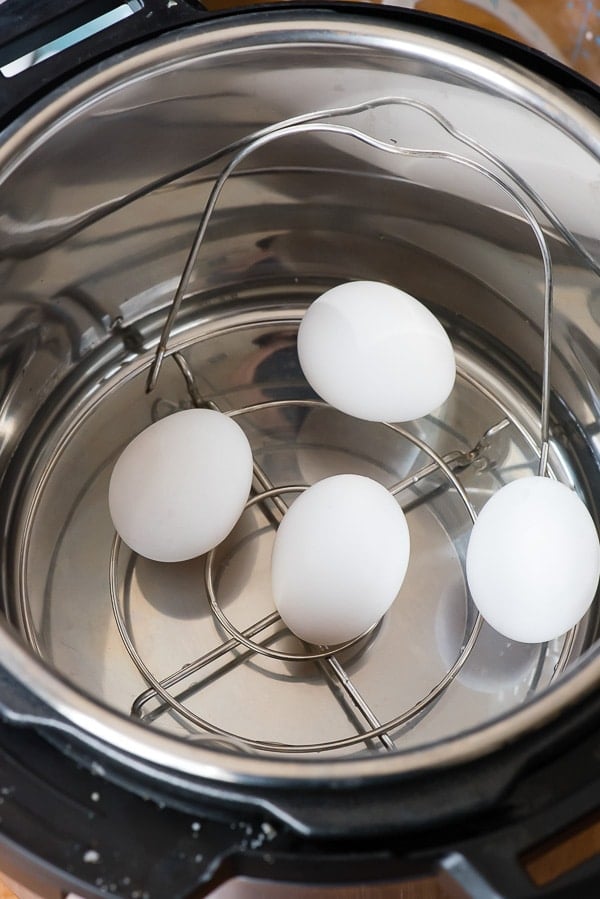 Testing PERFECT Instant Pot Hard Boiled Eggs
I'll spare you my elaborate spreadsheet of testing and results but I tested on low pressure and high pressure, with a quick pressure release and slow release, with an ice bath and without, conventional white eggs and cage-free pasture-raised brown eggs.
My results showed cooking eggs on high pressure (I experienced no cracking with white eggs which are more thin-shelled or brown eggs), with a slow release of 5 minutes and another 5 minutes in an ice bath was the golden method.
I was able to cook them on low pressure successfully (for a longer time) to my criteria too though it took longer and they weren't quite as easy to peel.
I think the ice bath serves to both cool the eggs and stop the cooking process as well as improves 'peel-ability'; they peel like a dream.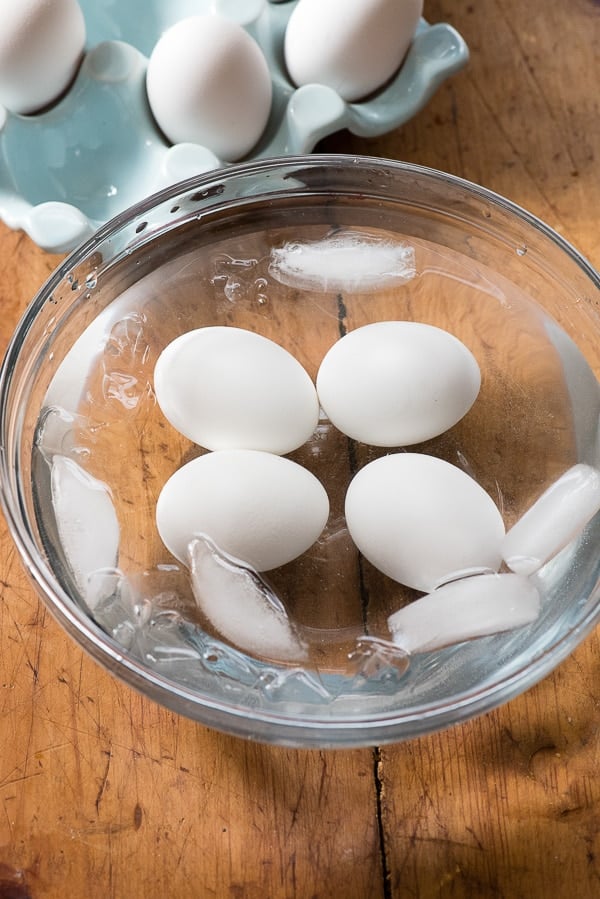 I did run into a surprise during this testing, however: that these are the best hard boiled eggs I've ever eaten!
The white is perfectly cooked without being rubbery.
The yolks are light and fluffy with a beautiful flavor.
They are also a brilliant yellow with no grayish outer ring from over cooking. I'm very excited about how to make the perfect Instant Pot hard boiled eggs!!
The BEST Instant Pot Hard Boiled Eggs
After extensive testing, I believe this is the best hard boiled egg recipe ever (seriously). It's:
Fast
Easy
No shell cracking
Perfect easy peeling
I personally think it makes the best TASTING hard boiled eggs too.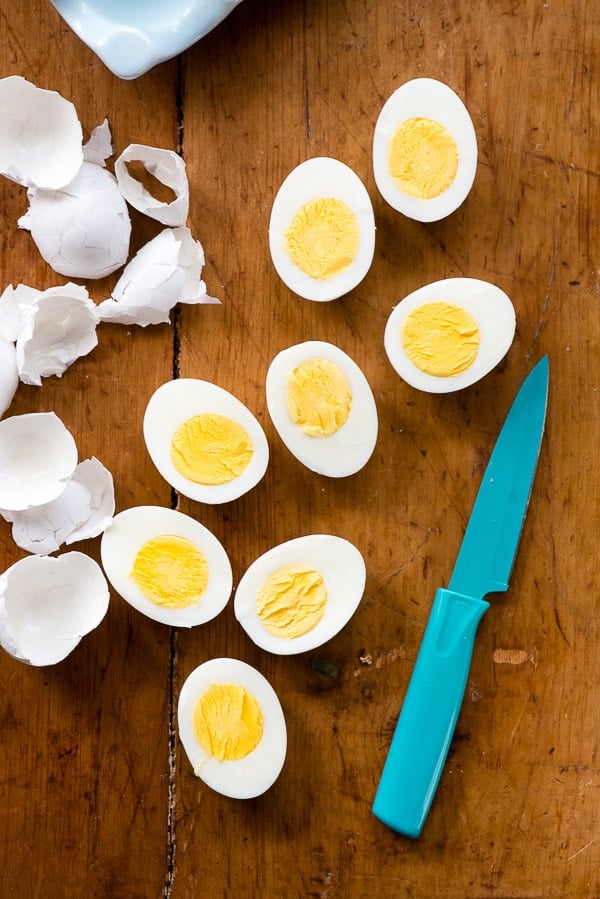 How to Make Perfect Instant Pot Hard Boiled Eggs
Making fantastic hard boiled eggs in the Instant Pot is easy and takes three steps:
cooking with high pressure and the cooking time is based on altitude (and is rounded to a the nearest minute).
a 5 minute slow release, and
a 5 minute ice water bath.
These eggs don't crack and are very easy to peel, leaving the egg smooth.
The great thing about the Instant Pot is that you can make 1 perfect hard boiled egg or a dozen at the same time.
I suppose that is the same for making it on the stove top but I can't predictably make hard boiled eggs on the stove without some cracking and the white oozing out.
I was excited after landing on what I feel is the perfect Instant Pot hard boiled egg recipe.
What I did NOT anticipate is how much better the flavor of the cooked eggs is!
Fast forward a year after originally publishing this recipe and I make a batch of these eggs a week. I crave them now.
I also have received a reader email weekly from those at high altitude letting me know that this recipe made the best hard boiled eggs they've had!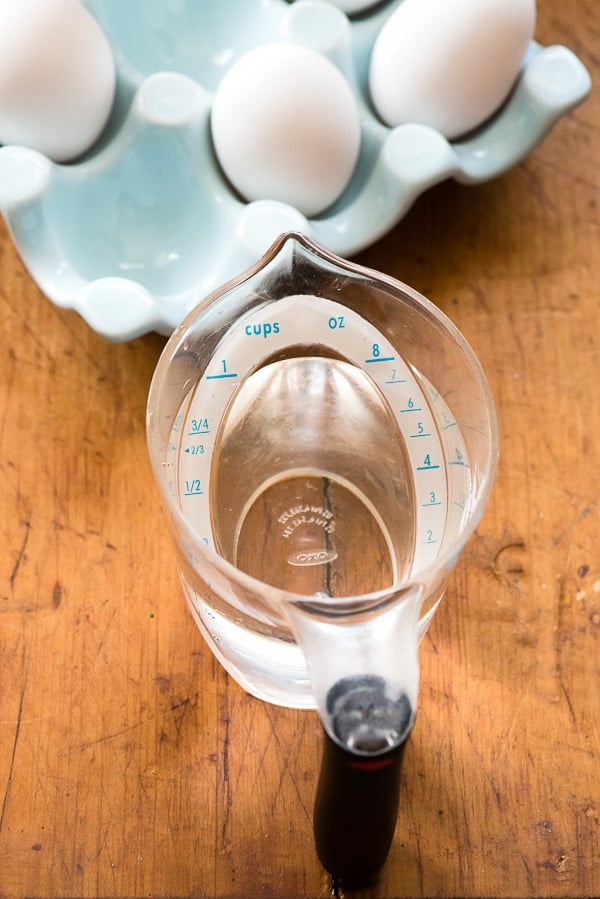 If you need some inspiration about what to make with your eggs, these 22 Fantastic Recipes for Leftover Hard Boiled Eggs is sure to spark some inspiration (along with the recipes on the first page).
If you are looking for some Easter Egg options I have you covered! I love these Naturally Dyed Easter Eggs – using food ingredients for dying. Have some spare ties laying around? Silk Dyed Easter Eggs are fun to make and any silk will work. Want something super easy? Tattooed Easter Eggs use removable tattoos (that you can make yourself too). I used naturally blue colored eggs for these.
Mind-Blowing Instant Pot Tips You Need to Know!
After developing Instant Pot recipes for the past few years, I've uncovered some unexpected, useful tips I think you'll want to know!
Sign-Up below and I'll tell you all my Instant Pot secrets!

UPDATE July 2018: I've now made Instant Pot hard boiled eggs via this method weekly; probably 100 batches. The results are always consistent and the eggs delicious. The ONLY time I've found an issue with cracking has been with eggs from a specific local farm which I've observed have very thin shells.
Recipe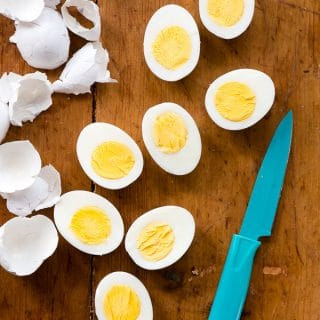 How to Make Perfect Instant Pot Hard Boiled Eggs
This three part method of cooking hard boiled eggs in the Instant Pot is a proven success! The cooking time is based on altitude and is rounded to a the nearest minute.
Print
Save Recipe
Recipe Saved!
Pin
Rate
Servings:
1
dependent on quantity of eggs used
Ingredients
1

cup

cold tap water

Large eggs

(any amount)

Ice and cold water

(for an ice bath)
Instructions
Place the rack that comes with the Instant Pot in the insert. Pour in the 1 cup cold tap water. Add the eggs on the rack.

seal the lid of the Instant Pot positioning the pressure vent to SEALING.

Select MANUAL, HIGH PRESSURE and using the "=/-" buttons insert the correct time for your altitude: 0-3,000 feet=8 minutes, 3,000-5,000 feet=9 minutes, 5,000-7,000 feet=10 minutes.

When the cooking time has completed allow the Instant Pot to naturally release for 5 minutes then release the remaining pressure.

Place the eggs (carefully using an oven mitt or kitchen towel, they will be very hot) into a bowl with cold water and ice for 5 minutes. Remove and peel or store in the refrigerator.
Notes
NOTE on Total Time: The total time listed accounts for the cooking time, slow release of 5 minutes, water/ice bath for 5 times and time for the Instant Pot to come to pressure. The time for the latter is an estimate and it could take longer to come to pressure.

Nutrition Information is based on 1 hard boiled egg. Multiply times the number you make for complete information.
Nutrition
Calories:
62
kcal
|
Protein:
5
g
|
Fat:
4
g
|
Saturated Fat:
1
g
|
Cholesterol:
163
mg
|
Sodium:
62
mg
|
Potassium:
60
mg
|
Vitamin A:
240
IU
|
Calcium:
25
mg
|
Iron:
0.8
mg