How to Grill Steak can be a challenge for grillers and an expensive experiment. This guide will give you Everything You Need to Grill Like a Pro for perfect steak every time.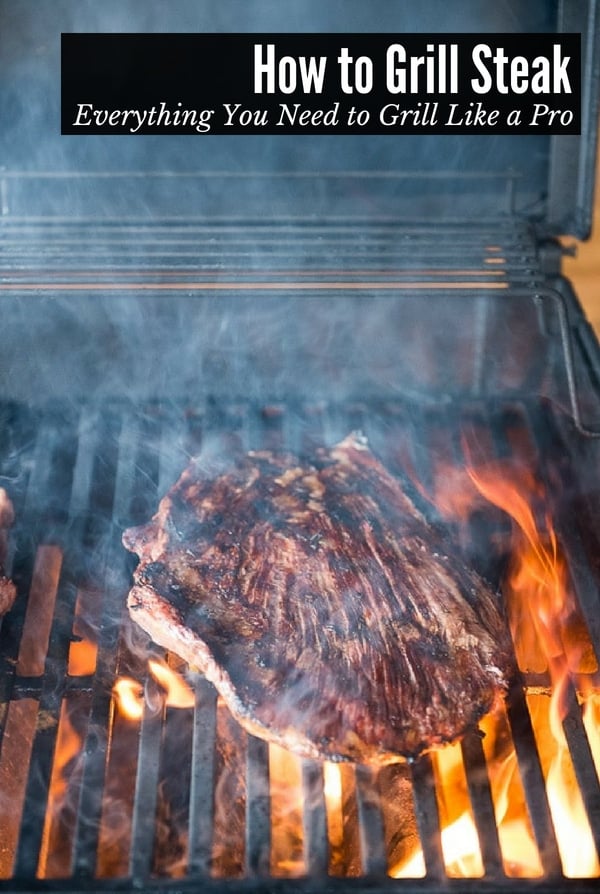 Grilling steak well is one of the biggest conquests for grillers. Let's face it, when you are in the mood, nothing tastes better off the grill than a sizzling steak, perfectly cooked.
It's the 'perfectly cooked' part that trips up many grillers.
Unless you are a well-done steak lover (no harm in that) learning how to grill steak is a key skill. Steak is expensive so experimenting isn't something most people consider as they might with grilled burgers or hot dogs.
There are some basic keys to success common to all types of steak (and cooking with a gas grill OR charcoal grill) that will take any worry out of the best way how to grill steak!
Jump to: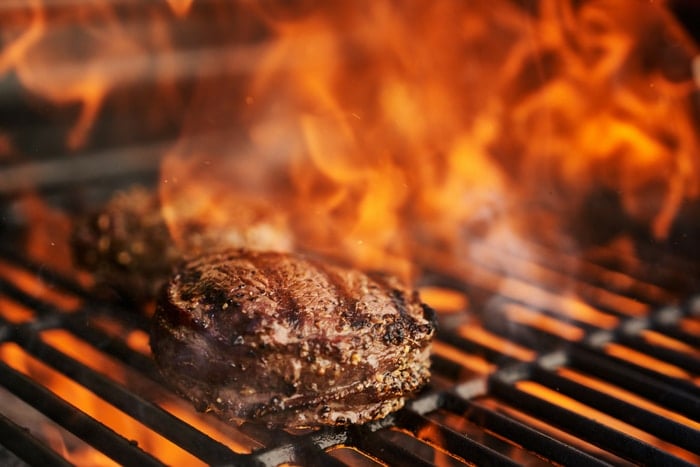 Pro Tips for Grilling Steak
Here are our Grill Master best tips for great steak every time!
Buy Good Quality Steak
Regardless of the type of steak you'll be grilling, purchasing good quality meat directly affects the end result.
Premium, Choice and Select are the three grades of steak. The grades reflect several factors affecting the 'palatability' of the meat including the marbling, or the fat running through the meat (not the fat on the outside of the meat).
In this case fat is good because it gives the meat a more tender texture and great flavor.
Note: Premium is the highest quality and is often difficult to find through the grocery store.
Choose Fresh over Frozen if possible
It will have more juices which pay off with the end moistness of the meat.
Buy 1-inch Thick Steak
Buy a 1-inch steak or thicker depending on the type of steak. A thick-cut steak with good marbling is easier to grill well and gives great flavor.
Steak Does NOT Need to come to Room Temperature Before Grilling
Bringing to room temperature can speed grilling but if you don't have the time don't sweat it. Put a cold steak on the grill and just adjust grilling time as needed.
An exception to this is Porterhouse steak which is so massive starting at room temperature helps with even cooking.
Always start with a Clean and Oiled Grill Grates
It's not only hygienic but it will help keep steaks from sticking to the grates.
Heat the grill to temperature, brush the hot grill grates vigorously with a grill brush to remove any particles from prior grilling.
Use a folded paper towel, pour some cooking oil on it and run it over the cooking grate (I use my grill brush to push it since the grill is hot).
Set up 2 Temperature Zones on the Grill
Sear the steak on high then place steaks in a cooler zone to complete cooking time over a lower temperature.
The cooler side of the grill is referred to as indirect heat because the flames won't be active below the meat. It's also called indirect grilling.
Grill with the lid down for thicker steaks
Searing can be done with the lid open. When moving a steak to the cooler zone to finish cooking after searing, closing the lid allows a the steak to be surrounded by heat.
Flare ups from the grill are minimized and the grilling time is lessened due to the concentration of heat.
Use Tongs to Flip a Steak
Using a fork can pierce the steak and release those juices we covet in a grilled steak. A spatula can be unwieldy when trying to flip a steak.
Tongs allow control especially when placing purposefully for grill marks!
Turn the Steak Only Once!
This allows a beautiful crust to develop and helps prevent the steak from drying out.
Don't Cut into a Steak to Check for Doneness
Use an Instant Read meat thermometer. Once the steak is within 5 degrees of doneness, take it off the grill and rest it for 5-7 minutes. See the next bullet below.
Steak will Continue to 'Cook' after being Removed from the Grill
The temperature can increase 5-10 degrees after removed from the grill. Allowing the steak to rest after taking off the grill allows the steak to relax and the juices to develop for a more tender, juicy steak.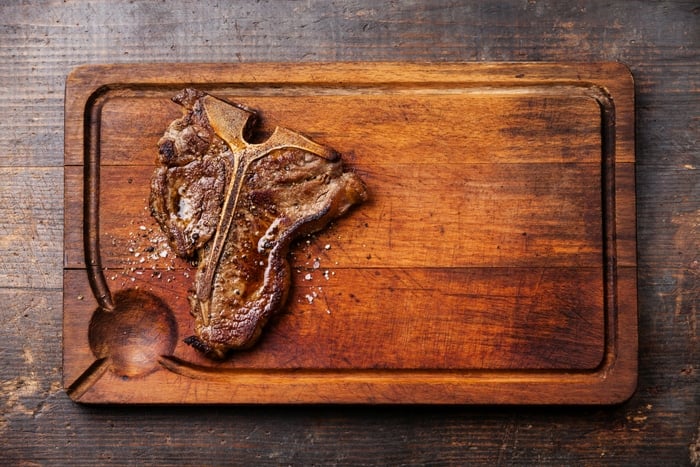 Best Steaks for Grilling
This steak list is not exhaustive but includes popular cuts of steak perfect for grilling. They are listed from the most expensive at the top to the least expensive.
Filet Mignon: usually small and thick, Filet Mignon is revered for its buttery texture. It is a compact, leaner steak.
Porterhouse: like the T-Bone a Porterhouse is two steaks in one. Porterhouse steaks are larger than T-Bones. Known as the 'King of the T-Bones'.
T-bone: the large T-shaped bone separates the steak into two different steaks: a strip or top loin steak and a tenderloin. It's best known for its appearance, taste and texture.
New York Strip: also known as a Delmonico steak, or Kansas City steak, a NY Strip steak is a boneless steak (it's pictured below in how to get great grill marks). It is very tender when cooked correctly and has a classic beef flavor.
Ribeye steak: has a good fat content which gives it great flavor. Rib eye is more forgiving and harder to overcook but the higher fat content lends itself to grilling flare ups from splattering if not monitored closely.
Top Sirloin steak: not the top steak for tenderness but great beef flavor and can be used in many dishes. Take care to not overcook a sirloin which will make it tough.
Skirt Steak: a flavorful boneless steak usually cut thinly across the grain. It is a lean cut that benefits from marinating to help with tenderness.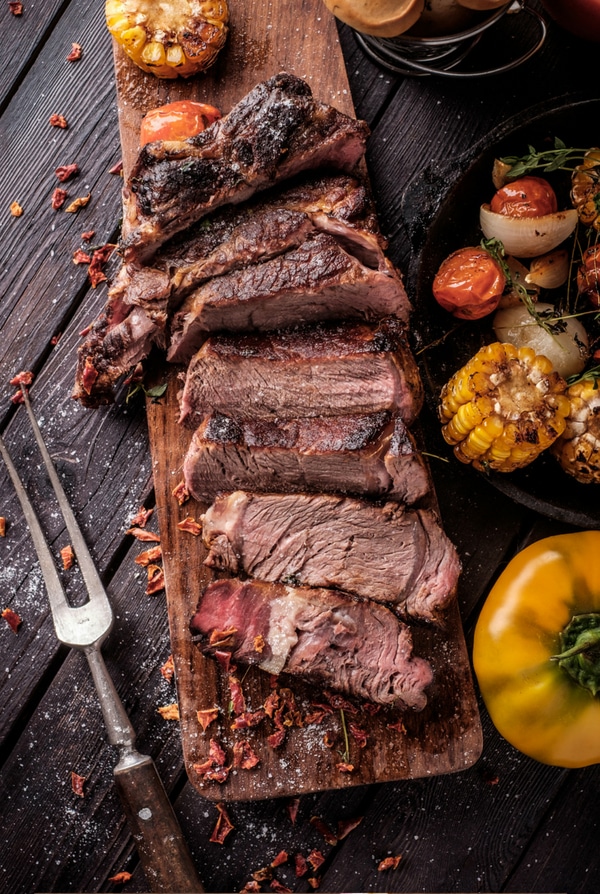 Most recipes call for a high heat temperatures; 450 degrees to 500 degrees.
This allows quick searing of the steak to develop the Maillard reaction. It's a chemical reaction creating a nice crust on the steak, great flavors and it seals in the juices.
What is the Doneness Temperature of the steak?
The USDA has developed doneness temperatures which are oriented toward food safety.
They are temperatures that would ensure any unsafe pathogens are killed in the cooking process.
Final Cooked Internal Temperatures per Doneness Levels per the USDA:
Rare 130-140 degrees
Medium-Rare Steak 145 degrees
Medium 160 degrees
Well Done 170 degrees
For a visual reference of what each level of doneness looks like, this chart is a good one.
If you look around the internet you'll find often steak enthusiasts and grillers have a different, lower set of temperatures, feeling the meat tastes better.
Use personal judgement and experience when selecting your doneness level.
| Doneness | Remove from Grill (temp F) | Resting time (minutes) | Final Steak Temperature (F) |
| --- | --- | --- | --- |
| Rare | 120 degrees | 5 | 125 degrees |
| Medium-Rare | 130 degrees | 5 | 135 degrees |
| Medium | 140 degrees | 5-10 | 145 degrees |
| Medium-Well | 145 degrees | 5-10 | 150 degrees |
| Well done | 155 degrees | 5-10 | 160 degrees |
NOTE: The USDA recommends steaks and roasts be cooked to 145°F (medium) and then rested for at least 3 minutes. Resting time will differ depending on the steak type being grilled.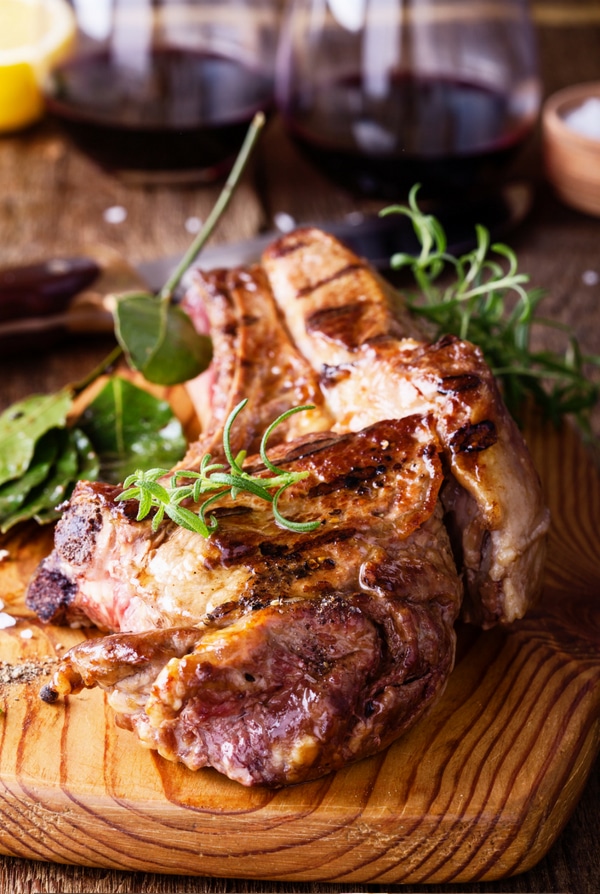 What is Marbling?
Marbling in steak is the amount of fat IN the meat itself, not on the outside. When you look at a steak you'll notice small white streaks in the meat. That's the marbling!
What does it mean to Let the Steak Rest?
After taking the steak off the grill it's allowed to sit, usually for 5-10 minutes, before eating it.
That is 'resting' the steak. Sometimes a steak recipe will call for tenting foil over meat while it rests which allows the temperature to continue to rise as it sits.
The purpose is to let the steak relax and the juices accumulate for a tender, juicy steak.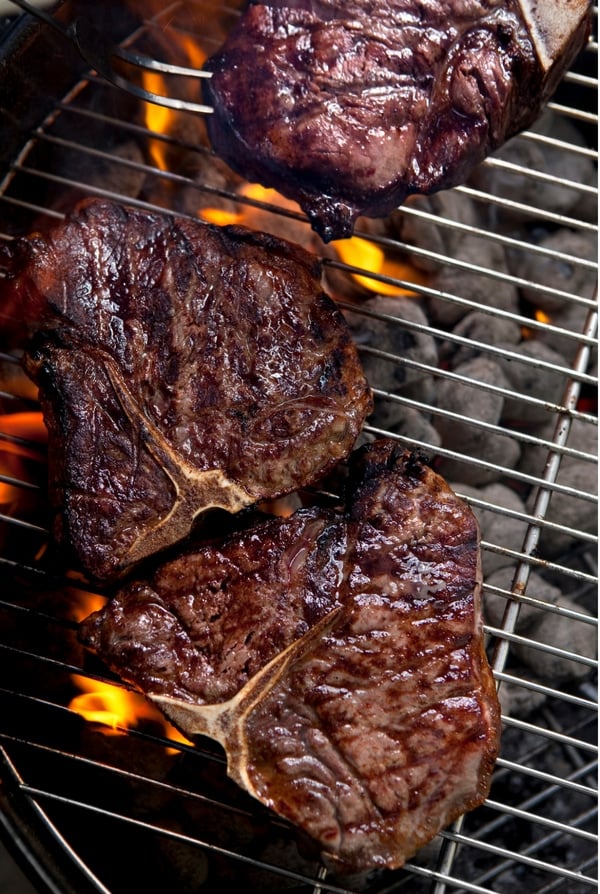 How to Determine If a Steak is Done?
Some grilling experts use a touch test correlating the feel of the fleshy part of your palm to the level of doneness.
I personally prefer using an instant read meat thermometer.
How to Check the Temperature of a Steak with an Instant Read Thermometer
Using an instant read thermometer, insert the probe into the thickest part of the steak.
Avoid the probe touching any bone or being inserted through the steak exiting the other side.
How to Get Perfect Grill Marks
Perfect cross hatch grill marks are a signature look of how to grill steak well!
Place the steak on a prepared grill (heated, brushed and oiled). Halfway through the per-side grilling time, rotate the steak 45 degrees.
Example: these New York Strip steaks grilled 4 minutes per side. After the first 2 minutes, they were rotated 45 degress and grilled for an additional 2 minutes.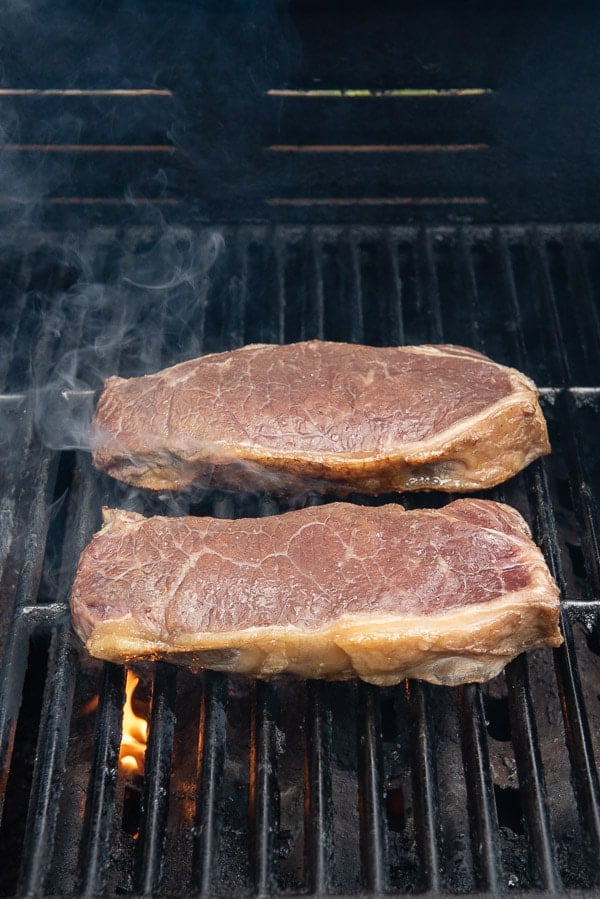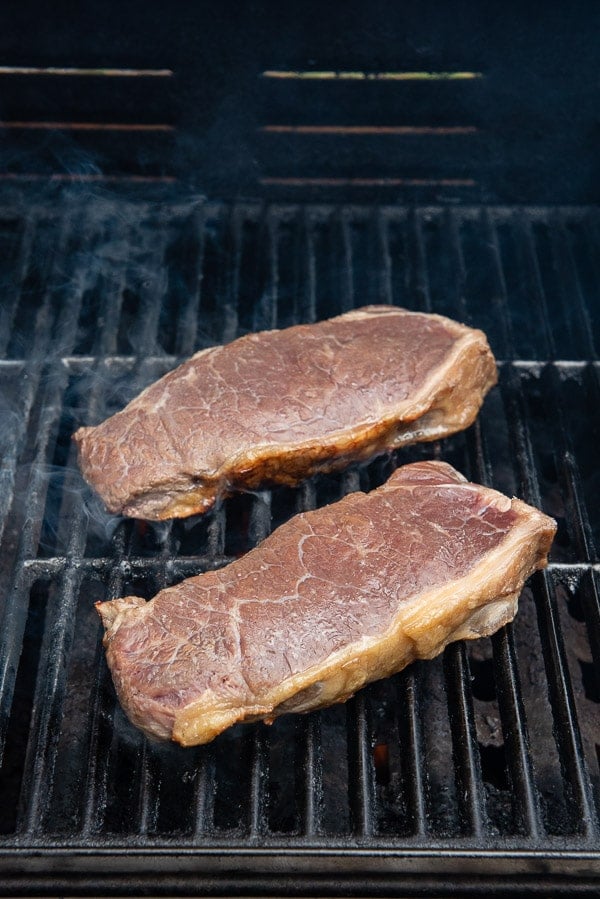 Turn the steak over and repeat: one half of the grilling time per side, rotate the steak 45 degrees and grill the remaining time for that side.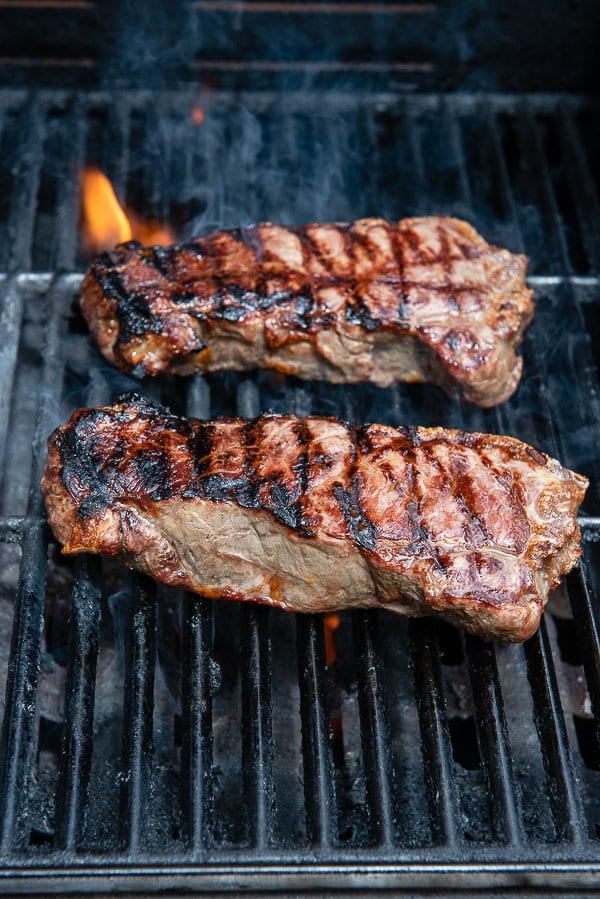 Note: the grilling time per side will differ depending on what type of steak being grilled.
You'll have those mouthwatering perfect grill marks everyone loves!
Suggested Tools
After doing a grilling intensive course a few years ago, I love finding the best and most affordable tools. I keep a running collection in my Amazon.com Store but here are some 'must haves' for grilling steak.
Instant Read Thermometer handheld or with wireless digital probe for grilling
Grill thermometer (most grills have these but if not this works to measure the temperature of the grill, not the steak)
A good Grill Brush
Recipes Ideas
Grilled steaks are often made even better with a dab of herb butter added at the end of grilling.
Remember to check the internal temperature with the instant read thermometer to decide when to remove the steaks for your desired doneness (and to take them off the grill 5-10 degrees below your desired doneness temp and let them rest).
Filet Mignon: Filet Mignon Steaks with Cherries, Port and Thyme
Porterhouse: Perfect Porterhouse Steak on the grill
T-bone: Grilled T-Bone Steaks
New York Strip: How to Grill Perfect New York Strip Steaks
Ribeye: Grilled Rib Eye Steaks
Sirloin: Grilled Sirloin Steak with Garlic Butter
Skirt Steak: Grilled Skirt Steak Sliders with Salsa Verde Aioli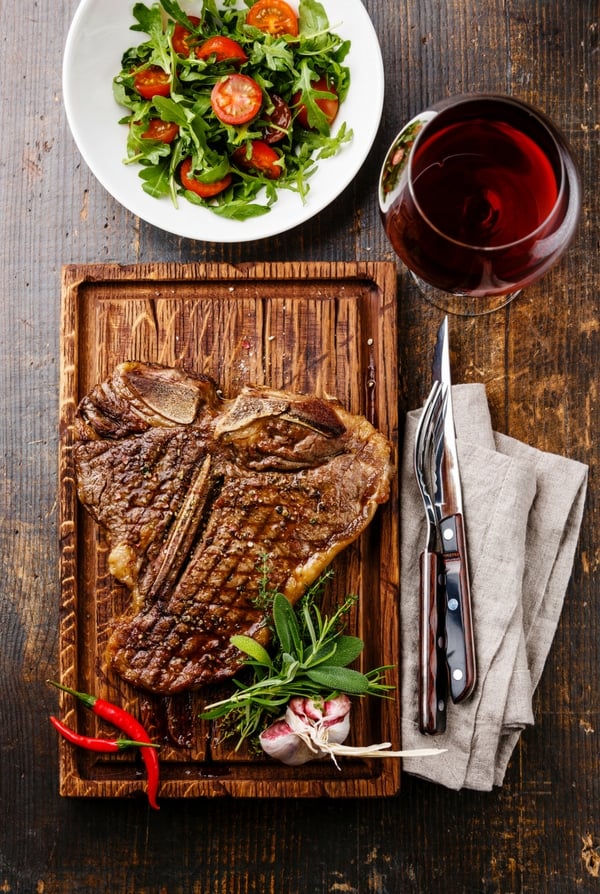 More Delicious Recipes You'll Love
Did you make it? Please RATE THE RECIPE below!
Please
SUBSCRIBE
and
FOLLOW ME
on
FACEBOOK
,
TWITTER
,
INSTAGRAM
and
PINTEREST
! [ratemypost]
Originally published: August 30, 2018