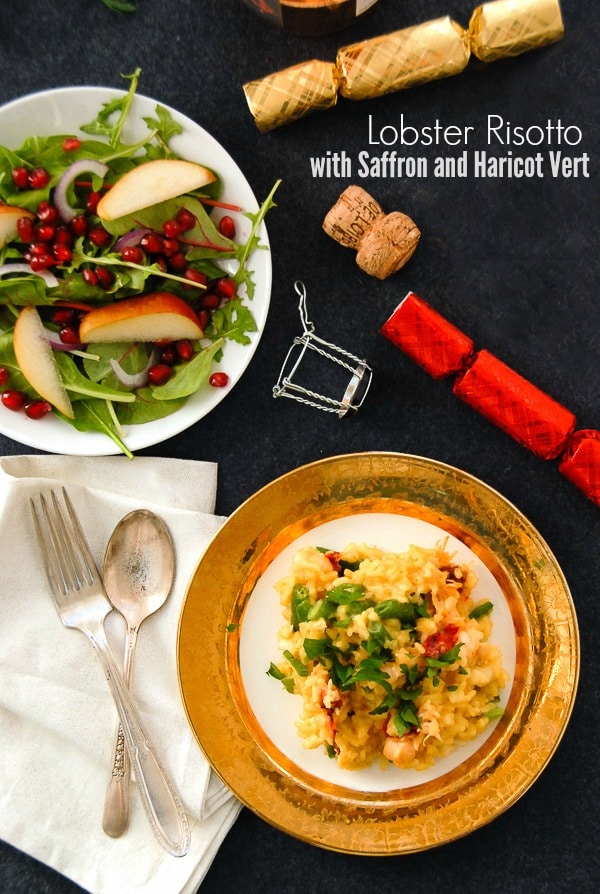 One thing I love about the holidays is the chance to delve into more time consuming recipes than I usually can manage during the rest of the year. The dinner menu for Christmas Eve, Christmas Day and New Year's Eve drive special attention, wanting to be sure to mark the occasion with panache. Somehow New Year's Eve tends to draw planning toward the more decadent, luxe ingredients that we don't eat as often. This year it will be a soul-warming Lobster Risotto with Saffron and Haricot Vert (slender green beans).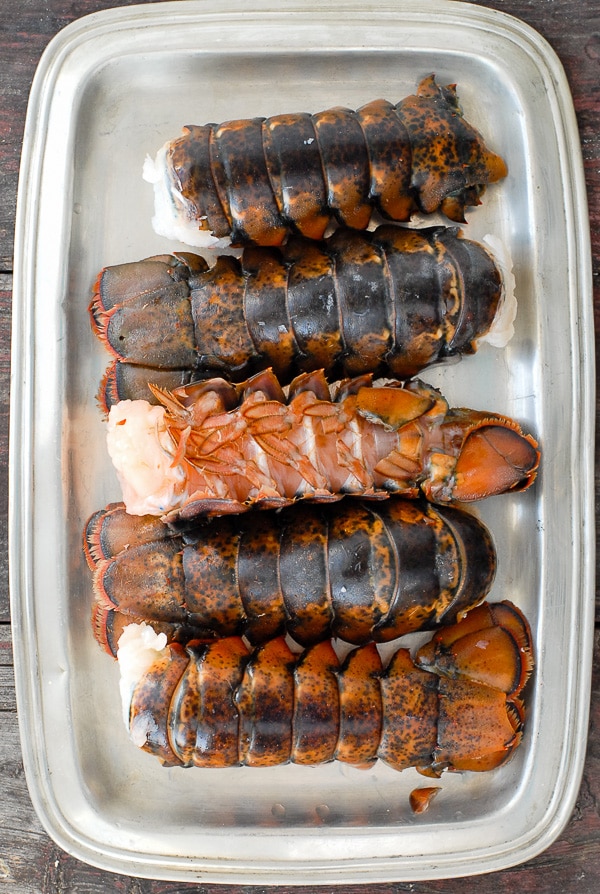 A second thing I love about the holidays is the chance for my husband to cook. He's a very good cook, a creative and self-studied cook who rarely gets the chance during the work week to have at it in the kitchen. We gravitate to preparing different types of cuisine so it's a treat to have him take over the holiday meals which he generally manages, and expertly so.
I love a risotto. It's a bit like an insistent date who covets every moment of your attention but in the end it is a worthwhile effort. Risotto is a labor of love and one I whole heartedly find is a great investment of time; especially when my husband is cooking! In the event you have not enjoyed risotto, it is a rice dish made with Arborio rice which cooks differently than other types of rice making in the end a creamy, lush dish. The road of preparation can be perilous however because if one's attention strays during the final stage of adding the liquid and stirring even slightly the dish can turn into a 2 year old having a tantrum and waste the time you've invested. Turn off the phone, don't try to multiplex and enjoy the efforts to produce this lovely dish!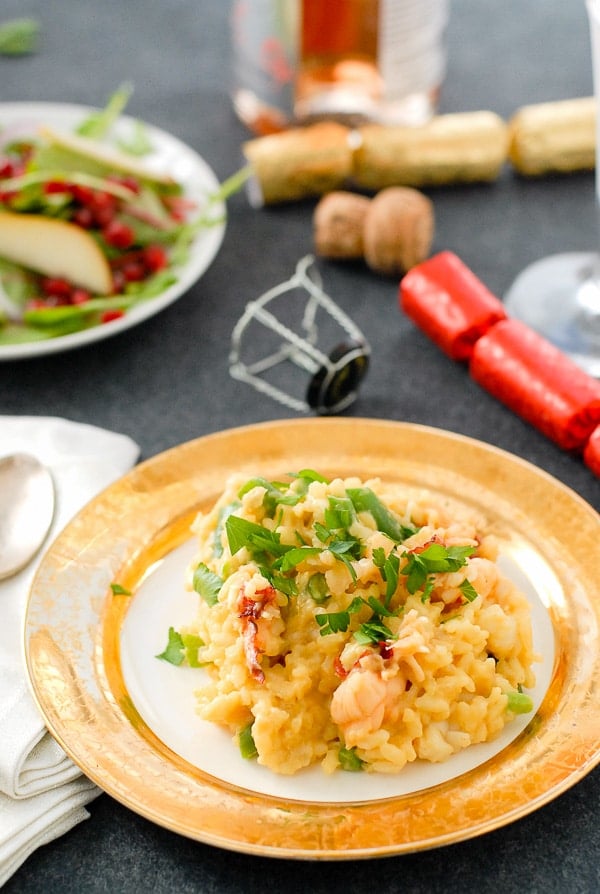 Were one to produce this in the spring when asparagus or peas are fresh, they would be a perfect seasonal substitute for the beans. Green beans or haricot vert are a beautiful addition at this time of year adding some color, texture and slight flavor to the rich, creamy warmly-toned dish. The ideal consistency of risotto is both personal and debatable. I once heard a chef on television say a perfect risotto would relax on the plate and ease out a bit. I personally prefer a bit more structure but all of this is easily controlled by the addition of liquid during the final stages of cooking. If one wishes it to be creamier, more liquid is added.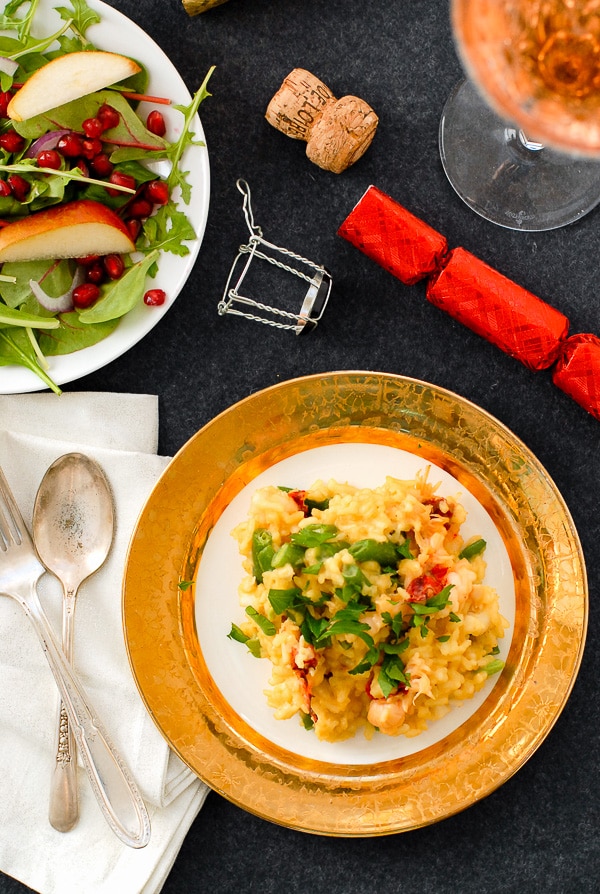 For some other fun New Year's Eve recipe, you might enjoy:
How to Make Lobster Risotto – Step by Step: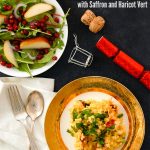 Lobster Risotto with Saffron and Haricot Vert
This luscious, luxe risotto is perfect for a special celebration or any meal you wish to make out of the ordinary. Lobster tails, saffron and haricot vert/green beans (or asparagus or peas when in season). A labor of love that is completely worth it! Perfect for New Year's Eve.
Total Time
1
hour
15
minutes
Ingredients
4

cups

low sodium Chicken Broth

2 ½

cups

water

4-5

Lobster Tails

(approximately 1 ¼ pounds with shells on)

¾

pounds

fresh Green Beans or Haricot Vert beans

Large pinch of Kosher Salt

1/3

cup

Dry White Wine

¼

cup

Shallots or Yellow Onion

, finely diced

3

+ 1 tablespoons unsalted Butter

3

tablespoons

Canola Oil

Large pinch of Saffron threads

2 ½

cups

Arborio Rice

¼

cup

Parmesan Cheese

, grated

Garnish: diced Italian parsley
Instructions
In a stock pot combine chicken broth and 2 ½ cups water over medium-low heat; bring to a gentle simmer.

With a sharp, heavy knife split the lobster tail shells lengthwise.

Using your hands, remove the meat from the shell (does not matter is it pulls apart). Reserve tail shells. If the lobster has a large vein (which is really the lobster's intestine) on the back of the meat remove it and discard (see photo).

Cut lobster meat into bite sized pieces. Place in a bowl, cover and refrigerate until needed.

Add lobster tail shells to the stock. Continue to simmer stock over medium-low heat for 30 minutes.

Rinse and trim green beans. Cut into 1 inch lengths.

Blanch the beans by placing them in boiling water with a pinch of salt for 3-4 minutes and transfer them to an ice bath (bowl with cold water and ice cubes) for 1 minute. Drain and set aside. Note: Test a green bean for doneness after blanching. They do not soften incredibly after being put into the risotto so allow them to stay in the boiling water until close to your preferred softness.

Strain the lobster shells from the stock. Return stock to stovetop over low heat and discard shells.

In a large Dutch oven or Casserole over medium high heat, combine 3 tablespoons butter and 3 tablespoons canola oil, stirring until butter melts.

In a separate small mixing bowl, rub a large pinch of saffron threads between thumb and forefinger to break up the threads; add to bowl. Add ½ cup of the simmering stock to crushed saffron.

To the Dutch oven add diced shallots or onion. Sauté, stirring frequently until translucent (about 2-3 minutes); do not brown.

Add rice to Dutch oven. Stir to coat fully with butter-oil-shallot mixture. Stir over medium-high heat for 2-3 minutes.

Pour white wine into Dutch oven, cooking stirring constantly until liquid evaporates (about 1 minute).

Add ¼ cup stock to rice mixture, stirring until absorbed. Repeat, continuing to add stock and stir until liquid is absorbed.

After 12 minutes, pour in crushed saffron and stock mixture. Stir until liquid is absorbed.

After 18 minutes add the green beans and stir to combine. Continue to add stock, stirring until liquid is absorbed.

Taste the rice around 20 minutes and when it is 'al dente', soft but still with structure in the middle, the lobster should be added. If it is not yet this texture at 20 minutes, continue to add stock, letting it absorb, tasting the rice until the desired texture is reached to add the lobster. If you run out of stock before the rice reaches the desired consistency, add water ¼ cup at a time until the rice is 'al dente'.

Cook the rice with the lobster added, stirring constantly for 5 minutes.

After 5 minutes, turn off the heat and stir in the parmesan cheese, 1 tablespoon of butter, salt and pepper to taste. Serve immediately. Garnish with diced Italian parsley.
Nutrition Facts
Lobster Risotto with Saffron and Haricot Vert
Amount Per Serving (6 g)
Calories 351
Calories from Fat 63
% Daily Value*
Total Fat 7g 11%
Cholesterol 43mg 14%
Sodium 227mg 9%
Potassium 316mg 9%
Total Carbohydrates 54g 18%
Protein 13g 26%
* Percent Daily Values are based on a 2000 calorie diet.