Lobster Risotto is a rich and creamy main dish that makes any meal special. Perfect for holidays and celebrating!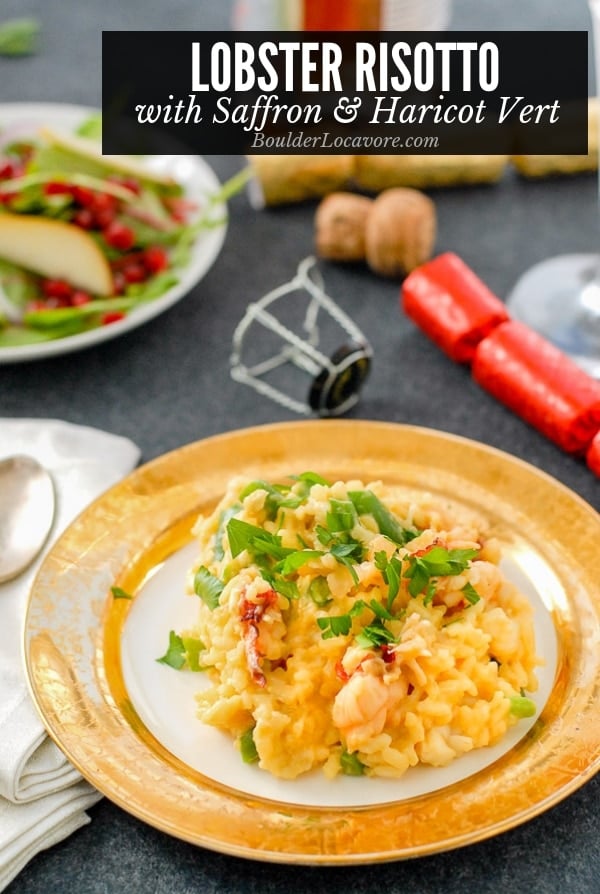 One thing I love about the holidays is the chance to delve into more time-consuming recipes than I usually can manage during the rest of the year.
The dinner menu for Christmas Eve, Christmas Day and New Year's Eve drive special attention, wanting to be sure to mark the occasion with panache.
New Year's Eve tends to draw planning toward the more decadent, luxe ingredients that we don't eat as often.
Soul-warming Lobster Risotto with Saffron and Haricot Vert feels fancy and elegant. With easy step by step instructions anyone can make it at home!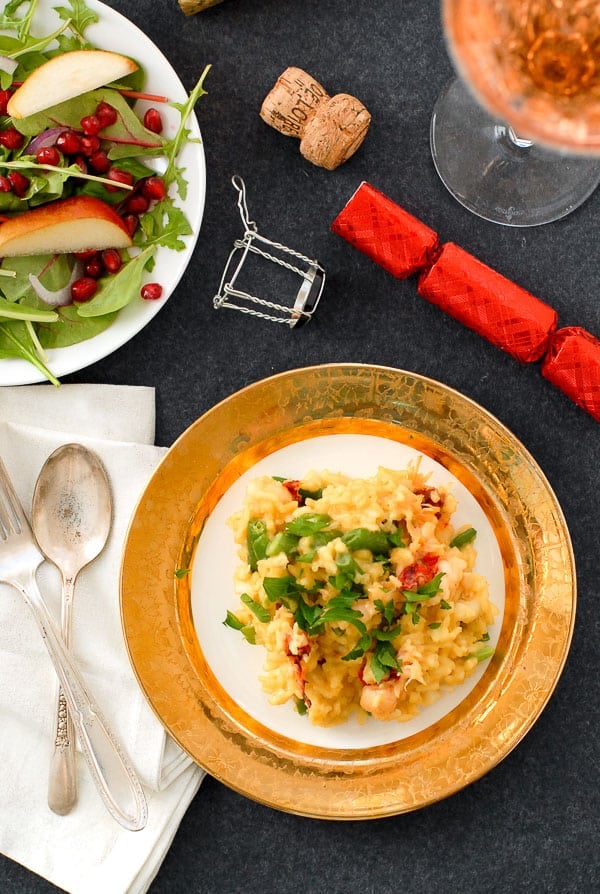 What is Risotto?
Risotto is a rice dish made with Arborio rice which cooks differently than other types of rice.
Adding liquid while cooking and usually other ingredients such as meat or vegetables ends with a creamy, lush dish.
The key about preparing risotto is applying full attention especially toward the end of cooking.
Unlike other rice, there is a lot of stirring involved while adding the liquid to achieve that beautiful creamy end result.
It is a bit of a labor of love due to the attention is requires but well worth it!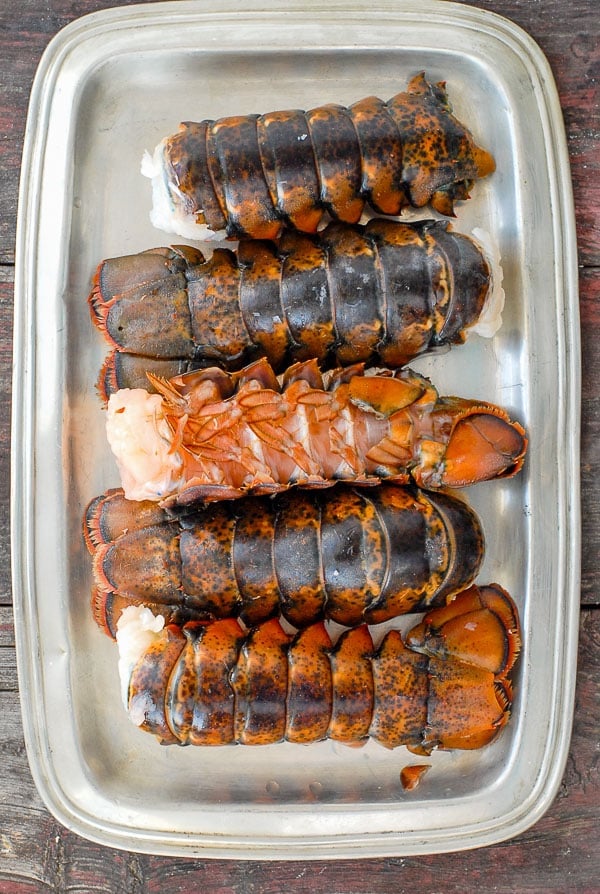 What is Lobster Risotto?
As you've guessed from the name, it's a risotto that has lobster added making it even more rich and elegant!
Lobster tail meat is used for lobster risotto.
What Ingredients are in Lobster Risotto?
The ingredients in risotto are simple and it's the combination of the right ingredients and their preparation that creates the luscious, rich end result!
low sodium Chicken Broth
Water
4-5 Lobster Tails (approximately 1 ¼ pounds with shells on)
fresh Green Beans or Haricot Vert beans
Kosher Salt
1/3 cup Dry White Wine
Shallots or Yellow Onion, finely diced
Unsalted Butter
Canola Oil
Large pinch of Saffron threads
Arborio Rice
Parmesan Cheese, grated
Garnish: diced Italian parsley

What is Arborio Rice?
Arborio rice is a short-grain Italian rice used primarily for making risotto. It is available in grocery stores where other rice can be found.
What is the Ideal Consistency of Risotto?
The ideal consistency of risotto is both personal and debatable. I once heard a chef on television say a perfect risotto would relax on the plate and ease out a bit.
What is Saffron?
Saffron is a spice derived from part of a flower (the stigma) and comes in 'threads'. It literally looks like small pieces of thread.
It is red however creates a brilliant yellow color in foods with a subtle, but distinct flavor. A little goes a long way (which is fortunate because it's a very expensive spice due to the labor-intensive harvesting).
It's a perfect elegant addition to lobster risotto.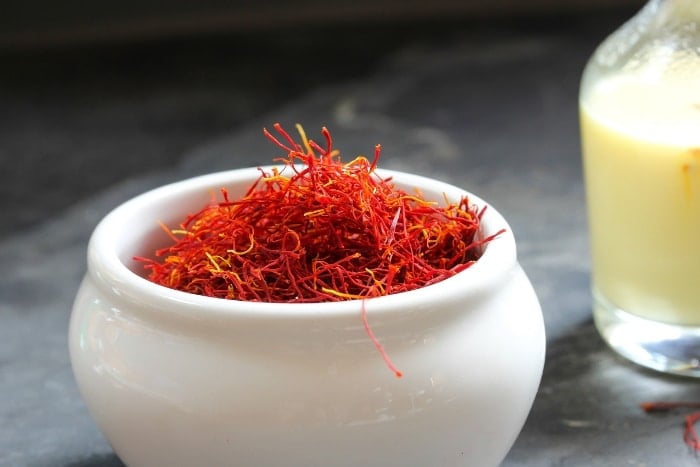 What is Haricot Vert?
Haricot Vert (pronounced 'hair-uh-coe vair') is a long slender green bean with very small seeds. They are delicious and add a nice flavor and bite to this lobster risotto to offset the richness of the dish.
A visual pop of green is a nice complement to the warm hued lobster risotto too.
Haricot vert are often pre-packaged when sold at grocery stores rather than in an open bin like regular green beans.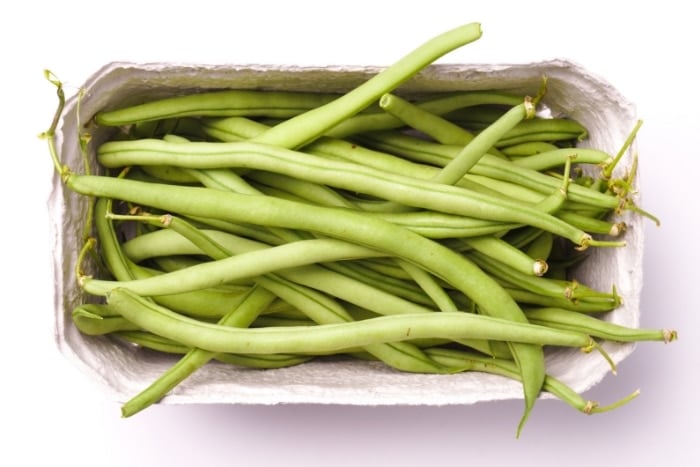 Substitutes for Haricot Vert
Regular green beans can be used for this lobster risotto if haricot vert are not available.
When making lobster risotto in the spring when asparagus or peas are fresh, they would be a perfect seasonal substitute for the beans.
What is the Ideal Consistency of Risotto?
The ideal consistency of risotto is both personal and debatable. I once heard a chef on television say a perfect risotto would relax on the plate and ease out a bit.
I personally prefer a bit more structure but all of this is easily controlled by the addition of liquid during the final stages of cooking.
If a creamier consistency is desired, more liquid is added.
How to Prepare the Lobster Tails for Lobster Risotto
Preparing the lobster tails for the risotto is easy!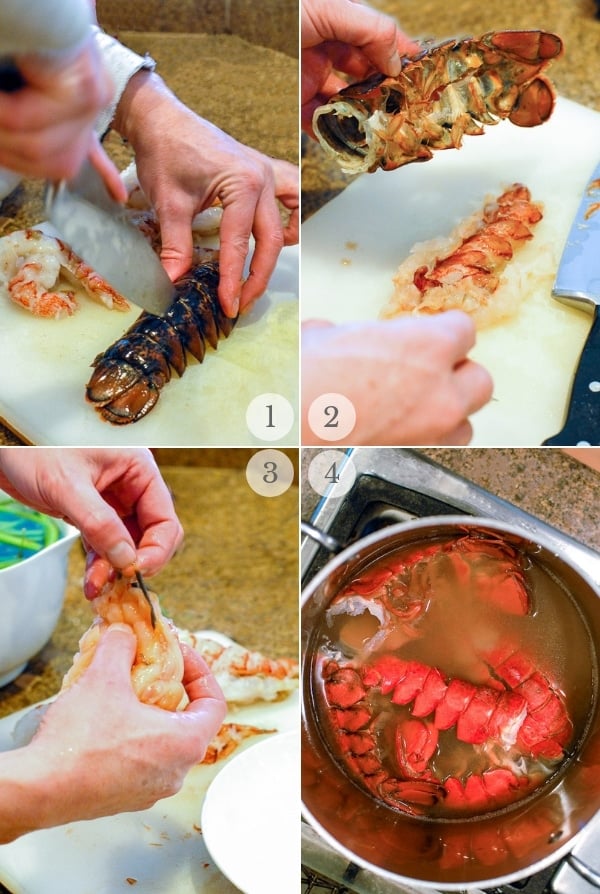 With a sharp, heavy knife split the lobster tail shells lengthwise (photo 1).
Using your hands, remove the meat from the shell (does not matter if the meat pulls apart). Reserve tail shells.(photo 2)
If the lobster has a large vein (which is really the lobster's intestine) on the back of the meat remove it and discard (photo 3).
Cut lobster meat into bite sized pieces. Place in a bowl, cover and refrigerate until needed.
The lobster tail shells to broth and water to make a stock that will be used in making the lobster risotto (photo 4).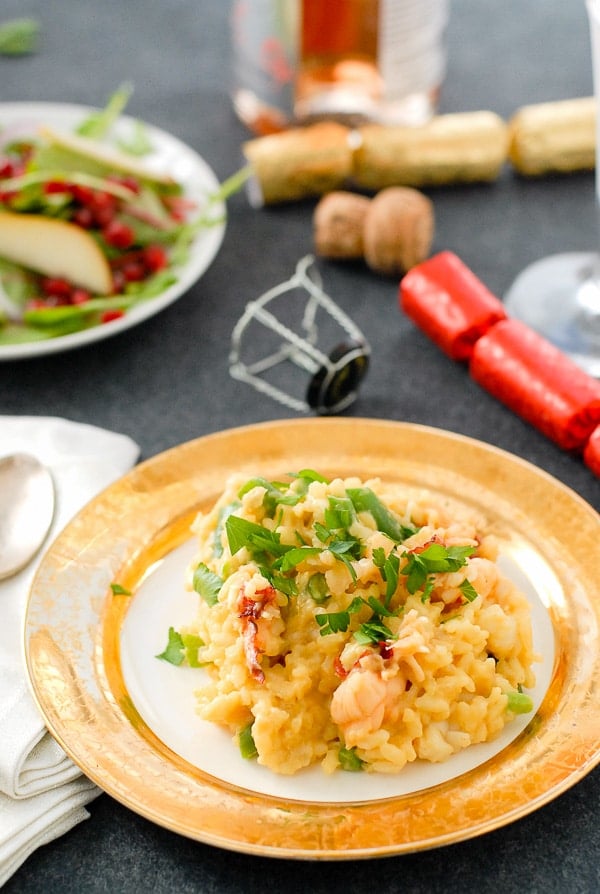 For some other fun New Year's Eve recipe, you might enjoy:
How to Make Lobster Risotto – Step by Step:
Originally published: December 28, 2012