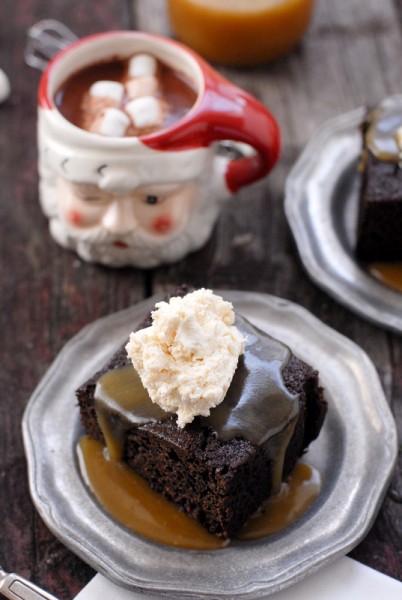 This has been a very weird holiday season I must admit.  Something about the timing of Thanksgiving to Christmas and the weather staying in the mid to high 60's has definitely contributed to an overall 'it's not December' vibe.  Additional significant events that are not holiday related pulled attention from diving into the holiday prep pond for me too.  We woke to snow yesterday and though it may all melt away soon, it has moved me closer to feeling Santa may actually arrive next week and not in an Aloha shirt as our weather has suggested could be the case.
Gingerbread is synonymous with Christmastime don't you think?  Though normally thought of in the form of little, simply shaped men I whipped up this luscious Gingerbread Cake.  I found the recipe in a recipe file I had in college and candidly have no memory of it but the writing on the recipe card IS mine!  Not sure if I made it prior, copied it down from a friend or from whence it came.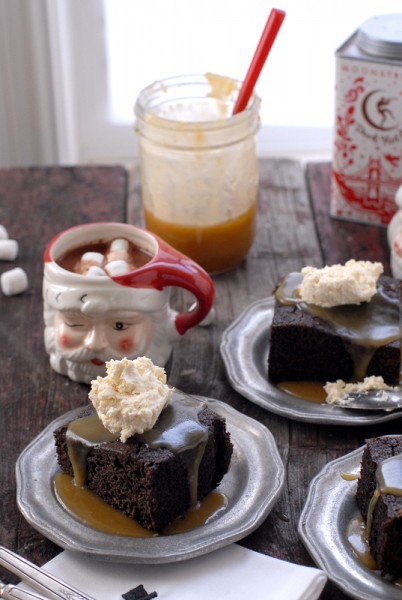 I like gingerbread but am not a huge molasses fan.  I was a bit dubious when reading the recipe that it might taste like straight molasses but I was wrong.  The molasses does provide a deep, rich flavor, complimenting the ginger and cinnamon to deliver a serious gingerbread; moist, soul-stirring, 'of yesteryear' gingerbread.  Attention grabbing without frivolity.
I also have had a recipe of my Grandmother's for Butter Rum Toffee sauce for Gingerbread that I've been dying to pair with the cake.  My Grandmother's sauce calls for melting rum toffee candies as the base flavor which did not seem difficult until I started hunting for rum toffees…..and hunting, and hunting.  Clearly not a modern day favorite or even mass produced any longer.  I recreated the toffee flavors through sugar and use of rum and the sauce turned out sublime!
I love this dessert.  It feels straight out of Dickens to me.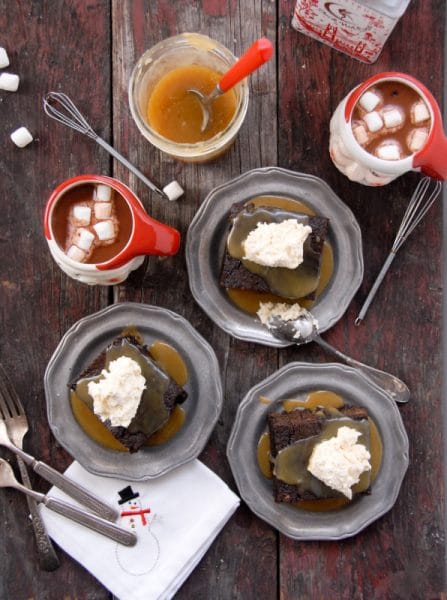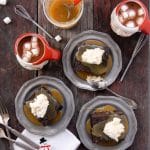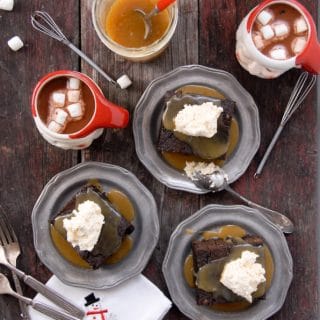 Gingerbread Cake with Butter Rum Toffee Sauce
This is a deep, sultry Gingerbread Cake made perfect with a creamy Butter Rum Toffee sauce. Add whipped cream and life couldn't be better. Beautiful for the holidays.
Ingredients
For the Gingerbread Cake:
½

cup

soft Shortening

2

tablespoons

granulated Sugar

1

Egg

, room temperature

1

cup

Molasses

1

cup

boiling Water

2 ¼

cups

all purpose Flour

(gluten free or regular)

1

teaspoon

Baking Soda

½

teaspoon

Kosher Salt

1

teaspoon

ground Ginger

1

teaspoon

ground Cinnamon
For the Butter Rum Toffee Sauce:
½

cup

(1 stick) unsalted Butter

¼

cup

granulated Sugar

¼

cup

Light Brown Sugar

¼

cup

Heavy Whipping Cream

¼

cup

Rum

½

teaspoon

Vanilla extract

1 ½

teaspoons

Cornstarch
Instructions
Instructions for Gingerbread Cake:
Preheat oven to 325 degrees. Prepare a 9 x 9 pan with parchment paper. Spray with cooking spray.

In the bowl of a free standing mixer* mix together shortening, sugar and egg until combined.

In a separate bowl, combine boiling water and molasses; stirring to dissolve molasses. Pour into shortening mixture and mix to combine.

In a separate bowl combine the flour, baking soda, salt, ginger and cinnamon. Stir together. Slowly add to the batter, beating slowly to fully combine.

Pour into the prepared pan. Bake for 40-45 minutes until the sides of the cake are pulling away from the pan and the top of the cake is firm to the touch. Remove from heat and allow to cool on a cooling rack.
Instructions for Butter Rum Toffee Sauce:
Combine butter and sugars in a medium saucepan over medium-low heat; allow butter to melt and sugar to dissolve. Stir constantly until butter begins to turn light brown (around 5 minutes).

Whisk in the cream, rum, vanilla and cornstarch. Whisk constantly allowing sauce to thicken (about 15 minutes). Note: sauce will continue to thicken when removed from heat so it may not seem as thick as it will be in the end.

Remove from heat and allow to cool and thicken. Can be stored in the refrigerator in a sealed container for 2 weeks and rewarmed when using.
Recipe Notes
*can be made using a hand held mixer