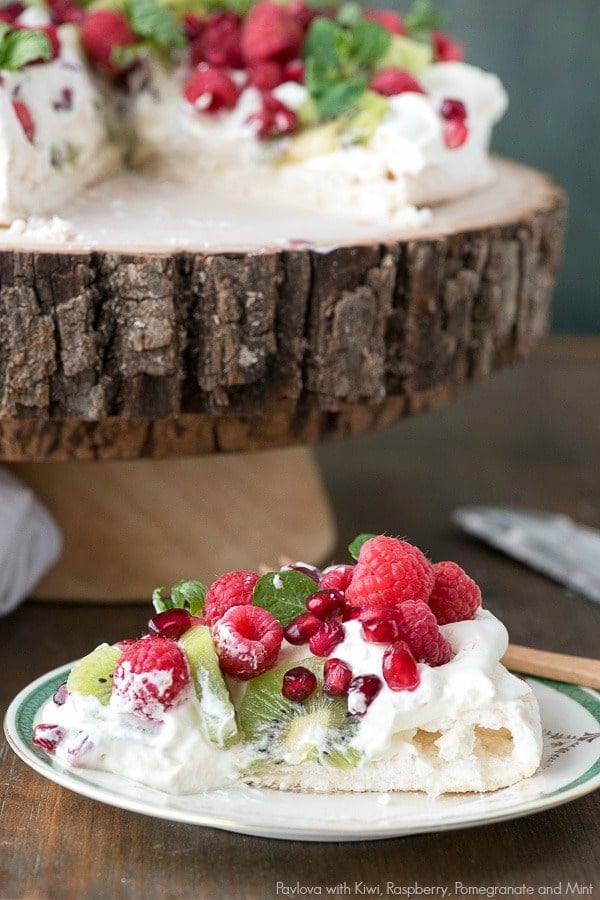 It's hard to believe I'm sharing my last post exploring my Culinary Bucket List in partnership with Silk, purveyor of exceptional plant milks and plant-based foods! I've been so inspired to actually start working on the list rather than adding more and more to it! I'm grateful to Silk for the jumpstart.
I wanted to finish with something special both to me and for the holidays. When I got married we eloped to Fiji and had a native ceremony. The genesis of all of it is a bit foggy now but it started with eloping to Hawaii and honeymooning in Fiji and ended up with doing everything in Fiji. It was the perfect wedding, dressed in handmade Fijian paper garb (years later I saw the same outfit at the Smithsonian), barefoot on a beach. I was carried into the ceremony by the village 'warriors', the men of the village, on a large rattan chair on posts woven with flowers.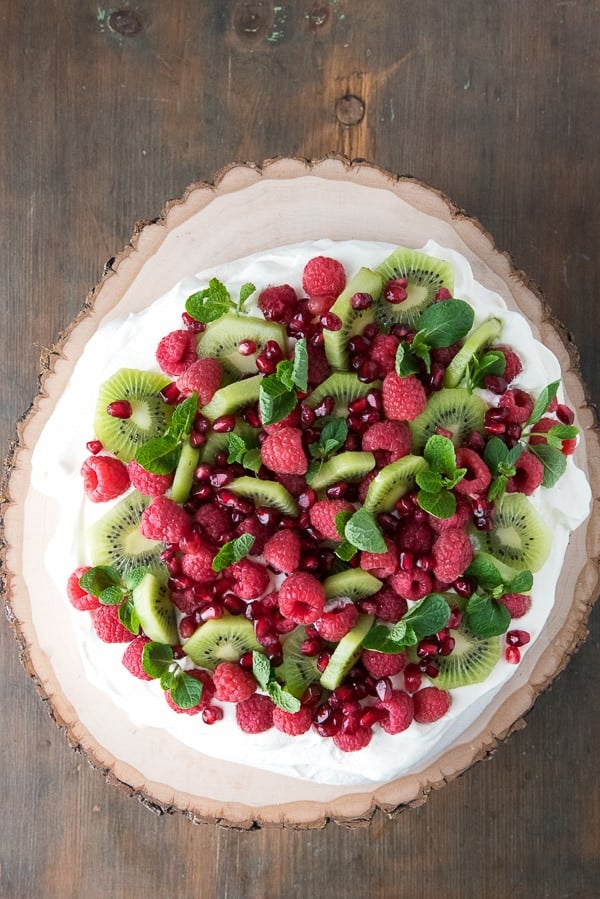 The small resort where we were staying was the only commercial establishment on the island and was for adults only. Couples from all over the world were there. We met a lovely couple from New Zealand, Janis and John, and quickly spent all of our time with them. We'd go in for dinner and the resort staff learned rather than sitting solo our own romantic tables, we would be combined into one where we'd spend the time laughing uncontrollably. The romantic picnics where couples would be dropped with an exotic lunch on a deserted beach only to be fetched hours later, we did together. They were a highlight of our trip.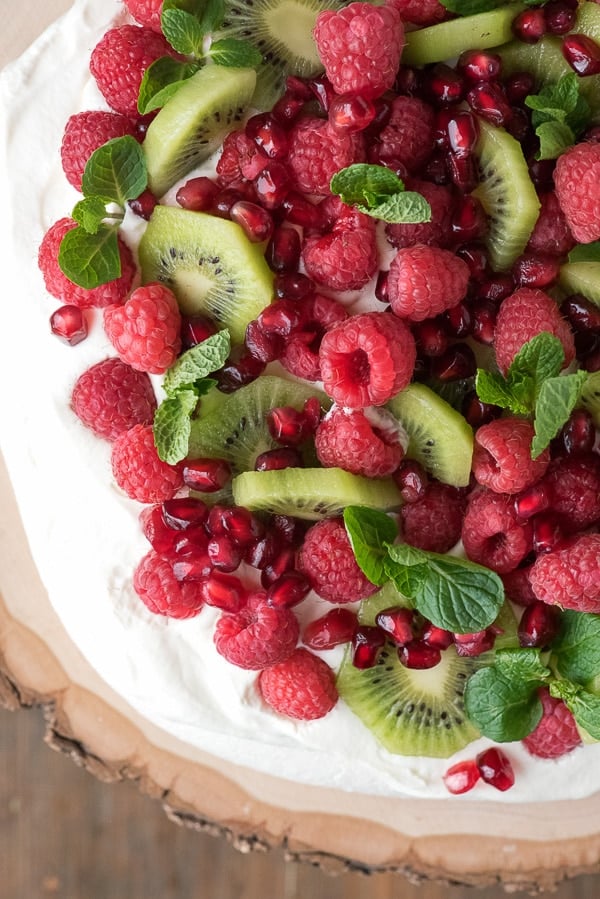 We've kept in touch over the years and right after I started my blog Janis did a guest post for me about how they spend Christmas in New Zealand. Being south of the equator it is of course mid-summer for them and their traditions and foods reflect that.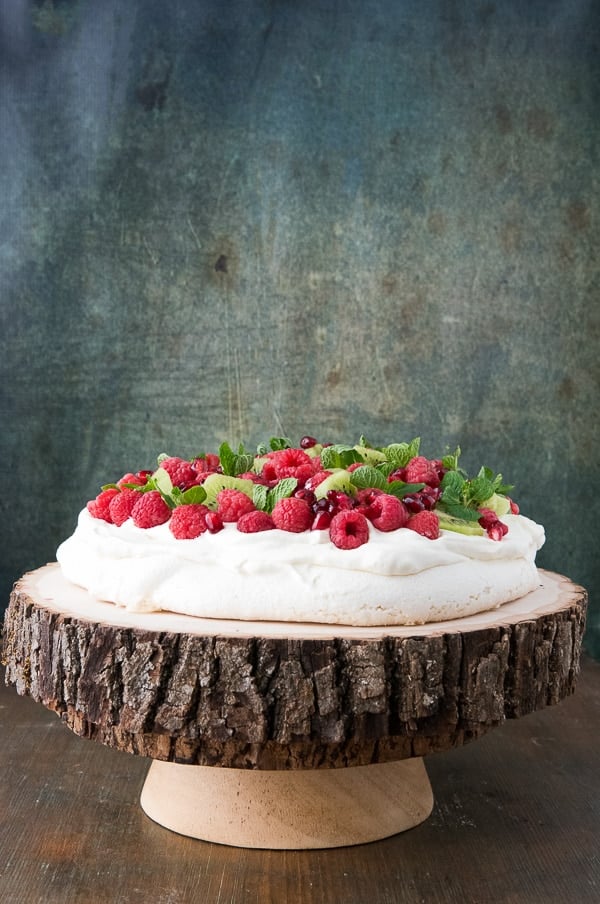 For dessert they make a Pavlova, which originates in New Zealand. The white, lofty, strangely shapen dessert was new to me before reading the guest post. I was completely intrigued and baffled candidly about what it is, how it would be eaten and what it would taste like. It seemed fitting that I finally make one for this post!
Though Pavlova originates from New Zealand, its name is derived from a Russian ballet dancer, Anna Pavlova, for whom the dessert was created during a tour in New Zealand in 1920. The dessert is a meringue that is baked at a lower temperature to achieve a crisp exterior and a creamy almost marshmallow interior (though it is not sticky).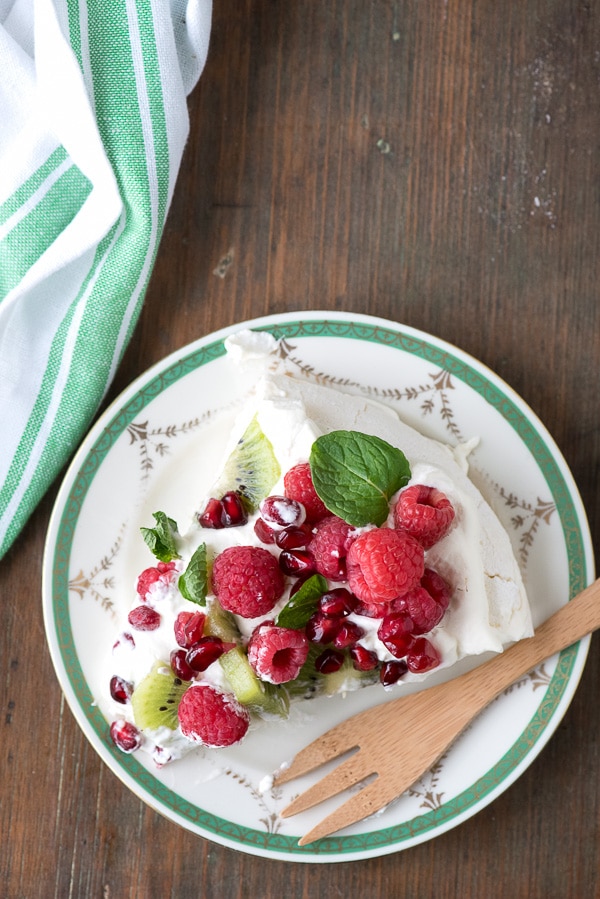 I'm quite taken by the texture really and probably have consumed far more than needed of my test batches solely for the mouthfeel of the dessert. It is topped with whipped cream and an assortment of fruits right before serving. If topped too early or with wet fruits the pavlova loses its crisp outer texture. As exotic as it looks the preparation is quite easy and takes less than 10 minutes to mix up.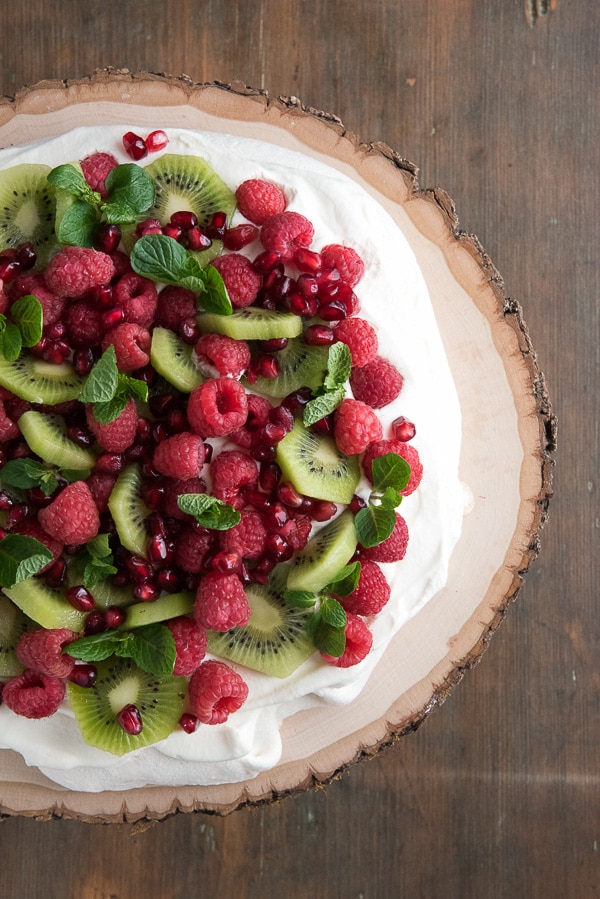 There are many methods of cooking and cooling the pavlova which is the part that I found tricky. When the pavlova is baked at too high of a temperature it will turn tan in color. I was determined mine would be snowy white which lead through various methods each of trying different temperature, cooking durations and cooling methods as well as times. By far the superior method I feel is to cook it at a low 200 degrees for an hour and allow it to cool in the oven, for an additional 2 hours with the temperature off. This produces a creamy white pavlova that does not crack and bears the signature exterior and interior textures.
Pavlova is typically topped with whipped cream and fruits. A traditional combination is kiwi and strawberry, which taste wonderful together as well as bear the Christmas colors of red and green. I chose to stick with those colors but wanted to expand both the textures and flavors so opted for kiwi, fresh raspberries, pomegranate arils (seeds) and mint. It's a beautiful, light dessert that seems quite exotic!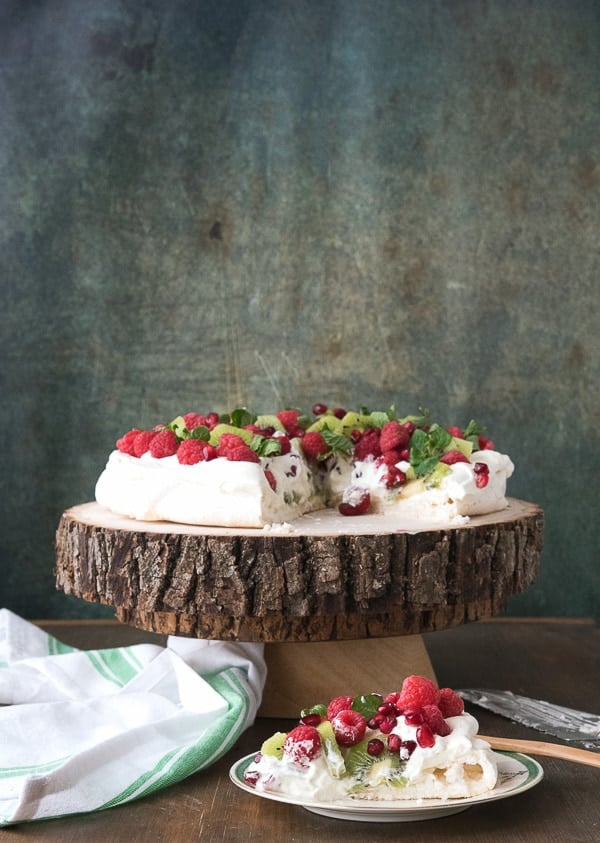 Pavlova is an elegant, light dessert perfect to dazzle at any dinner. It's topped with whipped cream and fruit which can be adapted for your preference or occasion.
The traditional holiday topping is kiwi and strawberry in its country of origin, New Zealand. This version stays with the holiday colors of red and green using kiwi, raspberries, pomegranate and mint. Most recipes for 'Pav' as my local friends refer to it, call for room temperature egg whites.
At the risk of causing contention, my experimentation found cold egg whites (and my Kiwi friend maintains old eggs, never new) to provide greater volume. Both cold and warm worked but I was more successful with cold egg whites. In my research on making pavlovas I noted caution not to make them on a rainy day and that they can be a challenge in more humid climates due to the meringue.
If not eaten immediately they need to be wrapped air tight and frozen for up to four days, or overnight at room temperature if in a dry climate.
Recipe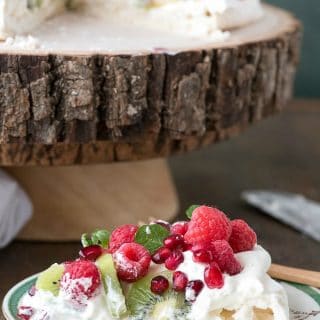 Pavlova with Kiwi, Raspberry, Pomegranate and Mint
Pavlova is an elegant, light dessert perfect to dazzle at any dinner. It's topped with whipped cream and fruit which can be adapted for your preference or occasion.
Print
Save Recipe
Recipe Saved!
Pin
Rate
Ingredients
4

Egg Whites

1

cup

Granulated Sugar

2

teaspoons

Cornstarch

1

teaspoon

Distilled White Vinegar

1

teaspoon

Vanilla Extract

Parchment Paper
For Topping:
1

cup

Heavy Whipping Cream

1

tablespoon

Granulated Sugar

1

teaspoon

Vanilla Extract

4

ripe but firm Kiwi Fruit

, peeled and sliced into 1/2 inch slices horizontally

1

cup

fresh Raspberries

1/4-1/2

cups

Pomegranate Arils

(seeds)

10

sprigs of fresh Mint
Instructions
Preheat the oven to 200 degrees F.

Cut a piece of parchment paper to fit a large baking sheet. Draw a 9-inch circle on the parchment paper and turn it over to be facing the baking sheet (or the markings will transfer to the pavlova).

In the bowl of a stand mixer beat the egg whites on medium-high until the whites form firm peaks without being dry (approximately 3 ½ minutes in my location). While mixer is still running sprinkle the sugar a tablespoon at a time into the mixing bowl and beat until fully incorporated; it will be glossy in appearance.

In a small bowl combine the cornstarch, vinegar and vanilla. Mix to dissolve the cornstarch. Pour into the mixing bowl and fold by hand into the lofty egg white mixture.

Spoon the mixture onto the prepared baking sheet into the drawn circle. Spread the pavlova to the meet the diameter of the circle. You can smooth it to appear more like a cake layer (and if so create a slight indentation on the top for the filling) or leave it's more natural, wild looking appearance.

Bake for 1 1/2 hours. Turn off the oven, leaving the pavlova in the oven for an additional 2 hours; try not to open the oven during this time. Remove from the oven to cool fully. The pavlova may be made up to a day in advance. If not serving immediately wrap to be air tight and store in a dry environment.
Preparing the topping:
Beat the heavy cream on medium-high until just before soft peaks begin to form. Sprinkle in the sugar and vanilla; beat until incorporated. The whipped cream should be relaxed rather than stiff.

Spread the top of the pavlova with the whipped cream. Cover the whipped cream with the fruit and mint. Cut into wedges to serve.
Nutrition
Calories:
257
kcal
|
Carbohydrates:
37
g
|
Protein:
3
g
|
Fat:
11
g
|
Saturated Fat:
6
g
|
Cholesterol:
40
mg
|
Sodium:
38
mg
|
Potassium:
223
mg
|
Fiber:
2
g
|
Sugar:
32
g
|
Vitamin A:
475
IU
|
Vitamin C:
46.8
mg
|
Calcium:
39
mg
|
Iron:
0.3
mg
This conversation is sponsored by Silk. The opinions and text are all mine.