Meringue Cookies are light, airy and easy to make. This fun recipe makes a red, white and blue version that have a special ingredient for a BANG!

Meringue cookies are perfect for summer.
They are light and airy. Meringues ARE baked but not in a traditional way leaving the kitchen cool.
This special 4th of July cookie recipe creates a red, white and blue meringue cookie with a special touch: Pop Rocks!
They will get your party going with a bang!
Jump to:
What are Meringue Cookies?
Meringue cookies are not like traditional cookies.
They do not contain any flour. Whipped egg whites and sugar are the main components.
Once they are firm meringue cookies melt in the mouth like magic!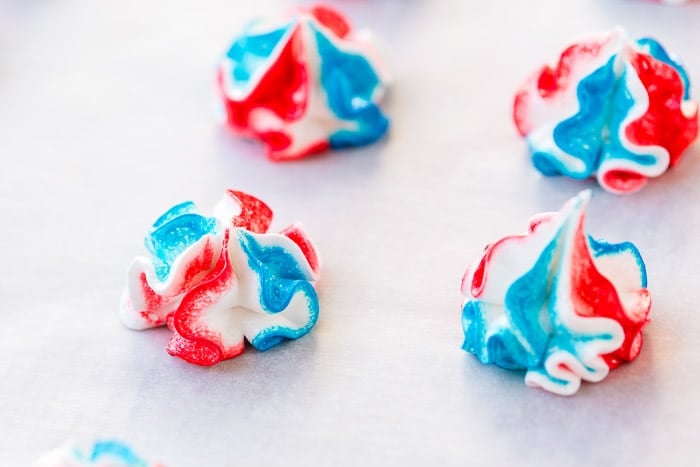 Ingredients in Firecracker Meringue Cookies
These 4th of July cookies have very few ingredients:
Egg Whites
Cream of Tartar
Granulated Sugar
Vanilla Candy Melts
Red and/or Blue Pop Rocks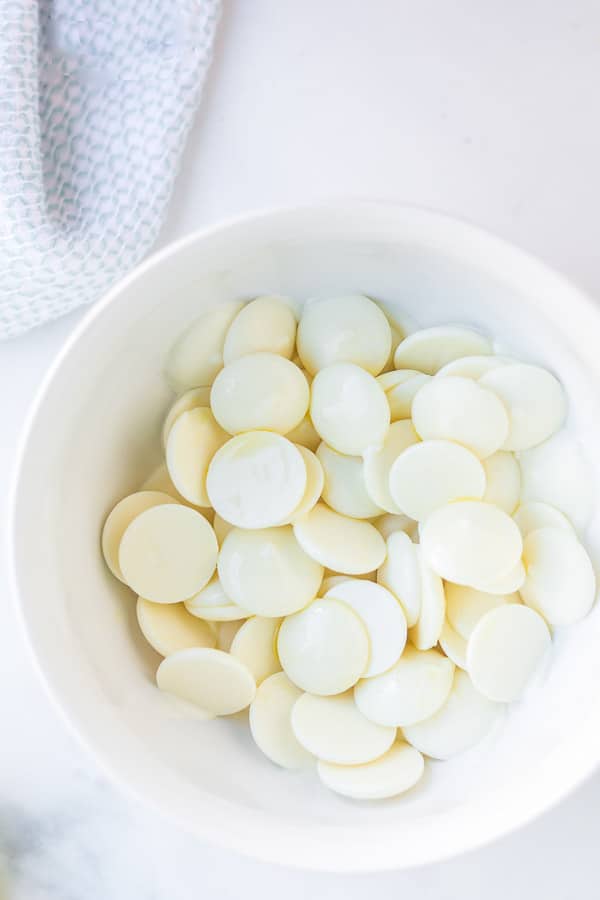 The only special equipment needed is a piping bag with a star tip to pipe the meringue cookies.
Using Candy Melts
If you have not used candy melts in desserts, they look like flatter, larger chocolate chips.
They melt to a creamy consistency making them perfect for dipping these ice cream cone cupcakes as well as for flavoring the vanilla frosting.
The one catch is all brands are not created equal for taste. Candy Melts can taste a bit waxy.
I used Ghirardelli White Melting Wafers which melt well and have a wonderful rich flavor.
Guittard is another high-quality brand.
There are many vanilla candy melts options to try. They can be found online or in crafting and kitchen stores with a baking area.
Tips for Using Pop Rocks
If you've ever had Pop Rocks you'll never forget them. The tiny gravel-size candy that pops in your mouth!
They are the secret ingredient that makes these meringue cookies unlike any other.
Pop Rocks pop when coming into contact with moisture. To ensure they pop, do not get them wet.
It goes without saying but do not allow them to come into contact with eyes.
There are multiple flavors of red colored Pop Rocks. Any can be used.
The only blue colored Pop Rocks I found were an greenish blue which did not fit the 4th of July cookie theme.
Where to Buy Pop Rocks
Despite being an old school '70's candy, Pop Rocks are widely available. They are sold at party stores, Walmart, Dollar Stores, World Market, office supply stores and on Amazon.com.
The best way to find them locally is to Google 'Pop Rocks where to buy'. Stores local to your area carrying them will populate.
PRO TIP: Call before going to the store. I visited several stores before locating them in my area.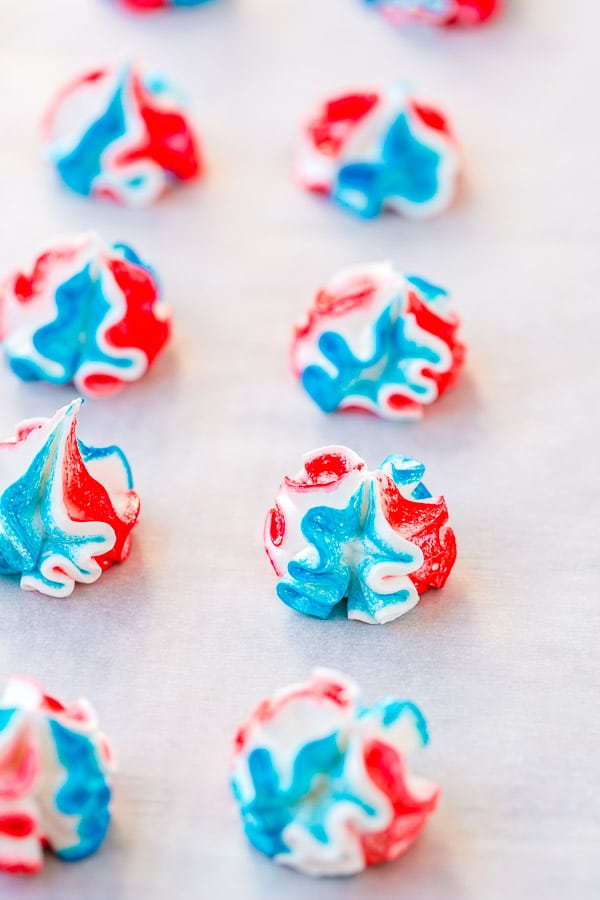 How to Make these Meringue Cookies – Step by Step
For detailed printable recipe instructions refer to the recipe card at the end of the post.
Heat the oven to 300 degrees F and then turn it off.
Fit 1-2 large rimmed baking sheets with parchment paper.
Beat egg whites with standing mixer and whisk attachment for 3 minutes until stiff peaks have formed.
Sprinkle in the cream of tartar and beat in (10-15 seconds).
While running the mixer gradually add sugar and allow to incorporate.
Fit a piping bag with a large open star tip.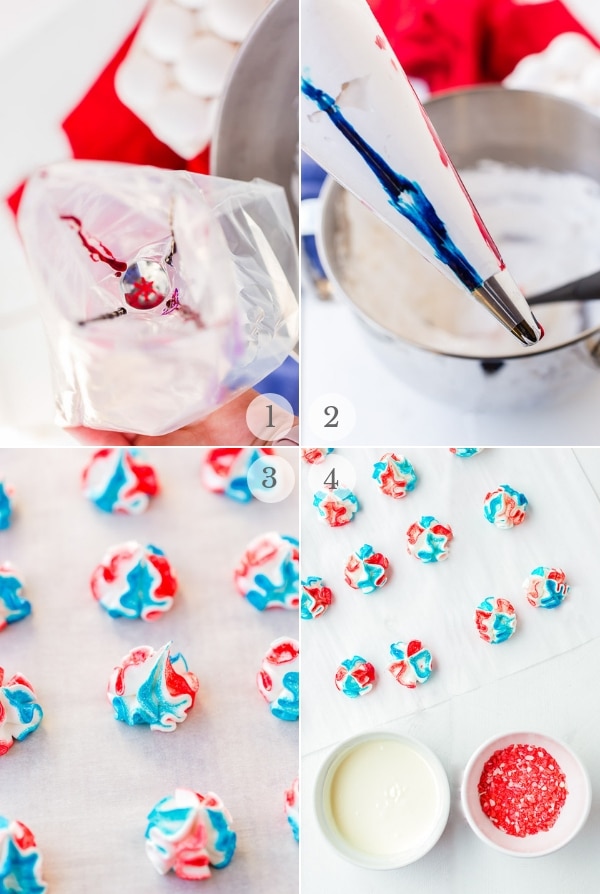 Paint or draw a straight line of red gel food coloring on opposite sides of the inside of the piping bag (photo 1).
Repeat with the blue gel food coloring between the red lines (photo 1).
Spoon the meringue mixture into the pastry bag (photo 2) and pipe small meringues onto the lined baking sheets (photo 3).
Place the meringues into the oven and leave the door closed for 2 hours or until the meringues change to have a matte exterior. Do NOT open the oven door during the time the meringues are setting. They can also be left in the oven overnight.
Remove the meringues and allow them to cool slightly on the pan.
Melt the vanilla candy melts (photo 4).
Place the Pop Rocks into a small bowl or plate (photo 4).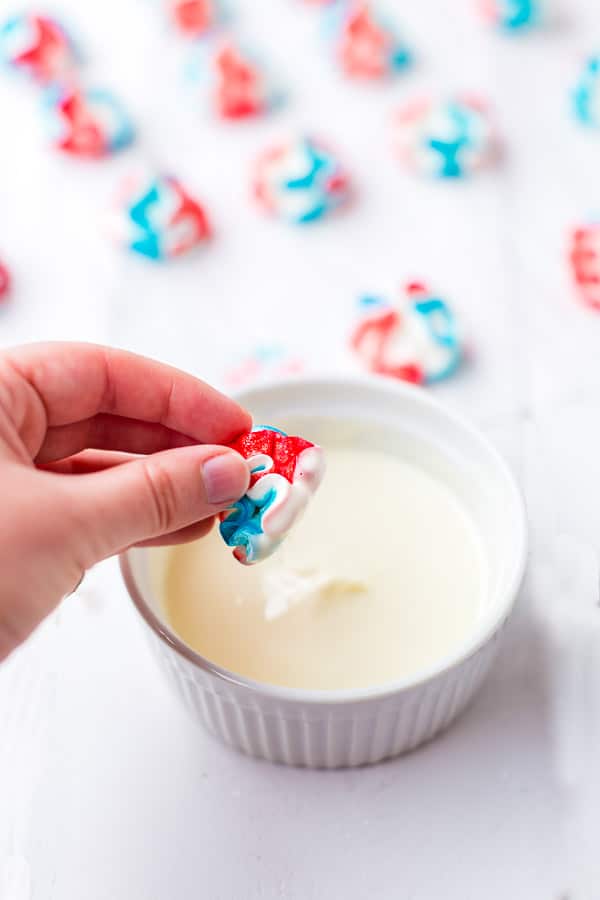 One at a time, dip the flat bottom of a meringue into the melted candy (allow any excess chocolate to drain) and into the Pop Rocks.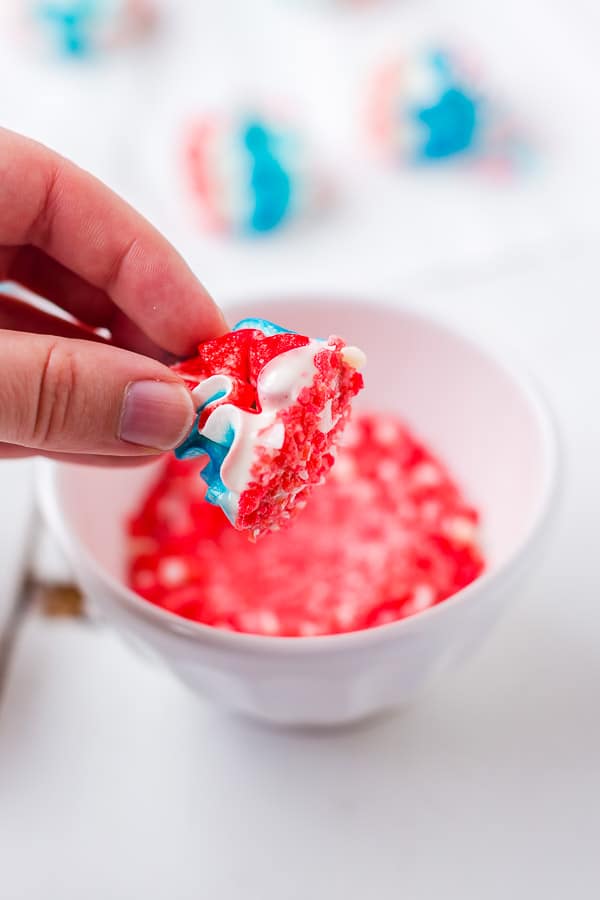 Place them on a fresh piece of parchment paper and allow to cool completely.
Repeat until they are all completed and allow them to harden. They can also be chilled to speed up the process.
How to Store Meringue Cookies
The finished meringue cookies should be stored at room temperature in air tight containers. Place a piece of parchment paper between each layer.
The cookies can also be made ahead of time and dipped the day of or before serving.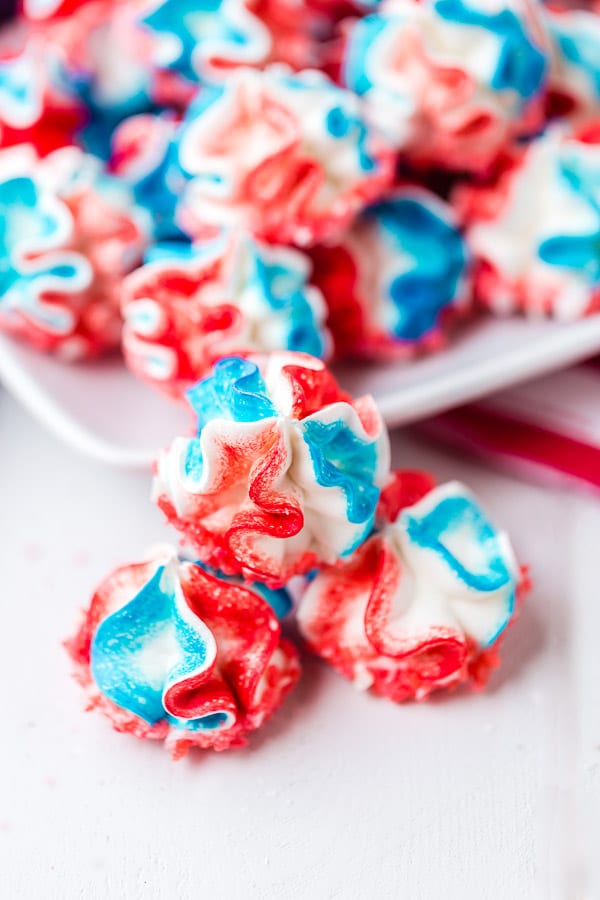 More Meringue and Pop Rocks recipes….
Get the recipe!
This meringue cookies recipe can be found now on our sister site Make It Skinny Please!
Originally published: June 13, 2019