Volcano Cake that really smokes? Yep! This animated cake doesn't erupt but your diners will when they see and taste it!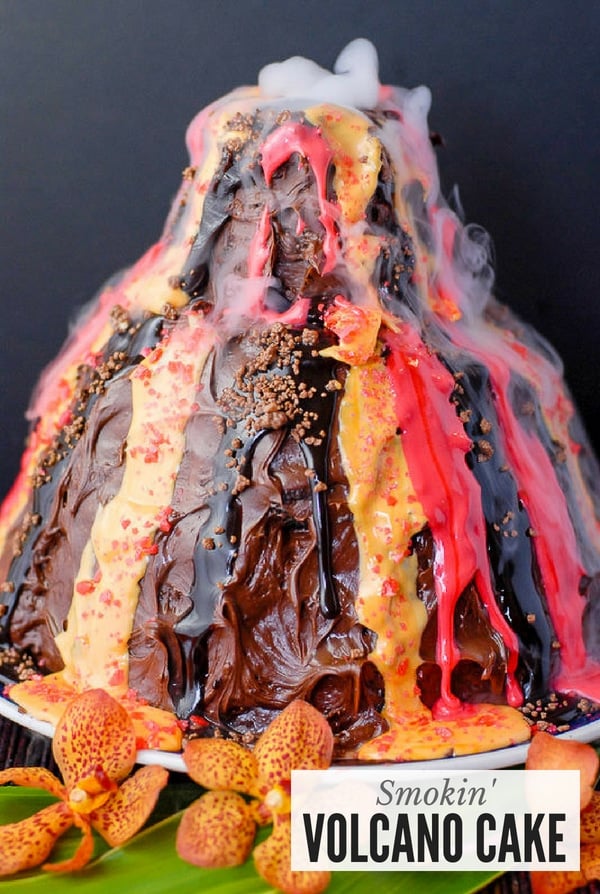 Updated September 2018
Who says a cake has to be ordinary? Celebrating a trip to Hawaii? Want an unexpected cake for a birthday? This Smokin' Volcano Cake will do the trick.
One part baking, one part craft and one part science project, this fun cake will WOW at any occasion. Special features like actual smoke and surprise POPS like little lave embers in every bite will make this (and you) the star of the show.
Smokin' Volcano Cake
This recipe was originally created in 2011 when I was part of a vintage recipe swap. The base recipe I had to recreate was a 'wacky cake', a depression era technique of creating more air in cakes through a chemical reaction between vinegar and baking soda.
My interpretation both used this technique but applied it literally to a cake that created its own air or smoke: a Volcano Cake.
A BIG Shortcut for Making Volcano Cake
As much fun as I had making this cake from scratch, if you aren't wed to making it from scratch, I'd substitute chocolate cake mix. It requires a batter volume slightly less than 2 mixes (or scratch batches) so you may have some leftover to make cupcakes with.
You can also use Chocolate Frosting to frost the full cake. If purchasing chocolate frosting I would suggest 2-3 tubs to be sure to have enough to cover the entire cake. If some is leftover, frost the cupcakes from the leftover batter!
I would make the glaze from scratch as directed as this allows the perfect consistency for a 'lava flow'. But by making the cake with mixes and using prepared chocolate frosting for the base, you'll greatly simplify the recipe.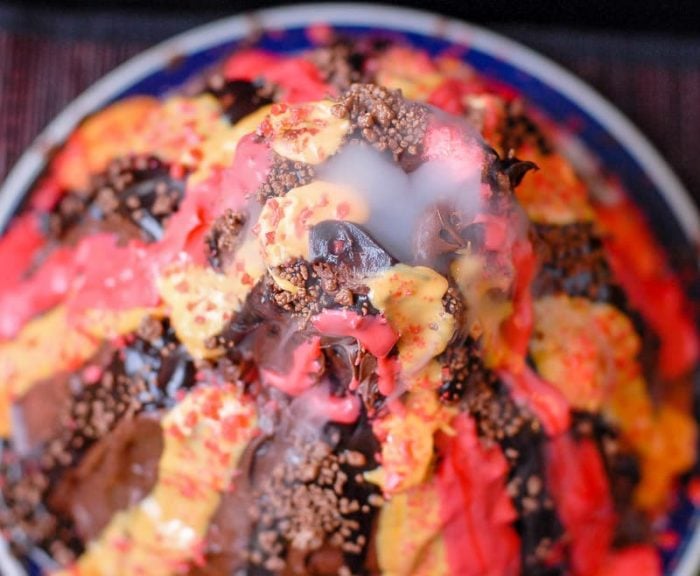 Glazing the Smokin' Volcano Cake
The purpose of the glaze is to simulate flowing lava and earth. After frosting the cake, I poured the glaze around the cake and decorated with my secret totally-put-it-over-the-top, Pop Rocks.
Strawberry (looks like lava embers) and Limited Edition Chocolate (looks like dirt). Adds more texture and I liked the idea they would pop, bringing the lava into one's mouth (they do 'pop' when encountering moisture so my cake was popped when I added them; still looks cute and some were unpopped when I sampled).
Working with Dry Ice, a Cautionary Tale
If you are unfamiliar with dry ice, it requires precaution but nothing difficult. I purchased mine at a local grocery store chain. A one pound block was $1.52 and an amount far more than required for this purpose. This Dry Ice Guide has all the details you need to know!
Smokin' Volcano Cake: Supplies
Paper Cups or Plastic Cups (don't use glass)
Strawberry Pop Rocks and Chocolate Pop Rocks
Dry Ice