Perfect Pumpkin Bars are made from a rejuvenated 1960's recipe. Full of autumnal spices, pumpkin, raisins, nuts and a simple orange glaze. Great as a treat, especially while carving pumpkins!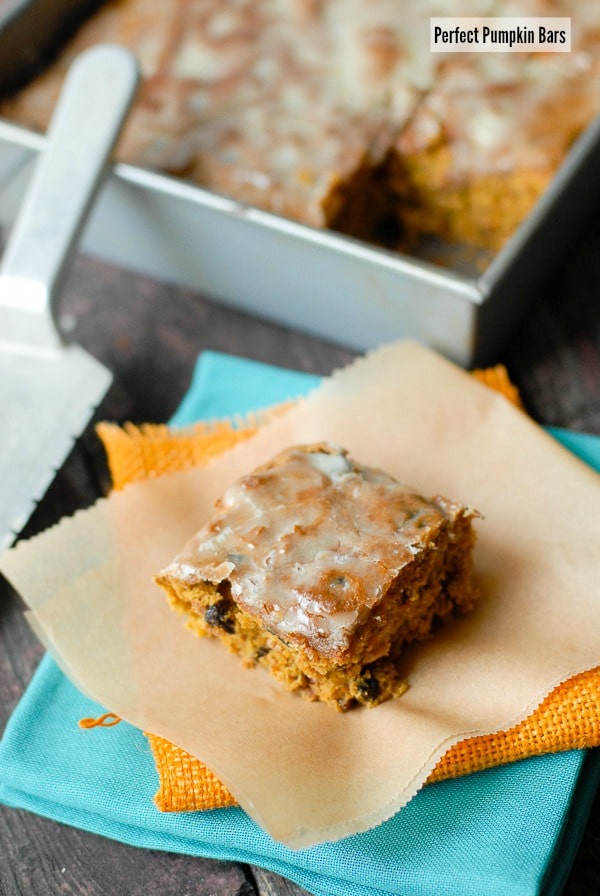 Today's blog post and recipe are nostalgic for me. Originally posted in October of 2011, it features both a cherished family recipe and the best pumpkin patch find ever. It was really sharing the details about this sweet, authentic farm in 2010 that sparked heightened local interest in Boulder Locavore while it still only had a handful of readers.
This recipe for Perfect Pumpkin Bars was found in my Grandmother's recipe box, torn from a Sunset magazine in 1967! I updated the recipe when making it originally; tweaking the ingredients, recipe volume and pan size, adding a simple glaze and including a gluten-free option. It remains a seasonal favorite for my family. The photos in the post are the original (made larger and actually edited). I like keeping a 'visual' reminder of where this post started!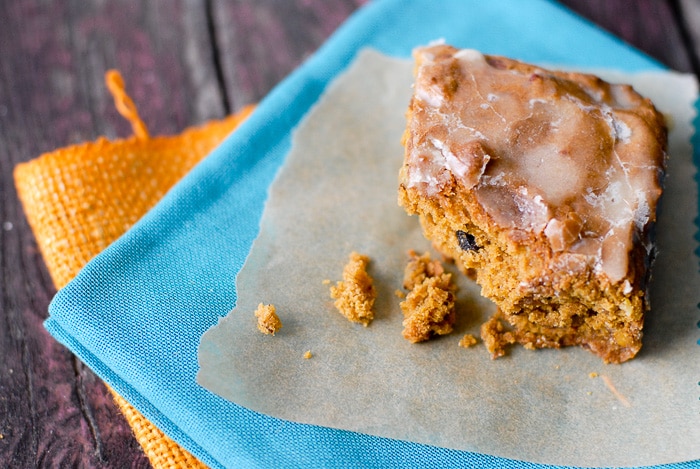 There is something a bit mind bending to me about making food that people were eating almost 50 years ago and have the recipe turn out just as perfectly as something innovated today. If there was ever any question about food weaving us together over generations, I am sure from making vintage recipes that it is a textural thread running through families and civilizations that ties us all together.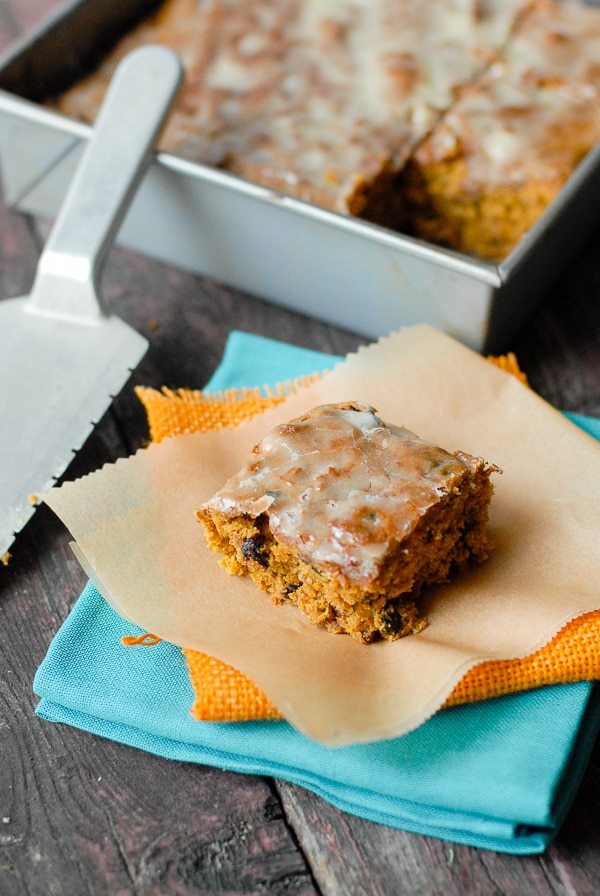 This simple cake is bold with seasonal flavor largely from the spices; ginger, cinnamon and mace. Mace, is a spice that conjures my grandmother whenever I use it. Rarely found in modern day recipes (but still readily available), it feels like a tie back to the baking of last century. The blend of spices creates an earthy flavor to this lovely cake, deepened with the pumpkin puree (homemade pumpkin puree may be used too) and simple orange glaze.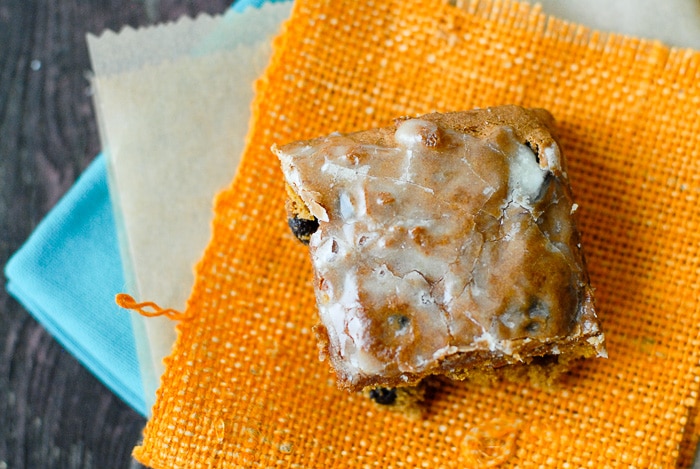 These Perfect Pumpkin Bars are great for snacking anytime but certainly fun to have on hand when carving pumpkins! AND don't miss this Best Method for Roasting Pumpkin Seeds. One secret step takes all the goop out of the process.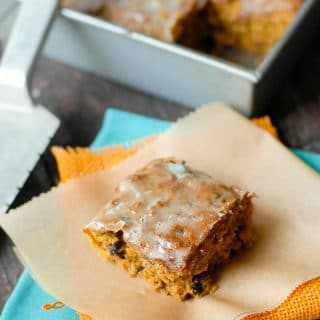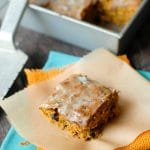 Perfect Pumpkin Bars
Moist pumpkin bars with warming spices and with orange glaze are a perfect fall treat. Easy to make!
Ingredients
½

cup

(one stick) Unsalted Butter, softened

1

cup

firmly packed Light Brown Sugar

1

Egg

, room temperature

½

cup

Pumpkin Puree

(purchased or homemade)

1 ½

cup

All Purpose Flour

(regular or a gluten-free blend)

½

teaspoon

Xanthan Gum if making these gluten-free

1

teaspoon

Ground Cinnamon

½

teaspoon

Ground Ginger

½

teaspoon

Mace

½

teaspoon

Baking Soda

½

cup

Raisins

½

cup

Pecans

, chopped

1

cup

Confectioner's

(powdered) Sugar

2 ½

tablespoons

freshly squeezed Orange Juice
Instructions
Preheat oven to 350 degrees. Grease a 9-inch by 9-inch square pan.

In the bowl of a standing mixer cream together butter and sugar. Add egg and pumpkin; beat to combine fully.

In a separate bowl, stir together flour, spices, baking soda (and xanthan gum if making gluten free). Slowly add into butter-sugar-pumpkin mixture until combined. On low speed blend raisins and pecans until fully combined.

Pour batter into the prepared pan and smooth out batter to be even. Bake for 25 to 30 minutes, until lightly browned and a toothpick inserted comes out clean.

While the bars are baking prepare the Orange Glaze. Whisk together the powdered sugar and orange juice. When the cake is just out of the oven, brush on the glaze while it is still warm.

Allow to cool. When fully cooled, cut into bars.
Nutrition Facts
Perfect Pumpkin Bars
Amount Per Serving
Calories 218
Calories from Fat 72
% Daily Value*
Fat 8g12%
Cholesterol 25mg8%
Sodium 47mg2%
Potassium 105mg3%
Carbohydrates 35g12%
Protein 2g4%
Vitamin A 1390IU28%
Vitamin C 1.9mg2%
Calcium 23mg2%
Iron 1mg6%
* Percent Daily Values are based on a 2000 calorie diet.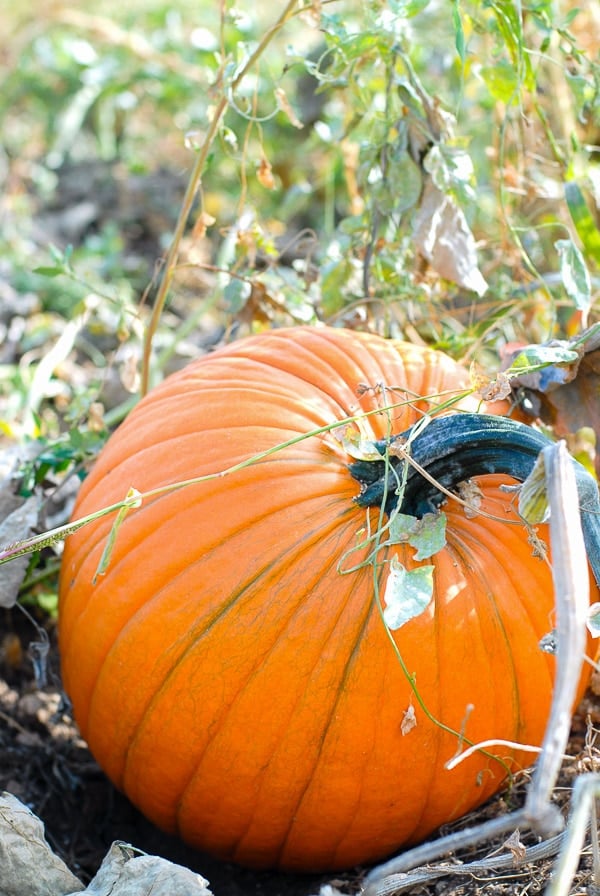 It has been a few years since we've visited Loukonen Farms to get our pumpkins. We've had them in our farm CSA share so haven't gone to a pumpkin patch 'to save time'. Having a senior in high school, our family pumpkin patch days seem numbered so we will definitely be setting out for Loukonen Farms this weekend! Whether you are local or not, please enjoy the original 2011 journey to the pumpkin patch. The last of the true pumpkin farms….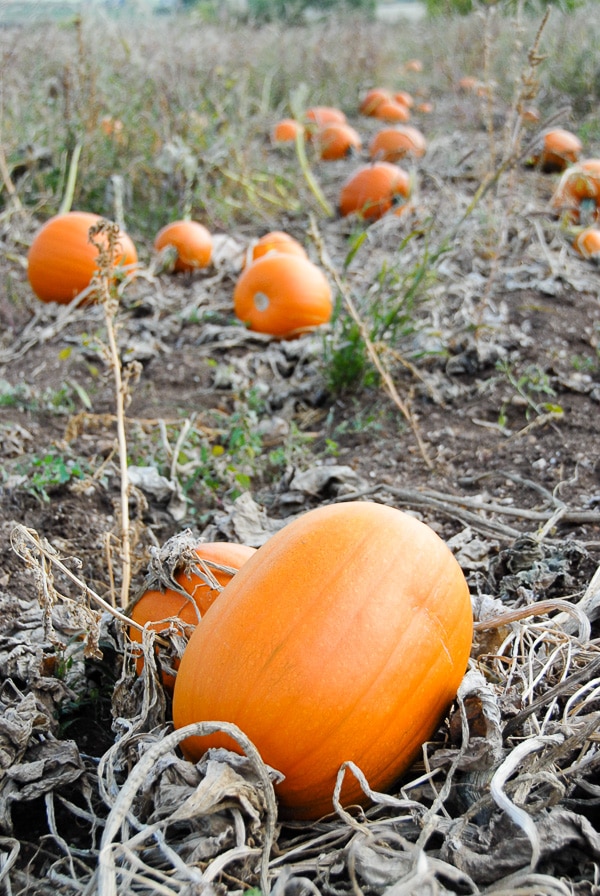 If you prefer a large, commercial pumpkin 'patch' (usually with no actual patch) with face painters, petting zoos and rides, this place is not for you. If, however, you love a simple, more old school patch (with a patch where you can wander for your pumpkin) with bountiful selection, great prices, a pristine country view and a good honest proprietor, Loukonen Farms will be perfect in your eyes, as it is in mine.
After years of driving past beckoning signs on Highway 36 between Boulder and Lyons, I pulled in to Loukonen Farms last year to take a peek. It was serendipitous as I will forever more buy my pumpkins here. I wrote an article on the farm and John Loukonen last year which I encourage you read. John is 'one of the good guys', a farmer in the area whose family roots go back decades, and he himself a bit of a Renaissance Man, enjoying stone sculpture as a past time along with farming.
When you drive into the farm you are greeted by a vast selection of pumpkins and gourds, all neatly grouped for easy picking. Corn stalks are erected providing a charming backdrop to the scene and are also for sale. The prices are incredibly reasonable and the pumpkins high quality.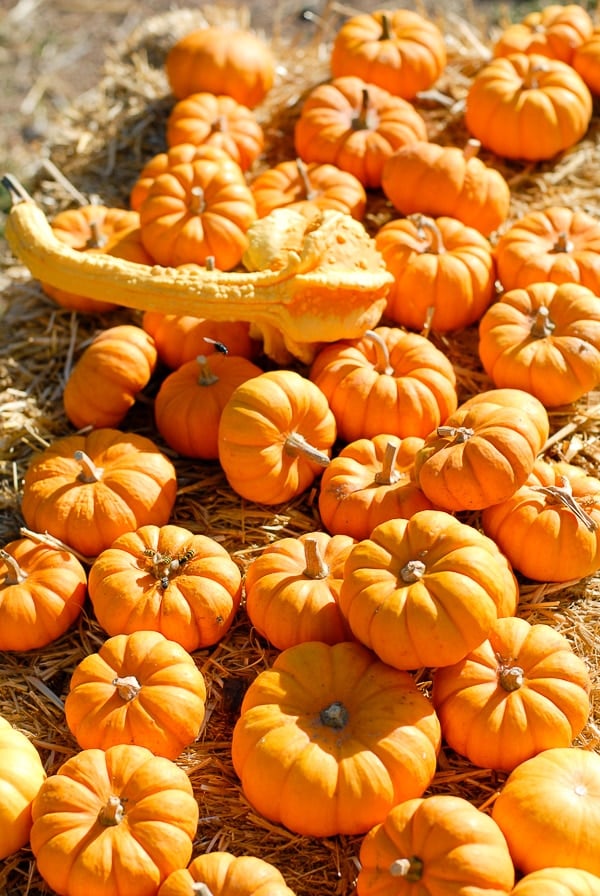 This year a man helping John offered there were more large pumpkins 'in the patch'. We drove around the farm buildings on a little dirt road to the patch. The farm is directly across Highway 36 from the foothills with a sprawling view to the east of farm land. The Loukonen family has made arrangements with the county to sell some of this land for Open Space preservation in the settling of their father's estate. They wanted to keep it the way it is and after standing in the quiet pumpkin patch in the late afternoon of this perfect fall day, I appreciated this.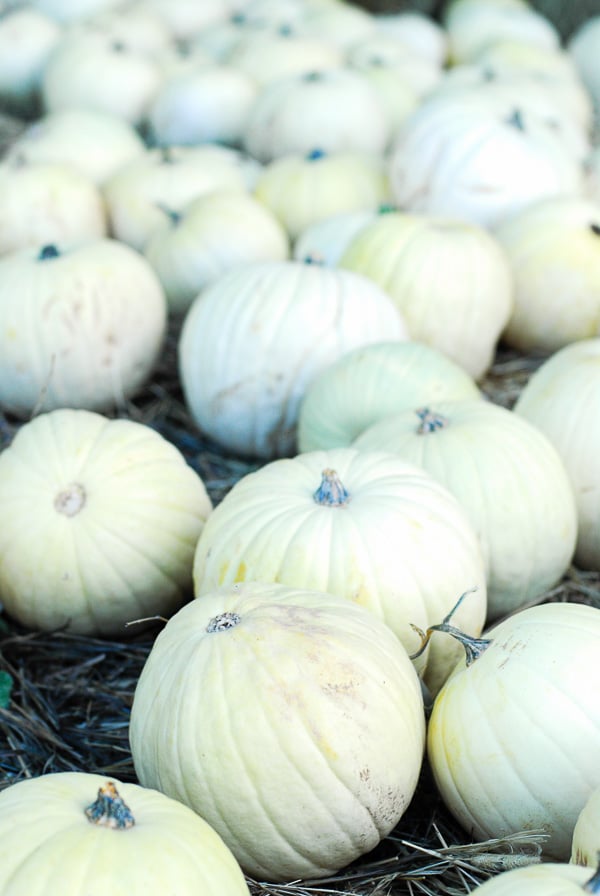 We started with an 'if you pick it, you have to carry it' rule in our group of pickers which quickly went awry as total 'upper body workout' sized pumpkins were selected, leaving me hauling them in my J. Crew suede flats through the furrows of the terrain, hoping not to catch a vine with my pointed toes on the way to the car. As with picking the perfect Christmas tree, the selection made the final choice a challenge and a delight.
We departed with two monstrous beasts of pumpkins, a normal person's really large sized pumpkin, two medium white pumpkins and a bag brimming with various exotic gourds and mini pumpkins with a bill of $35. I challenge you to find that around this area. John sells carving pumpkins, edible pie pumpkins and ornamental gourds. The trip is completely worth a few minutes of his genteel company shooting the breeze. He's good people; no doubt about that.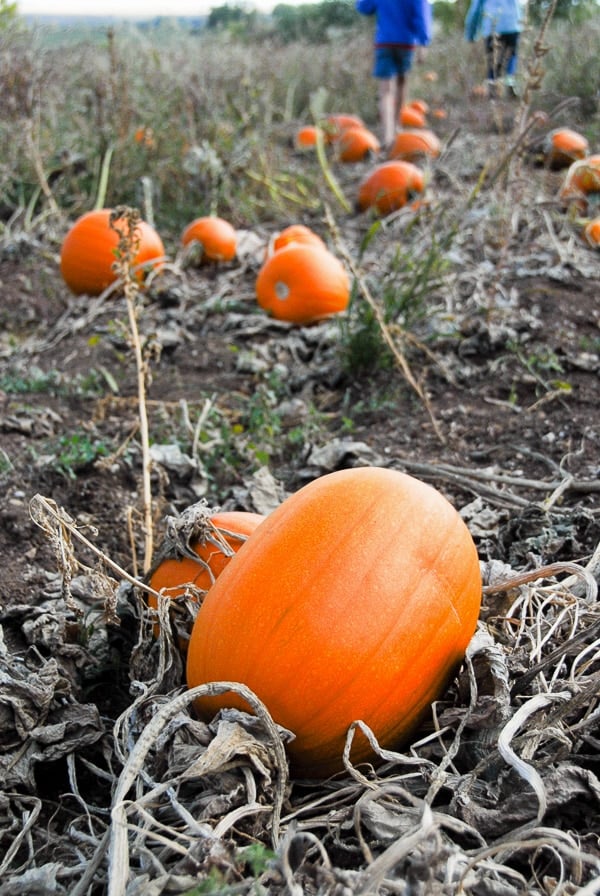 Details
The farm's actual address is 10558 N. Foothills Highway (Hwy 36), Longmont but it cannot be missed driving down the highway between mile markers 25 and 26 on the east side of the road (as you near the juncture with Hwy 66 coming from Boulder). You'll see signs as you are within a mile of his property ('Halloween is Near 'Pumpkins are Here' '1 mile') and the telltale pickup truck whose bed is filled with pumpkins in October.
The pumpkin patch is open daily through October 31 from around 9:00 a.m. to 5:30 p.m.
If you'd like to contact John about his sculptures you can do so by email (johnloukonen@yahoo.com) or by phone (303.823.6158).
This post was originally published in October 2011 and has been updated in 2016.