The abundance of freshly caught fish and local produce making dining in Guanacaste Costa Rica fantastic! Enjoy this authentic Costa Rican Ceviche recipe at home and great local outdoor dining restaurant ideas!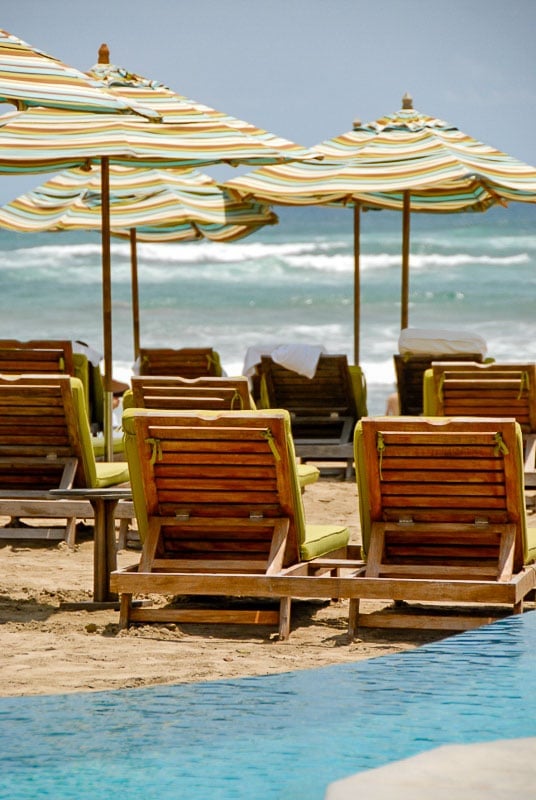 Unquestionably one of the food highlights of my trip to Guanacaste Costa Rica was the seafood. Living in Colorado I've developed a very squeamish relationship with seafood. I obviously know it's not local for me and despite the modern miracles of logistics I don't love the idea of the time between the sea and my plate.
The abundance of freshly caught seafood in Costa Rica was endless. I ate it once or twice daily (along with the fabulous Gallo Pinto for breakfast).
Jump to: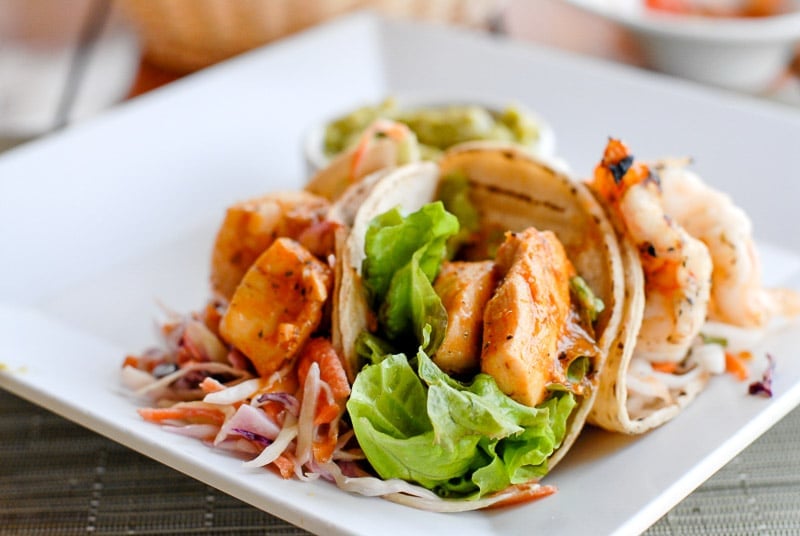 The first day at the JW Marriott Guanacaste, still bleary from the travel, I enjoyed a trio of local fish tacos. Beautiful grilled shrimp, fresh Mahi Mahi, all completed simply with a few garnishes, reminding of how quality ingredients are what is needed for good, clean food.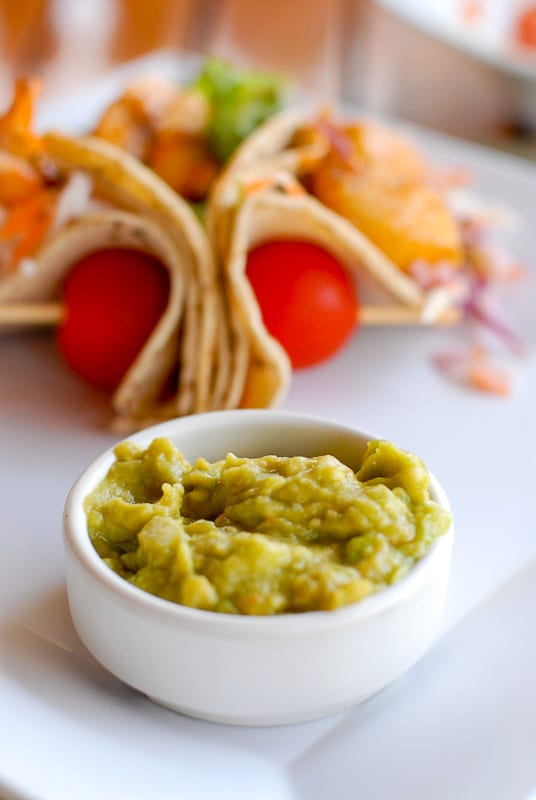 The splendor of our hotel was undeniable. The JW Marriott Guanacaste embraces the sea with open, welcoming architecture, nestling a winding pool in its bosom which ends in an infinity pool right on the beach.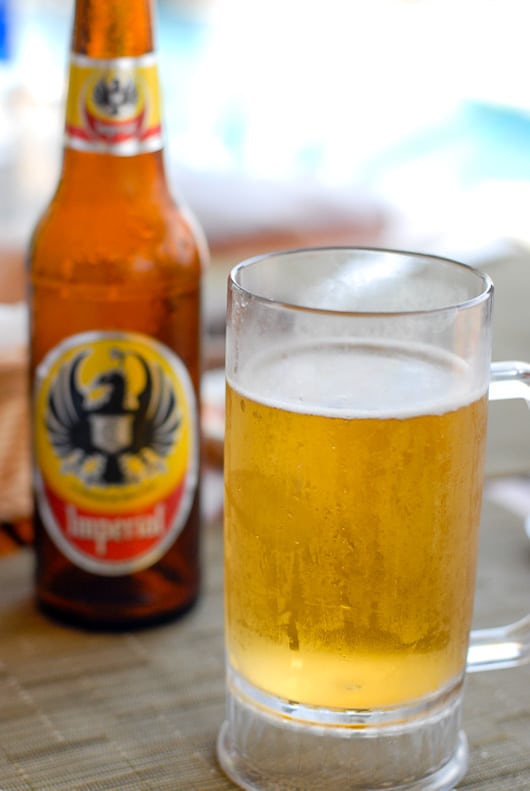 One wants for nothing. Their onsite restaurants and service are impeccable. Our stay inspired the creation of Costa Rican Watermelon Mojito Popsicles thanks to a poolside cart making Basil Mojitos!
But alas, I yearn for an authentic local experience when I travel. And on day 3 we hit the mother lode.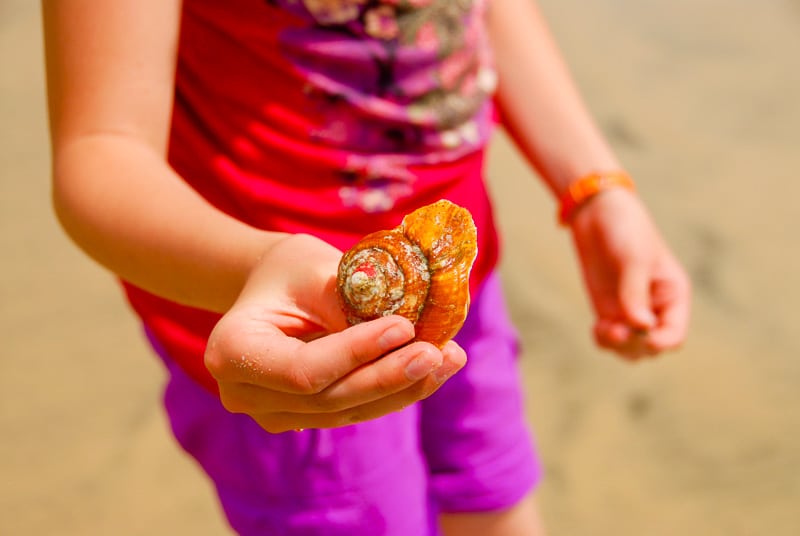 Lola's at Playa Avellana – Guanacaste, Costa Rica
I'd heard murmurings of a restaurant called 'Lola's' on the beach (Playa Avellana specifically). Enough that I felt it would be good to investigate.
The word we got was that Lola's serves local Costa Rican food down the beach, but it was the lilt in everyone's voice when speaking of it that caught my attention.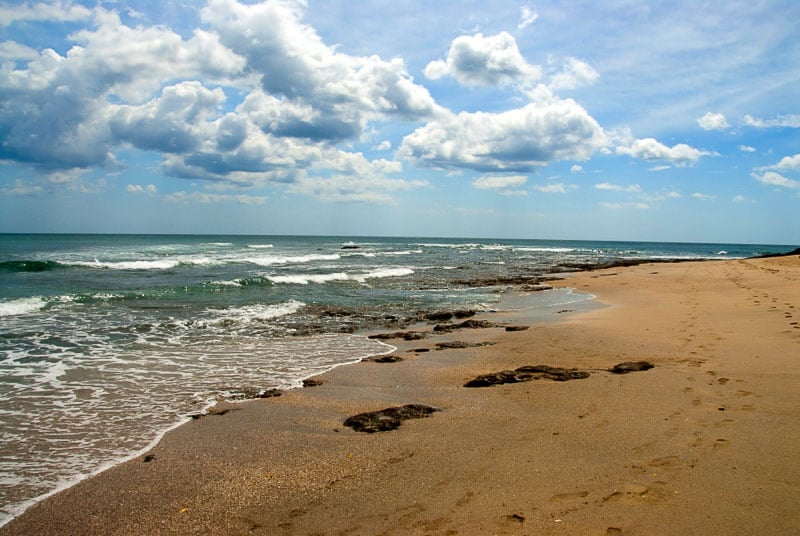 In the early afternoon, under a sweltering equatorial sun we struck out. We were quickly distracted by the shell graveyards, broken fragments of color and texture making up large swaths of beach providing distraction on the sticky walk.
Fortunately a hotel employee had walked us to the beach to check the tide saying it was not a great walk in high tide though with the tide receding, we'd be fine.
We ambled along until reaching a wide fresh water tidal river intersecting the sea. Far let that be a deterrent for me. I hiked my red Ex Officio travel dress to a length that was completely indiscreet, put my camera bag on my head and struck out (much to the shock of the only tourist across the river's expanse; the river was gone on the walk back).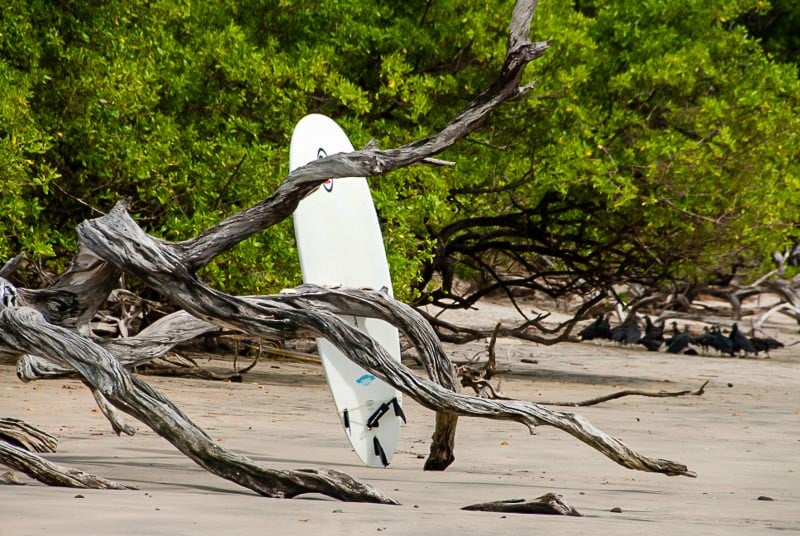 We passed vultures cleaning a sea turtle carcass and began to come upon surf boards leaning against driftwood until we saw what I so craved.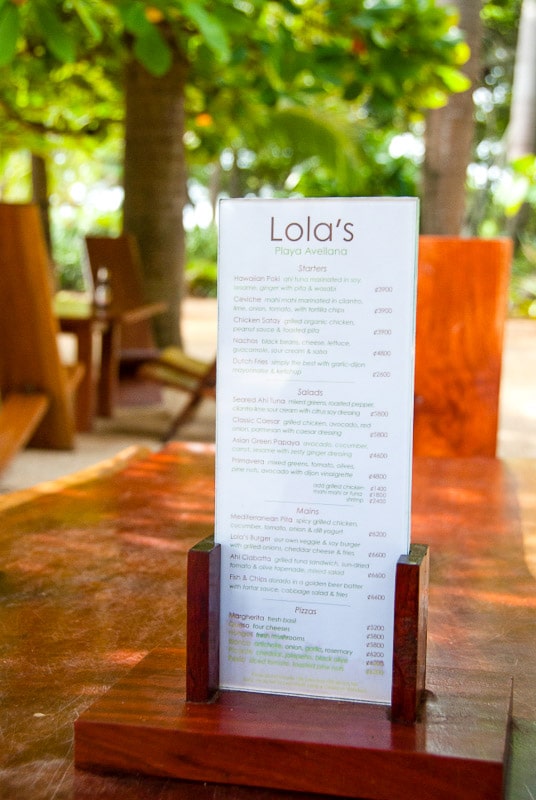 Lola's is as authentic as it gets. Large slabs of thick dark wood glazed into perfect beach tables under low hanging trees. Randomly placed plank chairs with a beach view and small table in between, surely set to wile the afternoon away in between wave sets.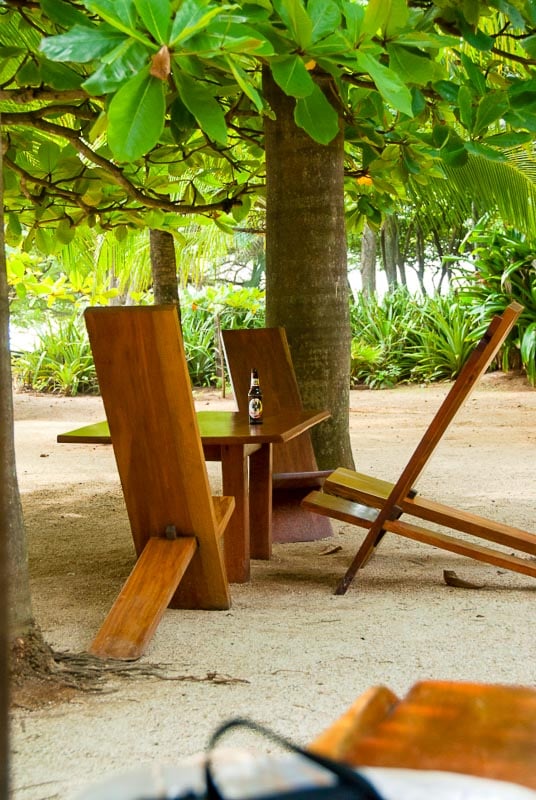 The food was fresh and magnificent. I had some of the most delicious ceviche ever, savoring the fresh fish in every bite.
Lola's has a Swiss Family Robinson vibe just all on the ground level. The staff is completely friendly and relaxed. I think if we stayed all day, they'd be happy to have us.
It is absolutely a 'must try' if you are ever in Guanacaste.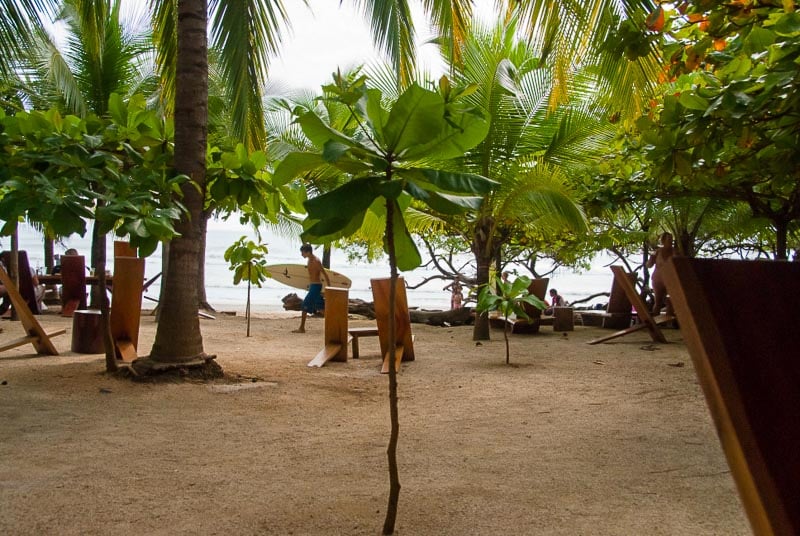 COSTA RICAN CEVICHE RECIPE
I rounded up a local Costa Rican Ceviche recipe that I'm sharing with you! It is not Lola's recipe however I think they are all fairly similar, containing only a few simple, fresh, local ingredients.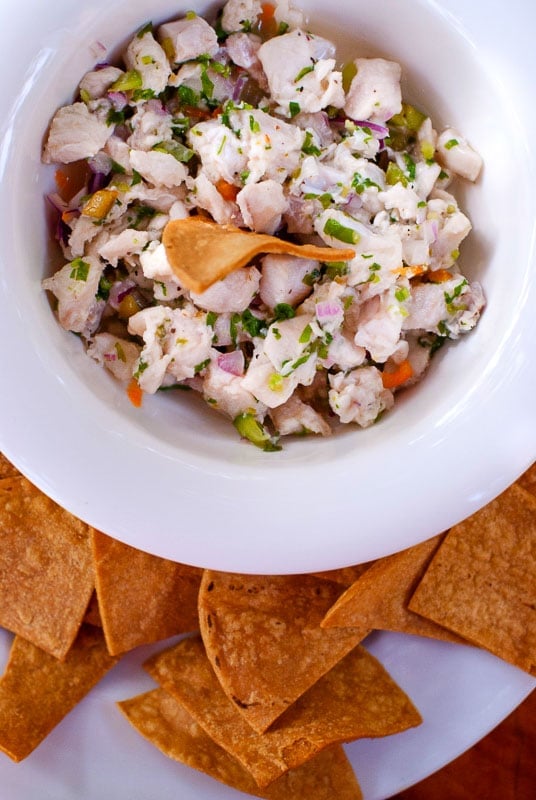 Lola's ceviche also had finely chopped tomatoes, finely shredded cabbage and diced carrots. It added great flavor and a wonderful crunch to every bite.
What is Ceviche?
Ceviche is a fresh 'fish stew' with the acidity of the citrus juice 'cooking' the fish. It is not fishy tasting in the least (the key is the freshness of the fish used). It's light and beautiful tasting, especially at the peak of summer's heat as it's usually served chilled.
(Recipe at the bottom of the post)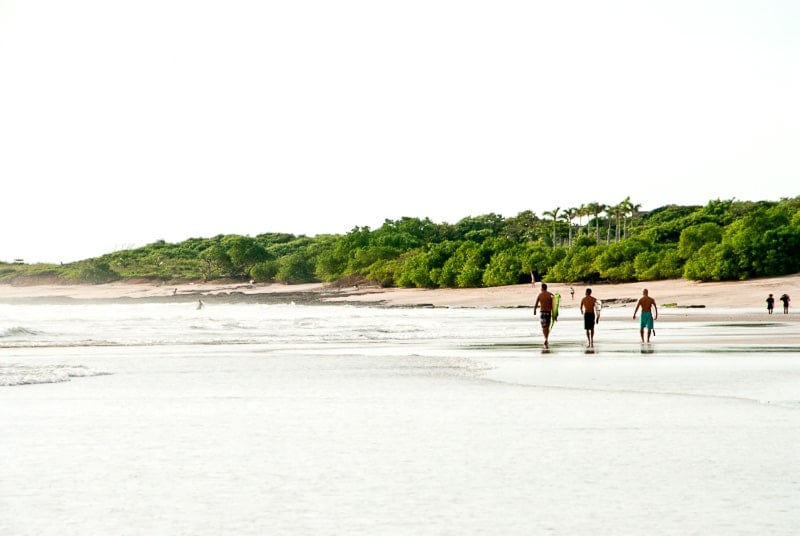 More Al Fresco Dining Spots in the Guanacaste Costa Rica area
Open air dining is certainly another highlight for me about Costa Rica. We ate at several places or 'sodas' (small cantinas) that were open to the beach, on the beach or just without walls.
North of Tamarindo on the beach we stopped at Brasalitas on the way to snorkel a Playa Conchal. One cannot drive the full way.
For a small fee we parked at this restaurant (below) and on the return enjoyed some tamarind juice sitting at these painted pink concrete tables with brightly colored vinyl cloths. A mere tarp provided the roof for this shelter over the 5 beach side tables. It was heaven.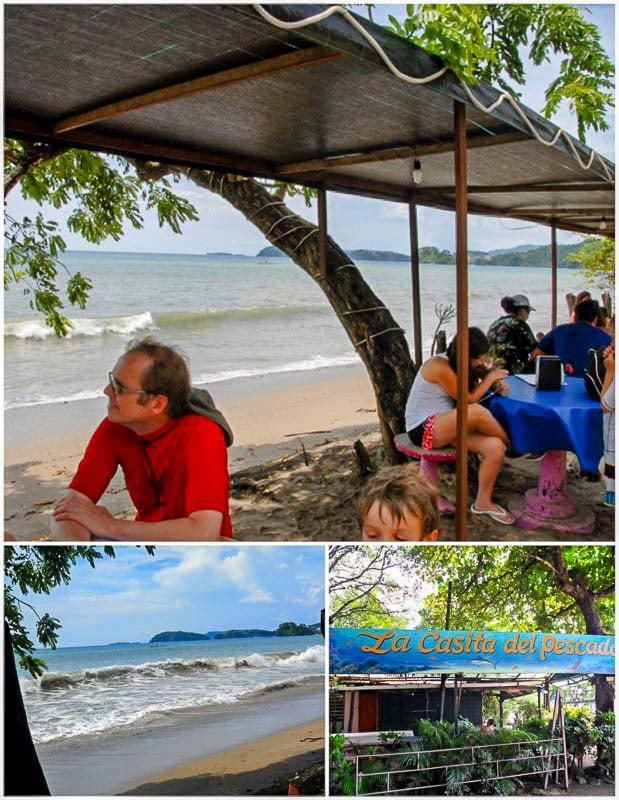 In each case the food was fresh and flavorful, the proprietors friendly and welcoming. These types of eateries are not as common in the U.S. and when found here probably constructed for the novel feel rather than being an organic part of the culinary landscape as they are in many other countries in the world.
My recommendation? Get off the beaten path. You'll find the authentic local fare. Though Costa Rica is a Spanish speaking country Tourism is their first industry and English has been compulsory in school since 2003. I found the Spanish relatively easy to pick up, even with broken phrases, no offense taken by the locals.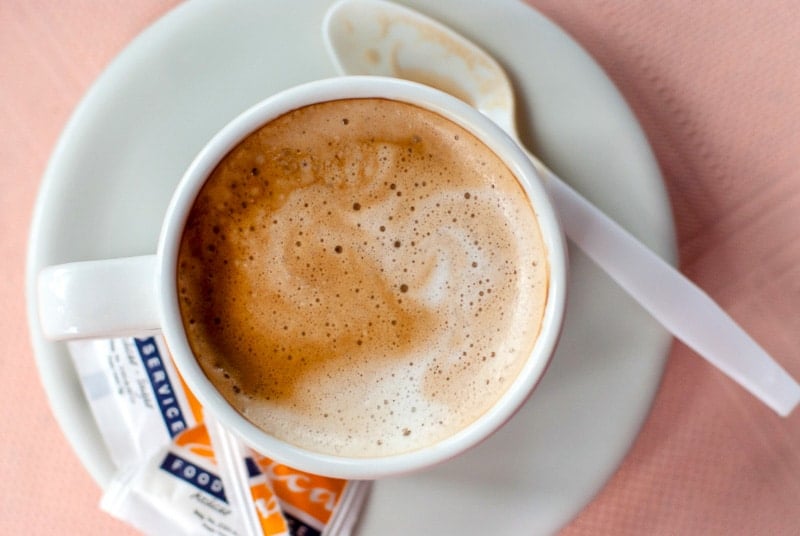 All the coffee enjoyed in Costa Rica is grown locally in the highlands areas.
The 'Happy Snapper' in Brasilitas sports a tiki type open restaurant complete with dolphin mural. They tout endorsement of the Costa Rican Tourism Board on their marquee. We visited upon recommendation about the quality of their food from locals.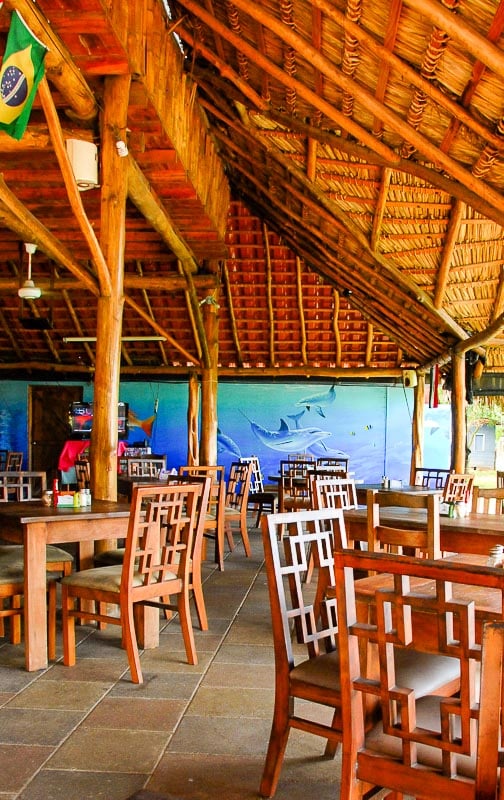 Freshly caught and grilled Calamari at Nogui's in Tamarindo. Again recommended for the local fare and with prices for locals. Though the seafood in our hotel was superb the prices were excessive as well!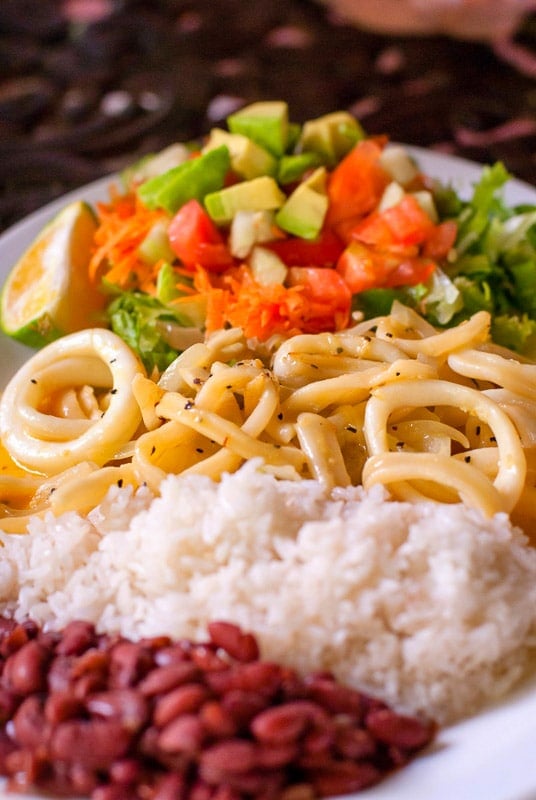 Nogui's fresh fish tacos piled high with finely shredded cabbage. Heaven! Check out the beautiful local lime too with the orange flesh.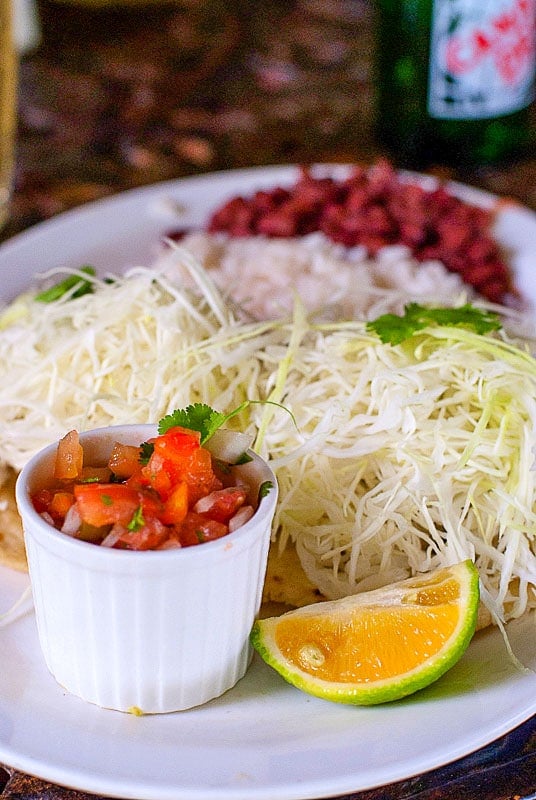 Little Known FACTS about Costa Rica
I've stayed true to the food aspect in my Costa Rica recount but I can't close out without some mention of the integrity of this country.
They disbanded their army in 1948 and have put their focus on better education (which is free and obligatory producing a 96% literacy rate for the country as a whole). Their past President Oscar Arias was awarded a Noble Peace Prize for assisting calm in the turbulent Central American climate.
They are bordered to the north by Nicaragua and Panama to the south and are the size of West Virginia. They have their first female President in office now and she is getting great reviews from locals.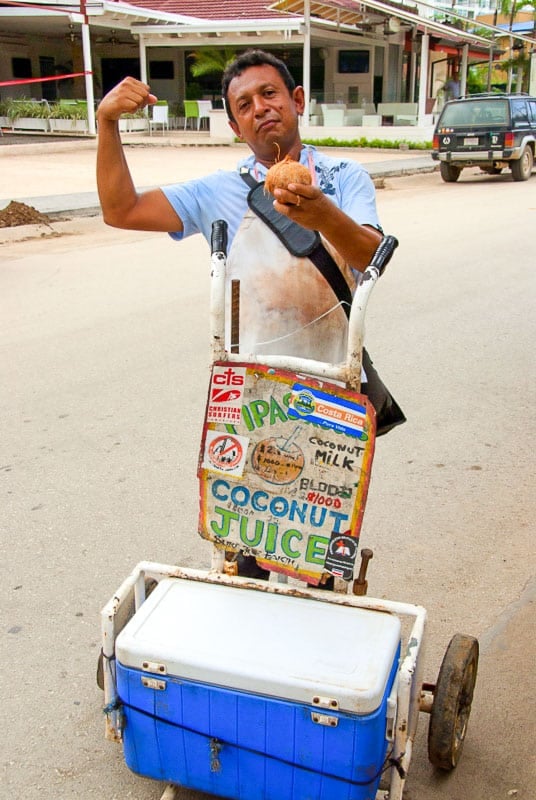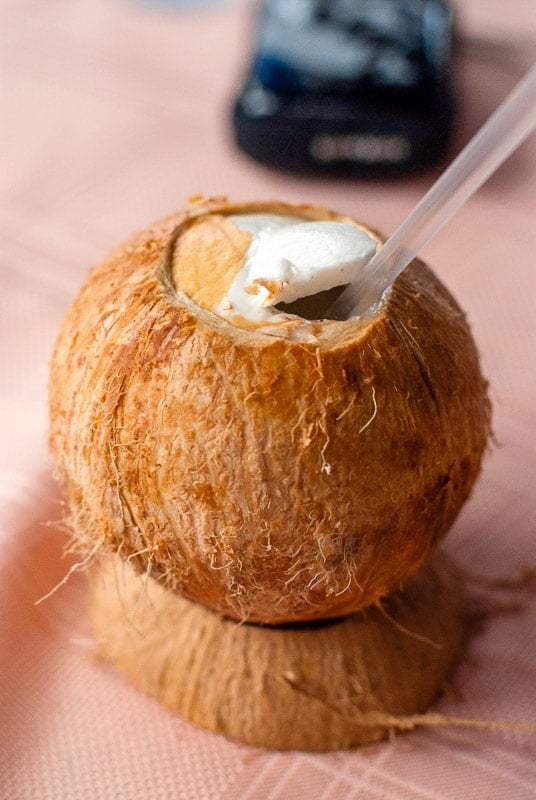 While sitting at a café this coconut vendor brought us a fresh coconut and for $2 macheted it open to drink the water inside.

Most things are grown for export. Chances are the tropical fruits you eat may be imported from Costa Rica.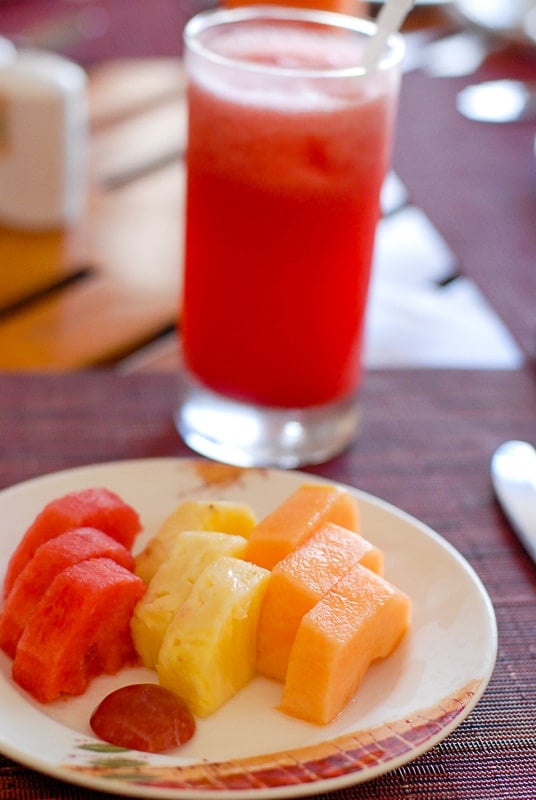 The accessibility of fresh fruit cannot be beat. I enjoyed fresh watermelon juice as well with this meal.
One drives through miles and miles (or 'kilometers and kilometers') of sugar cane in Guanacaste. Their number three industry is electronics with Intel having created 10,000 jobs there

Some believe there is a merging of the North and South American continents at Costa Rica in such a way that causes the density of species to be so abundant.

There was book written a few years back about the 'Blue Zones' in the world where happiness is found at its peak in the society. Costa Rica is one of those locations. I'm not surprised.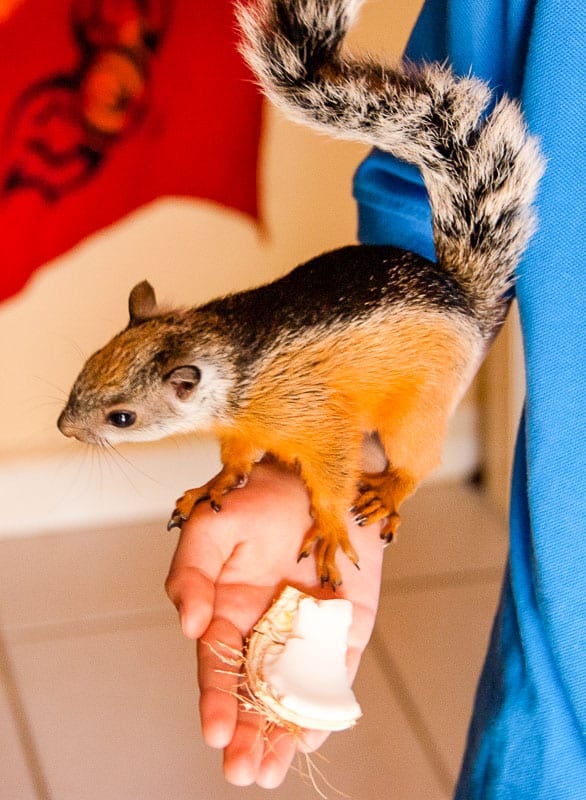 Recipe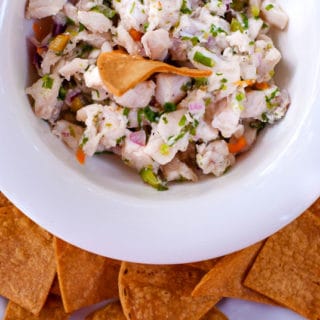 Costa Rican Ceviche
This is not Lola's recipe however a local one and I think they are all fairly similar containing on a few simple, fresh, local ingredients. Ceviche is a 'fish stew' with the acidity of the citrus juice 'cooking' the fish. It is not fishy tasting in the least (the key is the freshness of the fish used). It's light and beautiful especially at the peak of summer's heat as it's usually served chilled.
Print
Save Recipe
Recipe Saved!
Pin
Rate
Ingredients
1

pound

firm white fish (sea bass or mahi mahi are often used local Costa Rican ceviche)

cut into small bite-sized pieces

1

small

red onion

chopped

1

garlic clove

minced

5

sprigs

cilantro (or coriander leaf, if in Costa Rica)

finely chopped

1

small

hot pepper

seeded and finely minced

3/4

cup

freshly squeezed lime juice

Salt and pepper to taste
Instructions
Combine all ingredients EXCEPT salt and pepper. Cover and refrigerate at least 4 hours or overnight.

Add salt and pepper to taste before serving.

SERVING: Can be served with tortilla chips (corn tortillas can be cut up and fried at home or store bought) or in soft corn tortilla as a soft taco.
Nutrition
Calories:
122
kcal
|
Carbohydrates:
4
g
|
Protein:
23
g
|
Fat:
1
g
|
Saturated Fat:
0
g
|
Cholesterol:
56
mg
|
Sodium:
61
mg
|
Potassium:
410
mg
|
Fiber:
0
g
|
Sugar:
0
g
|
Vitamin A:
210
IU
|
Vitamin C:
14.9
mg
|
Calcium:
18
mg
|
Iron:
0.7
mg