Curry Coconut Soup is an exciting recipe any time of the year. Earthy curry flavors with sauteed vegetables, rice noodles and crispy fried tofu on top!

This is the type of soup that makes everyone go quiet while eating it.
There are so many exotic and delicious flavors, soul-warming textures, it's exciting to eat for the whole family.
It's rich and creamy but also dairy-free!
If you love a good curry recipe, this soup will become a great addition to your comfort food favorites.
Coconut Curry Soup
This vegetarian soup is so satisfying! The delicious broth is made with a little trick.
Chickepeas (aka garbanzo beans) are blended with coconut cream and vegetable broth until smooth.
It makes a substantial base for the soup without hours of cooking.
The chickpeas and the crispy tofu on top add alot of protein to the soup making it filling.
With the earthy warming curry paste the soup takes on a big flavor.
Unlike a traditional Thai coconut curry soup there is no fish sauce or brown sugar.
Recipe Ingredients + Notes
All the ingredients you'll need are shown in the photo below. Here are some notes on the key ingredients:
Coconut Cream is much thicker and richer than coconut milk. It is sold in a can and will separate into a liquid and solid. Shake the can up before opening it to measure out the coconut cream.
Yellow Curry Paste is available at most grocery stores in the International section. It is also available online. Instead of a dry curry powder, it's a thick paste including wet ingredients. Scoop it into the soup and stir to incorporate.
Rice noodles are also called 'rice sticks', Maifun noodles or rice vermicelli. They are the size of angel hair pasta but made from rice. They add a wonderful texture to the curry soup and are easy to prepare.
Two types of oil are used in the recipe: Safflower Oil and Olive Oil. You can use safflower oil only. Safflower oil has a higher smoke point, meaning when cooked at high temperature it better retains its flavor and does not smoke. It's a great choice for sauteing or stir frying over high heat.
Vegetable broth is used in the soup base. Chicken broth can be substituted too.
Pressing the Tofu
This step is important because it releases the excess moisture from the tofu. It makes it firmer and a perfect consistency to marinate and stir fry.
Without this step the tofu would fall apart.
Only use Firm or Extra Firm Tofu for this recipe.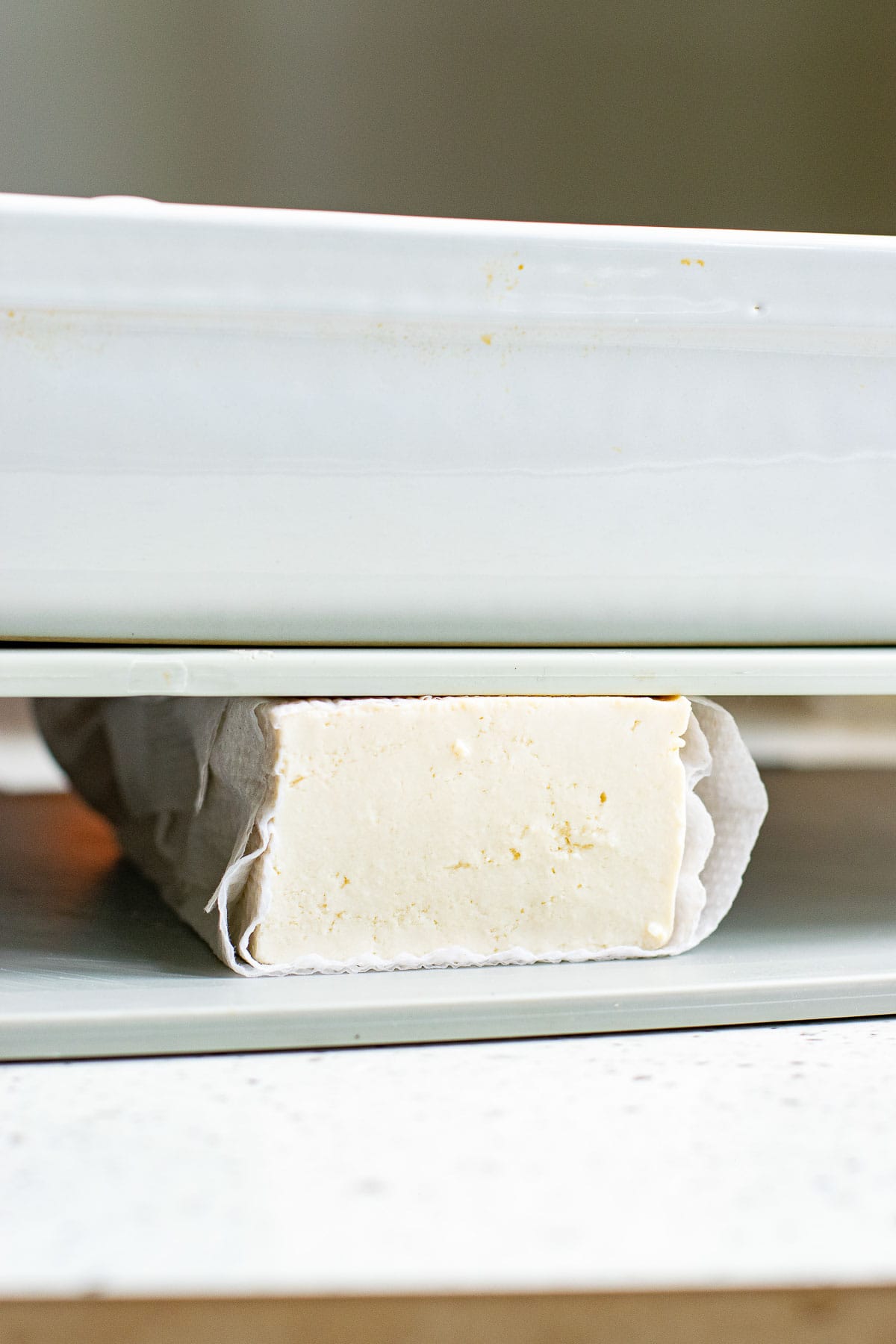 How to Press Tofu:
Wrap the block of tofu in a clean cloth (kitchen towel is great)
Place the tofu on a plate (it's a firm surface and will capture the drained moisture)
Place a cutting board on top of it
And a heavy pot or pan (or add water to a pan) on top
Let it sit for 10 minutes.
If you eat tofu often you can also buy a tofu press! This one has 5 stars and 2,300 reviews!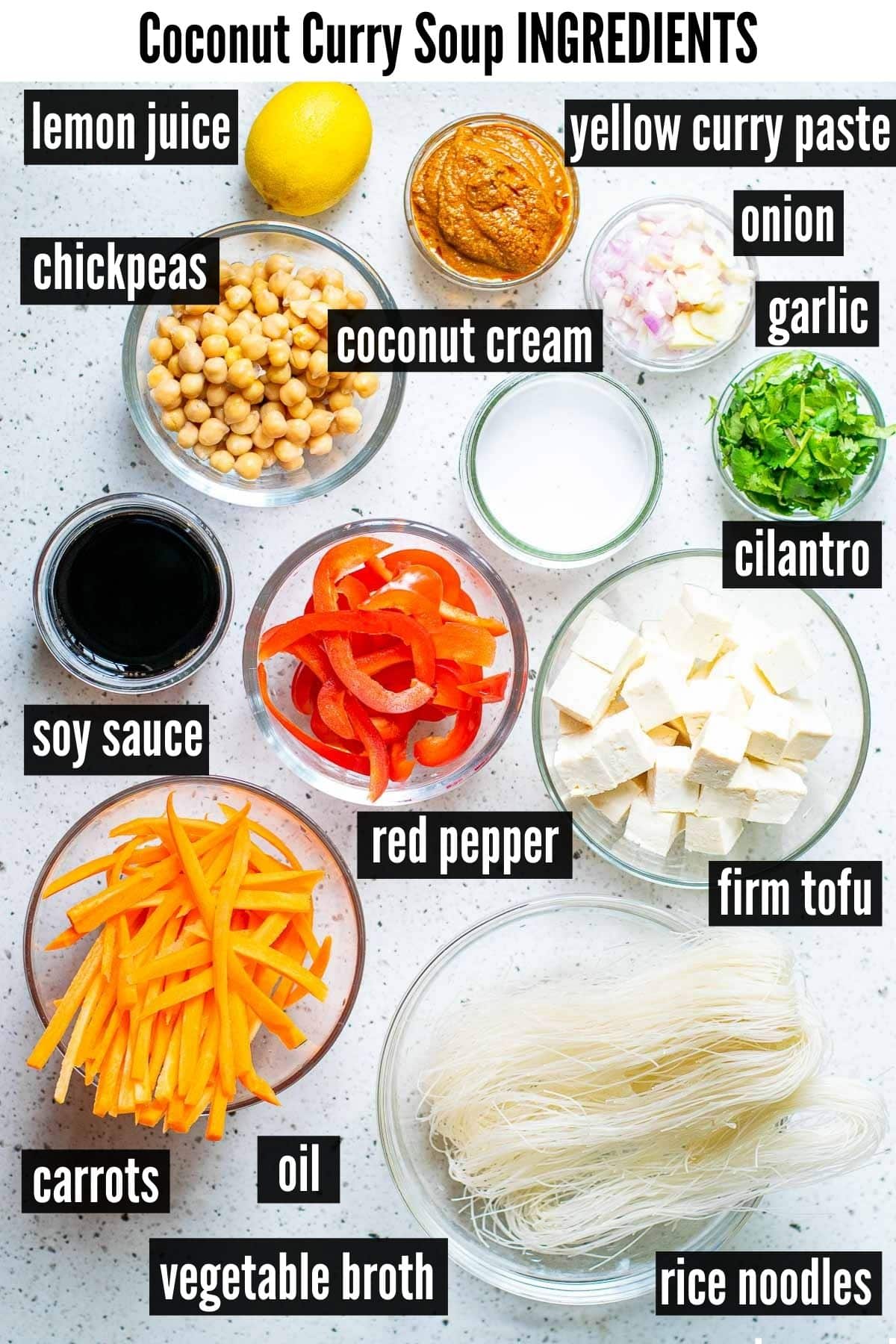 How to Make Coconut Curry Soup – Step-by-Step
STEP 1: Cut the pressed tofu into 1/2-inch cubes. Combine with the soy sauce, water and lemon juice to marinate at least 1 hour or up to 24 hours (photo 1).
The longer it marinates the stronger the flavor. May be done the day before making the soup.
STEP 2: When ready to make the soup, break the rice noodles in half and put them in a bowl and cover with warm water to soak (photo 2).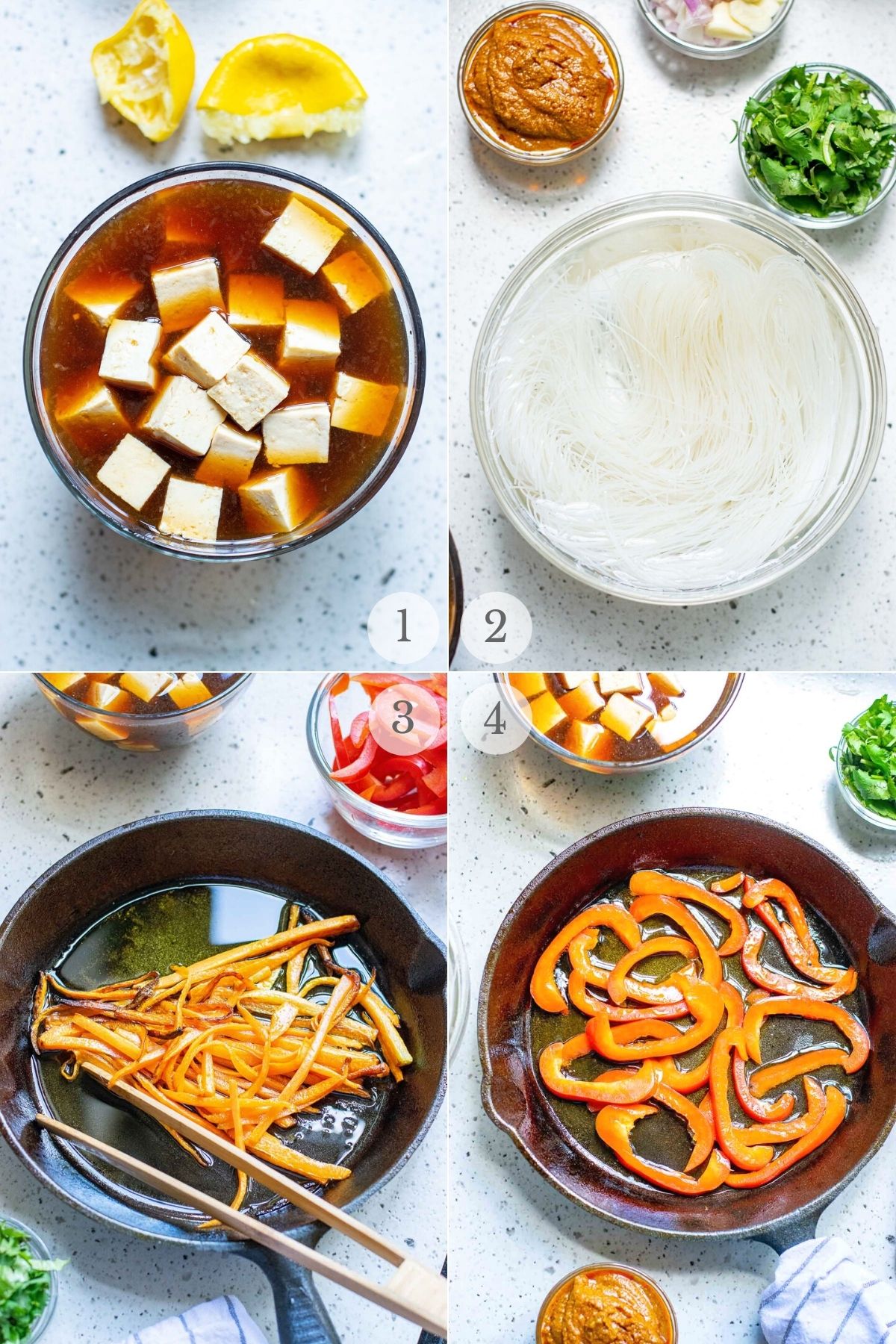 STEP 3: Add 2 tablespoons of safflower oil to a heated skillet or wok. Add the carrots and saute until tender (photo 3).
Remove and add the red bell pepper to the pan; cook until softened. Remove. (photo 4)
STEP 4: Add 1 tablespoon of safflower oil to the skillet. Remove the tofu from the marinade with a slotted spoon and add to the hot pan. Cook until the tofu is golden and crisp on all sides (photo 5). Remove and set aside.
STEP 5: Combine the chickpeas, coconut cream and vegetable broth in a blender (photo 6). Process until smooth with no chickpea solid material (photo 7).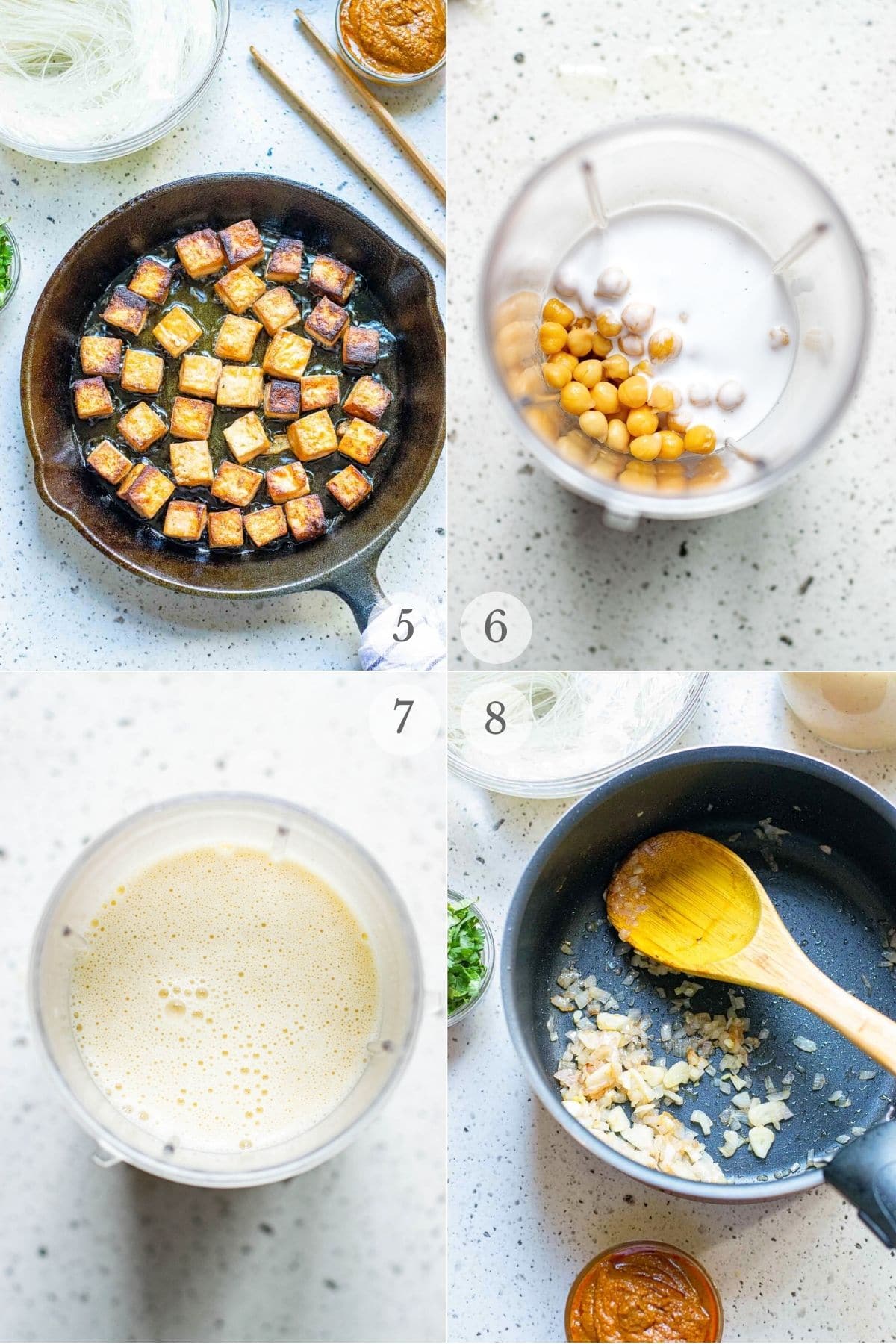 STEP 6: Add the olive oil into a large sauce pan or stock pot. Heat and saute the onions and garlic until soft (not browned) (photo 8).
STEP 7: Add the chickpea broth and curry; stir to combine (photos 9-11). Add the noodles (drained) and carrots (photo 12). Bring to a simmer over medium-low heat; cook for 2 minutes. Salt to taste.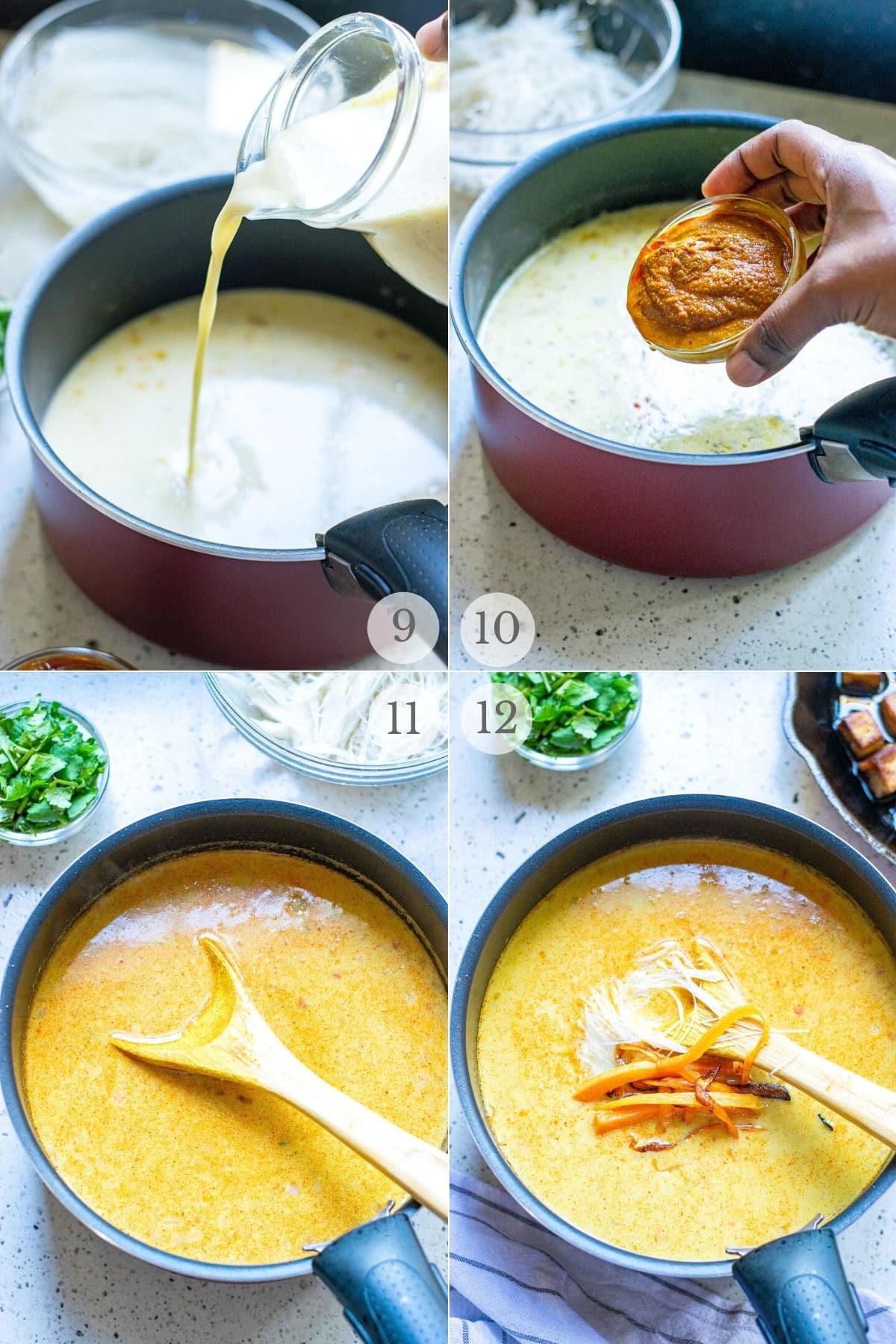 Ladle soup into 4-6 bowls. Garnish with the red pepper, cilantro and crispy tofu. Serve immediately.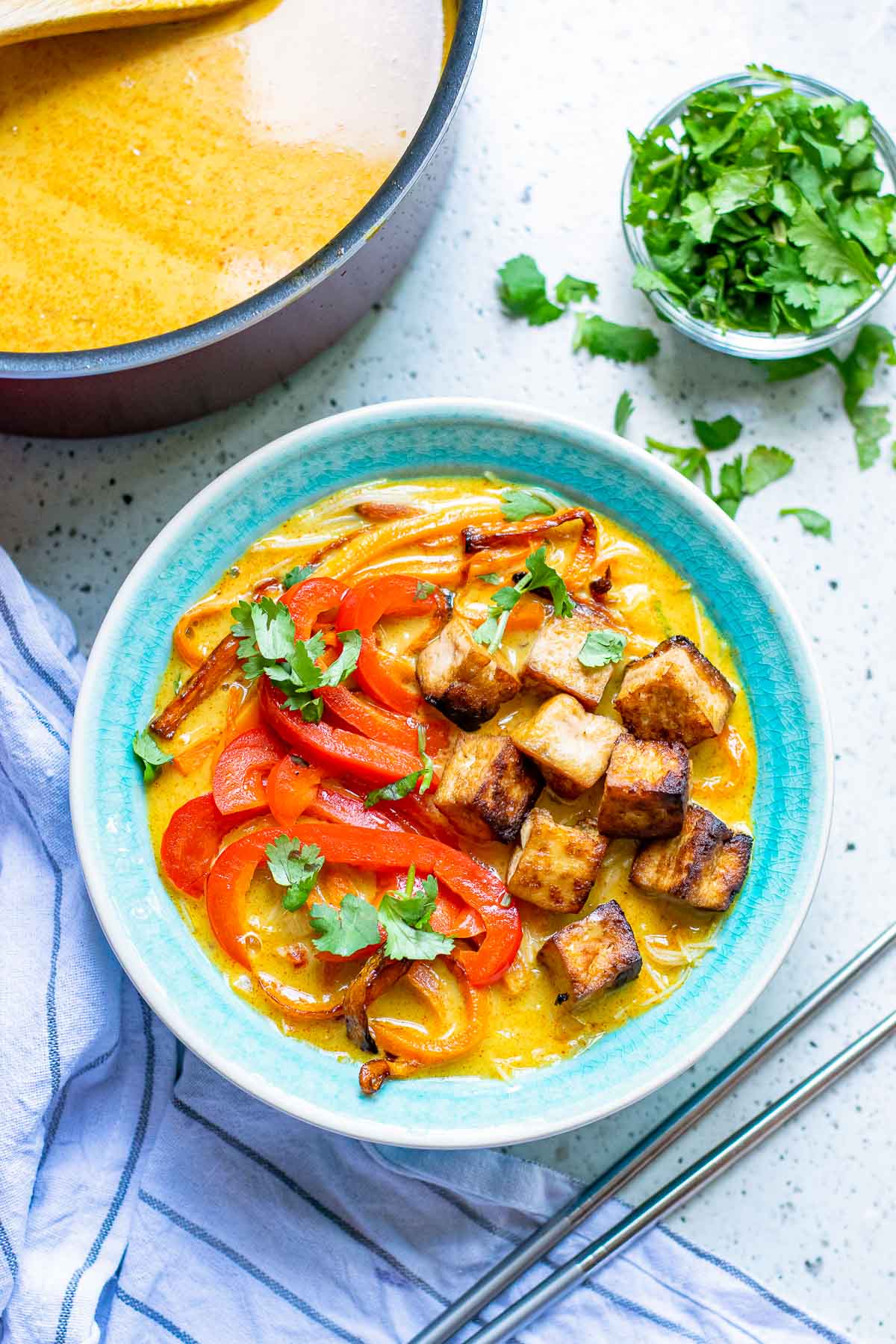 Pro Tips
The longer the tofu marinates the more flavor it will have.
Remove the tofu from the marinade with a slotted spoon and allow excess marinade to drip back into the pan before adding to the hot skillet. Be careful of splattering hot oil when putting the tofu in the skillet.
Use low smoke point oil for stir fry portion (safflower oil, peanut oil, grapeseed oil). Olive oil is fine for sauteing the onions and garlic in soup pan.
Coconut Cream will separate in can. Stir together before measuring out.
Firm or Extra Firm Tofu only.
Use 'rice stick' size noodles (size of angel hair pasta) not pad thai size. Break in half before soaking for easier management of them.
This recipe is medium spicy (medium heat). If wanting less spice cut the curry paste down to 2 tablespoons.

How to Store it
Refrigerate leftovers for up to 5 days in a sealed container. The tofu and red pepper can be stirred into the soup and chilled all together.
More Recipes You'll Love!
Did you make it? Please RATE THE RECIPE below!
Please SUBSCRIBE and FOLLOW ME on FACEBOOK , TWITTER , INSTAGRAM and PINTEREST !