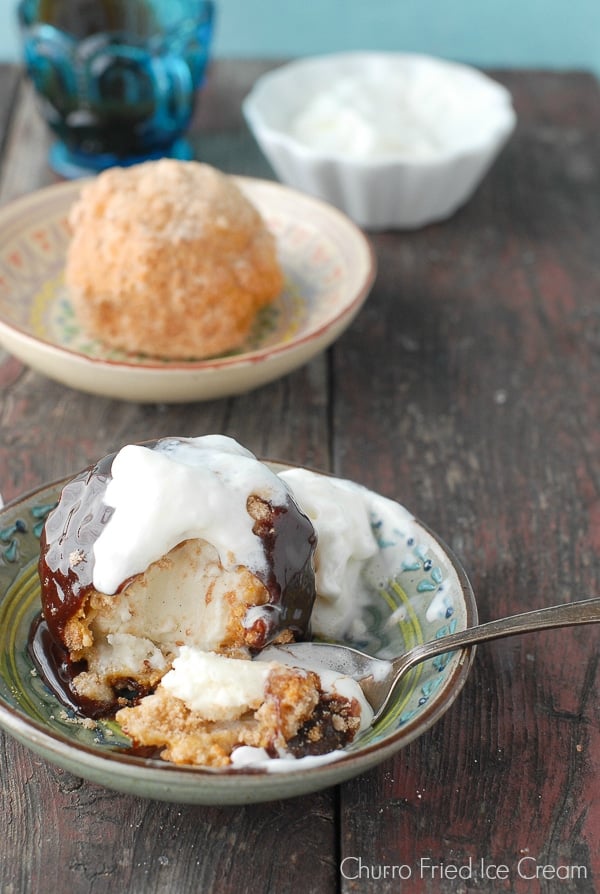 When I was growing up my maternal grandparents had a flat in San Francisco over the bustling corner of Columbus and Bay streets.  Below them on the hill was the original Tower Records store where all the Cool Cats shopped.  Across the street and a block away was the Cable Car turnaround nearest Fisherman's Wharf.  In the same block was the original Cost Plus, before it became World Market and a chain.  I loved browsing for hours over exotic incense burners and inexpensive jewelry, wood carved furniture and wafting caftan tops.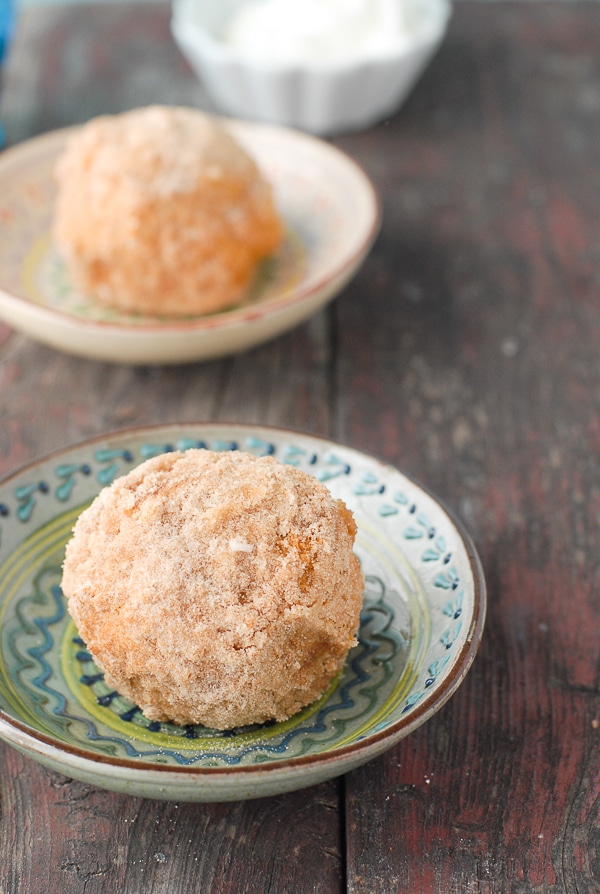 As fantastic as all these things were, they did not touch my favorite food experience.  A few blocks away was a Japanese restaurant Nana and Papa would walk to for dinner.  When I would visited they'd bring me along.  I had not had Japanese food, nor sat cross-legged on the ground to dine so that was very exciting.  The food was fantastic; so unusual to my norm.  As delicious as were the Tempura, Udon noodles and Edamame, the dessert blew the roof off for me; Fried Green Tea Ice Cream.  Who had ever heard of such a thing?  It was pure magic in my book.  A warm, deep fried crust giving way to a cool inner ice cream core.  I was smitten and can't recall a more impactful dessert since.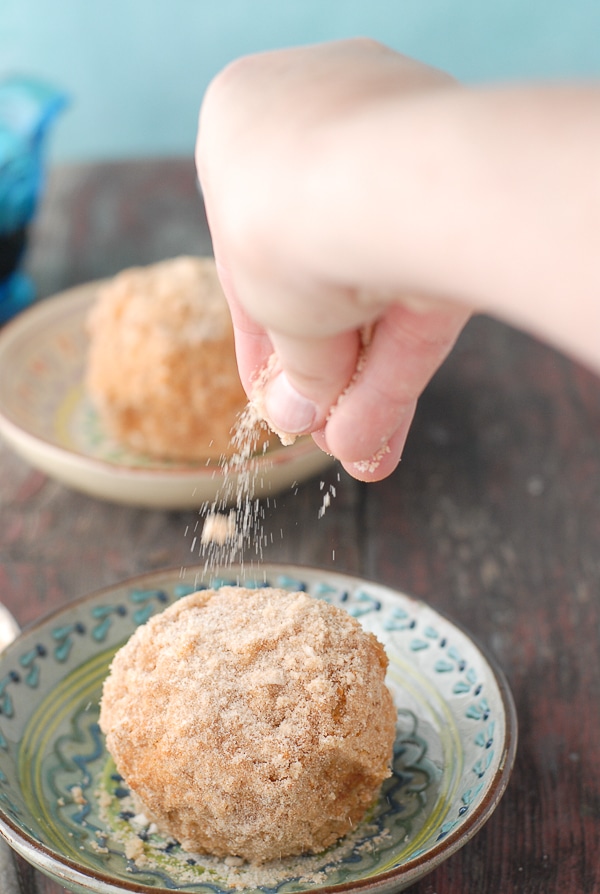 With Cinco de Mayo mere days away I wanted to whip up a fun and unexpected dessert.  I'm not sure what brought fried ice cream to mind but decided it was time to learn to make it myself and having a Churro crust would be perfection!  After multiple iterations, and familial taste testing sessions, the recipe I'm sharing today was the clear winner.  Coated three times with cookie crumbs and finally with cereal crumbs, the outer coating stays intact offering a fantastic crunch after the ice cream is quickly deep fried.  It yields to a cold core of vanilla bean ice cream just starting to soften on the outside. Finally coated with granulated sugar and cinnamon, it tastes just like a churro.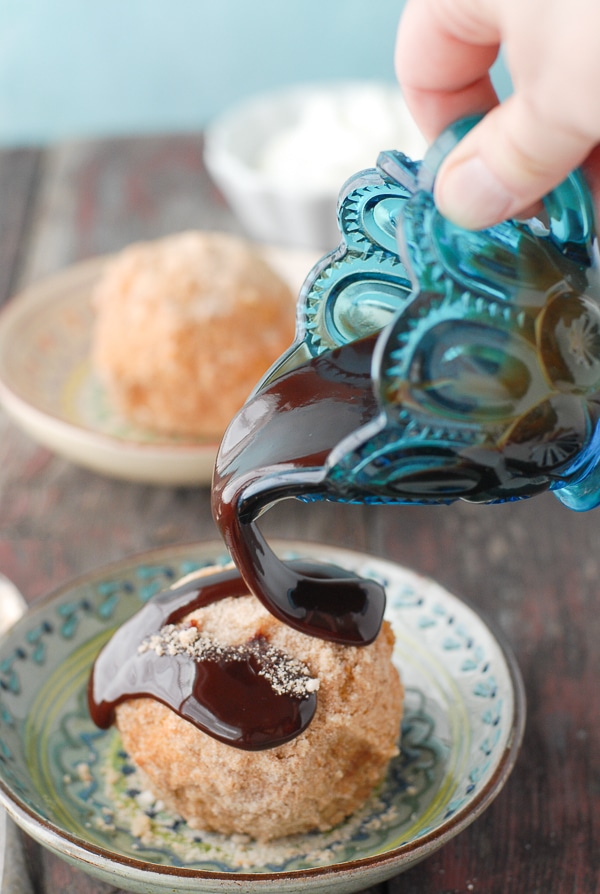 The recipe takes a bit of time but really the steps are completely simple and quick.  The overall length of time is due to freezing between coating the ice cream ball.  The end result is completely worth the wait!  Add a bit of chocolate syrup and whipped cream and you have a most unique delicious recipe to serve for Cinco de Mayo or to make any day extra special!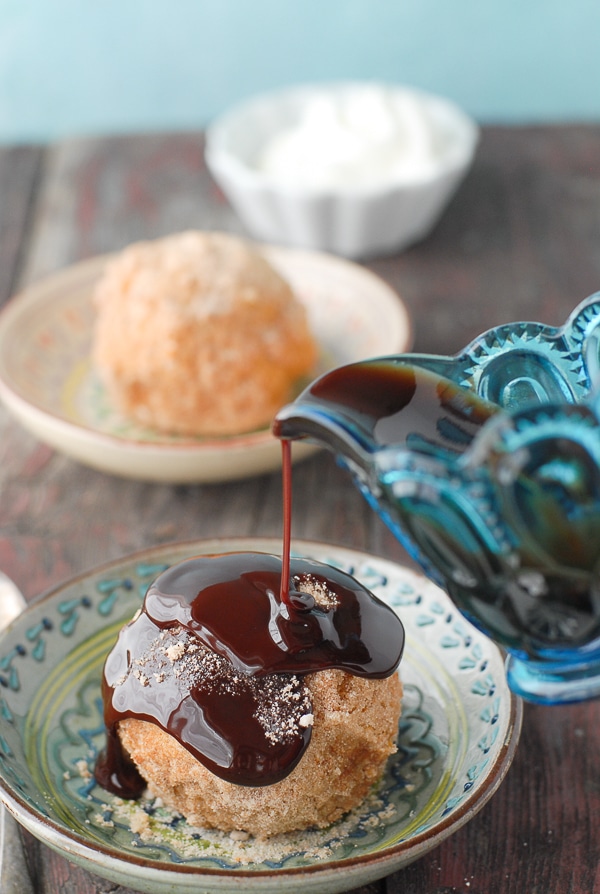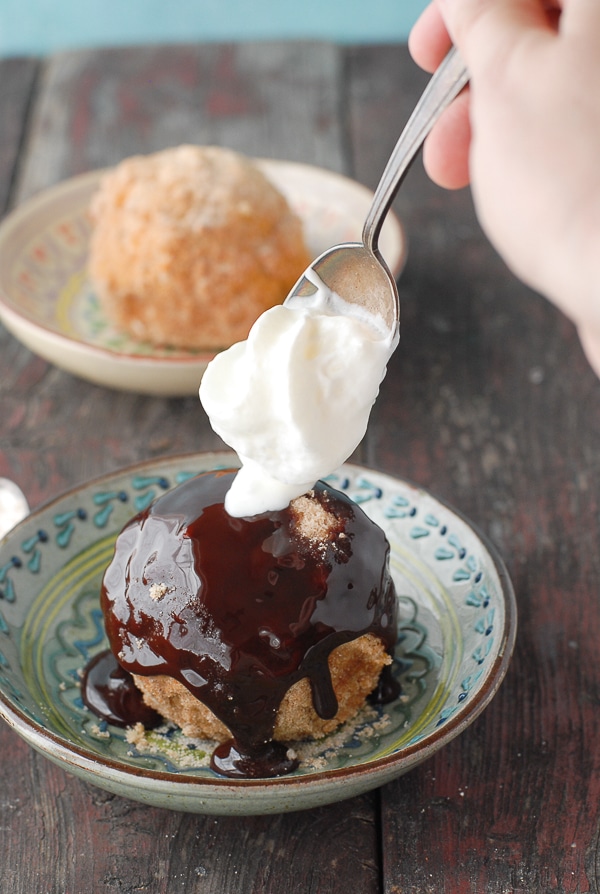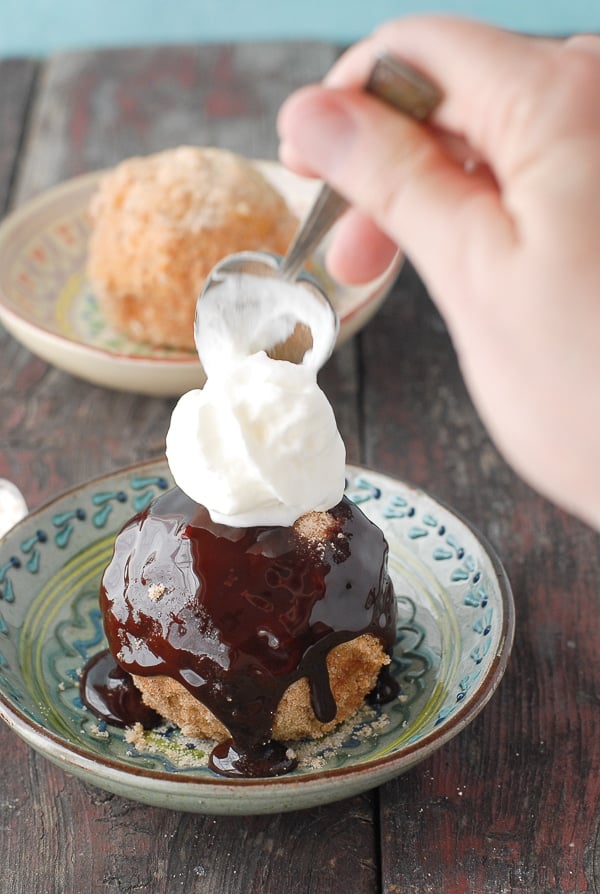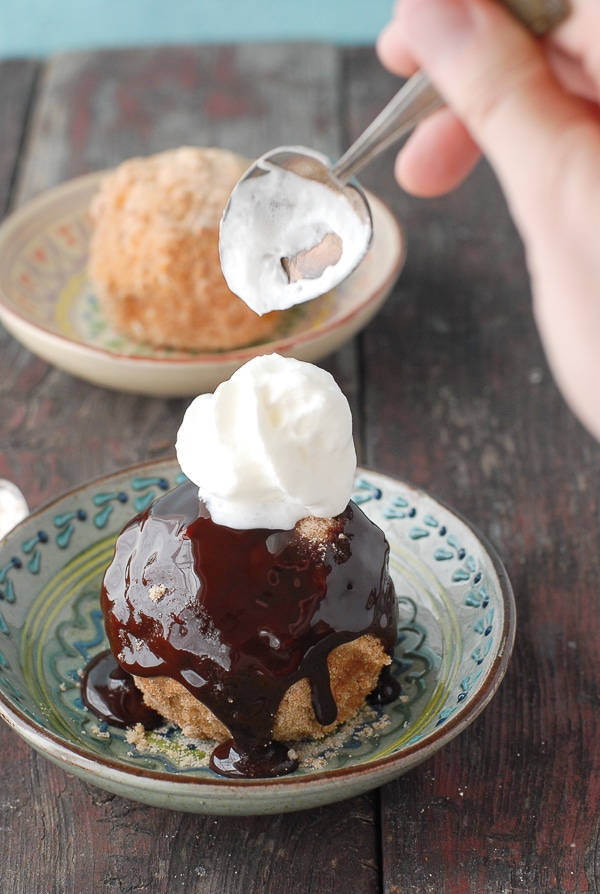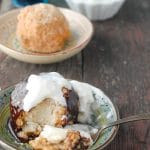 Churro Fried Ice Cream
There is no more exciting or unexpected dessert than Fried Ice Cream! Hot and crunchy on the outside, and cold on the inside. This recipe was created with Cinco de Mayo in mind and uses cookie crumbs, as well as a cinnamon-sugar outer coating to celebrate the flavor of Churros.Making fried ice cream takes a bit of time to ensure the coating properly freezes before frying. The coating process takes only minutes and waiting through the freezing time is important to ensure a great end result. The ice cream balls are coated and fried separately to discourage melting. The amount of crumbs and eggs called for allows some surplus which make coating the balls quicker and easier to do.The recipe can be increased to make a larger batch of fried ice cream balls by multiplying the ingredient proportions.
Total Time
5
hours
30
minutes
Servings
4
1/2 cup fried ice cream balls
Ingredients
2

cups

Vanilla Bean Ice Cream

(I used Blue Bell Vanilla Bean)

1 1/2

cups

Snickerdoodle Cookie crumbs*

, homemade or store purchased (I used Udi's Gluten-Free Snickerdoodles)

3/4

cups

Cornflakes crumbs*

(gluten-free or regular)

4

Eggs

1/2

cups

Granulated Sugar

1

teaspoon

ground Cinnamon

Sunflower oil

(selected due to no taste and high heat tolerance)
Instructions
Scoop ice cream into 1/2 cup balls. Mold with hands. Place on parchment lined baking sheet and cover with plastic wrap. Freeze until hard; 2-3 hours, or overnight.

Place the cookie crumbs in a small mixing bowl. Roll each ball, one at a time (leaving others in the freezer)applying a bit of pressure to fully coat in the crumbs; it will not coat densely. Return the ice cream balls to the freezer pan and allow to freeze for 30 minutes.

Gently beat two of the eggs in a medium size bowl. One by one, roll an ice cream ball in the eggs to fully coat, and then in the cookie crumbs to fully coat. Return the coated ice cream ball to the freezer pan and repeat for the remaining 3 ice cream balls. Allow to freeze for 1 hour or until hard.

Gently beat the two remaining eggs in a medium size bowl. Place the cereal crumbs in a separate medium bowl.

One by one, dip the ice cream balls in the eggs to fully coat. Roll each ball in the cereal crumbs to fully coat. Return the coated ice cream balls to the freezer pan and freeze for 30 minutes or until completely hard.
Frying the Ice Cream Balls:
Combine the granulated sugar and cinnamon in a small mixing bowl; mix to fully blend.

Fill a medium pot with four inches of oil (or enough to cover the ice cream ball when frying). Position a candy thermometer on the side of the pot to monitor the heat. Place a layer of the cinnamon-sugar on a salad plate and set aside.Heat the oil to 375 degrees.

Ice cream balls will be fried one by one. Place serving plate or bowl near by for quick plating.

Using a heatproof slotted spoon, gently lower an ice cream ball into the heated oil. Fry for 20 seconds, spooning the oil over the top of the ball, careful to avoid the hot oil contacting your hands.

Remove the fried ice cream with the slotted spoon and place on the plate with the cinnamon-sugar. The ice cream ball will be hot! Gently roll the ball or sprinkle the cinnamon-sugar on the ice cream ball to cover all sides.

Lift ice cream ball off the plate, gently shake off excess cinnamon-sugar and place on serving plate/bowl. Garnish with chocolate syrup and/or whipped cream and serve immediately. Repeat for remaining ice cream balls.
Recipe Notes
*Place cookies or cereal in a blender or food processor and process until turned into crumbs.Adapted from the Food Network.