Hot fried cinnamon-sugar Churros are a taste treat that is easy to make at home! Light, fluffy on the inside with a crisp sugary crust. This family favorite recipe inspired by Disney churros can be made gluten-free or with regular flour.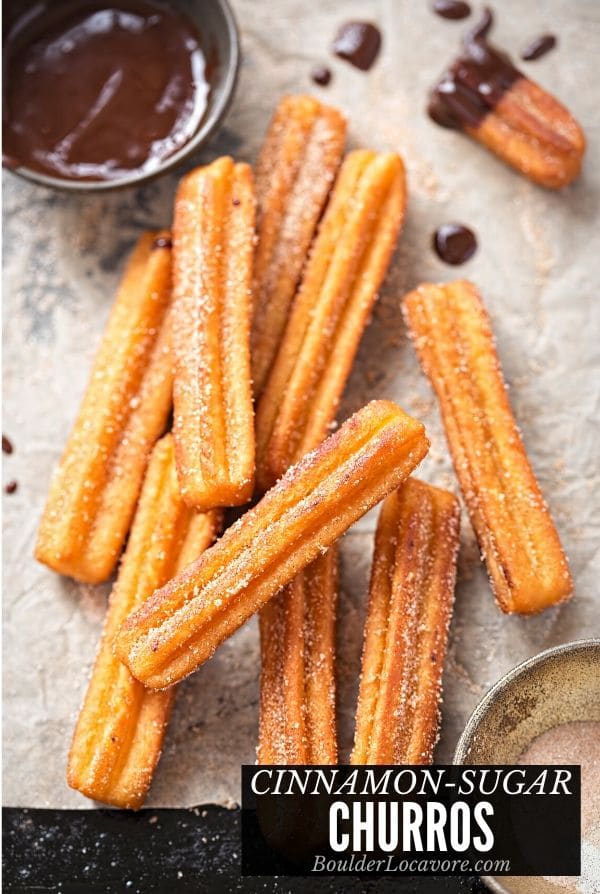 There is nothing quite as delicious as hot, fried Churros rolled in cinnamon sugar!
The inspiration for this recipe came from a trip to Disneyland where the churros can be found everywhere.
If you don't see a Churros stand (there is one in every land) you'll smell them.
The aroma of sugary, cinnamon fried dough is absolutely intoxicating!
Now you can make this easy Churro recipe at home! They make anyplace the happiest place on earth.
Jump to: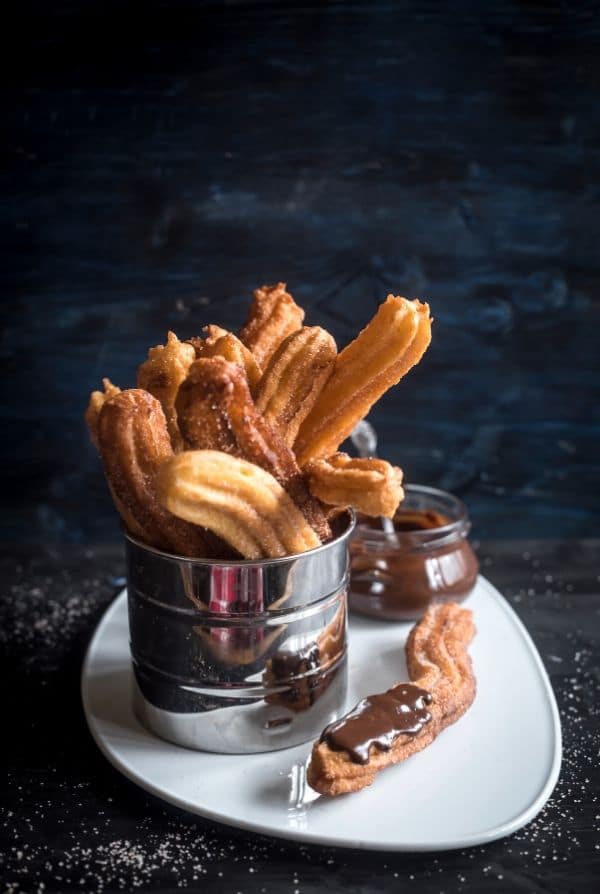 What are Churros?
Churros are fried pastry dough rolled in cinnamon and sugar.
They are usually long sticks but can be made in 'bite' sizes too.
They originated in Spain and Portugal and have spread across the world presenting different versions.
No matter where you find them the hot, sweet churros are delicious for a special treat!
It was impossible to miss them at Disneyland….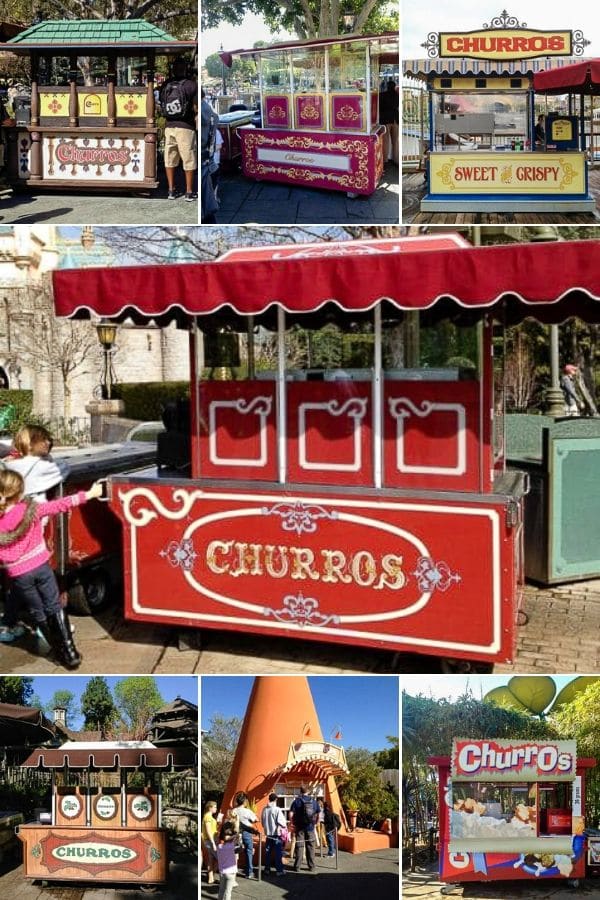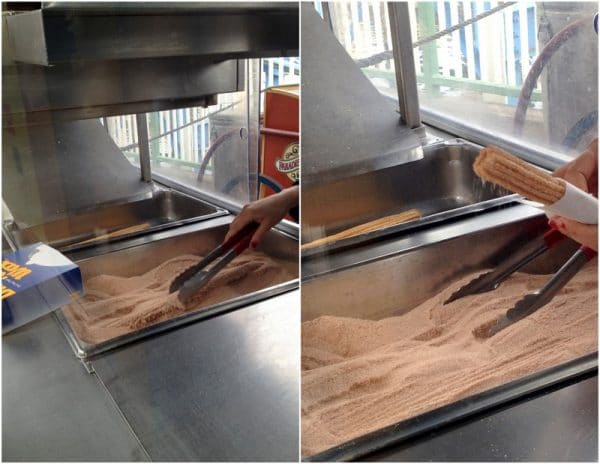 Homemade Churros Recipe
Homemade Churros are delicious!
Light, gently fried dough in the center of a star-shaped golden cinnamon-sugar coated crust.
They can be made in any length.
You'll see when making longer versions they tend to snake around in the hot oil rather than staying stick-straight.
They are fun to watch take shape and even better to eat hot out of the pan!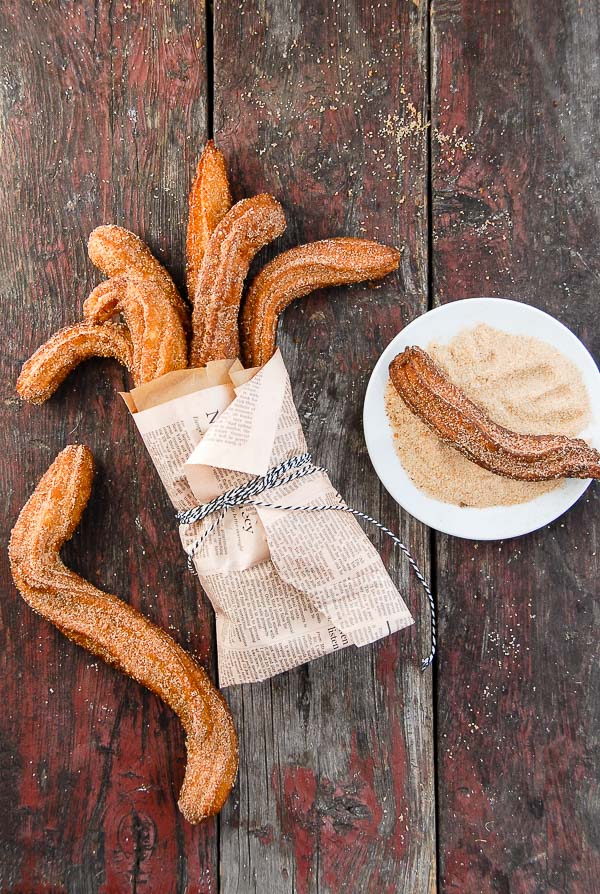 Recipe Ingredients + Notes
The needed ingredients are simple and in your kitchen right now!
Water
Unsalted Butter
Kosher Salt
Granulated Sugar
All Purpose Flour. Regular or gluten-free measure-for-measure flour can be used.
Eggs. You'll need three.
Ground Cinnamon.
Canola or Vegetable Oil. You'll need enough oil to be at least 1 inches of oil deep in the pan you are using.
Supplies:
Pastry Piping Bag
1-inch star piping tip
Candy thermometer or Instant Read thermometer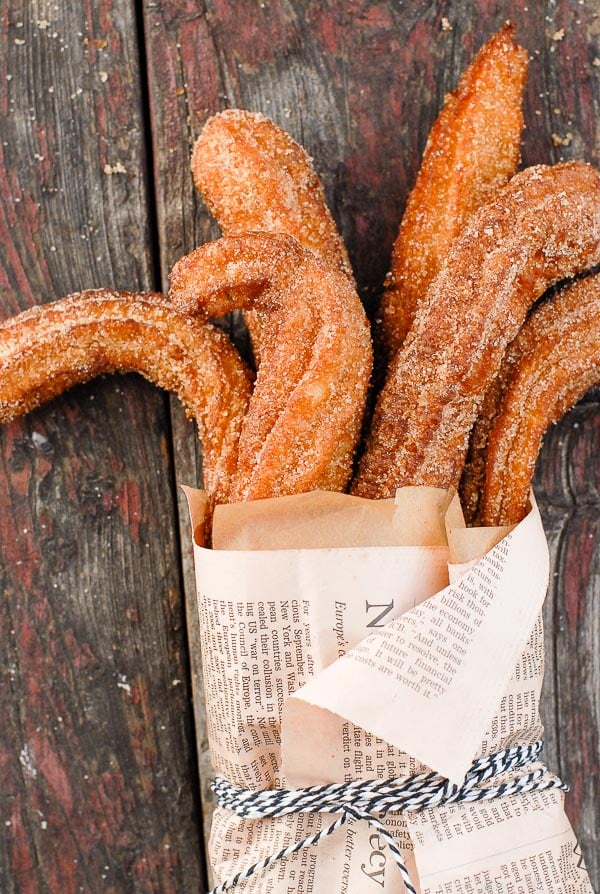 Regular or Gluten-Free Churros
The original inspiration for this recipe was making a gluten-free churros recipe for people to enjoy at home.
As fabulous as Disney is for gluten-free travelers (and it is) the churros there were not available in a gluten-free form when I developed this recipe.
This recipes makes up for it. AND you can make them anytime you desire.
It has also been tested with regular All Purpose Flour and is just as delicious!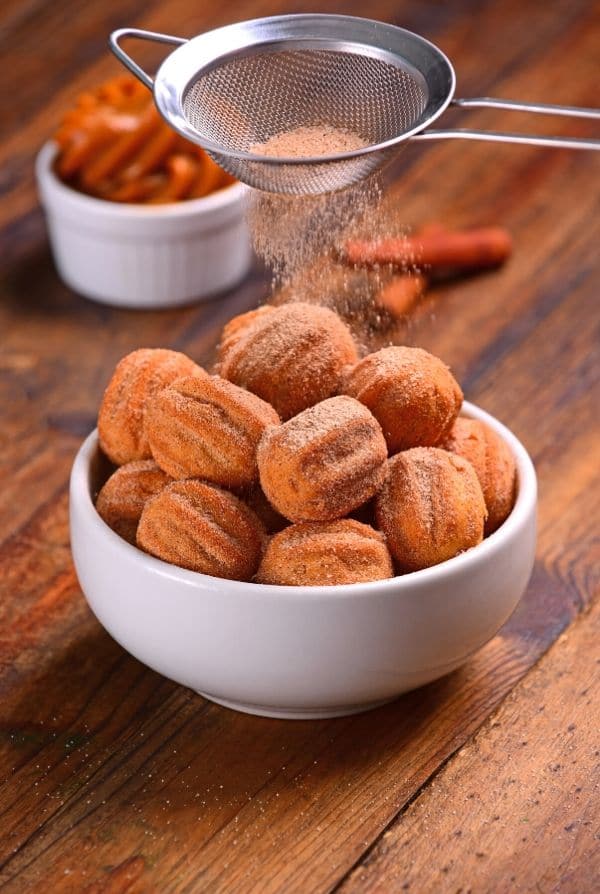 Disney's Churro Bites recipe
Fast forward 7 years after I developed and shared my recipe, and Walt Disney World has released their recipe to the public!
The Disney Churro Bites recipe makes 1-inch long Churros, not the long sticks sold at the stands in the parks.
I was thrilled to see it and see my recipe is almost identical to their original recipe!
So whether you are gluten-free or a gluten-diner missing Disney, my recipe will bring you that familiar flavor and some joy!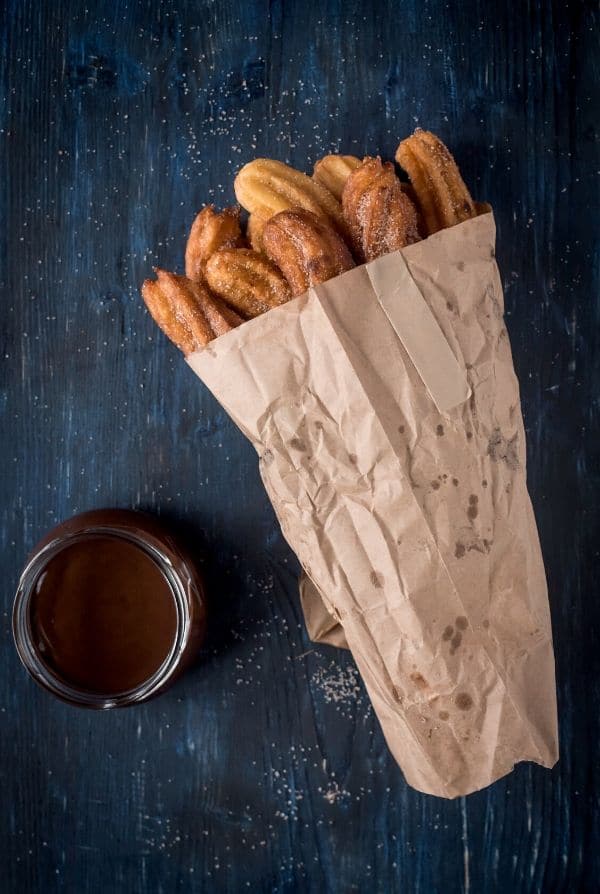 How to Make Churros – Step-by-Step instructions
For detailed instructions refer to the printable recipe card at the end of the blog post.
STEP 1. Preparation
Pot Size. The churros should be 4-6 inches in length (unless you are making them bite-sized) so select a pot large enough.
Have all Everything set up Before Frying. Frying goes quickly so having all supplies where you need them is key:
Line a large plate or sheet pan with paper towels to drain the churros when they are done frying.
Use a handled strainer to scoop out the fried Churros if possible. Also called a 'spider strainer' this is a great way to lift the cooked dough out of the oil without getting burned.
Make the cinnamon-sugar mixture (step 4 below) and have it in a shallow dish or baking pan to roll the churros in as soon as they finishing frying.
STEP 2. Heat the oil
In a large heavy pan heat oil. Equip the pot with a candy thermometer (or use and Instant Read thermometer) and heat until the oil temperature is 350 degrees. Make the dough while the oil heats.
STEP 3. Make the dough
In a medium saucepan over medium-high heat, combine the water and butter. Bring to a boil to melt the butter. Whisk to combine.
Add the salt, 1 tablespoon of sugar; bring to a boil.
Add the flour and stir vigorously with a wooden spoon or heat safe silicone spoon until a stick dough is formed (1-2 minutes). Immediately remove from heat.
Place dough in the bowl of a stand mixer. On high speed, add the eggs, one at a time allowing the egg to be fully combined before adding the next one. Beat on high speed until a shiny smooth ball of dough mixture forms (2-3 minutes).
STEP 4. Make the cinnamon sugar mixture
Combine cinnamon and the remaining sugar in a baking dish or pan; stir together to make the cinnamon sugar mixture.
STEP 5. Fry the churros
Equip the pastry piping bag with the large open star tip. Fill the bag with dough.
Pipe dough in 4-6 inch long strips of dough into the hot oil.
NOTE: the churro dough should NOT touch while frying so fry churros or a few in a batch.
Rotate the dough for even cooking. They should be dark golden brown when completely cooked. Do NOT overcook.
When cooked remove with a slotted spoon or a strainer and place on the paper towels to allow any excess oil to drain.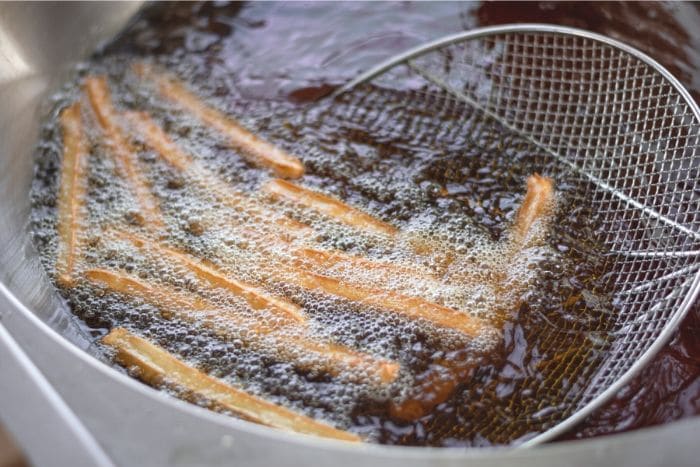 STEP 5. Drain and add cinnamon sugar
When cool enough to handle (a few minutes after draining) hold the cooked dough over the cinnamon-sugar dish and hand sprinkle the sugar mixture on all sides of the dough. Tap lightly to release any excess back into the pan.
Serve warm!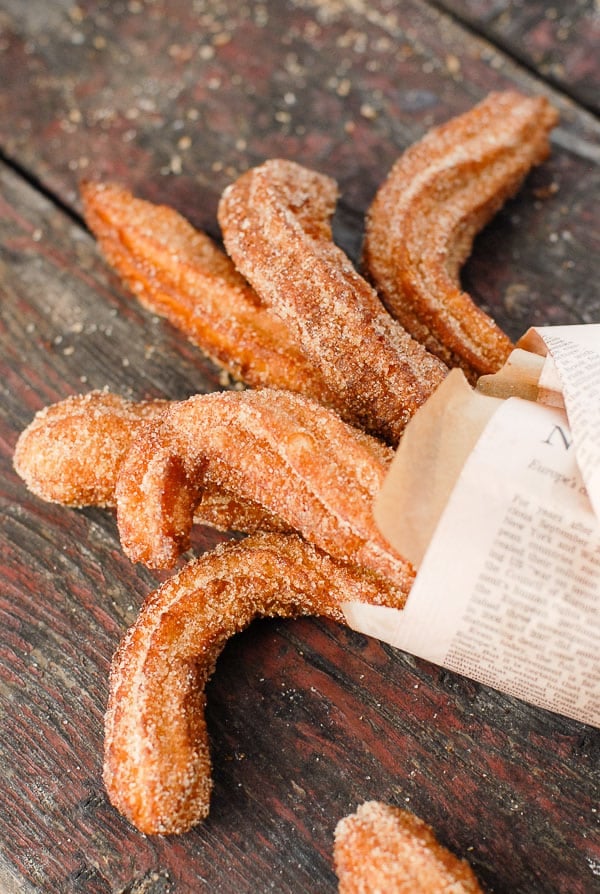 Pro Tips
Do not over or under cook the Churros. Under cooking will leave them greasy. Over cooking will change their flavor.
Do not allow the Churros to touch while frying. Cooking the dough in small batches or one at a time ensures the best result.
Use a heat-proof spoon or strainer to turn the Churros while cooking. As the underside become golden brown rotate the frying dough to ensure even cooking.
They are 'done' when they are dark golden brown.
Best when served hot and freshly made. Though leftovers are still delicious (keep in an air-tight container), eat them as soon as they are done for best results.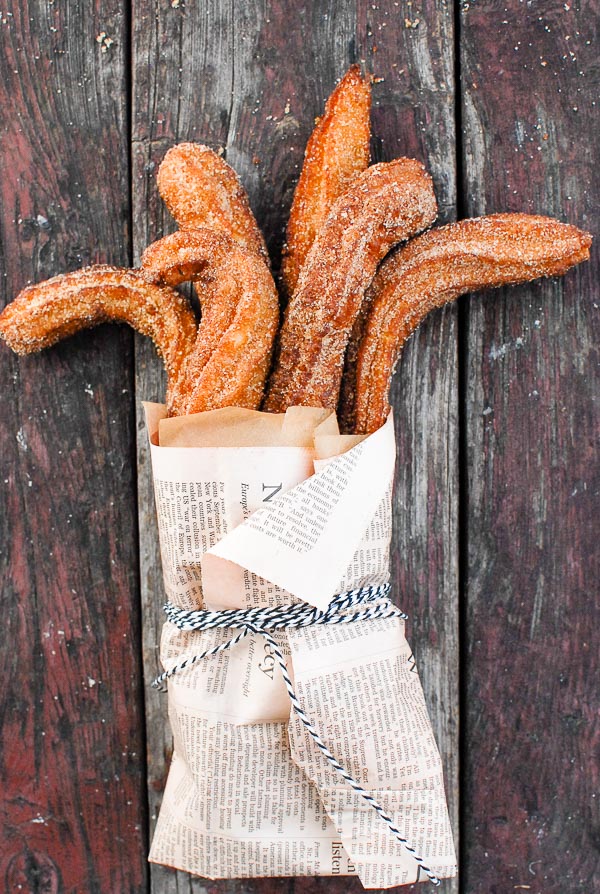 More Recipes You'll Love!
Did you make it? Please RATE THE RECIPE below!
Please
SUBSCRIBE
and
FOLLOW ME
on
FACEBOOK
,
TWITTER
,
INSTAGRAM
and
PINTEREST
!
Recipe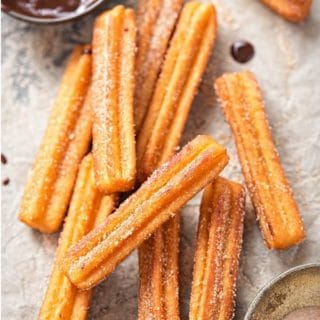 Cinnamon-Sugar Churros
Light, fluffy inside with a golden-brown cinnamon-sugar outside make these gluten free churros irresistable. Can be made with regular all purpose gluten flour instead if desired.
Print
Save Recipe
Recipe Saved!
Pin
Rate
Servings:
12
10-15 Churros depending on the size
Ingredients
1

cup

Water

1

stick (8 tablespoons)

unsalted Butter

¼

teaspoon

Kosher Salt

½

cup + 1 tablespoon

granulated Sugar

1

cup

Flour

(I used Pamela's Artisan Flour Blend)*

3

Eggs

, room temperature

1

teaspoon

ground Cinnamon

Canola or Vegetable Oil

(enough to be 1 inch deep in pot used for frying)
Instructions
Begin to heat oil in a large pan. The optimum length of the churros is about 4-6 inches so the pan should be large enough to accommodate that length. Using a candy thermometer allow oil to reach 350 degrees. Oil can be heating while dough is constructed. It is important once cooking the churros that the temperature remain at 350 so as to not under or over cook the churro. Undercooking will leave them greasy; overcooking will alter their flavor.

In a medium pan over medium-high heat, combine the water and butter. Bring to a boil to melt butter; whisk to fully combine.

Add salt and 1 tablespoon of the granulated sugar; bring to a boil.

Add flour (gluten-free or regular) and stir vigorously and constantly until the mixture forms a slightly sticky dough; about 1-2 minutes. Remove from heat immediately and do not overcook.

Add dough to the bowl of a freestanding mixer. Add one egg at a time, beating on high speed, allowing each egg to incorporate with the dough before adding the next.

Beat on high until forming a shiny, smooth ball of dough; about 2-3 minutes. Allow dough to sit.

Making the Cinnamon-Sugar: Combine the remaining ½ cup sugar and 1 teaspoon cinnamon in a rectangular baking pan or dish. Stir to mix thoroughly.

Place paper towels on a plate to allow cooked churros to have any excess oil absorbed.

Assemble the pastry bag with large star tip. Fill the pastry bag with churro dough and pipe into the hot oil, in 4 to 6 inch lengths.

The churros should not touch while cooking so I cooked one at a time. With a heat proof spoon or spatula, turn the churro as the underside begins to turn golden to ensure even cooking. Churros are done when they are a dark golden brown. Remove and place on paper towels to absorb any excess oil (note: they are not greasy at all and there will not be obvious excess oil).

When cool enough to handle (a few minutes) place the churro in the cinnamon-sugar mixture. With your hands, sprinkle cinnamon-sugar densely on every side of the churro, turning it to fully allow to coat.

Gently tap the churro to allow excess to fall back into the pan (a bit like applying glitter to a glue project).

Serve when warm and freshly cooked.
Nutrition
Calories:
82
kcal
|
Carbohydrates:
15
g
|
Protein:
2
g
|
Fat:
1
g
|
Saturated Fat:
0
g
|
Cholesterol:
41
mg
|
Sodium:
65
mg
|
Potassium:
15
mg
|
Fiber:
1
g
|
Sugar:
8
g
|
Vitamin A:
60
IU
|
Calcium:
14
mg
|
Iron:
0.6
mg
Originally published: March 3, 2013