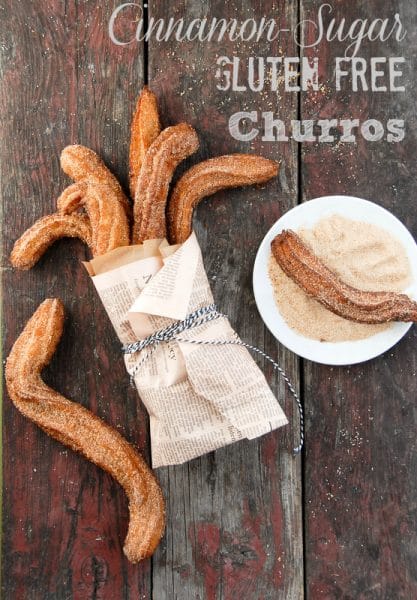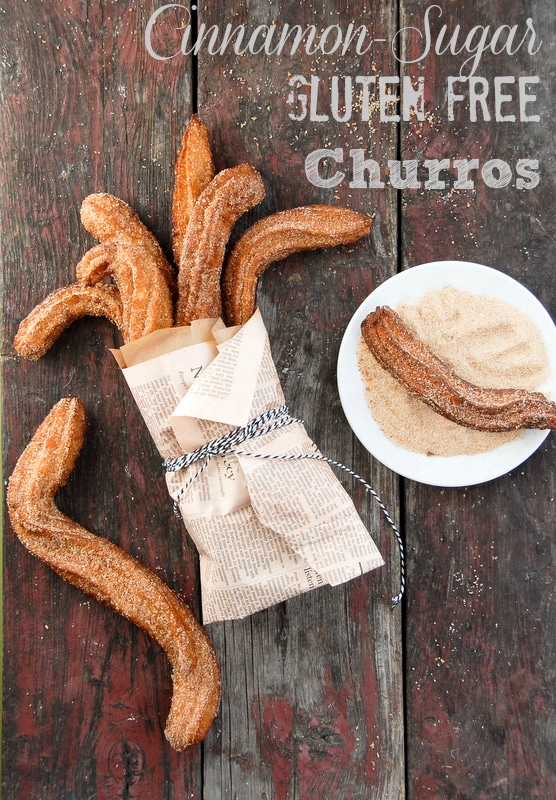 Over the President's Day weekend we took a trip to Disneyland (California) to celebrate a special family birthday. We were excited for full immersion into the 'happiest place on earth', a break from winter's chill and to focus exclusively on having fun.
We were not in the park long before we realized 'excitement' was not the only thing in the air. There was the most delicious smell of sugary, cinnamon fried dough. Utterly intoxicating. Churros.  They smelled so alluring and of course were NOT gluten free. We paused to reminisce about being able to eat those types of things when we could eat gluten (though I'm unsure any of us had actually eaten a Churro), shook it off and sped along to do Space Mountain one more time before the crowds descended on the park.
This was not our only inhalation of the perfect mouth-watering snack. We encountered them again….
As well as in California Adventure Park…..
This wasn't all but you get the drift.
By the end of our trip my children were begging me to please come up with a gluten free version of a Churro we could eat at home. So I did.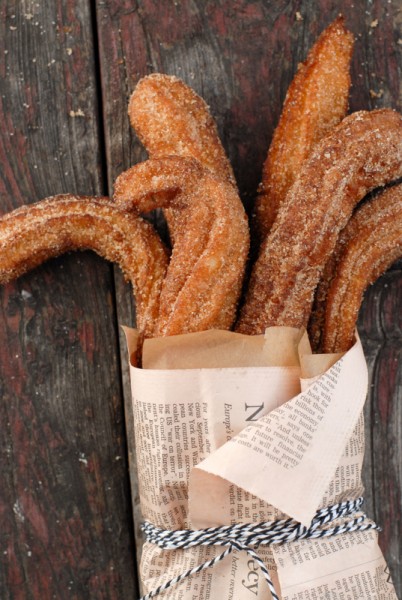 The Churros provoking shameless begging were Disney-perfect. Long, straight sticks of lightly fried perfection dusted in cinnamon-sugar and wrapped in the middle with a tidy bit of paper to keep guests' hands from becoming soiled with sugar; though doubtful that would actually happen for the speed they were devoured by Moms, Dads, babies in strollers and full families en masse. We turned into full churro stalkers by the end of the long weekend with as many pictures of the Churro stands on my phone as my children with Pluto.
My churros were delicious. Light, gently fried dough in the center of a star-shaped golden cinnamon-sugar coated crust. They were not however, 'Disney-perfect'. The dough writhed in the bubbling oil at their own whim, showing no respect for my desired conformance for a photo. In the end they presented looking more like Medusa coming out of my makeshift newspaper cone but I did not care based on their scrumptious bite. Another gluten-filled treat converted.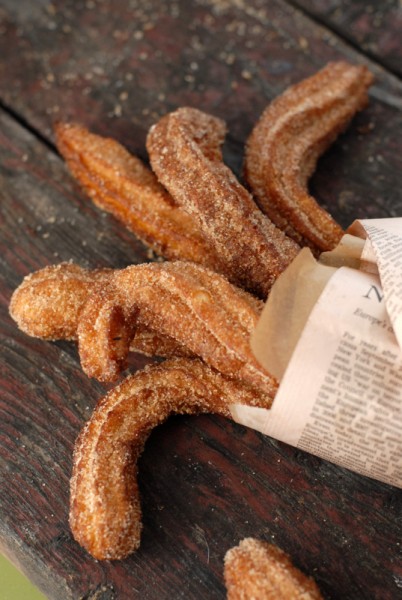 Before we get to the gluten-free Churros recipe I have to say I personally believe Disney parks are the best at accommodating Gluten-Free diners (as well as other allergies I'm sure). Our first visit after becoming gluten free, probably about 5 years ago, we were impressed at being able to pick up a list of accommodating eateries on property which even included a character breakfast. Disney has iterated their dining model to further accommodate and with Spring Break coming I wanted to share some tips:
Safe Dining Everywhere:  Disneyland no longer issues lists of property restaurants which can accommodate gluten-free needs. Instead when visiting any Disney restaurant or café, announce to the Disney attendant you are gluten free. The policy now is that the chef or a comparable representative will speak to you directly about options. I was told at Disney's City Hall that virtually all the eateries could accommodate gluten free diners in some way. We found this to be true in spades. There is every cuisine imaginable from gluten-free pizza (Tomorrowland) to retro breakfast options (Flo's V8 café in Cars Land) to higher end Creole-inspired food at the Blue Bayou. Also the on property hotel restaurants do a superb job tailoring delicious gluten-free dishes including pasta, pizza and other less commonly found options.
When Making Dining Reservations Notify the Attendant you are Gluten-Free:  We pre-arranged some reservations at two more popular venues which is recommended (The Blue Bayou at the Pirates of the Caribbean and a Character Breakfast at the Plaza Inn) and were prompted about any special dietary needs. When arriving for the reservation, each venue had our gluten free needs highlighted in yellow on their reservation sheet and we were in good hands from the get go.
Healthy Gluten Free Snacks Abound:  Despite my sniveling about gluten-filled Churros, Disney has done a masterful job at positioning healthy, gluten free snacks everywhere in their parks. Large iced carts of all sorts of fruits and bottled water are readily available. We found some sweet treats that were gluten-free too!
General Park Tips:
There are many online resources for planning the most productive and fun trip to Disneyland and California Adventure Park but I wanted to share some highlights that really helped maximize our trip. Most of these insights also pertain to Disney World and in the case of #2 there is a dedicated Disney World option.
Early Park Entry:  When buying a Park Hopper pass and/or staying at a Disney property there are 'Extra Magic Hour' and 'Magic Morning' days. One specific days of the week you may enter either park an hour before the public. These days are a golden opportunity to enjoy the more crowded rides. Only certain areas of each park are open during this time and it's good to research and plan ahead to hit the rides you are most interested in. Highest ride wait time seems to be between 9:30-11:30 where lines can grow to well over an hour long (or 2 hours in the case of the new Cars Land 'Radiator Springs Racers' in California Adventure Park). Maximize the popular rides early and go on the less popular rides in the middle of the day when lines are longest.
Disneyland Wait Times Apps:  We caught wind of the best park navigation tool available:  ride wait time applications for smart phones. We downloaded 'Disneyland Wait Times' by VersaEdge Software LLC which was free and updated often. It allowed us to navigate the rides we wanted to go on real time without having to be at the ride AND which rides to get a Fast Pass for to arrive at a scheduled time to hop right on.
FastPasses:  Big rides such as Space Mountain and Splash Mountain offer a 'FastPass'. This allows you to enter a kiosk at the ride, insert your park pass and receive a ticket with a specified time window later in the day to return and ride the ride without waiting in the normal line. It's a lifesaver. All rides offering the Fast Pass are listed on the park maps in each park.
Special Occasion Buttons:  Disneyland offers a series of free special occasion buttons. If you are visiting for a family reunion, honeymoon, birthday, having your first Disney visit or maybe would like to be an Honorary Disneyland Citizen there is a button for you. In our case since we were visiting Disneyland to celebrate a birthday, when checking into the park hotel where we stayed we were given a birthday button with my son's name on it and the rest of us were given 'We're Celebrating' buttons. 'Cast members' (as the Disney employees are referred to) told him Happy Birthday all weekend long, from those sweeping the streets to ride operators. It was an incredible experience. Those wearing buttons are acknowledged making their visit extra special. You may inquire at City Hall/Guest Services when entering Disneyland or California Adventure Park, at park hotels and shops. They are a fun way to celebrate your visit.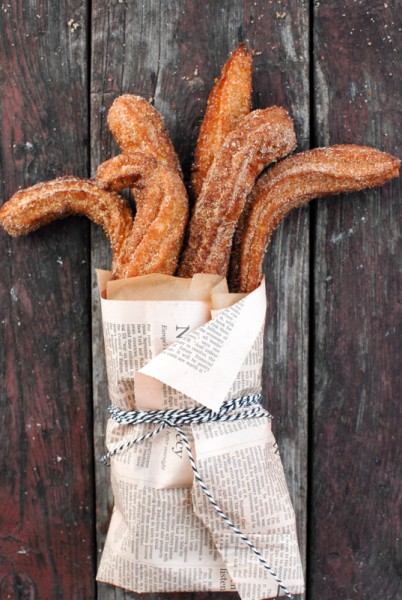 I want to connect with you! Leave a comment and follow me on Facebook, Twitter, Pinterest & Instagram!