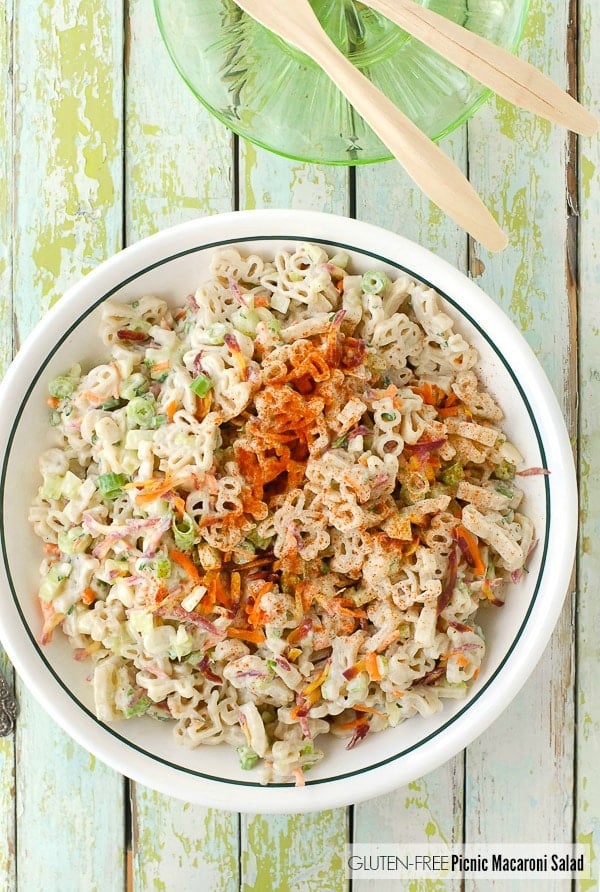 Our temperatures have turned once again feeling like it's time to break out the grill and picnic supplies for cooking and dining alfresco. A perfect time to bring out the gluten-free Picnic Macaroni Salad!
We are in the last few weeks of school with more activities on the books than one would choose. Concerts are scheduled, elementary school graduation booked, celebratory pool parties and picnics, summer swim team practices nightly all crowd my iPhone calendar. I'm finding my sanity in dreaming of recipes to kick off the warm weather this Memorial Day weekend and beyond.
Just today old school macaroni salad popped to mind. I used to love the mini elbow macaroni slathered in the sweet mayonnaise dressing with crunchy celery. It reminds me of summer holidays when I was a child. Picnic dinners awaiting fireworks displays in the City Park. Lake shore meals where everything was set out and people would help themselves in between swimming, playing Kick the Can or exploring barefoot in the mud.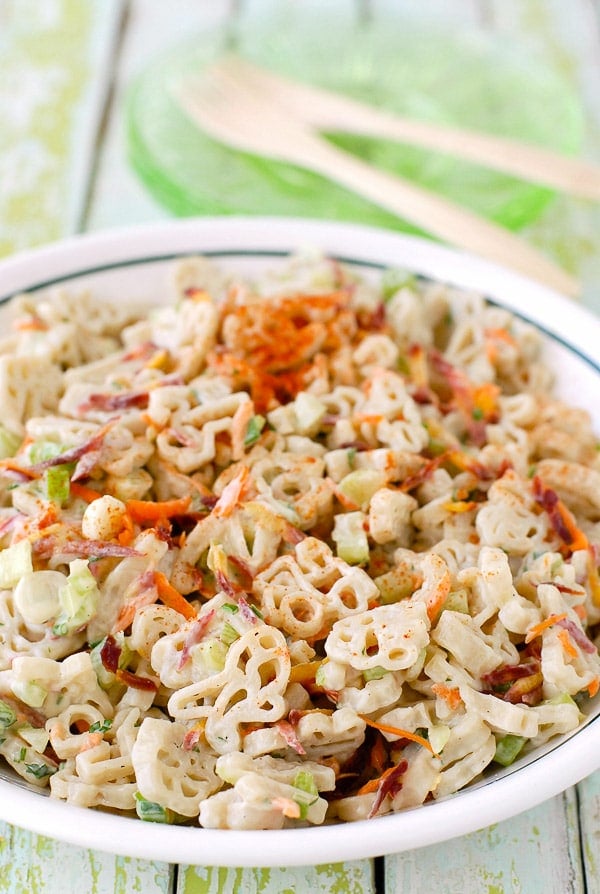 I'm not sure exactly what happened but it seems those old school macaroni salads, sort of were left behind along with their cousins of Potato Salad, and Egg Salad, giving way to more sophisticated options such a Pasta Salad with exciting current day twists.
I find it impossible not to experiment when making traditional dishes. A little chipotle always seems to bring a good surprise. Or curry powder.
However I felt strongly I did not want to stray too far from the traditional macaroni salad, keeping it simple. I did add a few changes. Regular macaroni salad is a bit, well, boring to behold. Beige-on-beige; yawn. I added some colorful shredded carrots which gave it a visual lift as well as added more vegetables (a secret motive I have whenever I cook) with crunch. I also threw in some chives along with scallions for a nice oniony flavor without blowing out the taste buds as raw red onion can do.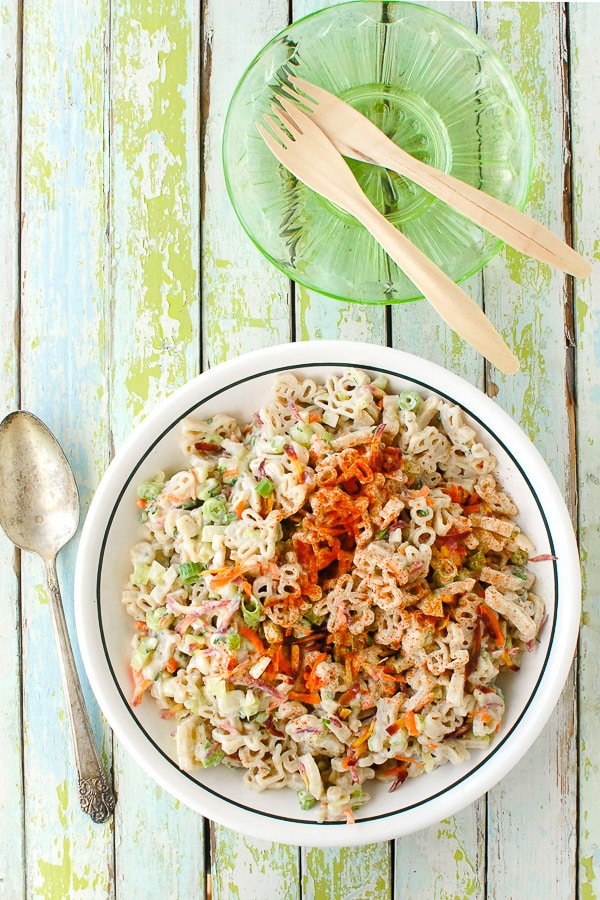 Lastly though I love the traditional elbow macaroni, and use a favorite gluten-free brand often, I wanted to celebrate the arrival of summer with a whimsical shape.
I picked a gluten-free rice pasta by Tinkyada called 'Little Dreams'. It is full of boats, planes, trains, cars, stars and other fun shapes. It reminds me of the lazy things about summer; laying on the grass watching clouds roll by, fishing in slow-moving stream, travel to exciting destinations and day dreaming. Elbow macaroni may of course be used as well!