This easy moist Carrot Loaf Cake is packed with carrots, raisins, pineapple, pecans and warming spices. Complete with a cream cheese filling layer and cream cheese frosting!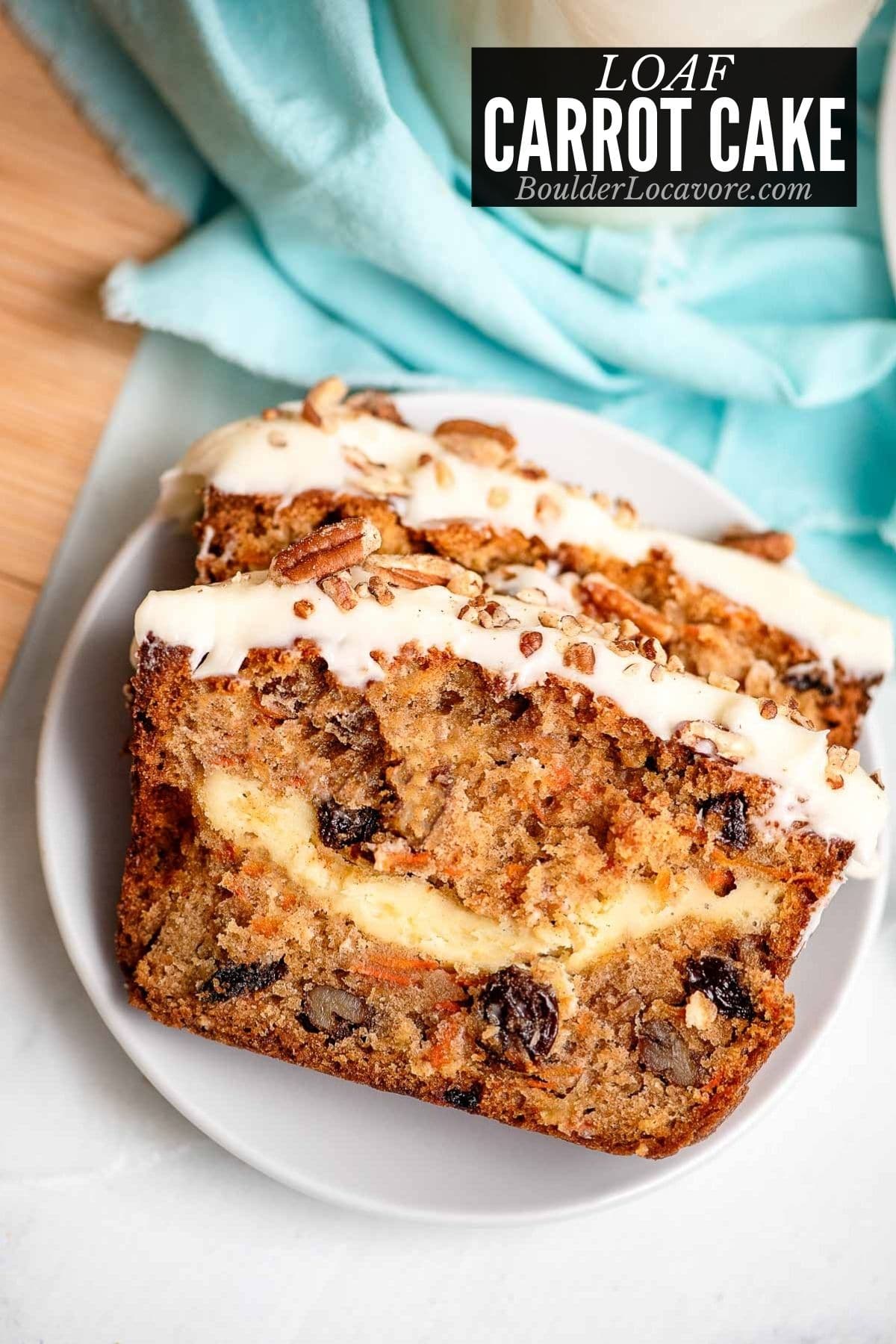 Do you love carrot cake but making a layer cake is more than you want to make?
Problem solved. This Carrot Cake loaf is carrot cake in a loaf pan. Complete with a filling layer and classic cream cheese frosting.
Like our carrot cake cookies it has all the familiar flavors but is so much easier to make.
But if you ARE in the mood for a layer cake, you'll love Hummingbird Cake which has very similar flavors to carrot cake.
Jump to:
Easy Carrot Cake Loaf
If you've never made a loaf cake it's very similar to quick bread. Everything is combined and easily baked in a loaf pan.
In the case of this carrot cake loaf, the ingredients are the same as you'd find in the traditional layer cake just pared down for a carrot bread size.
We've added a sweet cream cheese filling layer much like you'd find between cake layers.
The classic cream cheese frosting finishes it off with pecans too!
What is great about a loaf cake is that it's easier and faster than a traditional cake.
If you want all the same flavors but less work, this recipe will become a favorite.
Another cool thing about this recipe is the carrot cake tastes better in the days after making it. It only gets better!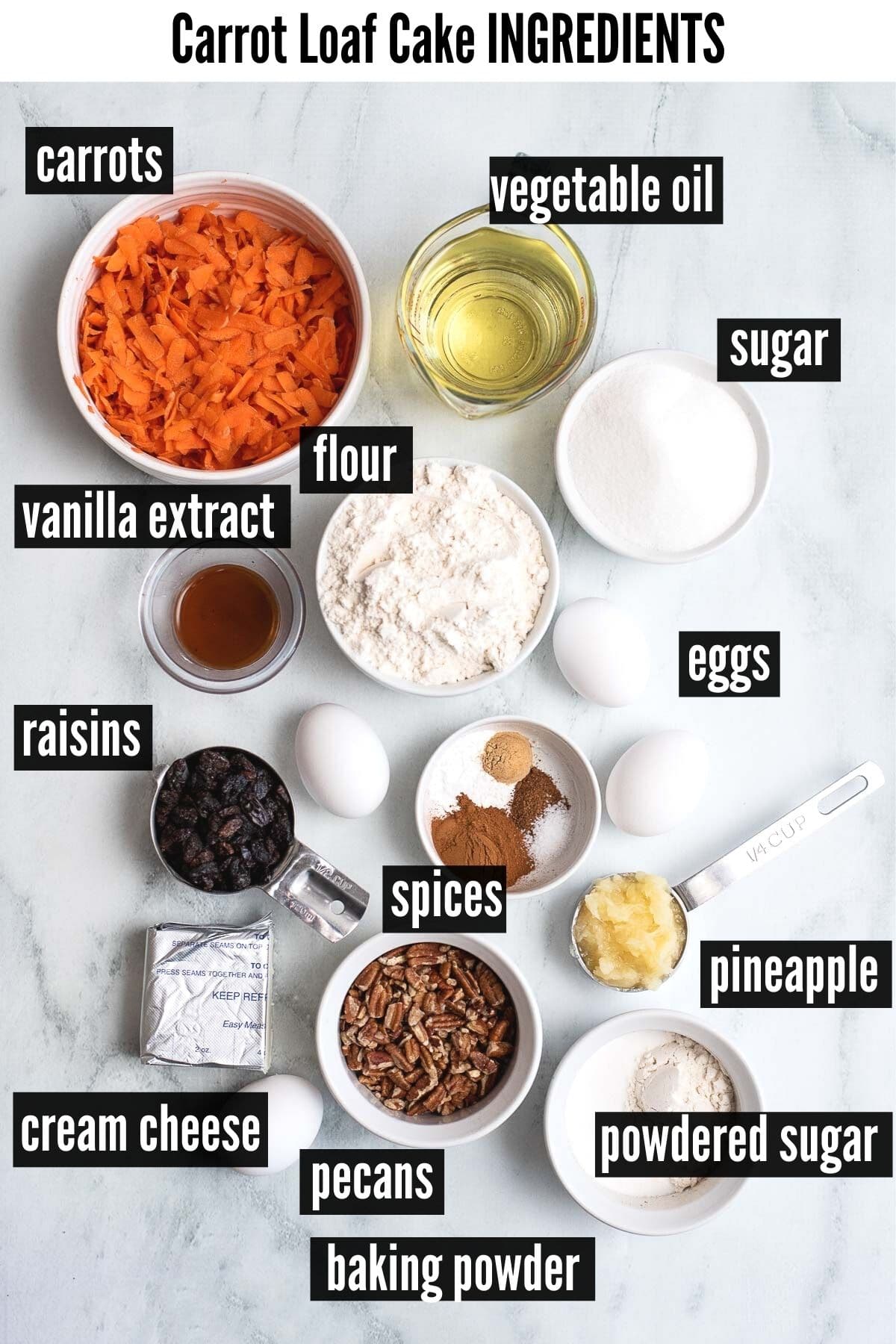 Recipe Ingredients + Notes
All Purpose Flour. Regular or gluten-free measure-for-measure flour can be used.
The gluten-free version of all our recipes are tested with Bob's Red Mill gluten-free 1-to-1 Baking Flour.
Baking powder. Helps the cake rise and give great texture.
Spices and seasonings. Cinnamon, ginger, nutmeg, salt, vanilla extract. Always use fresh spices for the best flavor.
Eggs. Use large eggs.
Granulated sugar. The recipe uses granulated white sugar but check the Variations to combine with brown sugar.
Vegetable oil. Keeps the loaf carrot cake moist!
Grated carrots. You'll need about 3 carrots to yield 1 1/2 cups grated carrots.
Raisins. Using freshly purchased raisins are the softest!
Crushed pineapple. Drain this really well! Otherwise it adds too much moisture.
Pecans. Chopped pecans are added to the carrot cake and on top of the frosting if desired.
Cream Cheese. Used in both the filling and frosting. Start with room temperature cream cheese.
Powdered sugar. Confectioner's sugar is used for the frosting.
Heavy cream. Used to control the texture of the frosting. Milk can also be used.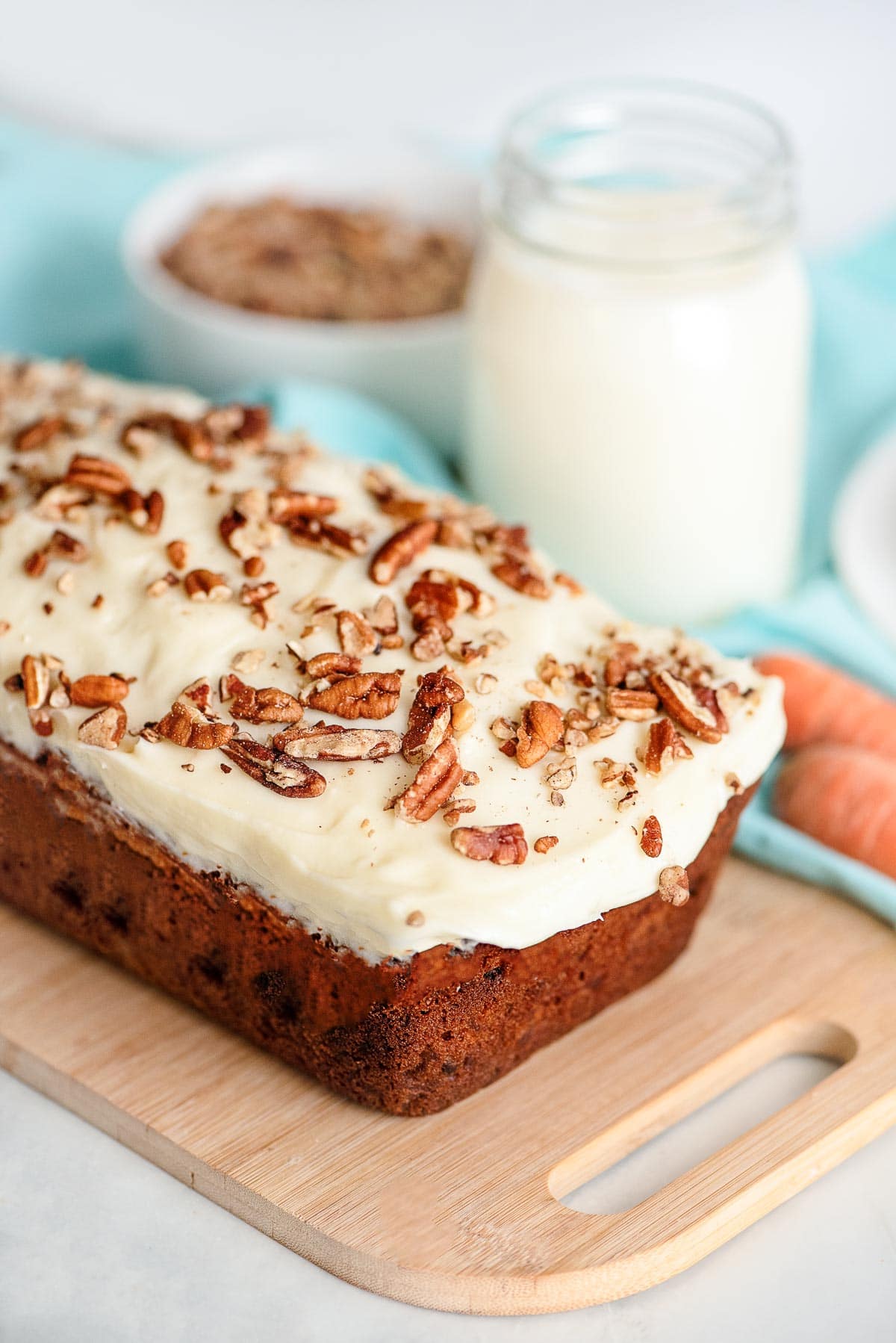 Tried and Tested Recipe
This recipe has been tested with regular all purpose flour, gluten-free measure-for-measure flour*, at altitude and sea level. Delicious results every time!
Variations
Swap the nuts. Walnuts can be used in place of pecans.
Leave out the pineapple. The pineapple can be left out if it is not desired. Add 1 more carrot to the mixture if you plan to leave it out to preserve the moisture level of the recipe.
Mix the sugar. To create another layer of flavor and dimension, you could do a ½ cup granulated sugar and ½ cup light brown sugar.
Toast the pecans before adding them. This adds another level of nuttiness to the cake.
How to toast the Pecans:
Line a cookie sheet with parchment paper and spread the pecans out.
Bake for 5-10 minutes at 350 degrees. Check often to not let them burn.
They are done once the pecans have reached 1 level darkness in color and are fragrant.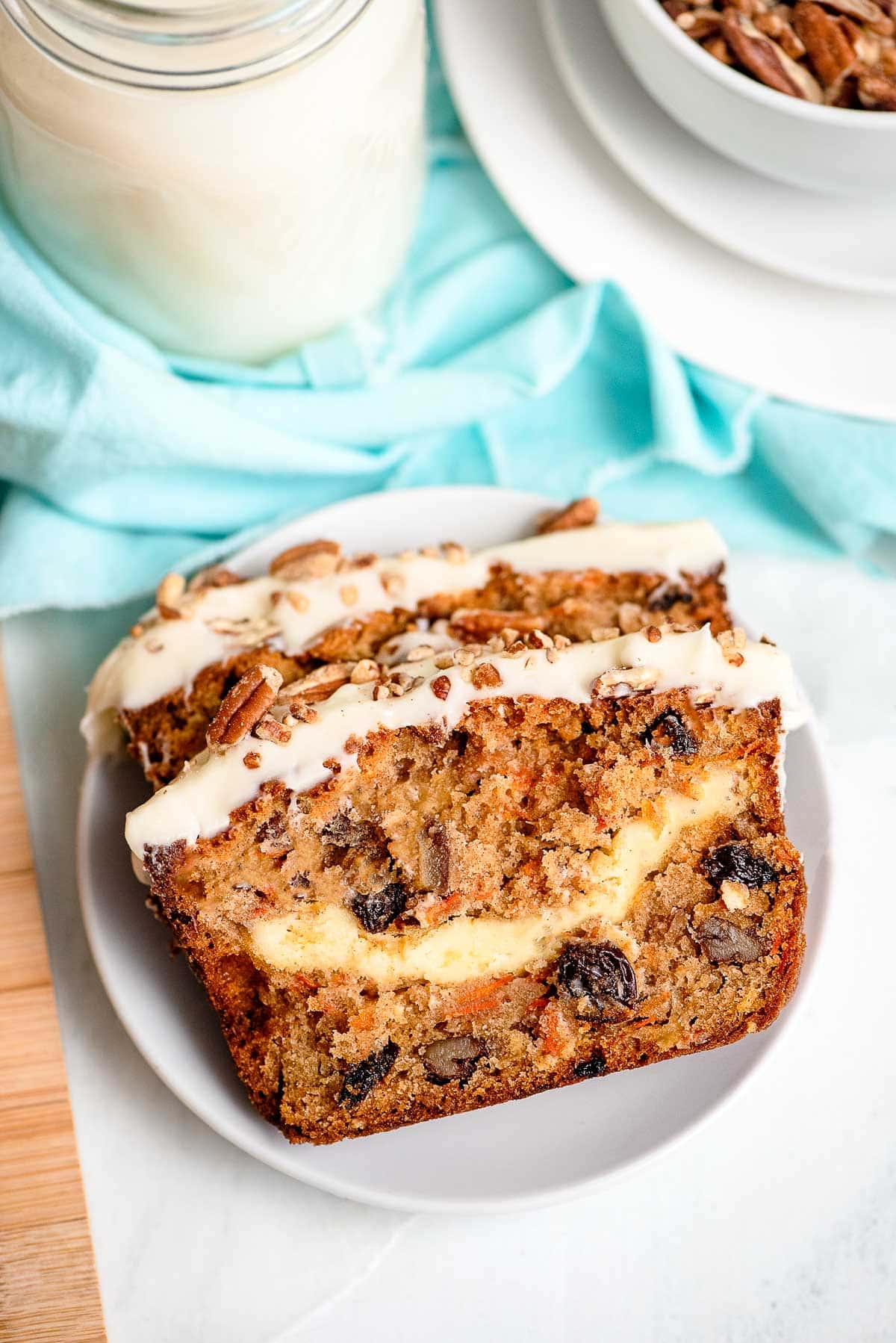 How to Make it – Step-by-Step
STEP 1. Preparation
Preheat the oven to 350 degrees F.
Spray a 9-inch by 5-inch loaf pan with non-stick cooking spray.
OPTIONAL: Line the pan with an overhanging piece of foil or parchment paper (photo 7). This helps with easy removal of the loaf cake.
STEP 2. Mix the dry ingredients
In a small mixing bowl whisk together the flour, baking powder and spices (photo 1).
STEP 3. Mix the wet ingredients
In a second large bowl mix together the eggs, sugar and oil (photo 2). Mix in the vanilla extract (photo 3).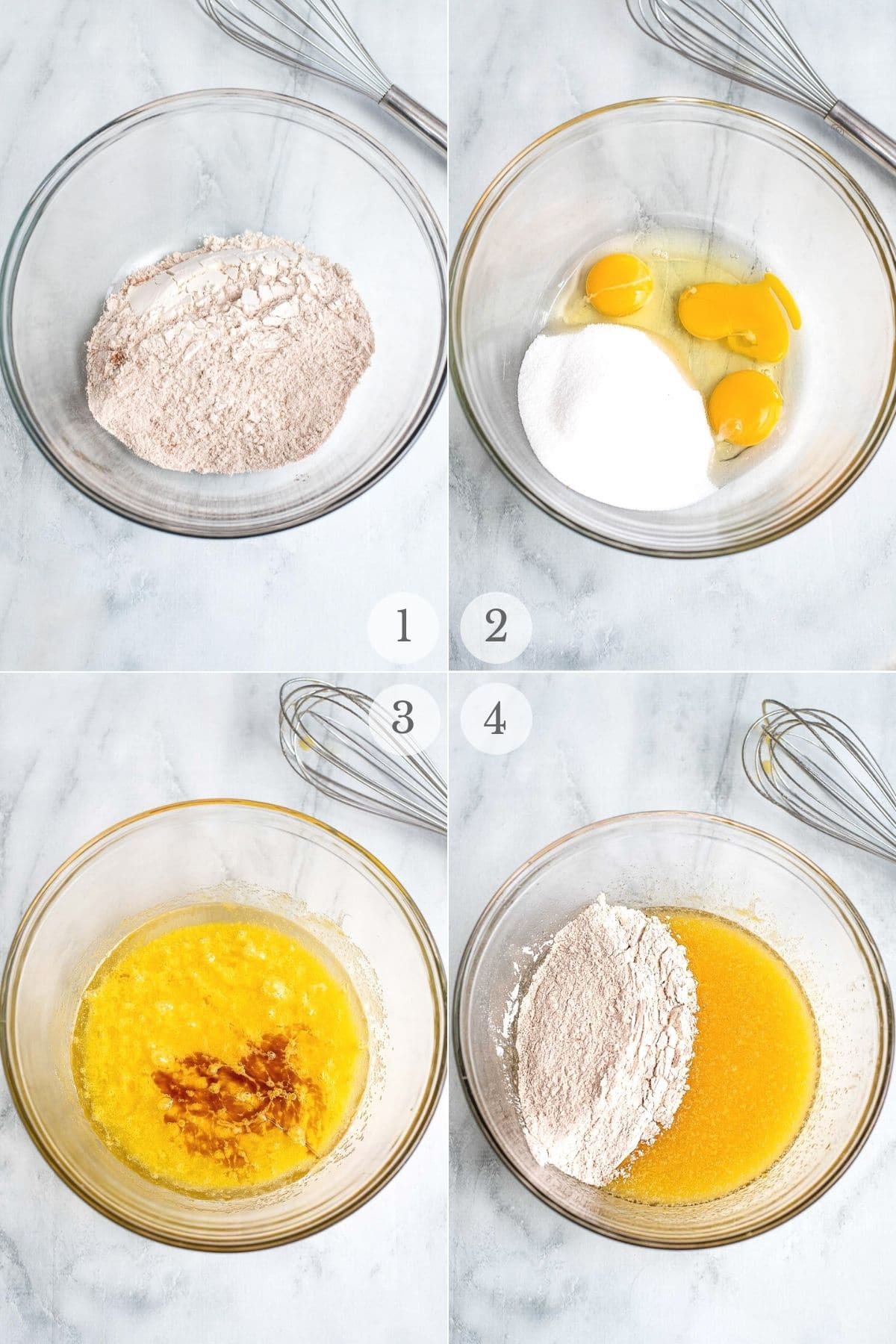 STEP 4. Combine ingredients
Mix the wet and dry ingredients together just until combined (photo 4).
Stir in the carrots, pineapple, raisins and pecans (photo 5).
STEP 5: Make the filling layer
Combine the filling ingredients in a mixing bowl (photo 6) and using a mixer blend until smooth.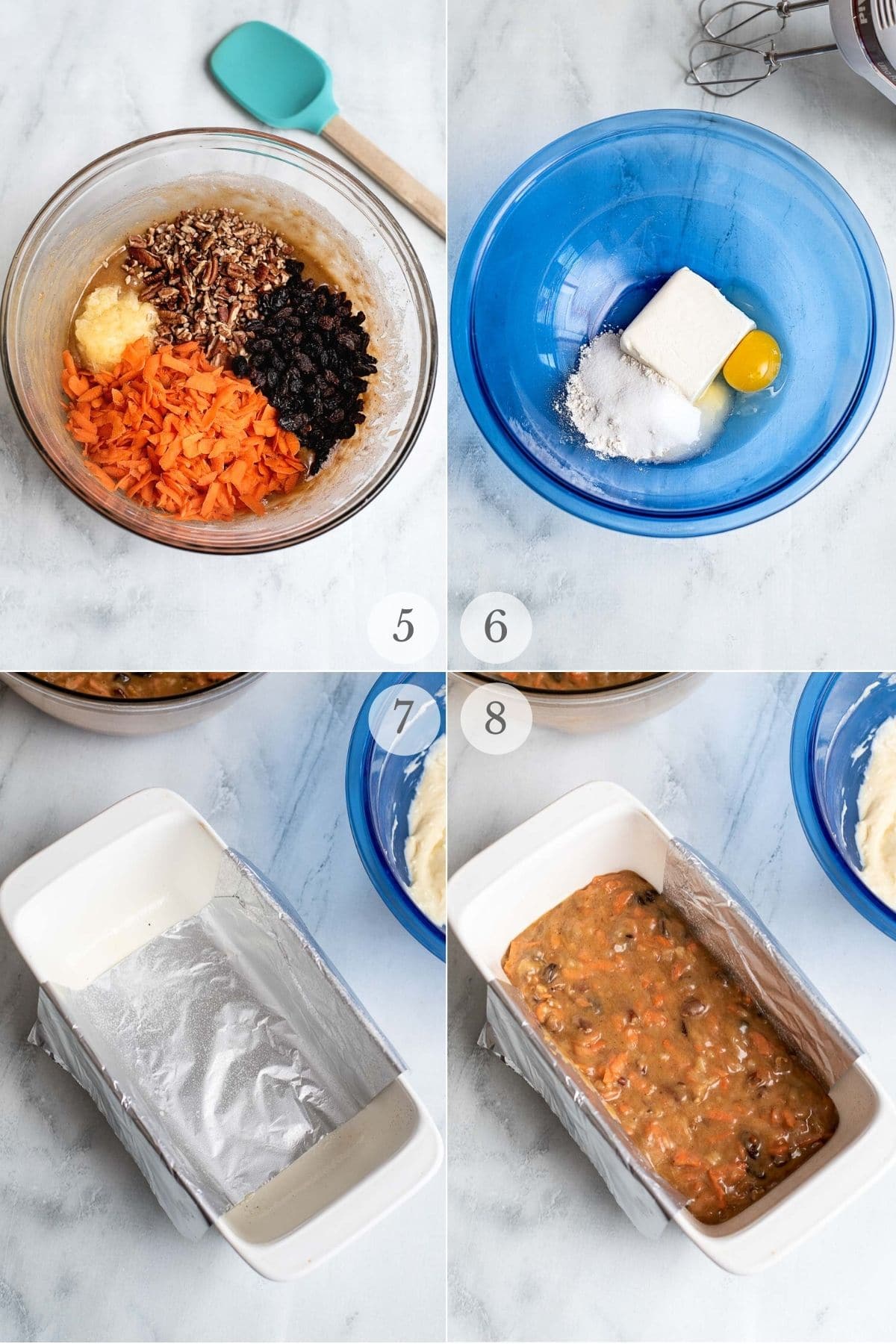 STEP 6. Bake the loaf cake
Add half of the cake batter to the prepared pan (photo 8). Add the filling leaving some room around it (do not spread it to the edges of the cake) – photo 9.
Follow by spooning in the remaining cake batter to cover the filling layer (photo 10).
Bake for 60-65 minutes. The cake is done when a toothpick inserted comes out clean (photo 11).
STEP 7. Cool the cake
Allow the cake to cool for 10 minutes in the pan then cool completely on a cooling wire rack (photo 11).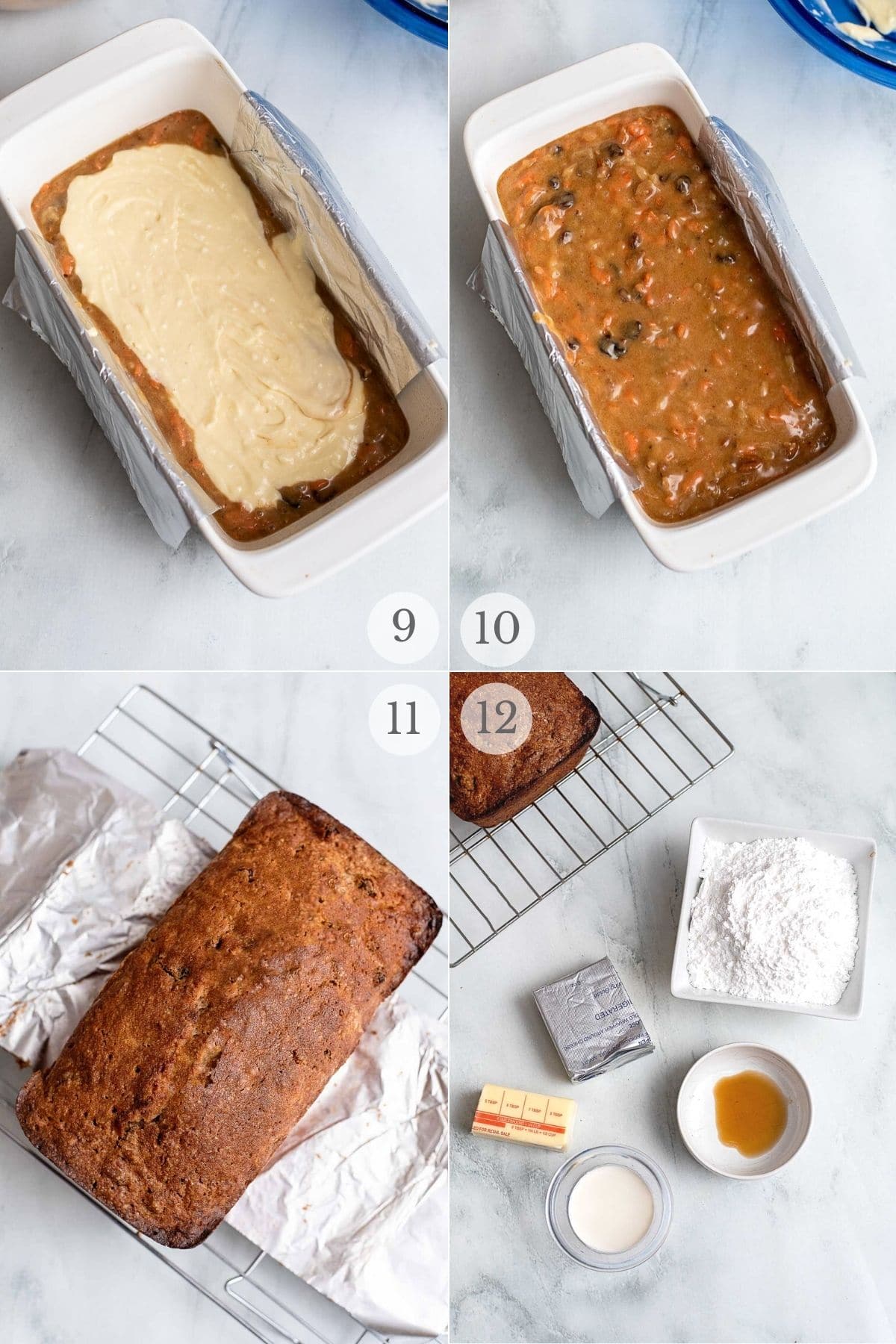 STEP 8. Frost the carrot cake
After the cake has cooled, combine the frosting ingredients (photo 13) mixing until smooth.
Frost the loaf cake and sprinkle on pecans (if desired) and chill in the refrigerator (photos 14-16).
Pro Tips
Shred the carrots yourself. Store bought shredded carrots may seem like a timesaver but they have two drawbacks. First, they are very dry. Freshly grated carrots add moisture to the carrot cake you need.
Secondly, store bought shredded carrots taste different. They have a preservative that has a distinct flavor which will remain even through baking.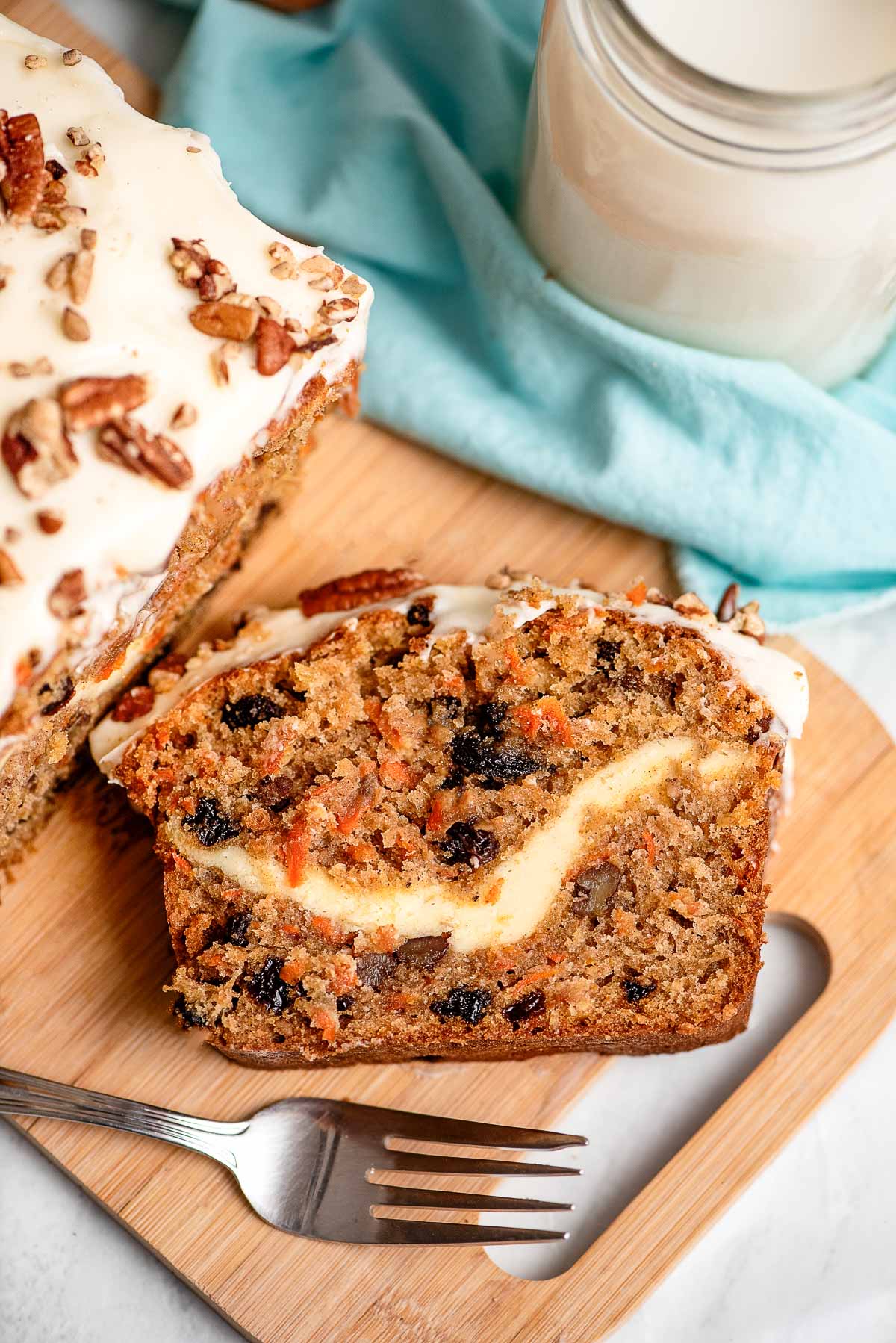 FAQs
What can I substitute for the vegetable oil?
If you don't want to use oil substitute applesauce. It can be swapped in 1-to-1 for the same amount of the oil.
Storing Leftovers
The frosted cake can be stored in an airtight container in the refrigerator for up to 1 week.
Because of the cream cheese it should not be stored at room temperature.
The flavor keeps getting better too!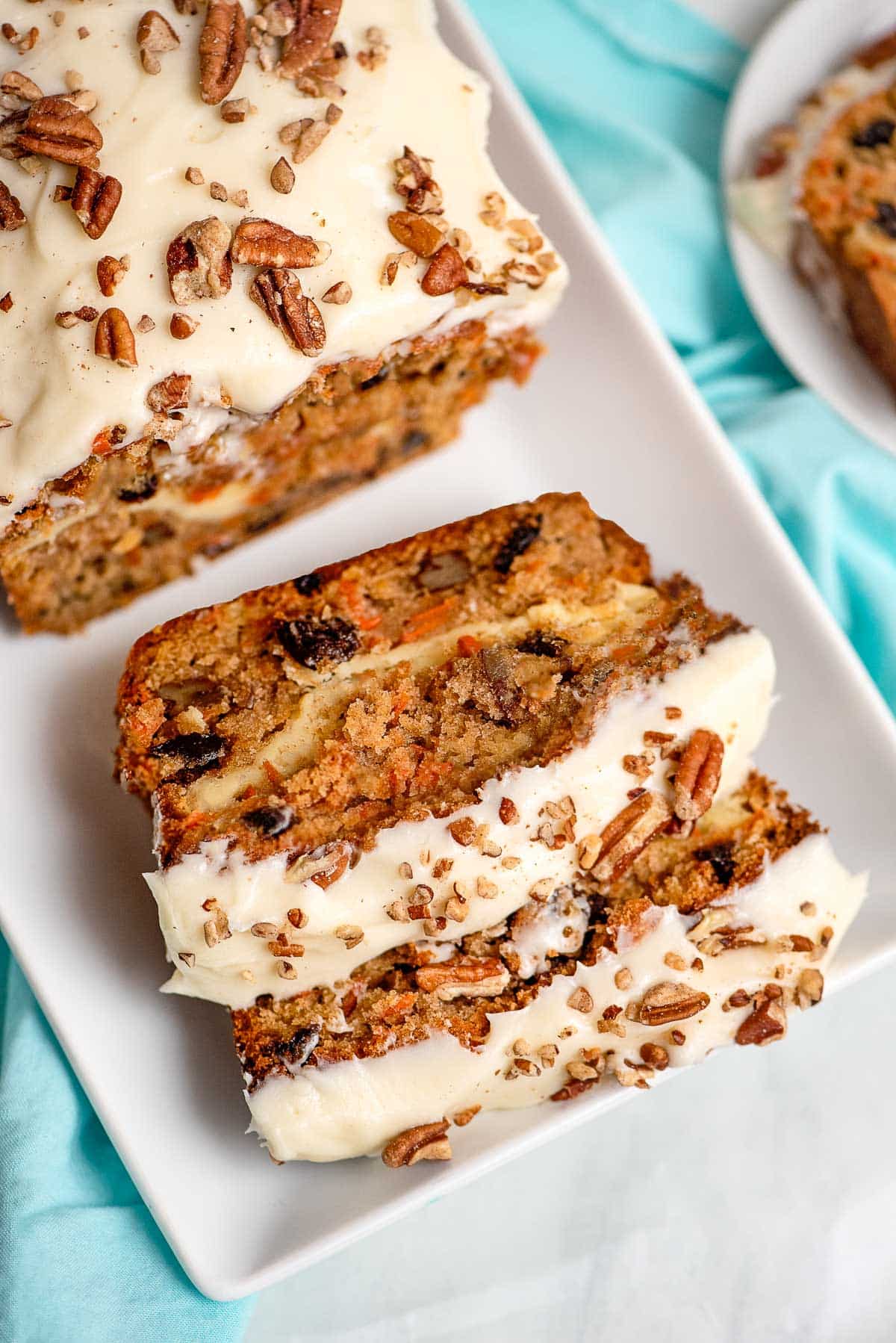 More Recipes You'll Love!
Did you make it? Please RATE THE RECIPE below!
Please
SUBSCRIBE
and
FOLLOW ME
on
FACEBOOK
,
TWITTER
,
INSTAGRAM
and
PINTEREST
!
Recipe