Lofthouse Cookies are a favorite store bought soft sugar cookie. With this copycat recipe you can make them at home! Soft on the outside and the inside. Topped with delicious frosting! A holiday version included too!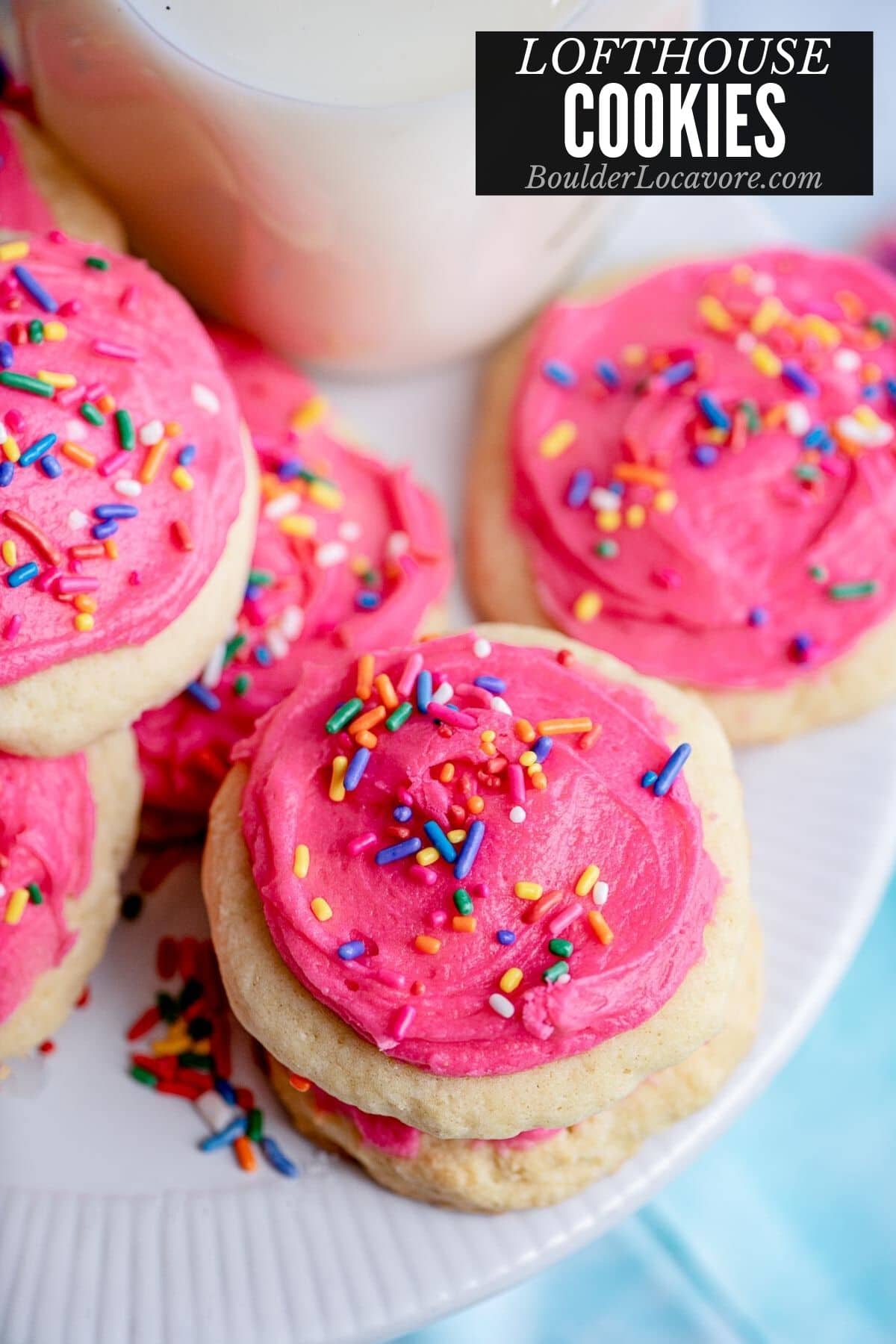 These soft sugar cookies are delicious! Like Butter Cookies they don't spread when baking.
They will rise and become a wonderful cake-like texture in the middle.
They are fun to decorate and easy to change up.
Make them in the classic style or try Lofthouse Cookies with peppermint frosting and decoration for the holidays!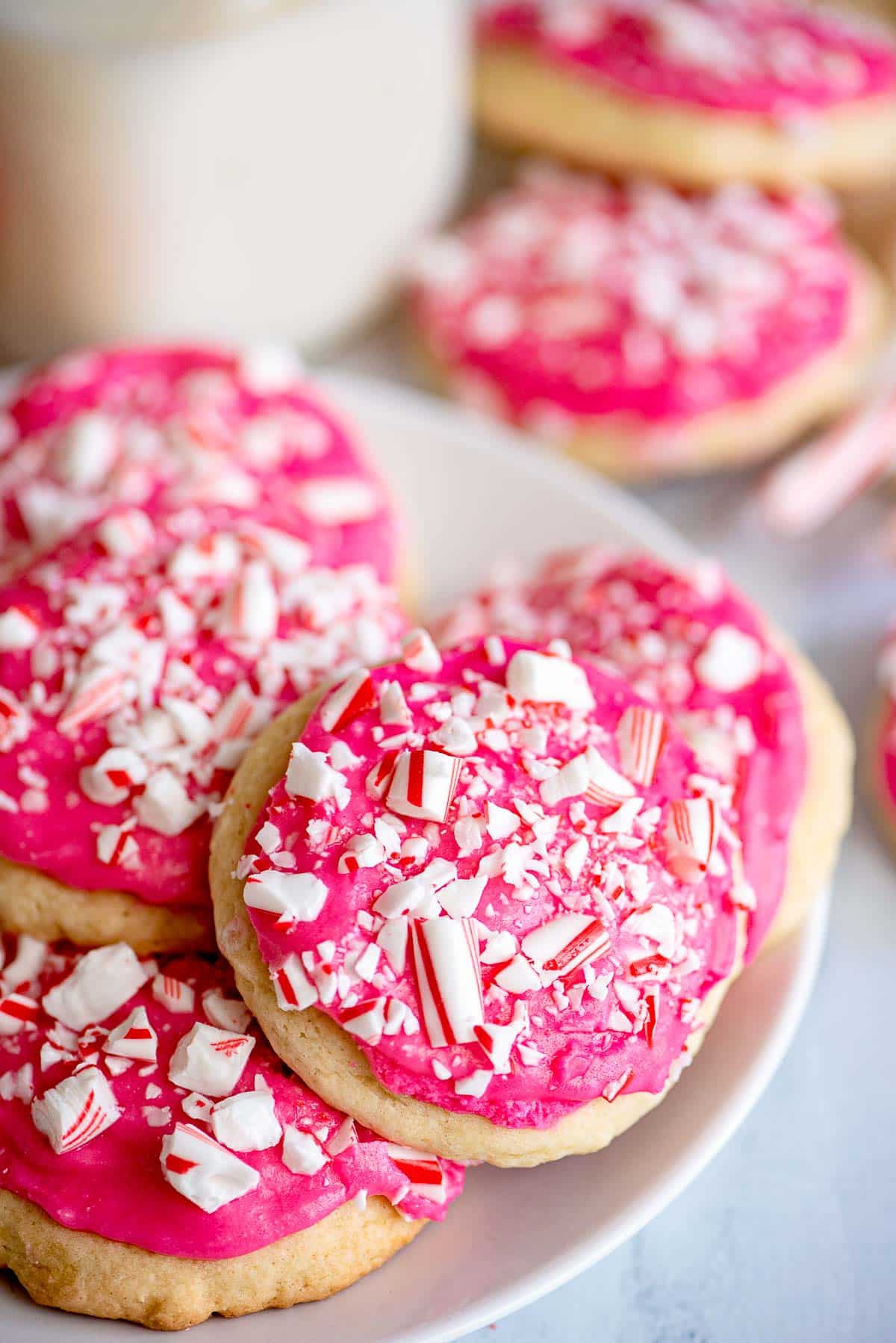 What are Lofthouse Cookies?
These soft sugar cookies are a grocery store cookie famous for their melt-in-your-mouth silky cake-like texture.
You'll have recognized them from their pink frosting and sprinkles.
The cookies themselves don't have an overwhelming amount of flavor. The frosting makes up for that.
They have a certain special something that is impossible to recreate in a homemade copycat Lofthouse Cookie recipe….but we think ourS comes as close as you can get.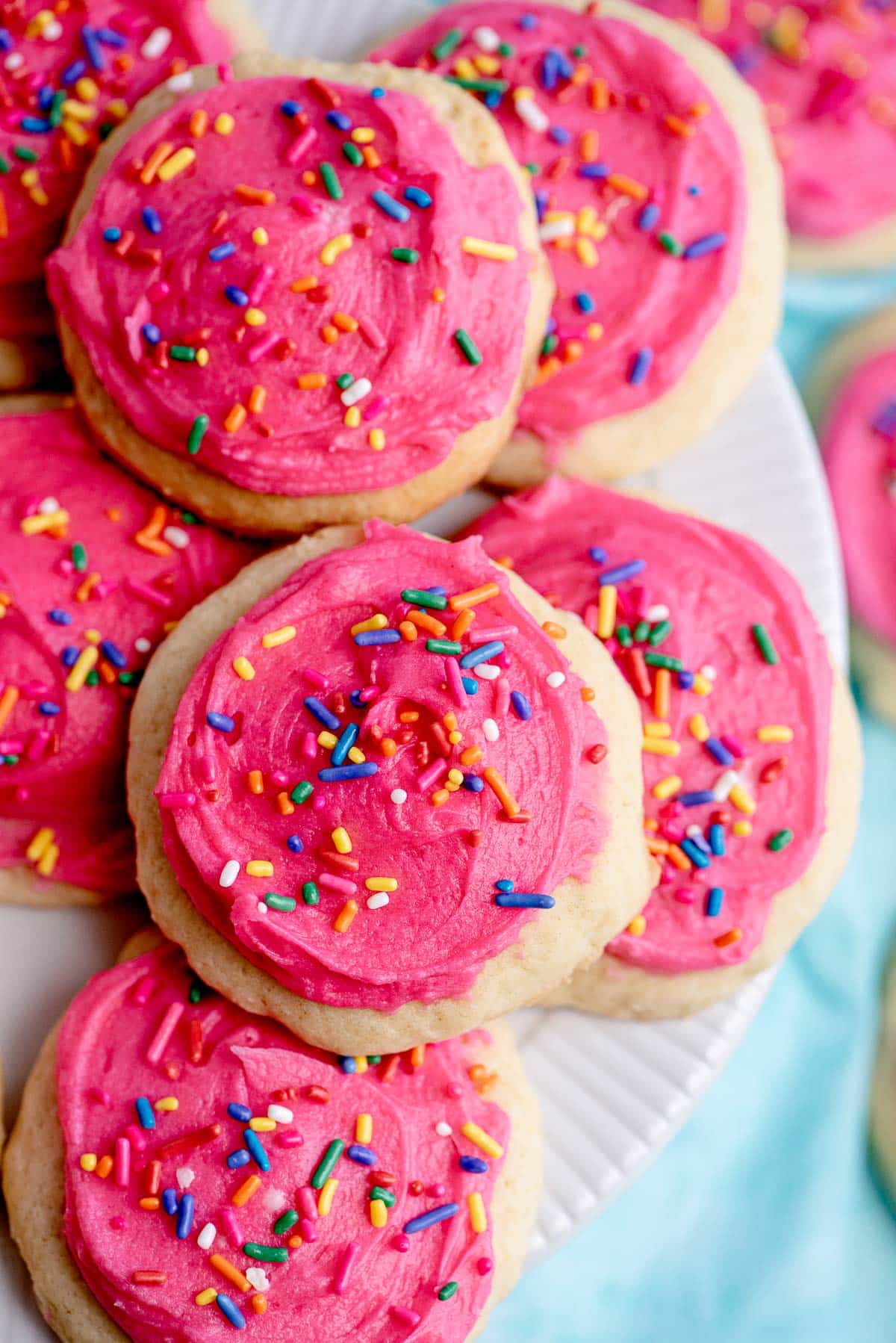 The Secret of Lofthouse Sugar Cookies
The baking powder, baking soda and cornstarch combination keeps the cookies soft and cakey.
Sour cream makes them moist.
We've added a bit more flavor to the cookies themselves and think the frosting pairs well.
The addition of corn syrup allows the frosting to 'set' or develop a thin outer crust so they aren't messy to handle.
We've even made a holiday spin off version. Both recipes are shared below!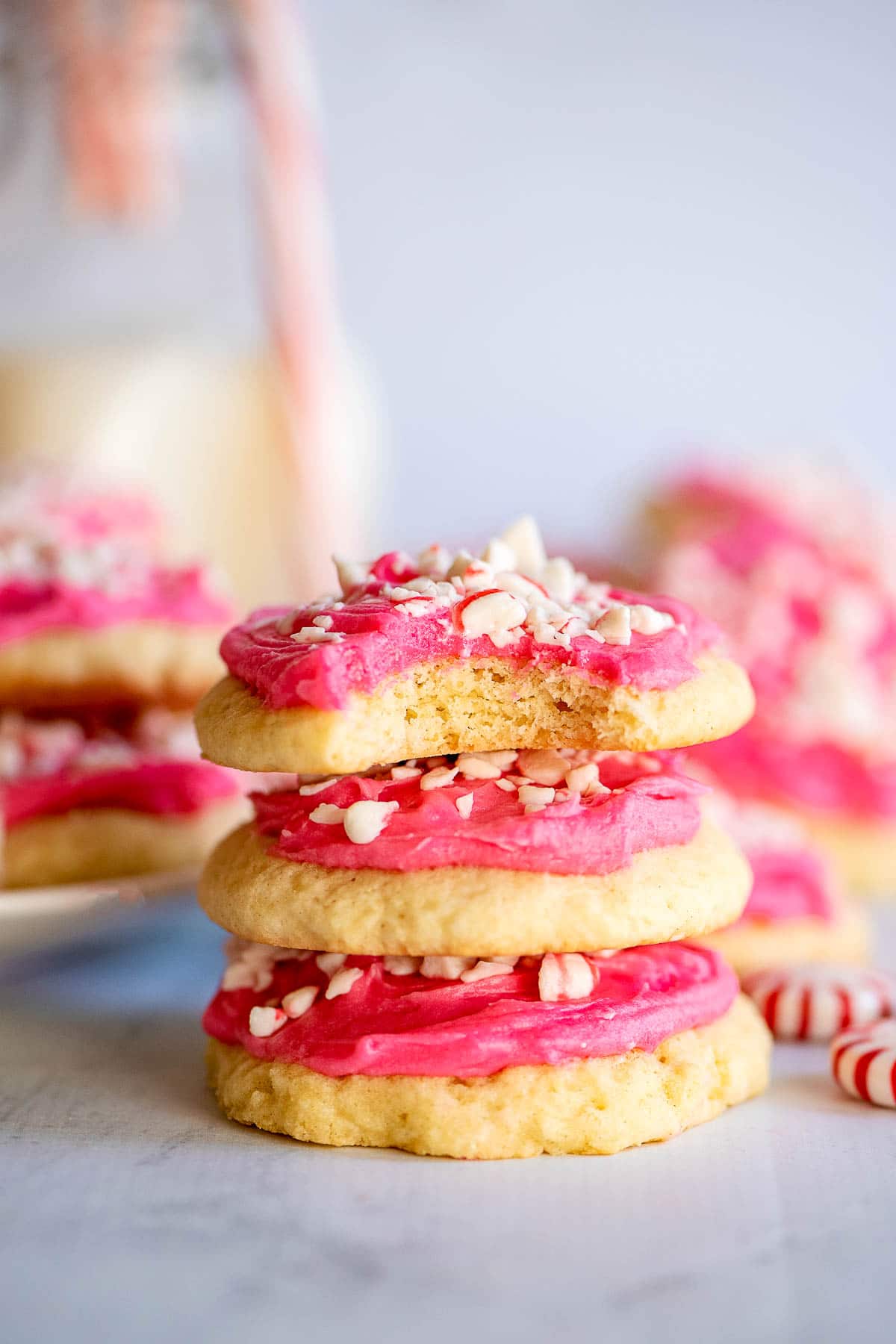 Recipe Ingredients + Notes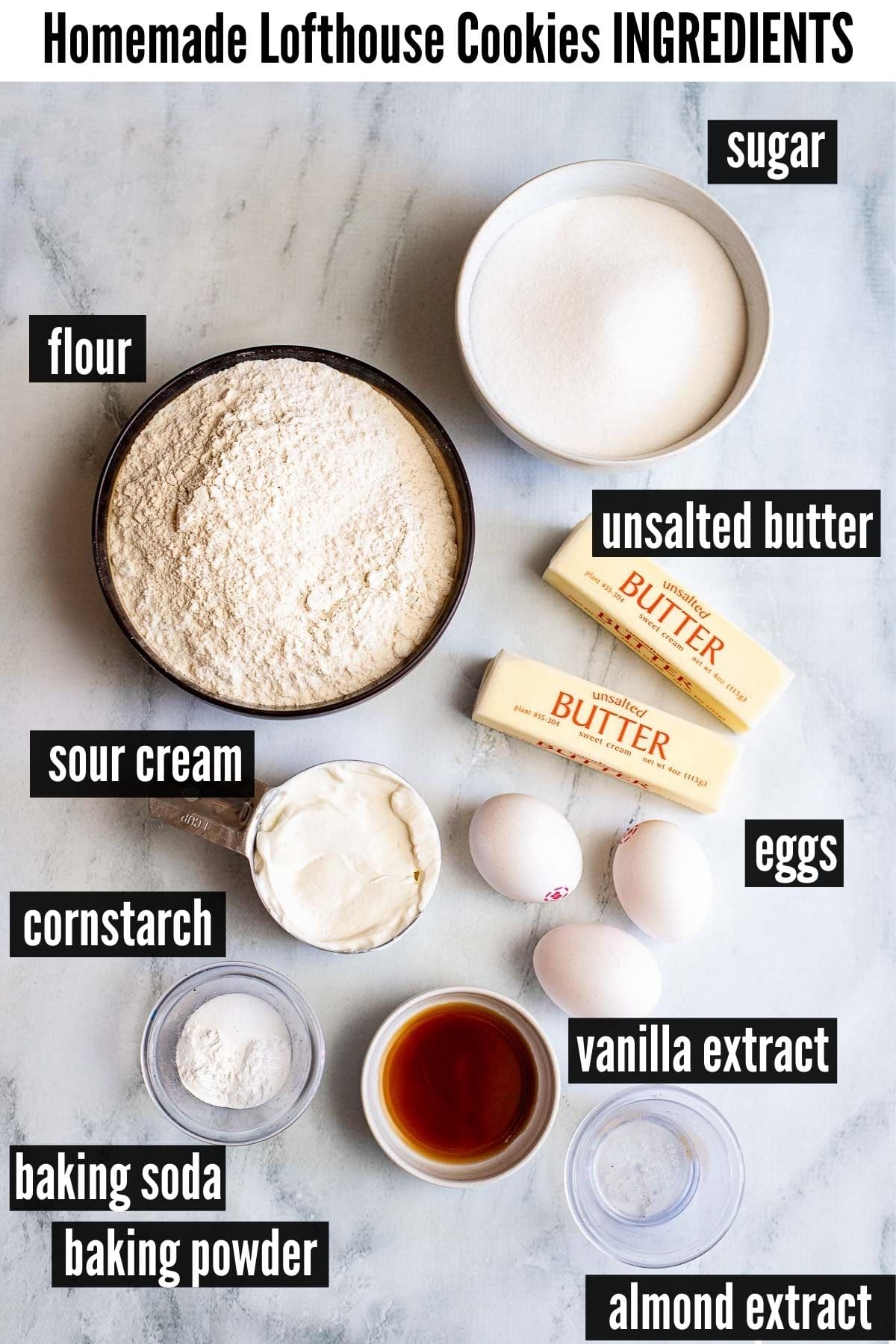 Lofthouse Cookies
All Purpose Flour. Regular or gluten-free measure-for-measure flour blend may be used. For gluten-free baking we use Bob's Red Mill Gluten-free 1-to-1 Flour Blend.
Cornstarch. Keeps the cookies soft with a silky cakey texture.
Baking Soda. Helps with rising and the texture.
Baking Powder. Helps with rising and the texture.
Salt. We recommend kosher salt for a best tasting salt.
Unsalted Butter. Be sure the butter is room temperature or softened before starting the recipe.
Granulated Sugar. The sweetener.
Eggs. You'll need 3 large eggs. Be sure to add them one at a time mixing them in before adding the next one.
Vanilla Extract and Almond Extract. Gives the flavor.
Sour Cream. Keeps the cookies moist.
Cookie Frosting – Regular version
The only difference with the holiday version frosting is the addition of peppermint extract and crushed peppermints for topping instead of traditional sprinkles.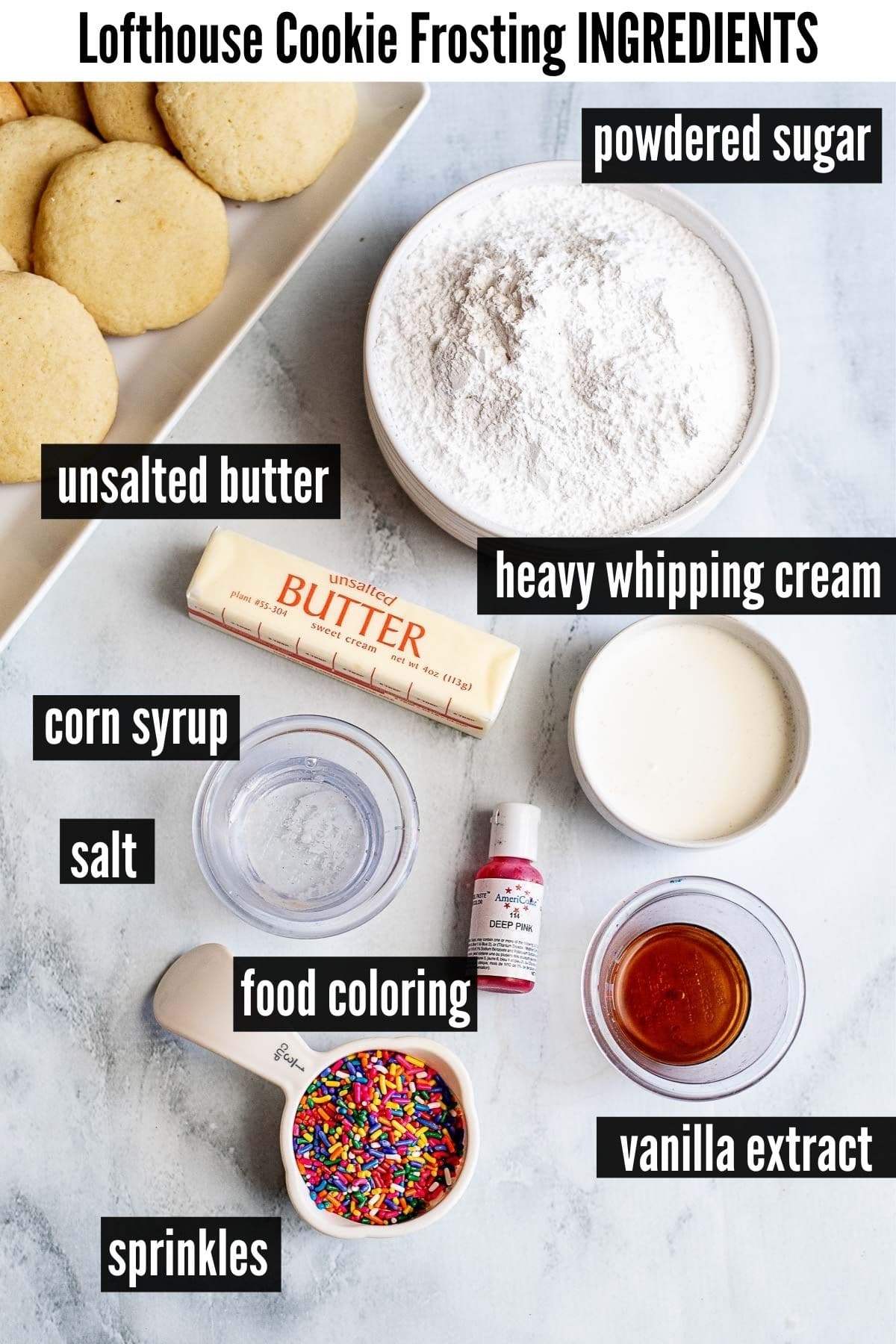 Powdered Sugar. Confectioner's or powdered sugar is the sweet base for most frosting recipes, this one included.
Unsalted Butter. Start with room temperature or softened butter.
Light Corn Syrup. Adding corn syrup adds some sweetening but the more exciting thing is that it causes the frosting to set.
After about 15 minutes it develops a thin outside crust that keeps the frosting from being messy when handled AND allows the cookies to be carefully stacked.
Vanilla Extract. Gives flavor.
Heavy Cream. Makes the frosting richer and is used to adjust the frosting consistency.
Salt. A pinch of salt makes all the difference with the flavor. We recommend kosher salt which is a less salty tasting salt.
Food Coloring. Any food coloring will work but for brilliant lasting color gel food coloring is the best.
Americolor or Wilton both make excellent food coloring that is available where quality baking supplies or sold. It can also be found online.
Sprinkles. Any sprinkles can be used.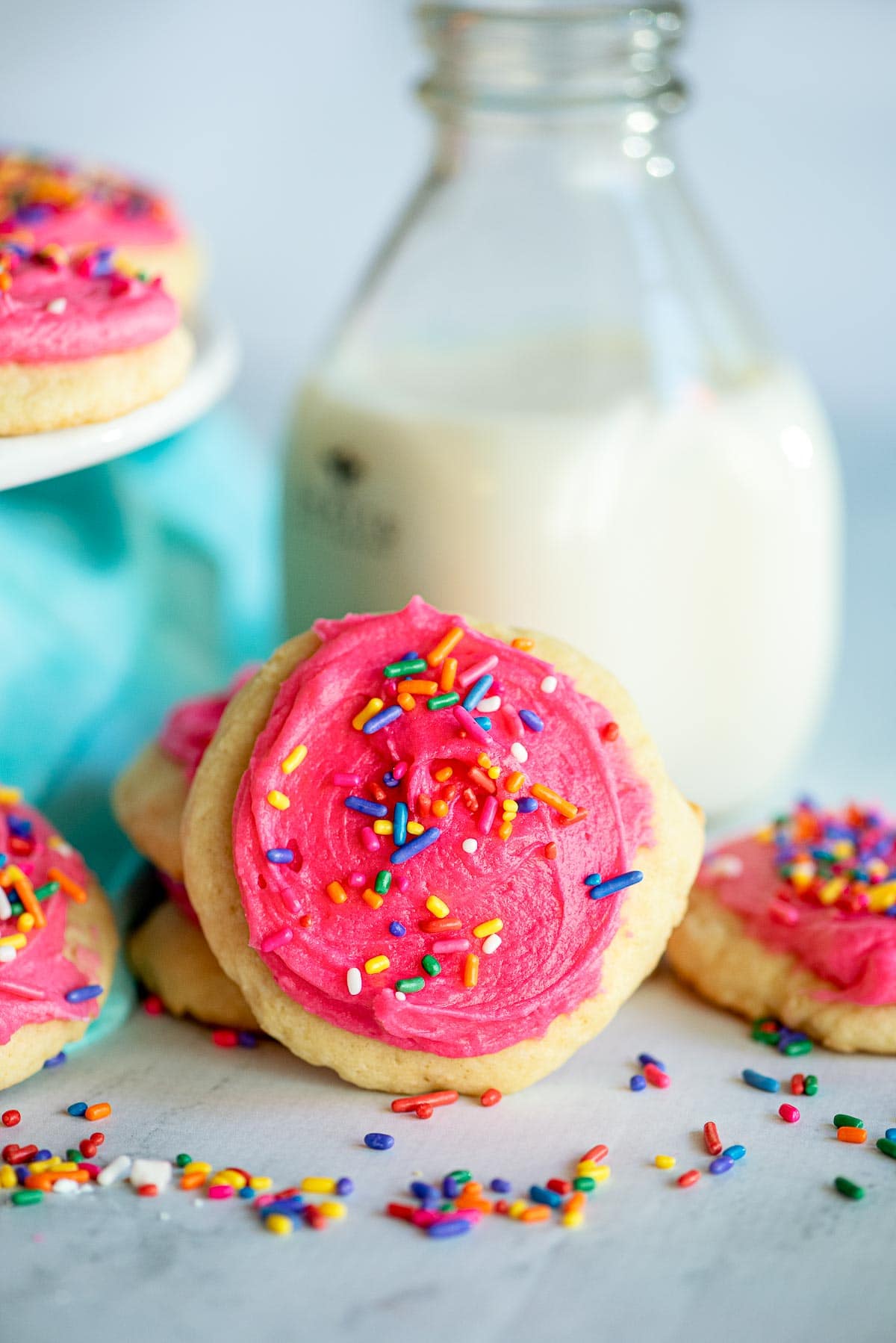 Holiday Version – Frosting Ingredients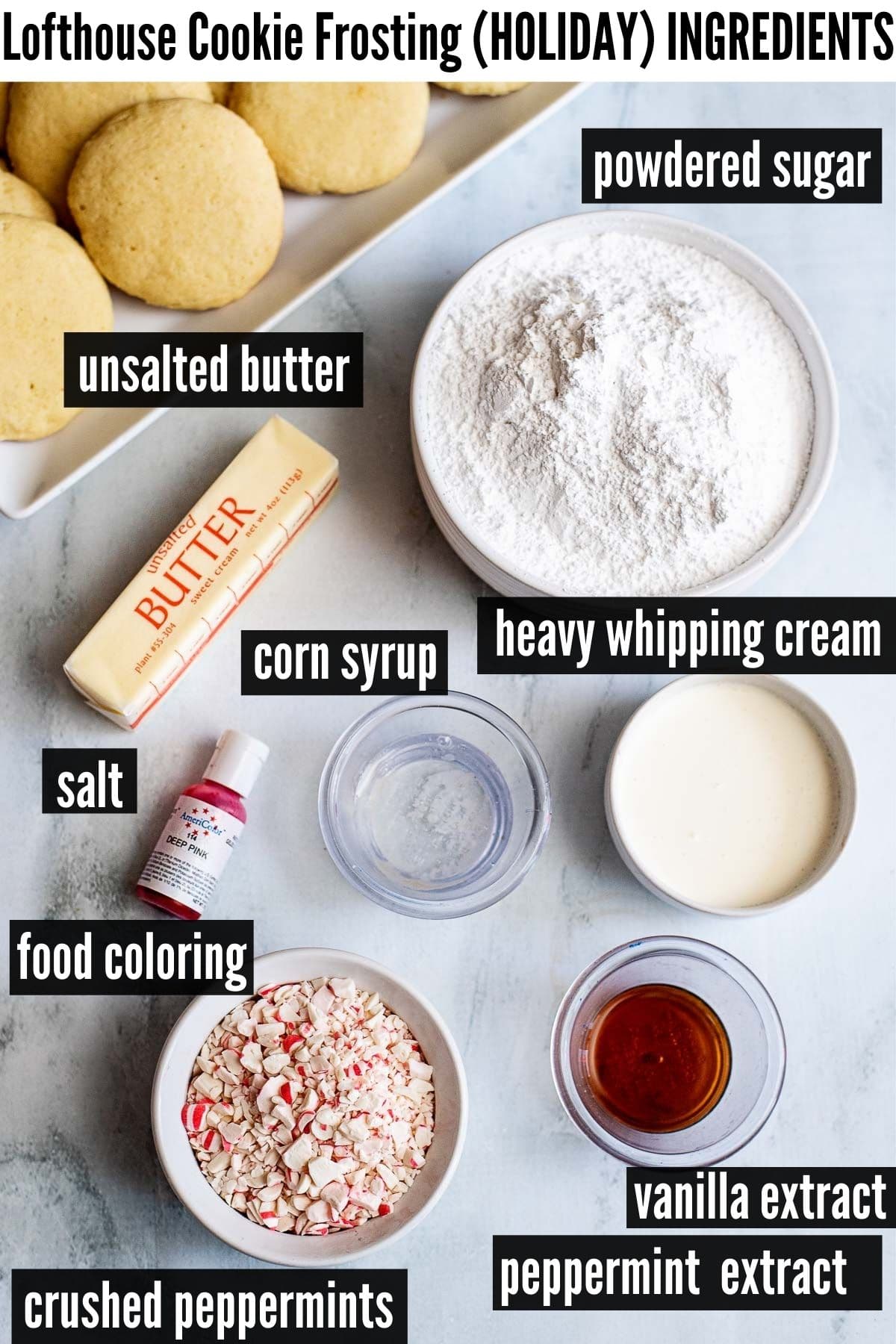 Peppermint Extract. Adds some light peppermint flavor.
Crushed Peppermints. Gives the cookies a holiday look and more peppermint flavor. Candy canes, starlight mints or other hard peppermints can be used.
Place them in a sealed plastic bag, wrap it with a kitchen towel and use a meat mallet to break into pieces.
Do not over pound the candy or you'll get alot of candy dust instead of pieces.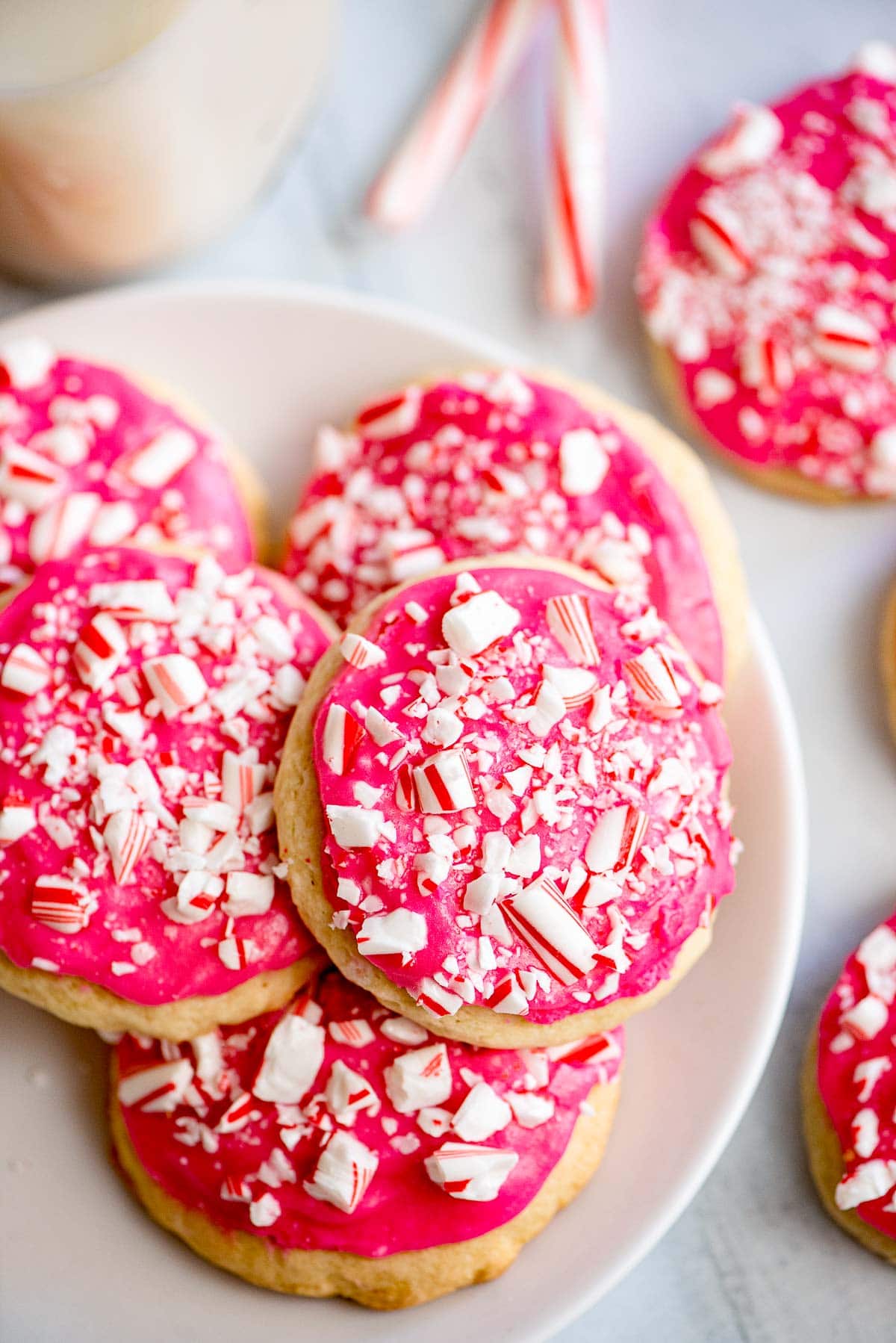 How to Make the Cookies – Step-by-Step
STEP 1. Preparation.
Preheat the oven to 350 degrees F. Line a cookie sheet with parchment paper or spray with non-stick cooking spray.
STEP 2. Mix the Dry Ingredients.
In a large bowl sift together flour, cornstarch, baking powder, baking soda and salt (photo 1). Set aside.
STEP 3. Mix the Wet Ingredients.
In a second large bowl, cream together the butter and sugar (photo 2) until light and fluffy. Use a standing or hand held mixer.
Add the eggs one by one mixing in between (photo 3).
Add the sour cream, almond extract and vanilla extract (photo 4). Mix just until combined.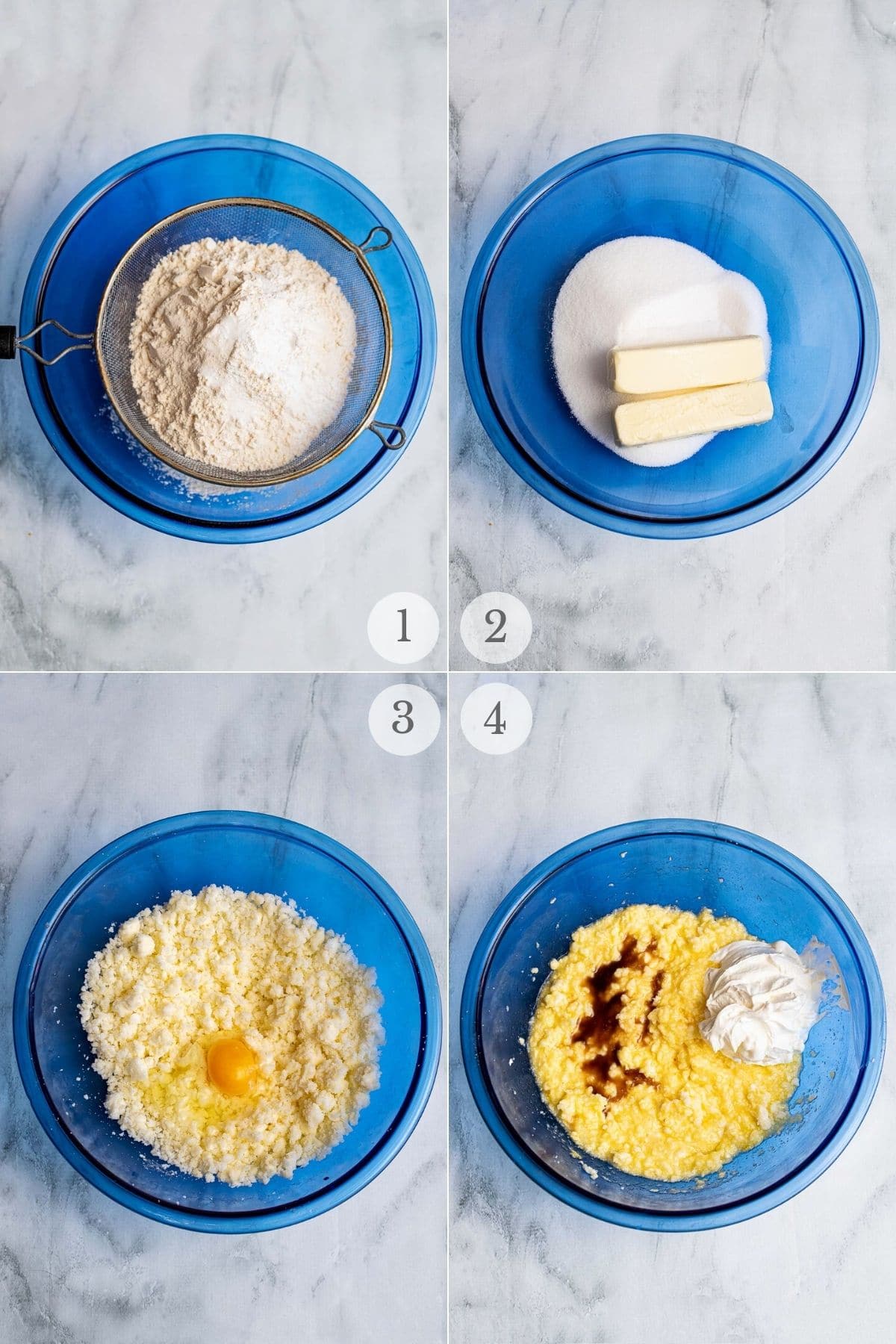 STEP 4. Make the Cookie Dough.
Add the dry ingredients to the wet ingredients (photo 5). Mix slowly over low speed until fully combined. NOTE: it will have the consistency of thick cake batter.
STEP 5. Bake the Cookies.
Drop the dough by large tablespoons or using a medium cookie scoop onto the prepared pan (photo 6).
Use the back side of a dining spoon lightly dipped in flout to flatten the cookies(photo 7 and 8). The flat bottom of a glass works too.
NOTE: the cookies do not spread much so press them to the desired size before baking.
Bake for 8-10 minutes until they no longer appear wet and are just starting to have golden edges.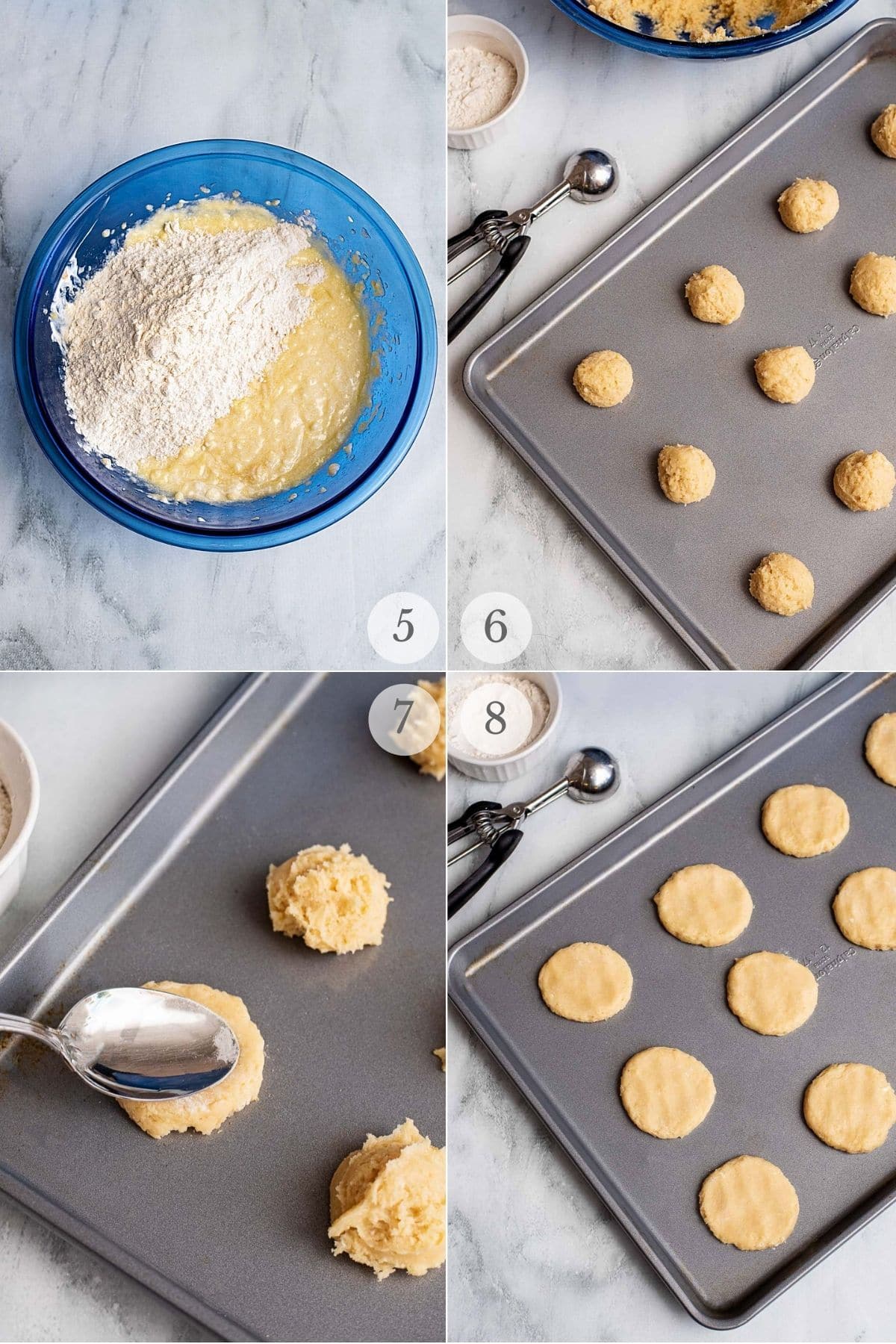 STEP 6. Cool the Cookies.
Remove the cookies from the oven and allow to sit on the baking sheet for a few minutes.
Move to a wire rack to fully cool before frosting.
While they cool, make the frosting.
How to Make the Frosting (regular or holiday version) – Step-by-Step
The only difference between the regular frosting for Lofthouse Cookies and the holiday version is:
the holiday version adds peppermint extract to the rest of the ingredients
crushed peppermints will be used on the holiday version. Sprinkles are used on the classic version.
STEP 1. Make the Frosting.
In a large bowl mix together the butter and powdered sugar with a hand held or stand mixer (standing or hand held) (photo 1). NOTE: it will NOT be creamy just roughly mixed as seen in photo 2.
Add the extracts, corn syrup and heavy cream (photo 2). Mix until frosting has formed (photo 3).
Add food coloring (photo 3) and mix until fully blended (photo 4).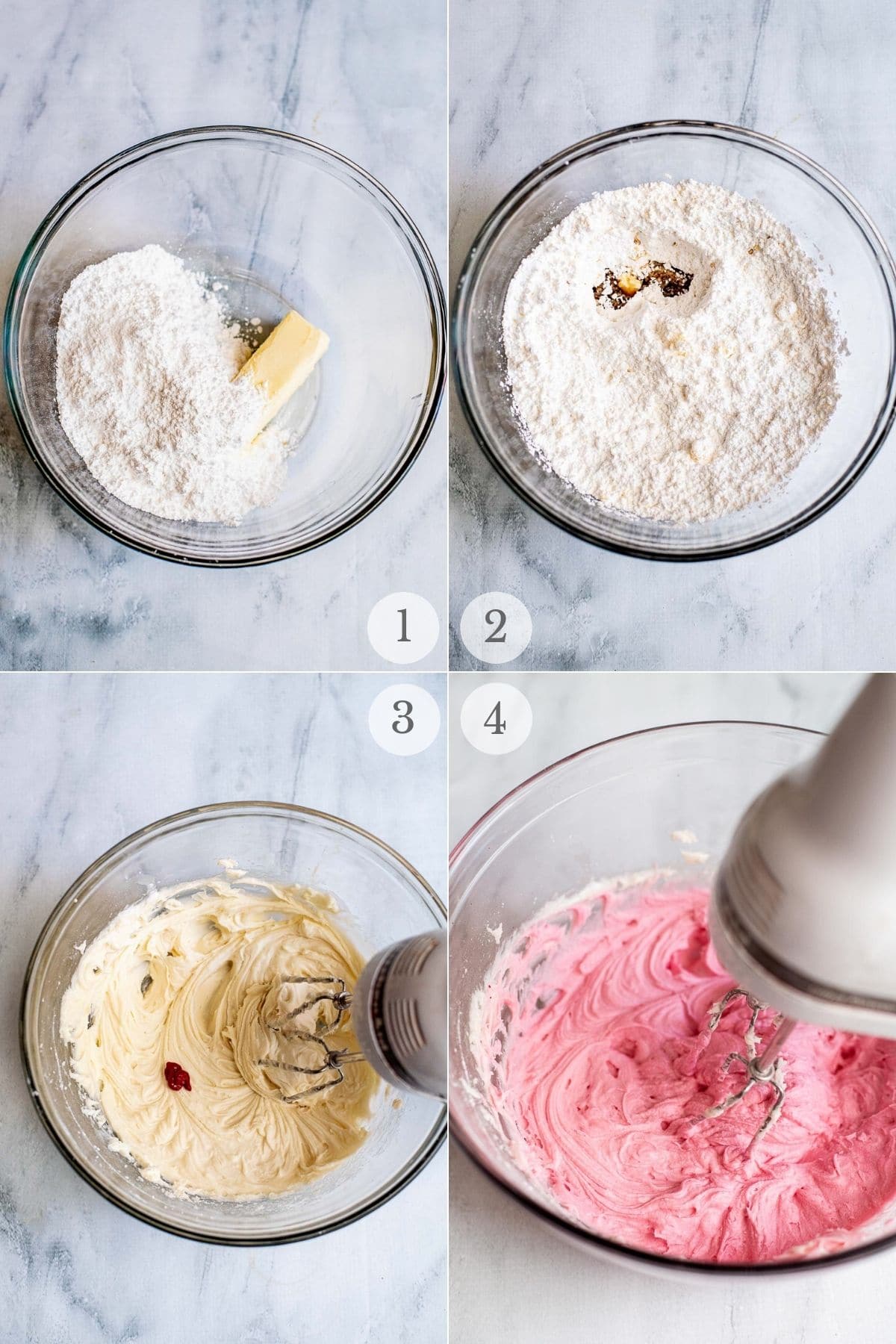 STEP 2. Frost and Top the Cookies.
Frost the cookies (photo 5) and top with sprinkles (regular version – photos 6 and 7) or crushed candy canes (holiday version – photo 8).
Allow the cookies to sit until the frosting sets (15-20 minutes).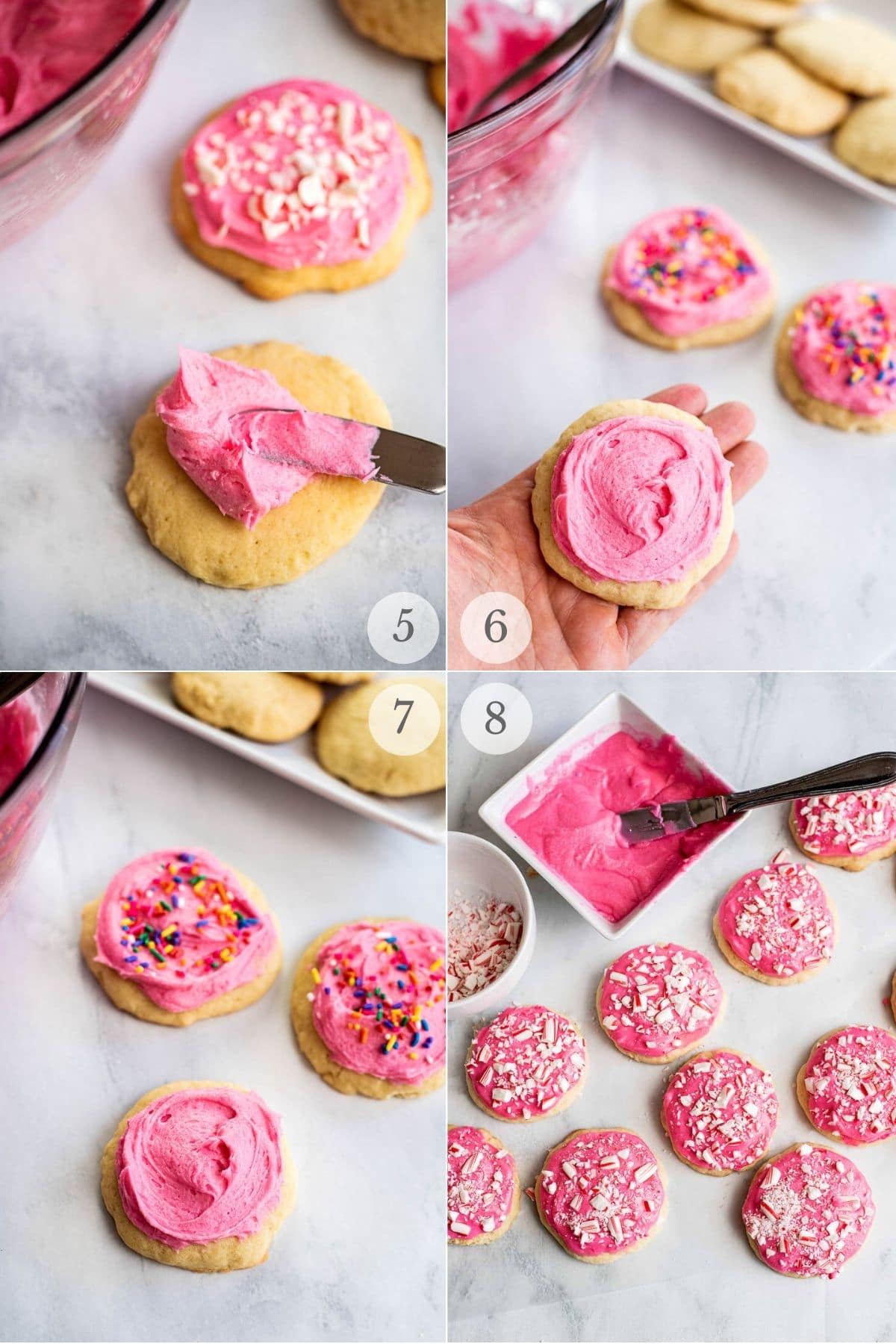 Storing Them
Store frosted cookies in an airtight container. Place sheets of wax paper between single layer rows of the cookies.
They can be stored at room temperature or in the refrigerator for up to 3 days.
NOTE: the crushed peppermints will begin to get sticky after a few days.
I recommend storing in the refrigerator but the container must be airtight. Any moisture will make them stickier.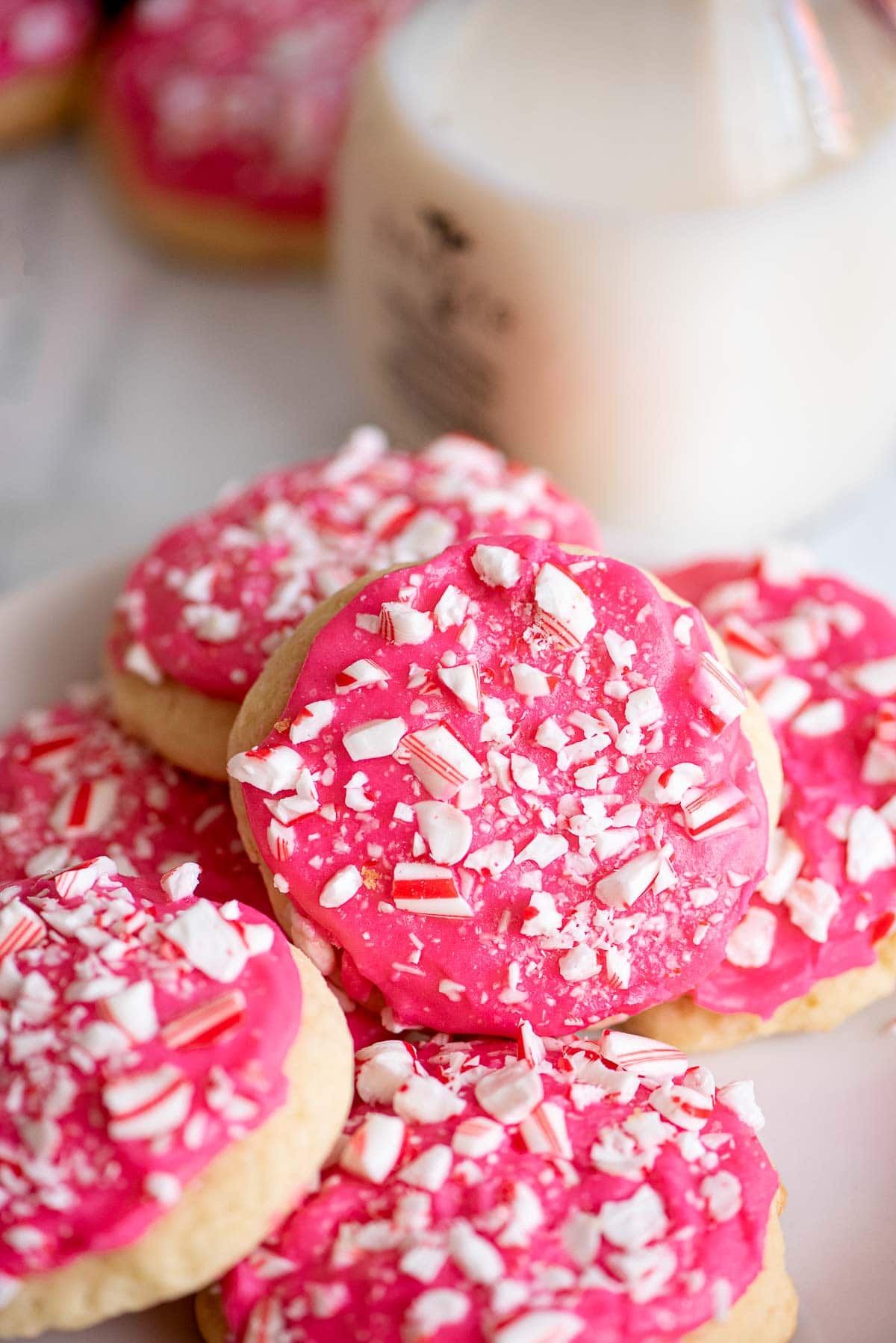 More Recipes You'll Love!
Did you make it? Please RATE THE RECIPE below!
Please SUBSCRIBE and FOLLOW ME on FACEBOOK , TWITTER , INSTAGRAM and PINTEREST !