Roasted Beet Hummus is bursting with big flavors and a pink color that catches everyone's eye. Classic hummus flavor and just the right amount of caramelized roasted beet flavor to make it exciting!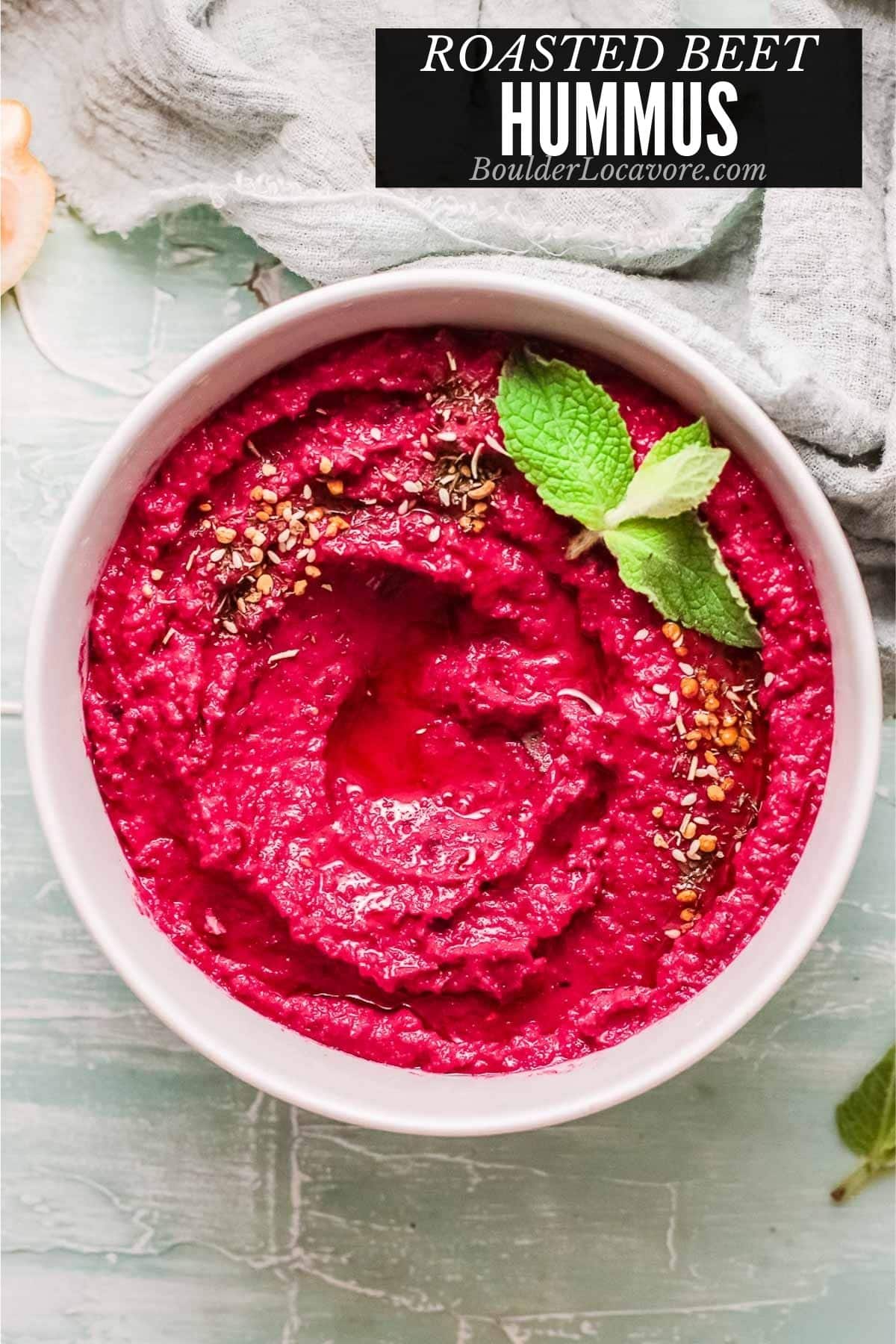 Hummus is one of the easiest appetizer recipes to make. Everything goes into the blender or food processor to be whirled into a thick, creamy dip or spread.
As delicious as classic chickpea hummus is it's super easy to change it up for a whole new flavor.
Spicy Chipotle Pumpkin Hummus, Black Bean Green Chile Hummus Dip and Spicy Sriracha Hummus are just a few delicious examples.
But no one can resist this bright pink Roasted Beet Hummus.
The earthy, garlicky flavors are perfect for the winter months.
Roasted Beet Hummus
Chances are you either love beets or hate them. There doesn't seem to be much middle ground.
You are either really excited to be finding this recipe or are cringing a bit right now.
There is a reason this hummus recipe uses roasted beets.
By roasting the beets at a higher temperature the sugars in the beets caramelize and it changes the flavor.
We've tossed the beets with garlic powder and onion powder which gives them less of an earthy taste too.
The beets have a roasted root vegetable flavor. They blend easily into the other flavors in the hummus without being heavy handed with their flavor.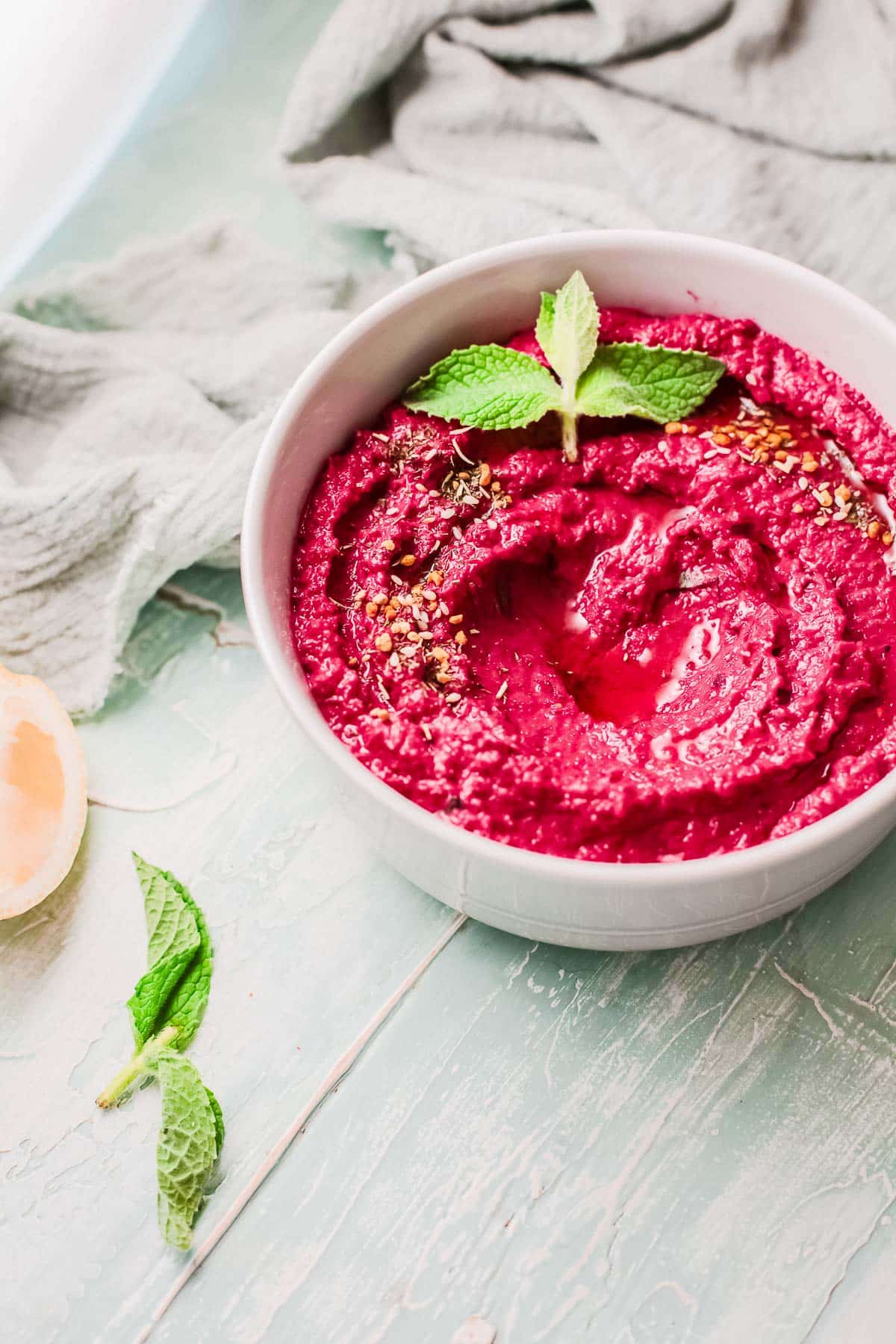 Recipe Ingredients + Notes
Red Beet. This is a star in this recipe and what makes both beautiful in color and unique in flavor. The beet will be seasoned and roasted before incorporating it into the hummus.
Some beet tips below.
Olive oil. The olive oil is used in roasting the beet and directly in the hummus.
Seasonings. Garlic powder, onion powder, salt, pepper, cumin. The first four seasonings are used in roasting the beet to give it more flavor. Cumin is added into the hummus.
Garlic cloves. Fresh garlic is added into the hummus. If you prefer a milder garlic flavor garlic powder can be substituted. There is some garlic flavor in the roasted beet too.
Tahini. Tahini is a paste made from sesame seeds and is a staple in many Mediterranean recipes. It's widely available at any grocery stores. Either store bought or homemade tahini can be used.
Chickpeas (garbanzo beans). Chickpeas are the center of hummus recipes. You'll also hear them called garbanzo beans. Canned, drained chickpeas make quick work of creating hummus at home.
If you prefer to cook the garbanzo beans yourself instead (from dried) that works too.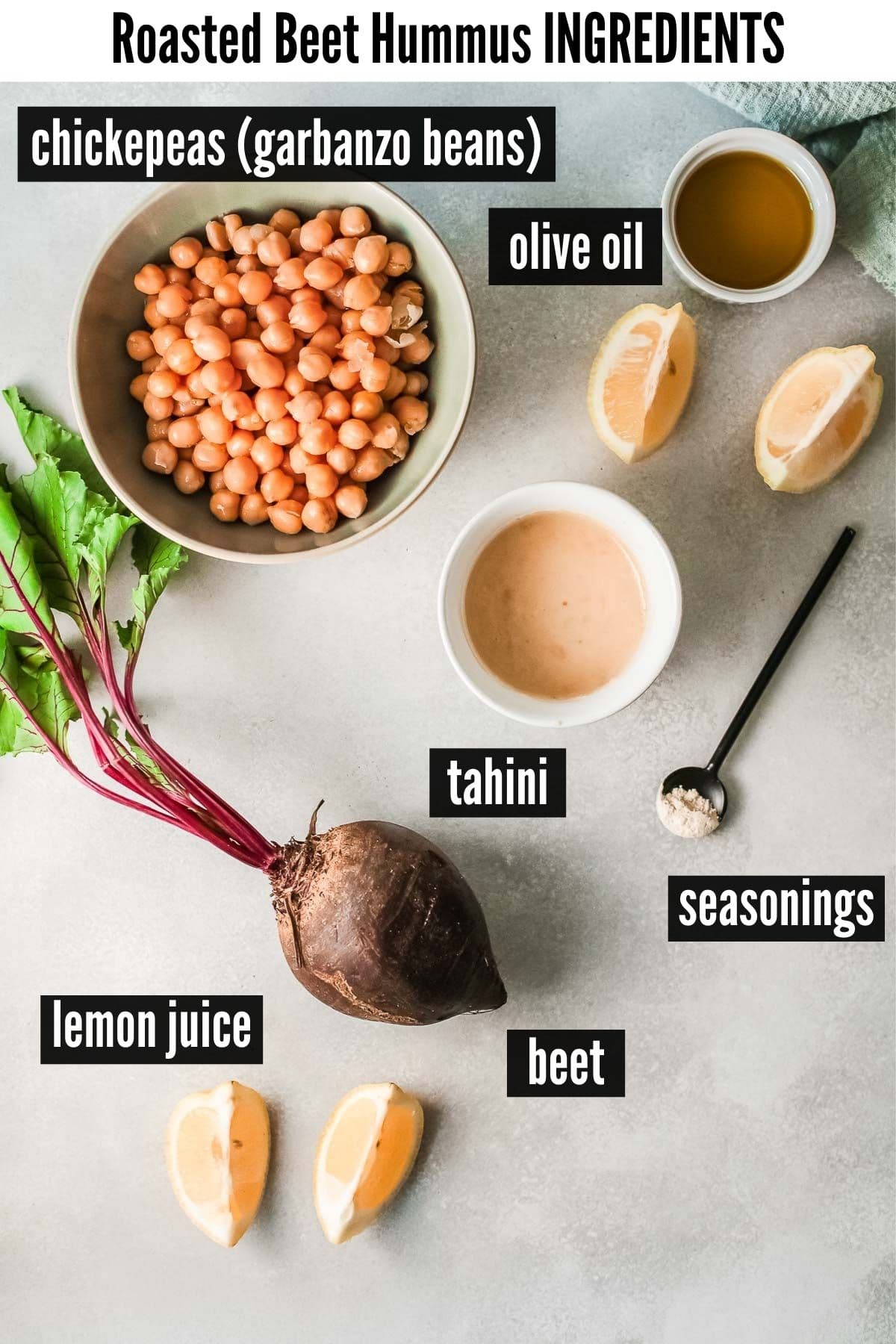 How to Make it – Step-by-Step
STEP 1. Roast the beet.
Preheat the oven to 400 degrees F. Line a rimmed baking sheet with foil.
Remove the top and peel the beet with a vegetable peeler. Cut into 1-inch pieces.
Place the beets to a large mixing. Add 2 tablespoons of olive oil, garlic powder, onion powder and a sprinkle of salt and pepper. Toss to fully coat.
Spoon onto the prepared baking sheet in a single layer. Bake until the beet piece are 'fork tender' meaning a fork can easily penetrate the beet.
This will generally take around 30 minutes but will depend on the density of the beet.
Remove from oven when soft and allow to cool completely.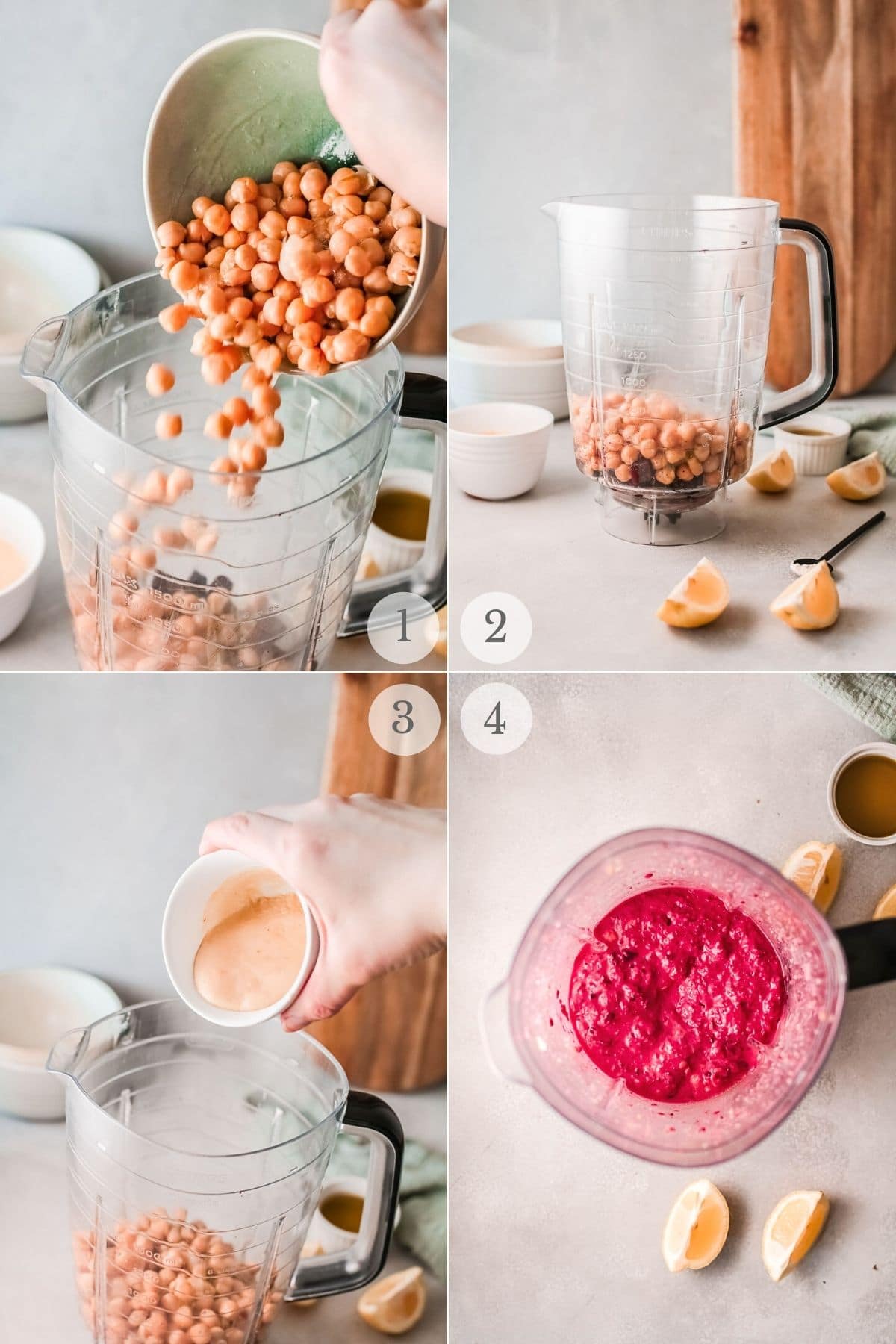 STEP 2. Make the Beet Hummus.
Combine the roasted beet, chickpeas, tahini, garlic and lemon juice in a blender or bowl of a food processor (photos 1-3).
Pulse until smooth (photo 4). This may take up to 4 minutes depending on your blender.
With the blade running slowly drizzle in the olive oil (photo 5). Pour the olive oil through the hole in the lid. We took the lid off for photo purposes only.
Continue blending until smooth (photo 6).
Add the salt and pepper, taste and adjust seasonings and blend once more.
If needed more salt or pepper, lemon juice or seasonings can be added.
To thin it further drizzle in more olive oil while blending.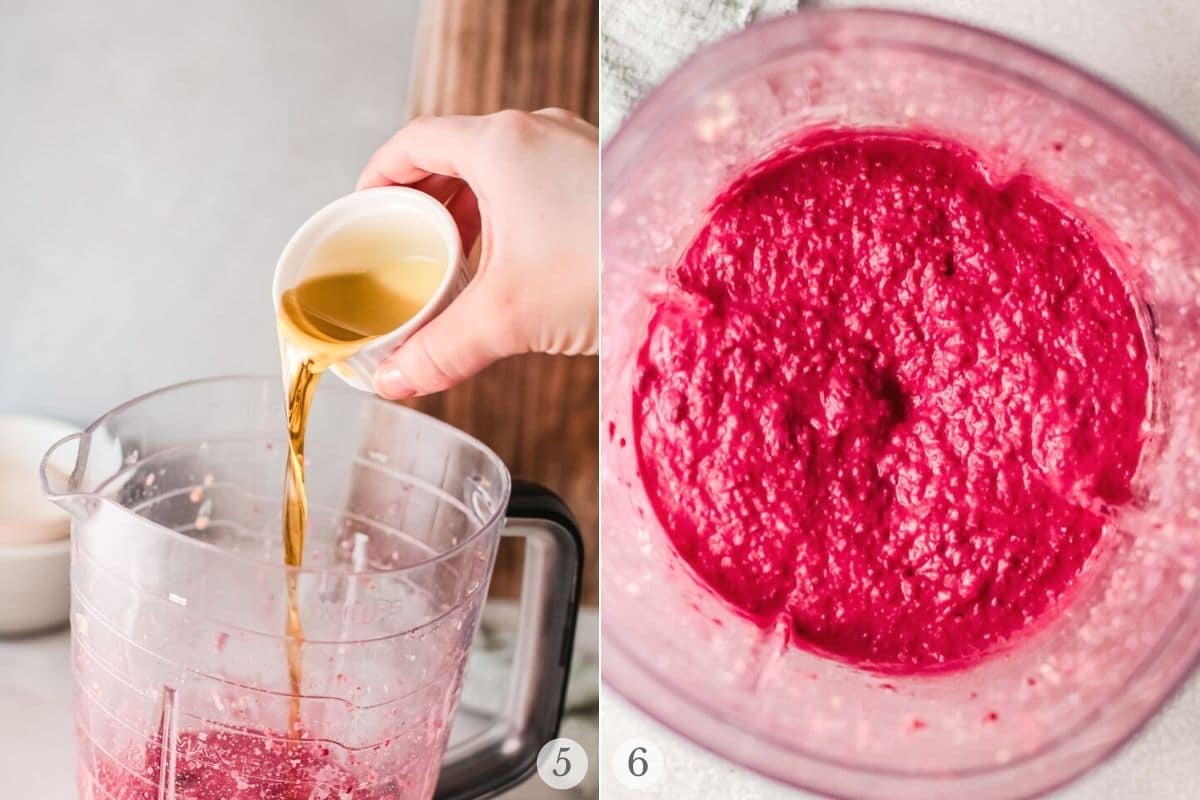 Garnish suggestions
To dress up the beet hummus before serving consider one or more of these options:
sprinkling on some white and/or black sesame seeds,
chopped fresh cilantro or mint,
an extra drizzle of olive oil.
How to Serve Beet Hummus
Serve the hummus with items to dip. Here are some of our favorites:
Pita chips or triangle of pita bread
Sliced vegetables (cucumber slices, jicama slices, baby carrots, celery, bell pepper slices)
Crackers
Chips
Flat bread or garlic breadsticks

Recipe FAQs + Pro Tips
Beets stain. Beets make a brilliant fuchsia color but they will also stain. Your hands, your cutting board, your clothing.
Peel the beet using a vegetable peeler somewhere any juice won't cause a problem (like in the sink). Use a washable cutting board over wood.
Keep the beet juice away from your clothing.
Beet roasting tip. Normally beets do not need to be peeled before roasting. After roasting the skin can be wiped off simply with a paper towel.
Because we are adding flavors and cutting the beets into pieces the beets in this recipe are peeled first.
Be sure beets are soft before removing from the oven. If the beets are not fully cooked until 'fork tender' they will not mix as smoothly into the recipe.
Allow beets to cool completely. This is an important step for the best end result of this dip recipe.
Is beet hummus good for you?
Hummus is full of wholesome ingredients, nutrition, antioxidants, fiber and more. Adding beets increases that even more making it a great appetizer or snack recipe.
Can I use canned beets or steamed beets?
They really won't have the same flavor. To enjoy all the flavors in this beet hummus we recommend roasting fresh beets.
Can I roast canned beets for this recipe?
Unfortunately canned beets will not roast in the same way fresh beets will.
Should you cook chickpeas for hummus?
Chickpeas do need to be soft in order to blend into a creamy hummus. This recipe uses canned chickpeas which take care of that without taking your time to cook them.
If you'd like to use dried garbanzo beans they will need to be soaked or cooked before use.
Storing Leftovers
Store the hummus in an airtight container in the refrigerator for up to 1 week.
Can I freeze this beet hummus?
Yes! Put it in a freezer safe airtight container leaving some room for expansion at the top. Freeze for 6-8 months.
Thaw in the refrigerator and stir to combine if there is any separation.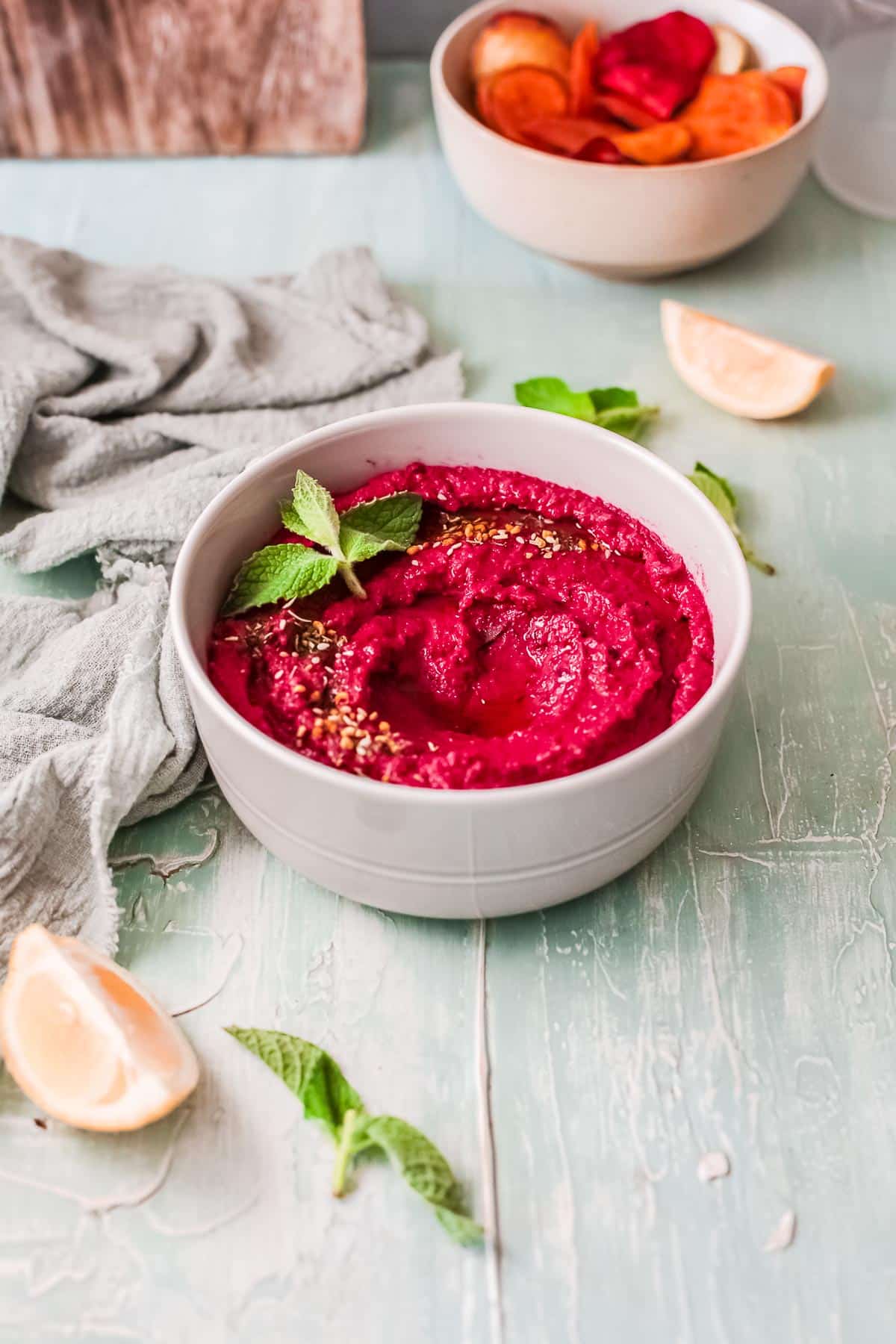 More Recipes You'll Love!
Did you make it? Please RATE THE RECIPE below!
Please SUBSCRIBE and FOLLOW ME on FACEBOOK , TWITTER , INSTAGRAM and PINTEREST !
Recipe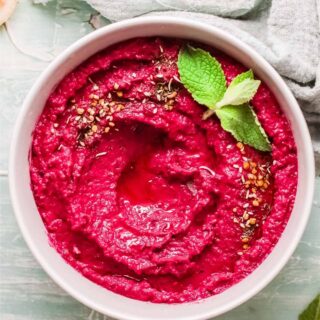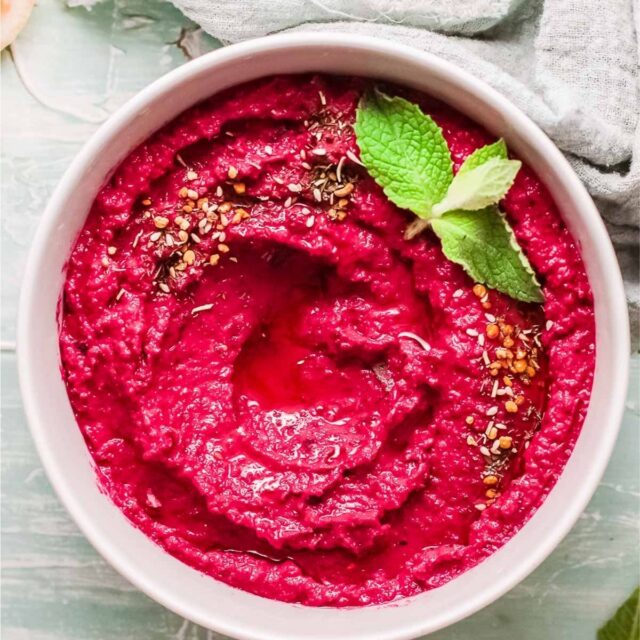 Roasted Beet Hummus
All the flavors of classic hummus combined with herb roasted caramelized beet. This gorgeous pink hummus is always an attention getter at the appetizer table.
Print
Save Recipe
Recipe Saved!
Pin
Rate
Servings:
6
servings (total yeild: aproximately 2 cups)
Ingredients
For the Roasted Beet
1

medium

red Beet

top removed, peeled and cut into 1-inch pieces

2

tablespoons

olive oil

1

teaspoon

garlic powder

1

teaspoon

onion powder

Salt and pepper

spinkle of each
For the Hummus
1

seasoned roasted beet

1

15-ounce can (1 1/2 cups)

chickpeas

drained and rinsed

2

tablespoons

tahini

2

tablespoons

lemon juice

1/4

cup

olive oil

1

cloves

fresh garlic

diced, OR 1/2 teaspoon garlic powder for a milder flavor

1/2

teaspoons

ground cumin

1/4

teaspoon

kosher salt

or to taste

1/4

teaspoon

ground black pepper

or to taste
Instructions
How to Roast the beet
Preheat the oven to 400 degrees. Line a rimmed baking sheet with foil.

Combine the beet pieces, 2 tablespoons olive oil, 1 teaspoon (each) garlic and onion powder and a sprinkle of salt and pepper in a mixing bowl; toss to coat the beets.

Place the pan in the preheated oven and roast until the beets are fork tender (estimate: 25-30 minutes). Let the texture of the beet pieces determine whether they are done versus time. A fork should easily be able to penetrate the beets.

Remove from the oven and allow to cool completely before making the hummus.
Making the Beet Hummus
Combine the roasted beet, chickpeas, tahini, garlic and lemon juice to a blender or food processor. Pulse until smooth, around 4 minutes.

With the blender running slowly pour in the olive oil and continue blending until smooth.

Add salt and pepper to taste and blend once more.
Notes
Cooking time is an estimate and will vary based on the beet and oven being used. Cook the beet until it's fork tender so it will blend well into the hummus.
How to Serve
Serve items for dipping: crackers, pita crisps or fresh pita bread triangles, sliced vegetables or flat bread.
Pro Tips
Beets stain so take care when peeling and cutting them. They will stain wood cutting boards and clothing.
We don't suggest using canned or steamed beets for this recipe.
How to Store
Refrigerator: in an airtight container for up to 5 days.
Freezer: in a freezer safe airtight container for up to 6-8 months.
Nutrition
Calories:
168
kcal
|
Carbohydrates:
5
g
|
Protein:
2
g
|
Fat:
16
g
|
Saturated Fat:
2
g
|
Sodium:
122
mg
|
Potassium:
121
mg
|
Fiber:
1
g
|
Sugar:
2
g
|
Vitamin A:
9
IU
|
Vitamin C:
4
mg
|
Calcium:
12
mg
|
Iron:
1
mg
Beet hummus is a beautiful delicious spin on traditional hummus perfect for a special appetizer any time.