The Zombie cocktail is a tropically-inspired drink from a bygone cocktail era. Loads of fruit juices and rum put the 'happy' in Happy Hour with this libation. This post intended for those of alcohol-purchasing age only; please always drink responsibly!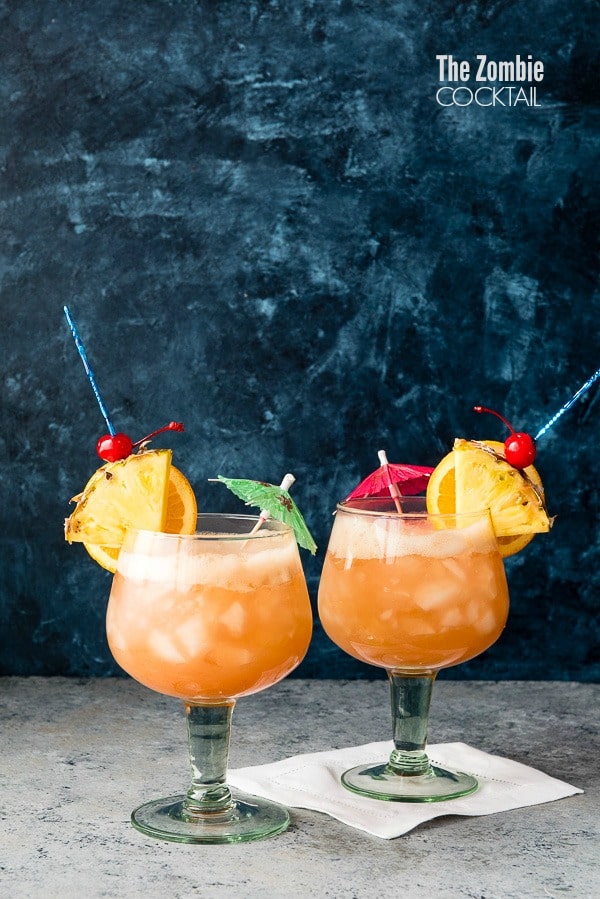 Truth be told my original reason for sharing The Zombie Cocktail was to celebrate the return of The Walking Dead this weekend. I ushered in this current season with The Negan cocktail, a gruesome spin on an Old Fashioned, having no idea what lay in wait for the season premiere. After watching it, or being accosted by it really, I felt sheepish about my (seemingly innovative) cocktail creation.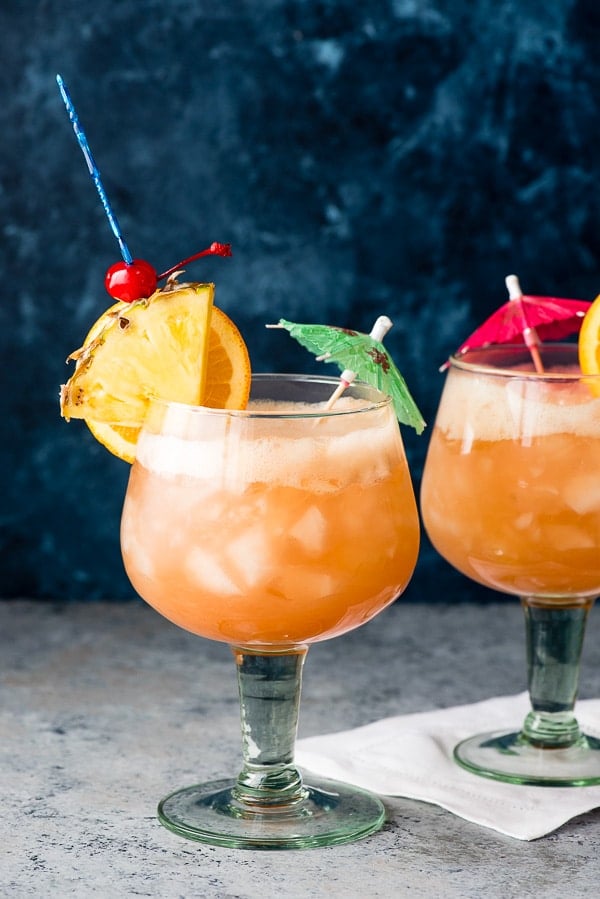 The Zombie cocktail caught my eye while doing some mixology research awhile ago and lodged itself as a good idea for a Walking Dead premiere or Halloween recipes. I became lost in the history of the cocktail however not having known much about it.
When I picked up some apricot brandy for the recipe at my local liquor store an older gentleman working there said 'Zombies! Wow, I haven't thought about those in a long time!'  Good reason for it. I think if you were to have had one made at the hand of Donn Beach (of Don the Beachcomber's fame) you may not have remembered enough to talk about it afterwards.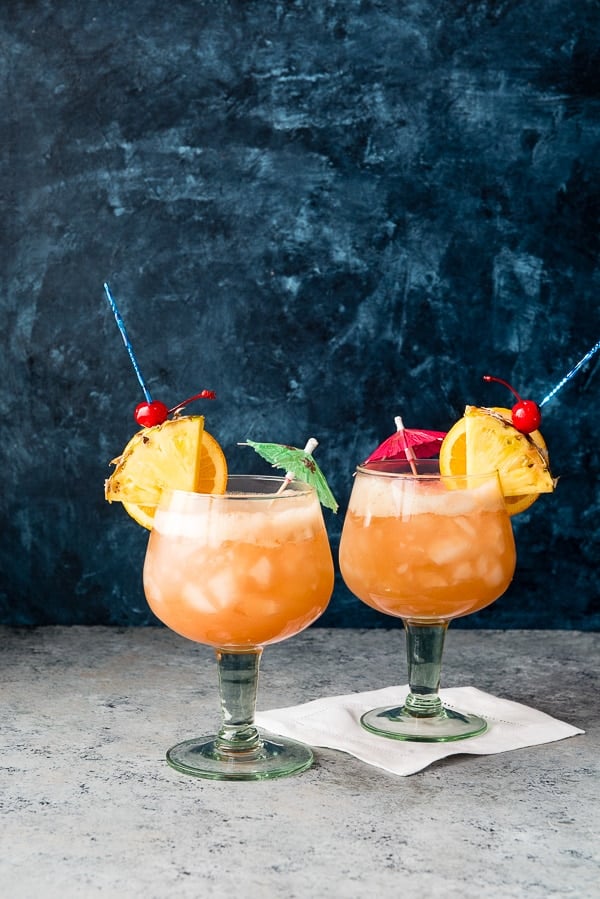 Originated in the 1930's Don referred to the cocktail as 'the mender of broken dreams' however Wikipedia says it's alternative name is the 'Skull Crusher'. The original version had well more than 4 ounces of liquor in one cocktail and customers were limited to only 2 cocktails per visit!
My first impression of the cocktail was that is smells like a tropical vacation. The rummy smell transported me back to a trip to Costa Rica where we'd go out adventuring in the rain forest in the morning and return for pool-sitting in the afternoon. The first day I ordered a Sneaky Tiki cocktail and every following day the server would approach asking 'Sneaky Tiki?'; ah, yes please! A perfect companion to while away an afternoon.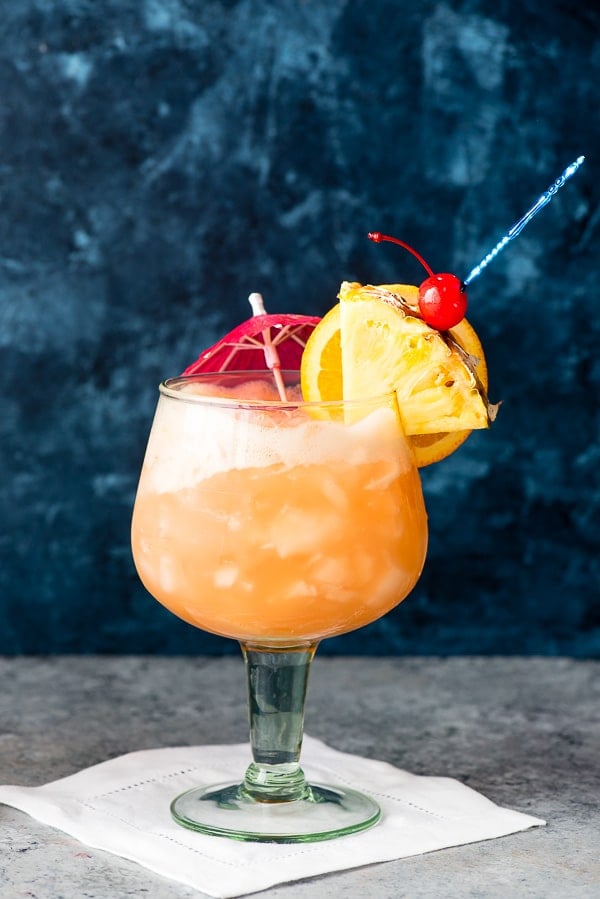 My version is lower in booze but still leaves this a 'drink it at home and no driving afterwards' selection. The mix of fruit juices and rum really give this a Mai Tai feel and flavor, and the loads of crushed ice is very refreshing.
Any drink with an umbrella feels like time off for good behavior for me so whether toasting the Walking Dead (and a happier second half of the season) or merely Happy Houring, take in the heady vacation vibe of this cocktail and definitely drink responsibly!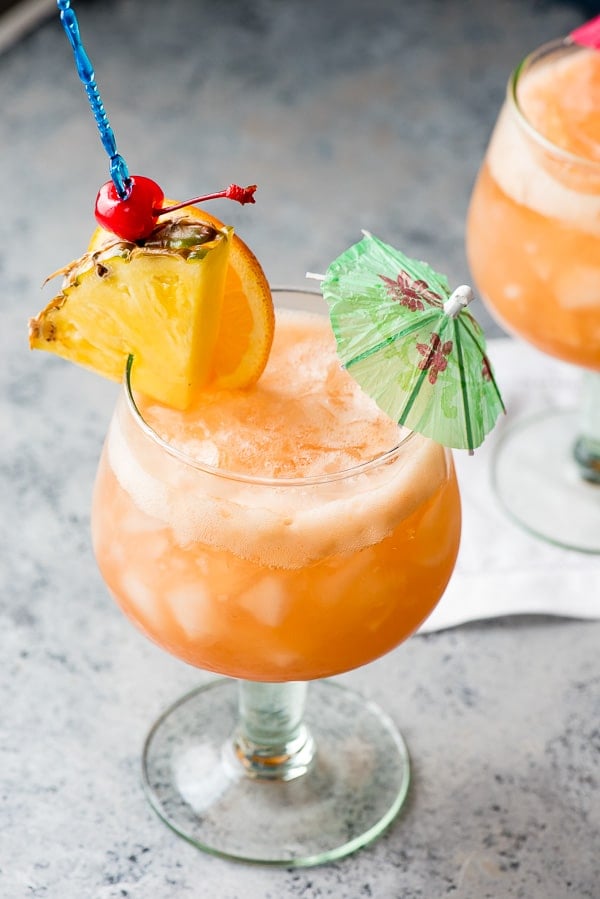 Whether celebrating Zombies or conjuring the essence of a tropical vacation at home, this fruity rum Zombie Cocktail recipe will take you there. Drink carefully however as it packs a punch!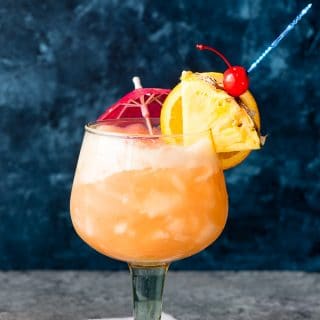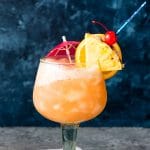 The Zombie Cocktail Recipe
This close relative of the Mai Tai cocktails is like a tropical vacation in a glass. Fruit juices and rum over loads of crushed ice make for a potent happy hour cocktail.
Ingredients
2

ounces

Orange Juice

2

ounces

Pineapple Juice

1

ounce

Lime Juice

2

dashes Bitters

2

ounces

Light Rum

2

ounces

Gold Rum

2

ounces

Dark Rum

½

ounce

Grenadine

1

ounce

Apricot Brandy
Instructions
Add all ingredients to a blender with 1 ½ cups crushed ice. Blend until smooth. Pour into 2 14-ounce

Collins glasses

or large

goblets

and fill with crushed ice. Garnish with a pineapple wedge, lime or orange wheel and maraschino cherries.
Nutrition Facts
The Zombie Cocktail Recipe
Amount Per Serving
Calories 284
% Daily Value*
Total Fat 0g 0%
Cholesterol 0mg 0%
Sodium 4mg 0%
Potassium 93mg 3%
Total Carbohydrates 12g 4%
Protein 0g 0%
* Percent Daily Values are based on a 2000 calorie diet.