Creamy, tangy Greek Tzatziki Sauce is an easy, fast-to-make yogurt dip or sauce that's so versatile! Garlic, cucumber, fresh herbs make this refreshing recipe great for dipping vegetables, to serve on grilled recipes or spread on a sandwich!

You've probably had Tzatziki sauce at Greek restaurants or served with Mediterranean dishes. It's a creamy sauce that's full of fresh cucumber and garlic flavor.
It's an easy appetizer to serve with pita chips or raw veggies as a great dip. Or serve creamy tzatziki sauce with greek chicken souvlaki.
This easy Tzatziki sauce recipe is easy to make at home. In fact you can make it in less than 15 minutes!
It's so cool and refreshing, you'll find yourself using it on everything during the summer months. So you won't miss out when you can't go to your favorite Greek restaurant!
It's naturally gluten-free and something the whole family will love!
Jump to:
What is Tzatziki Sauce?
This delicious sauce or dip is made mainly from creamy Greek yogurt making it a thick, cooling, tangy sauce to serve in many ways.
It includes fresh ingredients of cucumber, garlic, lemon juice and fresh herbs giving its signature flavors.
Authentic Greek tzatziki sauce is from the Middle East, Turkey and Greece. It's featured as a partner in many favorite dishes from those regions.
Because of the yogurt base it's great to take the spiciness out of grilled dishes or other things it may be served with with.
How do you Pronounce 'Tzatziki'?
The American pronunciation differs from the Greek.
Most native English speakers would say it 'tsuh-see-key' (that link to a pronounciation) with the s being more of a soft z sound.
It's pronounced differently in Greek (that link to the Greek pronunciation). It sounds almost like 'zah-zzee-key' or 'cha-cheeky' depending.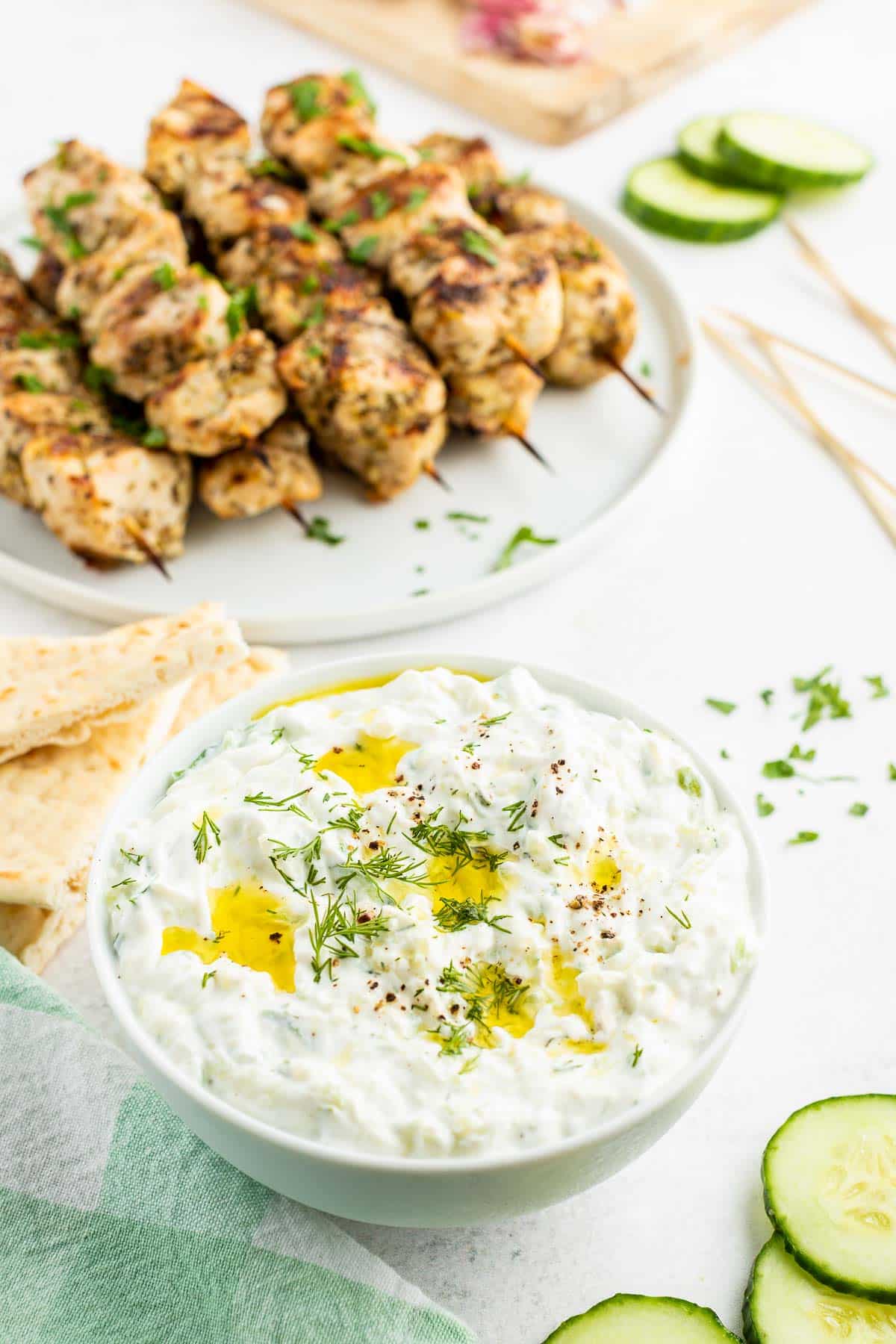 What Does it Taste like?
Tzatziki sauce tastes light, tangy and full of fresh flavors. Because it can be changed up using different herbs, the flavor is easy to adapt for any accompanying dish.
I love the fresh dill in this recipe.
It's an easy recipe to modify to meet your personal taste preferences.
You can add more garlic or lemon juice or even lemon zest, or dial an ingredient back if you prefer.
How Much does the Recipe Make?
The total yield is about 1 3/4 cups.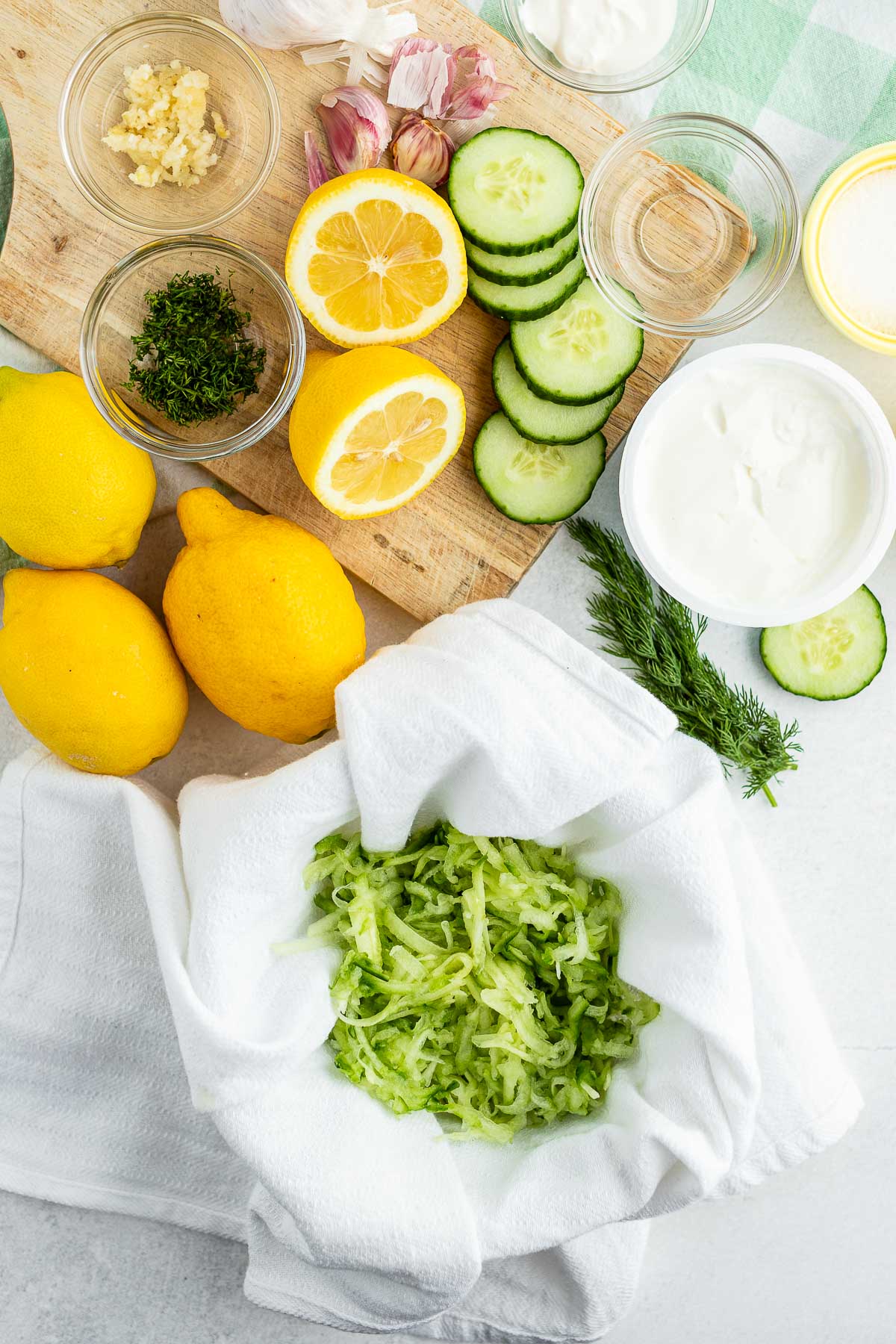 Recipe Ingredients + Notes
English Cucumber. The thin skin doesn't requiring peeling for use. They are essentially seedless and are less bitter so add better flavor to the dip. They also don't have as much liquid.
Grating the cucumber can be done with the larger hole handheld grater or with the larger grating disk of a food processor.
Plain Greek Yogurt. Thick Greek yogurt is creamy and does not have as much moisture as regular yogurt (it has already been strained). Fat-free yogurt, low fat or full fat yogurt can be used as long as it's Greek yogurt.
Traditional Greek Tzatziki uses strained sheep's milk which is hard to find.
Sour Cream. Adds some creamy, tangy flavor.
Garlic Cloves. Fresh garlic is a signature flavor.
Lemon Juice (fresh). Fresh juice makes a difference. See notes below.
White Wine Vinegar. Adds tangy acidic flavor.
Fresh Dill. Do not use dried dill. This recipe tastes best with fresh dill. Try other classic herbs for a different flavor. Try fresh mint, thyme or parsley!
Salt and Pepper. To taste.
Olive Oil to drizzle on top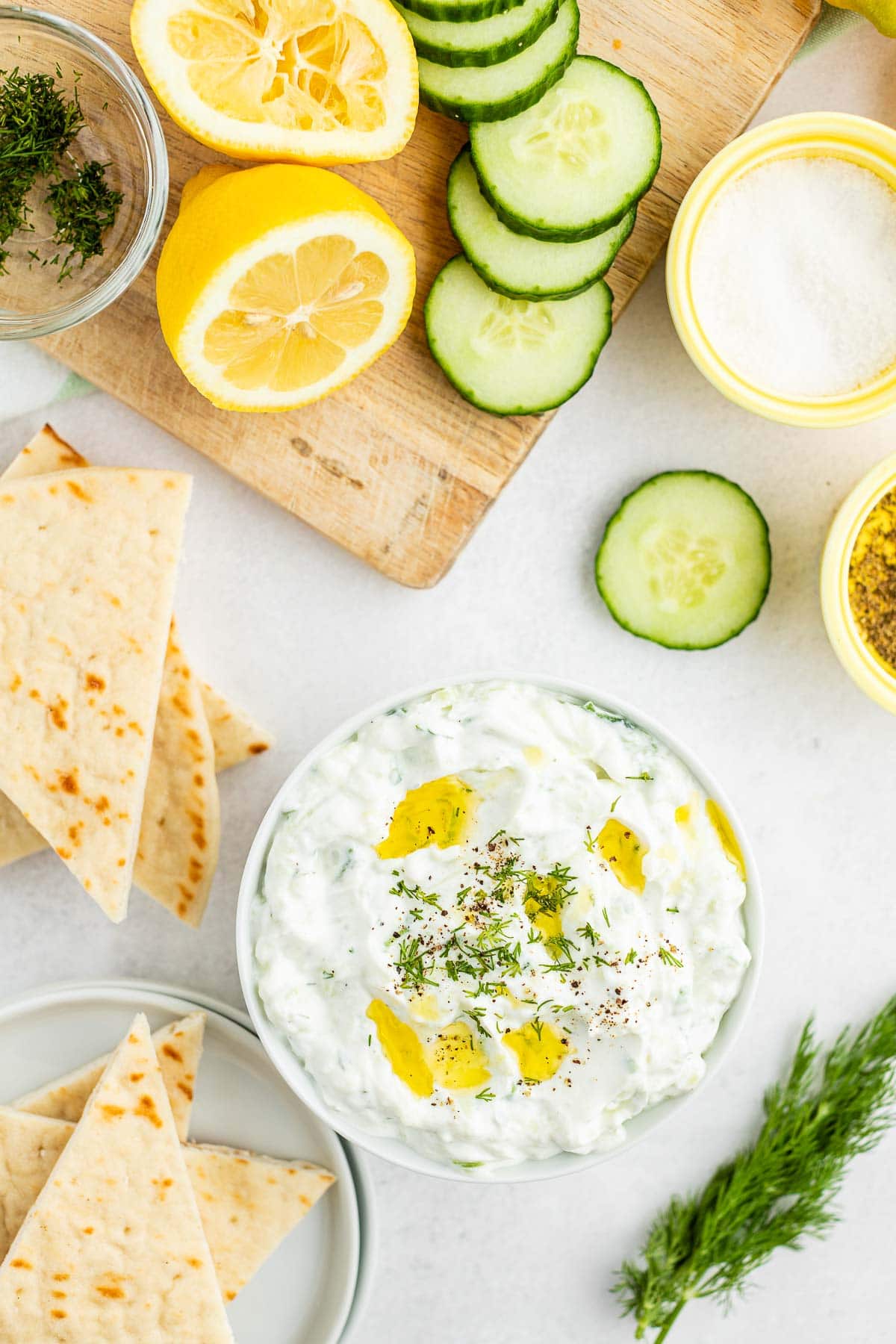 How to Make it- Step-by-Step
STEP 1: Drain the Cucumbers. Squeezing the moisture from the grated cucumber is important to make sure the Tzatziki sauce will not get watery.
Place the grated cucumber in a clean kitchen towel and squeeze the moisture out of the cucumbers (photo 1). The resulting yield should be about 3/4 cup of cucumber.
Put the cucumber in a large mixing bowl (photo 2).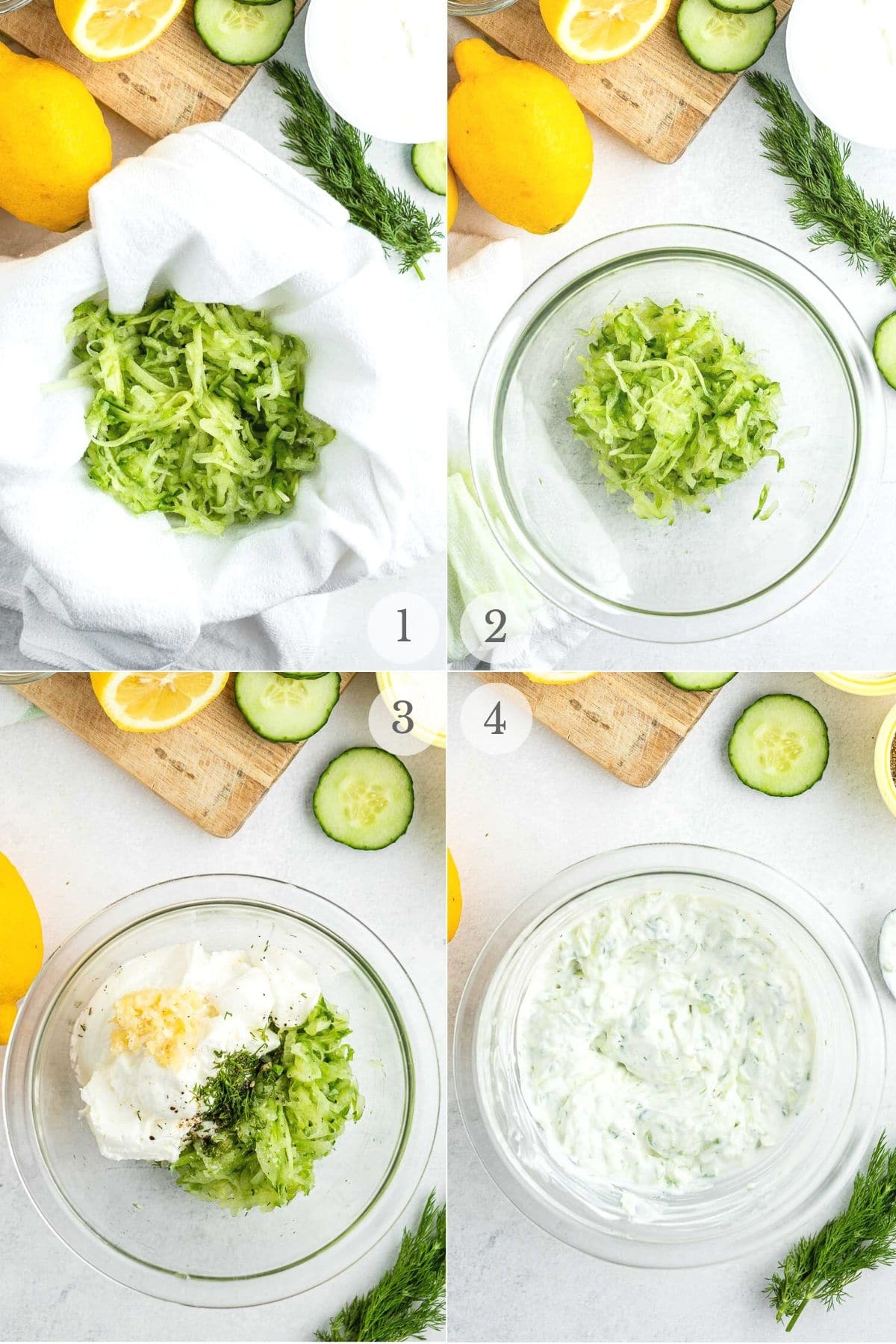 STEP 2: Add the remaining ingredients to the bowl: greek yogurt, sour cream, garlic, lemon juice, white wine vinegar, fresh dill (photo 3). Mix fully together (photo 4), taste and add pepper and salt to taste.
Drizzle with a little bit of olive oil before serving!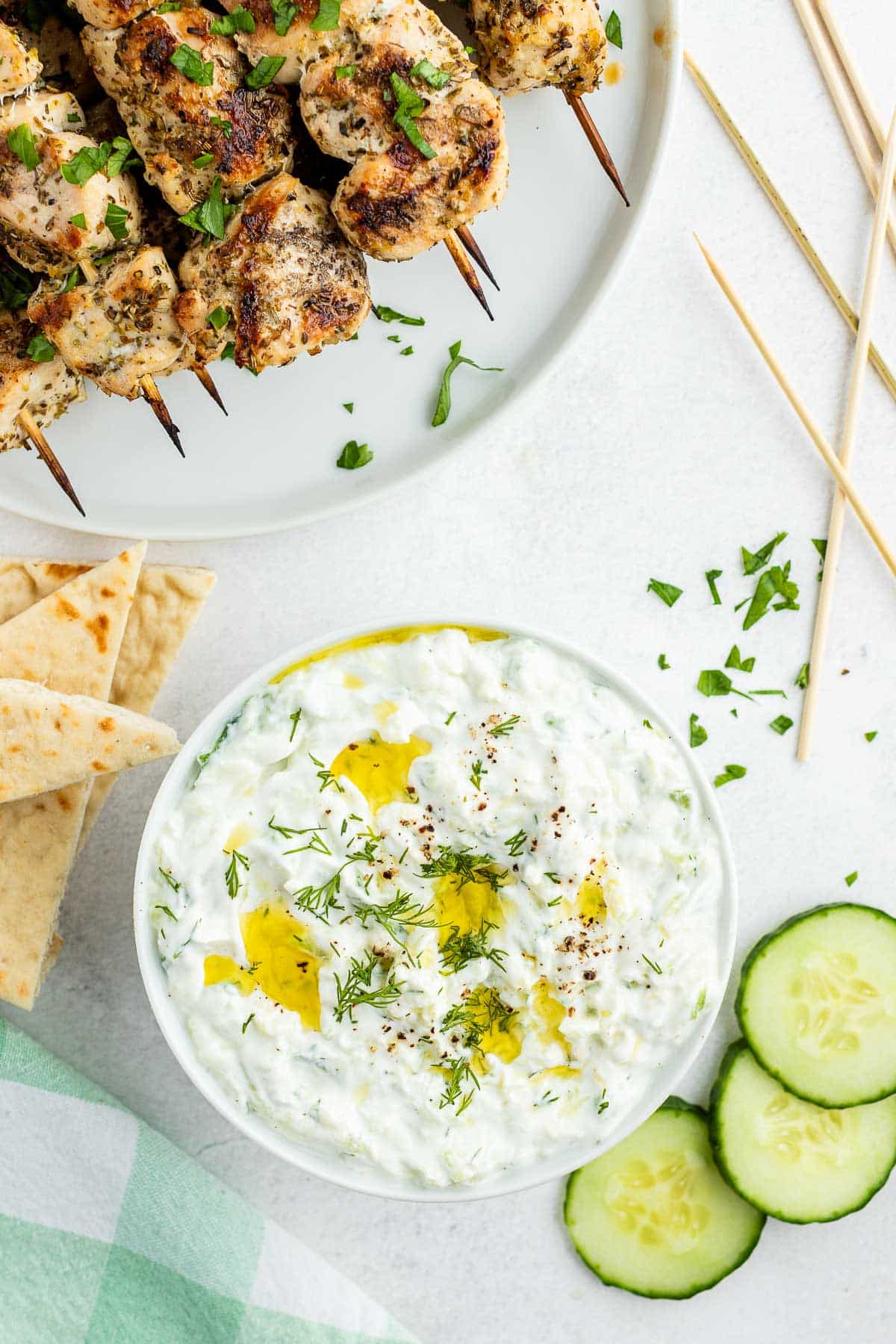 Pro Tips
Substituting regular Cucumber
If using a regular cucumber instead:
peel it
slice it lengthwise and scoop out the seeds with a dining spoon
proceed with grating and squeezing out the excess liquid with a paper towel or cheese cloth
Drain the Grated Cucumber
To create the best consistency for the dip be sure to follow the steps for draining the moisture from the grated cucumber.
Fresh Lemon Juice tip
Put the lemon in the microwave for 10 seconds before juicing it for more juice yield!
I prefer hand held juicers to get the most juice. Squeezing by hand works too!
Chill Before Serving
Though the Tzatziki sauce can be eaten as soon as it is made, it's better after chilling for a bit.
This allows the flavors to come together.
A cool sauce to beat the heat
Did you know dairy products are the one thing that can take the heat out of spicy recipes?
If you eat food with peppers or spices don't drink water, have dairy products, like milk or yogurt.
That makes this sauce a perfect match with spicy grilled food or or anything with spicy ingredients to make them milder.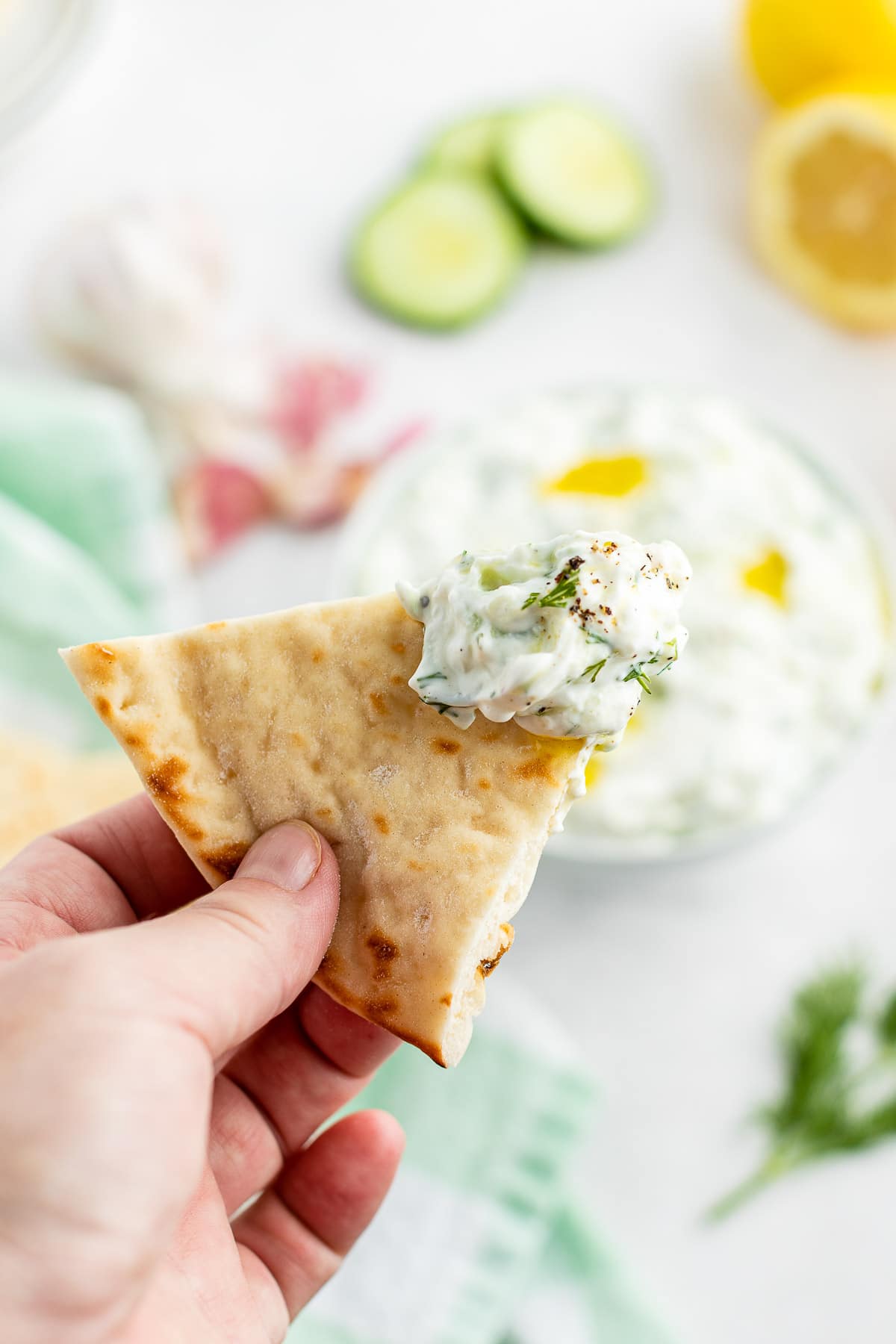 How to Eat it
Once you try it you'll find so many uses for Tzatziki sauce!
Here are some favorite ideas:
As a dip: for fresh vegetables, chips or pita bread.
Roasted or Grilled Meat: it's delicious served on pork, beef, chicken. Try it with chicken kabobs and other kabob recipes.
Grilled Vegetables: try it on grilled asparagus
Fish: it's great with white fish. Try swapping it into Fish Tacos.
Falafels: it is a classic sauce on Falafels.
Burgers: use it on meat or veggie burger for a cool creamy dressing.
In Sandwiches and Wraps: try swapping out mayo for tzatziki – so good!
As salad dressing: makes for a refreshing dressing on your greens.
On baked or mashed potatoes: Try it instead of sour cream.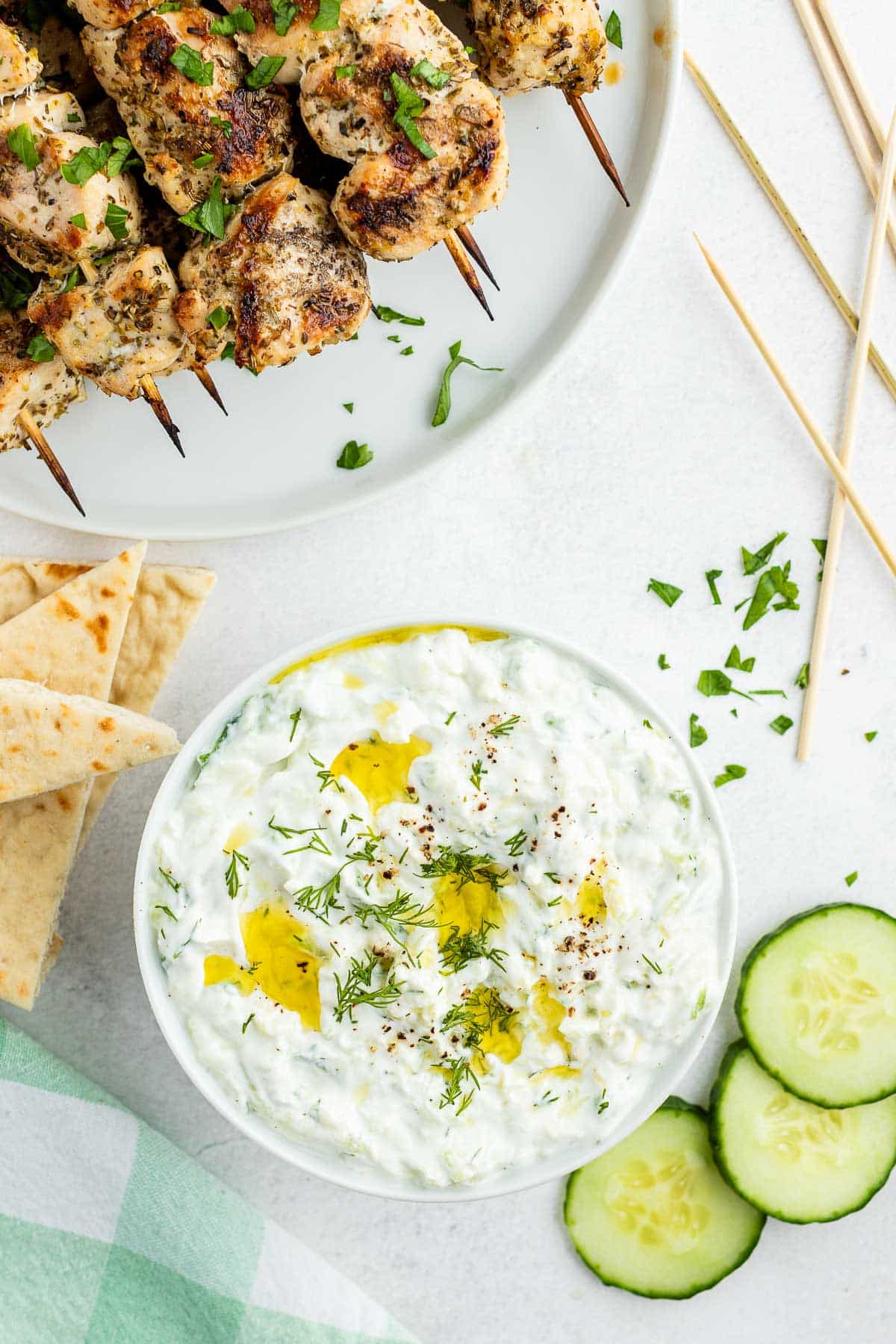 How Long Does it Last?
Keep in an airtight container in the refrigerator for up to 4-5 days.
Freezing not recommended.
More Recipes You'll Love!
Recipe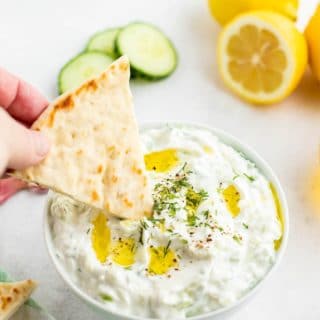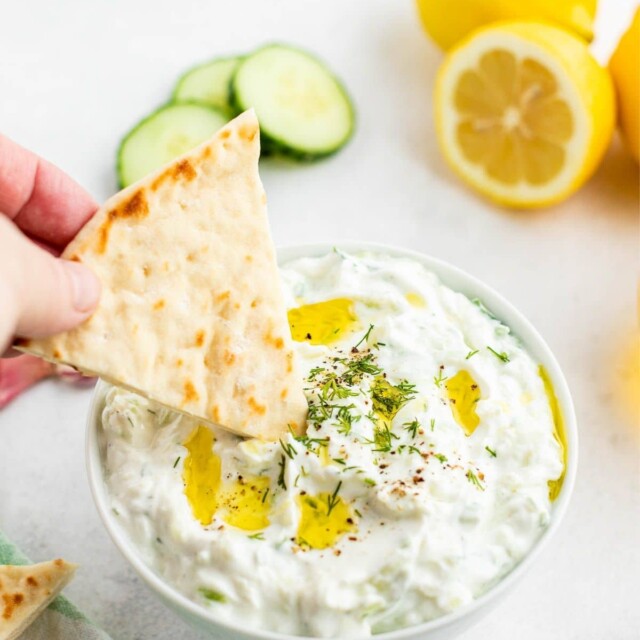 Tzatziki Sauce
Cool and refreshing, this tangy yogurt dip or sauce is perfect for dipping vegetables, on grilled meats or on a sandwich.
Print
Save Recipe
Recipe Saved!
Pin
Rate
Servings:
7
1/4 cup servings (total yield: 1 3/4 cups)
Ingredients
1

English cucumber

partially or unpeeled, grated with the large holes of a cheese grater

7

ounce container

plain Greek yogurt

1

tablespoon

Sour cream

1

large

Garlic cloves

minced

1

tablespoon

Lemon juice

1

teaspoon

White wine vinegar

1

tablespoon

fresh chopped Dill

Salt and pepper to taste

Drizzle of olive oil
Instructions
In a clean kitchen towel, squeeze the excess moisture out of the grated cucumber. There should be about ¾ cup or so.

In a bowl, combine yogurt, sour cream, cucumber, garlic, lemon juice, vinegar, salt, and pepper. Stir until well mixed.

When ready to serve drizzle a bit of olive oil over top.
Notes
This is best made ahead a couple of hours. It gets better with time. Chill before serving.
If you can't find an English cucumber, use 1 regular peeled cucumber but remove the seeds with a spoon first.
Be sure to drain the cucumber after grating by wrapping and squeezing it in cheesecloth or paper towel. This removed excess moisture for the best dip/sauce results.
How to Store
Store in an airtight container in the refrigerator for up to 4 days.
Nutrition
Calories:
28
kcal
|
Carbohydrates:
3
g
|
Protein:
3
g
|
Fat:
1
g
|
Saturated Fat:
1
g
|
Cholesterol:
2
mg
|
Sodium:
13
mg
|
Potassium:
103
mg
|
Fiber:
1
g
|
Sugar:
2
g
|
Vitamin A:
56
IU
|
Vitamin C:
2
mg
|
Calcium:
40
mg
|
Iron:
1
mg
Originally published: June 9, 2020