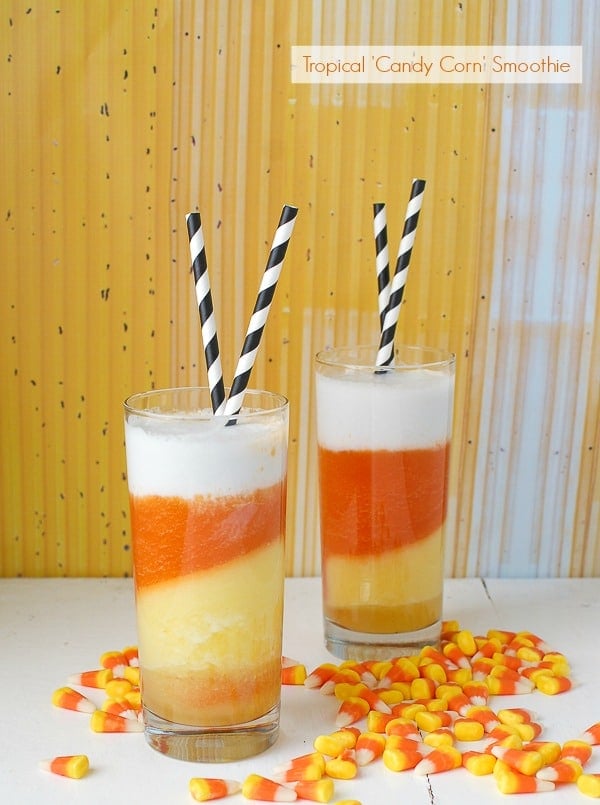 Love them or hate them, Candy Corn are the mascot of this time of year. They hide away like a vampire waiting for the sun to set, only to reveal themselves and dominate the candy consciousness for the month of October. They are inescapable to some, irresistible to others.
On Boulder Locavore we love the whimsy of the candy corn visual. Like putting a dime next to an object in a photo for scale, any glimpse of candy corn lets us know what time of year it is. Personally I love a few candy corn, appreciating their buttery overtones however finding myself quickly queasy from the sucrose overdose.
All candy corn creations need not be sweet ones. I'm at the point of October where I'm a bit sugar-saturated and craving healthier options. I liked the idea of creating a candy corn inspired smoothie, from the visual only; don't worry, 'there were no candy corns killed in the making of this smoothie'.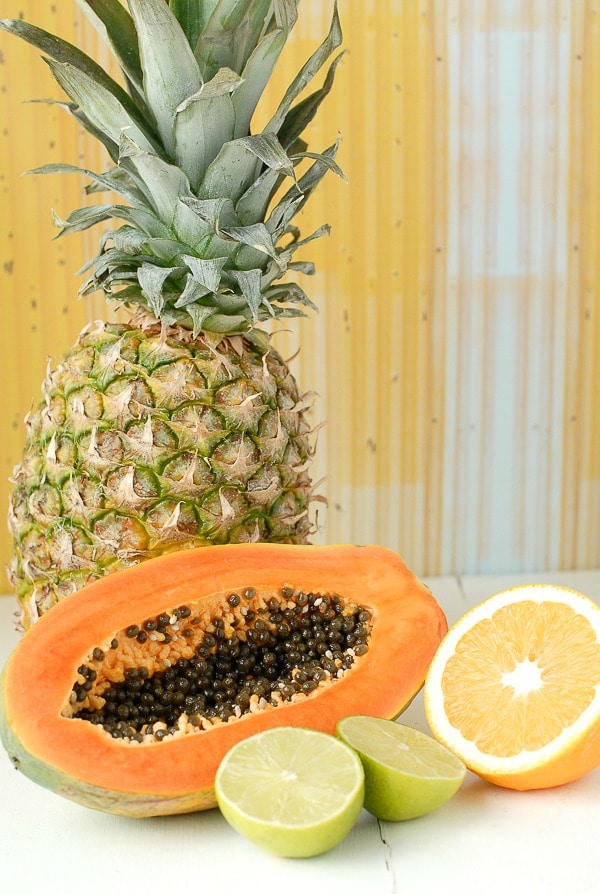 Tropical fruits provide a wonderful palette to imitate candy corn in smoothie layers. Pineapple for yellow, papaya for orange and coconut for white. Once stirred together they become a poor man's trip to 'the Islands' as my Grandmother used to refer to Hawaii.
Tropical fruits are especially appealing at this sugar-laden time of year. Papaya contains loads of Vitamin C as well as the enzyme 'papain' which aids in protein digestion. It has an anti-inflammatory effect as well as Vitamin A and C that support better immune system health. Pineapple is very low in calories, a great source of fiber, Vitamin C and includes the enzyme 'bromelain' which helps digest food by breaking down protein. Bromelain also has anti-inflammatory and anti-cancer properties. It is also a good source of B-complex vitamins. Coconut is gaining great attention for all its different properties; from anti-inflammatory benefits to those for hair and skin when ingested or used topically. They offer a good source of fiber, vitamins, minerals, amino acids and electrolytes (the coconut water). Seems perfect as an anecdote for this uber-sweet time of year!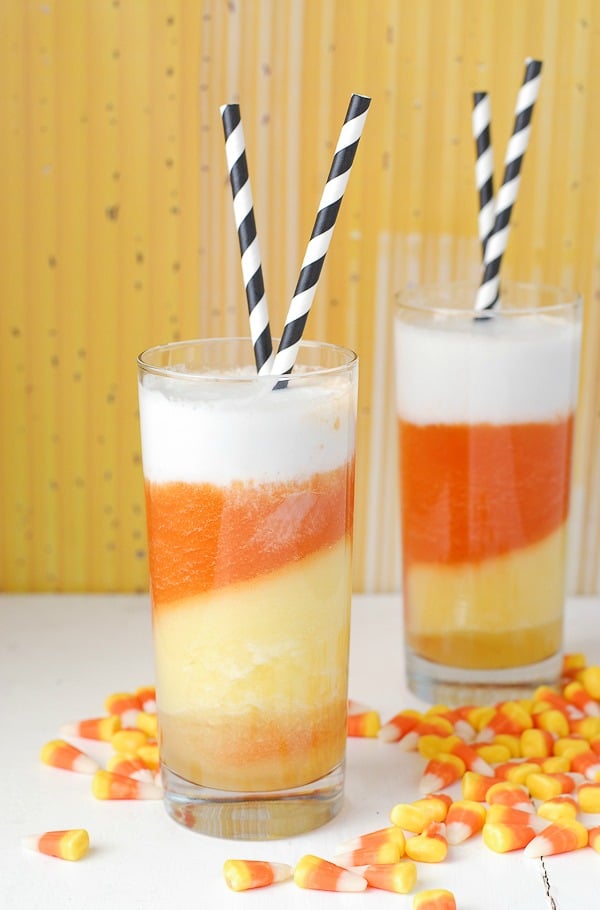 This delicious tropical smoothie is made more fun by layering it in candy corn colors. The trick to successful layering lies in chilling between layers as well as slightly tilting the glass then turning it upright as the liquid is slowly poured. Pouring it too quickly or using a funnel results in more of a pop art mixing of the layers which is also fun!
The smoothie is delicious when mixed together and sweeteners may be added to meet your preference. For the white layer banana may also be used but will not result in a pure white layer.
More recipes featuring Candy Corn as an ingredient or an inspiration: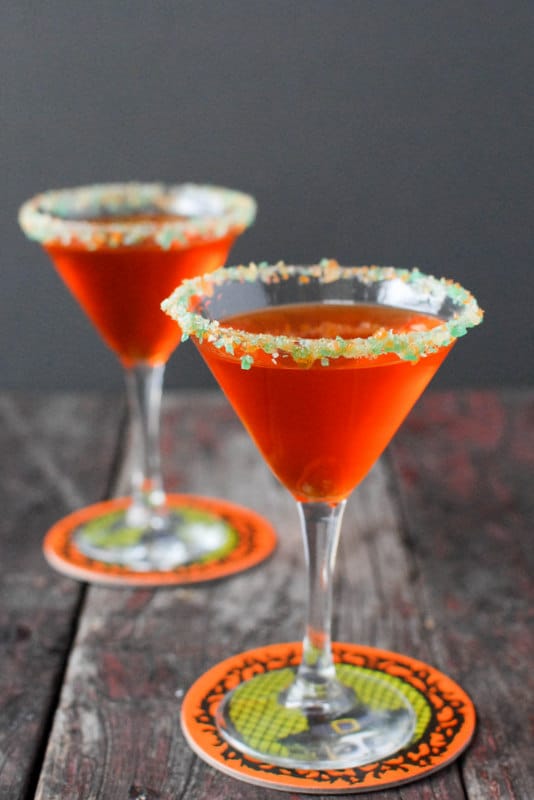 Candy Corn Vodka plus Candy Corn Vodka Martini with a Pop Rocks rim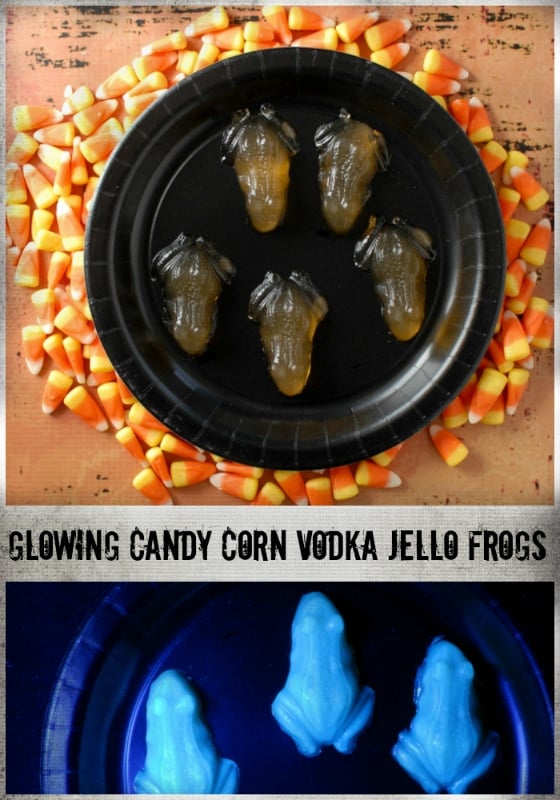 Glowing Candy Corn Vodka Jello Frogs {shots}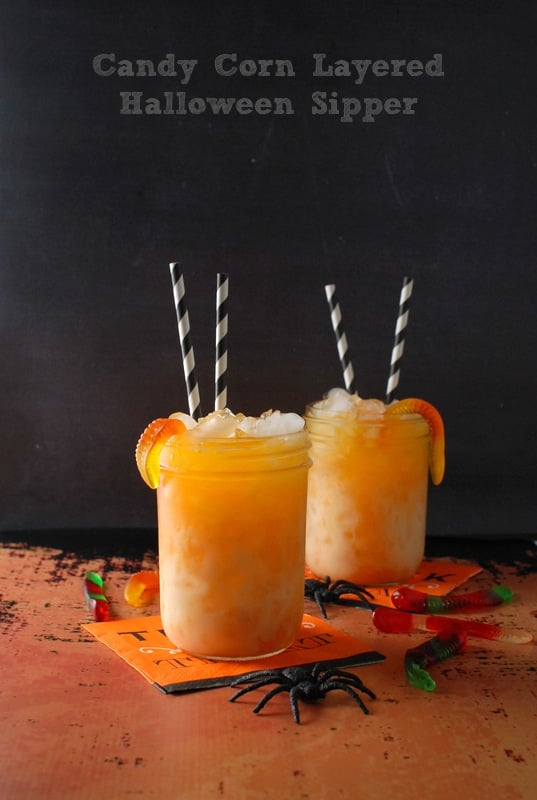 Candy Corn Layered Halloween Sipper {non-alcoholic}