Two iconic New Orleans desserts rolled into one luscious comfort food dessert: Gluten-Free Bananas Foster Bread Pudding. Rich flavors of caramelized bananas, silky custard, golden brown crust topped with a dollop of vanilla ice cream.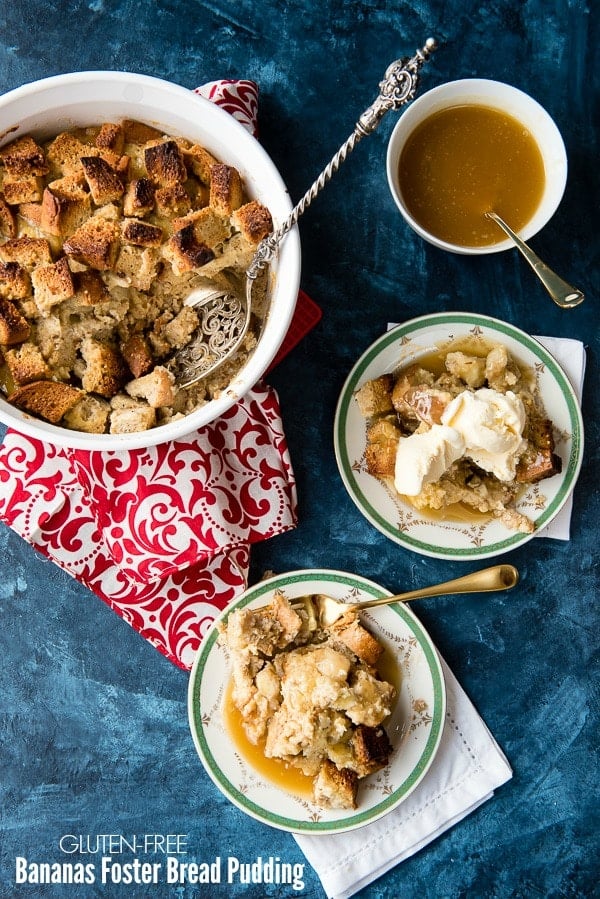 This post is sponsored as part of Boulder Locavore's ongoing partnership with Udi's Gluten Free. All opinions are my own.
A completely fun and festive holiday is right around the corner and I have created a special dessert in its honor! Mardi Gras, or 'Fat Tuesday', has always fascinated me. The riot of color, the pageantry and of course the food! I've combined two iconic New Orleans desserts into one luscious treat that is easy to make and irresistible: Gluten-Free Bananas Foster Bread Pudding.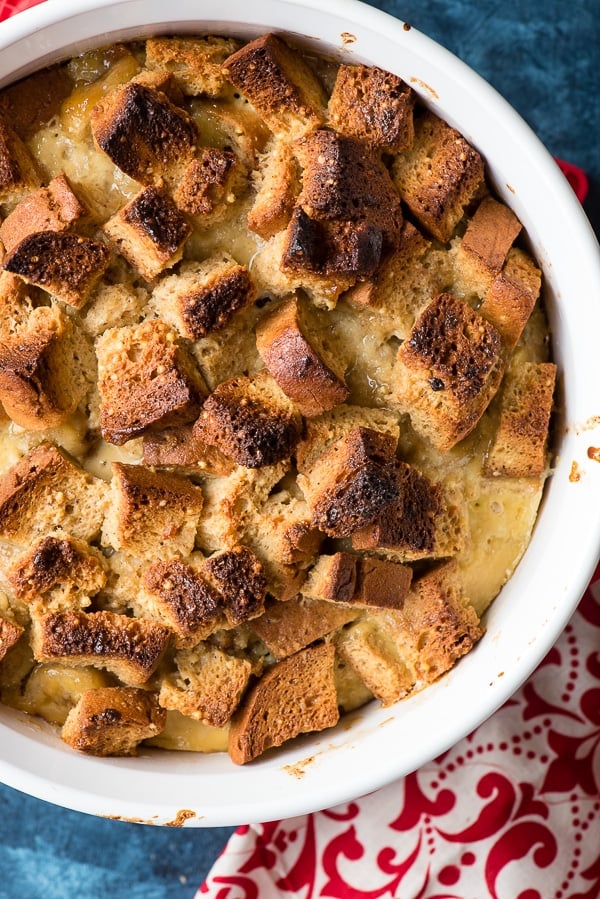 For anyone who has not had bread pudding, it's a combination of bread cubes soaked in a custard base and cooked in a water bath. The end result is a one of the best comfort foods on the planet (so says me). A silky, moist, cake-like consistency with a golden brown crisp top from baking.
Originally bread pudding was created as a means to use up stale bread. Leftover heels and neglected partial loaves that had dried out were transformed like Cinderella into this fantastic dessert. I for one am not going to wait for bread to go stale to make this mouthwatering dessert; I suggest you don't either!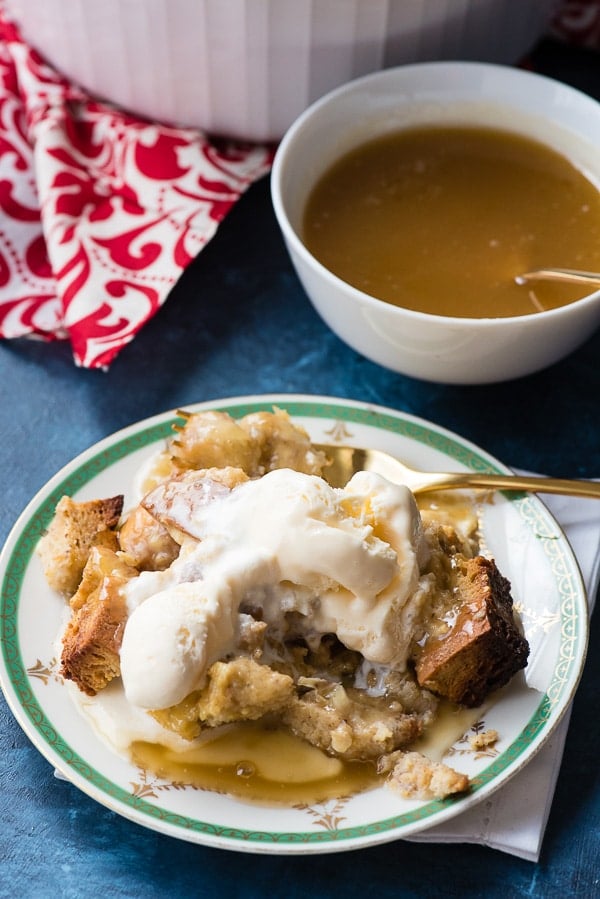 My trick is to cut up bread into cubes and leave it out, uncovered, on a baking sheet overnight. By the morning, the bread has become dry and a bit hard which is perfect for soaking up the milk, eggs, vanilla, rum, sugar and more!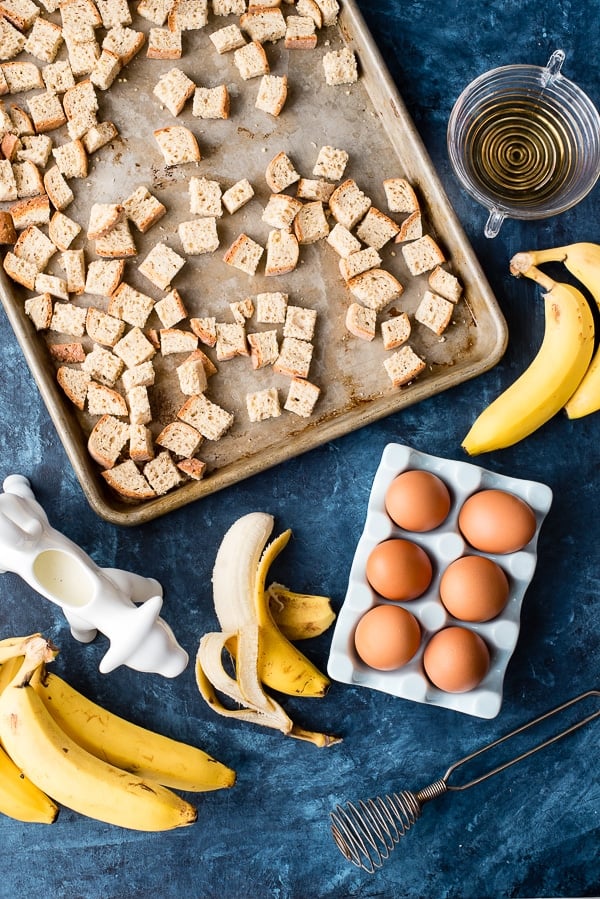 Historically bread pudding was not a dessert readily found in gluten-free form but I've taken care of that today! For this recipe I've used a loaf of Udi's Gluten Free Millet-Chia Bread. One loaf cut into cubes is the perfect amount for a batch of bread pudding (volume equivalents in the recipe). The bread has a substantial consistency and when it's dried overnight the cubes have a perfect texture for the bread pudding. I love the extra crunch the millet adds to the crispy golden top too.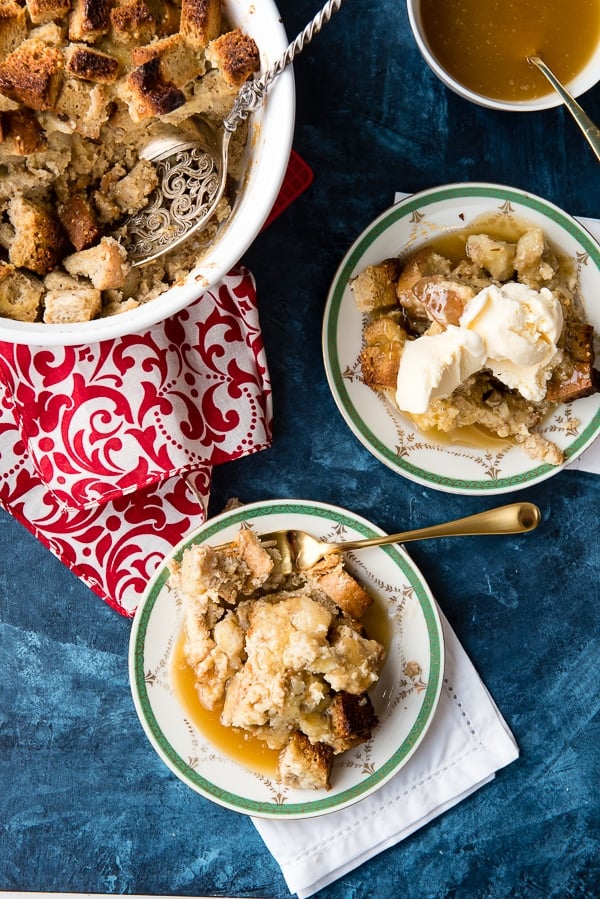 Typically bread pudding is served with vanilla ice cream, whipping cream and/or a rum sauce. Likewise, with Bananas Foster which has a boozy, caramel sauce from the preparation. Gluten-Free Bananas Foster Bread Pudding is no exception. Hot out of the oven with a drizzle of Butter Rum Toffee Sauce and a scoop of vanilla ice cream really is heavenly.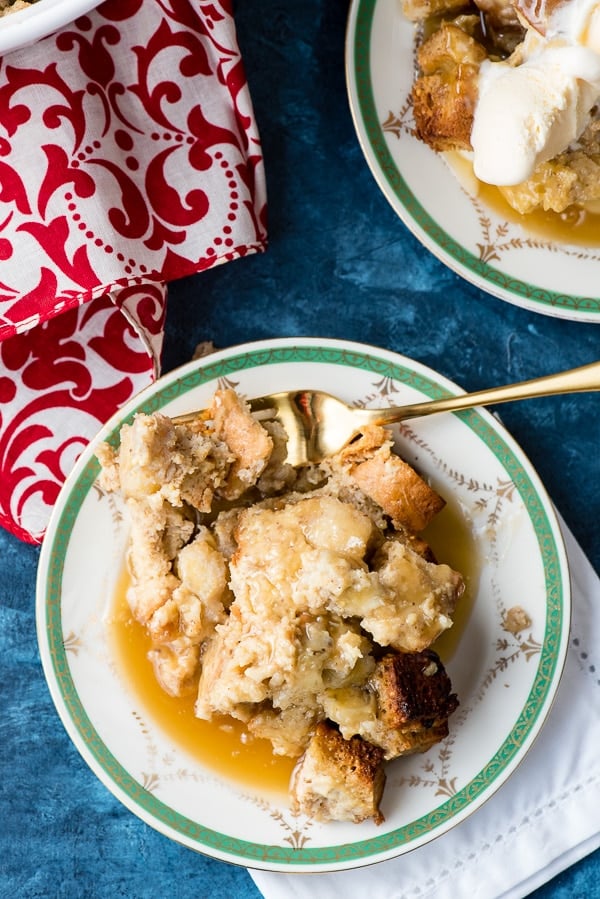 Though there is a scant 2 tablespoons of rum and banana liqueur combines, I realize not everyone is comfortable putting alcohol in desserts or may want flexibility to serve it to children as well. Should you wish to substitute extract for the rum and banana liqueur, use 1 ½ teaspoons of rum extract and 1 teaspoon of banana extract.
More fun recipes for Mardi Gras include: Classic New Orleans Brandy Milk Punch (cocktail), Gluten-Free King Cake (including the good luck baby inside), Slow Cooker Louisiana Red Beans and Rice and Classic Bananas Foster.
This Gluten-Free Bananas Foster Bread Pudding recipe marries all the favorite flavors from Bananas Foster with the silky, luscious textures of bread pudding. It's easy to make and adds a fun surprise to any meal.