Can you think of a more American dessert recipe than apple pie?  Now you can enjoy those iconic flavors in American Apple Pie Ice Cream Floats made with hard cider or sparkling apple cider!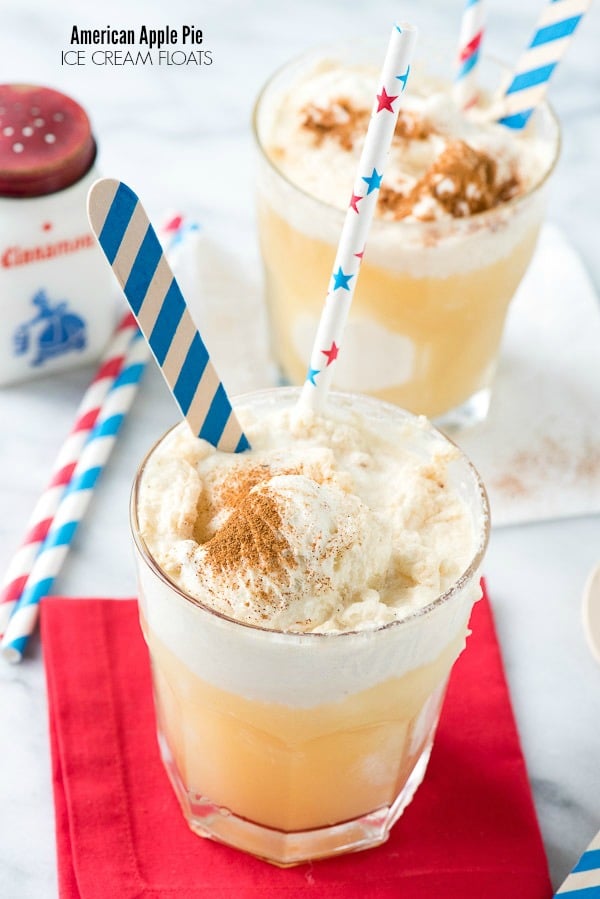 It's been a long time since I've had a 'sleepover' and can't ever recall sharing a queen size bed with a colleague I'd never met live before.  That all changed earlier this month when I headed an hour north to Ft. Collins, Colorado for a 'blogger sleepover'.  Eight food bloggers (five of whom were from out of state) gathered to collaborate on best practices, problem solving as well as have some fun over great food and drink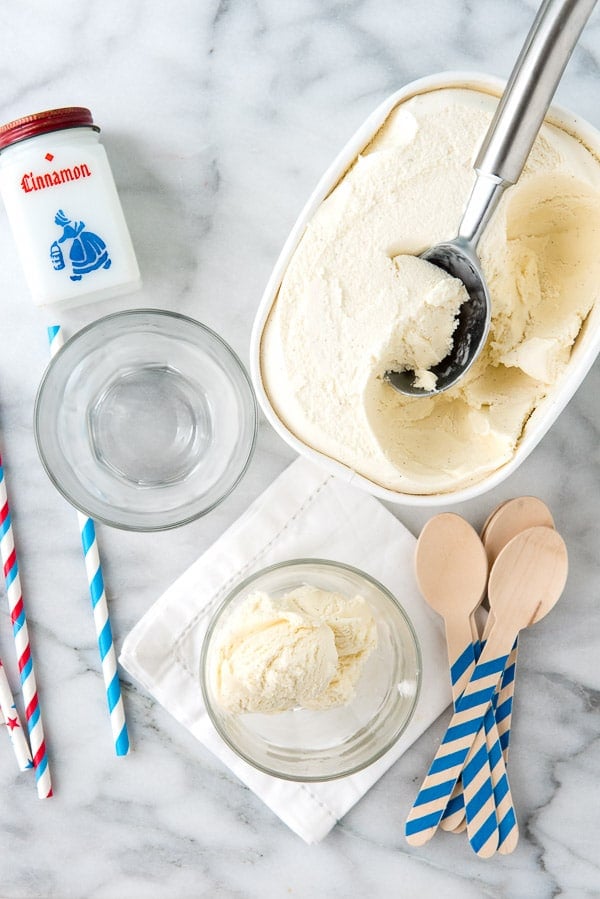 On one of our food outings was to Stuft Burger Bar, were we enjoyed a paired tasting of sliders and beer.  Stuft Burger Bar has the only certified Cicerone chef in Northern Colorado, meaning he's certified in pairing beer with food.  The tasting menu was innovative and got big kudos from my colleagues.  Being gluten-free however I wasn't able to taste everything.  I did enjoy two of the sliders with a gluten-free bun and some hard cider.
The crowning glory of the tasting was a dessert stout beer ice cream float.  Feeling badly, I couldn't partake the restaurant owner, Tiffany, asked if she could bring me some ice cream.  I was pretty full and politely declined.  Still feeling badly, she brought me a small glass with some vanilla ice cream anyway.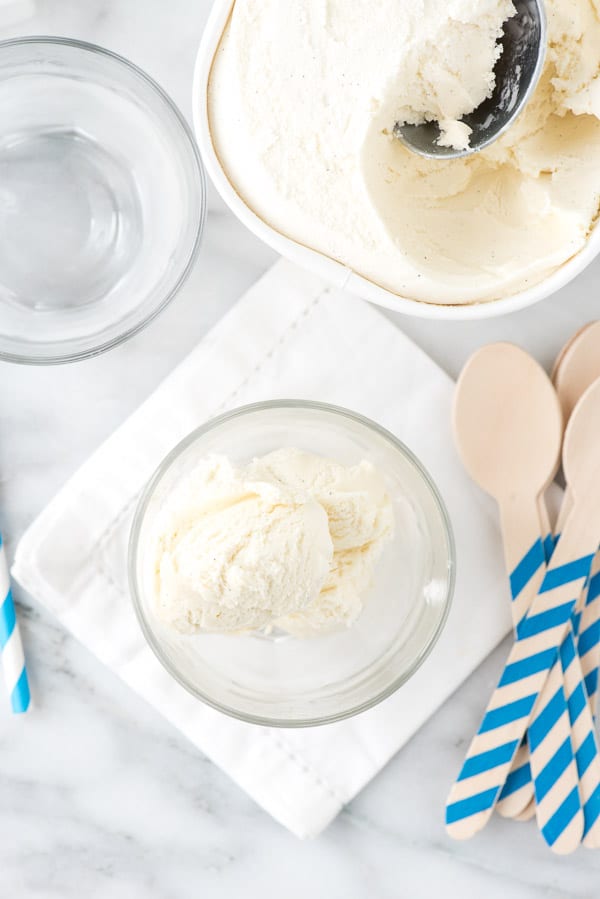 Stuft Burger Bar is all about combining almost any imaginable ingredients into a burger of your choice.  Tiffany had been telling us that patrons will often consult on her opinion of some of their ideas for combo's, leaving her well-practiced at honestly letting them know if their ideas won't really create an appealing outcome.
When she brought the ice cream I was sparked with an idea; could I make a float with the hard cider?  Tiffany's first thought was not so much.  But as we talked about it the flavor idea began to take hold and she scurried off to the kitchen to fetch some cinnamon, thinking it actually would taste like apple pie.  Low and behold, what initially sounded doubtful turned into a new favorite.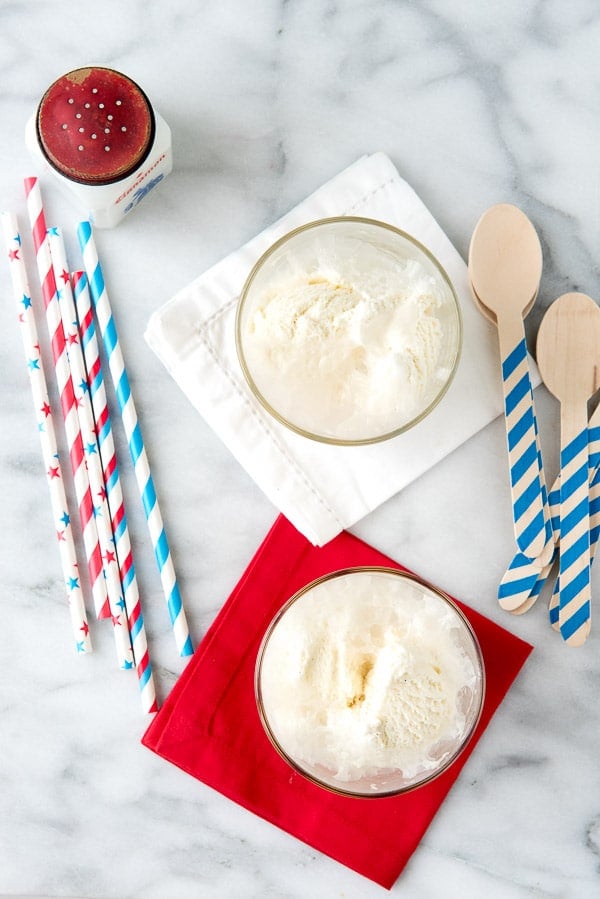 I knew I'd be sharing a food souvenir from the blogger sleepover and it that moment was clear what it would be: American Apple Pie Ice Cream Floats.  I was tempted to wait until fall to share the recipe when apple season is going full bore but just couldn't hold back!  They seemed a perfect recipe to kick off summer on Memorial Day weekend.  It can be made with boozy hard cider or regular sparking apple cider for kids or teetotalers.
Ice cream float recipes are not a perfect science and though I've supplied measurements for mine you can adjust as needed.  One trick I've shared before in Strawberry Ice Cream Lime Soda Floats and Strawberries and Cream Ice Cream Floats is that if you are serving a crowd, pre-freezing scooped ice cream balls makes quick work of assembling floats as well as delays the ice cream melting.  A great tip on a steamy summer day.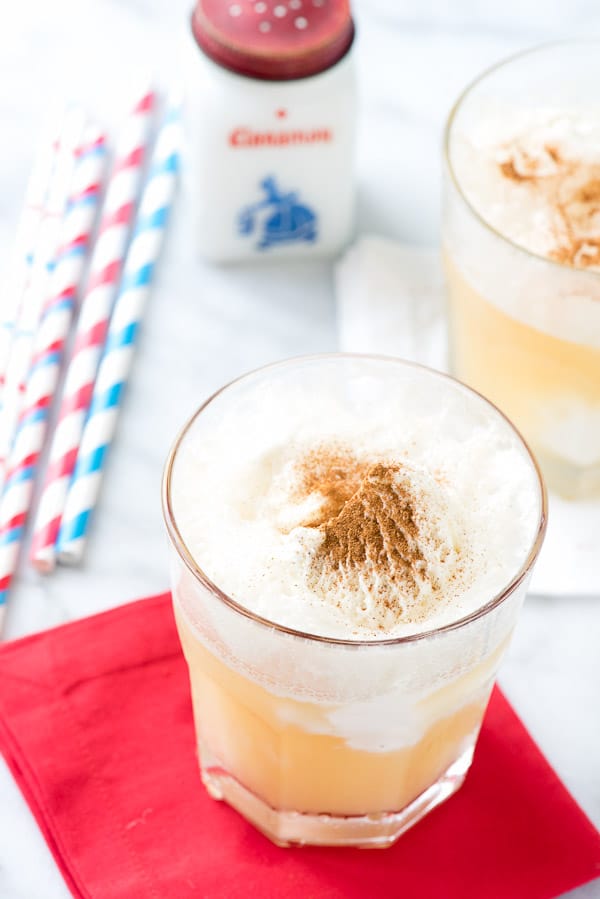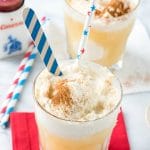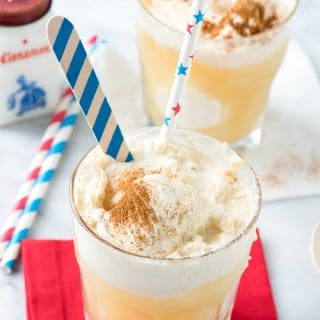 American Apple Pie Ice Cream Floats
This ice cream float has all the flavors of the iconic American dessert apple pie. It can be made boozy with .hard cider or sparkling apple cider based on your preferences. Great for parties and patriotic holidays
Servings
1
ice cream float (additional floats may be made by multiplying the ingredients)
Ingredients
3 2-

inch

diameter balls of Vanilla Ice Cream

(may be pre-frozen) (aproximately 1/2 cup)

6

ounces

Hard Apple Cider

(alcoholic) or Sparkling Apple Cider

large pinch ground Cinnamon
Instructions
Place a 12-ounce glass in the freezer for 15 minutes. Add ice cream balls to the glass and slowly fill with hard cider or sparkling cider. Allow foam to subside and add more cider. Sprinkle the cinnamon on top of the float.
My thanks to Gourmet Garden for sponsoring our sleepover.