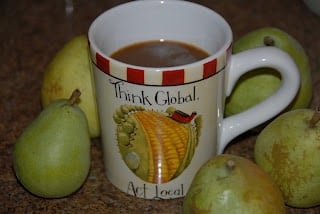 Today I was up far earlier than a civilized person should be on a Sunday morning.

I was joining a group to do the Race for the Cure, needed to get up at 5:30 and in the dim of my nocturnal disorientation I misread the clock and got up at 3:30 a.m.

Too awake to go back to sleep, not awake enough to do much of anything else I cracked open the paper online.
Much to my delight, the New York Times online was running an entire section on Canning, Pickling and Preserving.

Current articles and recipes as well as highlights from their archives.

As I flicked from one article to the next, heart racing and Tweeting a link to each one like a mad woman, I desperately wanted Elizabeth Montgomery to transact a Bewitched moment where the entire world is put on 'freeze' so I could dive headlong into every single article, hanging on every word and the visual they conjure, savoring my imagination of what was next for me to can.

After all, a girl can never have too vast a variety of home canned goods.
What struck me as I read through the articles was the chic of it all.

These are not our mother's canning recipes, nor intent.

Well maybe some are but spiffed up for sure.

The toniest of them all has to be Eugenia Bone author of 'Well Preserved'.

I loved the rebel-without-a-cause depiction of her younger years (which I feel confident included no 4-H meetings) giving way to canning as a means to capture food at its prime in her Soho apartment.

No Victory Garden to try to harvest; she shops at the Farmer's Market.

No gingham apron in the end for her just a passion to combine the most flavorful ingredients to make new foods that can be enjoyed all year. She's clearly part of the new canning cool, someone I'd love to follow around for a day but I think I might need to learn to smoke clove cigarettes first (without choking).
That really is the point of it all right?

The love of FLAVOR.

If it does not taste good, who cares if you've canned 50 pounds of it!

Yes you've saved your labors of garden love but aren't we all in this for the dining enjoyment?

There are way too many wonderful books of canning recipes and way too many online resources.

It's a canning Call to Arms. Time to step it up.

Make what you love, love what you make and try something new and fun!