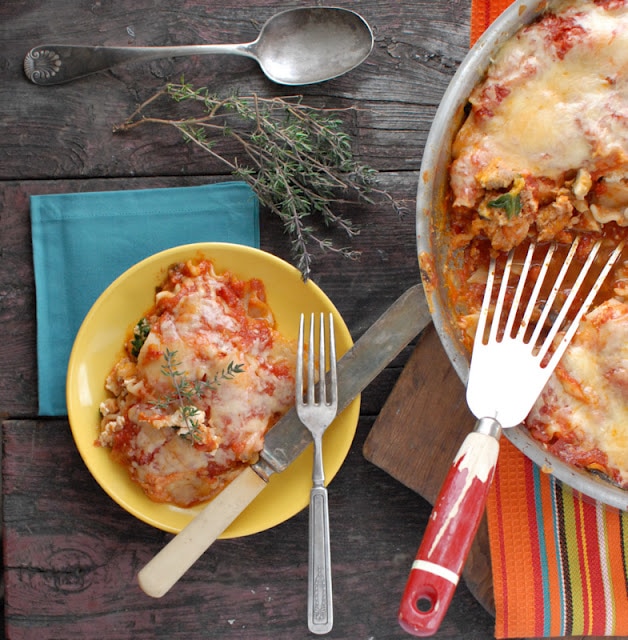 At the risk of sounding like a really cheesy Marketing campaign, one of the more challenging things I've done of late is waiting through taking photos of this lasagna before diving in head first.

 

I love lasagna and feel it is the quintessential cold-weather comfort food.

 

I don't make it a lot however because it takes forever to construct and to bake.
I discovered a wonderful alternative recipe for skillet lasagna and frankly was dubious.

 

It seemed gimmicky and too good to be true.

  

I was delighted however in the making that it transformed lasagna into an 'any night meal' by converting the regular two hour construction/baking commitment to more like 30-40 minutes total.

 

No joke.

 

And

all the cooking is on the stove top.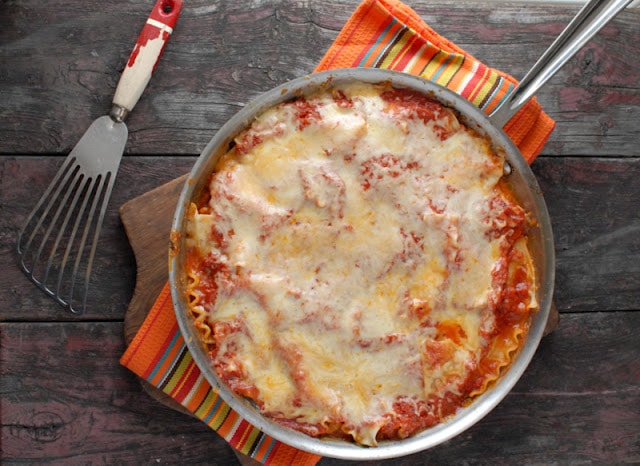 I feel people should really make food their own.

 

There is not enough time in life to eat food you don't love.

 

You can alter the ingredients for this recipe to make it work for you and even change it up every time you make it.

 

Here are some suggestions:
Vegetarian:
 

Replace the sausage with the same quantity of vegetables
Gluten Free
: Use gluten free lasagna (I've used Tinkyada and DeBoles and like both)
Don't Like Spicy
: Use mild Italian Sausage and a regular Marinara sauce
Hate Vegetables
:

 

You could add more sausage and cheese to make up for it but the vegetables do help develop more flavor!
Not sure what vegetables to use
:

 

The original recipe called for 1 ½ cups of zucchini which I don't love in lasagna and the original recipe was not spicy.

 

I wanted to stick with winter vegetables but other ideas would include: grated carrots, eggplant, sweet peppers, and other types of squash.
Want a lower fat version
:

 

Use skim ricotta and part-skim mozzarella.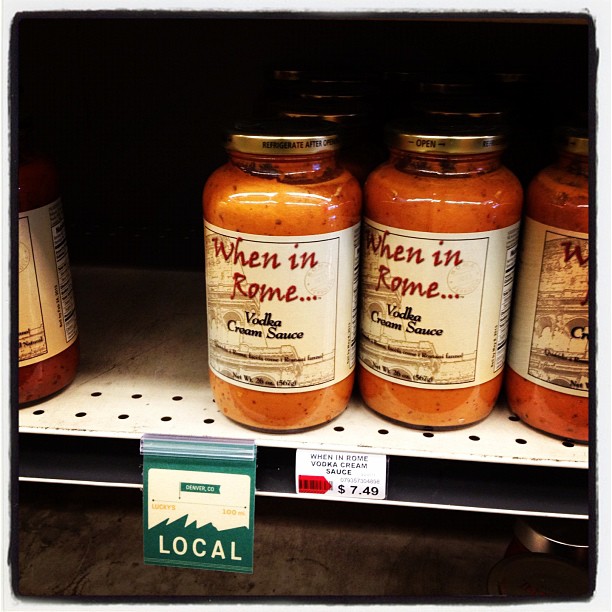 I will add I intended to use tomato sauce I canned for the recipe and was completely excited to find three Colorado local pasta sauce options at my neighborhood grocery store (Lucky's Market in North Boulder).

 

Spinelli's and When In Rome… pasta sauces hail from the Denver area and Gilberto's is from Ft. Collins.

 

Still finding myself twitchy when buying such products from non-local sources, I was thrilled at the new options.

 

I bagged the home-canned sauce for the Spinelli's Roasted Garlic Fra Diavolo (for those unfamiliar with this sauce it is a spicy sauce that has tomatoes, garlic and chilies in it).

 

It was great.

  

I will note local sauces can be more expensive than mega producer's sauce.

 

There was a $2-$2.50 per bottle difference with the local sauces being more expensive.

 

Usually these sources are much smaller scale, so you are really buying a food artisan product.

 

It's always a personal purchasing decision but I love that there are options for locavores.

 

An additional 'locavore nod' to Lucky's Market; they have begun specifically labeling local sources throughout their store (and have their own farm that feeds some of the produce they carry).

 

Love that.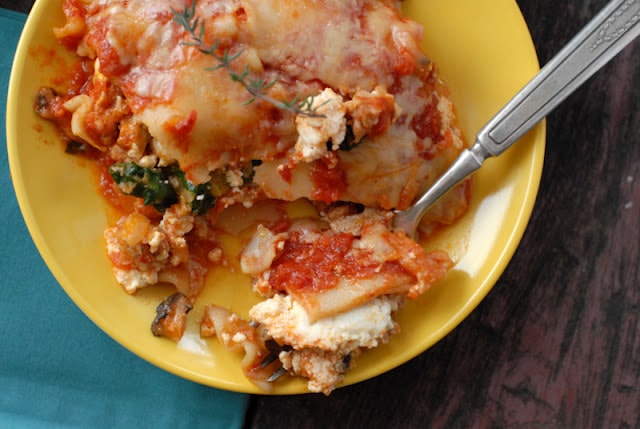 Adapted from Country Home magazine (2008)
·

        
6-7 dried lasagna noodles (gluten free or gluten-filled), broken into 2-3 inch segments
·

        
12 ounces bulk Italian Sausage (spicy or regular)
·

        
½ cup chopped yellow onion
·

        
1 ½ cups chopped vegetables:

 

My choice:
o

  
-1/2 cup packed loose spinach leaves, rinsed and torn
o

  
-1/2 cup butternut squash puree (or fresh grated)
o

  
-1/2 cup finely chopped mixed mushrooms
·

        
26 ounces

 

Fra Diavolo ('Brother Devil') pasta sauce
·

        
1 cup ricotta cheese
·

        
¾ cup grated mozzarella or grated Italian blend cheese
·

        
2 tablespoons grated Parmesan or Romano cheese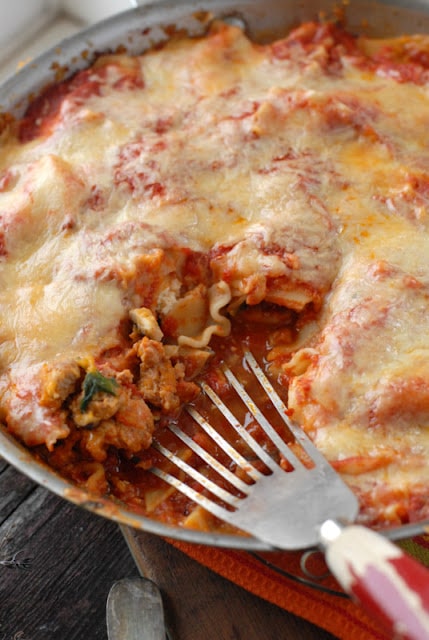 1.
 

Boil lasagna according to the package details.

 

Drain.
2.
(While the lasagna noodles are boiling….)
In a 12 inch skillet cook the sausage and onion over medium heat until the sausage is no longer pink.

 

Break sausage up while cooking so it is in small pieces.
3.
Add the vegetables and sauté for 2-3 minutes until they've begun to cook and are mixed fully with the sausage.

 

Drain any fat and remove from skillet.
4.
Pour 3 ounces of the pasta sauce into the bottom of the same skillet and spread to lightly coat.
5.
Arrange half of the boiled lasagna noodles on top of the sauce.

 
6.
Cover with half of the remaining sauce (approximately 6 ½ ounces).
7.
Spoon meat mixture evenly on top of the pasta sauce.
8.
Spoon ricotta cheese over the meat mixture in small mounds and sprinkle with ¼ cup of the mozzarella cheese.
9.
Place the remaining lasagna noodles on the cheese layer.
10.
Top with remaining pasta sauce then mozzarella cheese.

 

Sprinkle with Parmesan or Romano to top.
11.
Over medium heat cook lasagna, covered, for approximately 10 minutes or until warmed through and cheese has melted.

 

Remove from heat.

 

Let stand 5 minutes uncovered before serving.