Slow cookers are fantastic for hands-0ff cooking, and not just for savory comfort food! Slow Cooker Light Almond Milk Tapioca Pudding is a creamy, filling classic dessert changed up to be dairy-free and easy in the crock pot!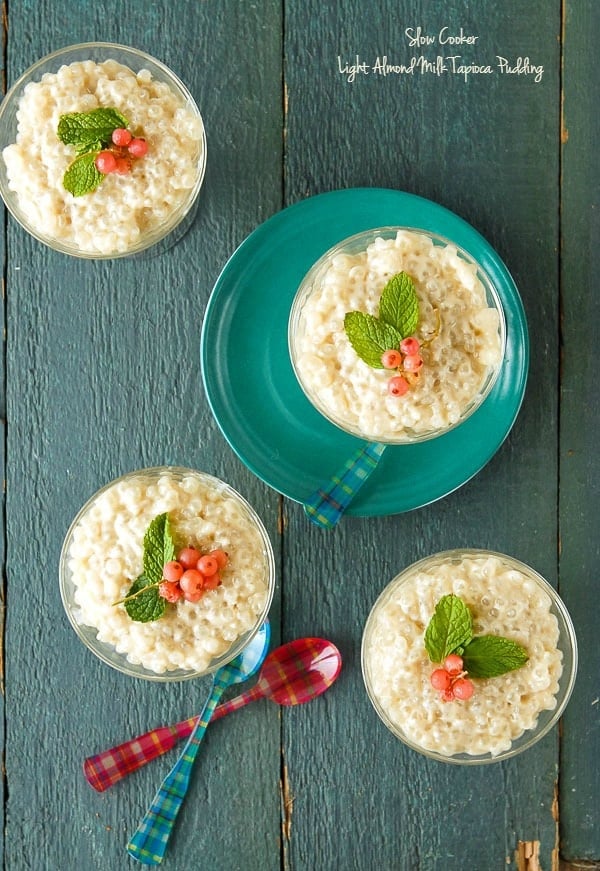 This post is sponsored by Silk. All opinions are my own.
Something I love about January is the opportunity for reinvention. I'm not a diligent resolution-maker but do feel the effects of beginning a new year. A bit like completing a chapter in a book, when the last page turns everything does feel fresh. It's a natural time for reflection, renewed resolve about healthy habits developed over the prior year as well as trying on new things (like the Slow Cooker Light Almond Milk Tapioca Pudding), experimenting, and freshening-up life a bit.
I keep a running mental list of new things I want to try and foods I want to make. I find I can get into a rut like a trail horse walking the same route repeatedly day after day. Routine does not play to my strengths and I'm most happy when mixing things up. Lately I've wanted to incorporate more healthy plant-based options into our family diet for the health benefits but also to stretch my knowledge and recipe options.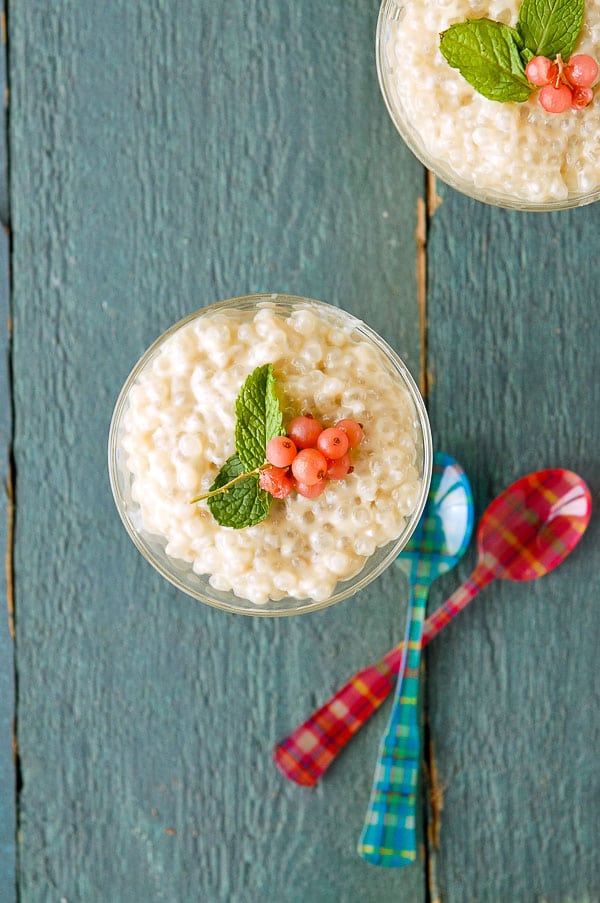 Plant-based recipes include dessert: Slow Cooker Light Almond Milk Tapioca Pudding!
I've always felt best with a high amount of plants in my diet but that gets off kilter during the holidays. The fact that chocolate comes from a plant seems to migrate it into that category as well! I'm starting my year off eating lower fat, lower sugar foods and focusing on natural whole foods. Another goal of mine is to get smarter about is time; I simply don't have enough of it. I want to develop unique recipes and meals which offer flavor and nutrition without hours of preparation.
I needed to whip up a dessert for this week and candidly am burnt out on rich, decadent sweets. My family loves Tapioca which I don't make often not wishing to stand over the stove attending to it's demands. I decided to change it up in a few ways. First off I made it in the slow cooker; perfect!
No slaving over the stove. And secondly, instead of cow milk I used Silk's Almondmilk Light which has a 1/3 fewer calories than the original almond milk. Almond milk has sweetener added so the amount of sugar needed in the tapioca is reduced. The Slow Cooker Light Almond Milk Tapioca Pudding was born!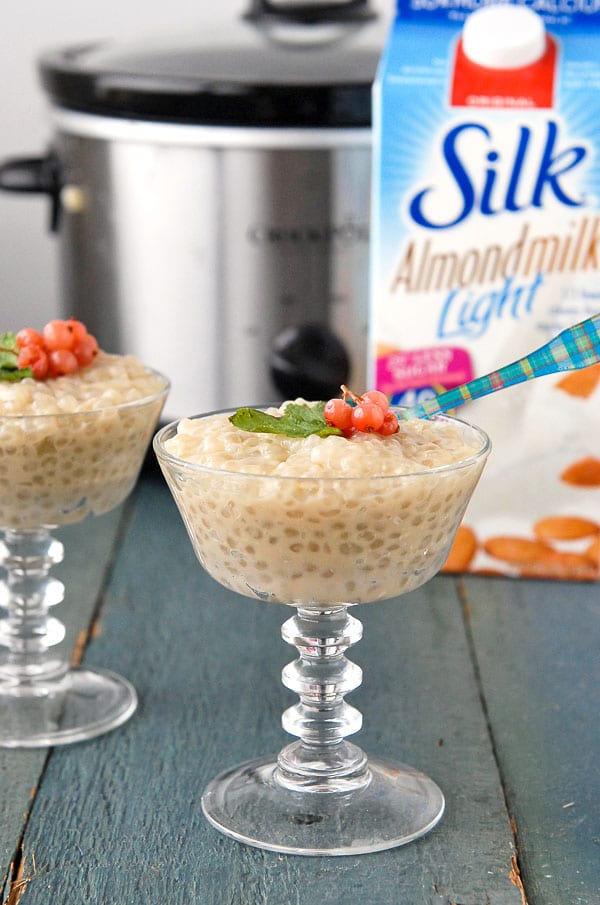 Cows Milk vs Silk Almondmilk
Out of curiosity I compared the nutritional content of Low Fat Cow Milk and Almondmilk Light to learn for a 1 cup serving both the low fat cow milk and Silk Almondmilk Light have 2 grams of fat, however the Almondmilk Light has only 5 grams of overall Carbohydrate (low fat cow milk = 13 grams), 0 cholesterol (low fat cow milk = 12 mg) and 40 calories (low fat cow milk = 102).
Normally I make tapioca with whole cow milk (higher in fat and calories than low fat cow milk), so I was excited about the idea of reducing the fat and getting the calories and cholesterol down from my usual on-stove recipe. The texture of this recipe just as creamy as the original old-school tapioca we all love !
How to make Slow Cooker Light Almond Milk Tapioca Pudding:
One would never guess this effortless recipe for classic Slow Cooker Light Almond Milk Tapioca Pudding recipe did not require you to slave over a hot stove!
Prepared in the slow cooker, this almond milk tapioca requires little attention and turns out like our favorite comfort food desert should! It's creamy and satisfying. Made lighter with non-dairy light Almond Milk, it's as creamy as ever with less calories too.
How to make Slow Cooker Light Almond Milk Tapioca Pudding – Step by Step:
Spray the insert of a slow cooker and add the sugar, almond milk and tapioca pearls. Stir to combine. It cooks on low for three hours (OR until the tapioca has become transparent), being stirred once per hour to keep the tapioca pearls and liquid incorporated.
How to add Eggs to the Tapioca to Prevent Scrambling:
The eggs and vanilla are combined in a medium mixing bowl and whisked together. One cup of the tapioca mixture is taken from the slow cooker; half is added to the egg mixture and whisked together. The remaining half cup is then added and whisked together. NOTE: if the egg mixture is added directly to the slow cooker, the eggs will scramble.
The egg/tapioca mixture is added back to the slow cooker to cook an additional 30 minutes. Remove the almond milk tapioca from the slow cooker and chill until set!
More Dairy Free Desserts You'll Love:
If you've tried this Slow Cooker Light Almond Milk Tapioca Pudding or any other recipe on BoulderLocavore.com please don't forget to rate the recipe and let me know where you found it in the comments below, I love hearing from you! You can also FOLLOW ME FACEBOOK, TWITTER, INSTAGRAM and PINTEREST to see more delicious food and what I'm up to!