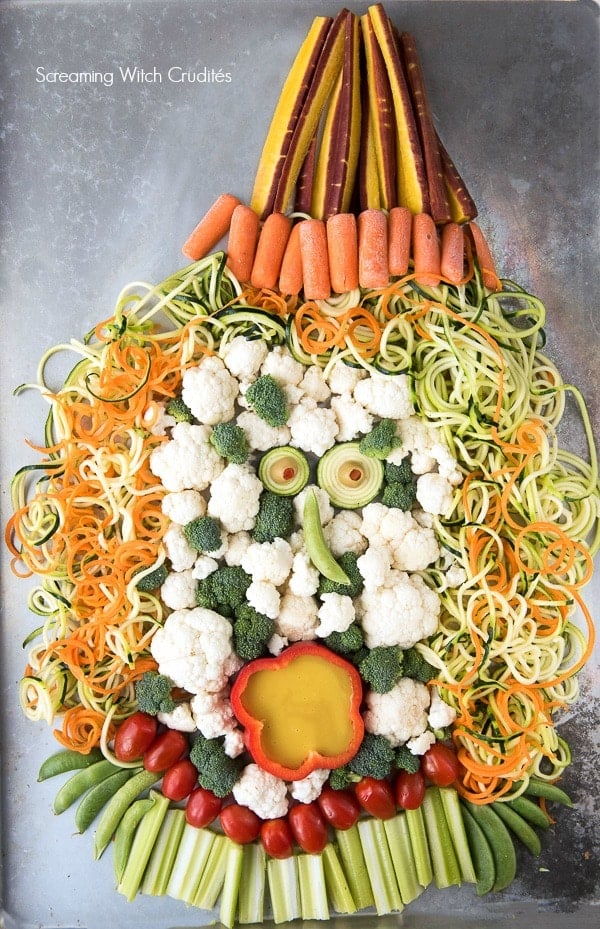 Halloween celebrations always need some fresh, healthy options in my opinion. Sugar begets sugar in the craving department and it can become a roller coaster of sucrose highs followed by lethargic, depressive lows if something with substance isn't wedged in between treats.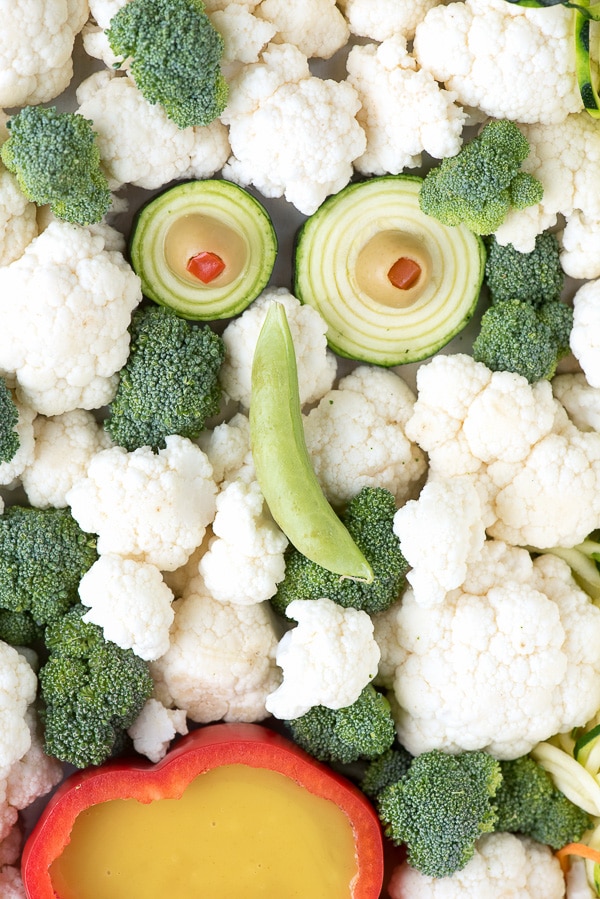 Last year I created a Freaky Halloween Salad with a mixture of odd looking cruciferous vegetables and sprialized carrots with a dressing served in a large syringe meant for liquor shots (they have everything at the pop up Halloween stores, believe me). I made layered Candy Corn Tropical Smoothies too for the festive benefit of the iconic candy corn without the sugar. This year I was inspired by the popularity of spiralizer recipes. I have a dedicated Spiralizer Pinterest board, loving to use my own spiralizer and the recipes are always popular for repining. This popularity lead me to believe that if I spiralized something healthy for a Halloween buffet, I'm probably not the only one who would be interested.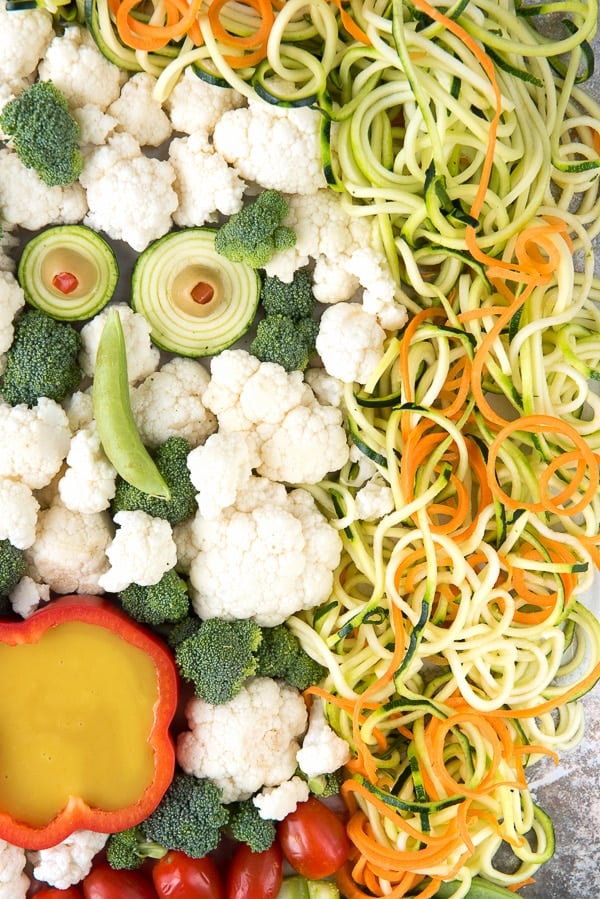 How I jumped from that stream of thought to Screaming Witch Crudités, is a process I can't describe. The inner workings of my muse remain a mystery even to me. As I began to fashion this witchy appetizer it reminded me of paintings I'd seen at the Denver Art Museum by painter Giuseppe Arcimboldo from the 1500's in which he fashioned people's faces out of vegetables and fruits. I've always been mesmerized by the notion to create such works and all the produce he chose to create realistic portraiture. Incidentally, I'm not daring to compare my creation for something that grand by any means. My 'art' is merely meant to festively line stomachs, little and big alike, with fresh vegetables dipped in a witches mouth for dressing.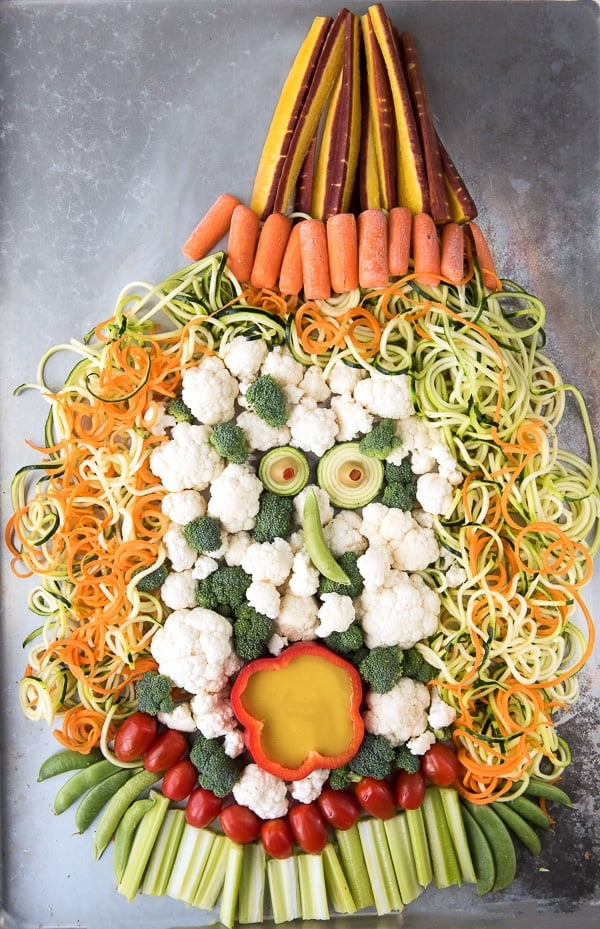 The Screaming Witch shown here is for a crowd. Made on a 26-inch by 18-inch tray, my witch is large. The portions may be scaled to whatever size group you are feeding. I stuck to dippable vegetables and though the spiralized Zucchini and Carrot hair is a bit unwieldy to dip it can be cut into smaller pieces and wound around forks is one is so inclined.
I think she makes a fun statement on the Halloween table and offers a compelling reason to grab a few bites in between Trick-or-Treat rounds as well!
Recipe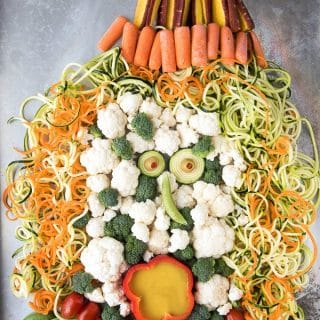 Screaming Witch Crudités for Halloween
Vegetables CAN be fun! A simple untraditional arrangement converts a platter of vegetables from a 'should eat' to a fun eat when they look like a witch! And you can dip them in her mouth. This recipe can be adjusted for any size platter or gathering. The version shown and detailed in the ingredients feeds a crowd. For scale it is on a 26-inch by 18-inch tray. Feel free to modify based on your needs.
Print
Save Recipe
Recipe Saved!
Pin
Rate
Ingredients
2

medium Zucchini squash

, spiralized (no peeling required) (reserve two of the zucchini ends for the witches eyes, cutting the circular piece of squash from the spiralizer hole flush with the end piece; refer to photos)

2

medium-large Carrots

, peeled and spiralized

1

head of Cauliflower

, broken into florets and sliced flat on the back side so they lay flat

2

stems of Broccoli

, broken/cut into florets and sliced on the back side so they lay flat

1

Green Olive stuffed with a Pimento

, sliced in half horizontally

10

Snap Peas

1

carton of Grape or Cherry Tomatoes

3

medium Carrots

(unique color if available; I used Dragon Carrots); peeled and sliced into quarters vertically

8

Baby Carrots

, sliced in half vertically

2-3

medium Celery Stalks

, trimmed, sliced vertically into thirds and into 3 inch lengths

1

medium-large Red Pepper

, slice in half horizontally, inside membrane and seeds removed (note: this will be the mouth/dressing container so select a pepper that sits flat without rocking)

Dressing of choice

(I recommend Ghoulish Green Goddess Dressing)
Instructions
Mix the spiralized zucchini and carrot together and make an upside down U on your serving platter. This will frame the witches face, and determine space for her hat and collar.

Place the two zucchini rounds in the spot for eyes on the witches face. Add half of the olive to the zucchini round for the iris and pupil. Add the red pepper mouth where it would go on the witches' face.

Begin to place pieces of cauliflower for the witches' bumpy skin, interspersing with broccoli for warts, like making a cruciferous mosaic to fill in the face around the eyes and mouth to the hairline.

Place 1 snap pea on the cauliflower for a nose.

To make the Witches' Hat: Stack the long carrots next to each other and on top of each other to form a triangle with the lower edges touching the top of the hair. Layer the cut baby carrots underneath the hat on top of the hair to form a brim.

Underneath the witches' face, line the tomatoes side by side as a necklace. Underneath the tomatoes place the celery sticks next to each other leaving a bit of space on with side to place the snap peas, fanning out.

When ready to serve, fill the witches' mouth with dressing!
Nutrition
Calories:
72
kcal
|
Carbohydrates:
14
g
|
Protein:
4
g
|
Fat:
0
g
|
Saturated Fat:
0
g
|
Cholesterol:
0
mg
|
Sodium:
87
mg
|
Potassium:
684
mg
|
Fiber:
5
g
|
Sugar:
5
g
|
Vitamin A:
7460
IU
|
Vitamin C:
139.1
mg
|
Calcium:
82
mg
|
Iron:
1.3
mg