Quick Fresh Peach Chutney is a perfect recipe to make when peaches are at their seasonal best.  A tangy chunky relish, chutney is a perfect condiment for spicy Indian curries, for a Ploughman's Lunch or as a side condiment for grilled meat.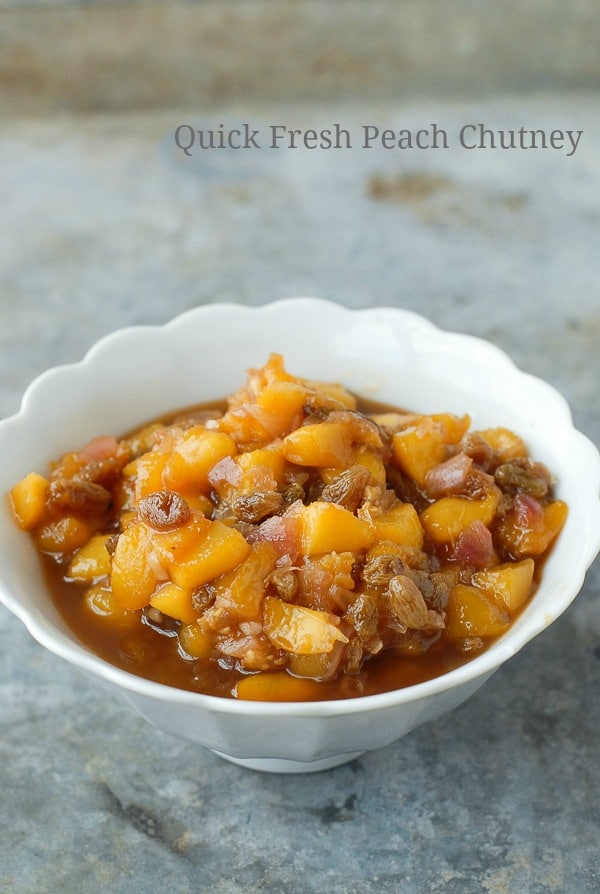 I'm not ready to concede to fall's arrival.  I realize it is September.  I know kids are back at school.  Even as if on cue the weather has cooled, bringing rain almost daily.  But I'm not ready to bid summer farewell.  Not just yet.
Having only arrived back from vacation less than two weeks ago, it was like waking up to summer's bounty when arriving home.  Peaches, corn and tomatoes in full swing, quite possibly at the peak of their perfection.  Though for me it was my first taste of summer and I'm now devouring them knowing in a week or so they'll be gone.  I've already seen pumpkin recipes on the internet.  That feels a bit like seeing Halloween décor in stores in June.  I just need a little bit more time to celebrate the late summer produce.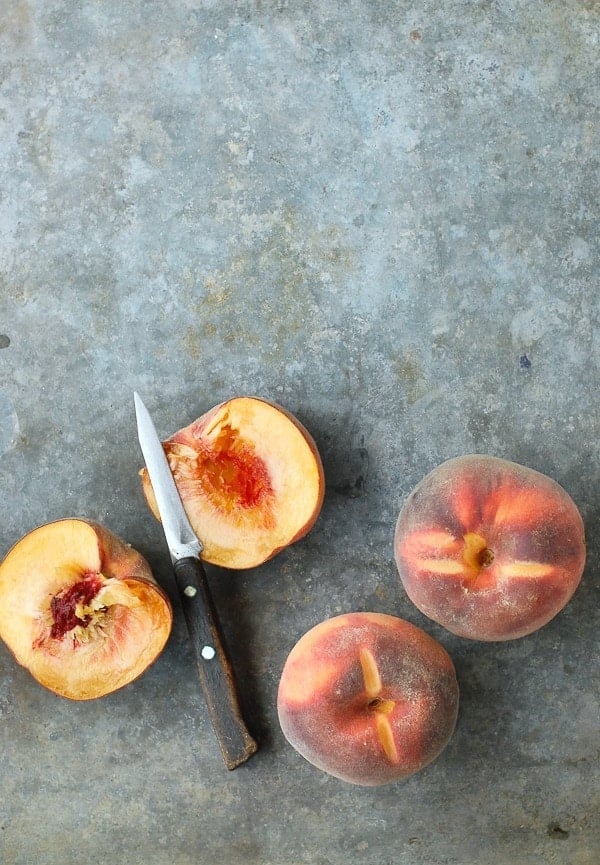 I have a few recipes upcoming that do just that.  This recipe is a standalone but also one that pairs with a curry recipe you'll see in a few days.  I love a good chutney.  The tanginess and depth of flavor and sweetness of the cooked fruit are soul food to me.  In the past I've made batches to can but I wanted to whip up a quick chutney that could be eaten the same day.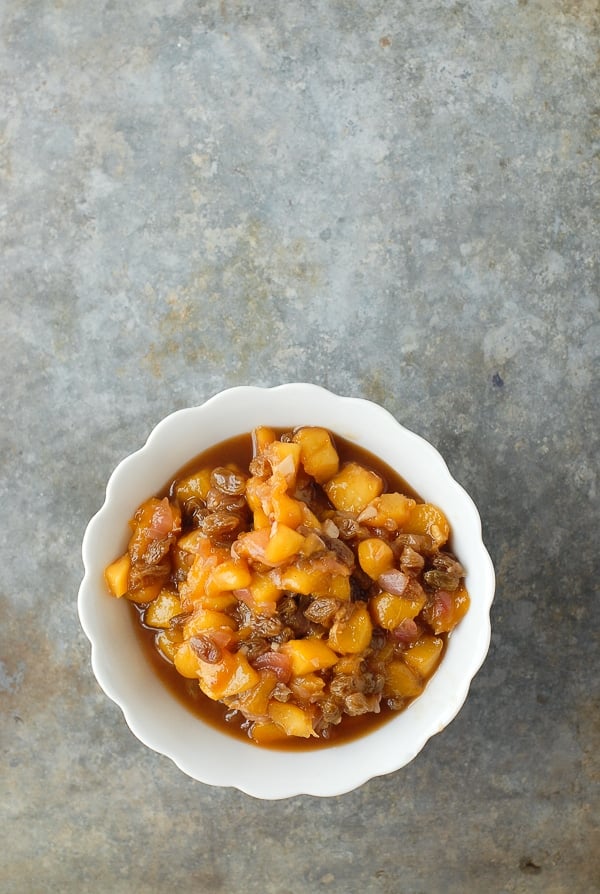 Chutney's are each changed up a bit by one's traditions or preference though each has common elements of vinegar, fruit or vegetable, a sweetener of some kind and spices.  It's common to add chilies for heat however I wanted this chutney to tame a spicy recipe so omitted those.  I love the fresher flavor of the peaches in this recipe, as did those in my household as it was gone lickety-split!
If this is your first experience of a chutney, you may think of it like a relish.  Chutney is wonderful over a curry dish, paired with meats or with a bold cheese and some crusty bread.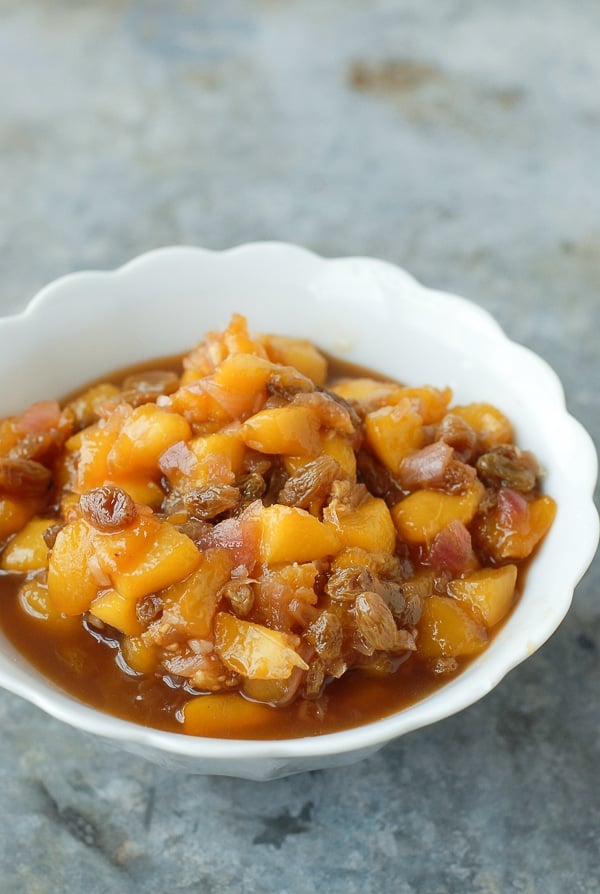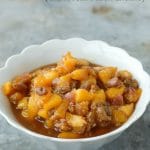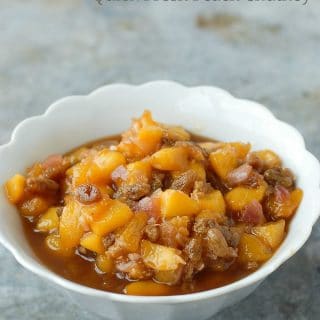 Quick Fresh Peach Chutney
Chutney is a wonderful addition to flavorful meats, curries and crusty bread and cheese. This Fresh Peach Chutney is whipped up in less than an hour , making it a great unexpected addition to any meal.
Servings
8
1/4 cup servings
Ingredients
1/2

cup

Apple Cider Vinegar

1/2

cup

Light Brown Sugar

3/4

cup

chopped Yellow Onion

(approximately 1 small onion)

1

tablespoon

diced Garlic cloves

1

tablespoon

peeled

, diced Ginger Root

1/3

cup

Golden Raisins

1/2

teaspoon

Kosher Salt

1 1/2

pounds

fresh ripe Peaches

(approximately 4-5 medium peaches), pitted, peeled and cut into small pieces
Instructions
Combine the vinegar and sugar in a medium saucepan over medium-high heat. Bring to a low boil while stirring to dissolve the sugar.

Reduce to a simmer and add the onion, garlic, ginger, raisins, and salt. Simmer for 10 minutes stirring periodically.

Add the peaches and simmer an additional 10 minutes or until peaches are cooked (firmer peaches will take longer).

Remove from heat and allow to stand for 15 minutes before serving. Leftover chutney may be stored in the refrigerator in a sealed container for up to a week. Once refrigerated the chutney will become thicker.
Nutrition Facts
Quick Fresh Peach Chutney
Amount Per Serving
Calories 114
% Daily Value*
Total Fat 0g 0%
Cholesterol 0mg 0%
Sodium 154mg 6%
Potassium 257mg 7%
Total Carbohydrates 28g 9%
Protein 1g 2%
* Percent Daily Values are based on a 2000 calorie diet.