Paneer Tikka Masala is a popular Indian restaurant dish that you can make easily at home! This Paneer Tikka Masala recipe is vegetarian and naturally gluten-free recipe, and will even teach you how to make your own cheese (in less than 10 minutes)!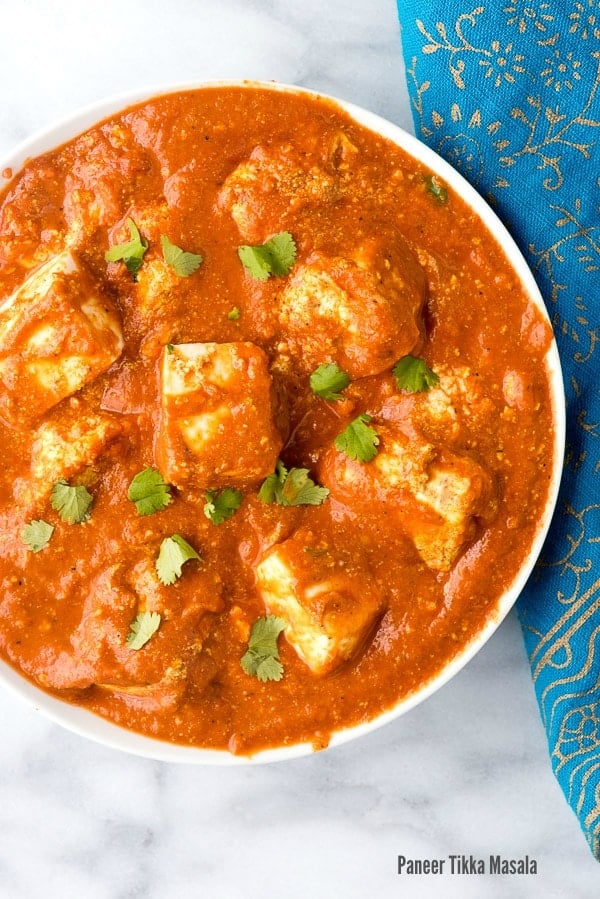 When I was in elementary school, we lived in a pretty run-of-the-mill suburban Americana neighborhood. Medium size homes lined up with little room in between. Children playing on front lawns and running between houses. Riding bikes to the neighborhood pool a few blocks away. It had a Leave It to Beaver meets the Brady Bunch sort of vibe and everyone was Caucasian. Not purposefully, just how it worked out.
Despite this it was a college town so there certainly were varied ethnic families, just not on my street. One day, our next door neighbors moved.
I really don't remember them and suspect they moved out shortly after we moved in, when I was in third grade. An Indian couple, the Bose's, moved in. I remember my first sighting of Mrs. Bose in her sari; she was the most exotic woman I'd ever seen! For those who aren't familiar with saris, they are a style of Eastern Indian dress made up of yards and yards of beautiful fabric that is wrapped around the waist into a floor-length skirt and then over the shoulder covering a midriff blouse. Always striking in appearance even if worn when weeding the garden as Mrs. Bose was often seen doing.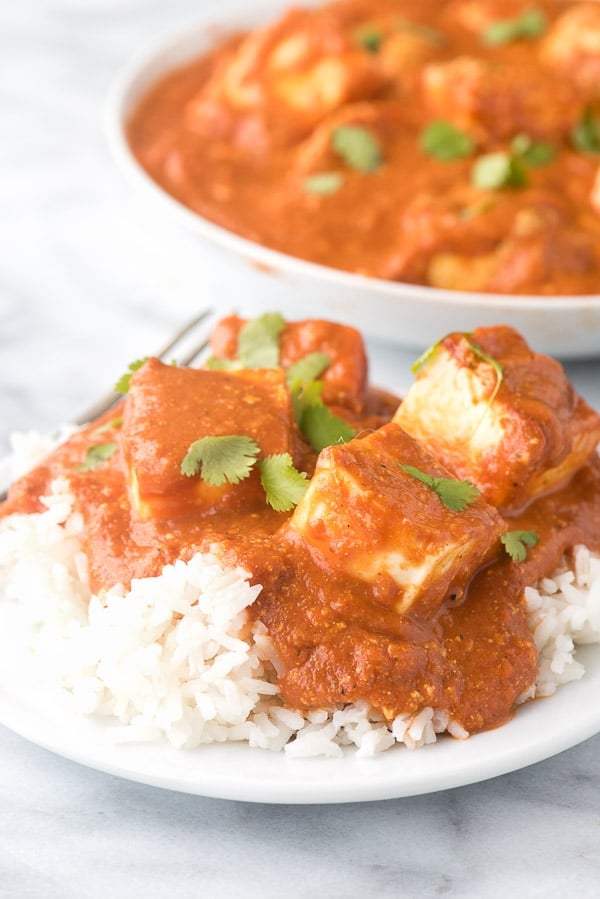 Ironically our next door neighbors on the other side had the last name 'Bash'. No kidding. What is the likelihood of the Bashes and the Dashes living next to each other? The mother was single and raising two girls younger than I. One day I noticed the girls parading down the street in saris of their own. Mrs. Bash (this predated the Ms. era) had paid Mrs. Bose to make saris for her girls. I was so envious, admiring their jewel tone outfits with gold threading in the most saturated shades of color imaginable.
One day I went to visit Mrs. Bose and when she opened the door I smelled the most intoxicating aroma coming from her kitchen. She invited me to come in as she finished making dinner for Mr. Bose. She was making what I know now was a Chicken Tikka Masala recipe. She invited me to try a little and I couldn't resist. To this day I remember the deep crimson and saffron coloring of the chicken and sauce, and the sheen from the oil in the cooking pan. The sultry flavors were a far cry from our favorite hot dog and boxed mac and cheese mainstay and I wanted to learn all about Indian food.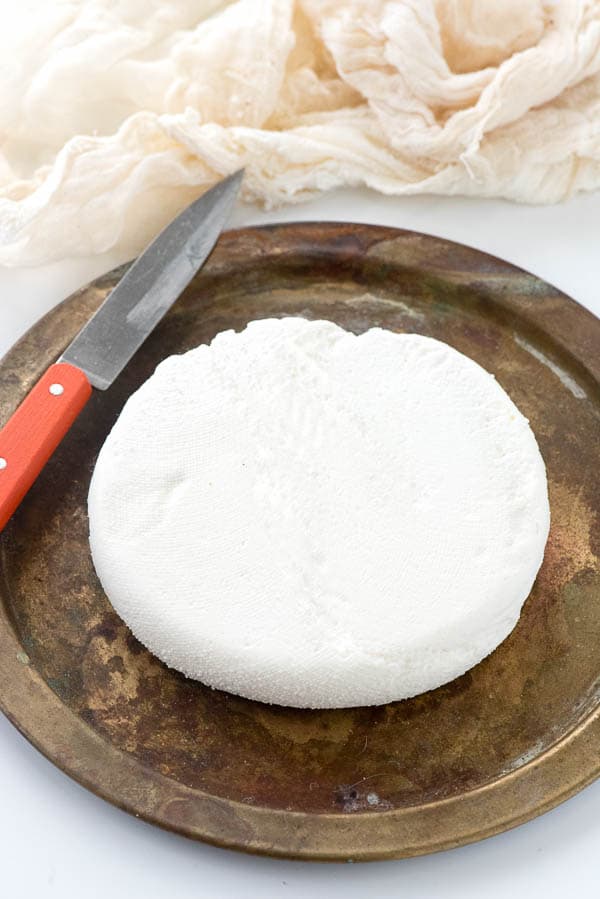 Mrs. Bose would invite me in often when she was cooking and let me try everything. One time the Bose's invited our family to accompany them to a large gathering of local Indian families. I did not know there were so many in our town but more importantly it was a pot luck and I did not realize how many delicious recipes there were to try.
After becoming gluten-free I really withdrew from eating out until I got my sea legs on about what types of cuisine were 'safe' or not. Fortunately for me, Indian food I largely naturally gluten-free. Like me, my gluten-free kids love it too. Though I tend to go out to eat it, there are a few dishes I like to make at home when I have the time. Paneer Tikka Masala is one of them. Paneer is a type of cheese which is very easy to make at home. It is marinated in the iconic flavors of other tikka masala dishes, grilled or pan fried then served in a curry-like gravy.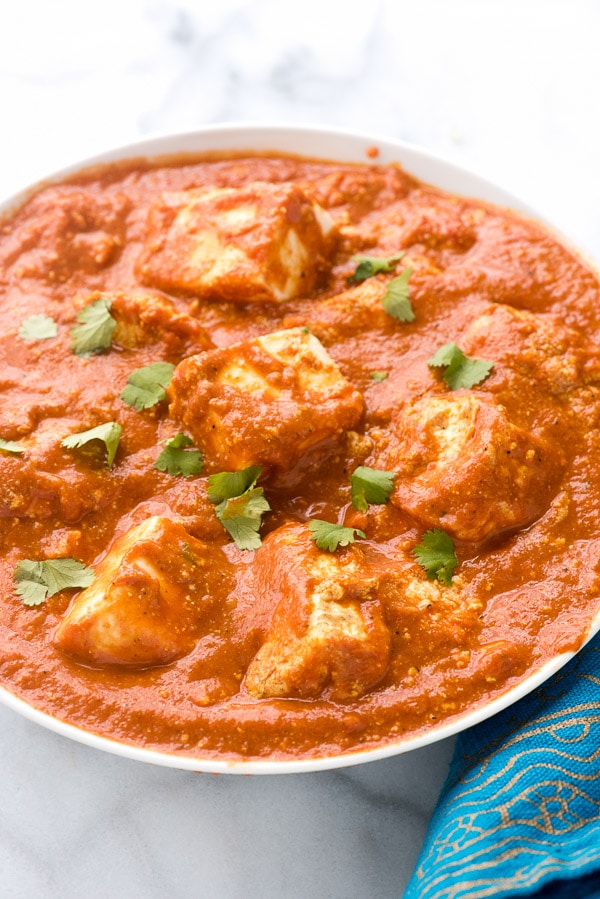 I feel like a cultural interloper in sharing this Paneer Tikka Masala recipe. I'm in no means an expert and as with many ethnic dishes, Paneer Tikka Masala has variations based on each cook or whether it is being prepared restaurant-style (with cut vegetables) or not. Regardless I love this dish and each time I make it I am back in Mrs. Bose's kitchen, admiring her crimson sari and kind brown eyes behind her black-framed glasses as she ladled a taste of what she was making for me to try.
Paneer Tikka Masala Recipe Notes
Alright, now I need to confess something. Generally, when I come upon a recipe with a long list of ingredients, I hightail it. I automatically think 'it's going to take FORever to make', or 'I don't have that kind of time', especially if it's a new-to-me recipe! Before you react similarly, I want to talk you off the ledge. Yes, there are many ingredients in this Paneer Tikka Masala recipe, but most are seasonings and spices, so they take mere minutes to combine. I've also incorporated some shortcuts!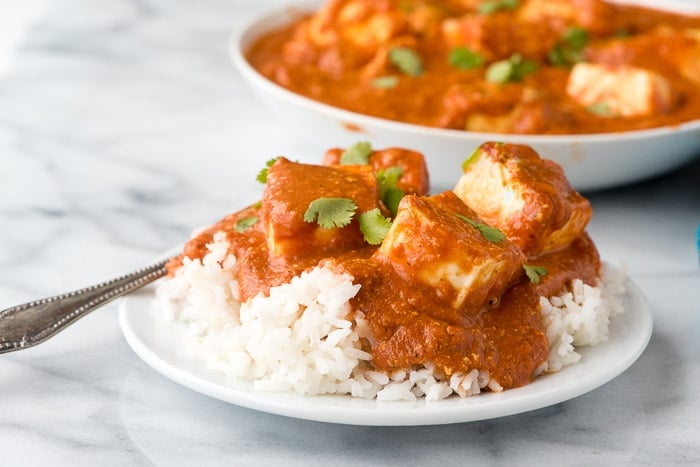 Have you noticed the prepared herb pastes in tubes in the produce section of the grocery store? My fridge is full of every kind. It saves peeling and dicing garlic, ginger or in this case using a mortar and pestle to turn herbs into a paste. The flavor is the same, but the time and effort is far less. Additionally, this recipe uses a short cut of starting with pureed tomatoes rather than making the sauce and pureeing it.
Making paneer really is simple too. The bulk of the time is with the paneer compressing in the fridge. Store purchased paneer may also be substituted.
Did you make it? Please RATE THE RECIPE below!
Please
SUBSCRIBE
and
FOLLOW ME
on
FACEBOOK
,
TWITTER
,
INSTAGRAM
and
PINTEREST
!
Recipe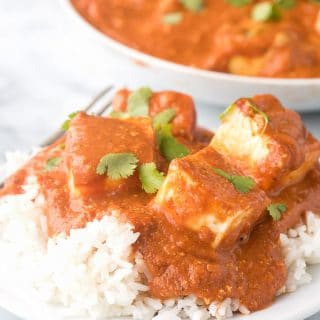 Ingredients
For the Marinade:
1

cup

Plain Yogurt

Thick

1

teaspoon

Lemon Juice

1

teaspoon

Fresh Ginger Paste

From tube

1

teaspoon

Fresh Garlic Paste

From tube

3/4

teaspoon

Garam Masala

1/4

teaspoon

Turmeric

1

teaspoon

Fresh Hot Chili Paste

From tube

1

teaspoon

Hot Paprika

2

tablespoons

Vegetable Oil

1/4

teaspoon

Kosher Salt

Homemade Paneer (can also be purchased)

Approximately 250 grams, cut into 1-inch wide and 1-2 inches long
For the Gravy:
1

tablespoon

Unsalted Butter

1 1/2

teaspoons

Fresh Garlic Paste

From tube, or diced

1 1/2

teaspoons

Fresh Ginger Paste

From tube, or diced

16

ounces

Tomato Puree

2

teaspoons

Granulated Sugar

1

teaspoon

Garam Masala

1

teaspoon

Ground Cumin

3/4

teaspoon

Ground Coriander

1/2

teaspoon

Red Chili Powder

1/4

teaspoon

Turmeric

1/3

cup

Water

2

teaspoons

Dried Fenugreek Leaves

1/4

cup

Heavy Whipping Cream

Kosher Salt

To taste
Instructions
Prepare the Marinade:
Combine all ingredients except the paneer cubes in a bowl and whisk together.

Add the paneer cubes and gently spoon the marinade over to cover them.

Cover the bowl and place in the refrigerator for at least 2 hours.
Preparing the Paneer and Sauce:
In a large saucepan, melt the butter over medium heat. Add the garlic and ginger and sauté for 1-2 minutes.

Add the tomato puree, sugar, garam masala, cumin, coriander, red chili powder, and turmeric; stir to fully combine.

Bring to a simmer over medium-low heat and allow to simmer, stirring periodically for 15-20 minutes.

While the sauce is simmering, remove the paneer cubes from the marinade and place them on a baking sheet lined with parchment paper or a silpat and place them underneath the broiler for 1-2 minutes. Set aside.

Add the water and simmer 5 additional minutes.

Stir in the cream and fenugreek, add the paneer cubes and simmer a final 10 minutes.

Salt to taste.

Serve over rice with a garnish of cilantro leaves.
Notes
Homemade paneer is softer than store purchased paneer so it will melt if left under the broiler too long. Store-purchased paneer may be broiled for 4-7 minutes.
Nutrition
Calories:
161
kcal
|
Carbohydrates:
11
g
|
Protein:
3
g
|
Fat:
12
g
|
Saturated Fat:
8
g
|
Cholesterol:
23
mg
|
Sodium:
146
mg
|
Potassium:
416
mg
|
Fiber:
1
g
|
Sugar:
7
g
|
Vitamin A:
845
IU
|
Vitamin C:
9.1
mg
|
Calcium:
75
mg
|
Iron:
1.7
mg
This Paneer Tikka Masala recipe is a contribution to Food Fanatic in my role as as the Naturally Gluten-Free Fanatic.