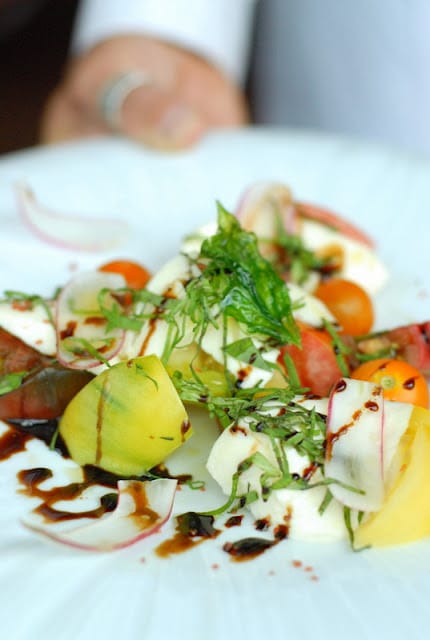 Sometimes the best surprises are right under our own noses. A rock left unturned. An adventure unsought. I discovered such a find last weekend when invited by the St. Julien Hotel, Boulder's small luxury hotel, to demo a new package they've developed: The Bon Vivant (translated 'good living'). When the package was detailed I felt it was genius. A five course tasting dinner, sparkling wine and entertainment on the patio after dark, a Farmer's Market quest with the Executive Chef and follow on prepared lunch, hiking, yoga and a juicing demo. It all sounded fascinating and a showcase of some of the best Boulder has to offer.
When I checked into the St. Julien on a Friday afternoon, I was struck by the vigor of the staff. All young, enthusiastic, attentive while down to earth at the same time. People here are healthy and robust and this staff was no different. I entered the hotel and felt transported to a more cosmopolitan venue, with the chicly appointed lobby and large sitting area showcasing the Flatirons on the foothills above Boulder through a full wall window. The light scent of eucalyptus was in the air from the St. Julien's renownd spa. As a Boulder resident I don't visit local hotels. I came to the St. Julien right after it opened almost 8 years ago to dine once at Jill's Restaurant (the onsite restaurant) and had gone to the spa. Though the food was fine the restaurant was not particularly inviting and it did not cross my mind to return. I was looking forward to experience the hotel and Boulder though new fresh eyes.
The first event of the package was a 5 course meal at Jill's restaurant on Friday evening. I knew the restaurant tried to work with local food purveyors and farmer's whenever possible offering a seasonally-inspired menu. What I did not know, and what I personally feel is their differentiator in the Boulder food scene is their tableside service. Many of our dishes were prepared tableside in grand fashion of dining days past. Sensational flambéing, views of every step of the preparation executed under the cool confidence of our server Kurt, Executive Chef Mechin or the charming, colorful Philippe Antoine, Jill's General Manager.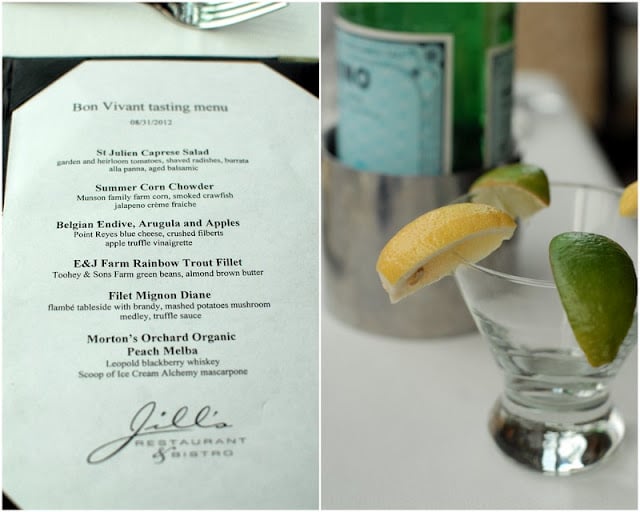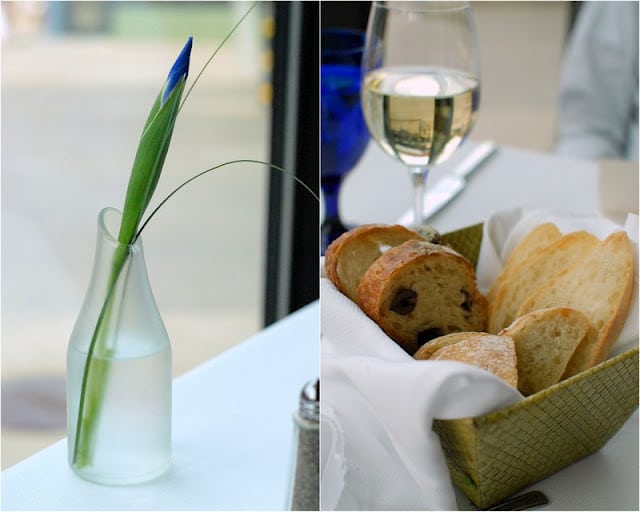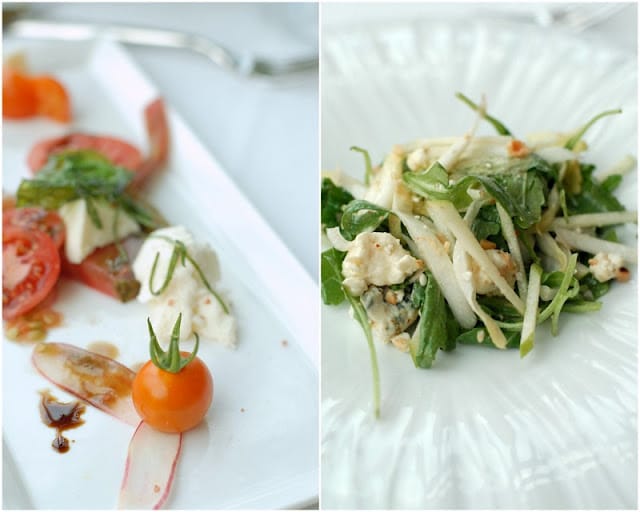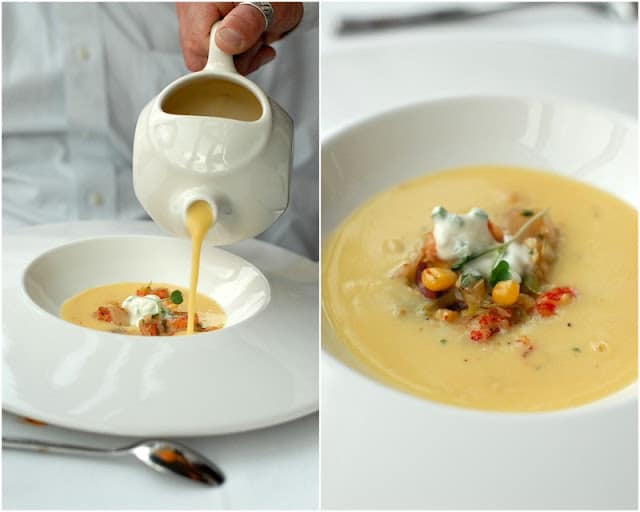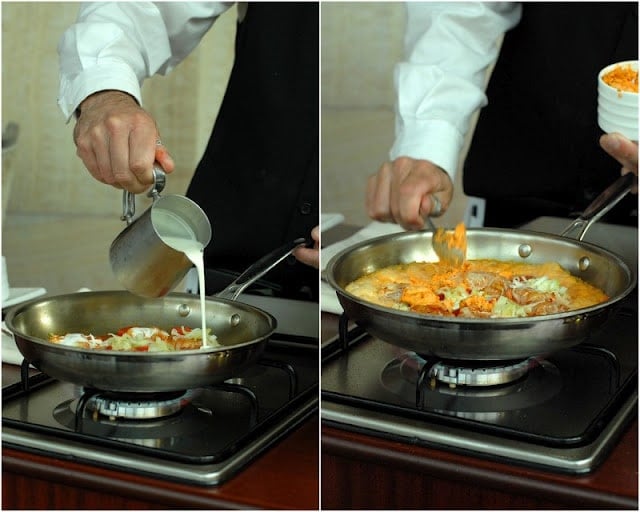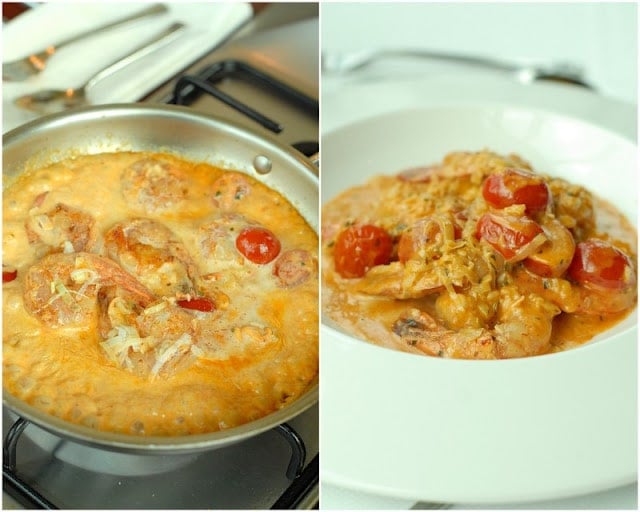 The ingredients were incredibly fresh, sublimely flavorful and the execution of the meal preparation was enveloping, allowing the diner to enjoy the fine details of the dishes in the relaxed but professional company of the preparer. It was apparent Executive Chef Laurent Mechin is particular about his ingredients as well. Our personalized menu offered a flambéed peach dessert though the chef felt the peaches were a bit harder than he preferred. Bananas Foster was swapped out with no complaints from us though the chef invited us back to enjoy the original dessert the following day not wanting it to be missed for the weekend.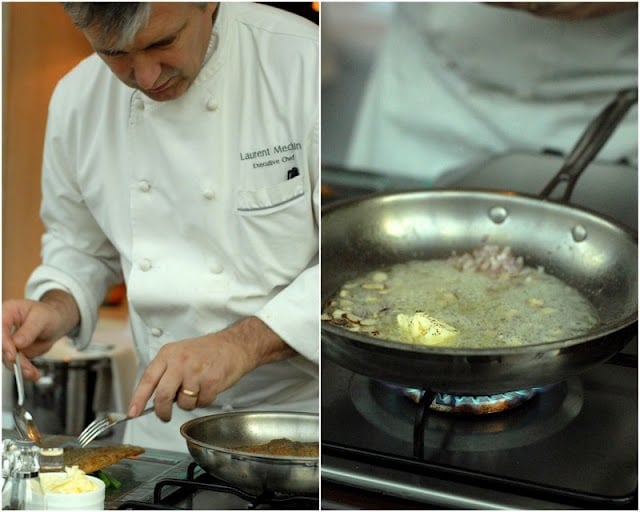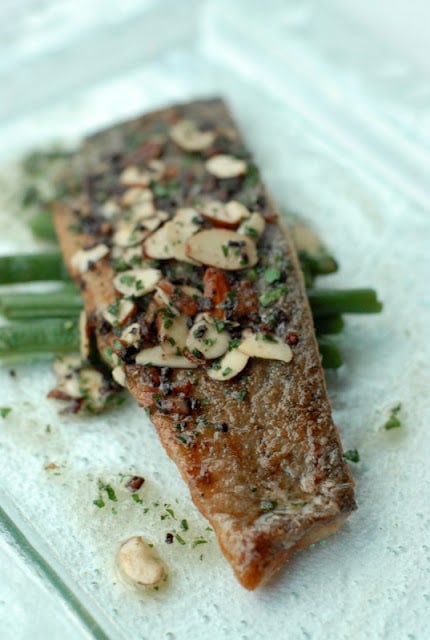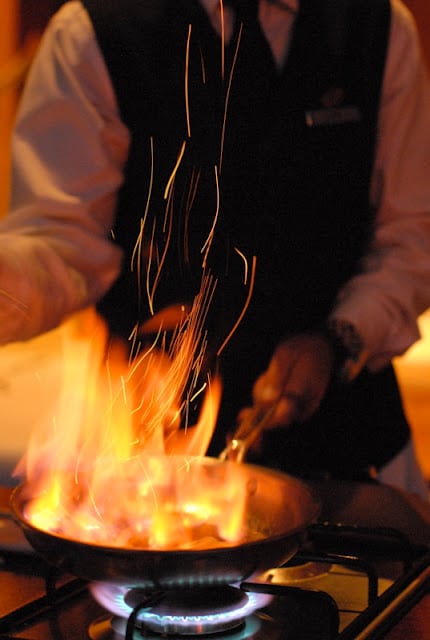 Flambéed Bananas Foster capped the evening's Tasting Menu.
Contrary to my first visit, I found the restaurant to be warm and cozy in the back area where we were seated next to a floor to ceiling window able to watch the street happenings including the University of Colorado's Marching band's enthusiastic, impromptu performance ushering in (American) Football season. The warm woods and appointments made the surroundings upscale but approachable. I also was thrilled to learn there is a hotel garden secreted away that feeds many of the restaurant's dishes as well as cocktails in the hotel's bar, T-Zero Lounge.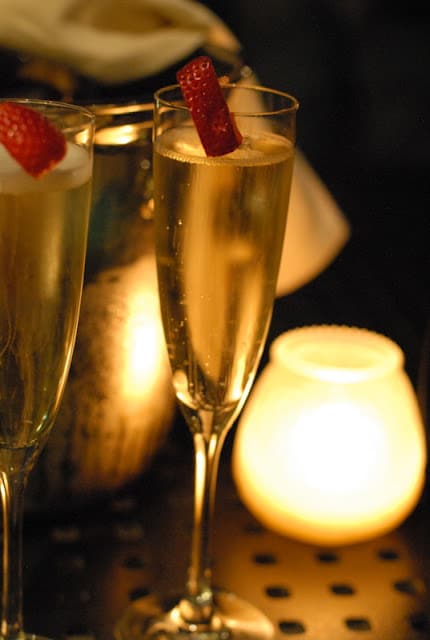 Following dinner we were escorted to a V.I.P. table on the hotel's back patio, greeted by Bryan Amaro (St. Julien's Beverage and Entertainment Manager) to enjoy a bottle of sparkling wine and the evening's entertainment, an aGhanaian percussive band. During the time we'd been dining the hotel had filled to the brim. The outer restaurant, the large lobby sitting area and the patio were filled with throngs of happy celebrators of the weekend. Little known to me this is a local hot spot on Friday nights. The band's beat was contagiously coaxing dancers from all ages and walks of life onto their feet, solo and in groups. It felt like a party.
The next morning we joined together with Spa Director Candis Ayers and walked two quick blocks to the Boulder Farmer's Market to join Executive Chef Mechin. We were each given a lovely linen tote bag and water bottle and license to travel as a group or solo picking up anything we thought would be fun for lunch. I realized there were several ways to approach this; pick things I love, pick things I know nothing about, pick things to test the mettle of the chef! We truly had free reign and he was game for anything. In the end I was occupied taking photos and left the produce selection to our small group. As with many cutting edge chefs in Boulder, Chef Mechin clearly has established relationships with many of the farmers and food producers. As we lollygagged over freshly roasting Anaheim chilies and sampling of various goat cheeses he was off arranging regular egg deliveries from Wisdom Farms for after the Farmer's Market season and bulk peach deliveries exceeding the room on the bicycle he'd ridden to the market.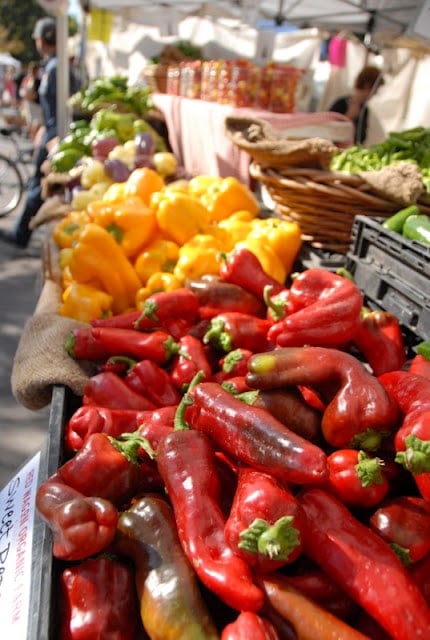 A favorite stop and one highlighting why Farmer's Markets are well loved and the spot to buy one's food was at Toohey and Sons. I'm familiar with their Longmont farm from a few eateries I've visited. There was a unique eggplant variety, Violetti Di Firenze, they grow which we picked up for our lunch but even more enchanting than tasting it later was its origin on our shores. A traveler had visited Italy and secreted away a small packet of seeds in the lining of his suitcase to bring back to the U.S. When he retrieved his suitcase at the airport the suitcase lining had been slashed open in Customs and the seed packet was gone. There were however 5 lone seeds nested in the lining which he grew and harvested seeds from, propagating more plants thus allowing us to sample this beautiful eggplant for our lunch. Chef Mechin's commitment to sustainable, organically grown local produce has forged bonds with the local growers allowing such delights to grace his menus.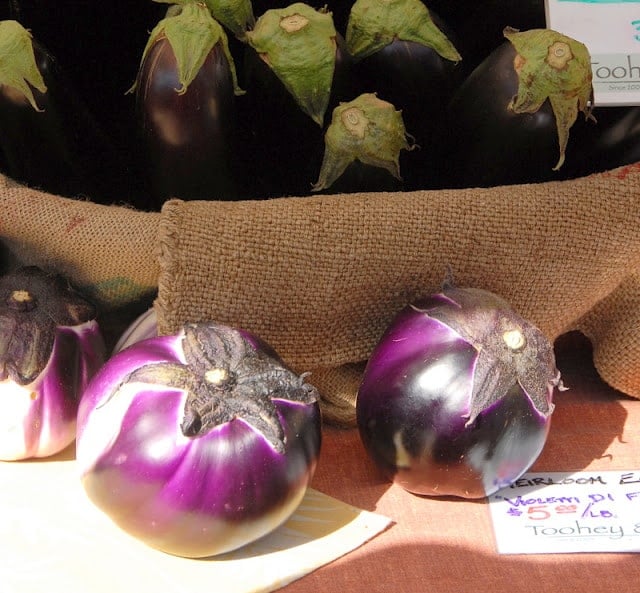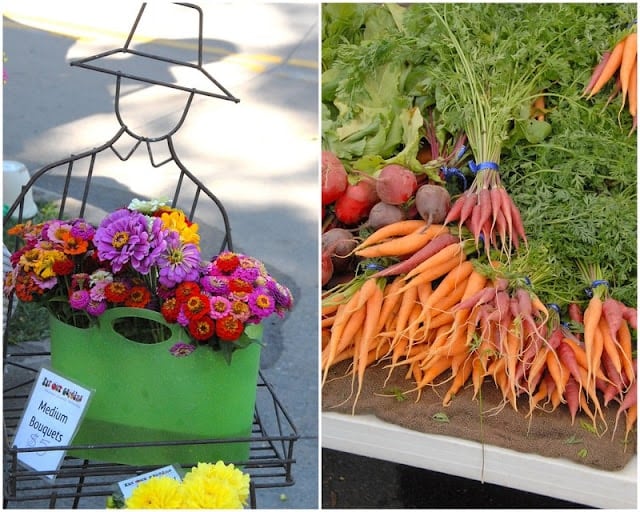 We had a break to wander the market or do what we so chose and reconvened at noon for lunch. Perched at a small bar above a cook top in the open cooking area of the restaurant we watched Chef Mechin weave his culinary magic. Having begun his culinary engagement at 11 in his cousin's restaurant in France, Chef Mechin has impressively worked his way through Europe, the U.S. and Costa Rica cooking with prestige establishments all the while focusing on the best of local ingredients. He began with a few vague ideas for how to incorporate our ingredients into a lunch but effortlessly developed simple, rustic dishes with complex flavors all paired with perfect wines. It required full restraint to not lick the plates. He would tell you the food featured at Jill's is built on a French foundation using locally sourced ingredients to feature a seasonal theme. Local sourcing is difficult in the winter though the menu still upholds a seasonally driven tone.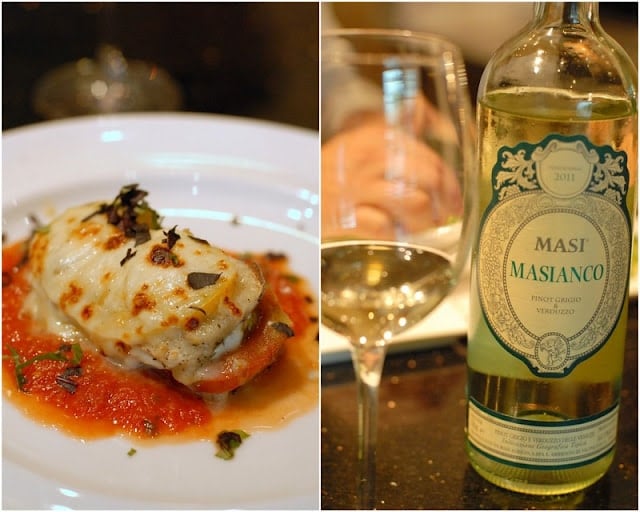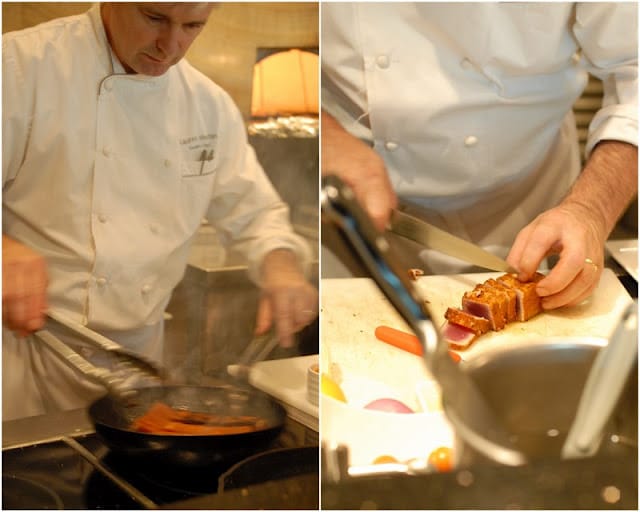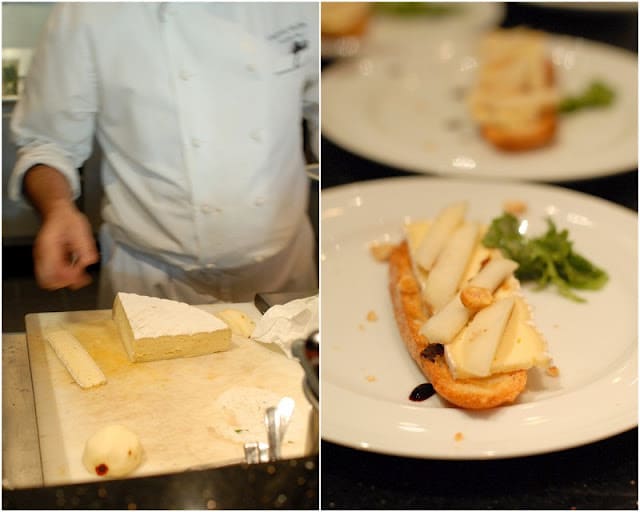 An afternoon thunder storm thwarted our hike but facilitated touring for me that as a Boulder resident I never do. It's so easy to become entrenched in one's daily patterns or routine and frankly I rarely venture to one of Boulder's most coveted attributes: the Pearl Street Mall. A beautifully landscaped walking mall mere blocks from the St. Julien, this is Boulder's Mecca of cool shops, hot eateries and street entertainment. Playing tourist allowed me to reacquaint myself with the density of interesting finds in a short walk. One could really embed in the St Julien for the weekend and with no transportation other than walking become quickly acquainted with what makes Boulder so unique and special.