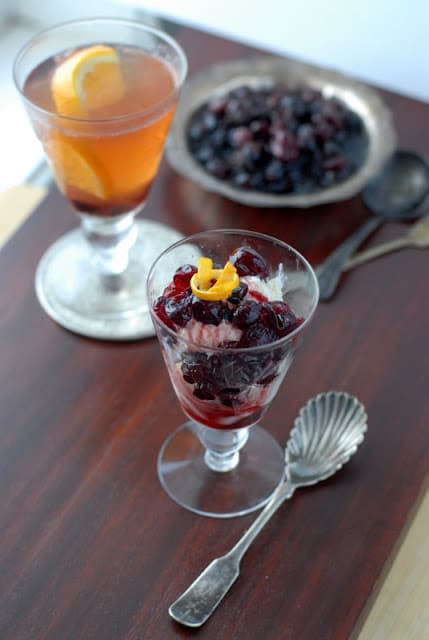 I received an early Christmas gift of a vintage cookbook that had belonged to my Grandmother.

 

My Grandfather had spent the bulk of his working career with Home Life Insurance of New York, living in Salt Lake City Utah and in San Francisco.

 

My mother ended up with this self 'published' compilation cookbook of recipes from mainly wives of Home Life Insurance employees called 'Home on the Range'.

 

It was a bit worse for wear but of course for me that makes it all the more appealing.

 

I always love things that have 'lived a life'.
I was surprised to see it was published in 1980 and feel fairly confident many of the recipes were created decades before.

 

Some tell tale signs like cans of soup in the middle of a cake recipe or lots of ingredients I'm sure that were viewed to be the latest rage at the time (e.g. jello mix, Bisquick and other 'processed' ingredients segueing between the era of whole food cooking and back to that today).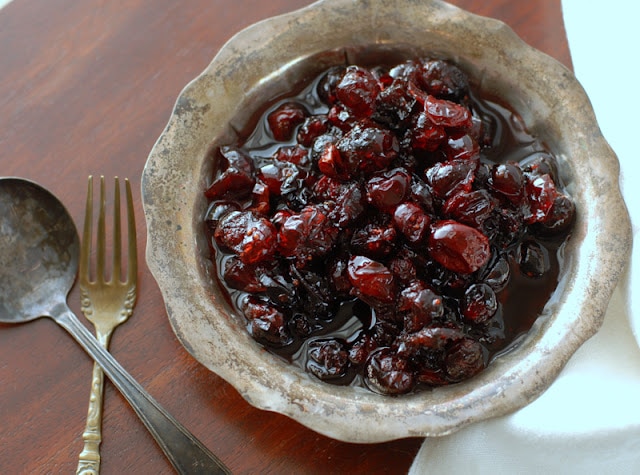 I immediately read the entire cookbook truly looking for the treasures I felt sure were there.

 

I loved some of the titles like 'Remarkable Cookies' which only contained three ingredients, none of which I'd call 'remarkable'.

 

Something called 'Andrew's Fudgies', which I felt was the worst example of recipe titling I'd ever read.

 

I'll leave it right there.

 

I found a few things I wanted to share now and later.
When I stumbled upon Brandied Cranberries and the author, Millicent Kennedy's exuberant reflection on how divine they were, I felt it was perfectly timed with the season.

 

The recipe is simple, straight forward with wonderful flavors.

 

There always seems to be a mad push this week before Christmas, with New Year's celebrating hot on its heels so a delicious quick recipe with some panache seemed in order.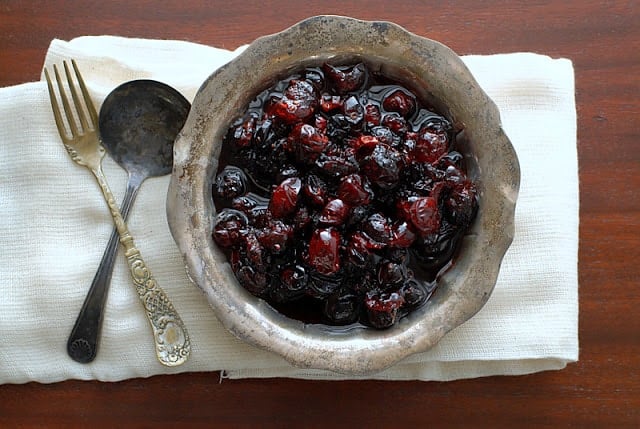 I had a bit of difficulty deciphering how Millicent served her cranberries from the description included in the book (which I've included).

 

Once making and tasting it myself, I think there are a number of options.

 

Immediately I thought to put it atop ice cream for a more elegant, holiday dessert (I used Ginger ice cream which was fantastic).

 

And of course they made their way into a cocktail I fondly named 'The Millicent'.

 
I changed Millicent's recipe a smidge feeling adding some orange liqueur would be perfect with the brandy and cranberries.

 

The original recipe called for 1 cup brandy only.

 

She also calls to 'serve in a pretty dish' but I had trouble imagining eating them solo.
Recipe adapted from the original recipe by: Millicent Kennedy, Richmond VA (the cookbook lists everyone's address but I'll leave that out of cyber space!)
·

        
1 pound fresh cranberries
·

        
¼ cup orange liqueur (I used Citronage)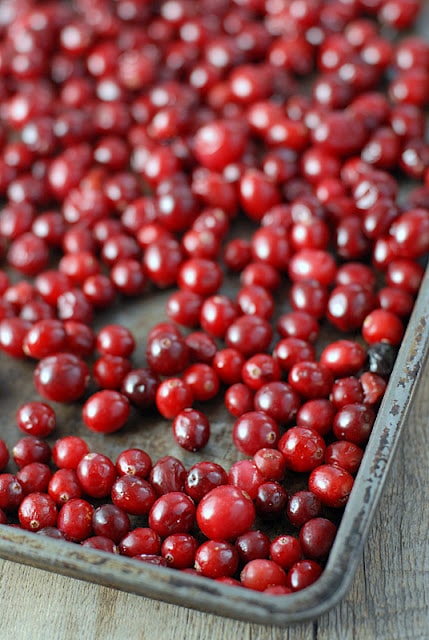 1.
 

Preheat oven to 350 degrees.
2.
Combine cranberries and sugar in a shallow baking pan allowing a single layer only.

 

Bake for 1 hour.

 

I checked every 15 minutes for sticking.

 

Note:

 

In the last half hour I suggest using a spatula to move cranberries around, mixing them with the melted sugar.

 

Any patches of melted sugar can burn or harden.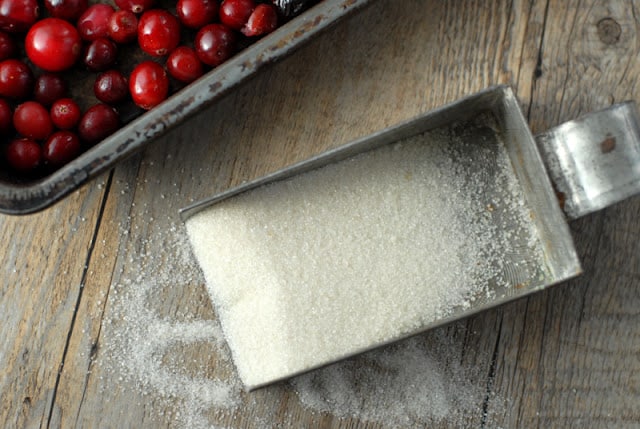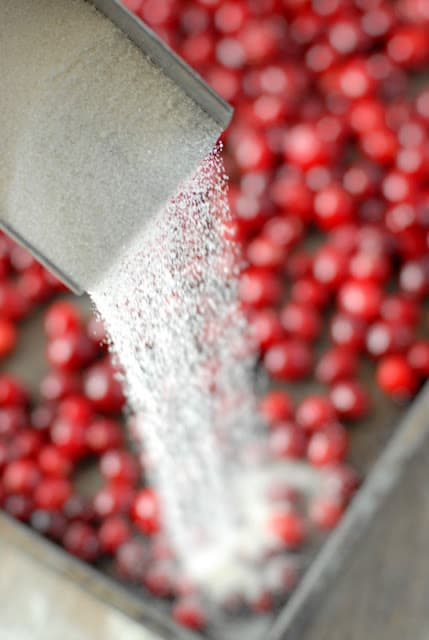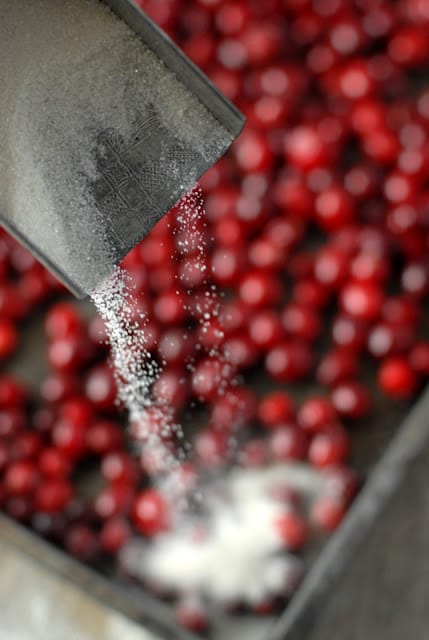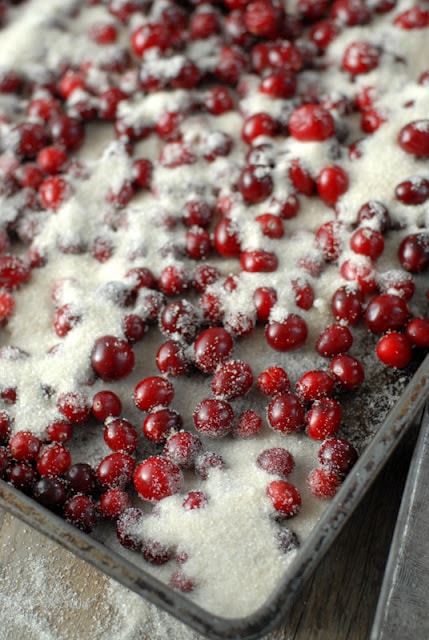 3.
Remove from oven and pour in brandy and orange liqueur.

   

Stir to completely combine as the mixture sizzles.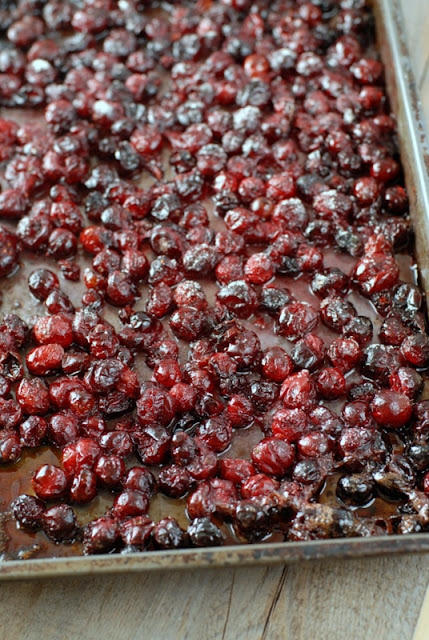 4.
Can be served at any temperature.

 

Store in a sealed glass container in the refrigerator.
Millicent's notes from the original recipe:

 
'These cranberries are the 'hit' of every party.

 

I have kept them in a refrigerator for a year – they go with everything but are especially nice during Christmas.

 

I buy cranberries and freeze them so that I can make this for hostess gifts, etc. when cranberries are unavailable'.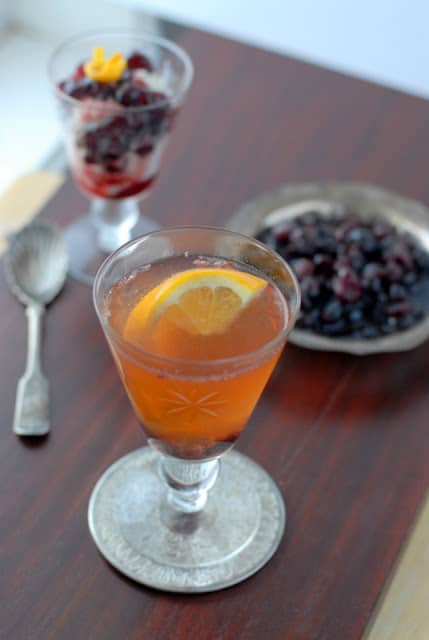 ·

        
1 small dining spoon Brandied Cranberries
·

        
1 ½ – 2 ounces bourbon
·

        
Bitter Lemon or Ginger ale
·

        
Orange slice (garnish)
Place all ingredients in a small cocktail glass in the order listed using the Bitter Lemon or Ginger ale to fill glass to desirable level.

 

Make a quarter slice on the orange slice, twist and add to cocktail for flavor and garnish.

 
I made this at room temperature though if desired it could be over ice or the bourbon could be shaken with crushed ice and strained before being added to the cocktail glass.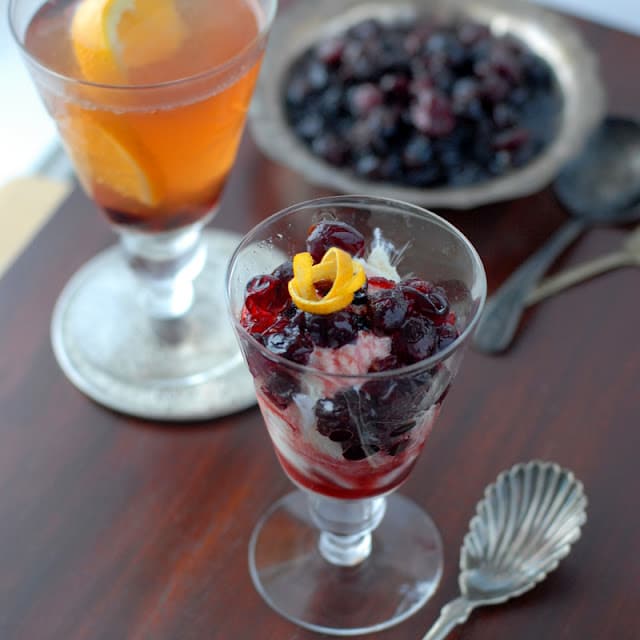 Wedged into the middle of the cookbook, as though someone snuck it in before the editor could weed it out with this little ditty.

 

I think it's a great litmus test for how well stocked your local Whole Foods meat department is.