Brandied Cranberries are a boozy treat perfect for cocktails, dessert toppings and more! Great gift idea too.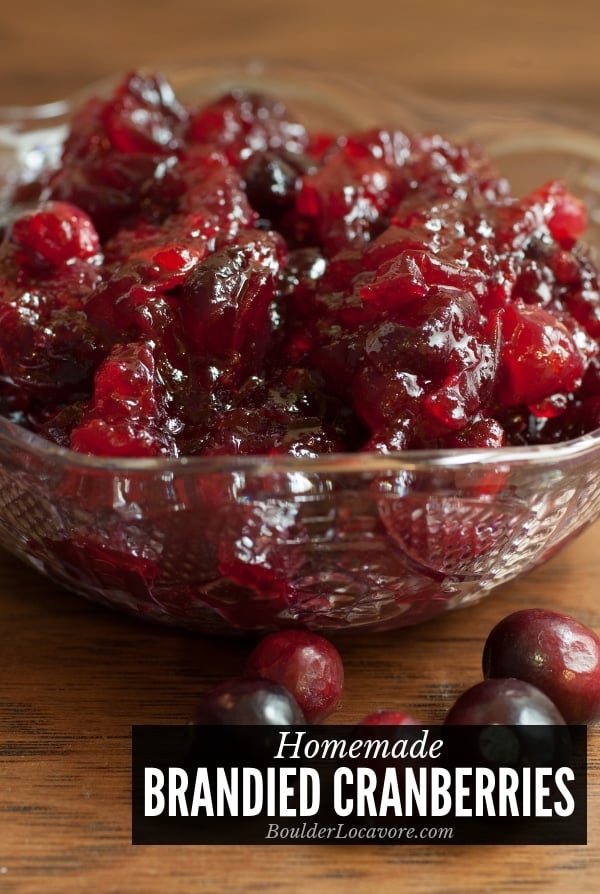 Brandied Cranberries are easy to make and can be used in many ways.
These boozy berries are delicious and make great gifts too.
They are an old school treat!
Brandied Cranberries – a Vintage Recipe
I originally discovered this recipe in an old self-published cookbook when scouring for interesting recipes that may have been left by the wayside.
I immediately read the entire cookbook truly looking for the treasures I felt sure were there. I loved some of the titles like 'Remarkable Cookies' which only contained three ingredients, none of which I'd call 'remarkable'.
Something called 'Andrew's Fudgies', which I felt was the worst example of recipe titling I'd ever read. I'll leave it right there. I found a few things I wanted to share now and later.
When I stumbled upon Brandied Cranberries and the author, Millicent Kennedy's exuberant reflection on how divine they were, I felt it was perfectly timed with the season.
The recipe is simple, straight forward with wonderful flavors.
There always seems to be a mad push this week before Christmas, with New Year's celebrating hot on its heels so a delicious quick recipe with some panache seemed in order.
This note was included at the end of the original recipe:
'These cranberries are the 'hit' of every party. I have kept them in a refrigerator for a year – they go with everything but are especially nice during Christmas.
I buy cranberries and freeze them so that I can make this for hostess gifts, etc. when cranberries are unavailable'
I don't fully agree with Millicent about storing them for a year.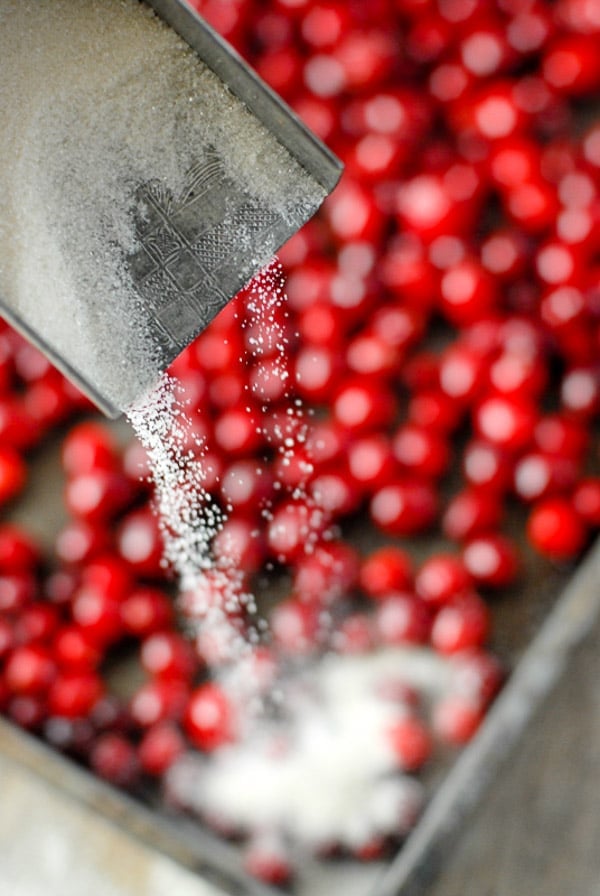 A Recipe Update
I changed Millicent's recipe a smidge feeling adding some orange liqueur would be perfect with the brandy and cranberries.
The original recipe called for 1 cup brandy only. She also calls to 'serve in a pretty dish' but I had trouble imagining eating them solo like a snack.
Recipe Ingredients + Notes
Fresh Cranberries. Though the recipe is made with fresh cranberries, frozen/thawed cranberries can be used in a pinch too.
I buy bags of cranberries every fall and keep them in the freezer for year round cranberry baking and recipes. There are store brands of frozen cranberries too.
Granulated Sugar. The sugar melts when cooking with the cranberries. It coats them and help preserve them too.
Brandy. The star ingredient! You don't need the most expensive brandy for a recipe like this. Select something with good flavor that's moderately priced.
Orange Liqueur. I added this ingredient to the original recipe because orange, brandy and cranberry flavors all taste wonderful together.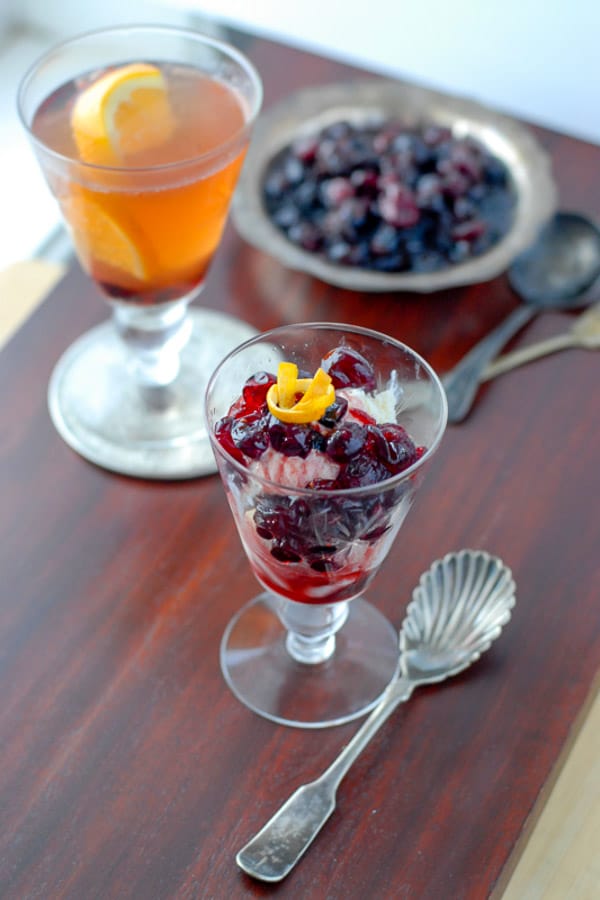 How to Make Brandied Cranberries – Step-by-Step
STEP 1. Heat the Oven.
Preheat the oven to 350 degrees F.
STEP 2. Prepare and Bake the Cranberries.
Arrange the cranberries in a single layer in a rimmed baking sheet (photo 1).
Combine with the sugar (photos 2-3).
Bake for 1 hour checking every 15 minutes to ensure they are not sticking to the baking sheet.
In the last 30 minutes use a spatula to move them around on the pan mixing them with the melting sugar.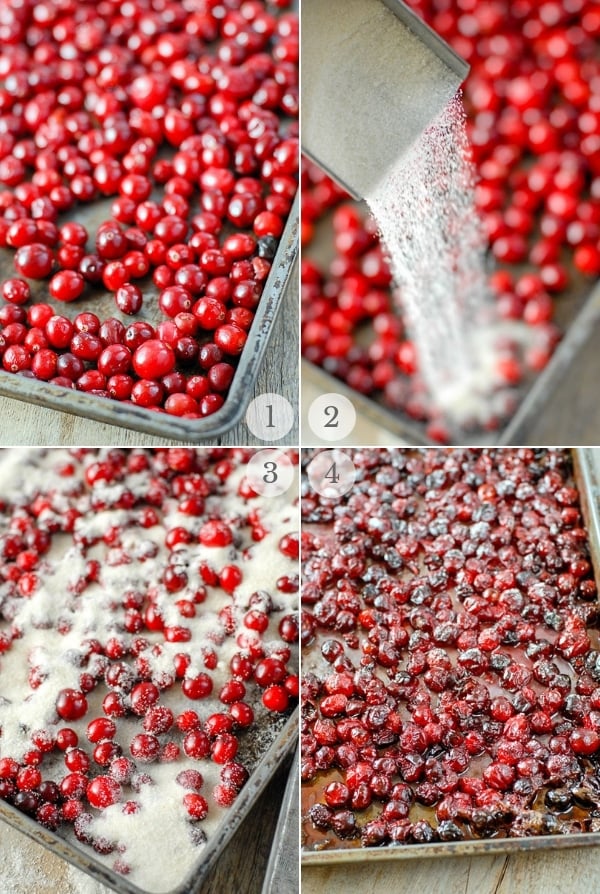 STEP 3. Finishing the Cranberries.
Remove from the oven. Pour on the brandy and orange liqueur (photo 4).
Stir to mix (the cranberries will sizzle in the pan; this is normal).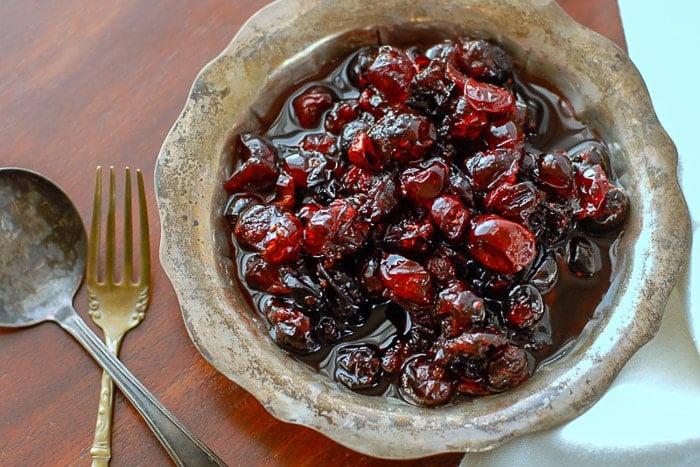 How to Use Them
Brandied Cranberries are more of a garnish or topping making the possibilities endless!
Here are some favorite ideas:
On top of Ice Cream (we served them on top of homemade Ginger ice cream!)
In Cocktails. Try them in classic Eggnog, Gingerbread Brandy Milk Punch or the Millicent Cocktail (in the recipe card below) developed in honor of the original recipe owner.
Add them on top of a cake or pie. Eggnog Pie or Sour Cream Raisin Pie would be a perfect choice!
How to Store
Store in an airtight container in the refrigerator for up to 1-2 weeks.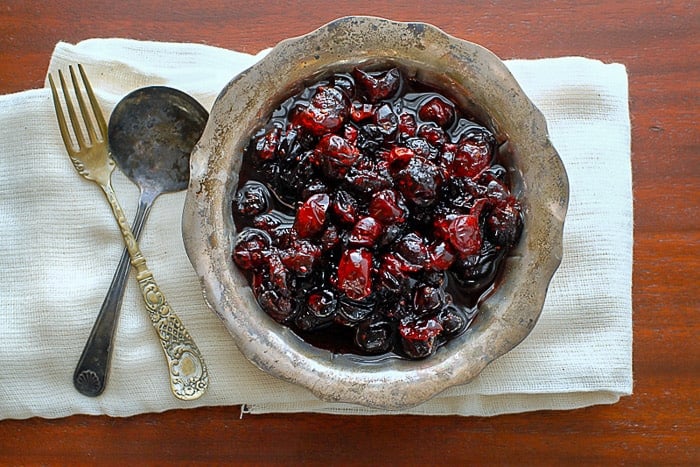 More Recipes You'll Love!
Did you make it? Please RATE THE RECIPE below!
Please SUBSCRIBE and FOLLOW ME on FACEBOOK , TWITTER , INSTAGRAM and PINTEREST !
Recipe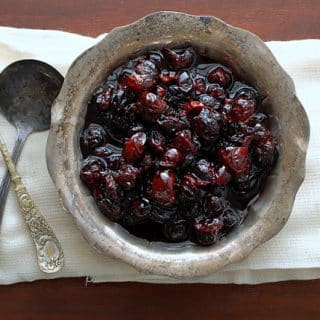 BRANDIED CRANBERRIES
I changed Millicent's recipe a smidge feeling adding some orange liqueur would be perfect with the brandy and cranberries. The original recipe called for 1 cup brandy only. She also calls to 'serve in a pretty dish' but I had trouble imagining eating them solo.
Print
Save Recipe
Recipe Saved!
Pin
Rate
Ingredients
Brandied Cranberries
1

pound

fresh cranberries

2

cups

granulated sugar

3/4

cup

brandy

1/4

cup

orange liqueur

I used Citronage (Grand Marnier is another option)
THE MILLICENT Cocktail
1

small dining spoon

Brandied Cranberries

1 1/2-2

ounces

bourbon

Bitter Lemon or Ginger ale

Orange slice

garnish
Instructions
Brandied Cranberries
Preheat oven to 350 degrees.

Combine cranberries and sugar in a shallow baking pan allowing a single layer only. Bake for 1 hour. NOTE: Check every 15 minutes for sticking. During the last 30 minutes use a spatula to move cranberries around, mixing them with the melted sugar. Any patches of melted sugar can burn or harden.

Remove from oven and pour in brandy and orange liqueur. Stir to completely combine as the mixture sizzles.

Can be served at any temperature. Store in a sealed glass container in the refrigerator.
THE MILLICENT Cocktail
Place all ingredients in a small cocktail glass in the order listed using the Bitter Lemon or Ginger ale to fill glass to desirable level.

Make a quarter slice on the orange slice, twist and add to cocktail for flavor and garnish.
Notes
Recipe adapted from: Home on the Range Cookbook (Millicent Kennedy, Richmond VA) Note on The Millicent Cocktail: I made this at room temperature though if desired it could be over ice or the bourbon could be shaken with crushed ice and strained before being added to the cocktail glass.
Nutrition
Calories:
294
kcal
|
Carbohydrates:
59
g
|
Protein:
0
g
|
Fat:
0
g
|
Saturated Fat:
0
g
|
Cholesterol:
0
mg
|
Sodium:
2
mg
|
Potassium:
48
mg
|
Fiber:
2
g
|
Sugar:
54
g
|
Vitamin A:
35
IU
|
Vitamin C:
7.5
mg
|
Calcium:
5
mg
|
Iron:
0.2
mg