Looking for a great dip for a crowd or healthier snacking? Green Goddess Dip with Vegetables is answer. Creamy, tangy herb dip that's easy to make and even easier to eat!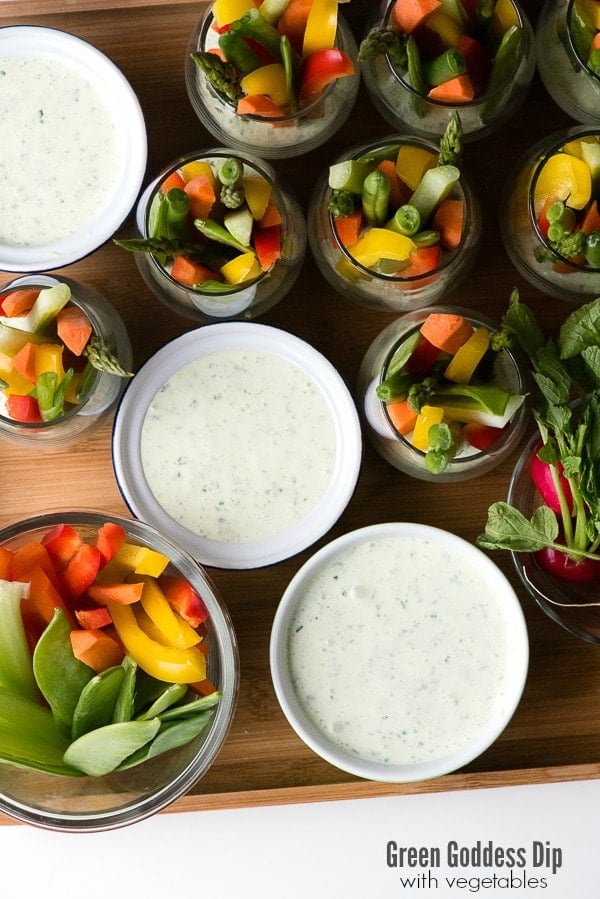 I have got football food on the brain this week! After creating and devouring the Lemon-Garlic Chicken Wings earlier this week, I started thumbing through the Boulder Locavore archives for other delicious ideas to make this weekend.

A new reader just emailed me, delighted to have found this Savory Blue Cheese Cake (appetizer) which is fantastic for entertaining. If you are looking to get more down-and-dirty with pure unabashed comfort food I'd say this Green Chile Bacon Cheeseburger Dip may be right up your alley.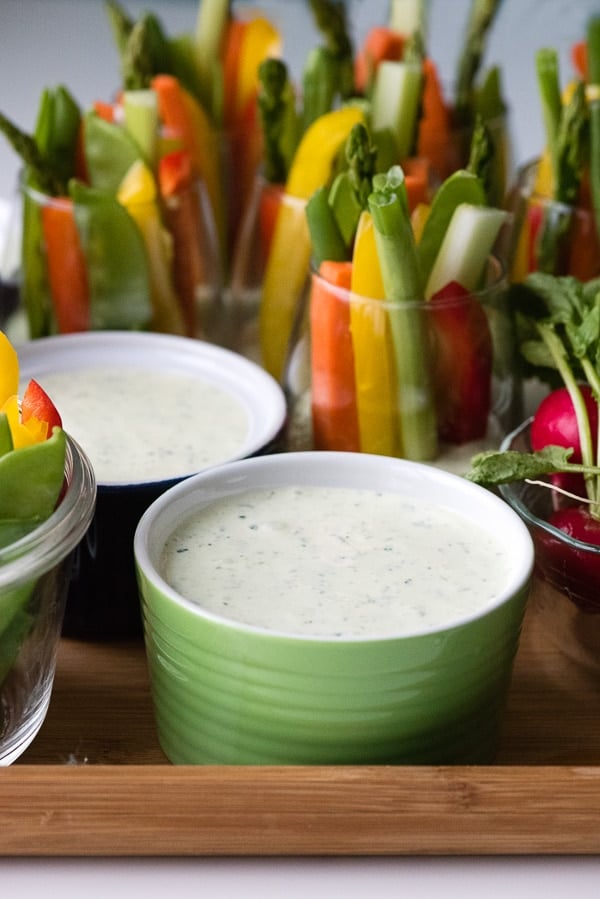 I do love a good dip, don't you? I don't make them a lot but sometimes it's the only thing that will do. We have Pico de Gallo and guacamole weekly at home. But for this upcoming weekend I pulled a tried-and-true recipe from the depths of the very early days of Boulder Locavore: Green Goddess Dip.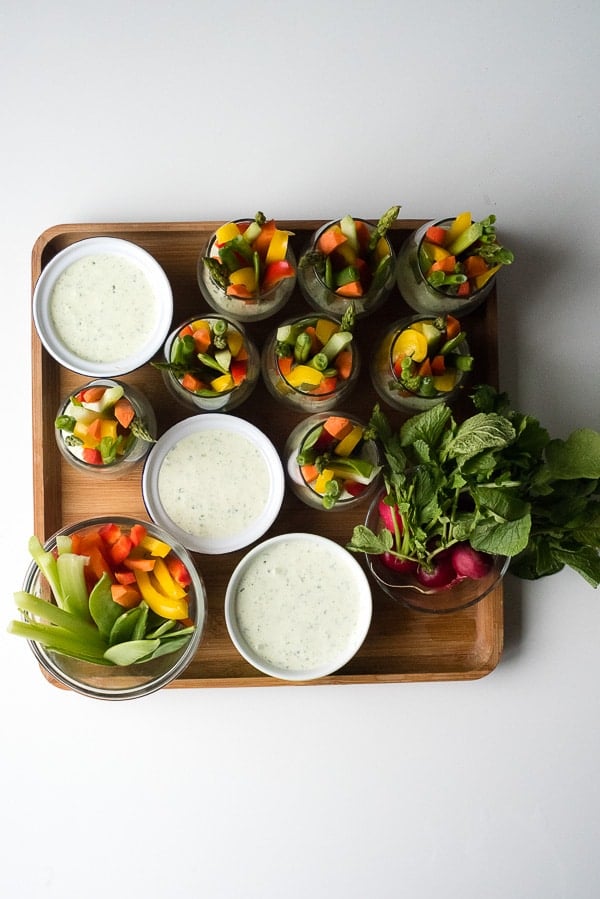 Raise your hand if the mention of 'green goddess' either brings back memories of a salad dressing caddy at a restaurant with blue cheese, thousand island, and French dressing OR your parents (or grandparents) told you about Green Goddess dressing? It's definitely a foggy memory from my childhood (where all salad dressings seem to go to die).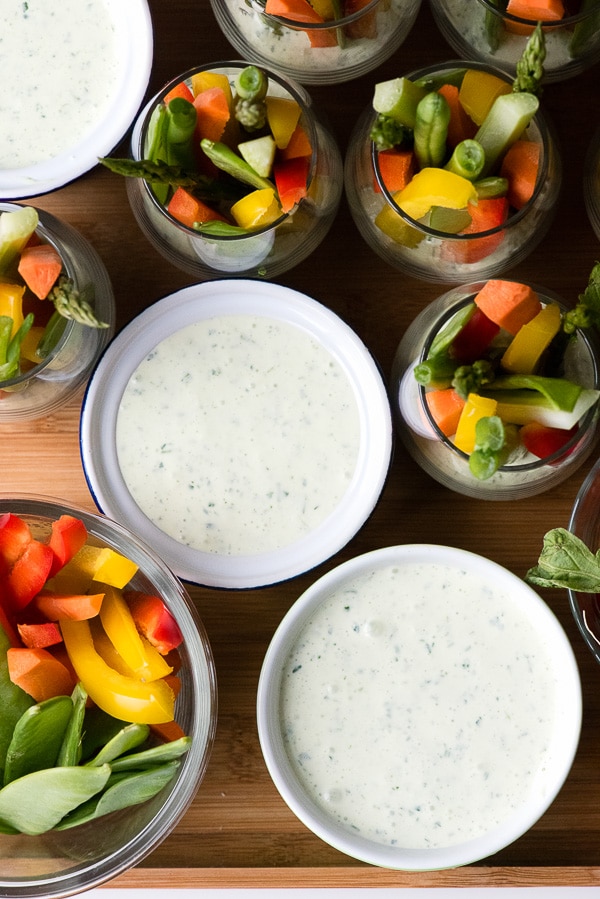 For those who have not enjoyed the fabulosity that is green goddess, this dip will introduce you. A creamy combination of Neufchatel (a lighter version of cream cheese) and sour cream (or crème fraiche if you prefer) and a mix of herbs. It has a wonderful flavor and is perfect for dipping vegetables which we all need more of on our football buffet table, right?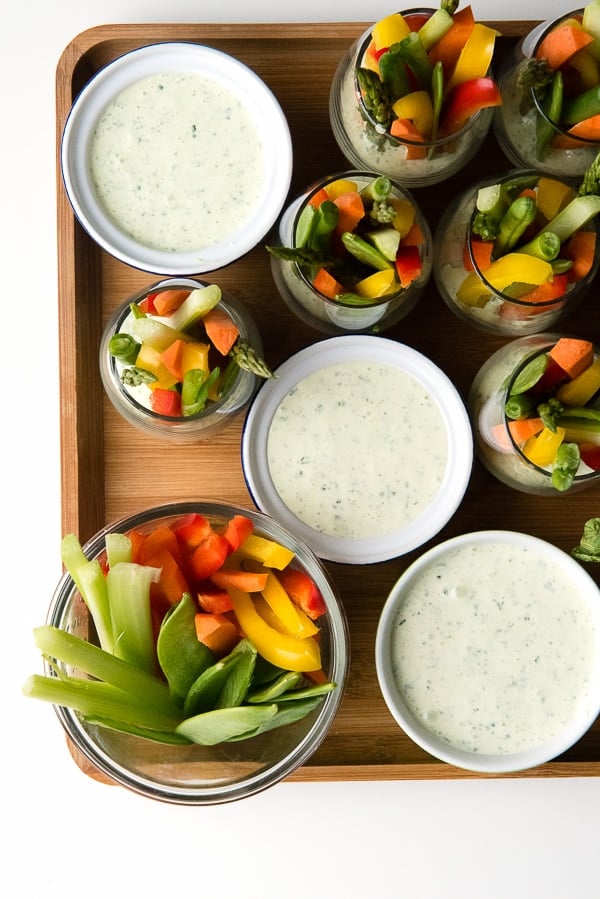 When hosting a party one thing I love to do is create individual containers with dip and dippables. I've done this with seven-layer dip in small tumblers too. It's especially great for groups that are mobile. When we have a gang to watch football there is often a migration between our ground floor and the TV by the kitchen, and the larger TV downstairs in our comfy family media area.
You can use any small container and add some dip in the bottom and vegetables IN the dip. Guests can take it wherever they go and nomadically munch!
To switch it up you can swap in Tzatziki Sauce for the green goddess too.
This Green Goddess Dip recipe is a delicious combination of neufchatel cheese, sour cream and herbs that create a perfect light dip for vegetables. Great for a gathering or healthier snacking.