French Silk Pie is a rich, creamy dessert all will beg you to make. This version has an Irish twist and an unexpected crust that's out of this world delicious.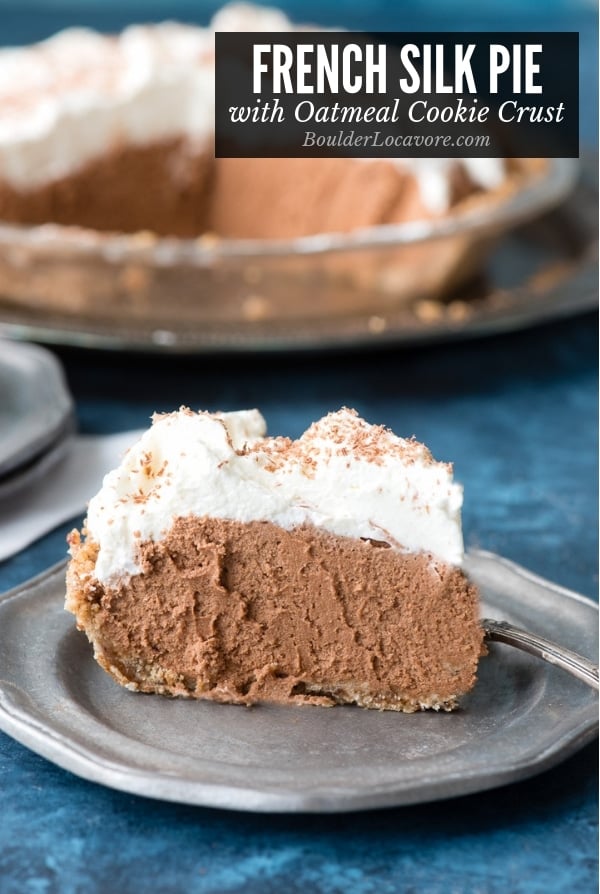 A classic dessert recipe for something like French Silk Pie is always a hit in its traditional form.
This French Silk Pie recipe takes it up a notch with a rustic oatmeal cookie pie crust (easy and homemade).
It also has an Irish Cream twist perfect for St. Patrick's Day and the rest of the year!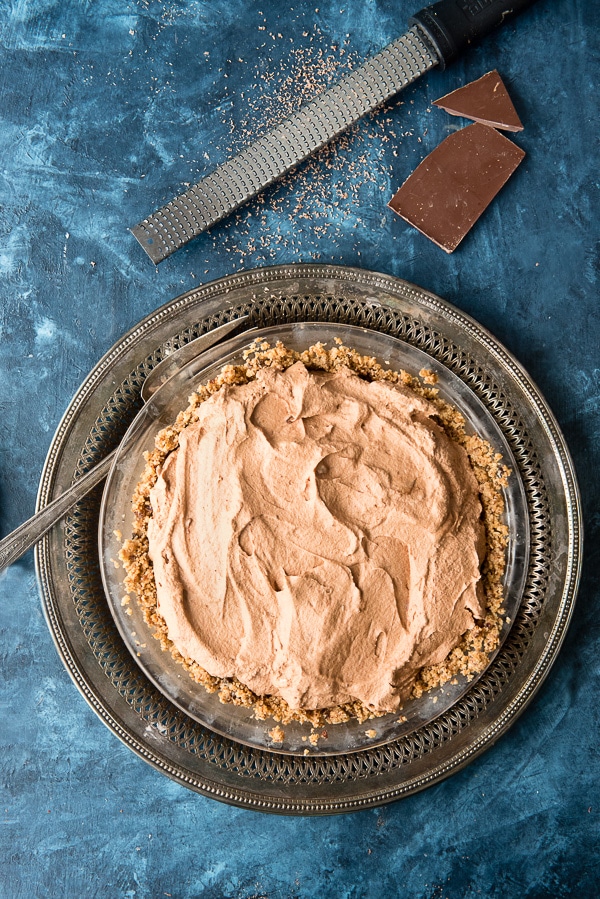 What is French Silk Pie?
If you've had a French Silk Pie, you'll never forget it. It's rich, chocolatey and very similar to a chocolate mousse.
The intense chocolate filling is traditionally not cooked and includes uncooked eggs, along with butter, sugar and chocolate.
French Silk Pie is a chilled pie. The crust is baked but the filling is not.
When assembled the entire pie is chilled.
French Silk Pie with an Irish Twist
I wanted to change up the traditional French Silk Pie to both celebrate St. Patrick's Day (though you'll want it more often than just for the holiday, believe me) AND to work around the inclusion of raw eggs.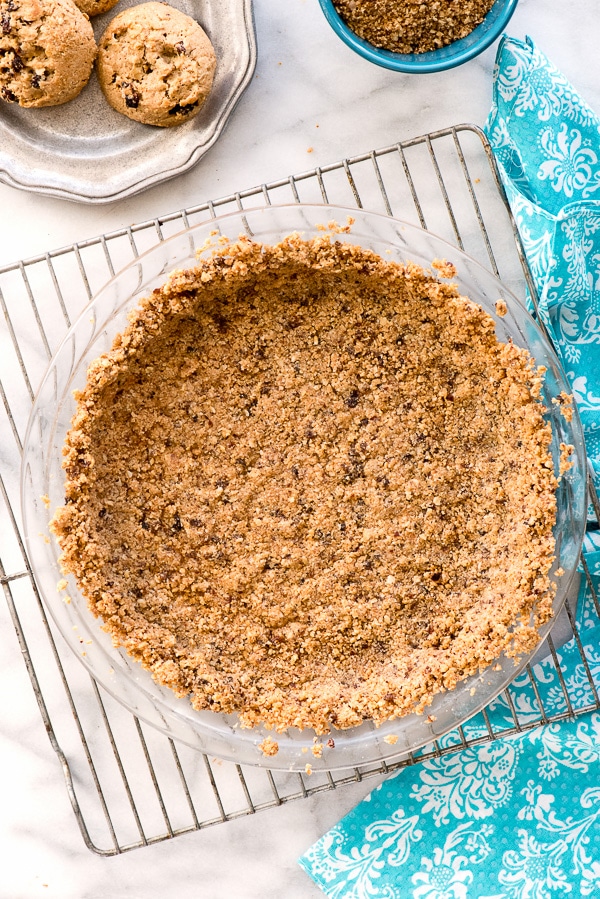 Here is what makes this French Silk Pie unique, special and with an Irish twist:
This French Silk Pie recipe has an (easy) homemade Oatmeal Cookie pie crust
A bit of Irish Cream liqueur to go along with the rich chocolate flavors
NOTE: It's not a boozy tasting pie, but rather the flavors are made even deeper with the addition of the Irish Cream liqueur (very much like Irish Chocolate Mousse with Baileys)
Whipped cream is folded in making the filling smooth and airy
This version of French Silk Pie also uses bittersweet chocolate instead of the traditional unsweetened chocolate
French Silk Pie Ingredients
The ingredients are simple and easy to find!
Oatmeal Cookie crumbs (refer to recipe below)
Granulated Sugar
Unsalted Butter (some melted, some softened)
Eggs
Bittersweet Chocolate
Vanilla Extract
Irish Cream Liqueur (Bailey's, Kerrygold, etc)
Heavy Whipping Cream
Optional garnish: grated chocolate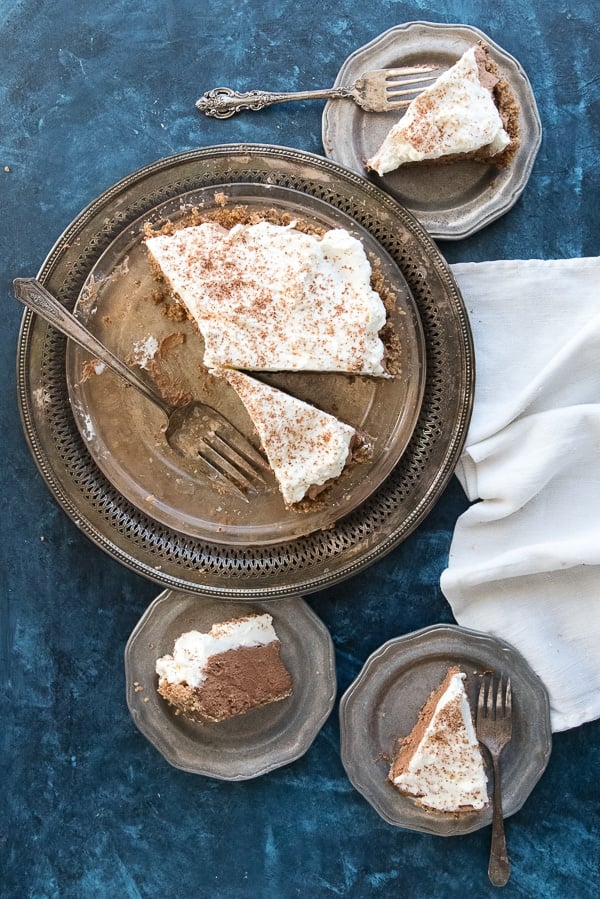 Safe Eggs in this French Silk Pie recipe
As mentioned, traditional French Silk Pie uses raw eggs.
Certain special interest groups are guided not to eat raw eggs for health risks; as well as the avoid the risk of salmonella, it's suggested to use pasteurized eggs.
On a recent shopping trip to the grocery store I looked for pasteurized eggs for this recipe.
The large grocery chain grocery store not only did not have any but none of the employees (nor the store manager) even knew what pasteurization was.
I decided if it was that difficult I'd rather incorporate a change to the French Silk Pie recipe rather than require that type of egg hunt!
Instead of using raw eggs, the eggs and sugar are combined and heated on low just until reaching 158 degrees Fahrenheit which is the 'safe' temperature for egg yolks (for whites it's lower so the full egg is covers).
This method does not cook the eggs in the traditional sense; they are still liquid and safe related to food borne illness.
This is a perfect job for an instant read thermometer.
Oatmeal Cookie Pie Crust
The part of this dessert that really sets it apart and makes it special is the oatmeal cookie pie crust.
Don't we all have memories of fresh oatmeal cookies and milk?
They have a rustic, homey charm unlike any other cookie.
Any oatmeal cookies may be used (regular or gluten-free; store bought or homemade).
The cookies are processed into crumbs with the volume required noted in the recipe card below.
I haven't seen another oatmeal cookie crust recipe and now that I've made it, we'll be enjoying many other pies with it in the future and hope you will too!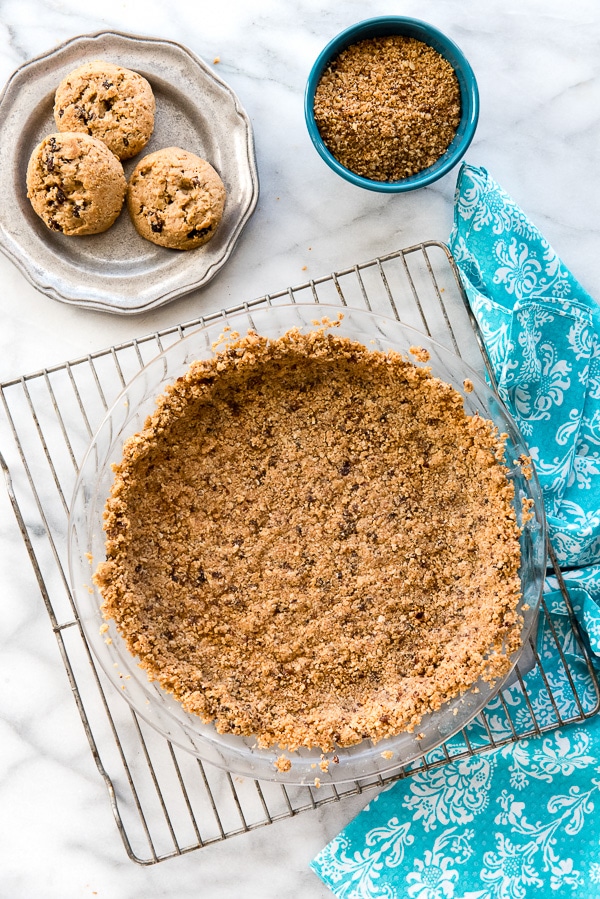 How to Make French Silk Pie – Step by Step
Personally when I see a recipe with a long list of instructions, I often skip it. It can feel overwhelming.
This recipe has a number of steps. They are all easy and broken down to make the recipe easy to follow.
Trust me, this is a recipe you'll love to make! And everyone you serve it to will feel the same.
For complete detailed instructions refer to the recipe card at the bottom of the post.
Preheat the oven to 350 degrees.
Make the oatmeal cookie crumbs in the food processor.
Combine: cookie crumbs, melted butter and sugar.
Press mixture into a pie pan, place on a light colored baking sheet and bake for 7 minutes. Fully cool on a rack.
Combine the eggs and sugar in a small saucepan over low heat. Stir periodically and using an Instant Read Thermometer check the temperature often until it reaches 158 degrees F.
Remove from heat and allow to cool below 90 degrees F. Note: the melted chocolate will also need to be below 90 degrees before adding it to the butter.
Cream the butter in a standing mixer.
With the mixer on high speed, alternate adding the egg-sugar mixture and the melted chocolate.
Add the vanilla extract and Irish Cream liqueur. Beat together until light and creamy in consistency.
In a second bowl, beat heavy whipping cream until forming firm peaks.
Fold it into the chocolate mixture and spoon into the oatmeal crust.
Chill six hours or overnight.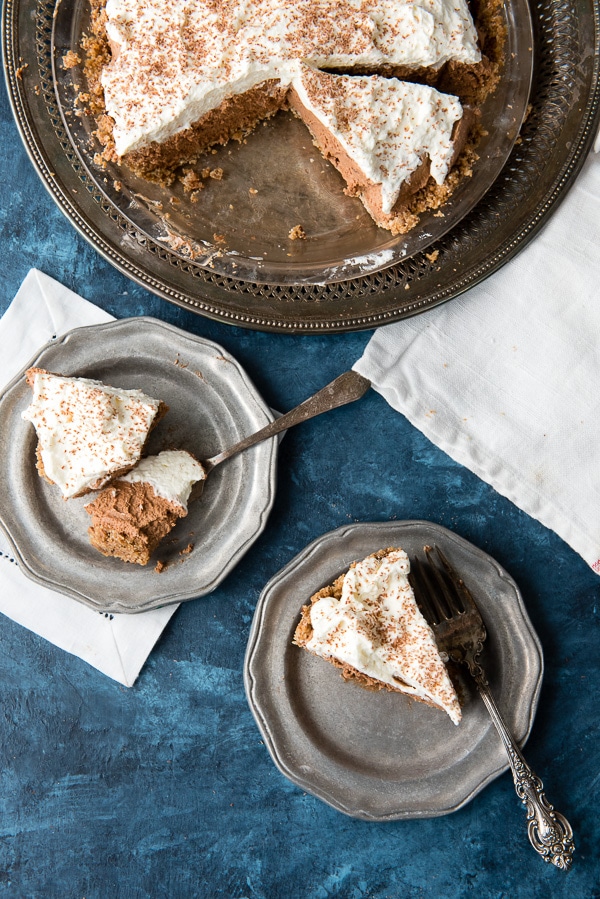 How to Store French Silk Pie
Cover lightly with plastic wrap and refrigerate for 3-4 days.
Did you make it? Please RATE THE RECIPE below!
More Pie Recipes You'll Love
Luscious Lemon Pie
Originally published February 28, 2017; updated March 2019
This post was originally sponsored by Udi's Gluten Free.