Baked Mac and Cheese is the best kind of comfort food. It's easy to make and so much better than anything from the store. This version adds just a bit of pumpkin for a gorgeous color and fabulous flavor without being too pumpkin-y.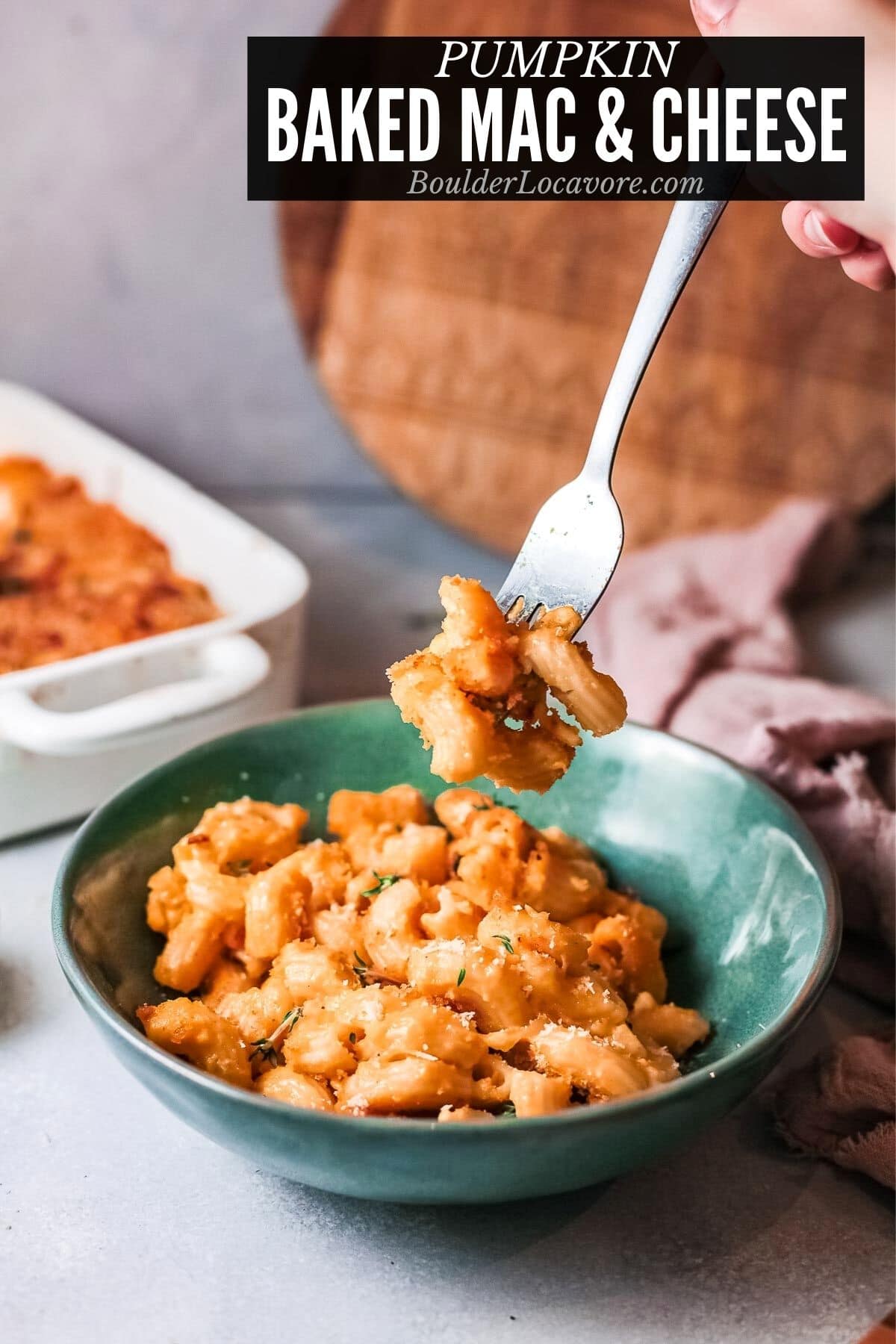 Creamy Macaroni and Cheese is a classic comfort side dish. It's great for any meal of the day and Thanksgiving.
This fall version adds pumpkin puree giving it a rich color, velvety texture and a deep flavor you'll love.
Pumpkin Mac and Cheese
If you are thinking pumpkin has no place in a homemade macaroni and cheese casserole, I get it.
But once you try it you'll see the perfection in the combination.
The pumpkin does not overtake the cheesy flavor. It's not too pumpkin-y.
In fact you'll barely know it's there. It DOES make the overall flavor and texture richer.
It's a fast side dish ready in about 30 minutes.
Recipe Ingredients + Notes
Butter. Use unsalted butter in both the parts of the recipe.
Pumpkin Puree. Store bought or homemade pumpkin puree can be used. Be sure NOT to use pumpkin pie filling which is sweet.
Seasonings. Garlic powder, onion powder, pumpkin pie spice, salt and pepper. This mix of seasonings gives the perfect flavor boost to the macaroni and cheese recipe. There is only a pinch of pumpkin pie spice.
Flour. Flour helps thicken the sauce and better coat the pasta. Regular All Purpose Flour or gluten-free flour blends may be used.
Milk. Any dairy milk will work. It's added to the pumpkin mixture to create the cheese sauce.
Cooked Elbow Pasta. Use your favorite type of macaroni or elbow pasta. Cook it before beginning the recipe. Bring a large pot of water to a boil and cook based on package directions.
Regular or gluten-free pasta can be used. I recommend Tinkyada elbow pasta if making the recipe gluten-free.
Shredded Cheese. We recommend two types of cheese to give this baked macaroni and cheese the best flavors. Sharp cheddar cheese and gruyere cheese (which is usually used in quiche).
The combination gives great flavor but doesn't overpower the other flavors in the recipe. Shredded Parmesan cheese is sprinkled on the top for another great flavor addition.
PRO TIP: grate the cheese yourself versus using pre shredded cheese. It contains an anti-caking agent that makes it not melt as smoothly.
Breadcrumbs. Use store bought or homemade breadcrumbs. Adding them to the top of the mac n cheese before baking created a crisp, crunchy top that's delicious.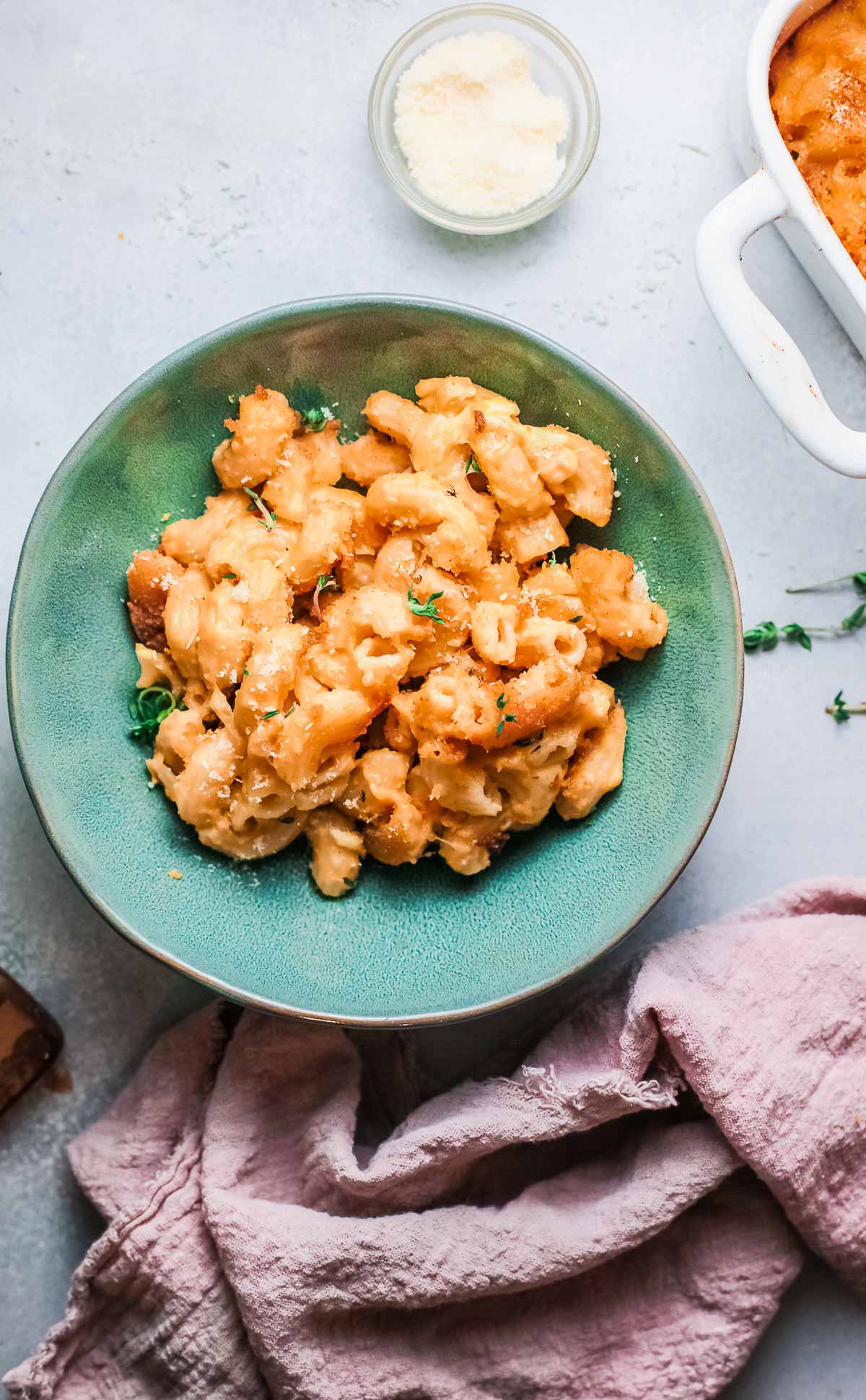 Variations
Change the cheese. Any favorite cheese can be used. Make it spicy with some Pepper Jack mixed with Colby. Go all cheddar with sharp cheddar cheese which has a stronger flavor than mild cheddar.
Use a different pasta shape. Other small pasta like spirals are a fun change.
Eat it without baking. The macaroni is done after it's mixed together before baking. If you love creamy homemade mac and cheese recipe it can be eaten without baking. The crisp breadcrumb topping is delicious too.
If you want to turn this into a delicious one pan meal, add a cup of shredded chicken or pre-cooked sausages sliced.
Stir it in when adding the pasta and cheese then bake as directed.
Change the flavor for a more Mexican flavor use Mexican Shredded Chicken (Instant Pot) or Slow Cooker Shredded Chicken Taco Meat.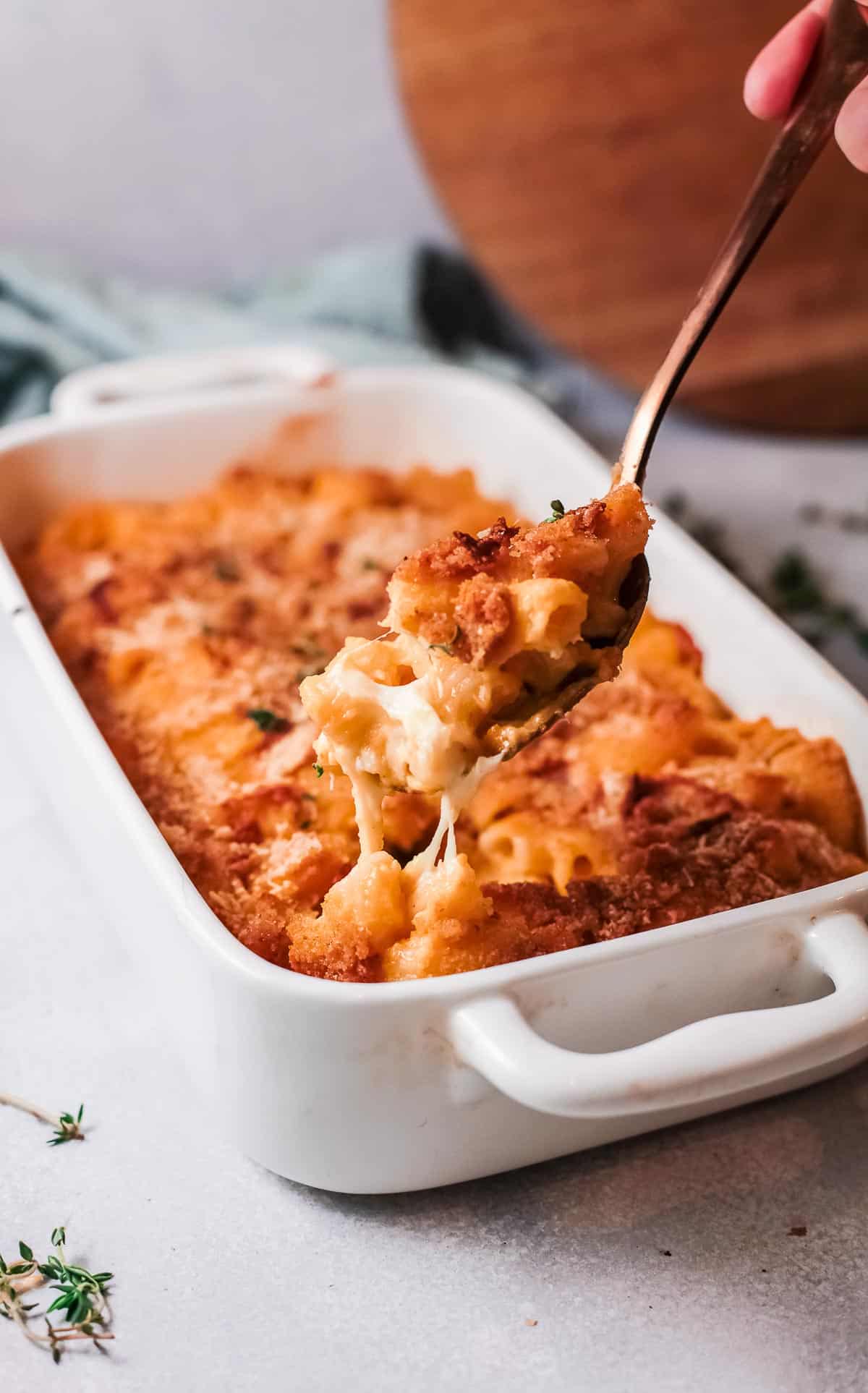 How to Make it – Step-by-Step
STEP 1. Making the Mac and Cheese.
Preheat the oven to 400 degrees F.
Melt 2 tablespoons of butter in a sauce pan over medium heat (photos 1-2). Add the pumpkin puree and cook for 3 minutes (photos 3-4).
Add the seasonings. Stir in the flour (photos 5-6).
Slowly add the milk to fully mix in (photo 7). Cook for 3 minutes.
Add the cooked pasta and shredded cheese (photos 9-10). Stir until the cheese has melted creating a cheese sauce. Remove from heat.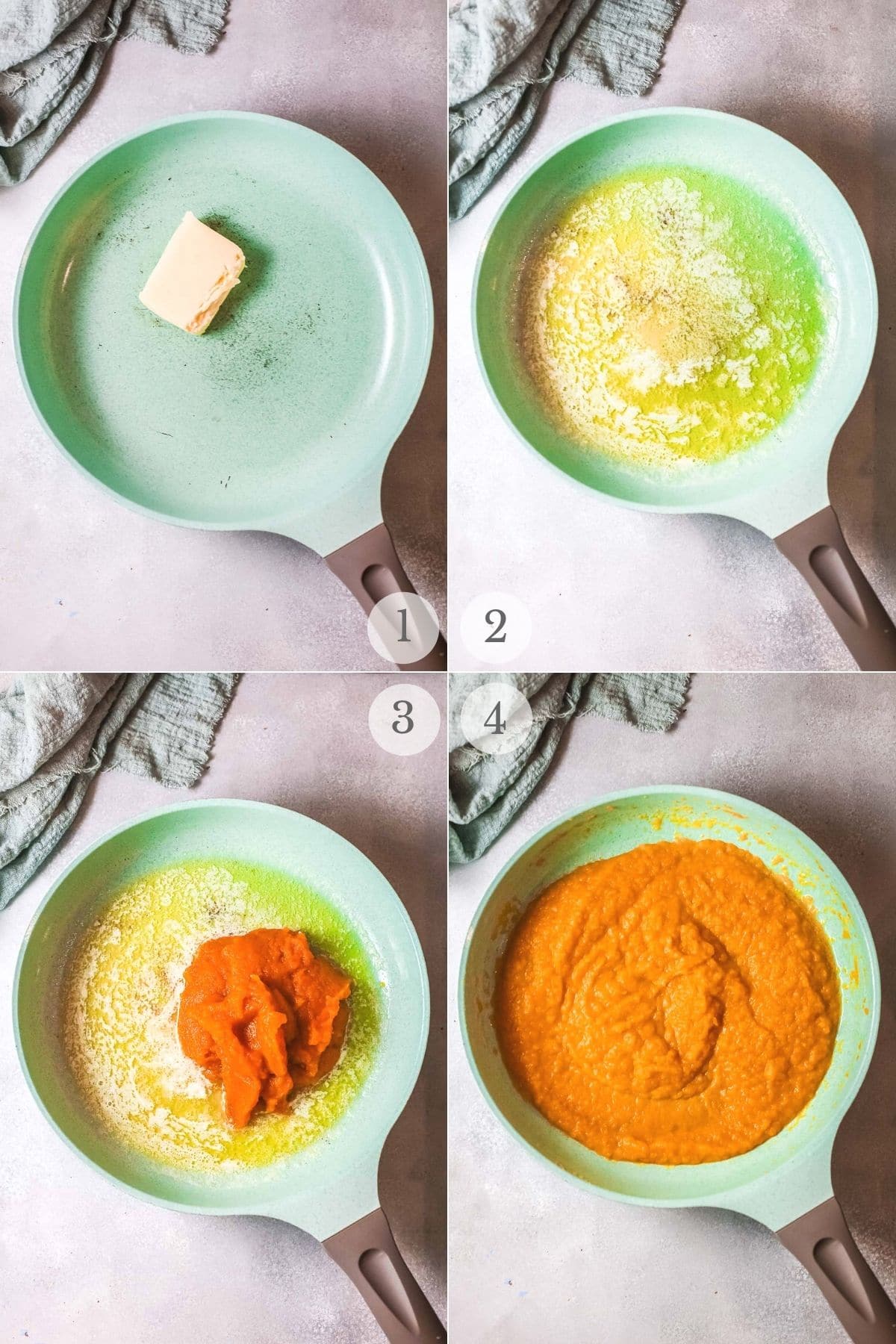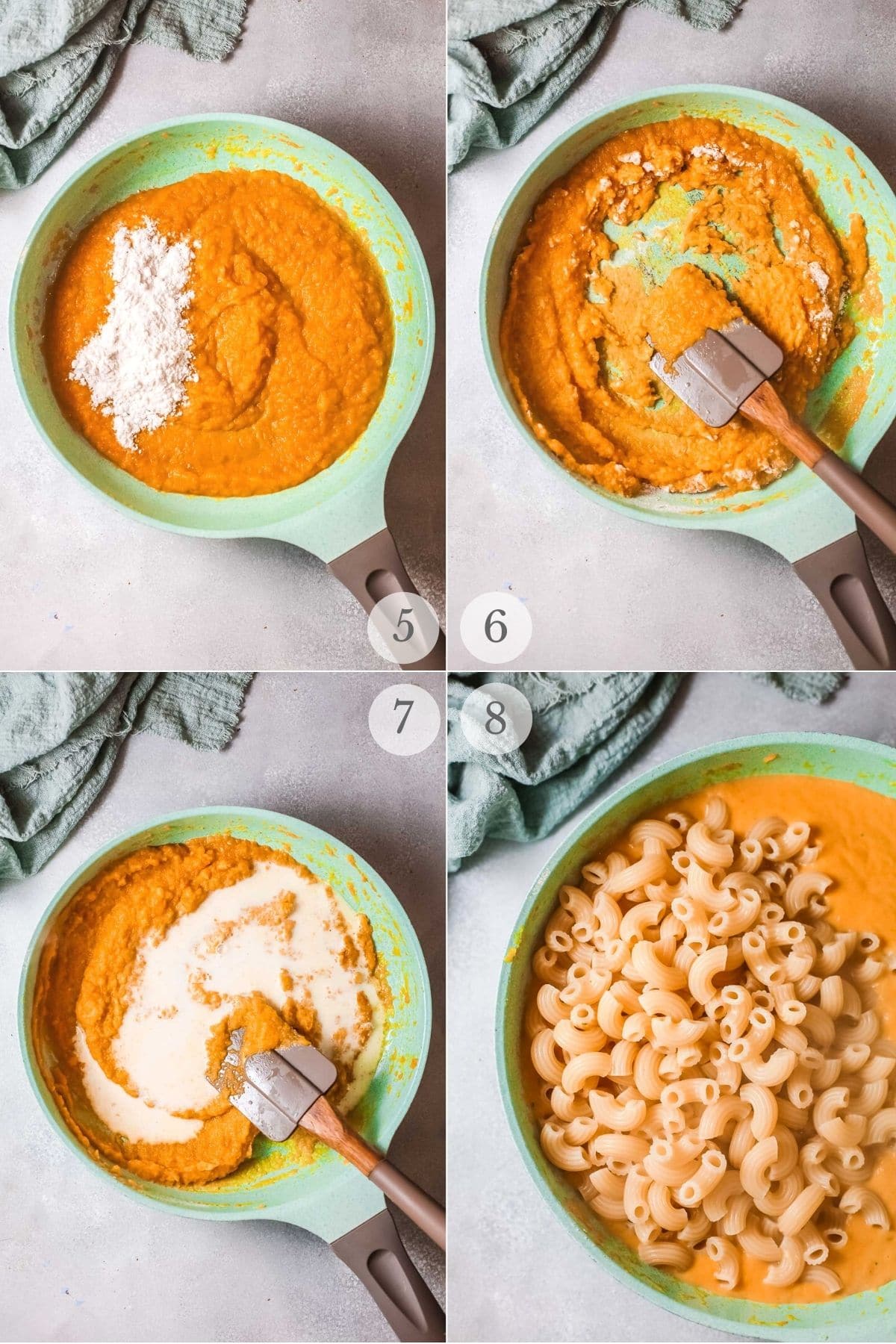 STEP 2. Baking it.
Spoon the mixture into the buttered 9-inch by 13-inch baking dish (photo 10).
Sprinkle the breadcrumbs evenly on top. Evenly add the chopped 2 tablespoons of butter and the Parmesan cheese (photo 11).
Bake for 15 minutes or until the top is golden brown (photo 12).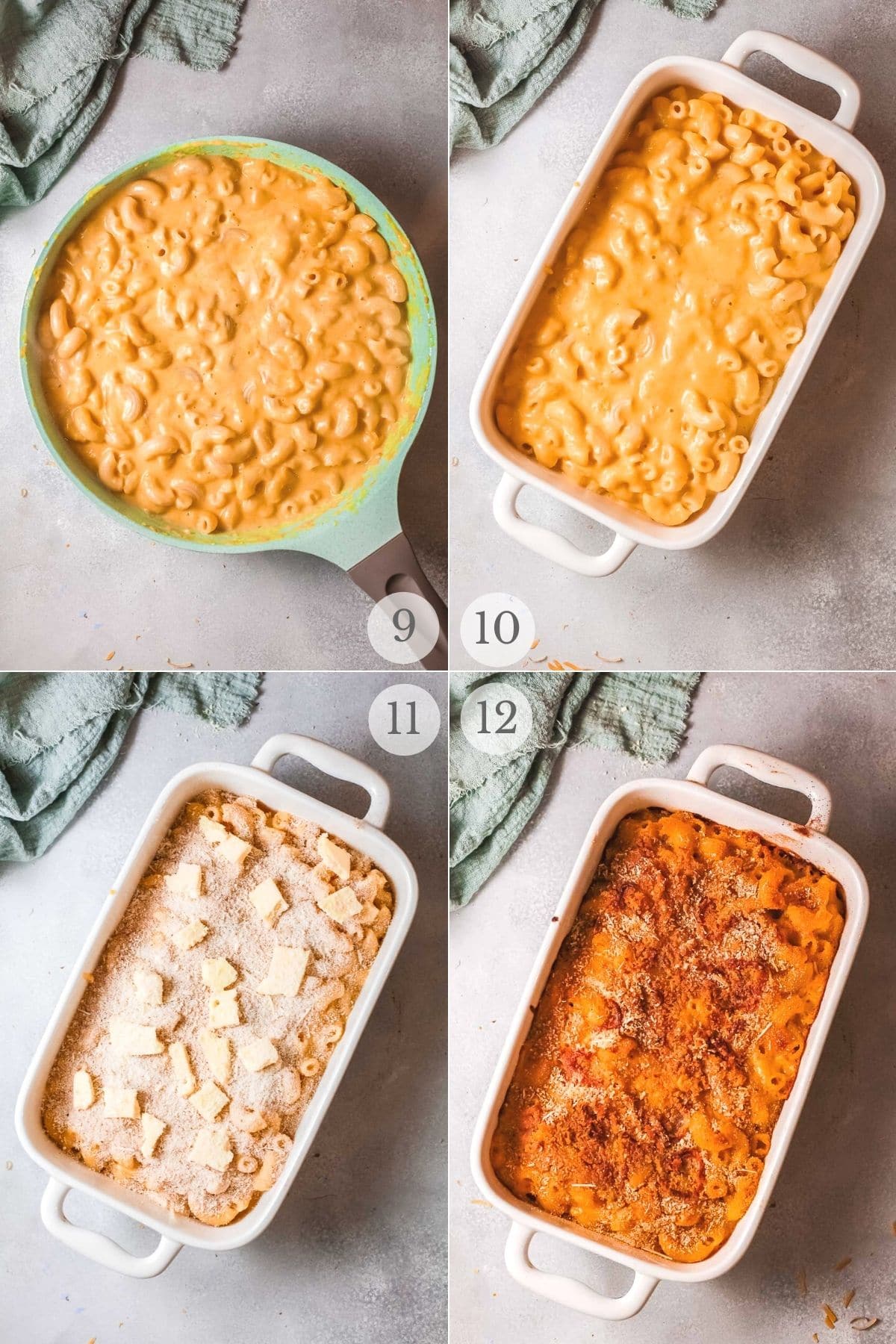 Storing Leftovers
Refrigerated leftover macaroni and cheese casserole in an airtight container for up to 4 days. It can dry out the longer it stays in the refrigerator.
To Reheat: the easiest way to reheat is in the microwave.
Add a couple teaspoons of milk to a container with a serving of the mac and cheese.
Cover and reheat until warm.
Stir together before serving.
How to Freeze Baked Mac and Cheese
When the casserole has cooled fully, scoop individual portions into freezer-safe containers or freezer bags. Freeze for up to 2 months.
Thaw in the refrigerator.
Baked macaroni and cheese is drier than the regular creamier version. Following the reheating instructions above will help add moisture.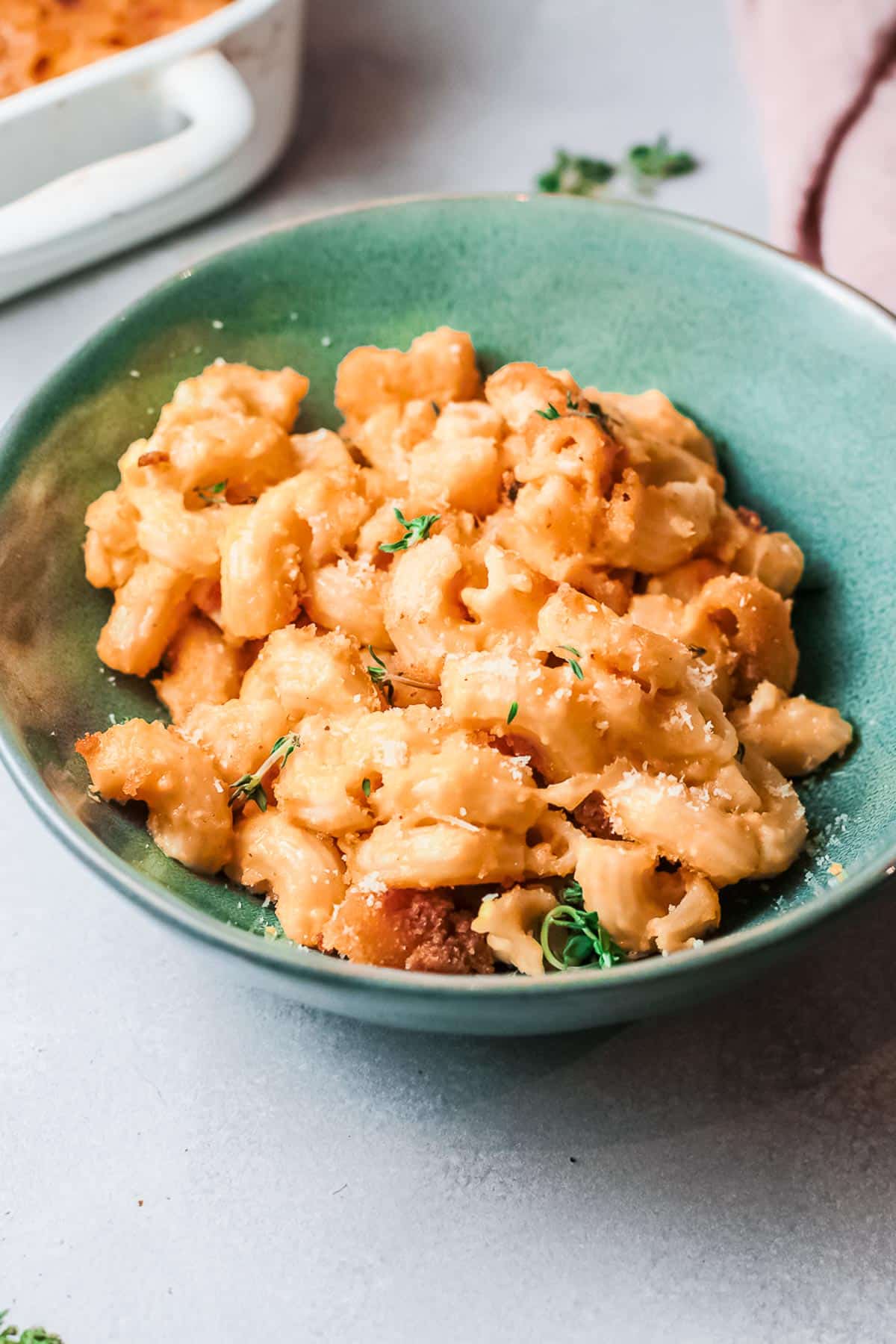 More Recipes You'll Love!
Did you make it? Please RATE THE RECIPE below!
Please SUBSCRIBE and FOLLOW ME on FACEBOOK , TWITTER , INSTAGRAM and PINTEREST !