Instant Pot chicken drumsticks are fast, easy and delicious! The meat is tender and moist, with crispy skin (thanks to a little trick). This recipe is packed with WOW flavors of sweet ginger, soy sauce, garlic, sriracha marinade. Only 18 minutes cooking time (much less time than oven roasting)!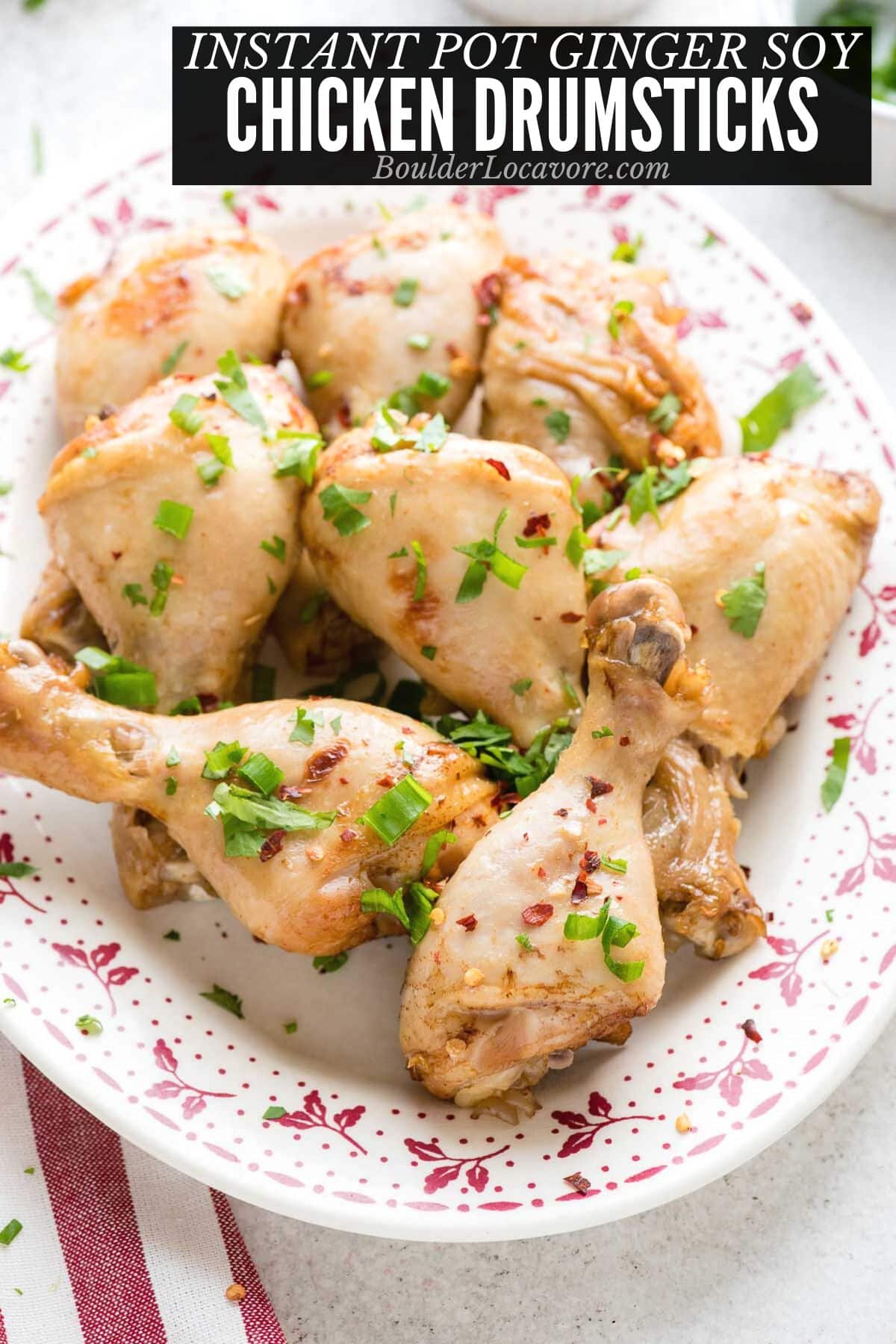 Chicken drumsticks aren't just for kids and this recipe proves that. It's a recipe the whole family will love! These Instant Pot drumsticks are very easy to make with a great combination of sweet, salty and spicy flavors.
The simple seasonings and fast cook time make this Instant Pot chicken drumstick recipe a favorite. It's a low carb option too! Great every single time. Broiling at the end makes the delicious Instant Pot chicken drumsticks golden brown as if they'd been oven roasted.
Add your favorite side dishes, rice (white rice or brown rice) or a salad to make a complete meal.
Try our Instant Pot Smoked Paprika & Garlic Chicken Legs too (one of our most popular recipes).
Jump to:
Chicken legs are usually last behind roast whole chicken, breasts and thighs. Like chicken thighs, chicken legs or chicken drumsticks are full of flavor.
Sold with the bone-in and skin-on, they stay moist when cooking and have much more flavor than chicken breasts.
When combined with this Asian-inspired delicious marinade, you'll be making these on repeat.
Each time I make it I remember why it is a family favorite chicken drumstick recipe!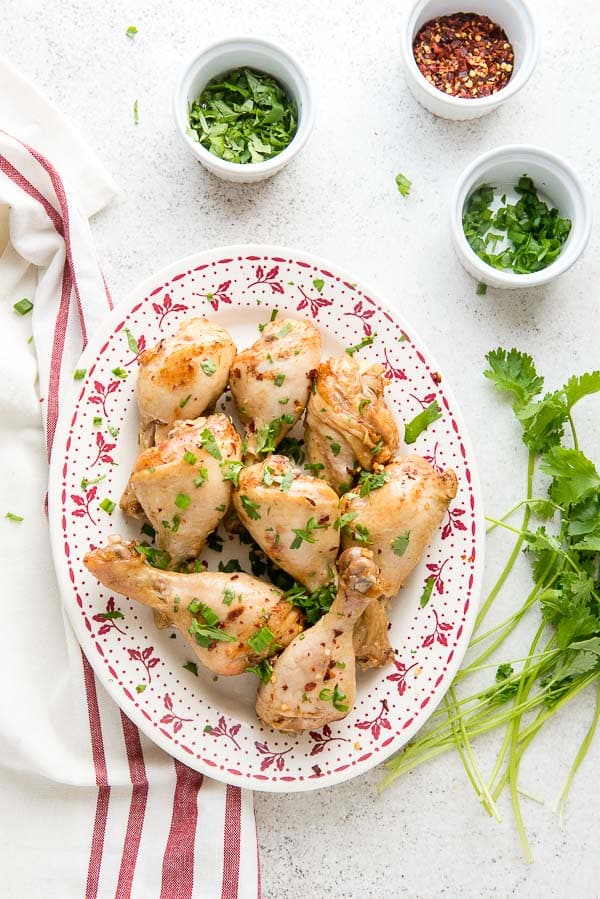 The marinade (which also turns into the cooking liquid) is the secret weapon of this delicious pressure cooker chicken!
The aroma when they are cooking makes is difficult to wait. Fortunately they cook quickly.
A delicious combination of ingredients create an Asian-inspired flavor that's lightly spicy, sweet, and salty.
The chicken is cooked to perfection in no time at all. Making this a wonderful dinner option even on the busiest of nights.
Recipe Ingredients Notes
This easy recipe uses simple ingredients that are easy to find at any grocery stores.
Garlic Cloves. You'll use 8 garlic cloves peeled and diced. It sounds like alot but when pressure cooking some flavors can become muted so this ensures a great garlic flavor note after cooking.
Honey. One of two sweeteners in the delicious marinade. You'll use 1/4 cup of honey.
Sriracha. Three tablespoons of spicy Sriracha sauce are used to give just the right amount of heat.
Soy Sauce. Regular soy sauce or gluten-free soy sauce or Tamari can be used.
Ginger. Use fresh ginger root for the best flavor. It will be peeled and diced.
Lime Juice. Use freshly squeezed lime juice.
Brown Sugar. Light or dark brown sugar can be used.
Vegetable Oil. Vegetable oil ensures the flavors in the marinade are conveyed to the chicken. If no oil is used the marinade won't coat the chicken in the same way. Olive oil can be substituted for vegetable oil if desired.
Chicken Legs. You'll use 3 pounds of drumsticks for this Instant Pot chicken drumsticks recipe which which should be around 10 drumsticks. If you find the drumsticks are much larger (so you are cooking less but they are bigger) you may need to lengthen the cooking time. More details below in the process instructions.
Suggested Supplies
A few things make this recipe a slam dunk:

Marinating Chicken Drumsticks
Marinating the chicken drumsticks ahead of time yield the best flavor result. It takes about 5 minutes to put the marinade together. And it's well worth the time.
Make up the marinade the morning you plan to cook the chicken legs. OR the night before if you want to cook them earlier in the day.
The soaking time in the delicious ingredients is worth it for the end result.
SHORT CUT MARINADE TIP
The only ingredients requiring any prep in the marinade is the garlic and fresh ginger. If you are in a pinch for time, substitute a prepared stir-in herb, such as Gourmet Garden.
They are available fresh in tubes in the produce department. You'll get the flavors you need with no prep time.
How to Cook Instant Pot Chicken Drumsticks
Printable recipe card at the end of this post below.
Cooking the chicken could not be easier. They cook much faster than traditional roasting (18 minutes total), are moist and tender when cooked in the Instant Pot.
STEP 1. Preparation
Place the trivet in the bottom of the Instant Pot. Remove chicken legs from the marinade (do not discard marinade) and place meaty side down on top of the trivet (see below).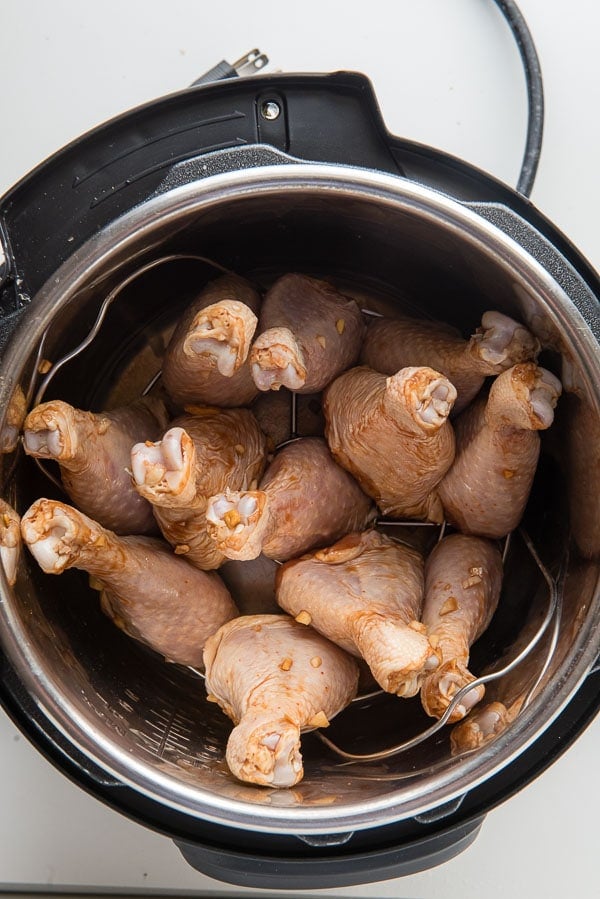 STEP 2. Add the cooking liquid
Pour the marinade into a 1 cup liquid measuring cup. If below 1 cup, add water to make 1 cup liquid and pour into the Instant Pot. If 1 cup or more, pour into the Instant Pot.
STEP 3. Pressure Cook
Cook on the Poultry (or manual High Pressure) setting for the default of 15 minutes. Allow a natural pressure release for 5 minutes then quick release any remaining pressure.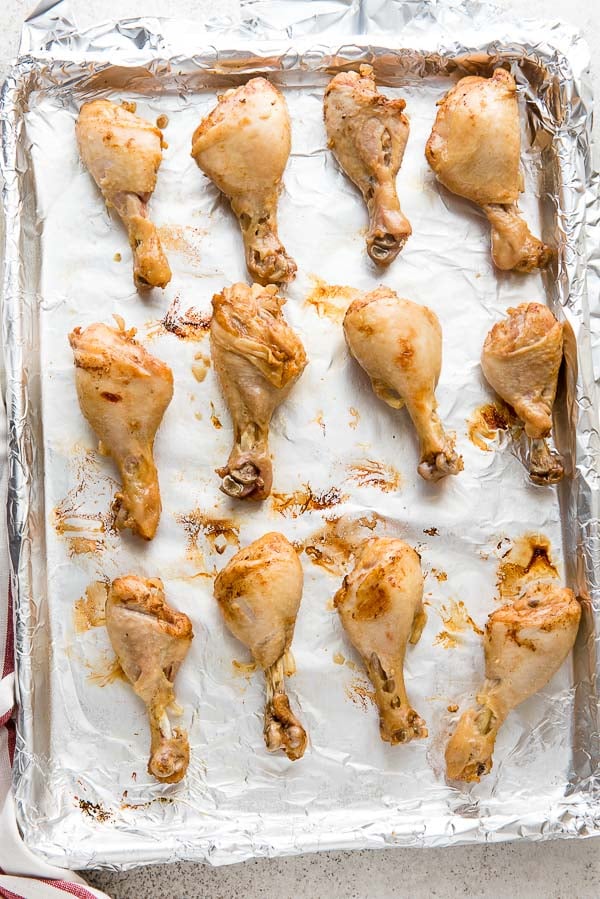 STEP 4. Broil
The SECRET is to broil them at the end for crisp skin and a wonderful texture! They taste as though they were oven roasted by doing this step.
While the Instant Pot is pressure releasing, place the top oven rack 4 inches down from the top. Turn the broiler on High.
Line a large rimmed baking sheet with foil and spray with non-stick spray. Carefully transfer the drumsticks to the baking sheet (into a single layer) using tongs taking care not to tear the meat.
Broil for 1 1/2-2 minutes, flip and repeat on the other side to crisp the skin. Monitor and turn earlier is any dark browning begins.
The internal temperature of the chicken should reach 165 degrees F.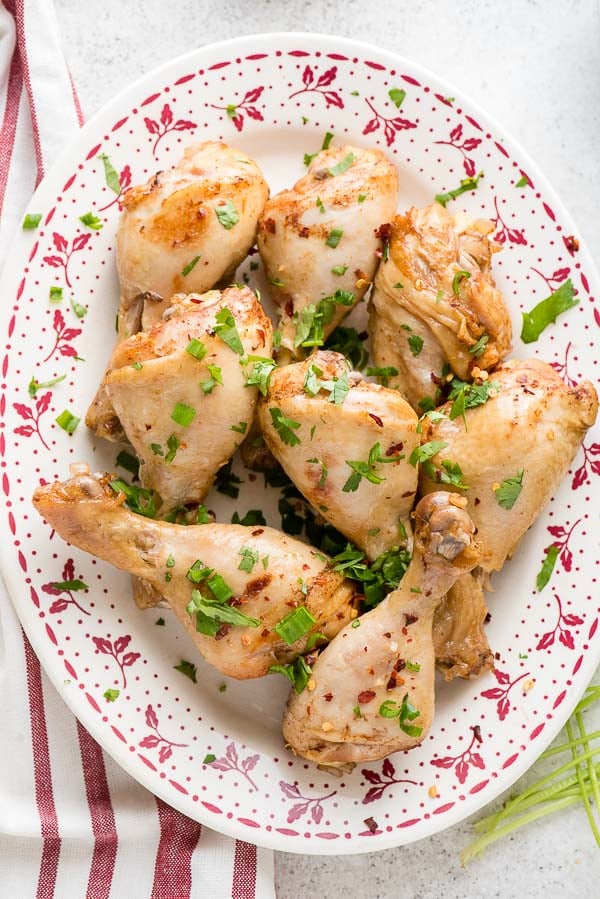 Frequently Asked Questions
Can you cook chicken drumsticks from frozen?
For this recipe, no. The marinating step is key to the end result and frozen chicken will not absorb marinade in the same way as fresh raw chicken.
Can I freeze the cooked chicken drumsticks?
Yes! Allow them to cool slightly. If you want individual servings place the drumsticks on a parchment lined rimmed baking sheet and into the freeze to flash freeze them for 1-2 hours. When frozen place them in freezer bags and freeze for up to 3 months. Thaw in the refrigerator before reheating. You can reheat in the oven, air fryer or microwave. NOTE: flash freezing prevents them from sticking together so you can remove as many as you want at a time versus all of them.
How do I know the chicken is done?
When measuring the internal temperature with an instant read food thermometer the temperature should be 165 degrees F. Be sure not to allow the thermometer probe touch the bone when taking the temperature.
How to store
Allow leftover cooked drumsticks to cool slightly. Store in an airtight container for up to 4 days in the refrigerator.
More Recipes You'll Love!
5 MIND-BLOWING INSTANT POT TIPS YOU NEED!
I've uncovered some unexpected, useful tips you'll want to know.
Sign-Up below and I'll tell you all my Instant Pot secrets!
Recipe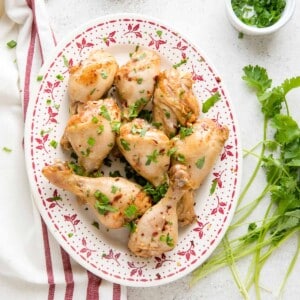 Ginger Soy Instant Pot Chicken Drumsticks
Chicken drumsticks are marinated in a sweet soy, ginger, garlic, sriracha marinade then cooked in the Instant Pot. Broiling at the end creates moist, tender meat with beautifully crisped skin. Cooking time is only 18 minutes!
Print
Save Recipe
Recipe Saved!
Pin
Rate
Servings:
5
2 drumsticks per serving
Ingredients
8

Garlic Cloves

peeled and diced

1/4

cup

Honey

3

tablespoons

Sriracha

1/4

cup

Soy Sauce

regular or gluten-free

1 1/2

tablespoons

fresh peeled, diced Ginger Root

2

teaspoons

fresh Lime Juice

2

teaspoons

Brown Sugar

2

tablespoons

Vegetable oil

3

pounds (about 10)

Chicken Drumsticks/Legs

Optional garnish: torn cilantro leaves, sliced green onion (the green portion only), red pepper flakes
Instructions
In a small mixing bowl or liquid measuring cup, combine all ingredients EXCEPT the chicken and stir to combine. Preferred method: add the chicken legs to a gallon plastic zipper seal bag and pour marinade over the chicken. Seal, squeezing out the air and massage the bag to cover all the chicken legs with marinade. Refrigerate 6-8 hours.

When ready to cook the chicken legs: Add the trivet to the Instant Pot. Remove the chicken from the bag (reserve the marinade) and arrange chicken legs standing up, meaty side down (refer to photo), on the trivet.

Pour the marinade into a liquid measuring cup. If there is less than 1 cup total liquid, add water to make 1 cup total. If there is 1 cup or more of marinade, no water needs to be added. Pour into the Instant Pot and lock the lid.

Press the POULTRY button (or High Pressure) and cook for the default time of 15 minutes. When timer beeps, let pressure release naturally for 5 minutes. Quick release any remaining pressure until float valve drops and then unlock lid. Check the chicken using a meat thermometer to ensure the internal temperature is at least 165°F.

While the chicken is cooking, line a large rimmed baking sheet with foil, dull side up. Spray with non-stick spray.

While pressure is releasing position the top oven rack approximately 4 inches below the broiler and turn on the broiler (on HIGH).

Place chicken legs on the prepared baking sheet using tongs. Cook the chicken 2 minutes on one side (watching closely to ensure no burning), flip with tongs, and cook 1 1/2 to 2 minutes on the opposite side to crisp the chicken.

The internal temperature should reach 165 degrees F. Transfer chicken to a serving plate, allow to cool slightly and serve warm.
Notes
The Total Time reflects 6 hours for marinating the chicken. Do it the morning you'll be cooking to make actual dinner preparation a breeze.
Nutrition
Calories:
397
kcal
|
Carbohydrates:
14
g
|
Protein:
34
g
|
Fat:
23
g
|
Saturated Fat:
9
g
|
Cholesterol:
168
mg
|
Sodium:
1046
mg
|
Potassium:
470
mg
|
Fiber:
1
g
|
Sugar:
12
g
|
Vitamin A:
97
IU
|
Vitamin C:
8
mg
|
Calcium:
29
mg
|
Iron:
2
mg
Originally published: March 18, 2018