One of the most visited National Parks, Rocky Mountain National Park just turned 100 and has more things to do than you can imagine! I whipped up a Mountain Pine Whiskey Cooler cocktail in the spirit of summer mountain travel too!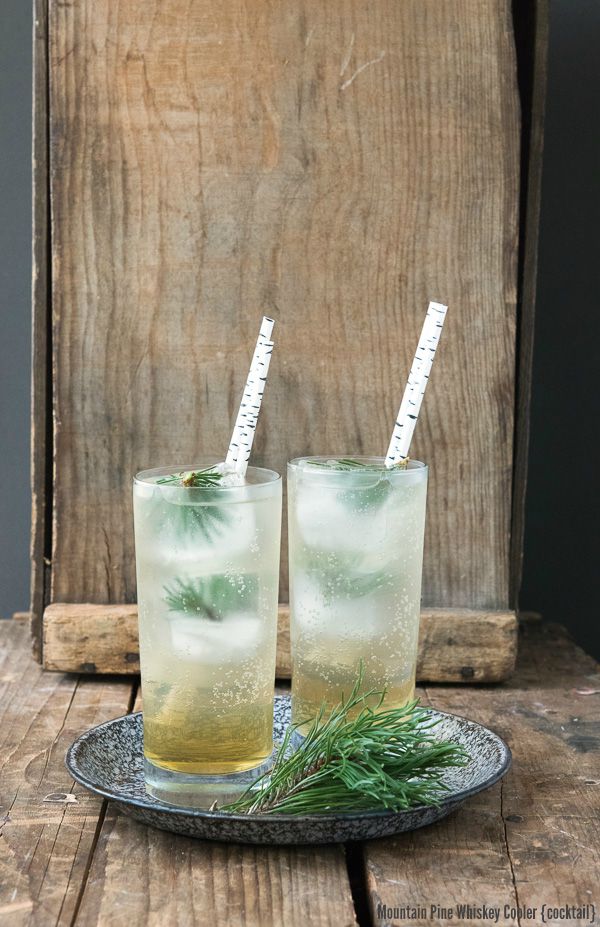 Turning 100 years old certainly is cause to celebrate. A life well-lived, obstacles conquered, the twists and turns of a life's journey all pondered. It is not often one can reflect from a centenarian vantage point to admire constant rebirth and expansion, with the help of dedicated volunteers and an admiring public, to greet such a milestone perhaps more vibrant and beautiful than the day of one's birth. Such is the splendor of Rocky Mountain National Park which is reveling in its 100 year glory this year.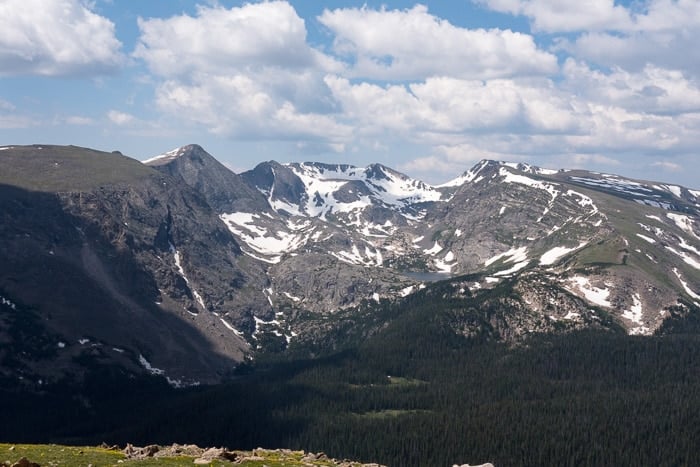 We are fortunate to live a mere 45 minutes from the park which is also only 90 minutes from Denver making it easily accessible to travelers. With annual visits to the 400+ U.S. National Parks consistently ranking 5th for Rocky Mountain National Park's popularity, with a whopping 3.4 million visitors in 2014, we know our appreciation is not unique.
Sporting 265 acres, 150 lakes, 450 miles of streams, wetlands, pine forests, alpine tundra, varied wildlife inhabiting the rich ecosytems, over 300 miles of hiking trails and the opportunity to claim visit to 12,000 feet elevation with a short walk from an alpine visitor center, the park offers something for everyone. Including a chance to summit a famous '14'er' (peaks over 14,000 feet), Long's Peak, for those of a more vigorously adventuresome constitution!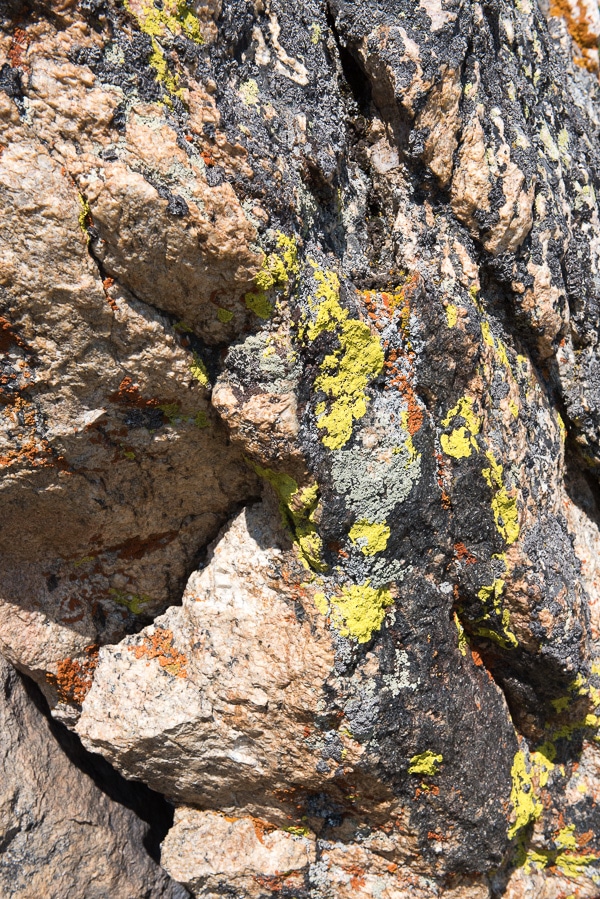 There are opportunities and activities all year round at Rocky Mountain National Park (RMNP). My family tries to visit every fall when the elk have come down from the high peaks into the valleys to mate. The rut as it's known is a National Geographic worthy spectacle set in the crisp air of autumn, with bull elk bugling an unearthly whistle, sparring with each other to collect females for their herd. We take a picnic dinner and spend an evening taking it all in. Over July 4th weekend we took a summertime trip to visit the park in celebration for the centennial, and for a dedicated exploration of all there is to do and see.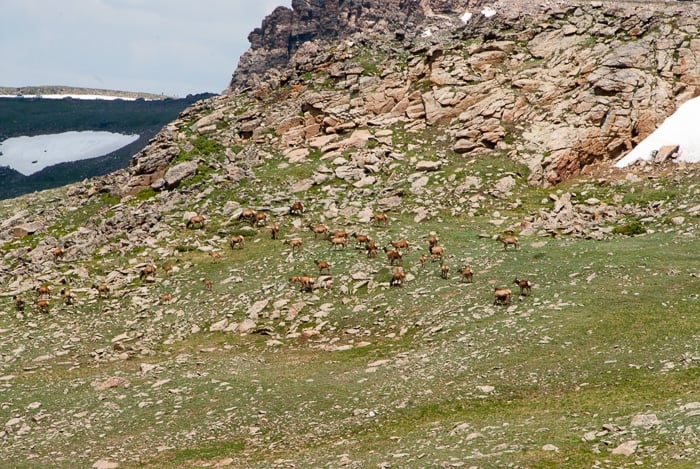 To be candid I've dragged my feet on writing this post. There is almost too much to do to round up! Whether a sports or wildlife enthusiast, or merely enjoying a scenic drive, there is plenty for all and the best place to start is at a visitor center. We started our weekend on Friday afternoon with a visit to the relatively new Fall River Visitor Center a few miles outside of Estes Park. The gorgeous facility boasts an information center with exhibits, knowledgeable Park Rangers, a small book store (books on the park, t-shirts, including the limited 100 year t-shirts) and adjoins a huge gift shop and restaurant.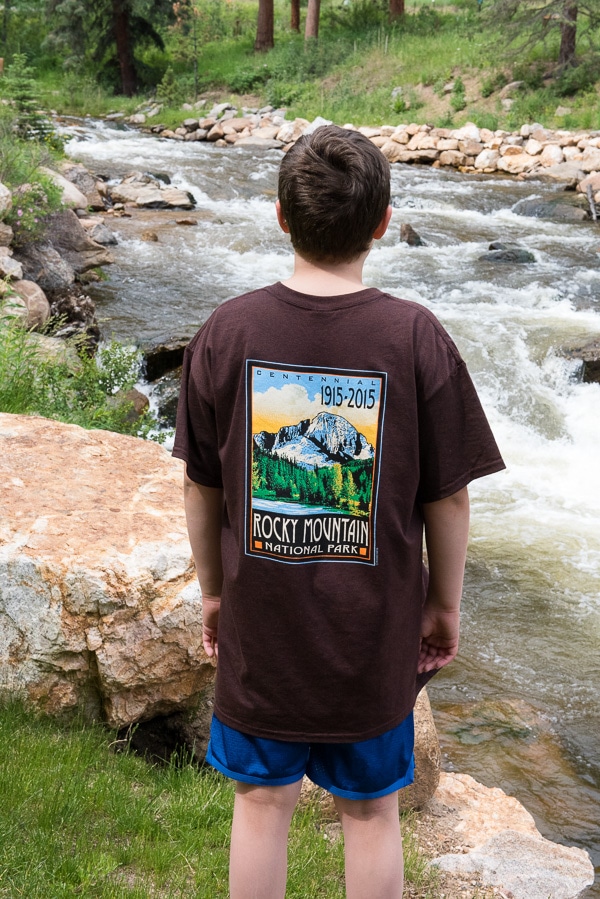 We discussed various things to do with the Rangers, as well as picked up Junior Ranger books for the kids. The Junior Ranger program is available at most national parks and is a wonderful way to become familiar with all aspects of the specific park. Whenever traveling to different parks, our kids would do them however the program historically was targeted for younger visitors.
Currently any age can become a Junior Ranger after filling out the booklet including wildlife sightings, natural observations, learning about protecting the park environment, reading and answering questions and attending a ranger program (which is optional). The culmination of the program takes place when turning in the booklet to a Park Ranger at any Visitor Center where it's reviewed, some questions are asked and a small ceremony occurs and a badge is given to the Junior Ranger.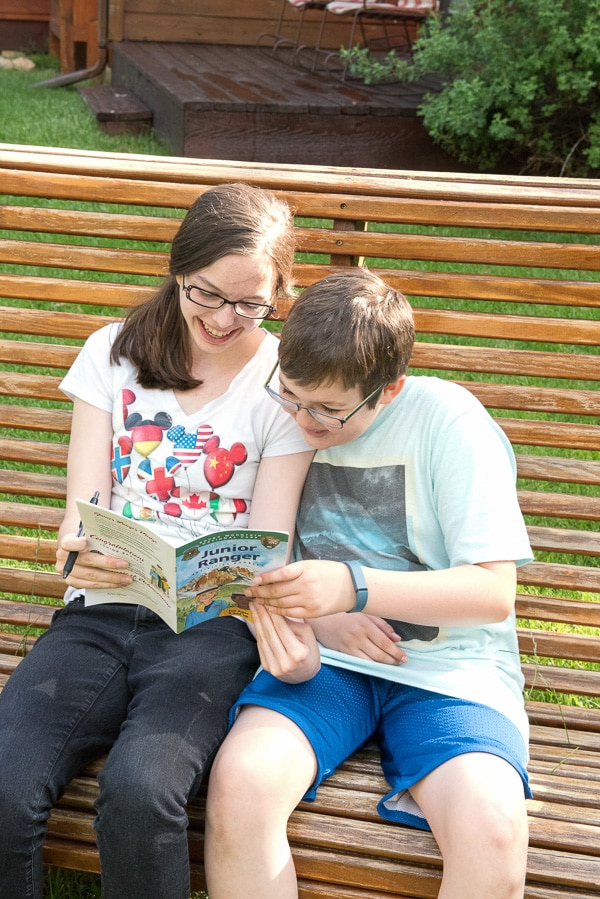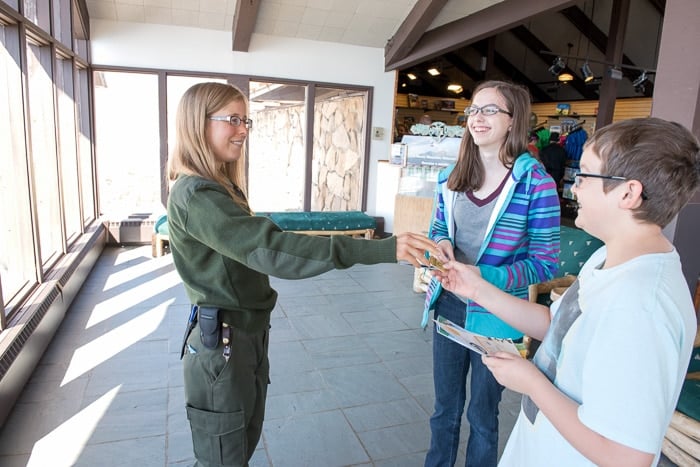 This year in RMNP there is also a centennial sticker distributed for all completing the program. Our kids began working on the booklet Friday afternoon and did not put it down until completing it late Saturday. All electronics were forgotten and they spent hours outside looking for animals, clouds and collaborating on their newly found knowledge. The program is free of charge.
Any celebration warrants a cocktail and I developed one fitting for this occasion. The Mountain Pine Whiskey Cooler uses pine syrup created from Colorado pine, Colorado-local Leopold Brothers Rye Whiskey and ginger beer from the Rocky Mountain Soda Company. It is an earthy, herbal cocktail that feels like being in the mountains. Cheers to your next 100 years Rocky Mountain National Park!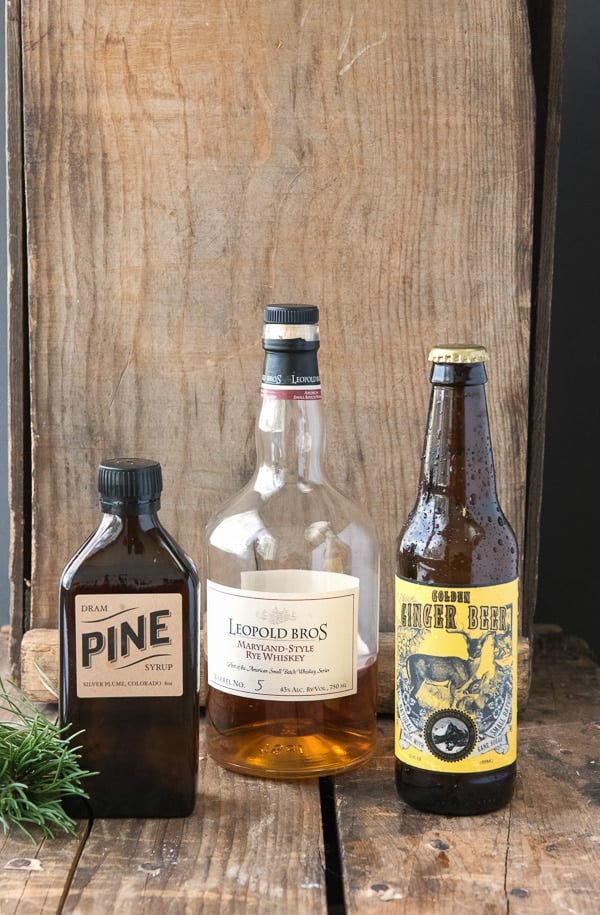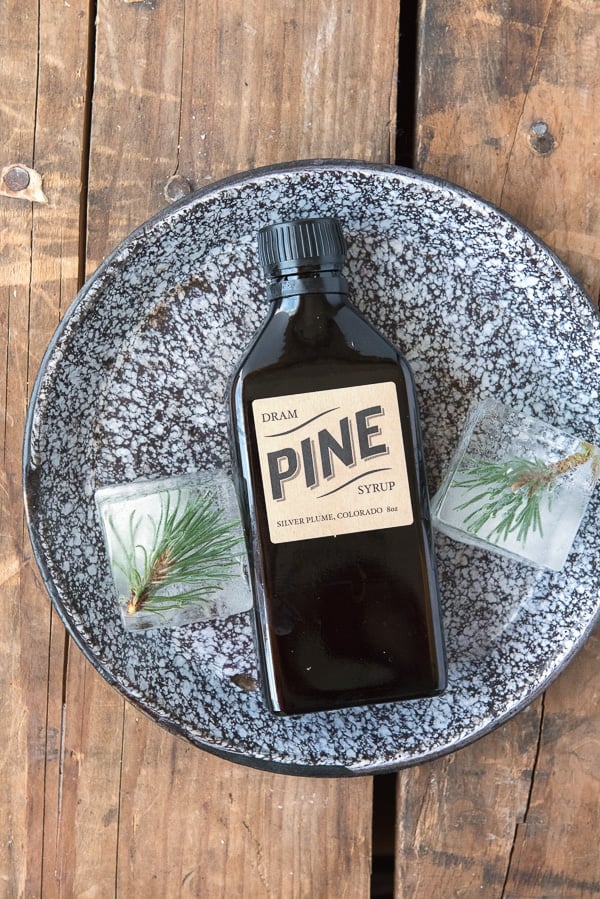 Recipe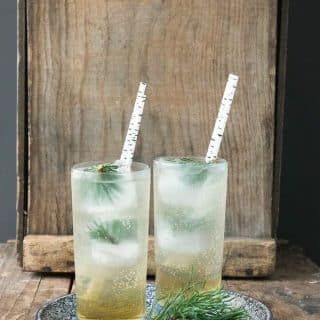 Mountain Pine Whiskey Cooler
This cocktail was conceived after a beautiful day exploring Rocky Mountain National Park. All ingredients are Colorado-based however if unavailable in your area, using your favorite rye or bourbon, and any quality ginger beer are fine. The Pine Syrup is available to order online and may be used for many dishes. Unlike traditional syrups, it is not overly sweet (though could be added to some sweeteners for something like pancakes). Thoughtfully made, it offers a quality flavor of the outdoors that is very unique. Note: the pine sprigs frozen into the ice cubes used were not gathered in Rocky Mountain National Park!
Print
Save Recipe
Recipe Saved!
Pin
Rate
Ingredients
½

ounce

Pine Syrup

(Dram Apothecary)

1

ounces

to 1 ½ ounces Rye Whiskey

(I used Leopold Brothers Maryland-style Rye Whiskey)

Ginger Beer to fill

(I used Rocky Mountain Soda all natural Golden Ginger Beer)

Optional: freeze pine sprigs in ice cubes
Instructions
Fill a tall Collins glass (12-14 ounces) with ice.

Pour in the pine syrup, rye and stir.
Nutrition
Calories:
109
kcal
|
Carbohydrates:
9
g
|
Protein:
0
g
|
Fat:
0
g
|
Saturated Fat:
0
g
|
Cholesterol:
0
mg
|
Sodium:
1
mg
|
Sugar:
8
g
|
Calcium:
16
mg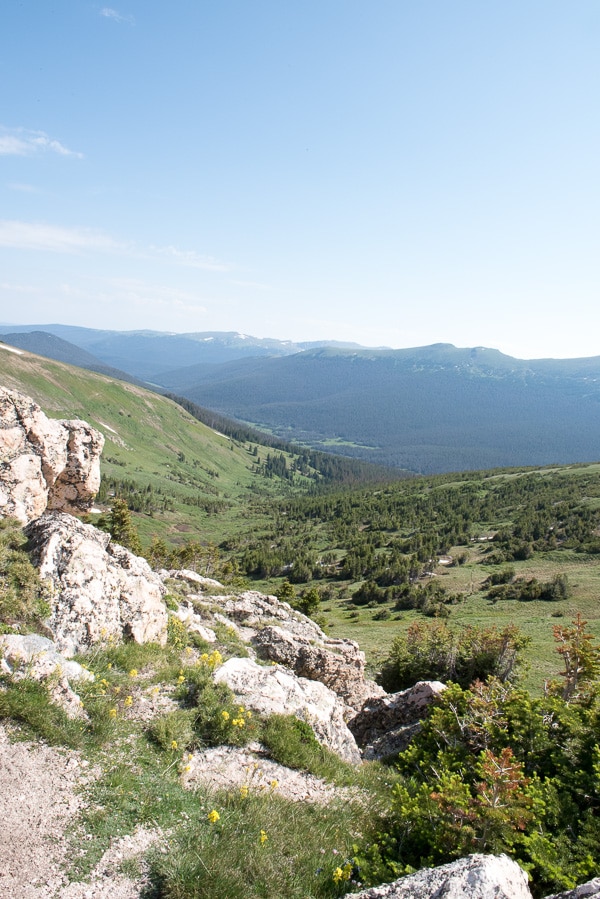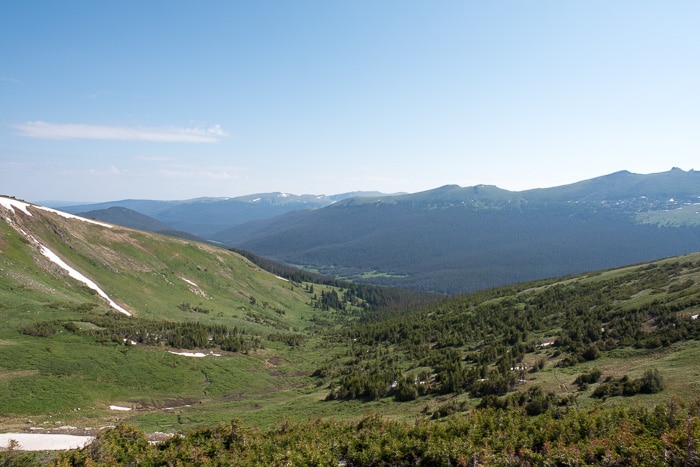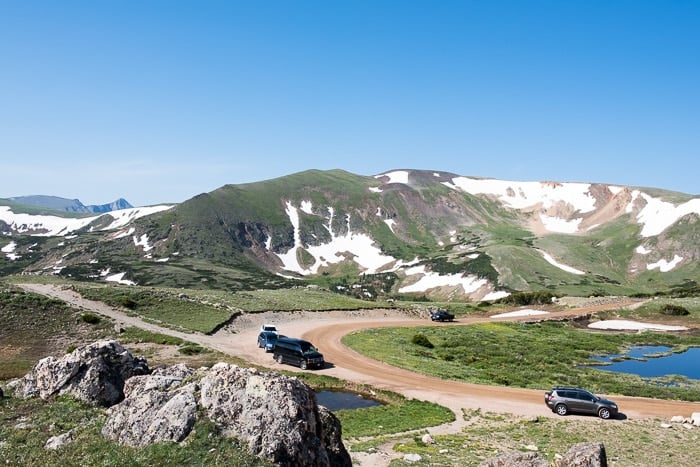 Fall River Road, the original road up to Trail Ridge Road which transits a 12,000 foot high point in the park accessible by car, has reopened for the first time in almost two years. The one-way dirt road snakes up the mountainside giving access to stunning vistas, wildlife spotting (we saw a bull elk mere feet away from our car), pull outs for hiking, waterfall views, wildflowers and the experience of the changing alpine terrain eventually ending above tree line.
The road is only open in the summer months and it is recommended to start early to avoid traffic. We set out around 7 a.m. hoping for early morning wildlife spotting and found not many other cars at that time (but did marvel at a few bicyclists, including a father and young daughter on a double bike, winding up the steep incline).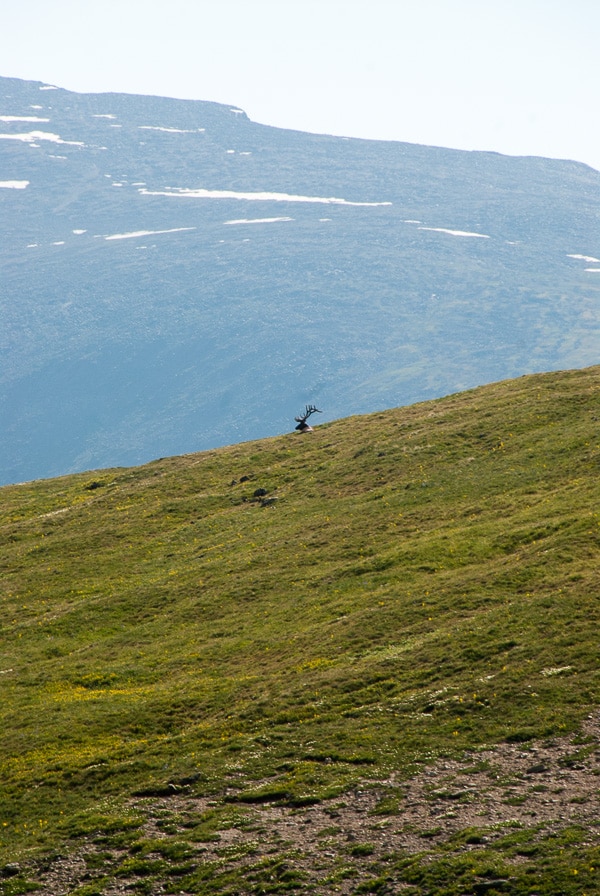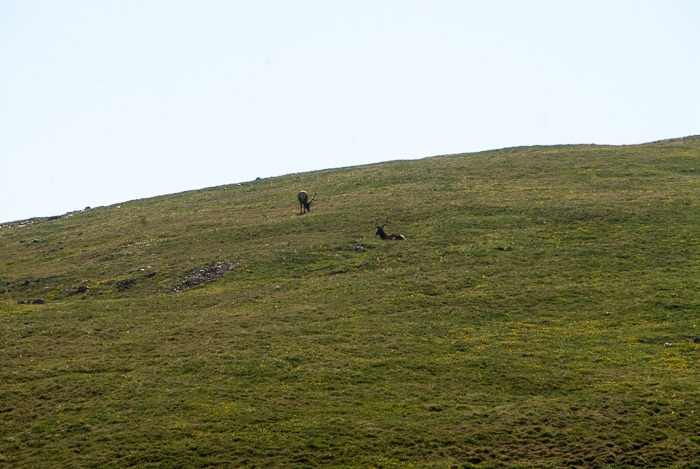 Fall River Road ends at the back of the Alpine Visitor Center parking lot. The visitor center includes a ranger station, extensive gift shop and a café. The entire length of the building has a glass wall facing in the valley below. The view is breathtaking and a perfect backdrop for grabbing a bite to eat, some shopping or exploring one's next adventure in the information center.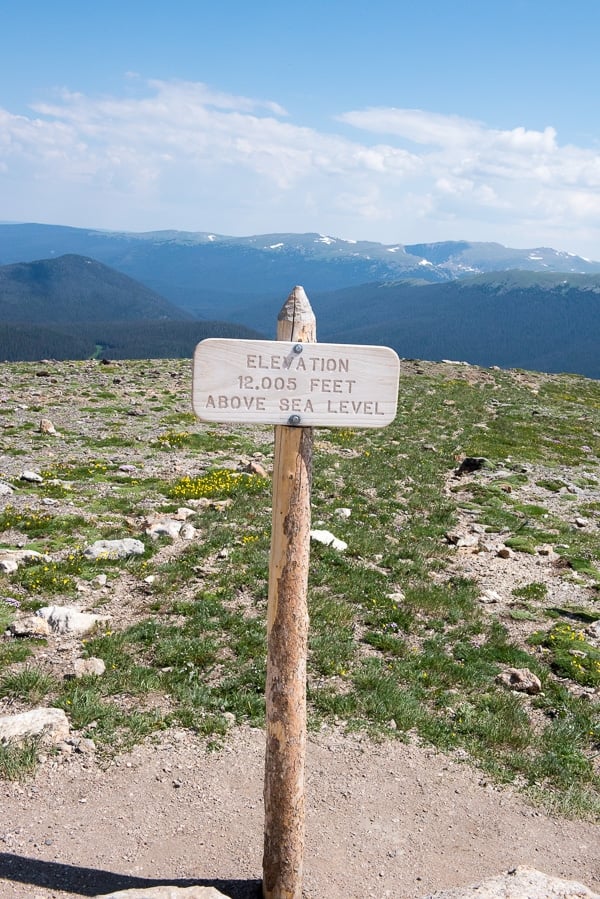 A short walk above the Alpine Visitor Center passes through a number of well-marked mountain plant species to a vista at 12,000 feet altitude. The path is mostly wide stone steps which can be taken slowly for those feeling the effects of the altitude but is well worth the 360 degree views. We noted many family Christmas card photos and selfies being shot at the top.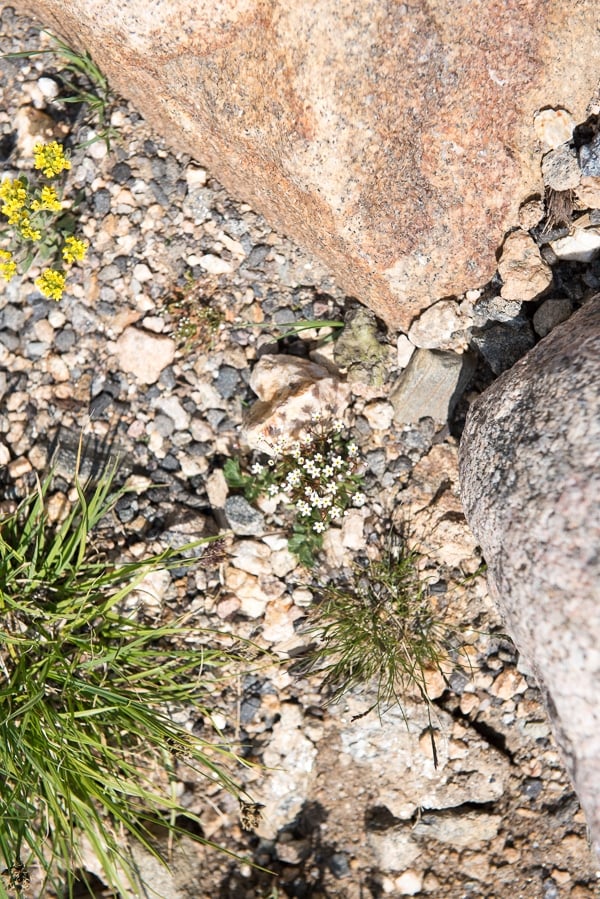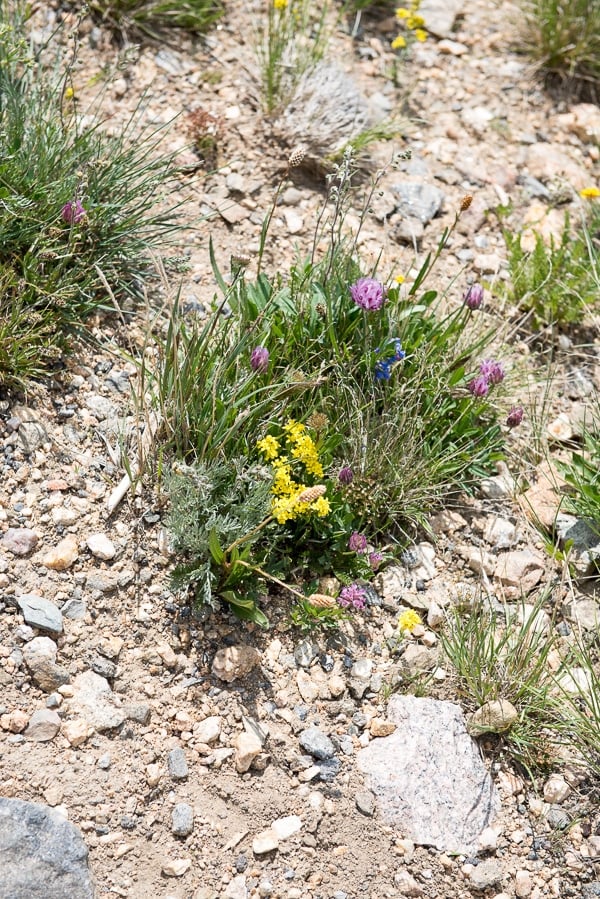 From the top of Trail Ridge Road one can either make their way back down into the Estes Park side of RMNP or toward Grand Lake (a perfect spot for moose watching). Access to the park may be had from either location and does require an entrance fee or purchase of a park pass. We headed back toward Estes Park, stopping frequently at various pull outs to admire the striking views, taking iPhone panoramic pics and watching a large herd of female elk and their babies traverse the rocky mountainsides (can you find them amongst the rocks in the photo below? Look for the white patch by their tails).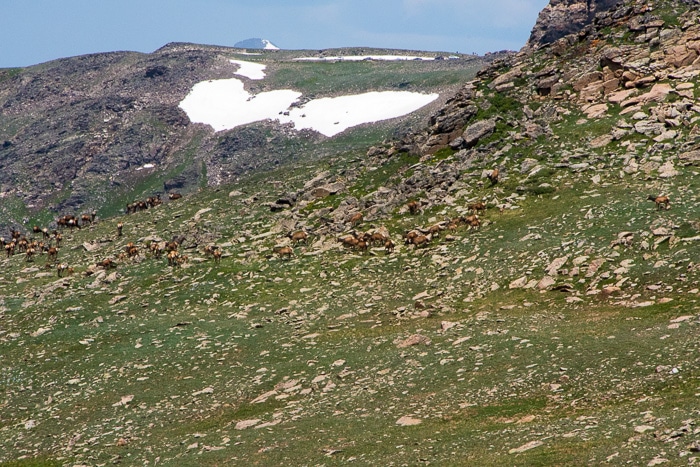 Early Sunday morning we set out for another dawn exploration, traveling to the Beaver Meadows side of the park. Following the drive we stopped for breakfast at the Trailhead Café which is housed in the Fall River Visitor Center complex. A discrete café at the end of the building reveals the best spot to perch for a meal on their outdoor deck.
The breakfast options are simple and filling, and they can accommodate gluten-free diners. In reading reviews online before going I noted complaints about the wait however we found the wait to be normal and the scenery spectacular so were happy to sip hot drinks until the food came. The wait staff was courteous and helpful. I'd advise visiting early or at off hours during peak tourism times in the park.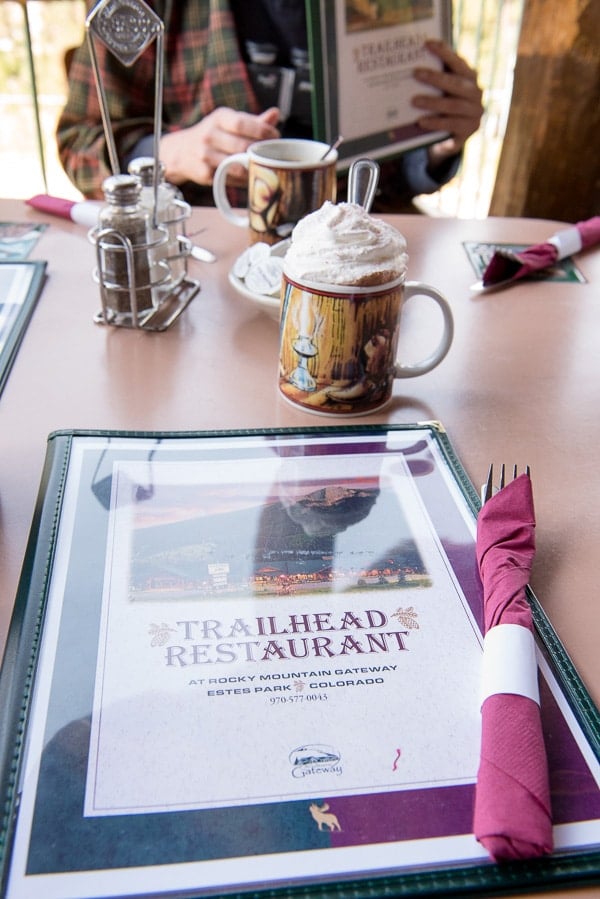 Rocky Mountain National Park offers a vast splendor perfect for family-friendly travel all year round. Lodging may be found either in Estes Park or in Grand Lake, as well as rustic cabin accommodations may be found in the park itself, as well as campgrounds. The park is open 24 hours a day every day of the year.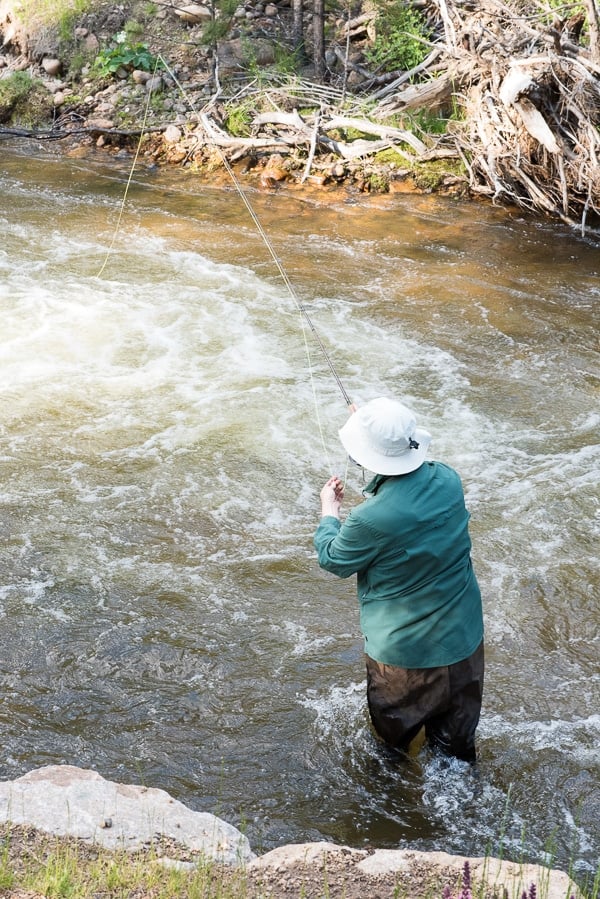 General Tips for Visiting Rocky Mountain National Park:
Hike early or hike late in the afternoon (check weather forecast). The busiest time in the park is between 10 and 3.
If you're interested in hiking near Bear Lake, plan to arrive to the trailhead by 8a.m. or the Park & Ride lot no later than 9:30. There is also a Hiker Shuttle from the Estes Park Visitor Center.
As mentioned, Old Fall River Road: Option to drive up Old Fall River Road, visit the Alpine Visitor Center, and drive down Trial Ridge Road. The Alpine Visitor's Center hours are 9-5.
Good Family Friendly Programs and Tips:
Friday and Saturday at 2:00 p.m. at Fall River Visitor Center – Art Activity For Kids
Friday, Saturday, Sunday or Monday take a Discovery Hike at Moraine Park Visitor Center at 9:30 (1 to 1.5 hours)
Junior Ranger Program – Junior Ranger Headquarters at Hidden Valley – activities from 10 to 3 but programs are at 10, 11:30, 1 and 2:30. The Junior Ranger books may be picked up at any visitor center in the park.
Across the Divide Geo-Tour: 50 Geocaches in Estes Park, Grand Lake, and RMNP relating to wilderness, wildlife, wonder, and centennial history. Whether you are new to geo-caching or are an expert, this tour is a fun and challenging adventure for the whole family.
Rocky Mountain Conservancy's Sunset Safari: Educational adventure by bus around Estes Park.
Bring binoculars for wildlife viewing.
Kirk's Fly Shop in Estes Park is a 'must stop' for any fisherfolk. They have a great assortment of merchandise, lead trips and provide advice for your fishing goals. We stopped in for some flies based on where we'd be fly fishing on Fall River and they guided us as to the right choices for what was biting.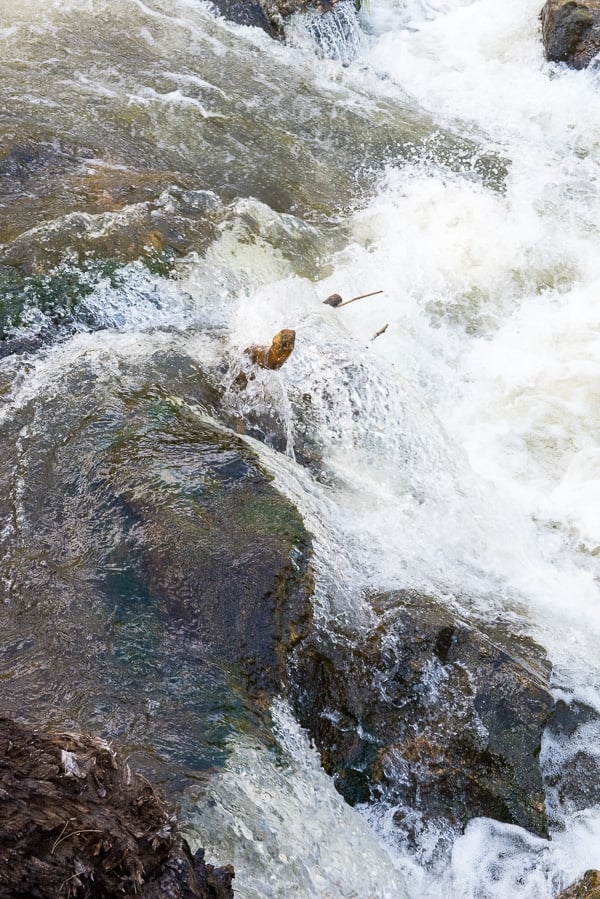 Disclosure: Weekend lodging for our exploration of Rocky Mountain National Park was graciously provided by Boulder Brook on Fall River. Our thanks to Visit Estes Park for all the local information. All opinions are my own.