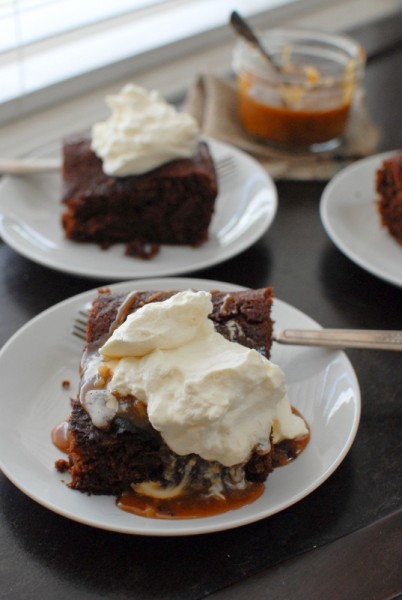 For anyone tethered to the school year calendar you will have experienced the time acceleration phenomenon between Spring Break and the school year end, as well as the missile fire of events targeting one's calendar. December holds similar properties but this spans a bit over 2 months leaving a frenetic tone in every day.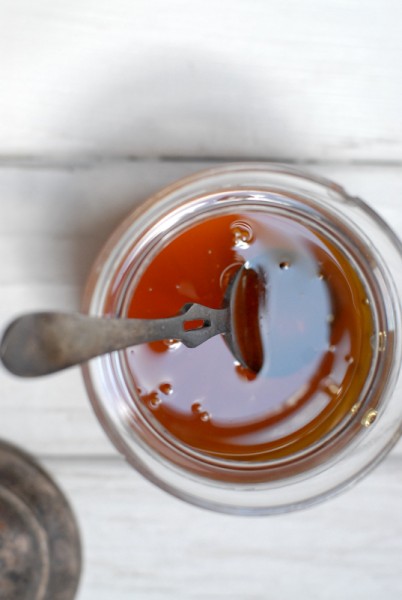 After returning from my spontaneous road trip through the Panhandle-Plains region of West Texas and New Mexico, I hit the ground running facing tax preparation and participation in a third grade Science Fair project about the duration of gum holding its flavor. When I agreed to be a 'Chewer', it did not cross my mind as a non gum chewer that I'd be pitted against 16 of the most vile flavored gums I'd ever hope NOT to experience with the job of chewing till no flavor existed. After exerting admirable control over my gag reflex, I learned many of said gums last a loooooong time (of course with dessert gum flavors being the most valiant). I'd wave the white flag after 45 minutes finding my jaw popping with a TMJ refusal to chew anymore. I have successfully completed my role and walk away satisfied to have moved science along a bit for those under the height of 4 feet, noting a lasting personal impact with a newfound Pavlovian response to the gum aisle in the super market. Let's just say I don't see it as a 'reward'.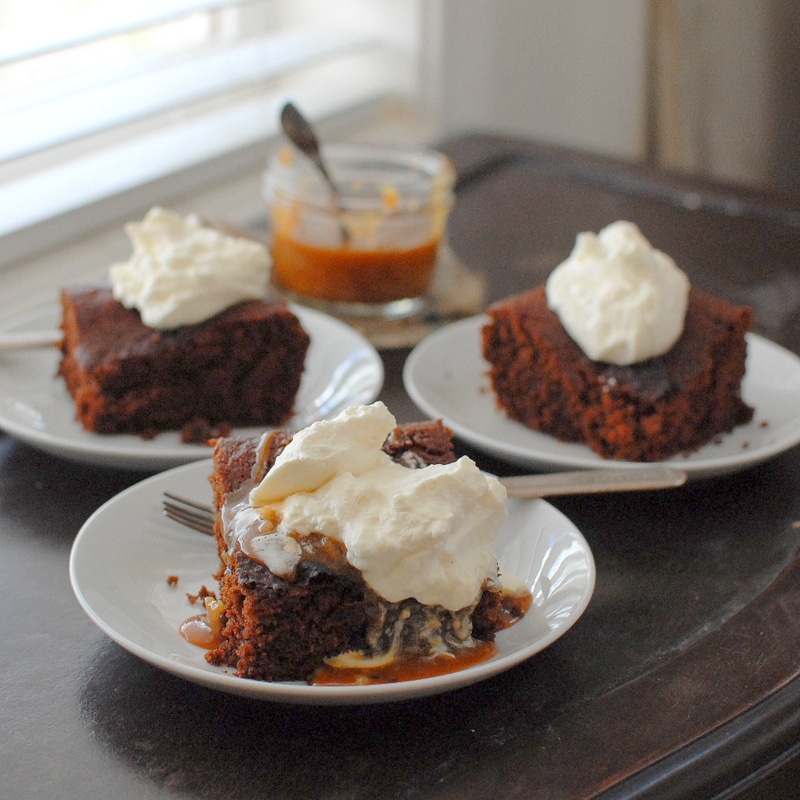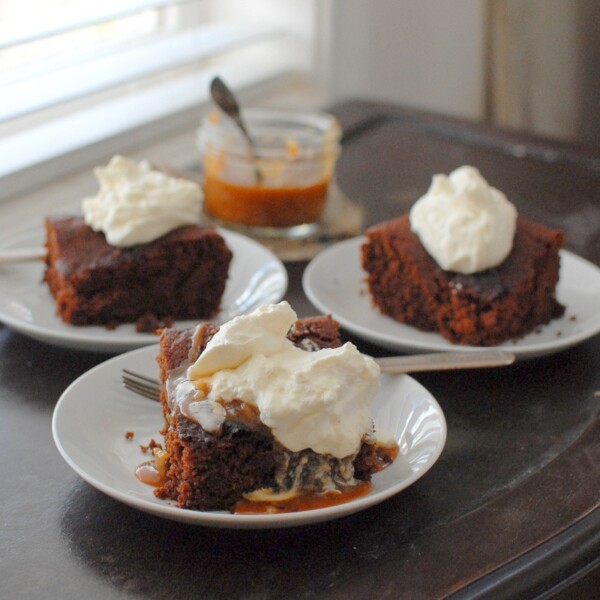 A day promising 'freezing rain' prompted baking, something that seems a world away in the last month. I pulled out a vintage recipe box I purchased on eBay some time ago. It's plain brown wood with sticker letters declaring 'RECIPES' on the top. I purchased it due to one of the photos showing a handwritten recipe for Vinegar Pie. Intrigue got the best of me. I've enjoyed gingerly poring through it, finding many newspaper cut out recipes so fragile they almost disintegrate in my hands. The 1930's is prevalent in many places dating the heyday of box's originator. I suspect her to be from the heartlands of our country as well.
Though I have found a number of wonderful seasonal recipes I cannot wait to try, this simple Dark Honey Cake caught my eye. It felt to be straightforward with no pomp and circumstance. The cake is very unpretentious. It tastes of honey but not as densely as you'd expect from the amount in the recipe. While making it I got a spontaneous craving for a salty contrast to the sweetness of the cake and whipped up some Salted Caramel Sauce to drizzle on the top with some whipped cream. Yum.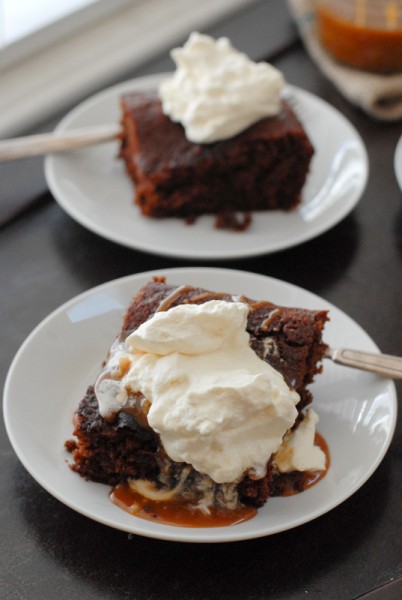 This recipe was handwritten and credited to the 'Honey Cookery Section of the Missouri State Fair in 1980'. There was no pan size specified in the recipe though the volume fit perfectly in a 9 x 13 inch pan. I'm sure it could also make 2 8-9" round cake pans or cupcakes (fill to 2/3's).
·
2 ½ cups flour (gluten free or gluten filled)
·
2 teaspoons baking soda
·
5 tablespoons unsweetened cocoa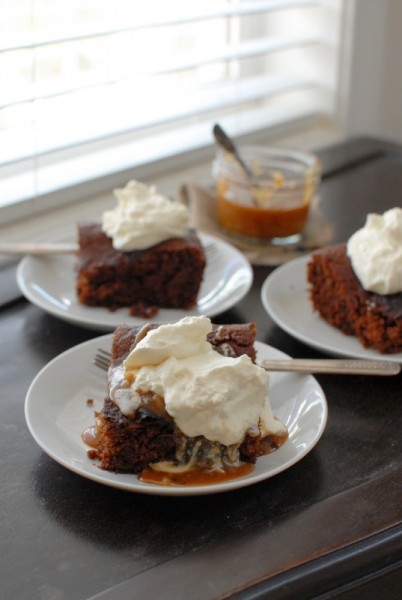 1.
Preheat oven to 350 degrees. Grease and flour a 9 x 13 inch rectangular pan.
2.
In the bowl of a standing mixer (or with a handheld mixer) cream together the honey and shortening.
3.
Add eggs and mix well to fully combine.
4.
In a separate bowl, sift together the flour, baking soda and salt. Set aside.
5.
In a small bowl place unsweetened cocoa and the ¼ cup of water. Whisk to combine. Add to the honey-shortening-egg mixture and mix to fully combine.
6.
Add flour alternating with ice water to the honey mixture until fully combined. Note: I felt the batter seemed more liquid than traditional cake batter though it baked perfectly to a light cake.
7.
Pour into prepared cake pan and bake 35-40 minutes until toothpick comes out clean (Note: original recipe specified 45 minutes but my cake was done between 35-40 minutes).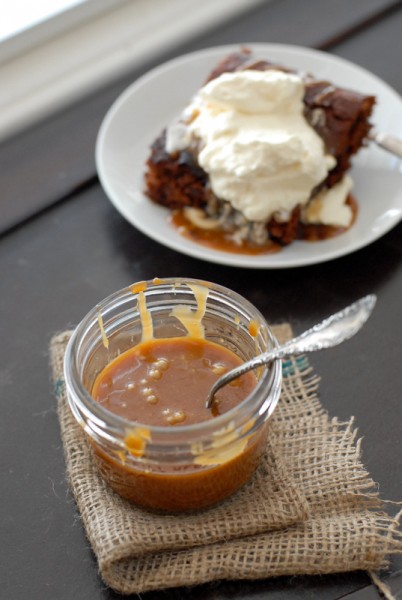 To assemble: Drizzle a bit of Salted Caramel Sauce over a slice of the Dark Honey Cake and top with a dollop of Whipped Cream.
For a lighter cake, skip the sauce and enjoy the cake solo with a bit of whipped cream.