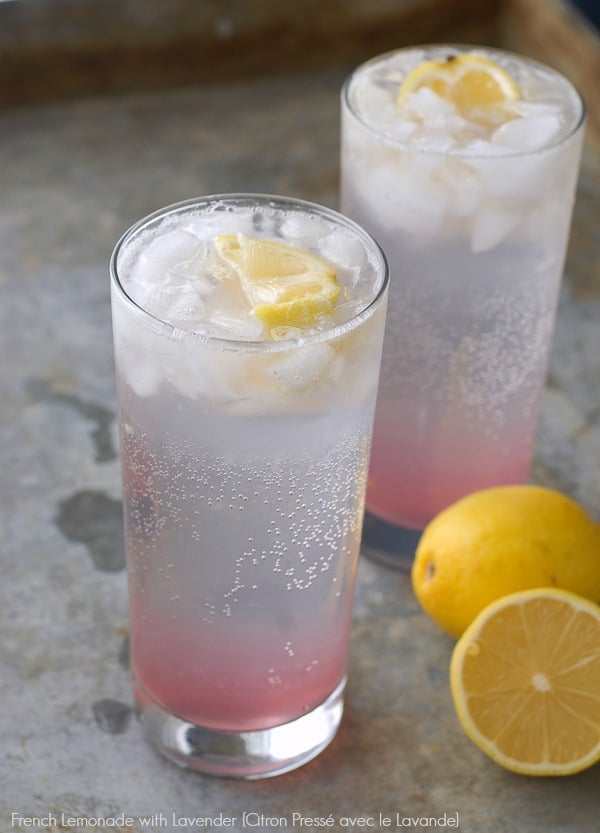 Visiting Paris, or much of Europe for that matter, in August as we did is often met with a cautionary tale from seasoned travelers. Europeans typically take a more coordinated vacation in the month of August leaving magnetic cities such as Paris with some restaurants and shops shuttered for holiday. One will also find themselves in the company of more tourists than Parisians in certain localities, and certainly traditional venues such as the Louvre are bursting at the seams with international tour groups.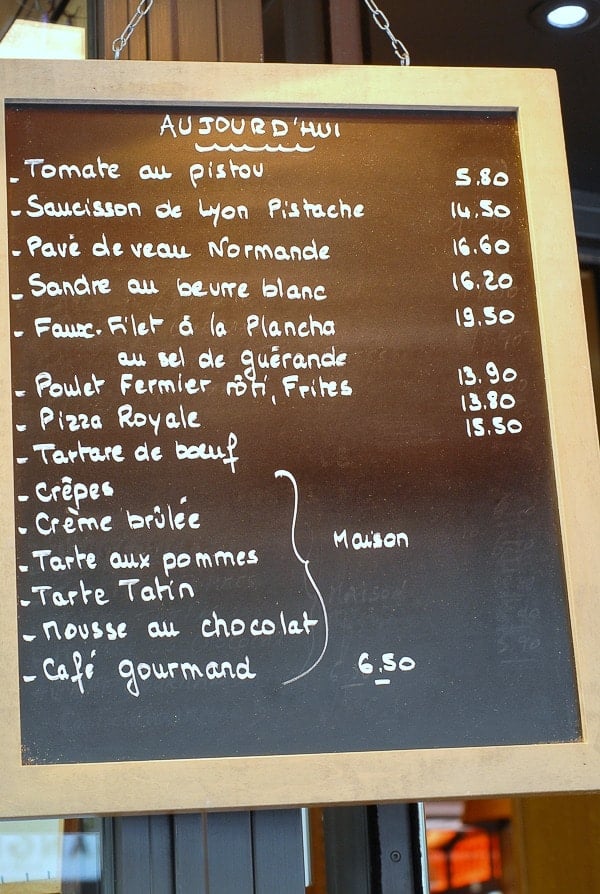 When I was told not to visit Europe in August because 'everything is closed' I felt it was not only a ridiculous notion but candidly I feel ANYTIME one can visit a city like Paris they should jump on it. For all the businesses that are 'en vacances', plenty more are open, as are the traditional sights and museums and there is still a magical time to be had.
I struggled with what to name this post as I believe one could live in Paris for years and still not scratch the surface of all the eateries available. This is truly a chronicle of our experience, favorite dining finds where gluten-free options were found, and the 'next time' list of those eateries which were closed during our stay. We were staying in Le Marais, the 3rd-almost-the-4th Arrondissement on Rue de Temple. The area is a hot bed of café's, evening dining spots and even a 'cat café' where coffee-drinking patrons may sip a latte in feline company (however we read one is not allowed to disturb or touch the cats). There are an abundance of street cafes and fortunately for us, cafes which were familiar with gluten-free dining.
Due to travelling 'avec famille' (with family) and with a haphazard schedule we did not make dinner reservations and dine out more formally. We did research and seek out restaurants with great reviews also offering a more casual dining experience. Being mid-August we also found restaurant websites not updated for vacation closings, nor any messages on their voicemail greetings. We showed up early and hungry a few times only to learn (once from a painter working inside) that there would be no dining there.
As fortunate as we felt to be able to usually seek out and plop down at a café wherever we were to have a drink or dine, we noted about halfway through our trip we really had not had any food that was remarkable; that kind of meal that stays with you as does a cherished souvenir. My husband became friendly with a man at our neighborhood wine shop after a few daily visits. They both had traveled abroad extensively and shared the love of food. After a lengthy conversation about food one evening, my husband asked for advice about where to find really good food in the area. The gentleman confessed that Le Marais had become such a tourist mecca that is was more difficult to find. He suggested a few restaurants, where we'd expect to find mainly French locals and those are listed in our 'next visit' list at the end of the post.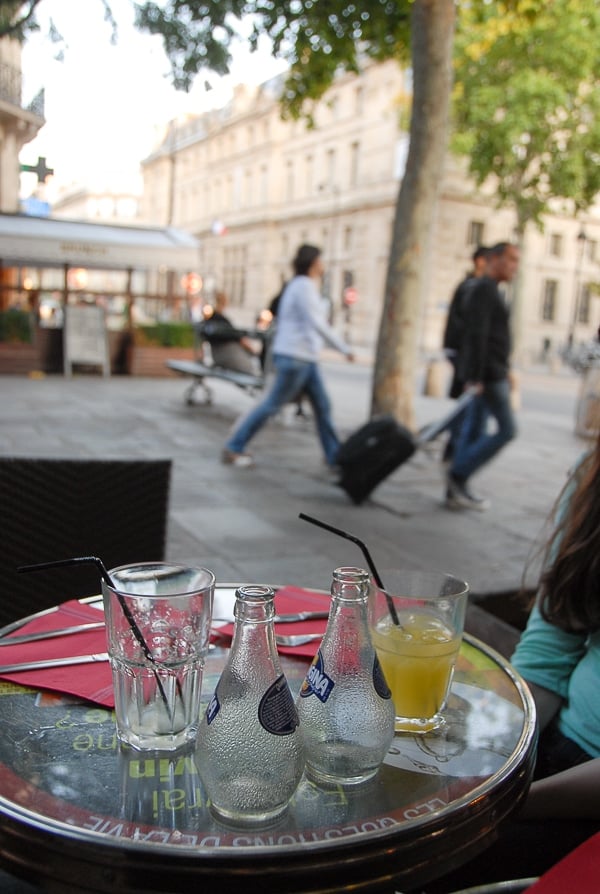 We found traditional French dishes at every café we visited and there is no denying the romance of sitting facing a busy street with French being spoken all around and the feeling that you can sit there as long as you choose. In that respect every meal was enchantingly memorable. We did find some fun places that I wanted to pass along recommending them for a visit.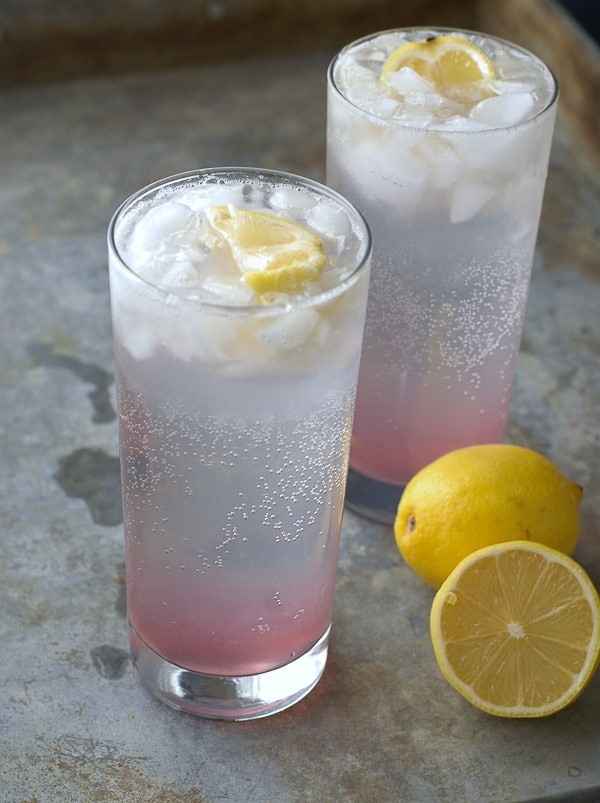 TIP for Ordering Water at a Café: At our first café I ordered a small bottle of 'L'eau sans gaseuze' (uncabonated mineral water). It offered about 2 ½ cups of water total. Elated that I was able to actually get what I'd hoped I was asking for in French, I ignored the price which my husband shared later was more than the large beer he'd ordered. Tap water is safe to drink in Paris and unless you have your heart set on bottled mineral water (avec gaseuz or sans) order a simple carafe of cold tap water: 'Une carafe de l'eau' (oon carahfe duh low). It's a budget friendly way to quench your thirst.
Café Strada (Marais). This tiny café was across the one way street of Rue de Temple from our apartment. It is touted to have some of the best coffee in Paris as well as a few dishes each for breakfast and lunch (it is open from 6 a.m. to mid-afternoon only). Though I would not say the food was traditional French it was some of the most inspired, innovative food we enjoyed. Bold combinations of unexpected flavors and made by someone who loves food and embeds that love in their original dishes. One orders at the counter (very hospitable to non-French speakers) and the food is delivered to one of the café's six tables. The café is full mainly of locals and visitors are definitely welcome. A local gem.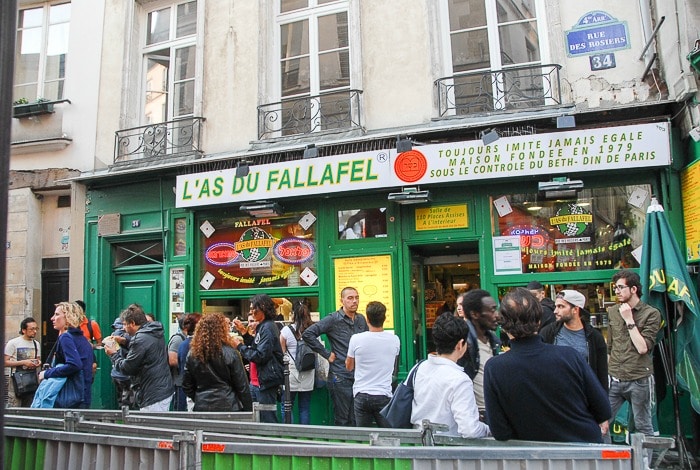 L'As du Fallafel (Marais – Jewish Quarter). Though not a stop for a gluten-free diners, we became obsessed with visiting L'As du Fallafel; a falafel shop recommended in every dining guide and by every noted luminary with their finger on the pulse of Parisian 'must dine' spots. It was closed for vacation when arrived in Paris but fortunately opened before we left. One would not be able to distinguish the restaurant from all the other falafel places next door or across the lane with exception of the long line. I mean, really, really long line.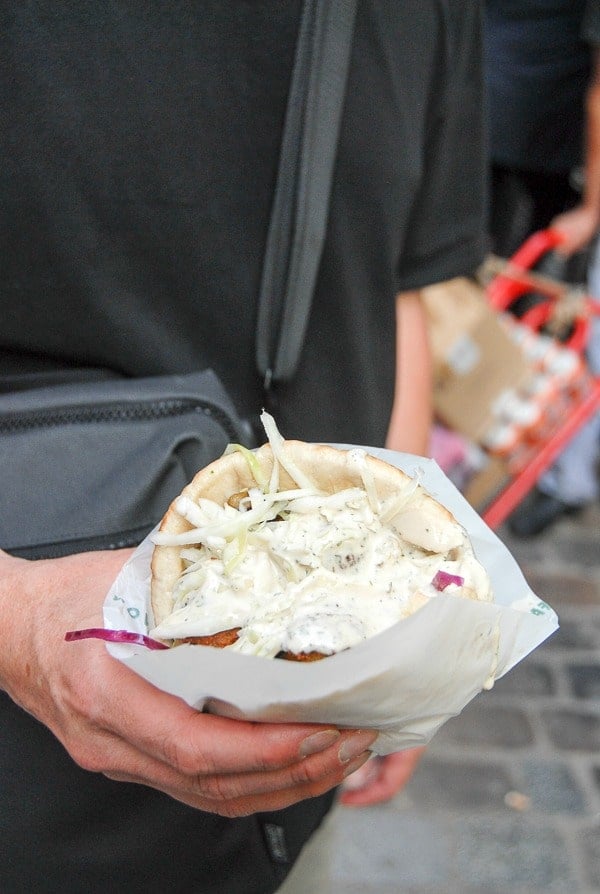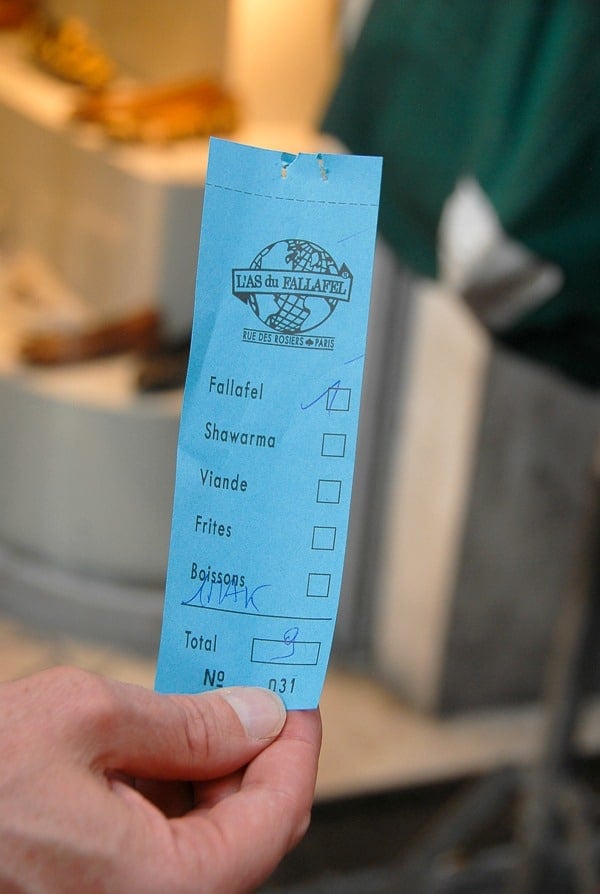 There is a two part process to order. Looking at the restaurant photo above, one first approaches the area on the right to order. If you will take the falafel to go, they fill out a ticket which is taken to wait in the line on the left side of the restaurant front. The line moves quickly and the options are very streamlined. My husband was our taste tester and gave thumbs up to the ample, juicy falafel. The several surrounding falafel restaurants had no one in line. Clearly there is something special about this place.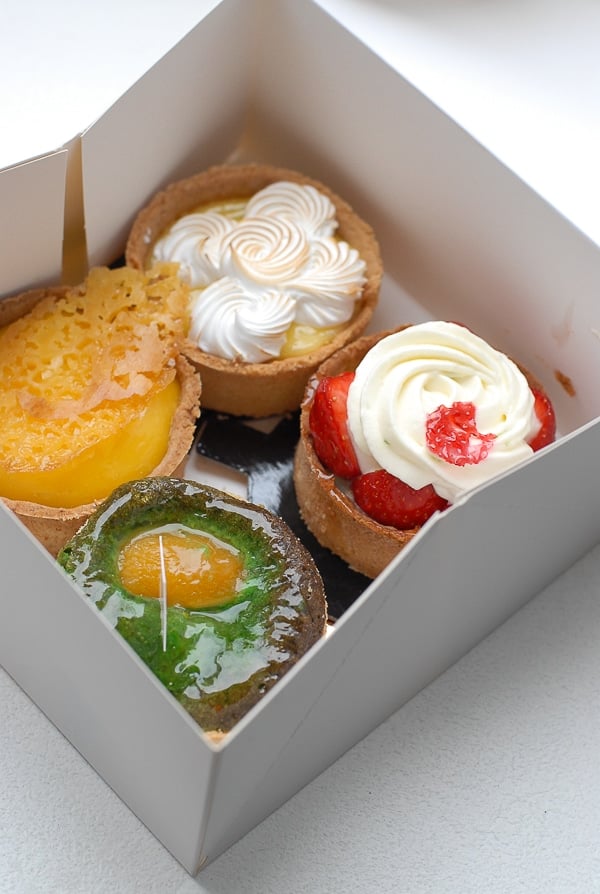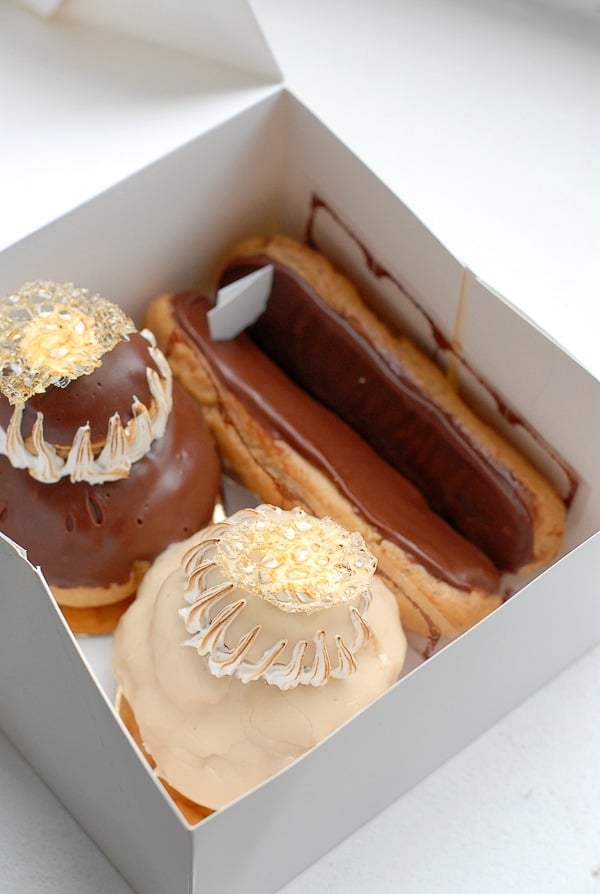 Helmut Newcake. I think most people associate Paris with decadent pastries however for we gluten-free it would not be something we could enjoy. Not the case thanks for Helmut Newcake. Breaking the gluten-free mold Helmut Newcake serves up the most extravagant, sumptuous delicacies that all the gluten-consuming kids are eating. A feast for the eyes and most certainly for the palate, this was a high point for us. About a twenty minute walk from our apartment to Rue Bichat, they offer pastries to go, eat in, as well as many other gluten-free staples from Europe and the U.K. we had not tried before (pasta, cereal, etc.). They have a wonderful crusty gluten-free bread that is heaven and perfectly paired with local cheeses. The small venue also hosts in house dining for brunch or lunch.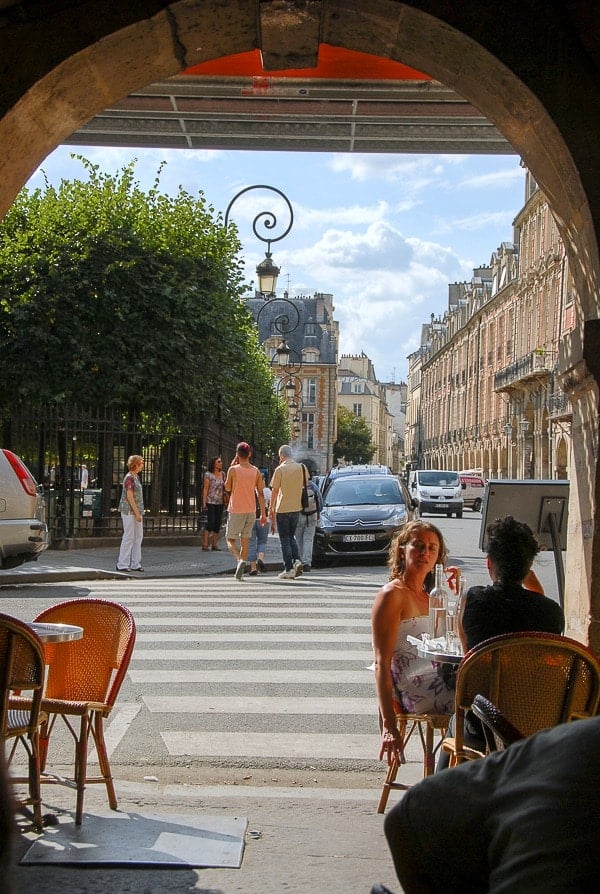 Café Hugo (Hôtel-de-Ville). On a wandering exploration of Marais, after visiting the Musée Carnavalet we found ourselves at the Palace des Vosges formerly the residence of the royals before moving out to Versailles. We popped in to Café Hugo for a drink. The notable author of Les Misérables and The Hunchback of Notre Dame spent much of his time in Paris in early 1800's in this very spot. The café is positioned perfectly to look out of the architectural arches to the square, recalling the once most coveted neighborhood of the Paris aristocracy. Café Hugo is reputed for slow service and we experienced the same however in turn you are not rushed to finish up and move along.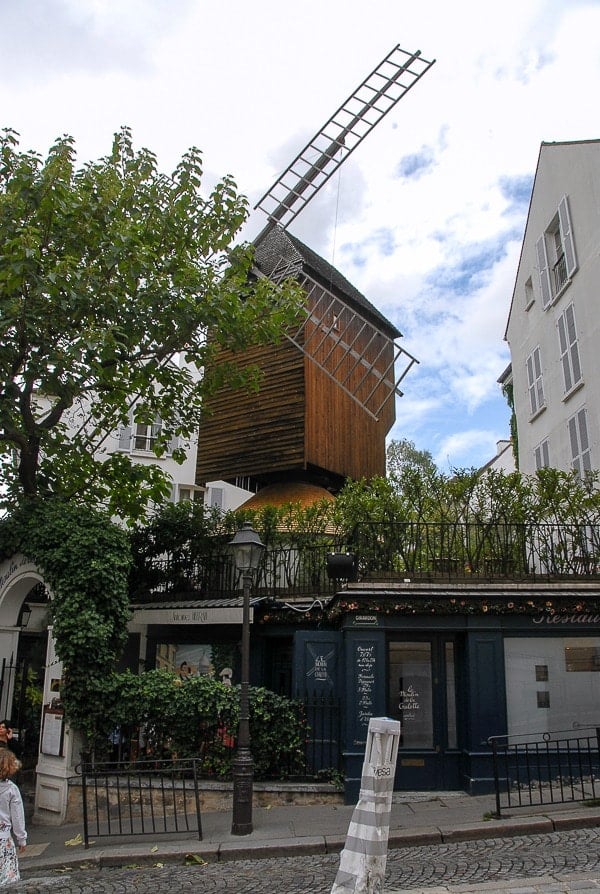 Le Moulin de la Galette (Montmartre). We spent our last day in Paris exploring Montmartre and all fell in love. It's a beautiful neighborhood clinging to the vertical hill leading to the famous cathedral, Sacré Cœur, offering an incredible view of Paris. Though brimming with cafes we had our sights on one in particular which is housed in one of the two remaining windmills in Montmartre, Le Moulin de la Galette (the other is the famous Moulin Rouge). We dodged a powerful rainstorm spending the better part of the afternoon over a few carafes of house red wine, multiple courses of traditional French cuisine amidst historic black and white photos and Renoir. It's a bit off the beaten track but worth the effort to seek out.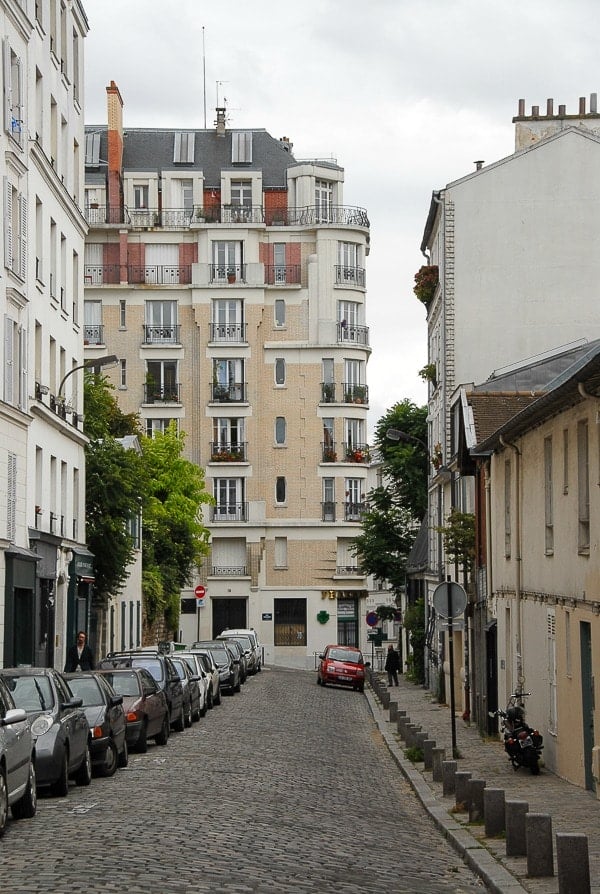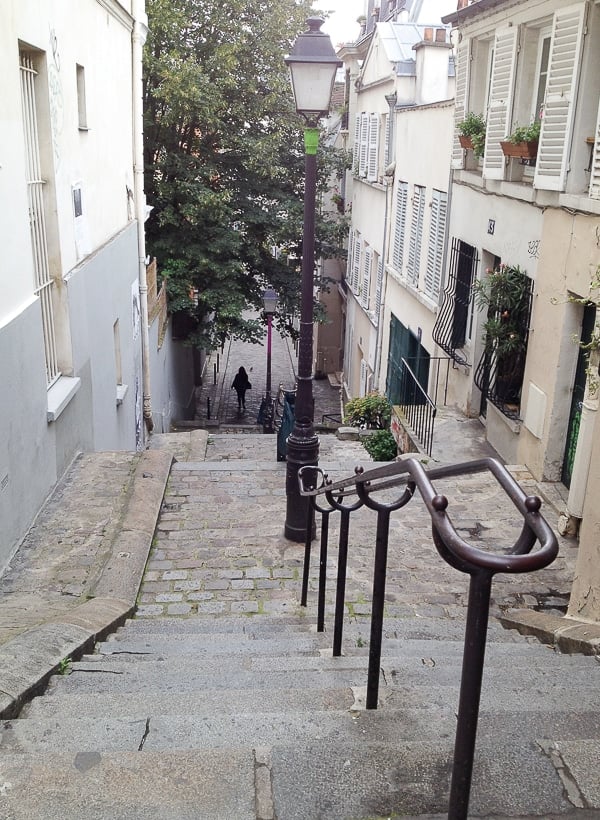 Cigarette Smoking in Paris: for Americans, especially those living in extremely health-conscious areas, the presence of cigarette smoking is a surprise. It's everywhere so don't be shocked. Smoking is currently permitted in outdoor cafes where tables are tightly nestled together.
Next Visit Dining List:
L'Ami Louis: Classic Bistro faire.
Bistro de La Bonne Cécile: Recommended by a local 'foodie' at a favorite Marais neighborhood wine store Le Repaire de Bacchus, as a restaurant offering good food where locals eat (low on tourists).
Café des Musées (Michelin Guide recommendation) A classic French Bistro with honest affordable food, highly recommended.
More from our Paris trip:
Chateau Versailles and Rose Cake for Marie Antoinette
Paris Museum Tips and Minestrone of Fresh Fruits
Where to Stay in Paris: Cobblestone Apartments {a true gem!}