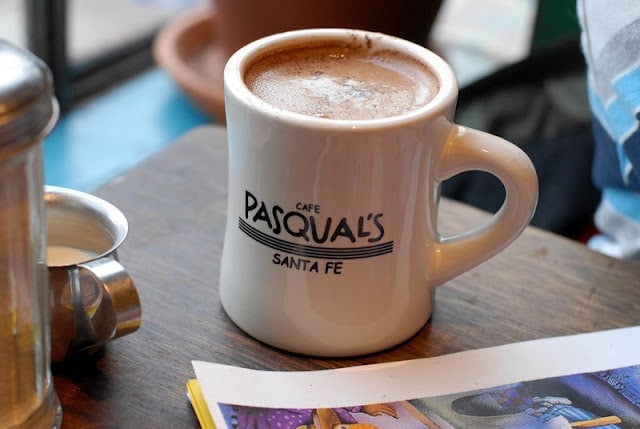 I've had a love affair for years now with Café Pascuals. I don't even remember how I found them originally or when, I just know whenever I think of Santa Fe Café Pasquals is the first choice for breakfast. I'm not the only one either because Café Pasquals is notoriously popular.
This trip has been different than others I've taken to Santa Fe in that the normal vibrancy found here is muted. It is the shoulder season between vacationing skiers and before the warm weather travelers begin traipsing through for a bohemian hit of the Native American presence, artsy quests or to be steeped in New Ageism.
The vacancy is palpable and evident in the absence of wandering crowds, shops closing early and the smattering of Native American selling their wares at the Palace of the Governors at the Plaza packing up early too.
Despite this I was not going to assume this would affect the normal wait to get into Café Pasquals. The rule of thumb is to be there at least 15 minutes before, they open if not longer. The concierge at the hotel leaned toward 30. It was dark when I woke despite the time suggesting dusky tones of dawn should have been warming the burnt clay of the adobe buildings with a golden glow.
They weren't. We set out to realize it had begun to snow (that was not in the forecast).
Love to eat where the locals eat? You'll want to read Best Resturants in Santa Fe Where the Locals Eat!
Cafe Pasqual's
We arrived at Café Pasquals, on the corner of Water and Don Gaspar streets to find we were first to queue. Relief. The restaurant is not that big. I'd estimate a dozen four-top tables and a sprawling community table in the middle of it all providing a haven and opportunity for anyone solo or merely desiring to meet new folks to plop down.
The snow fell sporadically more like slow moving hail than snow leaving behind perfectly formed 6 pointed stars of snow. We are used to the bi-polar quality of spring weather and fortunately were warmly prepared to wait it out.
Out of sheer pity they let us in a few minutes before 8 and we were the only party there holding vigil (with no compunction about doing so) knowing the food to be worth it. I will say this is the only time I've been there without a line so if you are to go, give yourself some time.
We settled into a cozy table and Ivan our server warmed us with coffee and Mexican Hot Chocolate that was not overly sugary on the chocolate with some spicy heat.
The back of Café Pasqual's menu lists the ingredients they source organically. At a quick glance, it looks like hundreds. They have a sign up reminding of their commitment to organic food and the sale of Michael Pollan's 'Food Rules' along with their signature cookbooks speaks volumes.
It is a festive place. Brightly colored papel picado banners (Mexican cutout paper banners) adorn the ceiling in addition to other whimsy creating a dynamic backdrop for the fabulous food. Spanish tile, murals and green distressed dining chairs bring the space to life and cause us to forget the quiet of Santa Fe in March.
Twenty two breakfast entrees tempt the imagination, tease the palette and all are noted to be from one of their two famous cookbooks for a 'make it at home' after the fact option. The header on the menu begins:
'All eggs, dairy, vegetables, fruits, bread and coffee are organic. The beef is free-range and grass-fed. The chicken and pork are pastured and certified organic.'
Music to my ears. Ivan swiftly narrows our options to those safe for gluten free dining. I chose the Huevos Rancheros (though with eggs scrambled): two eggs with black beans on corn tortilla, red chile, melted jack and a side of corn tortilla. The red chile was just what the doctor ordered with a smoky heat to start the day.
Another choice at our table with high YUM factor was the MM's Papas Fritas: a bowl of home fries sauced with tomatillo d'Arbol salsa, with melted jack, sour cream and scallions and a corn tortilla. We all finished every morsel, and with stomachs full and warmed from the chile, exited to a still chilly but now sunny morning.
eak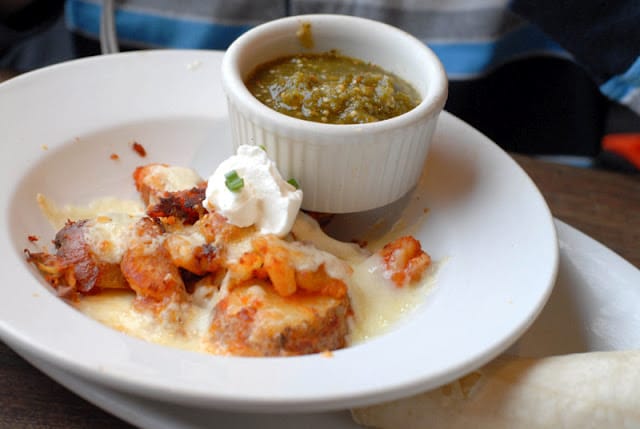 121 Don Gaspar, Santa Fe NM 87501. Phone: 505.983.9340/1.800.722.7672
Email: pasquals@nets.com
Breakfast and Lunch (or brunch on Sundays) as well as Dinner are served daily. Breakfast is served until 3 p.m.!
Also check out their gallery next door and items for sale at the restaurant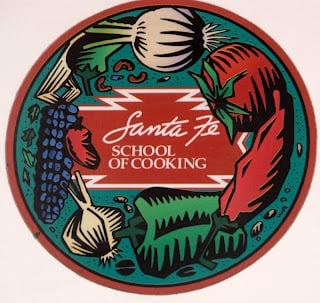 Santa Fe School of Cooking
Another 'must' stop for me is the Santa Fe School of Cooking store. I took a cooking class with them a number of years ago that was informative and hilarious. The eccentric guy teaching the class on local cuisine had clearly burned off all his taste buds by drinking habanero sauce.
I don't recall if he was the inventor of a cheeky line of chile sauce or merely worshiped it, 'Dave's Insanity Sauce'. The name tells the whole truth and nothing but the truth. When we'd get to a 'season to taste' juncture in the class recipe, his 'taste' varied significantly from the rest of the class on the heat scale.
At the time I stocked up on regional chile powders (like curry powder, there is not just one 'chile powder'; the flavor and heat varies significantly) and dried chiles which needed to be replenished.
I picked up some corn husks (making my own tamales is on my 'bucket list'), ancho chile powder and what is now called New Mexican Red Chile powder (formerly known as Chimayo Chile powder but a recent law suit now disallows any chile powder not originating from Chimayo New Mexico to bear the name, a la the sparkling wine vs. Champagne label issue in the wine world).
I also purchased an orange squeezer of the same maker as my lime and lemon squeezer rated as the best. I'll share a sample of their wares for some window shopping but first will point to their online store which is a comprehensive and fun source for all things southwest.
Their quality is impeccable. I know I'm buying the best. They are also participants in the Farm to Restaurant Project I mentioned in my post yesterday. Love that.
116 W. San Francisco Street, Santa Fe NM 87501. 1.800.982.4688/505.983.4511