The drive from Santa Fe to Roswell felt like a genetics experiment to tease out any recessive genes I might carry for narcolepsy (a sleeping condition causing daytime unplanned sleep 'attacks'). No amount of crappy coffee could hold me steady after the days of driving and the wide open spaces. I changed my return course to Santa Fe which offered more food excursions and diversions.
Driving north through Artesia, and west to Alamogordo we wound through the mountains, through horse ranches, smelling the pine in the chilled air letting us know we'd crept up in altitude. With places to be, our pace was 'brisk'. Alamogordo has a strong military presence with an Air Force Base being just to the south. It was the testing site for the first Atomic Bomb. Store marquees seem to be the 'bumper stickers' of town opinion, with political messages and Zen reflections strewn throughout.
Before hitting our first food excursion for the day we headed south 20 minutes to White Sands National Park. It is the largest of its kind in the world and is made up of pulverized gypsum (the same stuff that is in drywall in homes). As snow runoff comes down from the mountains, it picks up minerals and when reaching the valley floor has nowhere to go. There it stays and evaporates leaving selenite crystals to form, whack against each other in the wind forming a fine powdery 'sand'. It is an extraordinary sight though with high winds we opted against renting sleds at the Visitor Center for sledding the dunes!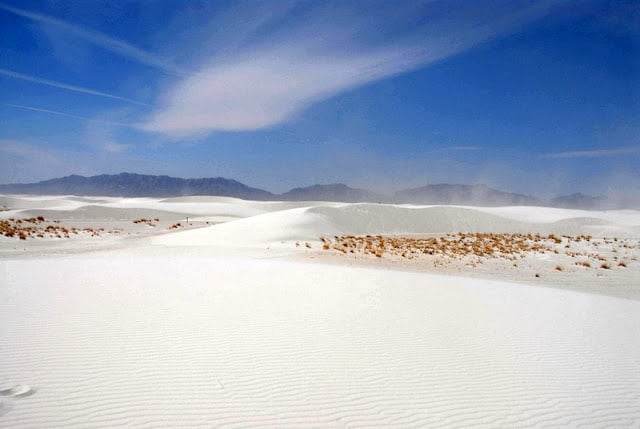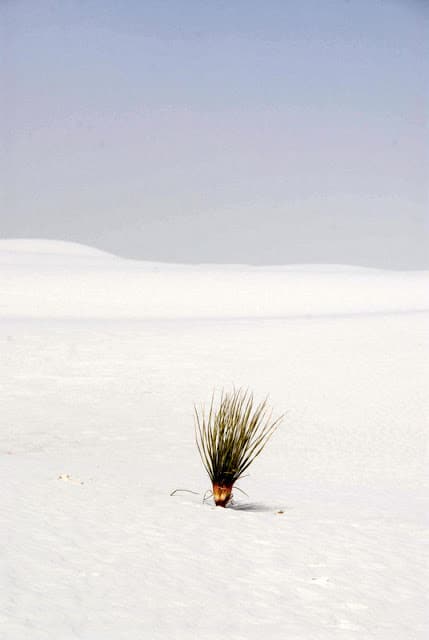 This yucca plant would be rooted in the soil below, leaving it to grow under the sand to reach the air, about 30 feet tall!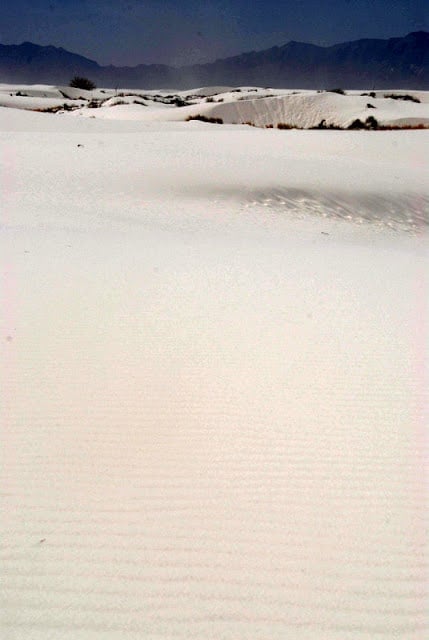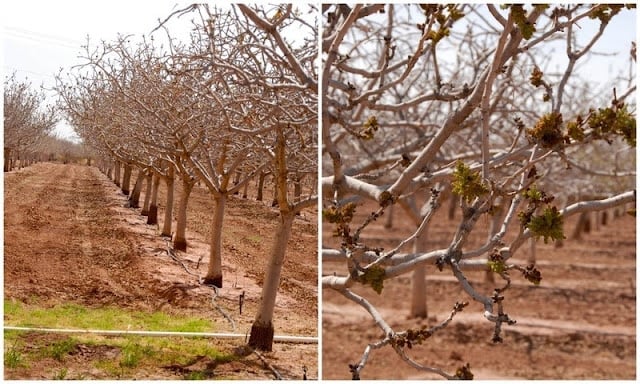 One would not expect to find pistachio farms and vineyards here but there are. And you won't miss them with oversize pistachios marking their entrance. I wanted to visit Eagle Ranch (that sells under the name 'The Heart of the Desert' due to a name conflict with Eagle brand snacks) who grows wonderful pistachios. They do farm tours daily (twice daily in the summer) where you can see the pistachio grove and learn more about their harvesting. The headquarters includes a selection of pistachios of natural and different flavors, a wide array of pistachio chocolate products, and gift items. They also serve pistachio ice cream.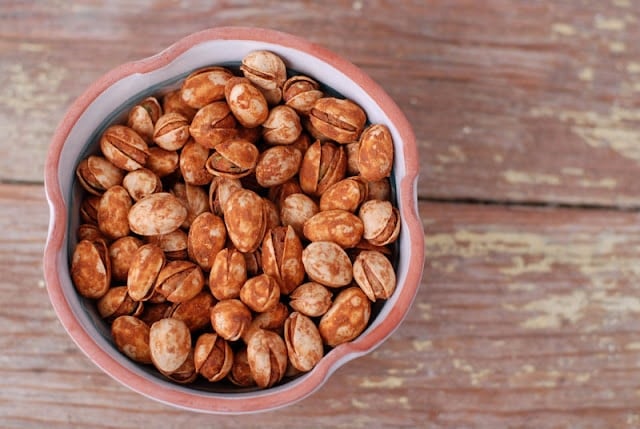 You might think 'all pistachios are created equal'. Not so. I was shocked at the flavor difference. These are much richer, less dry, more appropriately salted with a much broader range of flavor than those I've picked up at a supermarket. I was also intrigued (admittedly with low expectations) of the flavored nuts. I purchased Red Chile and Lemon & Lime. I was thrilled when tasting them. I expected artificial 'essence of' flavors but these were deep and well rounded. I would absolutely order more online and they come in these totally cool burlap bags (sold also at the Santa Fe School of Cooking, a worthy endorsement).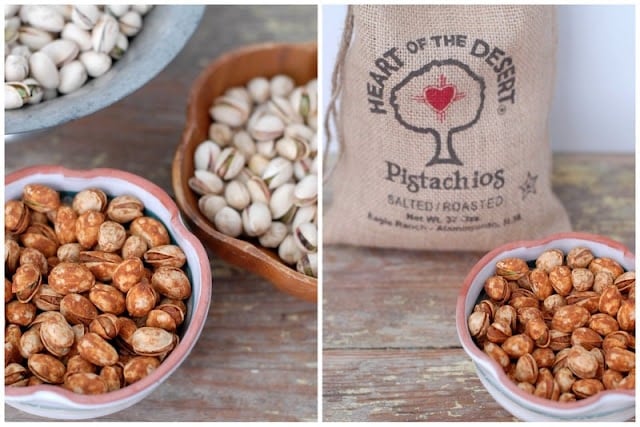 The surprise was the wine. The same family has a vineyard down the road and produces wine. Honestly? I was dubious. A very knowledgeable woman offered that I could do a tasting. I was pleasantly surprised….not Russian River Valley California surprised but it was pretty good. I did buy a couple bottles of straight up varietals (no blends) though could not take the 'Pistachio Rose', which contained pistachio extract sporting a 'cream soda finish' (fortunately this was the only cross over between the two crops).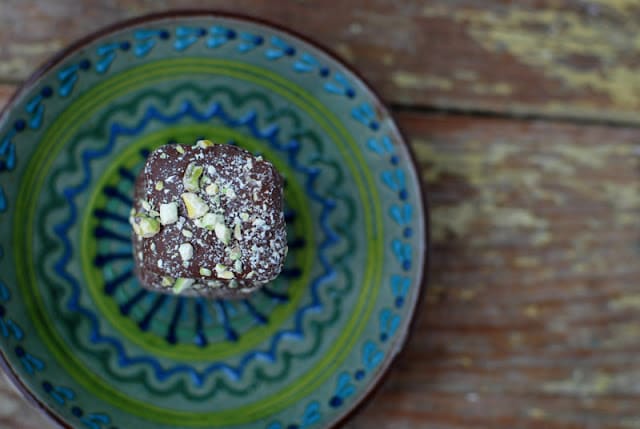 Heart of the Desert Pistachio Toffee
Eagle Ranch Pistachio Groves: 7288 Hwy 54/70, Alamogordo NM 88310. 800.432.0999 Website: HeartoftheDesert.com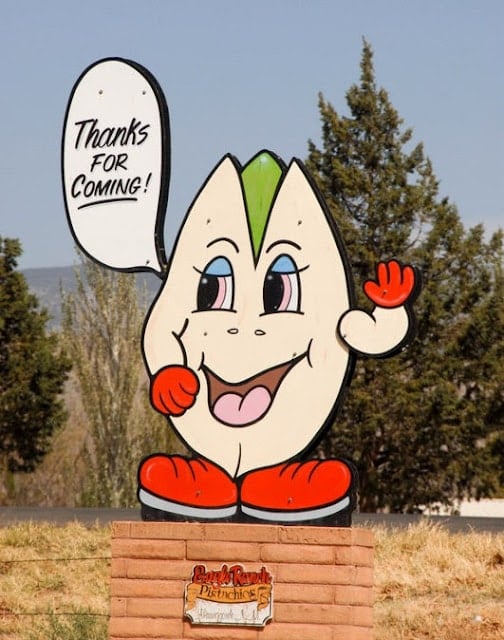 'Peppy Pistachio' the mascot of Eagle Ranch
The Shed – Santa Fe
All I have heard about when researching dining options in Santa Fe was 'The Shed'. I knew I could not depart Santa Fe without experiencing it. It's incredibly popular so without reservations one can expect a significant wait. The trip from southern New Mexico (6-7 hours) threatened our coveted dinner reservation. I'd spoken to The Shed during the lunch service to learn they were fully booked for the night though was told to call back at 5 and they'd help me. I did and they put me on the waitlist saying as soon as we arrived we'd be given a table.
We arrived at 7, the place was buzzing with walk in's being told the wait was 1 hour 15 minutes. The Shed held good on their word and we were seated immediately. Whew! The restaurant feels happy, festive, adorned with hip, vibrant art. This is a celebratory place.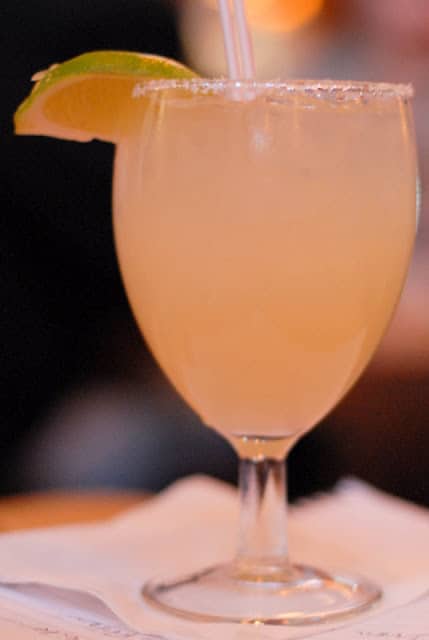 I opened with a house margarita that was very well made. We had also ordered their chips, salsa and guacamole though it did not arrive. The entrees showed up promptly after ordering reminding us of the volume they are turning during a dinner service. It's a well oiled machine.
The plates were abundant and we requested a small plate on which to place an overflowing bowl of salsa, which also did not arrive until making two requests. I think this was a function of busy state of the restaurant and our serving assistant not writing anything down. That being said, these were small issues compared to the enormous benefit of the flexibility on our reservation time. I can eat chips and salsa at home.
The Shed is known for their red chile which unfortunately has flour (as does their green chile) so I was unable to try that. I instead ordered the Pollo Abodo, tender pieces of chicken roasted in a Shed red adobo marinade with garlic and oregano. Served with a red chile blue corn cheese and onion enchilada and pinto beans. The chicken was succulent with the rich smokiness of a finely made adobo sauce.
Another entree at our table was the Chicken Enchilada Plate which were also flavorful featuring signature New Mexican seasonings (fresh baked chicken, cheddar cheese and onion rolled into two blue corn tortillas and baked with choice or red or green chile. Served with pinto beans and posole). We ended with outrageous hot fudge sundaes for the table that were made with high quality ingredients leaving us sated and happy.
The Shed is definitely a great place to feel the verve of Santa Fe and taste quality ingredient Mexican food. It would not be a place to propose, have a private dialog you don't want to yell over others or if you have laryngitis. The place is loud, no two ways about it. It is also 'intimately spaced'. We were sitting next to a four person table of 5 self-appointed house margarita taste testers that encroached on our physical space and shared more intimate details of their lives than they'd probably choose to under more lucid circumstances, but I took that as part of the experience. I definitely would go back but want to relate the ambiance accurately. I never felt rushed but they are turning tables briskly so it is not a place to plan to languish for the evening.
The Shed: 113 ½ East Palace Ave., Santa Fe NM 87501. 505.982.9030