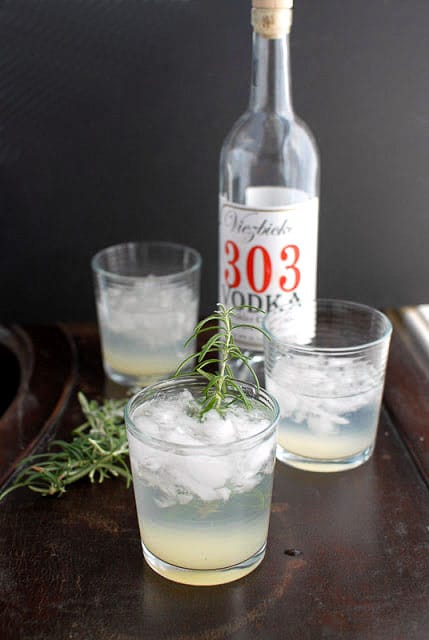 When I was invited to join some of Boulder's best food writers and photographers on a 16 seat bicycle Booze Cruise of three downtown venues, and that it might snow when we were riding, it was 'on like Donkey Kong' for me.
I found complete kismet in the locations to be visited and was thrilled at the madcap proposition of it all. Salt Bistro; I wrote about them a bit ago. Fabulous food, local consciousness and sourcing, and they just won Boulder's Best Mixology competition with the Sunfire cocktail (which they've been generous to provide their recipe for me to share).
Dushanbe Tea House. No greater iconic establishment exists in our local culinary landscape. Last and certainly not least is Aji Restaurant. One that has recently sprung onto my radar leaving me wanting to know more. I could not wait to revisit the first two and meet Aji for the first time.
It would not be possible to discuss our outing without setting the stage regarding our modality. This is our chariot….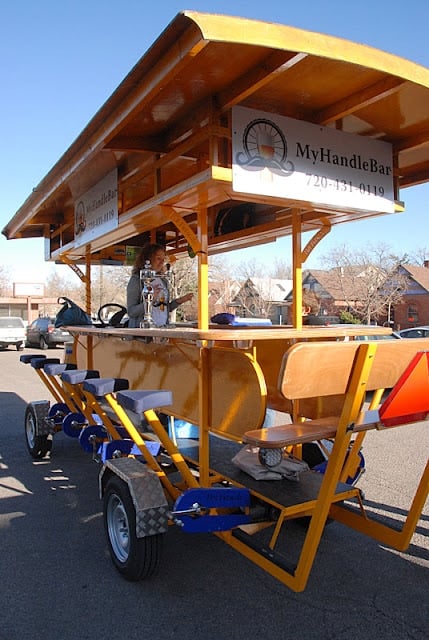 A 16 seat 'bike' owned and operated by MyHandleBar, starting their second year in Boulder (and owning a bike in Ft. Collins as well). This beast weighs 2,300 pounds, is shipped over from the Netherlands and is like mounting a camel for its height.
This footloose and fancy free bunch was not us. Don't get me wrong, we were all stoked. How novel to have a roving cocktail party by our manpower!What I learned is there are 'hills' on the not-so-flat seeming streets of downtown Boulder.

I did not realize this via sight but by the jarring physiological prompt that I clearly don't have thighs of steel.Our combined glee ground to a fast halt as we turned to ride 'up' to Salt Bistro in what quickly began to feel like a psycho spinning class gone awry. The jovial chit chat was temporarily reduced to primal groans and white knuckles gripping the bike's bar for stability and leverage.
The vehicle goes where any car drives and is steered by a driver from MyHandleBar wielding quick directions to either 'pedal' or 'coast' (the latter, my preferred directive).
Pedalers are on the sides of the vehicle providing all the power as the bike has no motor.
There are seats without pedals as well for those wishing a break. Despite my belly aching, it was a blast. An instant team building opportunity and great way for a bit of a sweat in between cocktail stops.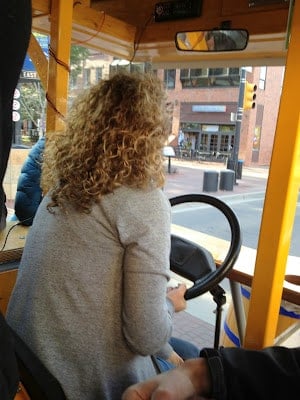 Salt Bistro
I've not ever been happier to see a cocktail in my life and at a place I love, Salt Bistro. We were ushered downstairs into the bar lounge which felt like a sleek, current version of a more 1960's Cool Cat lounge, made complete with a Hi-Fi stereo turntable I'm sure my parents must have also owned.
Evan, the Beverage Director, joined us to tell us more about their drink philosophy. The man is vibrant and to say he's 'passionate' about his job would be a severe understatement.
As with the dining aspect of Salt they are focused supremely on the quality, integrity and creativity of their beverage offerings while also making it 'all about the vibe' and a sense of community.
They encourage 'BYOV' (bring your own vinyl) and slouching into the leather seating in close proximity of the bar where they will cater to your every whim.
They sport thrift store glasses inspiring the mixologists to bring their A game to meet the groove of the glass with their spirits.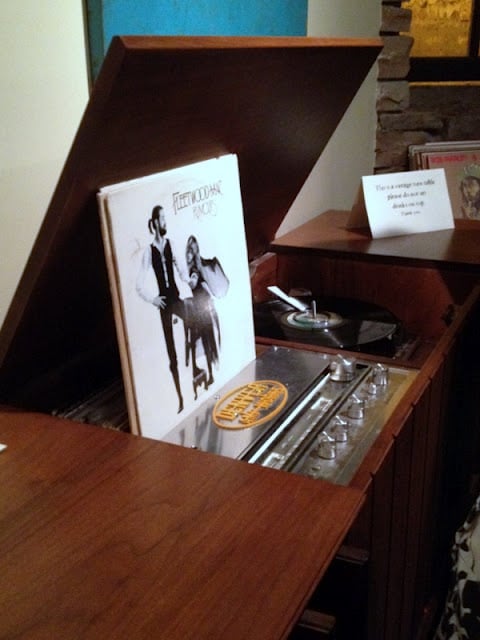 Salt has a 'make it here' motto, making me feel I'd met kindred spirits reflecting on all the infusion Mason jars in my liquor cabinet due to sharing the same sentiment.
If they want to use a liqueur, they try to make it in house. Salt changes the cocktail menu seasonally to feature the best flavors of what is available.
And 'flavors' is the language by which they think, responding to customers' interests which usually are in terms of what flavors they prefer rather than starting with the root liquor. The wine list is organized this way as well.
They served up two cocktails for us to try. The first a form of a 'Mexican Manhattan' called a Bario. It featured Reposado tequila and tasted very much like a light Lemon drop Martini in Mezcal kinda way. It was fresh and palate-pleasing.
The second cocktail was one of now local fame, affording Adrian, one of Salt's mixologists, the crowning as Boulder's Best Mixologist with his cocktail the Sunfire. It also was light and fresh, featuring an infused blood orange-rosemary simple syrup made in house.
This guide on How to Make Simple Syrup gives lots of great information and easy recipes! The simple syrup for these Sunfire Cocktails is also included in the recipe below.
Adrian was kind enough to give me the recipe to share here. Going into the warm weather season it will quickly make your 'must mix' list.
Find the recipe at the end of this blog post.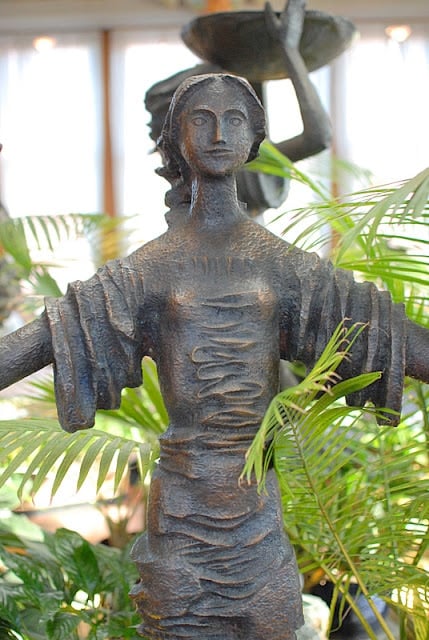 Dushanbe Tea House
Feeling a bit more nimble and breathing in a more socially acceptable manner, we marched out to mount up for our next destination (which fortunately required far more coasting).
The Dushanbe Tea House is a gorgeous handcrafted tea house gifted to Boulder from our sister city in Russia. It was brought over in pieces and reconstructed meticulously by Russian Craftsmen.
The restaurant features over 100 unique loose leaf teas (which you can also purchase there) and they serve all meals as well.
It is not uncommon to find lines winding out the front door on Farmer's Market days, with hungry diners hankering for a shady spot next to Boulder Creek on the Tea House patio or in the zen of the indoor eatery surrounded by ethereal bronze statues, greenery, a small indoor fish pond and hand painted ceiling.
The Tea House is owned by the city of Boulder but operated by the Martinelli's (Sara Martinelli also running the Boulder Tea Company).
It is the number 1 tourist attraction in Boulder County and there is no doubt why. It is an extraordinary spot to relax and catch up with friends.
They have two large booths on pedestals to crawl into, sock-footed, to sit cross legged against exotic pillows instantly transporting one's dining experience afar.
Recipe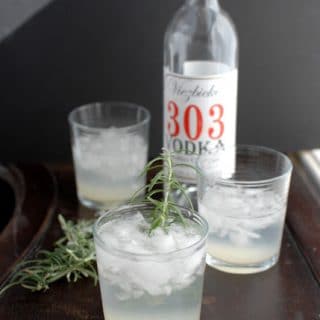 The Sunfire Cocktail
This blood orange, rosemary, vodka cocktail delivers flavor notes you'll love.
Print
Save Recipe
Recipe Saved!
Pin
Rate
Servings:
1
3/4 cup infused simple syrup and 1 cocktail
Ingredients
Ingredients for the Blood Orange Rosemary Simple Syrup:
¾

cup

water

¾

cup

sugar

5 ½

TB

blood orange puree

1

rosemary sprig
Ingredients for the Sunfire:
1 ½

ounces

vodka

(Adrian used local fave 303Vodka from Boulder Distillery)

¾

ounce

blood orange/rosemary-infused simple syrup

(see below for recipe)

1

ounce

lime juice

, freshly squeezed

¼

teaspoon

agave nectar

Club Soda to top

Garnish: rosemary sprig
Instructions
Instructions for the Blood Orange Rosemary Infused Simple Syrup:
Bring the water to a boil. Add sugar and fully dissolve. Remove from heat. Stir in blood orange puree. Pour into a jar with lid. Add rosemary spring and seal once it has cooled. I personally would let it sit at least 24 hours before use. Store in the refrigerator.
Instructions for the Sunfire Cocktail:
In a shaker, combine all ingredients except the Club Soda. Shake with ice, strain into an Old Fashioned glass filled with new ice. Top with soda and garnish with rosemary sprig.
Nutrition
Calories:
155
kcal
|
Carbohydrates:
14
g
|
Protein:
0
g
|
Fat:
0
g
|
Saturated Fat:
0
g
|
Cholesterol:
0
mg
|
Sodium:
11
mg
|
Potassium:
187
mg
|
Sugar:
10
g
|
Vitamin A:
185
IU
|
Vitamin C:
55.3
mg
|
Calcium:
10
mg
|
Iron:
0.2
mg
My thanks to to Kuvy Ax, Root PR and Jayme Moye, editor Elevation Outside magazine, for coordinating this fantastic excursion. And to my fellow media pedalers for helping to get my thighs more bathing suit ready.