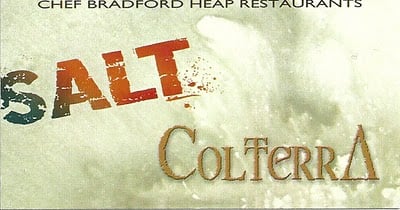 I've wanted to dine at Salt Bistro in Boulder for some time but could not work it out. The name has such a presence, as many one word titles do. It somehow made me feel I should probably wear leather pants when I went. The name seemed edgy, and current, and hip. It IS all those things I learned, though no leather was necessary. It's forward in a way that transcends a stereotyping of its diners. You are cool by virtue of walking through their doors in quest for the food of their quality and caliber. If you love excellent, inspired cuisine, warm and chic ambience, and find a bonus in locally sourced, organic and seasonal food, Salt is a must.
My planets finally aligned to go to Salt when my friend Andrew (introduced to you around Thanksgiving as a Boulder resident attending college in the Pacific Northwest; click here for the original intro on him) was in town over the holidays. We decided to meet for lunch and go to Salt. It really was a 100% perfect kind of meal by my standards. Seasonal food choreographed into dishes optimizing the best traits of each individual ingredient and yielding a flawless combined flavor profile. I like diversity in all facets of my life and my food is no different. I love tasting a number of different things in a bite and feeling by the end of it I've taken a journey of flavors. Salt delivered on that in spades. Made all the better by the extensive list of partner farms, many of whom I know and have shopped from. The quality of their ingredients is bar none.
What makes a fabulous dining experience? The food? Of course; must have. The company? Definitely. I've had some of the most celebrated food in the wrong company taking everything down a notch as I departed the outing. Restaurant aesthetic? For me; certainly. Salt provides all this (though the company is on you).
Salt is in the space formerly occupied by Tom's Tavern on the corner of 11th and Pearl Street on the first block west of the walking part of Pearl Street Mall) in Boulder. I had not been in the building when it was Tom's Tavern to compare but Salt illustrates a perfect flow in its décor. One is greeted by a gorgeous glass circle sculpture matching a painting on the wall behind it. There is reclaimed wood sculpture from local sources, brick and minimalistic design which sets the contemporary scene to showcase their impeccable food. Andrew and I sat at the bar having arrived in the middle of lunch to a fully packed restaurant. We had immediate access to our server who endured all my questioning (a la Portlandia) about the source of our food. A rusted wrought iron mermaid sat primly on the hanging sculpture above us seemingly keeping watch and adding charm to our dining.
Deciding on what to have was nearly impossible with so many seasonal dishes tempting us. We both finally decided on the same thing. A soup of local squash, fennel, apple, sherryvinaigrette, onion, curry powder and celery leaf. It tasted of the earthiness of the squash, brightened by the apple and vinaigrette and made soulful by the curry and fennel.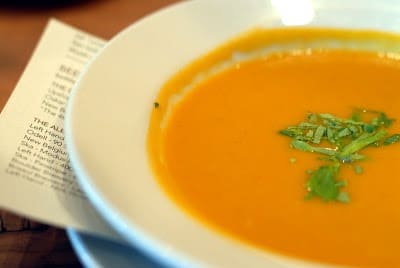 We also chose the salad of the day made from chanterelle mushrooms, cinnamon capmushrooms (from Hazel Dell mushrooms, a local mushroom purveyor) with sherry thyme crème fraiche vinaigrette over fresh local mixed greens. The mushrooms were served warm over an eclectic, flavorful mass of greens begging the question why anyone would tolerate an iceberg lettuce salad ever again. The mushrooms bore a creamy texture to match their smooth, sophisticated taste, elevated further by the superb dressing.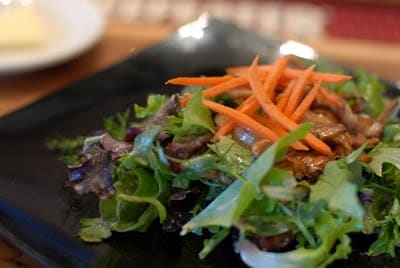 While admiring the look and presentation of the food Andrew and I chatted away about favorite topics. His sustainability group at college. The scheme used on the Columbia River allowing the salmon to skip up stairs around the dam to go upstream to reproduce. Cautions about the true meaning of 'wild' salmon and investigating whether any future purchases were wild as defined by being in a small pen in the ocean allowing the legal title of 'wild' but not maintaining the spirit of the name. The upcoming 'must watch' Portlandia; a spoof on the eccentricities of Portland Oregon and their food scene. (I did find myself amused in the first episode watching diners painfully dissecting the genesis of the chicken they were to order, wanting to see his 'papers', know his name and eventually leaving the restaurant to visit the farm where he lived before committing their order to the server.) We shared information about foraging and the vast opportunities and habits of this food gathering past time in the Pacific Northwest (enviable). The entire meal was steeped in scintillating topics elevating the experience further.
Somewhere in all of this was an introduction to the chef, Kevin Kidd. Totally cool, down to earth guy. He and the owner of Salt, Bradford Heap, had partnered in opening Colterra in Niwot (another fabulous restaurant). A few years ago they moved over to get Salt going, leaving Colterra in the trusty hands of the sous chef. They clearly have a finger on the pulse of the food scene and a success strategy as both restaurants are flourishing.
Though we were both sated by the time of the dessert menu's arrival, intrigue got the better of us. Andrew had not enjoyed salted caramel before and ordered the Dark Chocolate CaramelSalt Tart with coffee cocoa nib ice cream.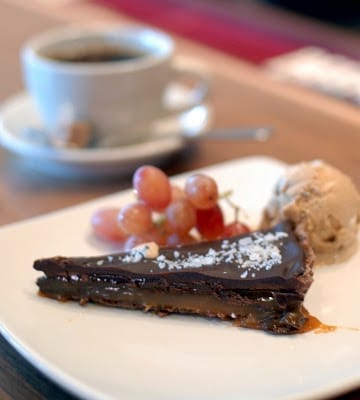 Semi-Sweet Chocolate Pudding with lemon infused whipped cream and hazelnut-thyme praline. Gorgeous in appearance and taste.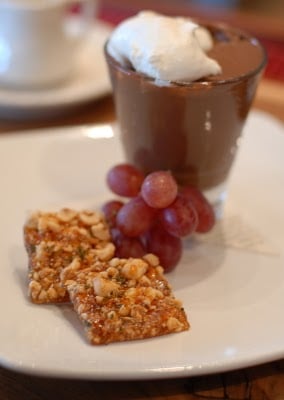 I found myself struggling when writing this in that I don't like to use the same descriptor repeatedly. I found myself wanting to use 'perfect' in every sentence. I'll wrap this up by saying it could NOT have been a better experience. I highly encourage you to visit and experience for yourselves!

Details
Location: 1047 Pearl Street, Boulder. 303.444.SALT.
Hours: Open daily for lunch and dinner.
Check their website for specifics.
Website: http://www.saltthebistro.com/