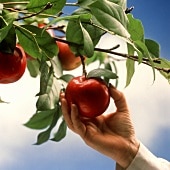 If you read my post Apple Antics I confessed to embracing my inner locavore in a whole new and somewhat uncomfortable way. After driving by a neglected apple tree full of ripe apples in an condominium complex green space I summoned the nerve to phone and ask if I could pick some of the apples (this is the very condensed much more brave sounding rendition). They said yes, I've been twice and have a full drawer of apples in an auxiliary refrigerator now. I found it very gratifying and as though it worked both for me and the grounds manager after stepping between many decomposing apples on the perfect lawn below.
Now my attention has been primed to begin noticing such apple trees all over town. At the University, in many residential settings, at parks. I went so far as to look up the cost of apple pickers on Amazon.com, internally considering the rationale of knocking on doors and asking to pick wasted apples. There is even such a case in my neighborhood but I could not summon the nerve imagining what thoughts of my sanity might be shared at the next cocktail soiree.
What's up with that? IS it weird to consider urban foraging? I took a jamming class (as in 'making jam', not learning how to be an adult rock star) at 'our', (Cure) Farm and was paired in a smaller jam group with a delightful chef from a local gourmet take out food place. Somewhere between watching the boiling point of our raspberries and stirring furiously with no talking aloud we began to talk about picking urban fruit. She said she has an apple tree in her front yard, people knock on her door all the time asking to pick and she always lets them. Maybe this dialog germinated the seeds of courage I needed to call the condo complex I did, to wonderful and valued results.
I scan the international papers online in the wee hours of the early morning feeding my fix for food practices of all sorts and ran across a very validating article about the urban harvest in London and people picking from urban apple trees to for sale or to be juiced, to promote local food as well. I frankly think it's a very practical solution to a more depressed economic condition and shared use of natural resources.
Something about wasting food really bugs me (maybe a throw back to being told as a child that there were starving Armenians who'd love my vegetables then being left alone in the curtain-less kitchen to suffer the vegetable challenge along with the strain of thinking these people, whatever an Armenian might be, were lurking in the dark backyard ready to pounce with my mother out of the room). And yet there is something that feels intrusive to be so bold to ask a stranger to pick fruit from their trees, even to share it with them. Somehow the rationale of 'the worst that can happen is they will say no' doesn't seem to fully cover it. Maybe it would be a favor for them to avoid the cleanup of rotting fruit littering their lawn? Who knows. And why grow a fruit tree if not to eat from it?
What are your thoughts? Is urban foraging an en vogue aspect of the current food movement or a symptom of something else? Is it a forward thinking concept or déclassé?
Please comment. I'd love to hear your views.