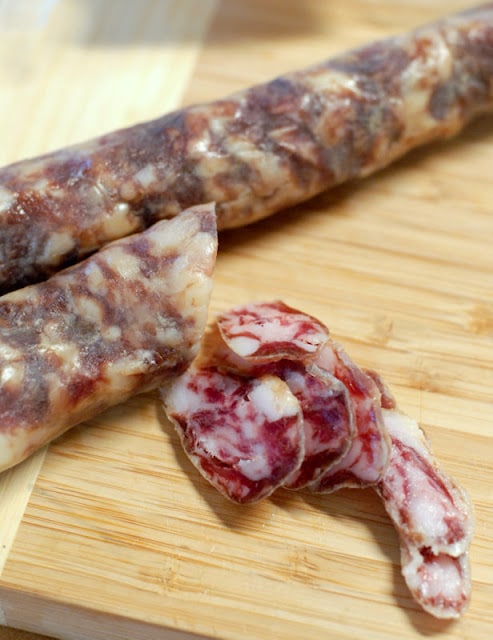 There was a time when 'charcuterie' would only be a word known if you'd taken an advanced level of French and were studying food. Thanks to the uprising in food interest, and with a nudge from Michael Ruhlman (author of the book 'Charcuterie: The Craft of Salting, Smoking and Curing'), a movement is afoot to procure and create quality meats even at home. 'Food Inc', the movie, sealed my commitment to only eat meat whose source I know well. Thanks to Anne and Paul Cure, my CSA farmers, I often know the actual animal from whence the meat comes as well.
On a very dreary, soggy, Pacific-Northwest feeling day last week I was invited out to Cure Organic Farm to see the new Farm Store, just opened after a long time vision and effort. In concurrence with this was the offer for a 'sausage tasting' of some of the recently cured Mangalitsa pork meat raised by the Cures. I imagined idle chit chat over frilly toothpicks of meat samples. I had no idea I'd be invited into the history and craft of this heritage breed pig and its offerings.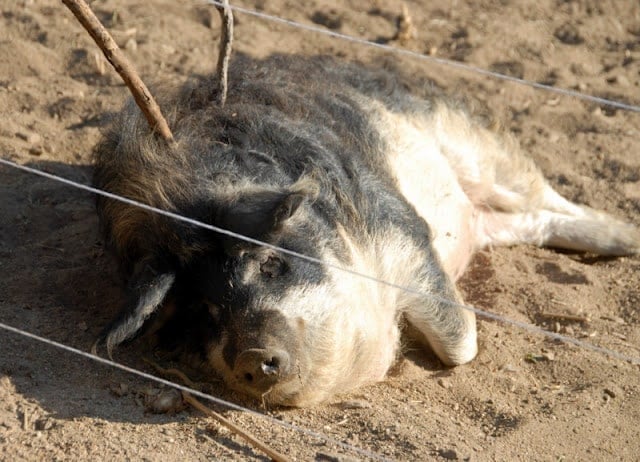 One of the Cure's Mangalitsa's catching a well loved scratch behind the ear last fall
I will not try to represent my knowledge as more than skimming the surface of this special animal.

The Mangalitsa pig is from European descent and in the early 1990's, there were only a few hundred left in existence.

Also known as Wollschwein (Germany) and Mangalitza, as well as the colloquial 'wooly pigs', the Mangalitsa has appeal for its fat to meat ratio; almost double regular pigs.

Opposite of the leaner pigs, this animal bears 4 inches of back fat, pure without membrane.

It is high in oleic acids making it healthier and able to last longer.

This is known as a 'lard pig' and after tasting, it is a high distinction.
I was fascinated by the journey of these pigs coming to be integrated to Cure Farm. While slicing, Paul Cure (whose wife Anne would declare as the the meat half to her produce half; together making a 'full package') began to share the journey of discovering and hosting these pigs.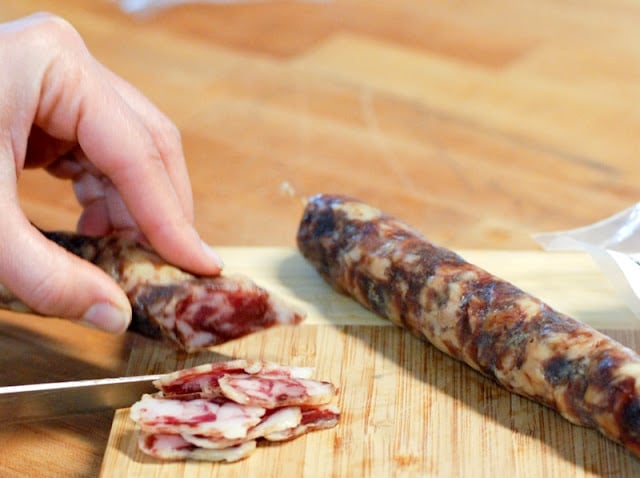 The Cures have attended Terra Madre, or Slow Food movement conference in Italy twice now. Paul had read an article in the New York Times about Mangalitsas and his interest was piqued. He began to research and speak to breeders, in the U.S. and Europe while at Terra Madre.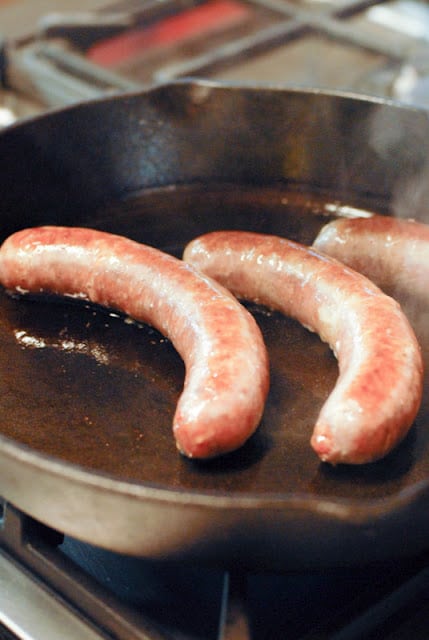 Some of the Cure's Berkshire pig Italian Sausage cooking in the new kitchen at the Farm Store.

The kitchen will be used for classes in cooking grass fed meats, canning and sauce making.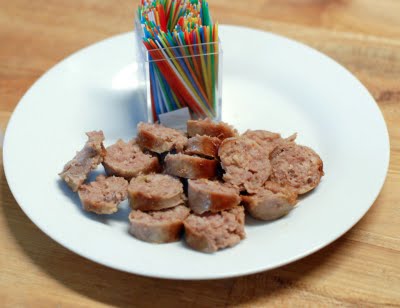 He learned outside of Austria (one of the primary spots for the breed) one cannot breed the pig without being part of a sort of 'Gentleman's Society'. As their numbers dwindled, some Mangalitsas were purposefully imported to the U.K. Their journey to the U.S. was a haphazard one though landing a small number with a reputable breeder on the east coast after they arrived without a breeding certificate, their destiny uncertain. Now there are a handful of breeders raising them in the U.S. including the breeder in Iowa where Paul purchased their breeding stock.
Through some trial-and-error experiences with meat processors, the Cure's landed a star crossed relationship (my wording frankly after tasting the meat) with Il Mondo Vecchio meat in Denver. Il Mondo Vecchio appreciates the specialness of this breed and have met the Cure's goals wholeheartedly, supplying the knowledge and ingenuity to create delicious sausages and lardo unlike I've ever tasted.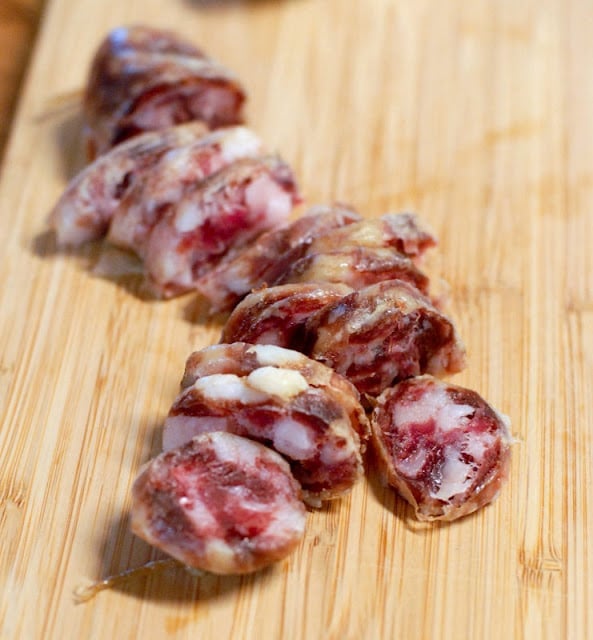 When Anne sliced the Saucisse Sec in 'normal size' slices, Paul commented they were 'way too big'.

This sausage should be sliced paper thin.
Our first sample was of a Saucisse Sec, a more rustic, well marbled dry sausage. 'Dry' is a relative term; though it is cured it is still moist. Mangalitsa meat has been called the 'Kobe beef' of pork by no mistake. The flavor is rich. The color is red, more like beef than regular pork. The quality is unsurpassed.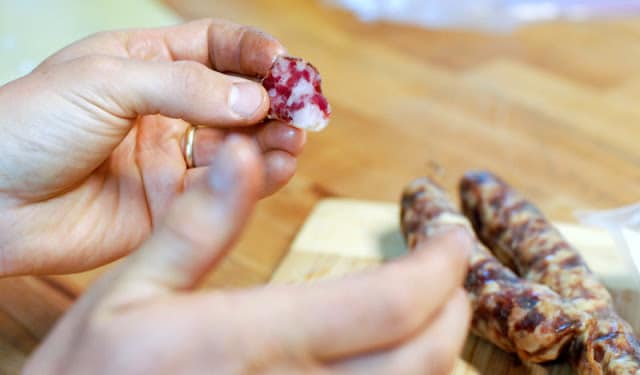 When we were settling into taste, Anne generously sliced more normal, ¼ inch slices to which Paul commented were 'way too large'. The richness of the sausage and the meat itself bears need for far less. Paul sliced it paper thin, commenting truffle slicers are often used. A little goes a long way.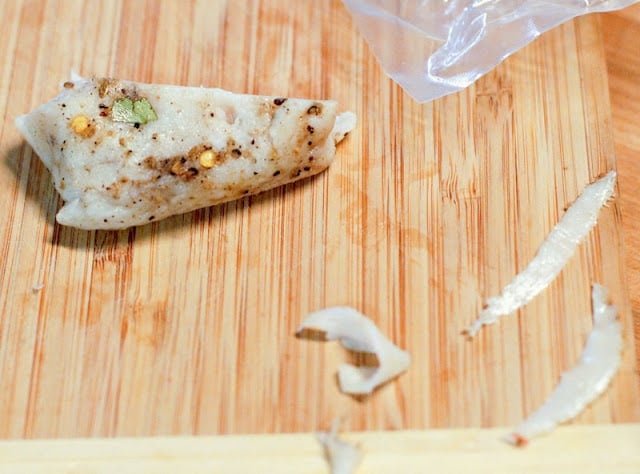 We next tasted the Lardo.

Paul again gingerly sliced paper thin slices and held them to the light to point out the perfectly clear quality of the lardo (the pure fat).

There were no membranes or fiber to be found.

Frankly, I'm not very lardo-knowledgeable (or wasn't I should say).

It is seasoned simply in the curing.

Paul pulled out his i-Phone to show me marketplace photos from the Terra Madre trip.

Beautiful pieces of thick bread adorned with lardo and a variety of 'toppings' from peppers, onions, pickles and more; my mouth began to water instantly at the sight.

Paul noted in Germany the lardo is eaten on toast more like butter.

In Italy it's cured with more seasonings for a bolder flavor.
Mangalitsa meat (cured or not) is more expensive than its 'regular pork' equivalent. Having said that, and having tasted multiple cuts, I will say it is unquestionably worth it. A little goes a long way and it punctuates the point that all pork is NOT created equal!
The Cures are only one of two known sources curing Mangalitsa meat in the U.S. making this opportunity all the more special. They'll also have pancetta and are working with Il Mondo Vecchio on a 2 and 3 year cured sausage. You can purchase some of their meat at the Boulder Farmer's Market or their new Farm Store.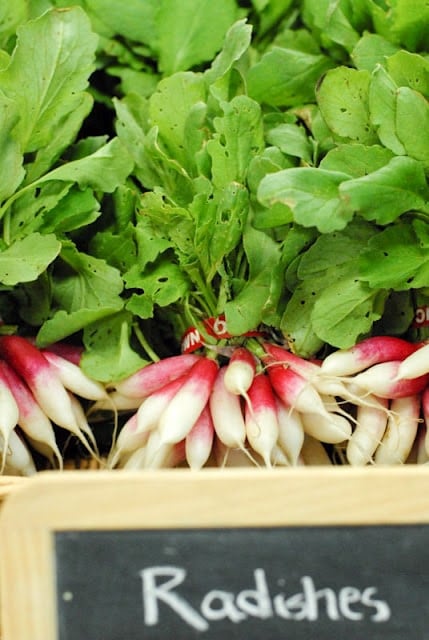 Next to the main Cure Organic Farm, on what was known as the Treehouse Nursery for long time Boulderites, is now the Cure Organic Farm Store.

Anne has long had the vision of selling their produce, along with produce from other local farms and local food artisans complete with refrigeration to sell meat and eggs.

The store is now open with the first of spring vegetables, eggs (I bought a dozen duck eggs which I was over the moon about), honey, wool, and some dry goods.

As the season progresses more will be available including flowers from the farm.

Personally I was thrilled, much rather going to buy there and liking the flexibility of shopping outside of the Farmer's Market days/hours when needed.