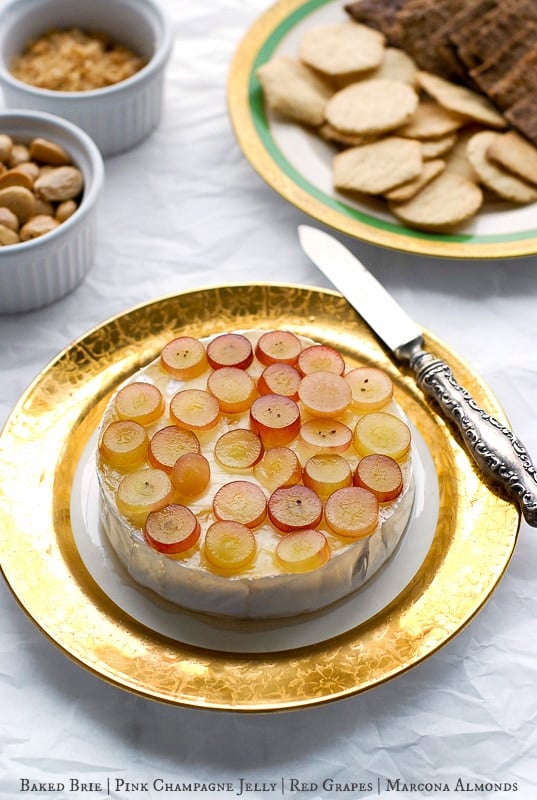 I have been furiously collecting cocktail and food ideas for New Year's Eve and New Year's Day on a Pinterest Board: Happy New Year. I'm captivated by sparkling drinks, fun upscale appetizers, luxe main dishes and fresh desserts. I've already turned that holiday corner from the loads of cookies enjoyed in December and am craving bold, clean flavors, of course with some panache for the New Year's celebrations.
I will confess, I love cheese. I mean, 12-Step-Program-Probably-Needed love cheese. If it were the only food left on the planet I'd be good. As much as I love it I don't eat it all the time for fear of looking like a large wheel of cheese around my middle. I do have a favorite appetizer however of baked Brie that is perfect for entertaining and can be whipped up in less than 20 minutes; no kidding. I feel it bears an elegance worthy of more shi-shi celebrations without being pretentious (and no one would guess how effortless it is)!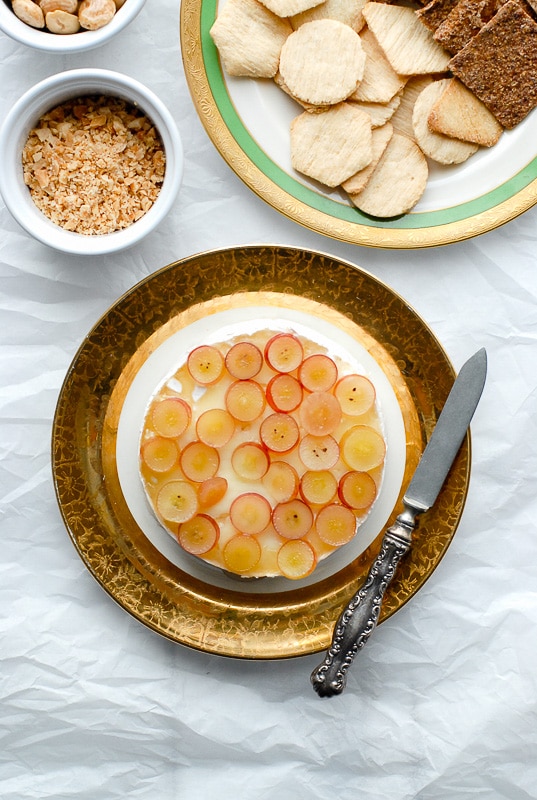 Something I love about baked brie is its flexibility the flavor pairings. Brie is a relatively mild flavored cheese with a gorgeous creamy texture especially when baked. It pairs well with many flavors from very sweet to salty. I personally love to contrast flavors and textures to create something memorable and rarely make it the same twice in a row.
Baked brie plays well with a variety of cracker types when serving it. Around Thanksgiving I made a version with Maple Pumpkin Butter, Honey, Marcona Almonds (a favorite almond with a fantastic 'bite') and Pepitas which I served on a variety of crackers including a slightly sweet chocolate cracker that is also gluten-free. The baked Brie I've created for New Year's Eve features the Pink Champagne Jelly I recently posted, sliced seedless Red Grapes and diced Marcona Almonds. I've combined it with a sweet Cinnamon Cracker as well as lightly salted Rice Snax which have a crunchy texture, mild flavor and come in a variety of shapes. I love visual interest in a dish. No matter what you choose to pair this dish with, there is no doubt your meal or party will be all the more festive for serving it!