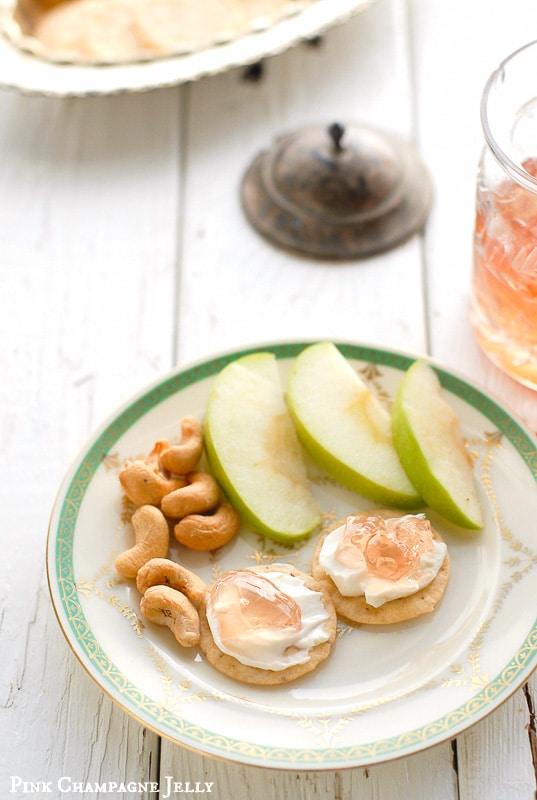 When I think of food for celebrating New Year's Eve, I always think of clean, bright flavors with some decadence thrown in for good measure! Regardless of whether I'm going out to celebrate, or staying in (something I've taken more to over the past years not liking the idea of being on the road with others perhaps over-imbibing), the food and drink has to be festive. Though we've had more labor intensive dishes such as last year's Lobster Risotto with Saffron and Haricot Vert, there are certainly recipes one can make that feel like a celebration but don't take hours or days to prepare. After all many of us have just wrapped up huge meals for Thanksgiving and Christmas; we are ready to feel lavished but not spend hours in the preparation.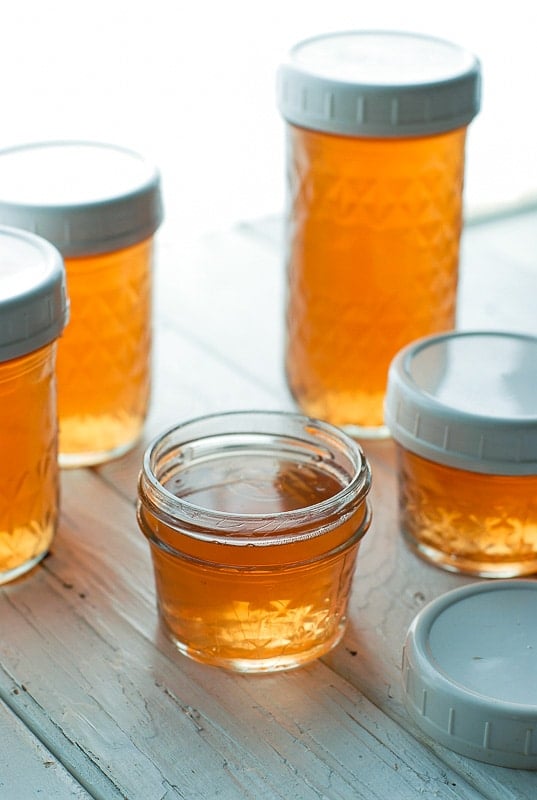 I love making jam with fruit in season. I've toyed with making jelly however my attempts have not yielded a result I'd hoped for. In thinking up an unexpected appetizer for New Year's Eve however it struck me that I don't need to wrestle with fresh fruit, hoping the pectin gods are in the humor to indulge my desire for a little homemade pot of jelly.
Jelly can be made from fruit juice and I can't think of any better fruit 'juice' around this time of year than Champagne; Pink Champagne to be precise. My original intent was to incorporate some Pink Champagne Jelly into an appetizer (which I will tomorrow) however once it set up I realized I needed to take pause to revel in the divine simplicity that is this jelly.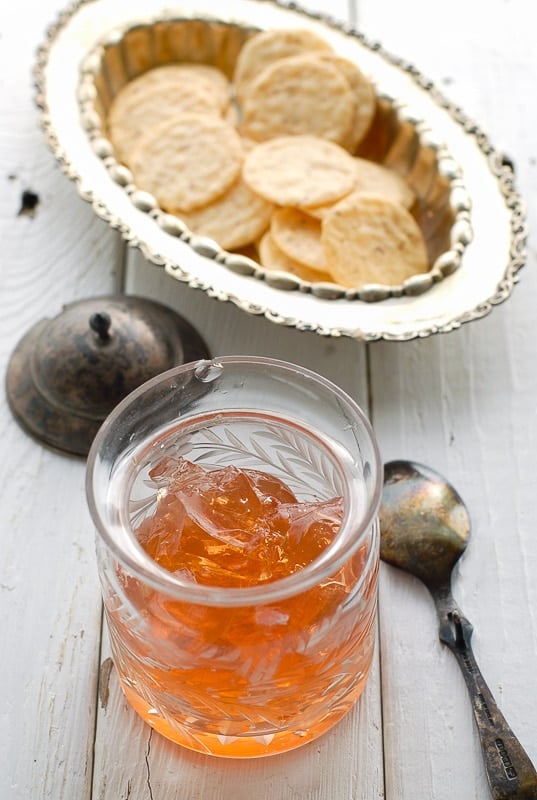 First of all the color is sublime. A perfect moody pink that brightens the spirit and promises celebration. When opening the lid of the jelly jar you will be filled with the divine aroma of champagne. The flavor is light and flirtatious and the texture of the translucent pink gel, transfixing. I'm in love; can you tell?
If that isn't enough the making of this jelly is about 10 minutes. Four ingredients and though it does need to refrigerate overnight, can you think of anything else you'd make that would lift more spirits from the sheer surprise and in 10 minutes? Me either.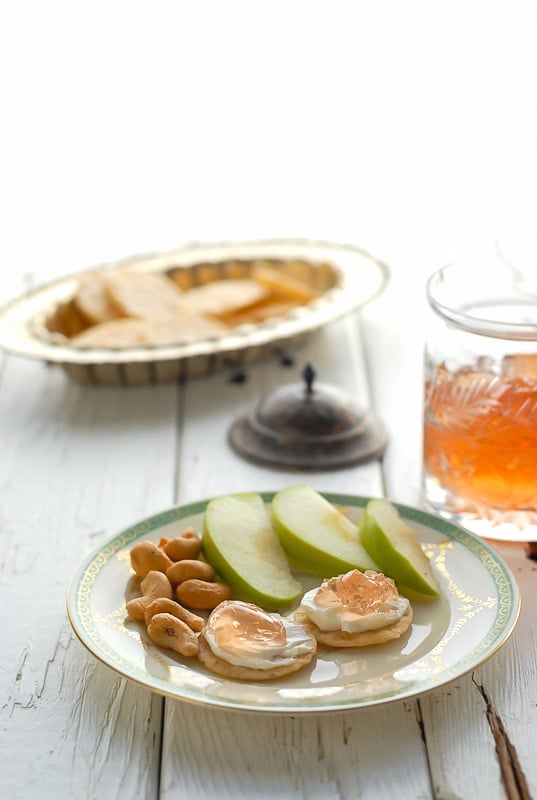 You won't have difficulty dreaming up numerous ways to use this delicately charming jelly. On top of things, inside things. Mixed into sauces. I love it with a bit of cream cheese on a cracker (I used Nut Thins which are gluten-free) topped with the jelly. Do note this jelly is not made with pectin and lots of sugar which help to keep its form and allow it to be canned traditionally. In using gelatin for the jelling effect it remains light, subtly sweet and must be kept refrigerated. It can be put out for serving but will relax if left out for a few hours or in high temperatures.
Recipe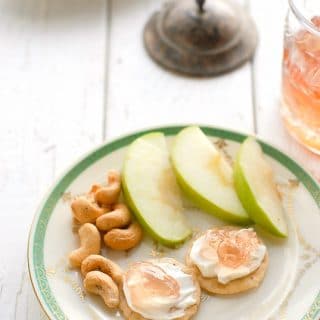 Pink Champagne Jelly
You'll find nothing more decadent or easy to make than this Pink Champagne Jelly. Four ingredients and about 10 minutes to create (along with overnight chilling) and you'll have a unique jelly to use in a number of dishes.
Print
Save Recipe
Recipe Saved!
Pin
Rate
Ingredients
1-750

ml

bottle Pink Champagne or Pink Sparkling Wine

1

cup

Granulated Sugar

1

packets Gelatin

(or 2 tablespoons if using gelatin in bulk)

¼

cup

Warm Water

Clean containers with lids to hold 4 cups jelly
Instructions
Combine the champagne/sparkling wine and sugar in a medium heavy saucepan on the stove over medium heat. Stir or whisk constantly until the sugar is dissolved.

In a small bowl, combine the warm water and gelatin. Whisk to allow gelatin to dissolve.

Scrape the gelatin mixture into the saucepan with the champagne and sugar. Whisk to fully combine ensuring the all gelatin is dissolved fully and the mixture is clear pink. Remove from heat.

Pour the jelly mixture into the prepared containers. Place the containers on a baking sheet or other solid surface to ensure they stay upright in the refrigerator overnight. Loosely cover with plastic wrap but do not fully seal so any heat can escape.

Chill overnight in the refrigerator. Once set seal with lids and store chilled for use.
Nutrition
Calories:
194
kcal
|
Carbohydrates:
49
g
|
Protein:
0
g
|
Fat:
0
g
|
Saturated Fat:
0
g
|
Cholesterol:
0
mg
|
Sodium:
1
mg
|
Sugar:
49
g