Slow Cooker Turkey Chili is easy comfort food with robust earthy flavors and the right amount of spicy heat. It's lighter and leaner in fat and calories without skimping on flavor or delicious texture.

Chili recipes are always a cold weather favorite. They are easy to make and soul-warming.
It's easy to change them up too whether you love a meat chili, vegetarian chili or even vegan chili.
This turkey chili recipe combines light, lean ground turkey, with bold spices and sweet potato for a boost of great flavor.
Easy Slow Cooker Turkey Chili
Slow cooker recipes are always a win because they are easy and infuse tons of great flavor.
Chili is an example of a recipe type, like spaghetti sauce, that actually tastes better over time too.
The days after it is made the flavor keeps deepening.
This crockpot turkey chili is fast to pull together. The ground turkey is browned on the stove top before adding to the slow cooker.
Everything else is just layered in and cooked.
Using turkey lightens up the fat and calories for the chili.
Adding sweet potatoes boosts the nutritional value and adds a sweet flavor.
It's a delicious contrast to the spicy flavors of chili powder, cumin, cayenne powder.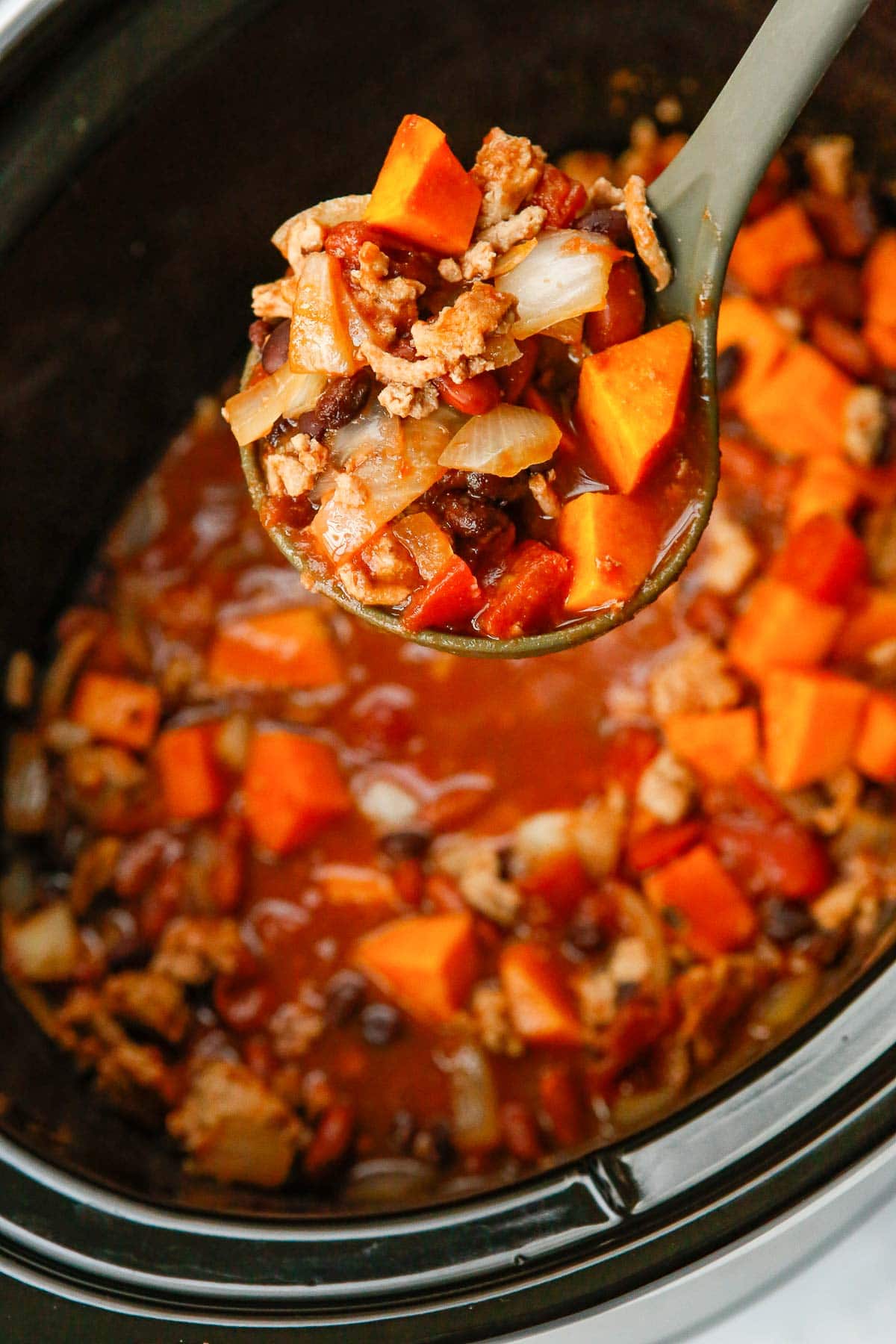 Recipe Ingredients + Notes
Oil. This will be drizzled in the bottom of the slow cooker before layering in the other ingredients. Olive oil is recommended but avocado oil can also be used.
Ground turkey. The lean ground turkey will be browned on the stove top before adding to the slow cooker.
Canned Diced Tomatoes. These are opened and added to the turkey chili recipe with the juices.
Red Kidney Beans and Black Beans. One can each of red kidney beans and black beans are used. Both are drained and rinsed before adding.
Sweet Potatoes. These add wonderful nutrition, a pop of color and a sweet flavor contrast to the earthy, spicy flavors.
Time saving tip: buy prepared cubed sweet potatoes. They come fresh, already peeled and cubed.
Yellow Onion. Will be chopped and added to the chili mixture.
Chicken or Vegetable Stock. Either chicken stock or broth, or vegetable stock or broth can be used. Low Sodium stock is recommended. This allows you to better control the saltiness by adding salt directly.
Tomato Paste. Adds tomato flavor. Tomato paste is denser in flavor than tomato sauce.
TIP: buy it in a resealable tube for easy use and longer freshness. Keep it in the refrigerator for any time you need some tomato paste in smaller amount.
Spices. Garlic powder, chili powder, ground cumin, cayenne pepper, salt and ground black pepper. This combination of spices builds an earthy, spicy chili flavor.
Lime juice. The juice of half a lime is stirred in after the chili is cooked. It brightens the flavor with a subtle tang.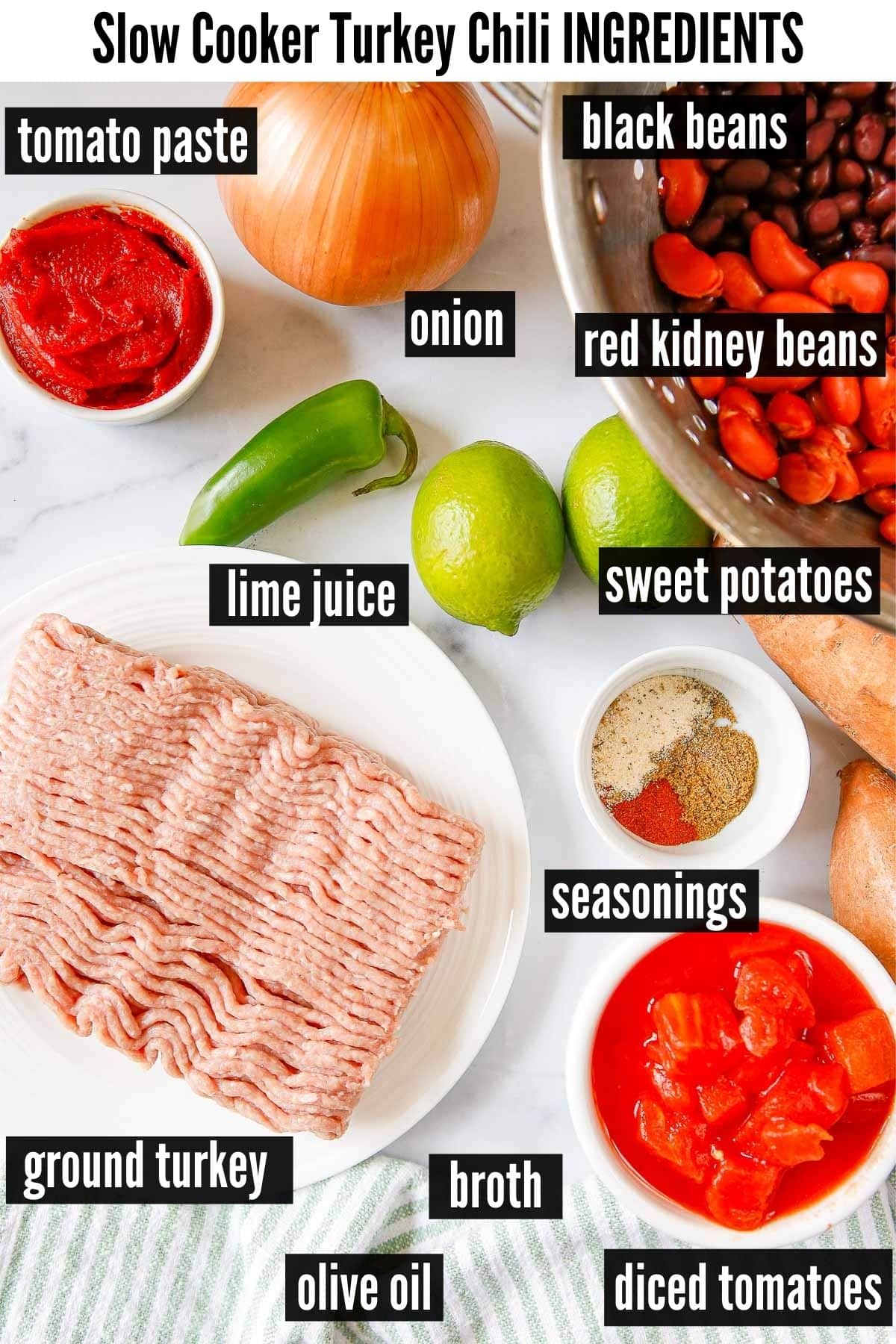 Supplies
Use a 6-quart slow cooker for this recipe.
Variations
Add some bell pepper. If you like sweet bell peppers add a cup of chopped green or red bell when you add the onion.
Like it spicy? Unless only spicy food lovers are eating the chili, I recommend adding hot sauce or red pepper flakes on individual servings.
This way those who like a milder chili can enjoy the base recipe too.
How to Make it – Step-by-Step
STEP 1. Brown the ground turkey.
In a medium skillet over medium-high heat brown the turkey breaking into pieces (photo 1). Drain any excess fat.
STEP 2. Assemble the turkey chili in the crockpot.
Drizzle the oil into the bottom of the slow cooker.
Add the diced tomatoes, tomato paste, red kidney beans, black beans, cooked turkey, sweet potatoes, onion, stock or broth and spices (photos 2-5).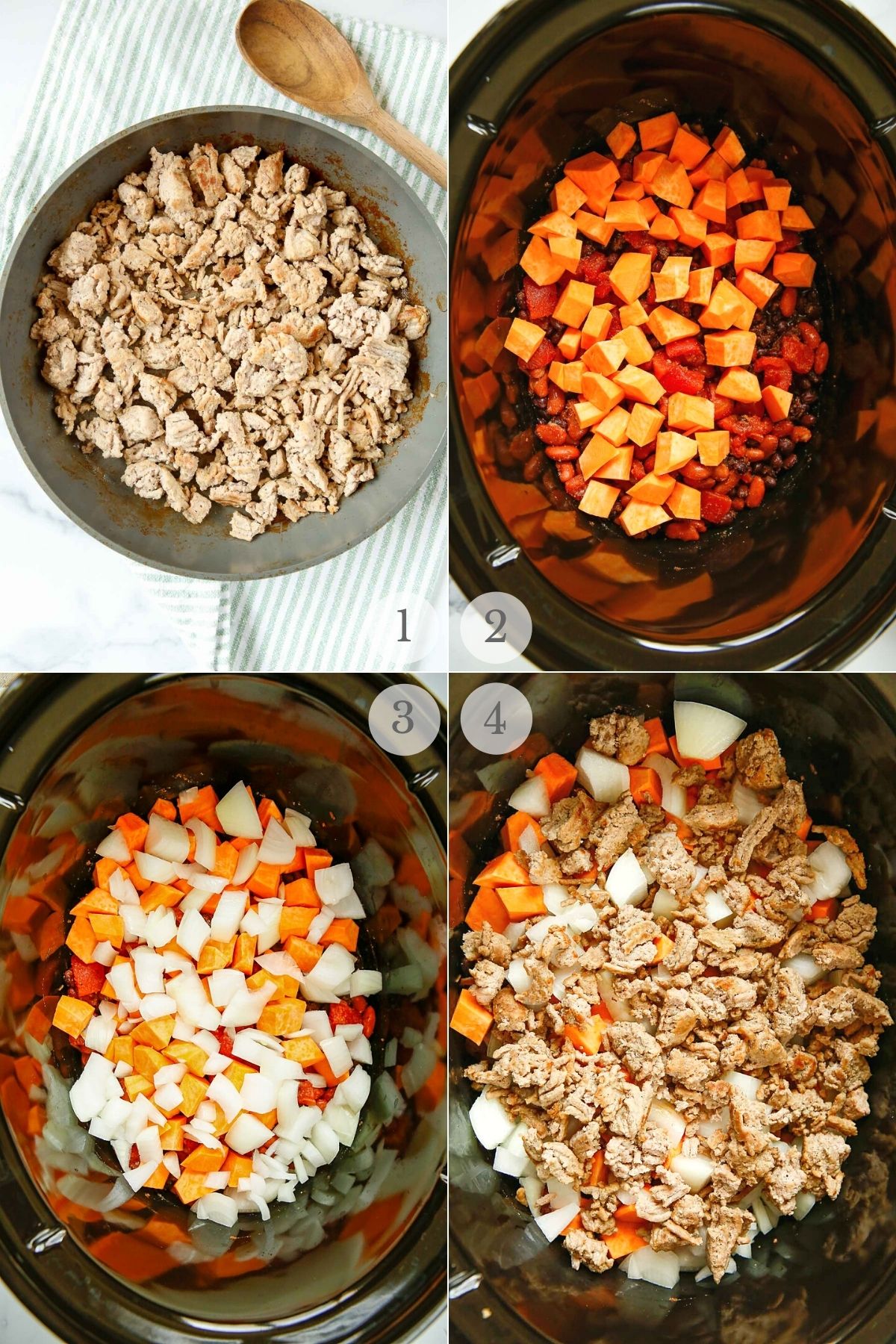 STEP 3. Cook the chili.
Cook on HIGH HEAT for 3-4 hours OR LOW HEAT for 5-6 hours. Stir occasionally.
When cooking is complete, stir in the lime juice.
Serve as is or with suggested toppings.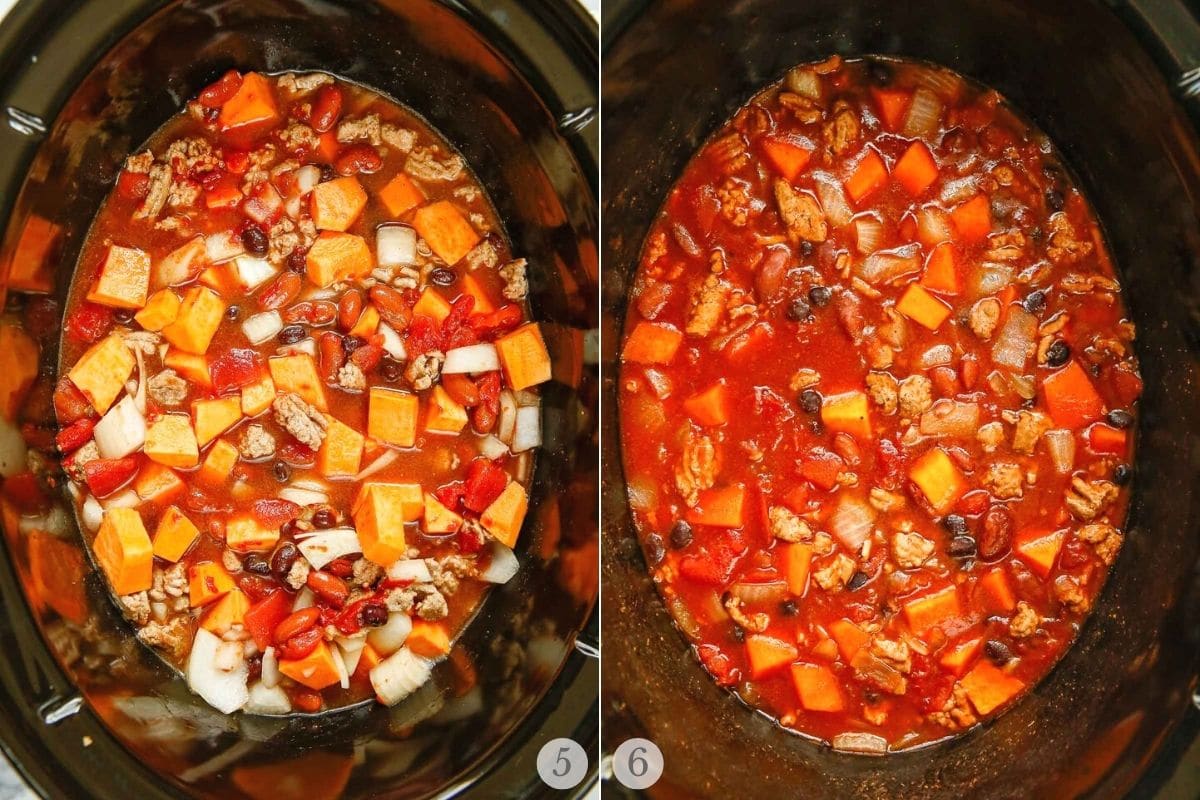 What are some good Toppings for Turkey Chili?
A favorite part of chili is the toppings loaded on top.
Here are some favorites (use one or more if desired):
sliced jalapenos
crushed tortilla chips
fresh cilantro, chopped or torn
sour cream or Mexican crema
shredded cheese (cheddar cheese, Mexican cheese blend, Monterey jack cheese)
sliced green onions
Storing Leftovers
Let the chili cool and place it in an airtight container. Store in the refrigerator for up to 4 days.
How to Freeze Chili
Chili freezes great so that's a great solution for leftovers or to make some ahead to have it ready.
Allow the chili to fully cool. Place in a freezer safe airtight container with a bit of space on top for expansion.
Freeze for up to 3 months. Thaw in the refrigerator and reheat in the microwave or on the stove top.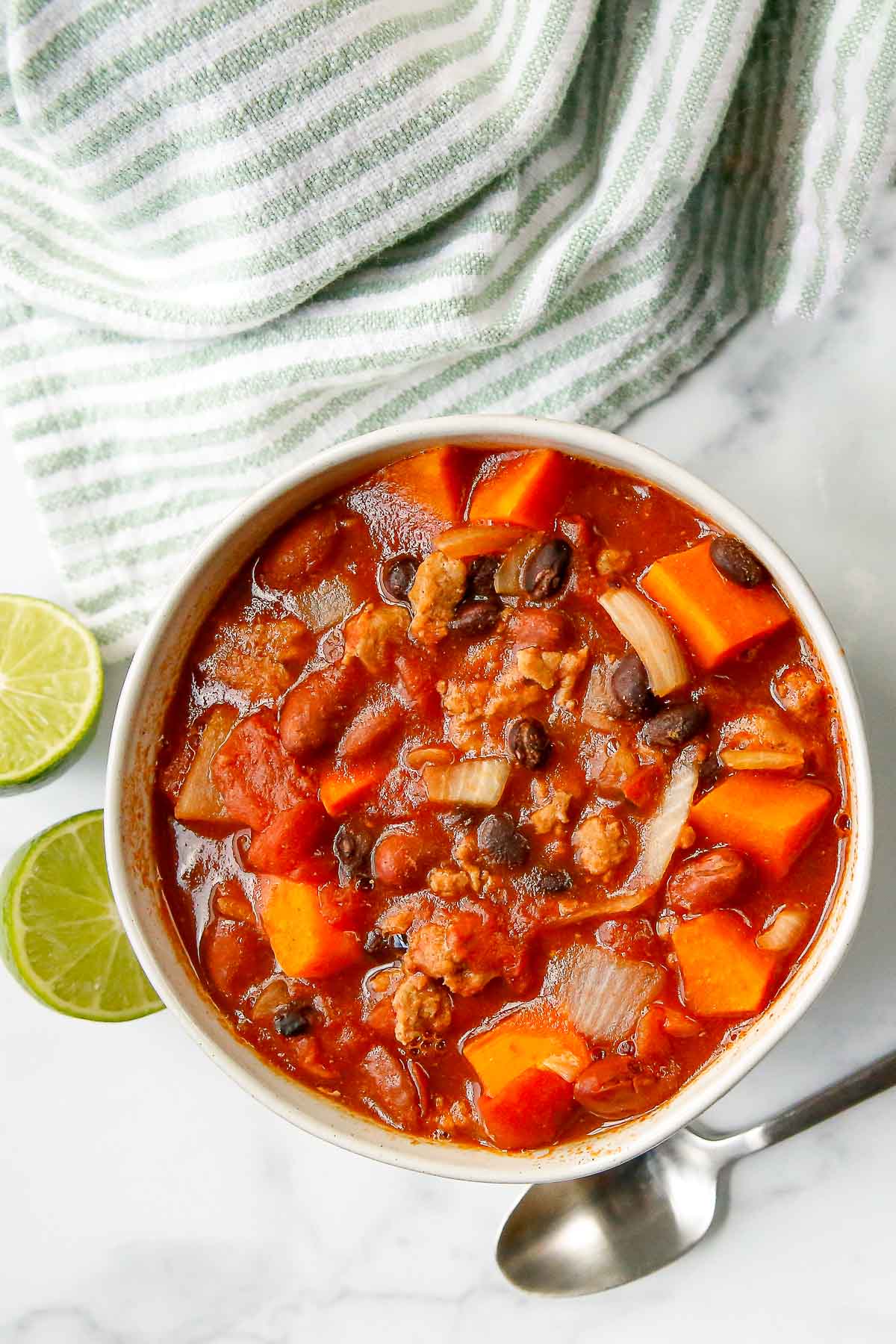 More Recipes You'll Love!
Did you make it? Please RATE THE RECIPE below!
Please SUBSCRIBE and FOLLOW ME on FACEBOOK , TWITTER , INSTAGRAM and PINTEREST !