Celerate winter and soup season with easy, flavor-packed Curried Red Lentil Soup. Wholesome ingrediet and exotic spices make this taste like it simmered all day (but you'll know it only took 30 minutes to make)!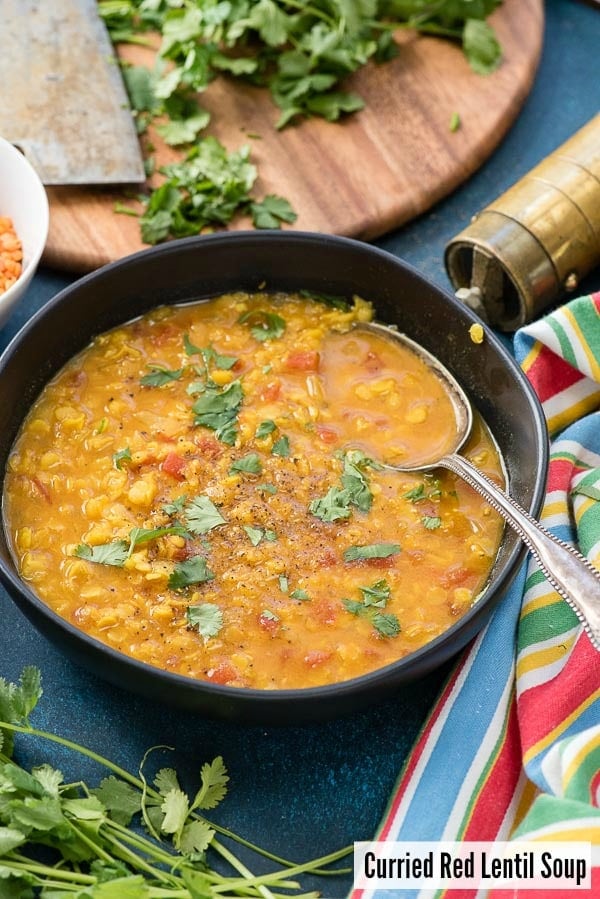 Cold weather means soup in my kitchen. I'd happily eat it for every meal of the day. Our favorites are full of flavor and great texture. My latest 'LOVE IT' soup recipe is for Curried Red Lentil Soup. It's easy to make, naturally gluten-free, bursting with curry flavors and protein.
Lentils always seem to take back seat to beans or other legumes like split peas. Part of this may be confusion over which type of lentils to use. The most common types are green, brown and red lentils, each having different characteristics.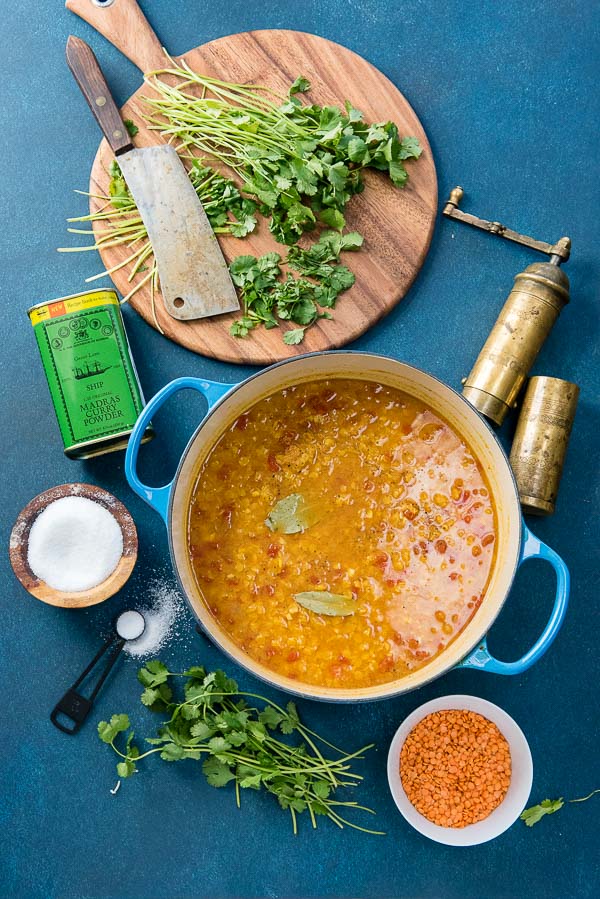 Why Lentils Are Great
Lentils are an affordable, readily available source of plant protein. You can find lentils at most grocery storeswith the dried beans. Unlike dried beans, they do not need to be soaked before cooking. Red and brown lentils cook in about 20 minutes making them great for fast recipes. Their small size blends well with other vegetables in recipes and their mild flavor makes them very adaptable in soups, stews, on salads and in ethnic recipes.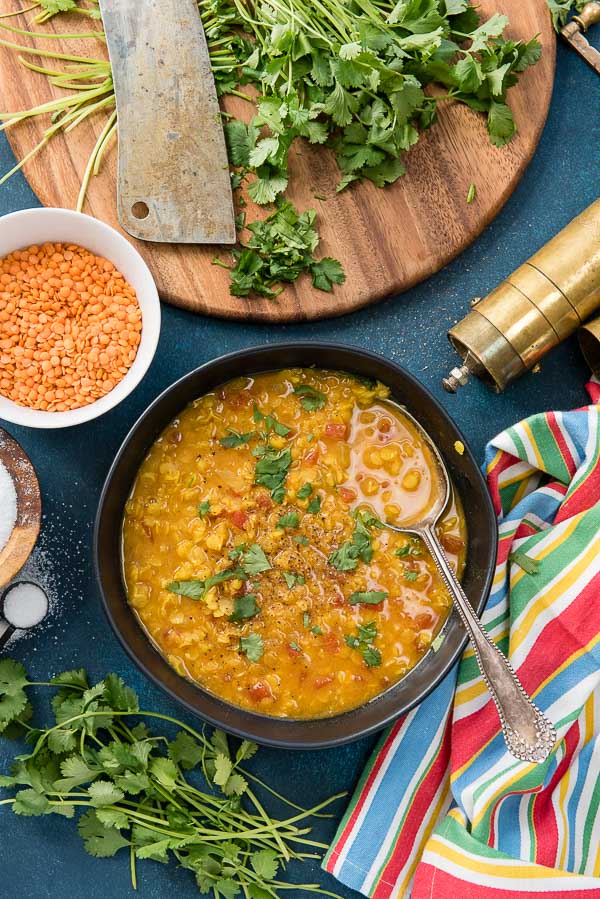 The Difference between Types of Lentils
There are several types of lentils, from the more common green and red to more exotic black lentils that look like caviar. There are some key differences between the most popular varieties that make each perfect for different types of recipes.
RED: Red lentils are more orange but also can be true red. They are quick cooking and tend to become creamy when cooked making them great for soups and stews, as Indian dishes like Dal. They can be pureed for a thicker soup or left 'as is' to maintain texture in soups. Red lentils have a bit of a sweet flavor too that blends wonderfully with spicy flavors. You can see the softer texture in this Spicy Roasted Poblano Red Lentils with Sausage recipe.
GREEN: Green lentils are the longest cooking type of lentil and have a bit of a peppery flavor. They stay intact when cooking as seen in this Mexican Chorizo Lentil Stew.
BROWN: These are the lentils you've probably seen most often at the grocery store. They are quick cooking AND retain their shape when cooking. They have a mild flavor.
All lentils cook faster than dried beans and do not need to be presoaked. I love the small disk shape. All lentils need to be sorted before cooking to remove any gravel (packaged lentils have been screened before packaging but still should be sifted through).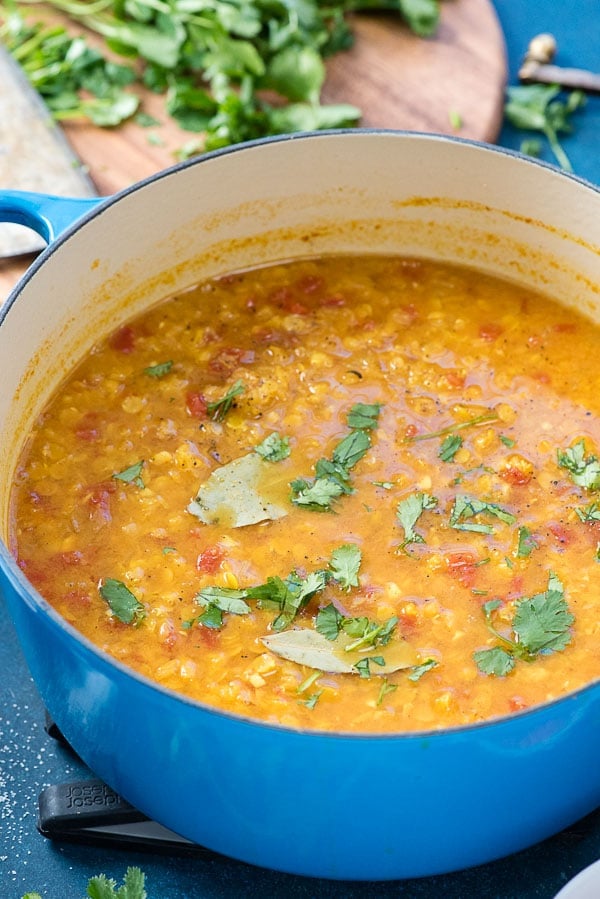 How to Make Curried Red Lentil Soup – Step by Step:
Curried Red Lentil soup is fragrant and very easy to make. Oil is heated in a heavy stock pot and the onion, garlic and ginger are sauteed until the onions soften. The spices are added, making almost a paste, and allowed to become fragrant with the heat.
Quick Prep Tip: Use a mini chopper to prepare the onions and garlic and ginger paste from a tube. I use Gourmet Garden herb pastes in tubes which can be found refridgerated in the produce section of the grocery store. Each tube has a guide for substitution of the paste for fresh herbs. They are a great time saver as well as good quality herbs.
Finally the lentils, chicken stock and tomatoes are added, along with bay leaves. The mixture is brought to a boil, covered and simmered for 25 minutes until the lentils are done. A splash of lime juice is thrown in before serving.
The soup is bold with flavor though not spicy. If you like some heat, add a seeded, diced jalapeno to the first step!
If you've tried this Curried Red Lentil Soup or any other recipe on BoulderLocavore.com please don't forget to rate the recipe and let me know where you found it in the comments below, I love hearing from you! You can also FOLLOW ME FACEBOOK, TWITTER, INSTAGRAM and PINTEREST to see more delicious food and what I'm up to!
Recipe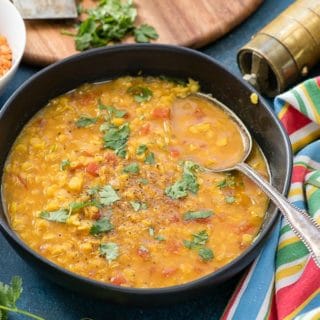 Ingredients
2

tablespoons

Canola Oil

1

medium

Onion

chopped

1

tablespoon

diced Garlic

1 1/2

tablespoons

diced Gingerroot

1

tablespoon

Madras Curry Powder

1

teaspoon

Turmeric

1

teaspoon

ground Cumin

1

teaspoon

ground Coriander

1/2

teaspoon

Kosher Salt

2

cups

Red Lentils

sorted

8

cups

Low Sodium Chicken Stock

1

14.5-ounce can

Diced Tomatoes

with juices

2

Bay Leaves

1

tablespoon

Lime Juice

Garnish: torn cilantro leaves
Instructions
In a heavy stock pot or Dutch oven, heat the oil on medium-high heat. Add the onions, garlic and ginger and saute until onions become transluscent (3-4 minutes).

Add the curry powder, turmeric, cumin, coriander and salt; stir to fully combine. Allow to become fragrant (1-2 minutes.

Stir in the lentils, chicken stock, and tomatoes. Bring to a boil; add bay leaves, reduce heat to simmering, cover, and allow to cook for 25 minutes until the lentils are fully cooked.

Remove bay leaves. Stir in the lime juice, adjust salt and pepper and serve. NOTE: if desired, an immersion blender (or traditional blender) may be used to partially or fully puree the soup. Garnish with torn cilantro leaves if desired.
Nutrition
Calories:
235
kcal
|
Carbohydrates:
31
g
|
Protein:
16
g
|
Fat:
5
g
|
Saturated Fat:
0
g
|
Cholesterol:
0
mg
|
Sodium:
220
mg
|
Potassium:
663
mg
|
Fiber:
14
g
|
Sugar:
1
g
|
Vitamin A:
20
IU
|
Vitamin C:
3.5
mg
|
Calcium:
40
mg
|
Iron:
4.2
mg