Spice cake is made even better with the addition of cherries, and the only thing better than freshly baked cobbler is making it in the crock pot! Slow Cooker Cherry Spice Cake Cobbler is super easy to make and uses a cake mix, making it an even better short cut method. Gluten-free or regular mixes may be used.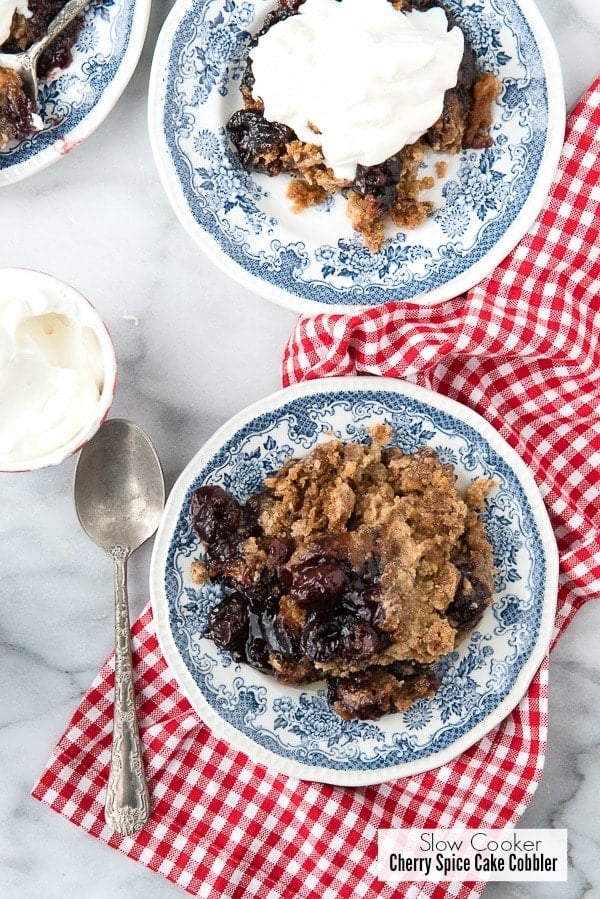 We have had an insanely busy January. It's actually busier event-wise than December however with the good fortune to not be shrouded in the holiday mania of December. My daughter is at the zenith of her high school swim season and rounding the bend on college testing. My son has just wrapped up his robotics league season with a trip to the State meet, a Brain Bowl competition and will be wailing on the trumpet to the National Anthem at an upcoming Denver Nuggets basketball game. In between all of these events are extra practices daily, leaving January to feel like cresting that big hill on a roller coaster, to only dive headlong back to ground level at a breakneck pace.
All this to say, I love my slow cooker. I was thinking the other day at how far slow cooker recipes have come from the invention of the Crock-Pot in the early 1970's. I think originally soups and stews were the mainstay of slow cookery. Makes sense. Fast forward to today and the variety of dishes made using a slow cooker has sky rocketed.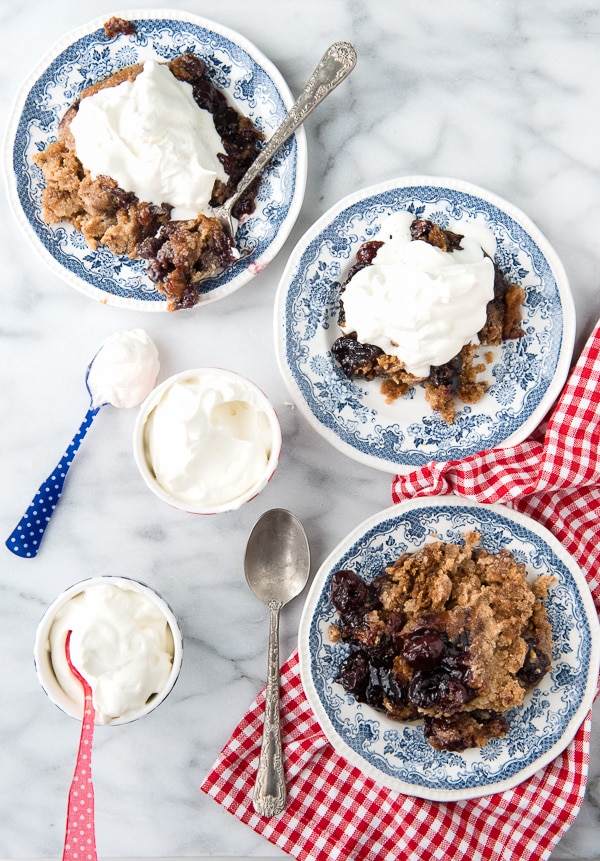 I have a Slow Cooker Recipe board on Pinterest on which I collect slow cooker recipes (over 400 recipes currently!). They range from whole chickens to brownies and everything imaginable in between! The preparation is so minimal and I love the convenience of not thinking about it again until serving up dinner in between picking up and dropping off kids. It's a perfect solution for families in fluid dining situations. I love family dinners as much as the next person but there are times that is difficult at best. With slow cookers I know there is something for everyone whenever they have the chance to eat it over a multi-hour period of time.
I've always been intrigued by slow cooker dessert recipes. I made a Slow Cooker Light Almond Milk Tapioca Pudding which was a smashing success with Boulder Locavore readers, but had not tried a baking recipe until last summer when I first attempted a Slow Cooker Peach-Blueberry Cobbler. Not wanting to use the oven more than needed in during summer's heyday, I experimented with a cobbler that was delicious! I learned later the method I employed of using a cake mix is a riff on an old Boy Scout approach when cooking cobbler in a Dutch oven over a campfire (love that).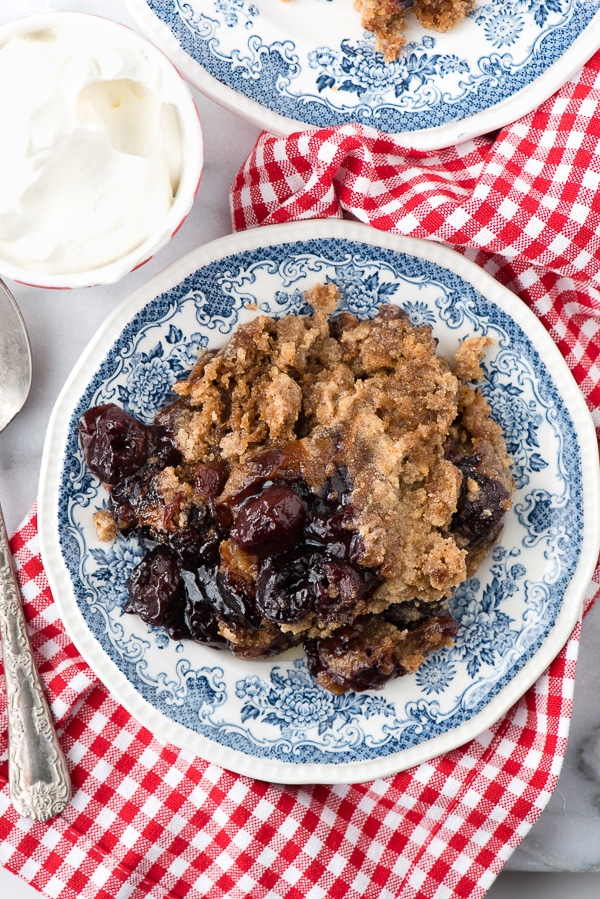 Comforting Slow Cooker Cherry Spice Cake Cobbler
These wintery days seem perfect for a reprisal of the cobbler but with more seasonal flavors: Slow Cooker Cherry Spice Cake Cobbler. Frozen, thawed cherries are used along with spice cake mix for a homey dessert that is great on its own or with whipped cream on top. Your kitchen will be filled with the comforting smells of Grandma's cooking brought into a current age. It's the perfect dessert to enjoy on a snowy day!
I'm often asked about what slow cooker I use. My absolute favorite is a 6-quart Crock-Pot which is easily programmable for cooking heat and duration so I really can 'fix it and forget it'; after the cooking ends, it automatically changes to a warm mode to keep the food warm without cooking it further. I had my first one for years and accidentally cracked the crock and am now happily on on my second one. They last for years too!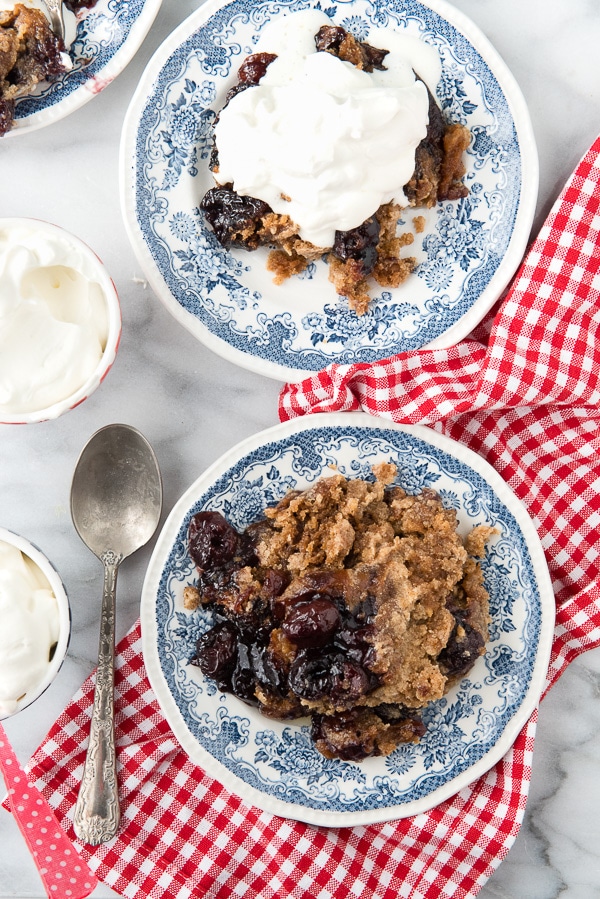 How to Make Slow Cooker Cherry Spice Cake Cobbler
Recipe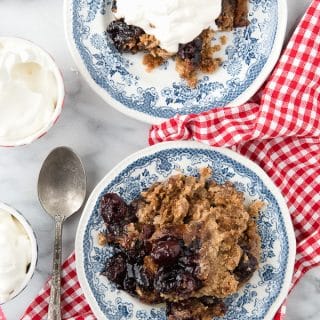 Ingredients
4

cups

frozen Cherries

(pitted), thawed

2

tablespoon

Cornstarch

¼

cup

Light Brown Sugar

1

15.25-ounce

Spice Cake Mix

(I used Namaste Gluten-Free Spice Cake Mix and weighed the mix to be 15.25 ounces which is a standard cake mix)

4

ounces

Unsalted Butter

, cold cut into tablespoons then each tablespoon quartered, plus 4 tablespoons melted Unsalted Butter (not needed until 3 hours cooking so wait to prepare)
Instructions
Spray the insert of a 4 quart (or larger) slow cooker liberally with no stick spray (alternatively it can be greased with unsalted butter).

Add the cherries; toss with the cornstarch. Sprinkle with the brown sugar.

Sprinkle the cake mix evenly over the top of the cherries.

Evenly distribute the small pieces of cold butter on the top of the cake mix.

Place one paper towel on top of each other on of the top of the slow cooker insert (fully covering the opening) and seat the lid on top of them (this helps absorb condensation from the cobbler to allow the top to become crisper). Cook on HIGH for 3 hours.

At 3 hours, drizzle the melted butter evenly over the top of the cake mixture and using a dining fork gently turn the butter into the dry cake mixture on the top. Remove the paper towel and continue to cook on HIGH for 30 minutes or until the top is cooked (no dry ingredients showing).
Nutrition
Calories:
179
kcal
|
Carbohydrates:
19
g
|
Protein:
0
g
|
Fat:
11
g
|
Saturated Fat:
7
g
|
Cholesterol:
30
mg
|
Sodium:
4
mg
|
Potassium:
162
mg
|
Fiber:
1
g
|
Sugar:
15
g
|
Vitamin A:
400
IU
|
Vitamin C:
4.9
mg
|
Calcium:
18
mg
|
Iron:
0.3
mg
Disclosure: This post may contain affiliate links. To learn more check my Disclosure page.